Posts Tagged 'national championship'
SA supervideographer Petey Crawford dropped the video camera this weekend and picked up the tiller.  Here's his report along with some Tammy Sawyer photos.
The 2014 E Scow National Championship concluded Sunday with absolutely glamour conditions. I consider Crystal Lake one of the most beautiful locations in the US, as well as one of the best sailing venues anywhere.  Crystal is Michigan's Lake Garda and it rarely disappoints. In a world of declining participation in fleets around the globe, the E Scow National Class has seemingly flexed its muscles for 2 years in a row by luring 75+ boats to the line (84 and 78 respectively). Unlike another class that is experiencing a good turnout this, week the E scow has been doing it since 1959, and the depth of the talent at every one of these regattas is incomparable. Just look at the names of the champions on this list –  Now imagine the names of the others on the podium next to them. This years event was no different.  Porter, Melges, Jewett, Rogers, Burton out of the ILYA, East Coast names like Johnson, Hillyer, Lucas and Michigan locals like Price, Hatton, Kimball, Dow and Terry. Each and every one of these names was capable of getting in the mix and winning races and perhaps the whole thing.
Day 1 was bit frustrating as we spent the entire day on the water with only a single race to show for it due to extremely shifty conditions and velocity changes. Day 2 started out with a much better forecast and surely we could get back on track with 3 races. That was what PRO Bruce Golison and his team served us up. Classic Crystal Lake conditions with sunny skies made for a great day of racing, and we finally got to see the Tahiti-clear aqua blue water which is a big part of what makes this place so special. With 4 races completed and 2 more scheduled for Sunday, the stage was set for some great action.
Day 3 looked light to start but Bruce brought us all out so we could get going as soon as the sea breeze filled. With a short postponement we were back at it. Jeff Bonanni made it clear that it was moving day, and won race 5 to climb the ladder into the 3 spot. Harry had a tough 21st, Sammy sailed to a 6th, Chris Jewett got a 19, Burton scored a 9th and Peter Strothman made away with a 15th. So needless to say, the top 5 shuffled around a bit and the 6-10 group inched even closer into the mix. After 5 races completed and with a 6th race allowing a discard it was still wide open and with 78 boats anything could happen.
Jeff Bonanni, clearly liked the leap up the ladder and decided to win yet another race and pretty much showed us all how to close out an event and beat the rush to the crane. Little Harry Melges made his run back at the top with a 3rd, Strothman got a 4th and Burton took 14th. Sammy sailed just well enough to get a 12th. That meant that Sam "Big Daddy/Rasheed" Rogers and his crew of Chrisy Hughes, Tony and Lynn Jewett were the new E National Champions by a single point over Harry Melges IV and his crew of Monroe Melges, Mya Burdick (with Harry Melges III and Andy Burdick as their chaperones). I am so stoked for Sammy and the team to get this Championship, and to have it come down to a single point was even cooler! Having 13 year old Harry Melges kicking our asses already is a clear sign of what's to come, but I think we all were totally pumped to have him in there, especially with Monroe and Mya!
The E scow class continues to deliver and is filled with some of the best people I have met in my entire life let alone my sailing career. I got back into the driver seat of an E scow this year at Charleston and knew I had to be at Crystal. I found a boat and sails made it happen and although I fell short of my goal for the event, it really didn't matter; I had a ripping time with close friends and made some new ones. I even dragged a long lost friend out of sailing retirement and made him sail more races in 3 days than he had in the last 3 years, and despite his huffing and puffing and me "encouraging" him around the course we have decided that it's officially time to get back to racing E scows full time. Our personal hero moment was winning the pin end in race 3 and rounding in 3rd. Despite some mental errors in the race we still mixed it up with some of the best in the country and held on to a 15th, and we will always remember that start.
Big thanks to my crew on the II-1 Team Honor The Box –  Chris Eggert, Thorn Turner, Jess Haverstock and Nina McKeough and a huge thanks to Russ Lucas for letting me commandeer his old boat.
Side note – The last time I drove in an E Nationals I had dreadlocks down to the middle of my back and the regatta was hosted by Little Egg Harbor YC. Well, next year it's at Little Egg again and we will be there, but chances are I wont be rocking the dreads.
-The Rev. Petey
September 9th, 2014 by admin
Fleets come and fleets go, but the Cal 25 remains forever.  At least that's how it is in Southeast Michigan, where the Cal 25 continues a long legacy of great racing, better partying, and lasting forever.  Here's the report from the Detroit gangstas who won last week's National Championship without winning a race, and our apologies for our almost magazine-like delay in getting it up.  Okay, not quite that bad.
The first weekend in August saw the Cal 25 fleet make its way to Port Huron, MI for the 2014 Cal 25 National Championship, some from as far away as Annapolis. Light winds all 3 days caused by a large high pressure system over the Midwest made for some delays with a final tally of 6 races going up on the board. 21 boats was the final headcount for the event, with over half of the fleet representing Detroit.
Target Practice had been awaiting this weekend for some time, and had done tons of boat and sail prep to ready for the event. Numerous jibs were looked at and the entire deck layout was reconfigured to try to give us more control over sail shape and eke out that hundredth of a knot from these 4KSB'es.
Day 1 saw light southerly breezes all day. Race 1 started in ~4knts of breeze, and saw a number of the top boats get off clean and flop onto port after a short while. Places remained relatively static around the course with Target Practice coming away with a deuce. The breeze died and we went under AP for ~90 min waiting for it to fill. When it did from a weak thermal, Race 2 saw a little more action on the line with some yelling and a couple of alleged fouls, but no flags. The rich got richer as clean air was king for the start of this race with the leaders extending, however on the 5 leg race the last downwind saw the breeze dying and things started to get mixed up with boats finding patches of wind that others simply didn't have and some boats were able to improve their lot on this and the ensuing upwind. We led the day with a 2,2 followed by Draco and Holmebrew.
Nerves ran high on Day 2 as it was moving day. It was again light southerlies but with the expectation that a northerly breeze would fill in at some point. Race 3 and 4 saw more of the same from Day 1 with slightly more breeze, we again went 2,2 however Never Alone found an upwind gear that was untouchable and took 2 bullets. Race 5 was started with an easterly thermal breeze of ~5 knots. We suffered from an unforced error and were called over early just off the boat, while Obscured by Clouds won the pin with clean air and was first around the top mark. The course however was hugely starboard tack favored, so after ducking the line we found some pressure right and still wound up rounding in the top 5. We had struggled with our downwind angles all weekend thus far, and were having trouble sailing as deep as some of the other boats. A quick gybe saw us move up to 3rd and Obscured, Never Alone and us all went around the left mark. Obscured finished first with Never Alone right on their heels, followed by us. This unfortunately ruined our up-till-that-point perfect scoreline of 2-2-2-2.
We went into the final day with a 5 point lead on Never Alone. We expected no more than 2 races, and so the gameplan was to continue to sail our regatta, but keep a loose cover on the competition. Dense fog greeted us on the racecourse, but brought relatively strong breeze with it. However, starting a race in the fog would have been difficult and as it burned off the wind died. At about 1 oclock the fog had lifted and we had sufficient wind to start. The line was pin favored
and so with a minute left we tacked away from Never Alone for a pin end start. We hit the line on time and with speed, only to look over our shoulder and see that Never Alone had done the same roughly midline. An early tack away saw us take some transoms to get to the favored board and pressure, and we were able to round in first. We held serve on the downwind and rounded the left mark again in first with Never Alone behind, coming with us out to the right. They reaped the gains of their high upwind mode and we were only able to round in front due to a header at the top mark that forced them to do 2 tacks. That header also saw Patriot squeeze in front coming in from the port layline, with Target Practice and Never Alone close behind. We finished in a dying breeze with our final deuce of the weekend and a 6 point lead on Never Alone.
Racing was very tight all weekend, and Port Huron Yacht Club and the Race Committee did an excellent job getting in 6 good races. Our thanks to Tyson Connelly and PHYC for running an awesome event! Target Practice was sailed by co-owners Erik Ryan and Adam Hollerbach, with me, Nathan Hollerbach, and RJ Wolney rounding out the crew.
Brad Terpstra
USA 632 – Target Practice
August 21st, 2014 by admin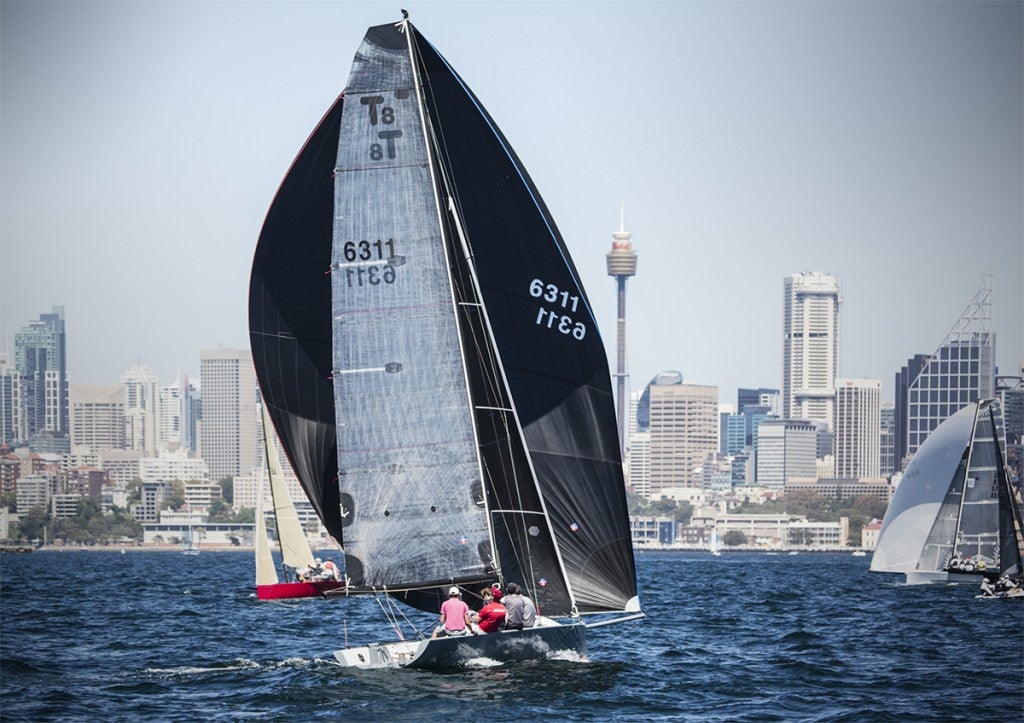 Beth Morley at Sport Sailing Photography got this awesome shot of the ASBA Sportsboat Nationals sailed right out of the same Cruising Yacht Club that runs the Hobart race.  The Thompson 8 Zippier seen here finished 2nd with the Shaw 650 The Stig's Audi Driving Cousin crushing the fleet with 5 bullets in 5 races.
Full results (unfortunately without the boat types) here, and some really excellent work in Morley's event photo gallery here.  Not much info out there, but some is here.
February 11th, 2014 by admin