Posts Tagged 'national championship'
Clean Report
Longtime Anarchy pal and sailor chick Gail Turlock invited me to come and sail the Sunfish Masters US Nationals on a chartered boat this weekend in Gull Lake, Michigan, and for someone looking to get my 1-year old baby girl in as many pretty bodies of water as possible this summer, it was too good an opportunity to pass up.  So we're headed to the other side of the state to jump on the 3-mile long lake, where Mer and Joey will play on the GLYC beach and I'll go embarrass myself on the water.
Confession time: I've never sailed a Sunfish. I've never sailed a Masters anything, and I've only raced one singlehanded regatta in my life (a little local thing in a Force 5), so I have zero expectations…but I'd prefer not to come in last in this 40-ish boat regatta.
So…anyone have any tips on making a Sunfish go fast while carrying 210 pounds of meat on it?  Peculiarities of the lateen rig?  What about reaches and triangle courses, which seem to be a possibility on this tiny lake?  Any inside knowledge about Gull Lake?  Post it all in here, or just tell me how shitty I am going to do – it's all good.
Thanks much in advance, and if you're going, I look forward to meeting you.   Keep an eye right here or on Facebook for my reports.
August 4th, 2016 by admin
A new eye is sometimes the best antidote to a stale look, and the newest droners to enter the sailing scene have an interesting take on the Moth Aussie Nationals earlier this month in Perth.  Learn more about Perth's Skyworks WA here, and congrats to longtime SA'er Josh McKnight on yet another title.
January 25th, 2016 by admin
For whatever reason, a watchable, long-form sailing documentary is something of a unicorn.  Folks say they've seen them, but evidence is…well, hard to come by.  Sure, you can find some Gary Jobson sleep aids here and there, but clever, professionally done, enjoyable hour-plus long sailing films just don't really exist.  So, with huge thanks to Chris Fretz for the explanation below, here's that unicorn – wrapped up in the E-Scow Nationals movie.  Enjoy, and share with a passionate junior sailor you know.  And for best results, share it to your big screen and watch in 1080p.

Boats that are fast enough to waterski behind and families sailing together across multiple generations may seem like incompatible ideas. But they come together nicely in the E-Scow, a 28-foot keel-free, high-powered rocketship popular in Midwest lakes and Eastern bays.
The class's annual national championship regatta is both a high-level competition and a large-scale social reunion, as friends and families who have sailed with and against each other for decades come together for three days of intense racing and world-class partying for sailors from seven to seventy-something. It was the E-Scow class's unique spirit that regatta organizers aimed to capture when formulating the media plan for the 2015 E-Scow National Championship, held in September at Little Egg Harbor Yacht Club in Beach Haven, NJ.
It seems like every major regatta these days raises the bar with social media coverage, live trackers and real-time streaming of the racing from drones.  It is definitely an exciting time with new tools and technology capturing the sport we love.  But Little Egg Harbor Yacht Club took a different tack when they hired documentary filmmaker Peter Slack to film this year's Nationals.
No stranger to sailing, Peter grew up on Barnegat Bay in New Jersey racing scows. When he wasn't on location filming for NatGeo or Discovery he was often on the water taking stills of the fleets that race on the bay.  Peter and his crew arrived in Beach Haven on September 10th along with 59 teams from as far as Grand Lake, CO, Lake Minnetonka, MN and Augusta, GA.
The regatta concluded on September 13 with a dominating performance by Jeff Bonanni, Maggie Condon, Matt Goetting, and Mike O'Brien sailing "Limelight" for Toms River Yacht Club.  They turned in a 1,1,1,1,2 and dropped a 5 for the win.  Full results here.  The regatta was an overwhelming success for the competitors, the class and the volunteers at Little Egg Harbor Yacht Club who made sure that the entire event was as fun as the racing.
Peter, on the other hand, was just getting started.  With several handheld cameras, time-lapses cameras, drones and onboard point-of-view cameras rolling over 4 days,  there was a lot of footage to work through.
On Dec 6th, Peter premiered his finished film to a packed house at Toms River Yacht Club.  We couldn't be happier with what he has done and how he has shown the sailors who make up this great class.  This would not have happened without the support of sponsors and donors and for that we are thankful!
For the best reasons we ask that you set aside about 90 min, get some popcorn and a drink, maybe two, and enjoy the 2015 E-Scow Nationals .
December 14th, 2015 by admin
We're most of the way through the Sperry/Sailing Anarchy World Tour 2015 and we hope you've enjoyed our selection of the world's most interesting classes and events so far.  Last week, we sent superstar sportboater and video legend Petey Crawford to the Columbia River Gorge to figure out why the sportboat that began the revolution some 23 years ago was experiencing such a huge resurgence in interest.  Part of the new blood comes from an exciting upcoming Worlds location, but most of it – like any successful Class – comes from the people, and that's what Petey found in this video.  Get to know them – the pros, the n00bs, the groms, the chicks – and see why the Melges 24 still remains one of the best one-design classes in history.
And please head over to Sperry's page and let them know how much you've enjoyed the coverage allowed by their support of the 2015 Sperry/Sailing Anarchy World Tour.  Keep your eyes out for two upcoming SA contests as well – one to win some great Sperry shoes, and one to win a whole lot more.
August 31st, 2015 by admin
The Melges 24 Class ushered in a new way of thinking about one-design racing, and without it, we might never have the kind of big fleet sportboat action that's one of the high points of the sport today.  Melges sailors – including our own Senior Editor – have been a big part of Sailing Anarchy since the beginning, and that's why we're so stoked to see the class continue to rebound after the lows of the past five years.  You wanna know how big a rebound?  How about an incredible 46 teams already registered (some 16 months early) for the Miami Worlds next December! Thanks to the support of Sperry and the Sailing Anarchy World Tour, Petey Crawford reports from the wild US Nationals at the Gorge.  His photos, too.
Over the past 2 months, I've attended the Melges 24 World Championship in Denmark and this past weekend's US National Championship at the Gorge. My main focus on both of these trips was to get back in touch with my own Melges 24 roots while promoting  the 2016 Melges 24 World Championship in Miami. I'm glad to say that the positive trends in Melges 24 racing are evident, and that the entire Miami Worlds team will be working very hard to continue stoking the flames that are clearly burning in the Melges 24 class.
The most positive trend I'm referring to is the constantly increasing Corinthian participation numbers. The total entries at both events have been very high compared to previous years, and this is mainly due to non-pro teams getting on the line. 56 Corinthian teams showed up for the Worlds and 25 of the 36 teams at the Gorge were Corinthian as well.  While the AC and VOR guys get the headlines, it's the average Joe or Josie and their family who've always made up the bulk of the fleet and have provided both the strength and the future of the class, and that's what we are working so hard to promote.
I've been working on some exciting new ideas to promote the '16 Worlds with IMCA Class President Jens Wathne, and have already begun plotting and scheming with new US Grand Poobah Steve Boho who took over just last week.  I can promise that we've got some stellar stuff in the pipeline, and of course you will see it here first.
Until then, there's a gallery I shot at the Gorge here, and full results here.  We'll have a Sperry/Sailing Anarchy video show from the Gorge for you as soon as my computer allows.
-The Rev (and 2016 Melges 24 Worlds Chairman) Petey Crawford – out….
August 12th, 2015 by admin
Big thanks to Hamish Nicol for a great writeup from the Melges 24 Nationals in Adelaide, Oz.  For more info, check the South Australia FB page.
After two days and with 5 races completed the 2015 Melges 24 Australian Championships are at their mid-point with competitors enjoying crash/bang/wallop racing followed by so much free sponsored beer at the dockside and wine in the club that the sponsors themselves cannot remember what happened and why they did it.
PRO Rogers is taking the piss because he keeps promising steady 15kt sea breezes that never show. The 14 competitors have seen everything from light Northerlies disappearing to nothing, to howling 20-25kt Southerlies with 2 meter swells to launch off. Add in the bushfires on the way over (now thankfully out), gear breakages and involuntary swims, and the fleet now expects tempests, locusts for the next few days.
The front of the fleet has a familiar look to it at the halfway stage with Chris Links-fresh from Wild Oats Hobart win-helming Cavalinho to several wins with Olympic Gold Medal winner Nathan Wilmot calling tactics. Adelaide favourite and former AC and 505 man Ronnie Duessen is following closely in second overall with his Red Mist's red coachwork unmissable in the grey surf. Johnno Bannister's Penultimate Challenge is in third crewed by a team of Mornington Peninsula hot shots. Another local boat Adrenaline is in 4th overall. Having been second after the first day Luke Stephen's team had to survive a swim and a wild broach avoiding Red Mist.
The teams now prepare for an already breezy day three, re-examining their gear (two forestays failed on day 2)  or perhaps breakfasting on Glenelg's famous pie floater.
January 9th, 2015 by admin
We've all seen it happen, over and over again: A Class/regatta, or area (or judging from sailing's decline since 1979, the entire country of America) judges the temperature of its customers poorly, and that line between 'let's go swap a little gelcoat with great sailors and earn their respect' and 'holy crap, I'll never, ever have the time/money/desire to keep going in this sport' disappears.  The issue is not simply about well-written and conceived rules, though they help; it's more about the kind of perception and atmosphere created by the folks running the show.  No Class has more epitomized this struggle than the Melges 24; despite a feverish period in the 2000s when the M24 saw 100+ boat turnouts for the majors and big regional fleets, the NorthAm fleet went into rapid decline beginning about 2009. Escalating costs, difficulty in finding good crew who could hike as long and hard as the pros who absolutely filled the fleet, and distracted marketing from the builder were the culprits, and half a decade later, the Class is seeing a serious resurgence in the boat we've always considered to be the world's most perfect one-design race boat.  Long time Melges performer and now pro crew Sam Rogers explains why.  Joy Dunigan photos with a sweet gallery over here.  World Champ Brian Porter beat Bora Gulari on the final day in a replay of something we feel like we've seen at about 10 of these Nationals.  Full reports here.
Where do you find that line between keeping top level pros in a fleet to provide that ultimate challenge, and keeping the average racer happy and engaged?  It certainly depends on the fleet you're talking about, but there's no question that for an open class like the Melges 24, the amateur owners and crews are absolutely vital to maintaining a successful fleet – and the overall sport.  Most amateurs want the challenge of sailing with and against the very best, but without the average man/woman making it to the race course, those lines are awfully lonely places.
I'm writing today just after an awesome 31-boat Nationals at Davis Island, FL, to let you know that the US Melges 24 Class seems to have made it through its 're-birth' while really nailing this balance, and without losing its high-performance, grand prix identity.  Nearly a perfect split between open and amateur teams swapping blows over 3 days and 8 races with both overall and Corinthian standings going down to the wire and several all-amateur teams filling out the top ten. Kevin Nixon's Accru+ entry from Australia took the overall Corinthian trophy and 7th overall, competing with his wife, daughter, son and son's girlfriend.  Sounds like a perfect weekend getaway to us!
Roger Counihan's Just Add Water team (Lake Lanier, GA) is a Melges 24 staple, and he finished a solid 3rd Corinthian and 11th overall.  Roger thinks the fleet's new look is awesome: "The Corinthians by themselves are a very strong fleet, and in every race there are Corinthian teams sticking it to the pros.  There's nothing better than seeing an America's Cup sailor or World Champion behind you – those are always great stories for the bar.  At the same time, its great to see what the pros are doing – how are they trimming their jib, where is their traveler, how hard are they soaking.   Plus, as a fan of sailing, watching strong teams full of sailmakers, Olympians, and boat builders go head to head in the same boat we sail is pretty cool."
Part of the Class's rebirth is thanks to the early success of the M24, and the big used-boat market that developed as the economy collapsed.  Enterprising sailors in a few unexpected regions scooped up good boats for great prices, the grassroots growth results are now filtering into the traveling/major regatta fleets.  "There are still new sailors picking up competitive starter boats for surprisingly low prices and quickly learning to mix it up," said Counihan.  "Our fleet is a tight knit bunch of friends who have sailed on everyone else's boats, help everyone get better, and hang out off the race course."
Texas & Gulf Coast District rep Ryan Glaze (Gringo) says it's important to represent his regional fleet on the national stage.  "Our performance this past week at (2nd Corinthian, 8th overall) was important to our team, the Gulf Coast District, and to the USMCA.  We proved that you can get an older boat, put used sails on it, and be competitive with a good team of amateurs.  There are a lot of good sailors out there that would like to race the M24 but might be turned away by the costs. However, over the past couple of years, we have seen more teams in our district take a similar approach to ours; purchasing an older used boat, giving it a little TLC, and putting together a core group as your team."
Through the ebb and flow of fleet growth in the 20 year history of the Melges 24 class and a stronger than usual used boat market, attracting a balanced mix of amateur and pro teams seems to have reach an equilibrium, and the spirit of the class has been renewed. Along with the solid turnout the Nationals, there was a strong sense of community with every sailor leaving with something. With a well attended class debrief led by some of the classes best-regarded pro and amateur helms (Porter, Gulari, Kullman, Madrigali), and an owners' meeting that highlighted the recent growth in the class and previewed a solid 2015/16 schedule (featuring the 2015 Nationals at the awesome Gorge in late August and the 2016 worlds being narrowed down to a location in South Florida) the Melges 24 may be blazing a new trail as a model for successful One-Design fleet growth, just as it did over 20 years ago.
And it's still quite a bit faster than all the 20-something production sporties that have come since…
November 18th, 2014 by admin
SA supervideographer Petey Crawford dropped the video camera this weekend and picked up the tiller.  Here's his report along with some Tammy Sawyer photos.
The 2014 E Scow National Championship concluded Sunday with absolutely glamour conditions. I consider Crystal Lake one of the most beautiful locations in the US, as well as one of the best sailing venues anywhere.  Crystal is Michigan's Lake Garda and it rarely disappoints. In a world of declining participation in fleets around the globe, the E Scow National Class has seemingly flexed its muscles for 2 years in a row by luring 75+ boats to the line (84 and 78 respectively). Unlike another class that is experiencing a good turnout this, week the E scow has been doing it since 1959, and the depth of the talent at every one of these regattas is incomparable. Just look at the names of the champions on this list –  Now imagine the names of the others on the podium next to them. This years event was no different.  Porter, Melges, Jewett, Rogers, Burton out of the ILYA, East Coast names like Johnson, Hillyer, Lucas and Michigan locals like Price, Hatton, Kimball, Dow and Terry. Each and every one of these names was capable of getting in the mix and winning races and perhaps the whole thing.
Day 1 was bit frustrating as we spent the entire day on the water with only a single race to show for it due to extremely shifty conditions and velocity changes. Day 2 started out with a much better forecast and surely we could get back on track with 3 races. That was what PRO Bruce Golison and his team served us up. Classic Crystal Lake conditions with sunny skies made for a great day of racing, and we finally got to see the Tahiti-clear aqua blue water which is a big part of what makes this place so special. With 4 races completed and 2 more scheduled for Sunday, the stage was set for some great action.
Day 3 looked light to start but Bruce brought us all out so we could get going as soon as the sea breeze filled. With a short postponement we were back at it. Jeff Bonanni made it clear that it was moving day, and won race 5 to climb the ladder into the 3 spot. Harry had a tough 21st, Sammy sailed to a 6th, Chris Jewett got a 19, Burton scored a 9th and Peter Strothman made away with a 15th. So needless to say, the top 5 shuffled around a bit and the 6-10 group inched even closer into the mix. After 5 races completed and with a 6th race allowing a discard it was still wide open and with 78 boats anything could happen.
Jeff Bonanni, clearly liked the leap up the ladder and decided to win yet another race and pretty much showed us all how to close out an event and beat the rush to the crane. Little Harry Melges made his run back at the top with a 3rd, Strothman got a 4th and Burton took 14th. Sammy sailed just well enough to get a 12th. That meant that Sam "Big Daddy/Rasheed" Rogers and his crew of Chrisy Hughes, Tony and Lynn Jewett were the new E National Champions by a single point over Harry Melges IV and his crew of Monroe Melges, Mya Burdick (with Harry Melges III and Andy Burdick as their chaperones). I am so stoked for Sammy and the team to get this Championship, and to have it come down to a single point was even cooler! Having 13 year old Harry Melges kicking our asses already is a clear sign of what's to come, but I think we all were totally pumped to have him in there, especially with Monroe and Mya!
The E scow class continues to deliver and is filled with some of the best people I have met in my entire life let alone my sailing career. I got back into the driver seat of an E scow this year at Charleston and knew I had to be at Crystal. I found a boat and sails made it happen and although I fell short of my goal for the event, it really didn't matter; I had a ripping time with close friends and made some new ones. I even dragged a long lost friend out of sailing retirement and made him sail more races in 3 days than he had in the last 3 years, and despite his huffing and puffing and me "encouraging" him around the course we have decided that it's officially time to get back to racing E scows full time. Our personal hero moment was winning the pin end in race 3 and rounding in 3rd. Despite some mental errors in the race we still mixed it up with some of the best in the country and held on to a 15th, and we will always remember that start.
Big thanks to my crew on the II-1 Team Honor The Box –  Chris Eggert, Thorn Turner, Jess Haverstock and Nina McKeough and a huge thanks to Russ Lucas for letting me commandeer his old boat.
Side note – The last time I drove in an E Nationals I had dreadlocks down to the middle of my back and the regatta was hosted by Little Egg Harbor YC. Well, next year it's at Little Egg again and we will be there, but chances are I wont be rocking the dreads.
-The Rev. Petey
September 9th, 2014 by admin
Fleets come and fleets go, but the Cal 25 remains forever.  At least that's how it is in Southeast Michigan, where the Cal 25 continues a long legacy of great racing, better partying, and lasting forever.  Here's the report from the Detroit gangstas who won last week's National Championship without winning a race, and our apologies for our almost magazine-like delay in getting it up.  Okay, not quite that bad.
The first weekend in August saw the Cal 25 fleet make its way to Port Huron, MI for the 2014 Cal 25 National Championship, some from as far away as Annapolis. Light winds all 3 days caused by a large high pressure system over the Midwest made for some delays with a final tally of 6 races going up on the board. 21 boats was the final headcount for the event, with over half of the fleet representing Detroit.
Target Practice had been awaiting this weekend for some time, and had done tons of boat and sail prep to ready for the event. Numerous jibs were looked at and the entire deck layout was reconfigured to try to give us more control over sail shape and eke out that hundredth of a knot from these 4KSB'es.
Day 1 saw light southerly breezes all day. Race 1 started in ~4knts of breeze, and saw a number of the top boats get off clean and flop onto port after a short while. Places remained relatively static around the course with Target Practice coming away with a deuce. The breeze died and we went under AP for ~90 min waiting for it to fill. When it did from a weak thermal, Race 2 saw a little more action on the line with some yelling and a couple of alleged fouls, but no flags. The rich got richer as clean air was king for the start of this race with the leaders extending, however on the 5 leg race the last downwind saw the breeze dying and things started to get mixed up with boats finding patches of wind that others simply didn't have and some boats were able to improve their lot on this and the ensuing upwind. We led the day with a 2,2 followed by Draco and Holmebrew.
Nerves ran high on Day 2 as it was moving day. It was again light southerlies but with the expectation that a northerly breeze would fill in at some point. Race 3 and 4 saw more of the same from Day 1 with slightly more breeze, we again went 2,2 however Never Alone found an upwind gear that was untouchable and took 2 bullets. Race 5 was started with an easterly thermal breeze of ~5 knots. We suffered from an unforced error and were called over early just off the boat, while Obscured by Clouds won the pin with clean air and was first around the top mark. The course however was hugely starboard tack favored, so after ducking the line we found some pressure right and still wound up rounding in the top 5. We had struggled with our downwind angles all weekend thus far, and were having trouble sailing as deep as some of the other boats. A quick gybe saw us move up to 3rd and Obscured, Never Alone and us all went around the left mark. Obscured finished first with Never Alone right on their heels, followed by us. This unfortunately ruined our up-till-that-point perfect scoreline of 2-2-2-2.
We went into the final day with a 5 point lead on Never Alone. We expected no more than 2 races, and so the gameplan was to continue to sail our regatta, but keep a loose cover on the competition. Dense fog greeted us on the racecourse, but brought relatively strong breeze with it. However, starting a race in the fog would have been difficult and as it burned off the wind died. At about 1 oclock the fog had lifted and we had sufficient wind to start. The line was pin favored
and so with a minute left we tacked away from Never Alone for a pin end start. We hit the line on time and with speed, only to look over our shoulder and see that Never Alone had done the same roughly midline. An early tack away saw us take some transoms to get to the favored board and pressure, and we were able to round in first. We held serve on the downwind and rounded the left mark again in first with Never Alone behind, coming with us out to the right. They reaped the gains of their high upwind mode and we were only able to round in front due to a header at the top mark that forced them to do 2 tacks. That header also saw Patriot squeeze in front coming in from the port layline, with Target Practice and Never Alone close behind. We finished in a dying breeze with our final deuce of the weekend and a 6 point lead on Never Alone.
Racing was very tight all weekend, and Port Huron Yacht Club and the Race Committee did an excellent job getting in 6 good races. Our thanks to Tyson Connelly and PHYC for running an awesome event! Target Practice was sailed by co-owners Erik Ryan and Adam Hollerbach, with me, Nathan Hollerbach, and RJ Wolney rounding out the crew.
Brad Terpstra
USA 632 – Target Practice
August 21st, 2014 by admin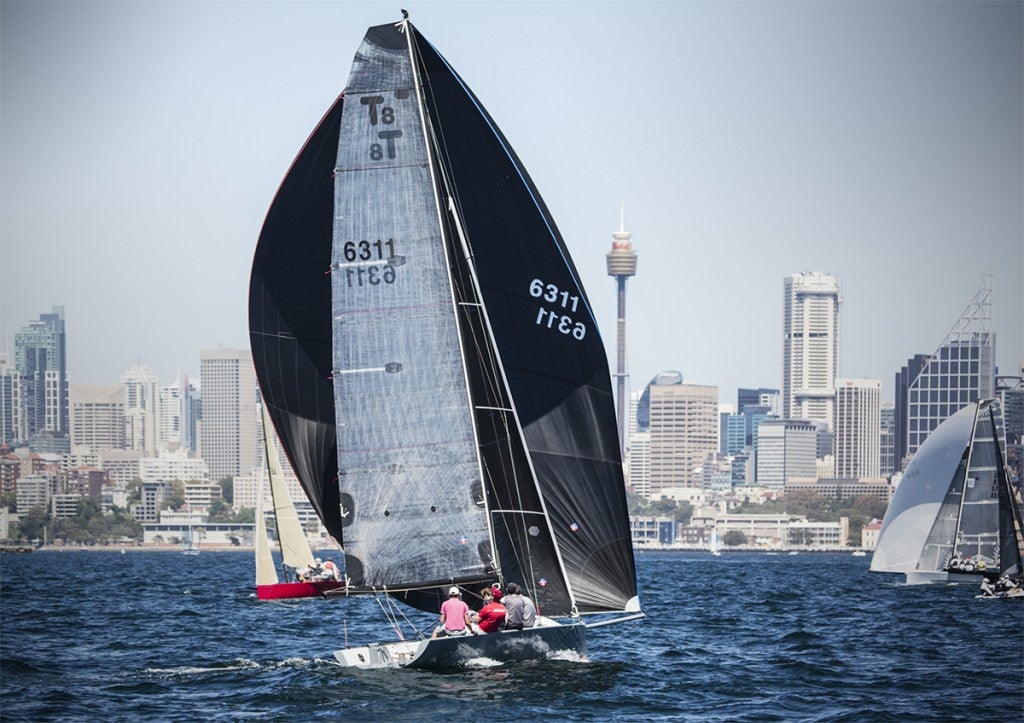 Beth Morley at Sport Sailing Photography got this awesome shot of the ASBA Sportsboat Nationals sailed right out of the same Cruising Yacht Club that runs the Hobart race.  The Thompson 8 Zippier seen here finished 2nd with the Shaw 650 The Stig's Audi Driving Cousin crushing the fleet with 5 bullets in 5 races.
Full results (unfortunately without the boat types) here, and some really excellent work in Morley's event photo gallery here.  Not much info out there, but some is here.
February 11th, 2014 by admin