Posts Tagged 'Nacra 17'
Racing in Rio may have been completely overshadowed by mass protests, a wave of murders, the Zika epidemic, and a government in shambles, but if you missed the story of Santi Lange and his crew Ceci, it's one you want to catch up with.  From losing part of lung to cancer to winning Olympic Gold after two-plus decades of attempts, Santi is a legend – and this piece from The Olympic Channel is a well-produced look at his battle.  Above is just a trailer – the full 10 minute mini-doc is over here.
June 23rd, 2017 by admin
With the first of the new full-foiling Olympic Nacra 17 scheduled for delivery very soon and the ranking-essential Euros just around the corner, one of Team USA's best hopes for a medal was messing around in Holland, preparing for the coming battles above the water.
The Keith Brash video above (and there's another gorgeous one here) is of double Moth world champ Bora Gulari along with his new crew, 2016 FX competitor (and soon to be Stanford Masters grad) Helena Scutt.  And clearly, smart is fast – check out this video for the first-ever of a Nacra 17 nailing a foiling gybe.
Head over to Bora and Helena's Facebook Page here and like and share them.    Let the Olympic flying begin!
April 11th, 2017 by admin

The MUSTO + Torqeedo "Cleanin' Up Europe" report continues with a talk about foiling Olympic catamarans, innovations in live race coverage, Rio craziness, and how to manage an Olympic Class of racing boats.
A few months back,  the guys who've been running the 49er and FX Classes so competently for the past few years added the Nacra 17 Class to their workload.  Canadian Class Manager Ben Remocker and expat Irish President Marcus Spillane are young, innovative, and don't give a shit about politics – they consider their duty to their sailors absolute, and the vigor with which they approach their job is refreshing.
They pull no punches, either – whether it's talking about the Nacra 17's problems or the concerns about foiling, the inside stories from Rio, or explaining how to get around ISAF obstacles, these guys are always entertaining interesting and there's plenty to learn in our mostly sober talk in a hotel room in Barcelona.
Listen above, download here for later listening, or subscribe to the SA Podcast on iTunes, and as always, a big thanks to MUSTO and Torqeedo for presenting all of our Vendee, ISAF World Council, and METS coverage this month.  Also thanks to Ocean Planet Energy and Doyle Sails NZ for their support of our coverage.
November 13th, 2016 by admin
Unlike the messy US Election, the choice for the first-ever Olympic foiler was a much less nasty affair.  Plenty of questions remain about the equipment and event choices for Tokyo 2020, but the odds-on favorite for the first flying boat at the Olympics is now the Nacra 17 in its new 4-point foiling configuration.   A majority of the 89 votes cast during an EGM held over the weekend called for the full 'evolution' of a boat that had more than its share of problems in its first quad, and while no one thinks this will be an easy transition, Anarchists who've tested out the new design have walked away with big, big smiles on their faces.  We'll have more on this in a couple of weeks in Barcelona, but for now, here's the press release from the Class:
On the 19th of October the Nacra 17 class members assembled for an electronic Extraordinary General Meeting (EGM). Three topics debated were
a) an update to the class constitution
b) advertising
c) whether or not class members recommend full foiling for 2020 or not

A presentation covering the proposed changes to equipment, pricing, and procedure was shown to 50 members in attendance over the course of 2 hours. Details of how the boats would be made stronger and more consistent were included. Also shown was three pricing options for a mk 2 Nacra 17 was presented which can be downloaded here.


The three options for equipment going forward are:
a) retrofit a mk1 boat to go full foiling for 7,900 euros
b) Buying a new platform for 14,500 euros, retaining the ability to sell the mk1 platform for a next cost of about 7500 euros
c) Buying a new boat for 24,250 euros, an increase of about 2000 euros from the mk1 price

Following the presentation was a discussion with questions and answers from class members and leadership. At the close the meeting, voting was opened to class members. 89 members voted from the total membership of 132, above the 40% threshold required to form a quorum. All of the motions passed, with the advertising and constitution motions receiving 87% support or higher. the major question of whether to recommend to World Sailing whether Nacra 17 should go fully foiling for the 2020 Olympic or not was a closer vote, but ultimately passed 48 votes to 33, for a 59% support level.

As such, the Nacra 17 class has sent a letter to the head of the Equipment Committee of World Sailing with the class recommendation.  Class president, Marcus Spillane, will convey this position at the World Sailing Conference next month in Barcelona. Equipment of the updated configuration will become available following confirmation from World Sailing Conference of their position on the matter. Team wishing to get onto the waiting list for mk2 equipment should be in contact with the Nacra Sailing head office.
October 24th, 2016 by admin
Perhaps the most likely foiling candidate for Tokyo 2020 is already doing her thang on the water; go here for some good video of the Nacra 17 flying her ass off, and ask Nacra about it in the thread.
October 2nd, 2016 by admin
The monthly World Sailing show may be a relic from another era, but occasionally they stumble upon great stories. Never mind that America's Cup and VOR video producer Sunset + Vine didn't bother to use actual Olympic video, instead relying on still images and grainy camera phone for this piece; the story of Santi Lange's gold medal performance in Rio is perhaps the most compelling in Rio 2016. Over 50 years old and sailing aboard the quickest Olympic boat of all, Santi took an unlikely gold just months after losing part of his lung to cancer.  Lange is one of the kindest and most generous people in all the sport, and his story should inspire all of us.
To read a deeper piece about Lange's accomplishment, check out the NBC site here.
September 27th, 2016 by admin
We know you've all been waiting for the Sailing Anarchy take on Rio 2016 and the US Sailing Team, so strap on your listening helmets and get ready for Sailing Anarchy Podcast # 9.  We grabbed Nacra 17 helm Bora Gulari to find out how all his Olympic gear was stolen (in Detroit), how he got it back, and everything Olympic we could cram into 2 hours of slightly inebriated yapping.  Find out about his DNFs, medal race craziness, what it's like to live amongst 10,000 other ultra-fit athletes, and why, at 40 years old, Bora's finally found his place in the sport.  Detailed discussions about the overall performance of the US Team and where it's headed; this one has it all.  Maybe our best podcast yet; listen above, download here for later listening, or subscribe on iTunes.
If you appreciate the fact that some random chick found all Bora's stolen Olympic gear on the street, brought it inside, and called to return it, check out her GoFundMe page for some kind of operation she needs and reward her.
August 30th, 2016 by admin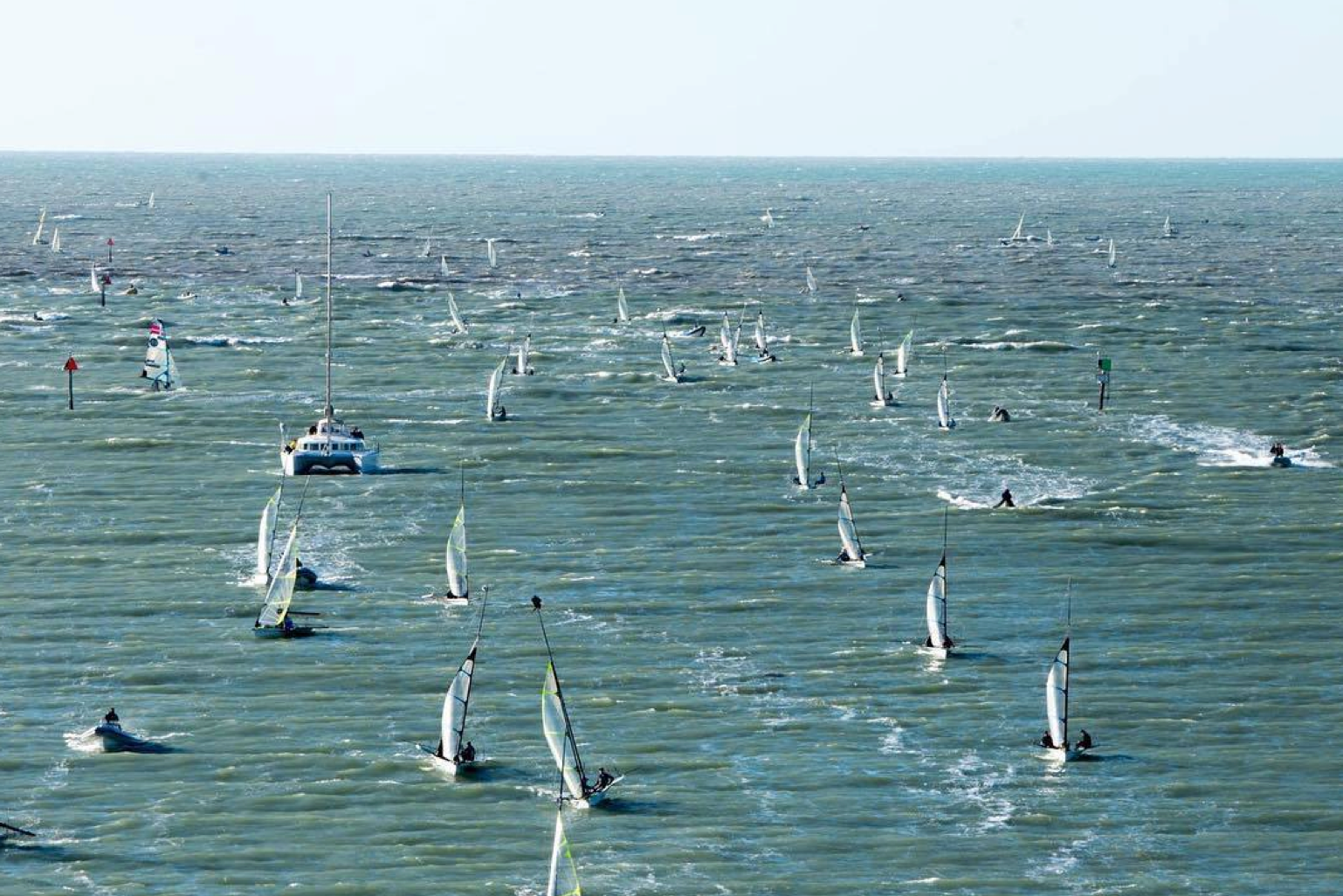 With day after day of boatbreaking conditions at the 49er/FX/Nacra 17 Worlds thanks to big winter breeze and shallow depths, Clearwater Sailing Center's race course was something of a bust, both for a double-digit number of masts and for replicating Rio conditions.  And while Paris Hencken and Helena Scutt held true to their recent form and claimed the Olympic berth for the FX, longtime favorites in both the skiff and cat took huge dives, and the final Nacra and 49er selections came as a shock to everyone in what is a life or death trials for those obsessives who put it all on the line for a shot at Olympic gold. (For instance, check out this glossy, expensively produced Sperry/US Sailing video profile of 49er favorite Brad Funk that dropped just before Worlds, when Funk and Burd sailed themselves right out of the trials and off the team.  Oops.
The American deficit in the Nacra was pretty obvious, especially when competitors Sarah Newberry and Matt Whitehead – who've held the official US Team designation for the better part of two years – came across the line as only the fifth American team in the selection trials – and near the back of the overall fleet.  Meanwhile, Mark and Carolina Mendelblatt continued their late charge for the Rio berths and offshore beach catter Mike Easton and Katie Pettibone showed their heavy air prowess while dominating the other US teams in Clearwater.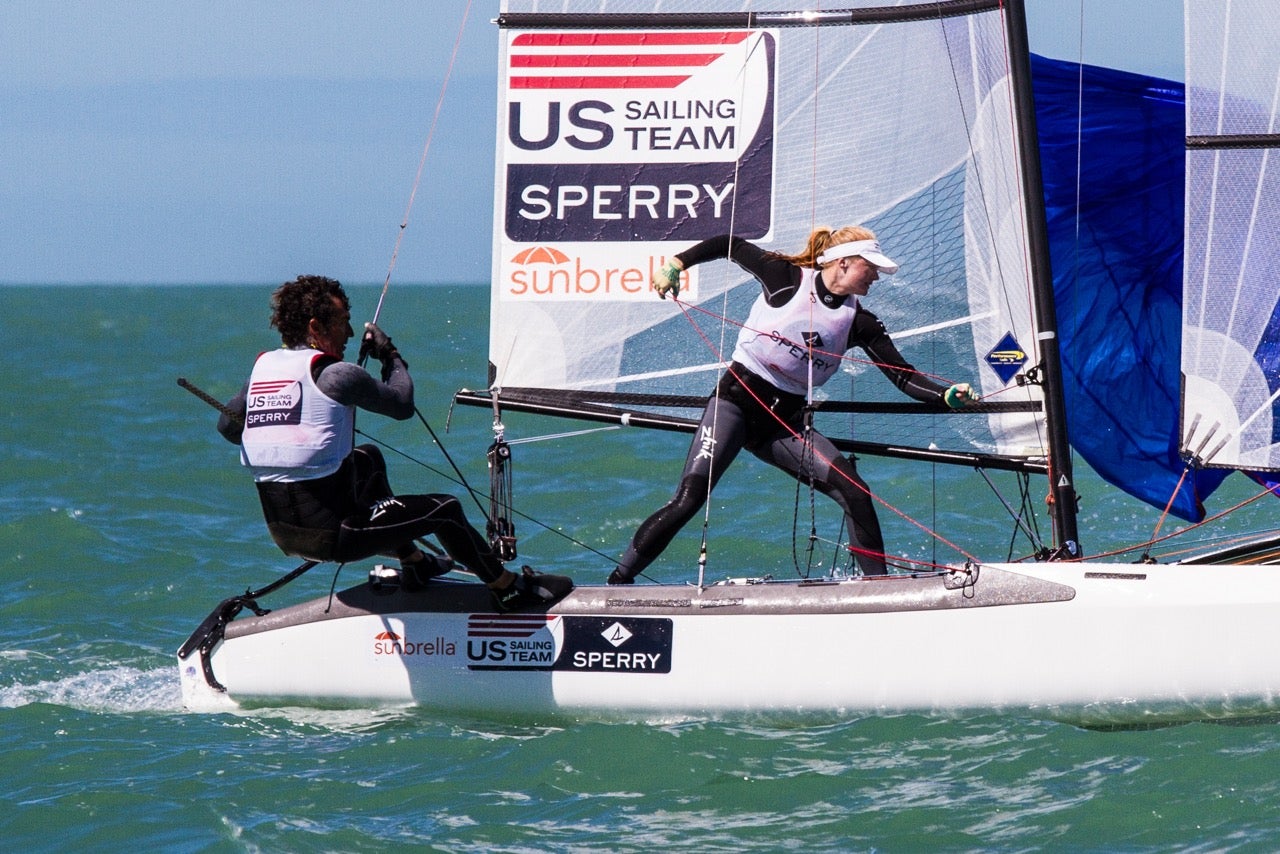 But it was one of SA's oldest friends who came through at the very, very last minute.  That's right, folks – double Moth World Champion, Melges 24 dominator, and sporty offshore navigator Bora Gulari, along with young crew Louisa Chafee, did just enough in the Clearwater event to squeak through qualifications by 2 points over Easton and just 3 over Pettibone.
Bora checked in to the SA Forums after a long hiatus from posting.  We will have a full interview with Bora when the Sailing Anarchy Podcast launches on March 1st, but until then you can check out Bora's bullet point report.  From the "US Sailing Is F&*ked" thread.
So sorry I have not posted in quite some time but some of the comments in here have motivated me to at least write a tiny bit. 
-The first time I stepped into a Nacra 17 was in the Miami OCR last year, I bought a boat 3 months later and that was the first time I was able to sail daily.
-I switched crews one week before the Miami SWC we got at high as third most of the way through the regatta and I started sailing worse once there was more off the water distractions of friends and family showing up.
-For Clearwater I had changed some foil angle setup things.  I do not have access to a VPP, so I am doing this on the fly.  The change I made was a definite mistake and boat speed showed it.
-Worlds had the most challenging sea state I have ever had to race a dinghy in, next time I will be ready for that stuff.
-There was more off-the-water distractions for me than I had ever to deal with.
-Ahead is 6 months of full-time sailing with a good teammate, great coaching, and unlimited resources from now 'till the games. If you discount me fine but I don't think I would.
It's hard to discount the best American apparent-wind helmsman of his generation (especially when he's a hydrodynamic engineer) in a very new and untested class.  It's a longshot, but outside the 470 girls and guys, they're all longshots.
Top photo from the 49er Dutchies, pic of Bora and Louisa from Will Ricketson/US Sailing Team Sperry.
February 18th, 2016 by admin
With a solid list of interesting guests and a good location in Miami, John "Worldwide" Casey's podcast continues to impress as he ramps up to the ultimate sailing talker – our own Mr. Clean.  That one won't drop until Wednesday, but you road warriors and bored bastards can listen to today's chat between JC and Enrique "Quique" (pronounced "KeeKay") Figueroa.
Quique is a cat sailing pioneer.  The multiple world champ took his first world title (Hobie 14) at 17 years old, and he's one of a handful of Puerto Ricans who've competed in multiple olympics in any sport, and maybe the only human being on Earth who was able to make a living sailing Hobie 16s.
This interesting Boriqueno has had a chance to see the evolution of Olympic sailing over the years and has truly lived the 'Have a Hobie Day" mantra.  Catch up with the pair as they explore erectile dysfunction in Puerto Rico, domestic wildlife, extreme nighttime cat sailing, and how he just missed out on Rio after losing the Nacra 17 trials in Miami last week.
February 1st, 2016 by admin
Fresh off a crew substitution (trading windsurfer Solvig Sayre for Louisa Chafee, daughter of dropped out 2016 Presidential candidate Linc Chafee) original SA gangsta Bora Gulari looked to be taking the Nacra 17 class by storm this week at the OCR, sitting in medal position after three days of tumultuous Miami weather. With just two events forming the full Athlete Selection Series (yes, it's actually called the A.S.S!) for Rio 2016, Bora and Louisa served notice to the husband/wife team of Mark and Carolina Mendelblatt and US Sailing Team Sperry racers (and former SCOTW) Sarah Newberry and Matt Whitehead that they were gunning for the American slot.  But a breezier day on Thursday rocketed all the Americans back in the pack, and as of Friday noon time, Bora sits in 14th, the only US team with a shot at making tomorrow's Medal Race.
Newberry/Whitehead'ss consistent failure to perform has allowed Gulari and the Splats to turn this into a 3-boat horse race, one of the few left in any Class as the selections get near the end. It's fun while it lasts, though realistically, any of these cat teams are far more likely to be fighting for tenth place than a medal once they get down South. For a full look at how the Selection Series works and who's got a shot, check out this story from Will Ricketson and the US Sailing Team Sperry team.
Incredible shot from the legendary Petey Crawford/Penalty Box Productions.  Full results here.
January 29th, 2016 by admin