Posts Tagged 'musto'
Our 2017-18 Volvo Ocean Race coverage is presented by Musto, Official Apparel Provider of the Volvo Ocean Race.
In this special 'halfway point' episode of The Boatfeed, Clean and Matt Knighton get deep into the latest action at the VOR.  They're giving the OBR's their due, and taking a look at their favorite videos and media from the last couple of legs and much more!  In this episode:
*BREAKING NEWS about the most likely boat for the next Volvo Ocean Race
*Dial-an-OBR with drone ace Sam Greenfield
*Vestas 11th Hour Racing incident from Team AkzoNobel point of view, including media protocols for major issues
*Scallywag MOB analysis and discussion
*And our usual picks of the leg!
February 24th, 2018 by admin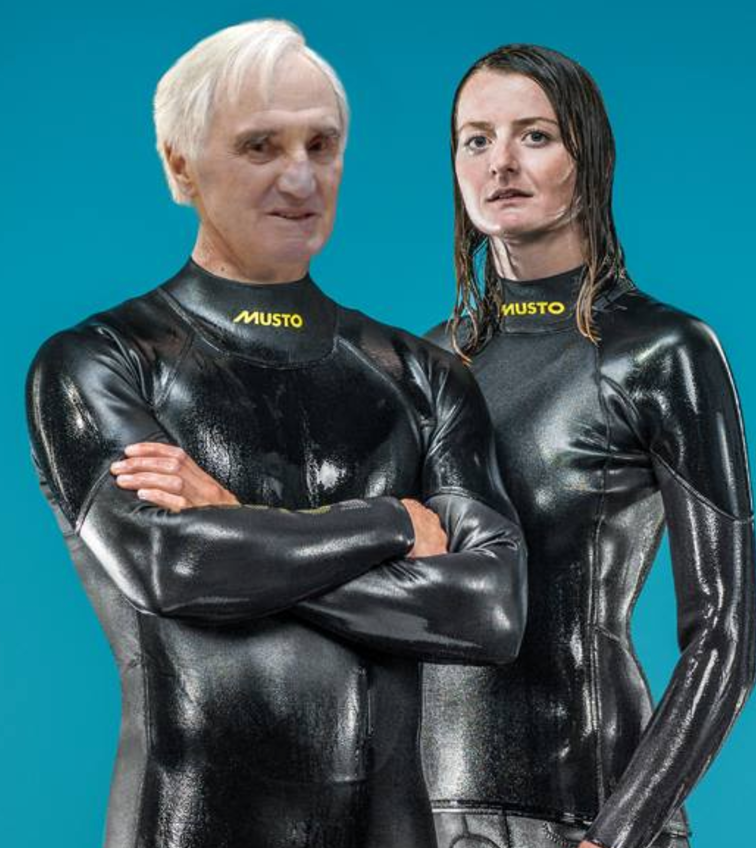 Santi Lange's astonishing Rio success in the Nacra 17 at a spry 56 years of age has inspired a whole raft of age-impaired sailors to come back and show the world that 50 is just the beginning, but even we were surprised that 81-year old Silver medalist (Tokyo, 1964) Keith Musto is launching a fully-funded campaign to return to Japan to take gold more than a half a century after his medal run.  From the news release:
Being such a dominant figure in the history of sailing, the British Sailing Team also dismissed reports of unrest amongst team members at the news of his return, with some reported to be nervous at the thought of Keith taking their spot. To claim gold in Tokyo, the team will need power, experience and precision – and Keith Musto ticks every box, despite the fact he will be almost 85 years old by the time the Tokyo Olympics take place.
Keith said: "It's an exciting opportunity for me to return to the water and aim to go back to Tokyo doing what I love – sailing. My age may raise a few eyebrows, but I bring a wealth of experience and knowledge to the team. Bring on the challenge, I can't wait to get on the foiling Nacra 17 later this year.  Age shouldn't be a barrier – the older I get, the faster I want to go".
Not only is Keith aiming to become the oldest Olympian ever at Tokyo 2020, but he is also aiming to qualify in the cutting edge Nacra 17. With Musto kit leading from the front, utilising the latest technology to create revolutionary sailing wear, the game may have moved on, but legends do not.
April 1st, 2017 by admin
Big Pimpin'
What do the Vendee Globe champion, the Volvo Ocean Race winner and the solo mono 24 distance record holder all have in common? They all trust one company to keep them warm and dry wherever the hell on the globe they find themselves.
Armel Le Cle'ach and his entire Banque Populaire team stood out amongst the throng in the Vendee start village with their smart and sexy shoreside Musto gear, while Armel showed just how smart he is offshore with a brilliant, textbook race that let him finish some unfinished business.   Congratulations to both Armel and Alex and to Musto – pwning offshore for generations. Learn more at Musto's site.
January 20th, 2017 by admin
Clean Report
The MUSTO + Torqeedo "Cleanin' Up Europe" report moves from sunny Barcelona to grey, misty Amsterdam, but not before a short chat with the newly elected World Sailing President Kim Andersen from Denmark.  Andersen took the top spot in the sport away from an incumbent for the first time in the history of the organization, though considering the litany of missteps from the previous board, it's not a huge surprise.  The Dane's mantra has been about transparency, equality, and the growth of sailing – not just the growth of Olympic Sailing and revenue streams.
We'll have plenty more on the interesting developments that came out of the 2016 World Sailing Conference, and trust us – despite the general, all-talk/no-action nature of conferences, plenty of shit went down and plenty of it was good.  In the meantime, we'll be using Facebook Live for the next two days to bring you the latest and greatest kit from the METS show in dreary Holland. Keep an eye on the page as interviews and product spotlights pop up in our video feed.
Big congrats to Torqeedo for winning their second DAME award in four years!  And a big thanks to them and MUSTO for presenting all of our Vendee, ISAF World Council, and METS coverage this month.  Also thanks to Ocean Planet Energy and Doyle Sails NZ for their support of our coverage.

November 16th, 2016 by admin

The MUSTO + Torqeedo "Cleanin' Up Europe" report continues with a talk about foiling Olympic catamarans, innovations in live race coverage, Rio craziness, and how to manage an Olympic Class of racing boats.
A few months back,  the guys who've been running the 49er and FX Classes so competently for the past few years added the Nacra 17 Class to their workload.  Canadian Class Manager Ben Remocker and expat Irish President Marcus Spillane are young, innovative, and don't give a shit about politics – they consider their duty to their sailors absolute, and the vigor with which they approach their job is refreshing.
They pull no punches, either – whether it's talking about the Nacra 17's problems or the concerns about foiling, the inside stories from Rio, or explaining how to get around ISAF obstacles, these guys are always entertaining interesting and there's plenty to learn in our mostly sober talk in a hotel room in Barcelona.
Listen above, download here for later listening, or subscribe to the SA Podcast on iTunes, and as always, a big thanks to MUSTO and Torqeedo for presenting all of our Vendee, ISAF World Council, and METS coverage this month.  Also thanks to Ocean Planet Energy and Doyle Sails NZ for their support of our coverage.
November 13th, 2016 by admin
Clean Report
The MUSTO + Torqeedo "Cleanin' Up Europe" report continues with this hour-long jaunt in Western France.
If there's two things I spend most of my pre-regatta time on, it's dock walks and form guides.  So with one day to go until the Vendee Globe begins, I decided to create some efficiencies and combine these two indispensible tools for following the world's best race.  The result is this video tour of every one of the 29 entries for the VG.
We grabbed the most knowledgeable English speaker we could for this one; Ryan Breymaier is the rigger for overall contender SAFRAN, and he never pulls punches – listen to Ryan's analysis of each boats' strength and weakness and each skipper's history and chances.  Wanna know the best foils, the dark horses, the hopeless dreamers, and the real podium contenders?  This is the place to go.
Thanks also to Bruce Schwab and Ocean Planet Energy for his support of our coverage.
November 5th, 2016 by admin
Sailing Anarchy wishes all free-thinkers a Happy Independence Day; Mudratz co-founder and sailing cheerleader Brandon Flack sent in a great piece celebrating the shared history of the US and England on this special day.  Billy Black photo.
What better way to appreciate Independence Day than to celebrate the success of the WARRIOR SAILING PROGRAM?!  In the short time since its founding, the WSP has introduced more than 150 wounded active military or veterans to the sport of sailing.  Warrior Sailing program also has a competitive race team participating in both adaptive sailing and open racing throughout the US.  These sailors are graduates of the WSP program camps.
Last week's program concluded with a big first place win for the Warriors in the Newport Sonar fleet at the Clagett Regatta, and some of our former colonial masters in Britain – the boys at Musto – have rewarded the Warriors' success (and our "First Big Win" in 1776) with a donation of exactly $17,760 of Evolution Dynamic shirts to the program! These shirts will be given out to participating wounded veteran and active military personnel that attend our camps, and we thank Musto for the generous gift!
Program Overview: The Warrior Sailing Program is focused on introducing wounded, ill and injured military Service Members and Veterans to sailing and basic sailboat racing. The program is open to members of the Armed Forces; active duty, reserve, guard, or veteran. We offer basic and advanced training camps where we introduce participants to the sport of sailing, teach basic sailing skills and learn how to compete within the context of the sport of sailing. Additionally, we will provide resources to participants to be involved with the sport of sailing in their hometowns and how to advance in the sport, if they choose to do so. All instruction is facilitated by professional instructors and on equipment that is adapted to meet the individual needs of the qualified participants who meet the applicant requirements. For those that show a high level of skill, a commitment to training and an ambition to participate in competitive regattas, we offer the opportunity to try-out for the Warrior Sailing Team. The team participates in a variety of training camps and regattas around the country and works to open the sport of sailing to other Service Members and Veterans as they go.
Program Needs: Our goal is to cover all costs of attending the camp for our Service Members and Veterans. This includes coaching, lodging, travel, meals, equipment and so on. We cannot do this without local sponsors getting involved. Likewise, a goal of the program is to introduce our participants to local clubs/club members to reduce any potential anxiety over getting involved with their local Sailing Centers and Yacht Clubs when they head home. We want sailing to be a lifetime sport for these people and social aspect is paramount to keeping them engaged.
General Program Donations: Funding to support travel, lodging and overhead costs can be provided by making a donation to the foundation and is extremely helpful. Donations can be made to cover a single participant, multiple participants, or to generally support the program.
Watch a great video intro to the WSP here, and please support your sailing veterans with a donation here.
July 4th, 2016 by admin
The man in the hot seat is 2016 Miami Melges 24 Worlds Chairman Petey Crawford, and with 8 months to go before the expected record-setting fleet takes the line, our humble video guru posted the latest in his new bi-weekly series "The View From The Chair."  No communications problems for this World Championship!  From Petey:
These episodes will contain information about the event, interviews with Melges 24 teams talking about Miami sailing, killer sailing pics and footage, and a place where you can get all of the latest news from behind the scenes and on the front line as we plan for the biggest Melges 24 Worlds ever. Stay tuned for more episodes of View From The Chair.
Episode 2, Petey talks about Marriott our official hotel partner ,"Get Registered, Get Swag, Get Stoked" and official merchandise suppliers Musto and Line Honors, 114 boats and counting, Melges Madness Regatta lineup and more. Episode 3 will contain some very big news as well as some killer video and interviews from the Madness Regatta. Stay Tuned….
March 17th, 2016 by admin