Posts Tagged 'Multihulls'
The Transpac multihull start is a mere hours away and the ratings authority* (ORR) still hasn't issued ratings! Our understanding is that Mighty Merloe is the only one of the 'big three' to have submitted all data, but Phaedo and Maserati did not. That doesn't seem right at all.
From ORR: "The Offshore Racing Association (ORA) will distribute ratings for the Transpac multihull fleet by the end of the day on July 5th.  There has been a significant delay due to the absence of design information on two of the boats.  ORA is working to create representative hull and foil data to be used in lieu of actual measurements.
ORR-MH uses a velocity prediction program.  The polars from that program are then combined with the same wind speed and direction model use to generate ratings for the Transpac ORR fleet.  (It should be noted that the multihull fleet has a different scratch boat than the monohull fleet so that comparisons of corrected times will be invalid.)"
We'll be watching closely to see how this turns out… Title thanks to the U2's best live song.
*An earlier version of this story incorrectly identified US Sailing as the ratings authority. We got a note on that:
"US Sailing has no involvement whatsoever with the Multihull Rule currently being developed by ORA, nor is US Sailing involved in processing of certificates for the Multihull rule.  This is 100% an ORA project.
"Also for clarification, US Sailing does process ORR certificates for monohulls, but does not have any ownership interest in the Rule or the VPP, which is owned exclusively by ORA.
"We do know there is a need for a robust VPP Rule for Multihulls and wish ORA success in their launch of this Multihull rule.  There are many challenges that lie ahead in this development including the gathering of accurate design and measurement data on the boats.
"Ron White, Offshore Chair, Director
US Sailing"
July 5th, 2017 by admin
It's the Big Kanu, and we'll leave it to the community to explain what the hell it is.  Join the…umm…adventure.
March 18th, 2016 by admin
The most recent stop on the mixed-multihull Routes Des Princes was the Trophee Du Port De Fecamp, and here's a nice look at the action from the winning Multi 50 Fenetrea Cardinal, with thanks to EasyRide Video for the shoot.
September 9th, 2013 by admin
A big welcome back to the front page for one of Anarchy's OG sailor chicks; yogini and spiritual guru Hellion!  She joined one of the very few long-running mixed-multihull events in the US last weekend, and here's her report: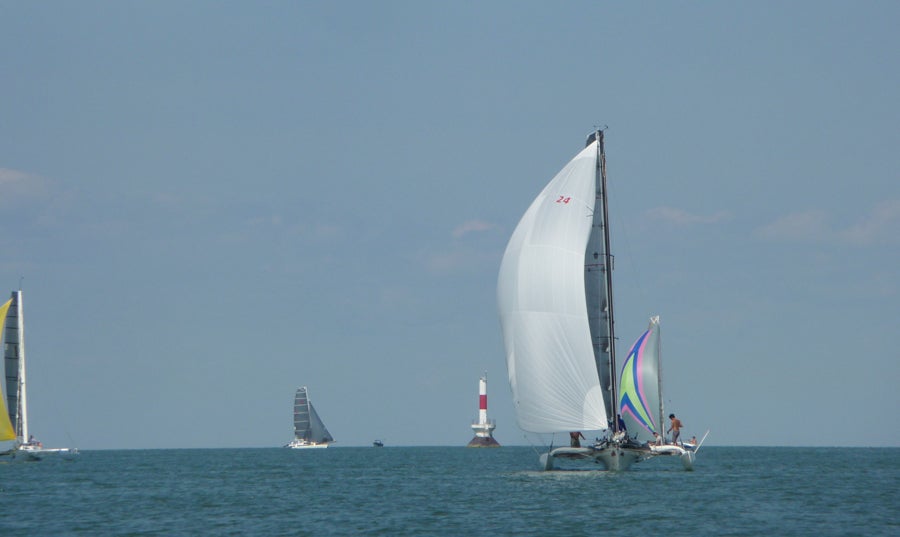 WHEEEEEEEEEEEE!!! I've taken that step toward the Dark Side.  Multi-hulls, trimarans, high speed, firehosing and adrenalin. What an amazing first experience into the multihull world it was at the Great Lakes Multihull Championships hosted by the Bay City Yacht Club in Michigan.
One of the big pleasures for first-timers here is to meet the epoxy guru himself – and one of the longtime drivers behind multihulling in general and the GLMC specifically; Meade Gougeon.  The thoroughly handsome, debonair gentleman was sailing late brother Jan's innovative trimaran Strings, which unfortunately lost her rig during the regatta.
I was lucky enough to get onto an F-25C trimaran; "the greatest small trimaran ever built" as quoted by Matt Scharl, former owner of the all-conquering F-25c Gamera. This one is owned by Ryan and Todd Howe and called Panic Button;  You may not know Ryan and Todd, but if you've been in the Great Lakes
scene you know the boat they were raised on – the monster 60 foot trimaran Earth Voyager.  Lots of SA players showed up on Saginaw Bay; longtime SA'er Geff was recruited on the F-31R Cheeky Some of the players in the regatta were SA's own Geff, who crewed on Cheeky, plus the illustrious Vegas on Adagio, and of course Matt Scharl and Mark Zaranski on Mark's recently purchased modified F27 Blue Green Dragon. Ron White made an appearance on his Tornado gearing up for next year's Everglades Challenge; truthfully it's hard to mention all the wonderful people I met in Bay City; thought of by some as multihull outcasts, they are a most amazing little clan, totally welcoming and gently helping me from any future leaning over or pushing water on my beloved monohulls.
Oh what am I to do? Let me begin with Friday, our first of three days. I arrived a little late and ran into the skippers' meeting looking to see if I could locate the brothers I was to sail with. I didn't know them, nor them me, and so walking right into the meeting was a little bit intimidating. It took less than a minute to have someone walk up to me and say, "Hellion?!" It was Vegas!  He brought me over and played up my sailing skills, telling the Howe brothers that they were lucky to have me. My red cheeks must have said it all. I am no expert in anything, and I told them so;  I told them that I had zero multihull experience and they said 'no worries'.
As always, it's do or die for me; straight into the fire, and off we went for our first three races with winds to 18 knots from the NE.  Even before the start we were soaked to the skin. We saw speeds of 18kts and my grin grew! I mean I blinked and we had moved so fast that I realized right away that thinking too much was not how things play out in this realm. It's a DO IT NOW! kind of thing. Three 6 miles races, each over in about 40 minutes.  Unbelievably wet and wild, and a steep learning curve on positioning, choreography, and line management.   Thankfully these multihulls aren't too complex, and Panic Button took three bullets and a first overall for our first day! A toast for each win meant plenty of blood-warming alcohol, while carnage for Zaranski and crew (a blown out main clew) meant a reefed main for the rest of their day. Greg Bull flipped his Gougeon 32 during the third race; that's what the anti-turtle 'blimp' on the masthead is for…Meade caught the worst of it on Strings when their rig went over the side.
Cut to Saturday morning, the day of the "long distance race". No wind to speak of, the two fleets headed out without much hope. After an hour delay the race was started; the tiniest puff makes these boats zip right around.  A shortened course of 18 miles saw another Gougeon design – Ollie – cross the line first with us second, though under the handicap we took another bullet! Yes, more alcohol was in order.
Day three, muscles sore, knees raw, and shoes and gloves still wet, the water flat, the winds were about 12 kts building to 20. Perfect conditions for these 'pitchforks'. We headed out with such promise, and the knowing that we'd really have to screw up to lose, our spirits were tremendously high. The two races went smoothly and were over quickly, and I noted that, for being aboard a boat with people that were strangers to me on Friday morning, we were already in tune with each other and feeling as if we'd been through a year's experience.
Sunday's awards ceremony went quickly to let people get home, and with Panic Button taking first on the day and first overall, I was hooked!  Could we possibly fit any more alcohol in?  Yes, I believe we did. Flight Simulator took second, and Ollie took third.
Things I learnt at this fun-filled, first time ever, multihull regatta:
1. The dark side is quite seductive. "We have cookies!"
2. Lake racing proved to be just as adventurous as racing in the ocean. Even my racing experience in Hawai'i did not seem to be that much more challenging looking at Friday's conditions.
3. This group of racers are a tight-knit bunch. Super competitive on the race course, and family-like on land.
4. Racing at these speeds has one's mind and body working at triple speed.
5. These amazing vessels pack up on trailers like birds folding in their wings.
6. And finally, see number 1 again. When is the next one?!
August 27th, 2013 by admin
Our old friend Bruce Geffen may have gotten rid of Nice Pair – the sexy black cat that he sailed to multiple consecutive multihull victories in the Mackinac races – but he's still a dark sider to the core.  This year, he's aboard the rebuilt 50-foot "Lucky Strike" as they head up the lake this afternoon.  Track the race here and if you've got an IQ below 80 check this video to learn how.  Stick to the CYC Facebook Page for an ongoing stream of information.  With On-The-Water Anarchy missing their first CYC Mack in years, it's good to see NBC Chicago filling in with live coverage for the Parade of Boats,. And of course go here for the latest weather and discussion.  The forecast is dire; we'll have the best reports from the fleet right here.
After having the aft crossbeam crack in the 2012 Bayview Mac Race, Manitou went through a complete refit and extensive rebuild.  Now named Lucky Strike, the 50′ Newick designed trimaran it's back and better than ever.  New rigging, complete new crossbeam and deck area, rebuilt cockpit, a new self tacking jib, and the entire deck area it's now clean and simple.  Her working area is user friendly, and the whole boat is stiffer than she ever was.  Freshly painted and the new press-and-stick non skid makes this cushy rocketship the prom queen of the multihull fleet as well as the Chi Mac fleet.  Fred Ball is the owner has brought together most of the crew from Nice Pair again due the third straight year.  On board is Jim Anderson, Kris Landman, father/son team of Earl and Hunter Lyden, and Bruce Geffen.  Looks to be an awesomely slow race this year, even by multihull standards.  Should be agonizing on a big yellow dump truck filled with lead!
Kiwis Andrew and Ken from Harbor Springs did the amazing rebuild of the boat.  Without their mastery and way over the top perfectionism, this would not have come to fruition so well.  These two are true craftsmen boat builders that are in a league of their own.
July 13th, 2013 by admin