Posts Tagged 'multihull'
Big Pimpin'
If you wanna race at 20+ knots and still party like a rock star on your racing machine, no one does it quite like Gunboat.  Here's a muy bonito look at the NYYC Multihull Regatta, with Gunboats making up 6 of the 8 entries in the class (including some newly imported AC talent) and taking 1st and 3rd.  Buy your own over here.
August 14th, 2017 by admin
Gunboat Tech/Sales Director Nils Erickson got bored on the plane to the Caribbean and came up with this gem of a Form Guide for the high performance, HNW, hard-partying luxury cat racing class at the BVI.  This is too good a piece for plain old pimpin', but always consider the source!  
Hot on the heels of the St. Thomas International Regatta, this year's BVI Spring Regatta may well feature the hottest collection of performance multihulls ever assembled on Virgin Island waters.  This burgeoning market segment is seeing new players in what was once Gunboat's private playground, and with events not only in the Caribbean but in places like Palma (where last summer's Multihull Cup attracted 3 Gunboats, an HH-66, MC2-60 and APC78), the future of big multihull sailing looks bright indeed.
Traditionally, Gunboats have made the Heineken Regatta their winter event of choice, but this year the fleet has settled on the BVI Spring Regatta in Tortola. Nanny Cay Marina has been running the event for several years now, and it's become one of the best events on the calendar. With over 100 new slips open this season and constant improvements to the facility, Nanny Cay and BVI Spring Regatta have become a premier destination and event. This regatta will feature the fastest versions of 4 different platforms (Gunboat 60, Gunboat 62, Gunboat 66, and HH66) which should provide for some compelling action and some great stories.  With that in mind, here's my shot at an impartial Form Guide for the event, and we encourage you to follow along at Gunboat's Facebook page here.
Extreme H2O (Gunboat 66): She's the reigning queen of the West Coast performance cats having won catamaran line honors in almost every race she's entered (Cabo, Transpac, etc). She's left the Left Coast in search of stiffer competition and hopefully a new home (she's for sale). Extreme H2O will face off with her East Coast rivals for the very first time. This Morrelli Melvin designed Gunboat 66 is the most technologically advanced Gunboat out there (hybrid drive system, HUGE C boards, T-rudders, etc) and she's arguably the fastest Gunboat afloat. Weighing it at a svelte 17 tons, she's still going to need a bit of breeze to take advantage of her greater righting moment compared to lighter and smaller Elvis. Extreme H2O will be sailed by Team Gunboat, with Vincent (the LP of VPLP), Xavier, and Matthias also from VPLP, as well as some of Gunboat's French internal design and management team. Hopefully, Extreme H2O project manager Malcolm Park, skipper Hannah Jenner and her core crew can make up for the desk jockeys (myself included) that will be "trying to help". VI legend/Olympic/America's Cup/all-around rockstar Peter Holmberg will be joining to offer some local knowledge and expertise as well. He's recently purchased an Outremer for his own personal enjoyment, so he's the latest member of Gunboat's extended "family". (Photo credit Ultimate Sailing/Sharon Green).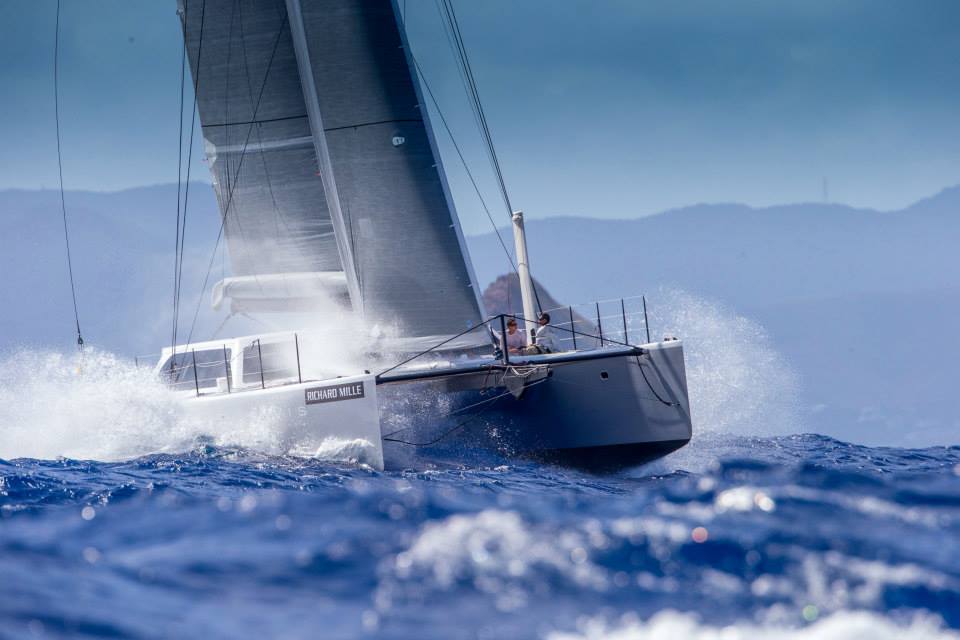 Elvis (Gunboat 62): The King. Jason and the Argonauts. Throw a dart on that boat and you'll hit a world champ. Their bench is deep with talent. Not only is Jason one of the best owner/drivers out there, he's one of the best drivers out there, period. When they aren't sailing on the Gunboat, they are busy in the GC32 circuit. When they aren't doing that, they are crushing it on the Melges 32, Marstrom 32, Viper, whatever is fast and fun. These guys rarely make a mistake on the course and they are fast into and out of the corners with superb sail-handling. At <15 tons she is powered up early, and these boys stay on the throttle up the wind range (I'm not sure they even know HOW to reef). Combined with a devoted rum tank and a booming stereo system, these guys know how to race hard, play hard.  Photo credit Christophe Jouany.
Flow (Gunboat 60): Hustle and Flow. The first Gunboat 60 to be fully optimized, she has redefined what we can expect from the Gunboat 60. There's been rigorous preparation of the boat by one of the industry's best skippers, Tony Teale. Rigging Project's Nick Black has gone through the deck gear, layout, and helped with a new Lorima ultra high mod rig, Jack Slattery has spearheaded a new suit of 3di Sails, and America's most famous multihull sailor and all around dynamo, Cam Lewis, is their own "Neal Cassidy".  Coming out of a refit that pulled 2 tons (!) out of the boat, they are sailing at the top of the game. Photo Credit Laurens Morel
Arethusa (Gunboat 60): No one better exemplifies the real benefits of a Gunboat like NYYC Commodore and Gunboat 60 owner Phil Lotz. He and his wife have spent the last several weeks living aboard, doing some racing and some cruising. They are more Corinthian in spirit, making full use of their boat before, during, and after the regattas. There's nothing like racing at 25 knots, then coming back and cooking a delicious meal and enjoying the sunset from the aft deck of the very same boat. Phil has no shortage of trophies on his mantle, and they are fantastic sailors. They've (so far) avoided the arms race, but with Phil's energy behind the new MultiRule rating rule, there should be more parity among the fleet. Photo credit: Gary Jobson
Momentum (Gunboat 60): Hide your daughters and bring your ear muffs. These Jamaicans WILL have more fun than anyone, guaranteed. The boat has 23 speakers and no shortage of Red Stripes. Legendary skipper Lucky Mike (picture a bald, S. African Captain Ron) and the rest of the crew will be the life of the party.  Photo credit: Lucky Mike
Dominator (Outremer 5x): These guys were the big surprise at this year's Heineken Regatta, beating larger (and way more expensive) boats on the water. Skippered by Gunboat 62 "Elvis" alum Dave Allen, and owned by the father of an Olympic sailor and Rolex Yachtwomen of the Year, this is a family that knows how to sail and these guys are punching way above their weight class. I expect Gunboat and Outremer owner Xavier Desmarest to be shocked at what you can do with/to an Outremer. Still in its original configuration, these guys are just sailing harder and smarter, and it shows.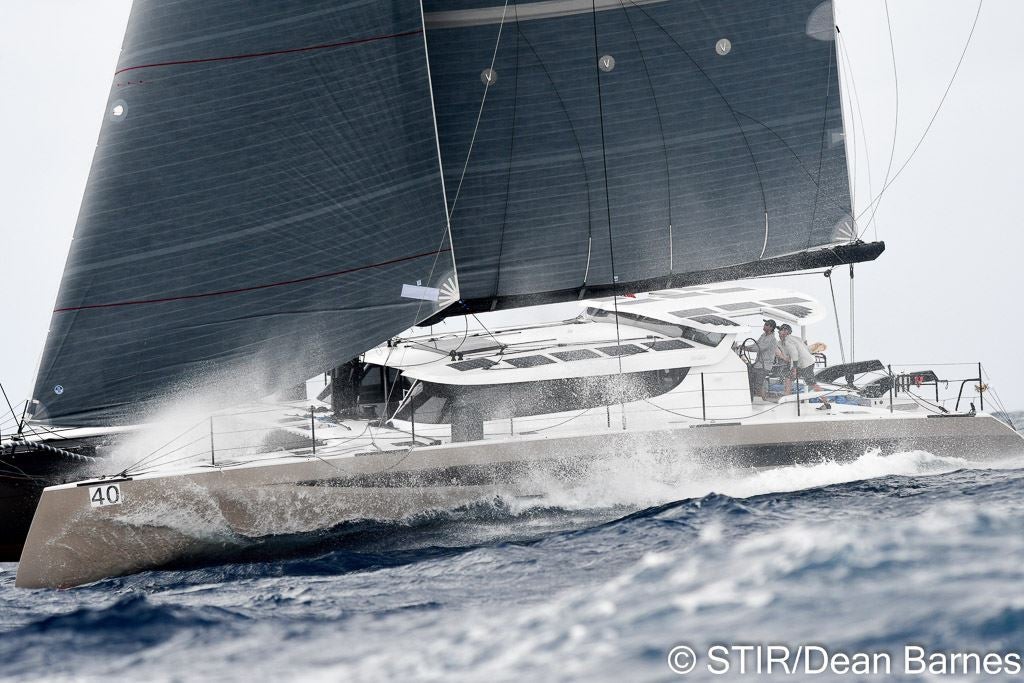 Nala (HH66): The lightest, fastest, and most turbo'd HH66, Nala will be one of the fastest boats on the course. Coming off a big win at STIR, expectations are high for the boat. Owner Jim Vos is a fantastic monohull sailor who is taking his first steps into the multihull scene. He did spend the summer training on his A-Cat, though, so he should be comfortable at the helm. With HH designer Gino Morrelli backing him up and Kenny Read in the afterguard, this boat should be a real threat for line honors. Most people think of Kenny as a monohull guy (Puma, Comanche, Stars and Stripes), but don't forget that he also owned a Marstrom 32 and previously owned my Formula 40, Soma, so multihulls are in his blood. Nala is over 3 tons lighter than her sistership R-Six, so any conclusions drawn about the HH66 based on R-Six's performance at the C600 or Heineken will have to be reevaluated after BVI Spring. (Full disclosure, I was owner's rep for the build of Nala for two years before I accepted the job at Gunboat. We pulled 3 tons out of the platform and turbo'd the mast, boom, and longeron. Despite my role with Gunboat I'm still quite proud of what we came up with. Go Nala!).  Photo credit on the shot with thanks to our old pal L for sourcing it.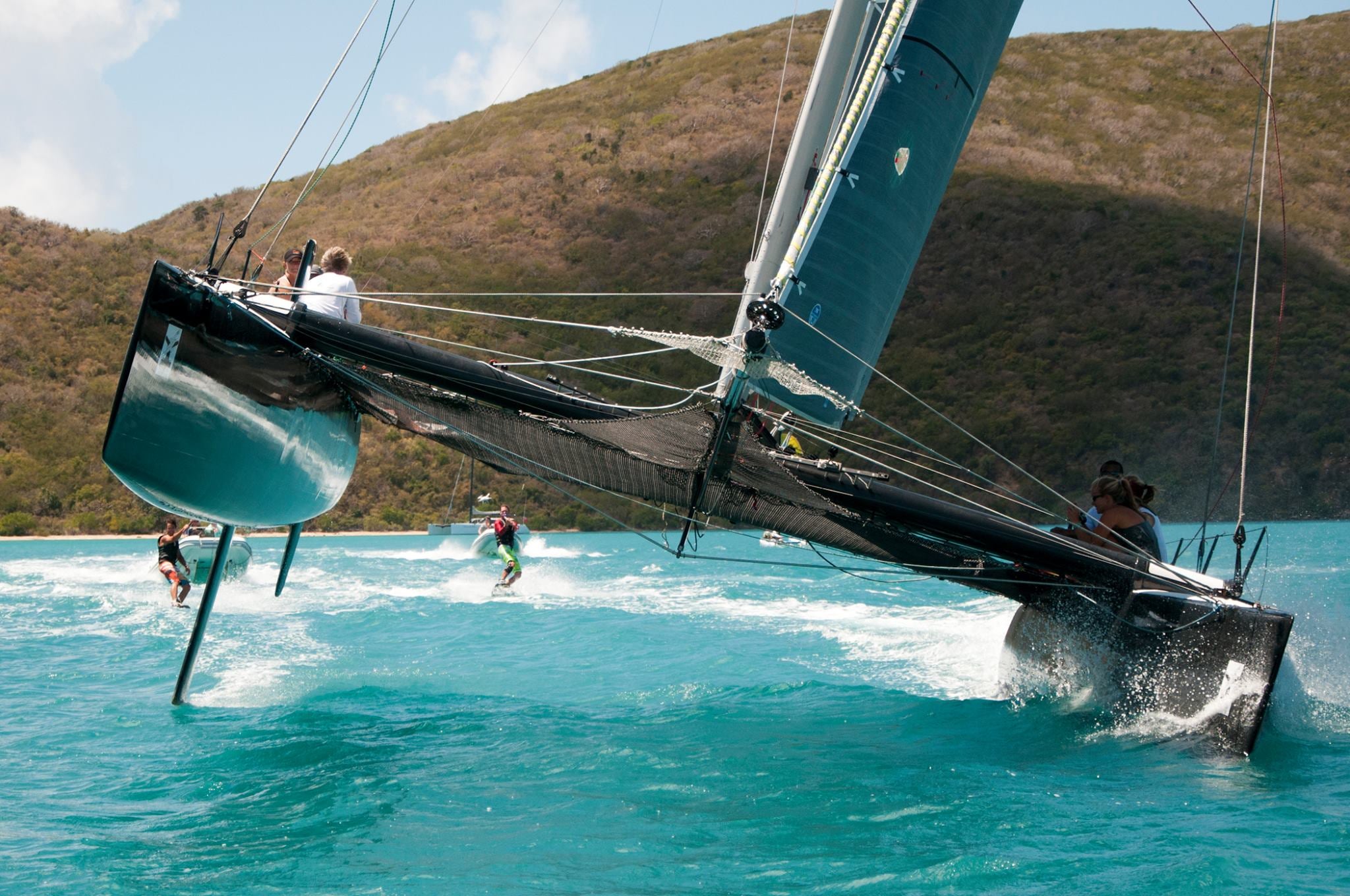 Conspicuously absent this year will be defending champ, Soma. She does have front row seats for all the action in the Sir Francis Drake Channel, though. Like Melania Trump, Soma is just a forgotten and unloved trophy wife…Photo credit: Mar Javierto
In the end, though, it's not about who's got the tallest mast or the most trophies. It has been (and hopefully will remain) about the people and times. The camaraderie on the dock, the time with friends and family, and the late-night repairs (and other shenanigans) are what make the events memorable and why people come back. We at Gunboat have got some fun events planned for the fleet that will hopefully form the backbone of a new tradition moving forward. VPLP are organizing a party at the Willy T (which should be legendary), BVI Painters and Nanny Cay are hosting a cocktail party in the new marina. Of course, Nanny Cay and the organizers of BVI Spring Regatta are responsible for all of it, so big thanks to Cameron, Miles, Emily, Judy, and everyone else there, too.
Though Gunboat invented this market segment, it's a big tent and there's room for everyone.
March 28th, 2017 by admin
Big Pimpin'
Bored by the 90-minute 'racing' in Oman? Sick and tired of paying to watch boats drift around in silly venues? Maybe you just want to see hot chicks, huge breeze, and some of the world's best veteran and up-and-comers teeing off at 23 knots for a share of a $200,000 event prize purse and a head start on the million-dollar season finale…
We've got the cure for what ails you, thanks to the World Match Racing Tour and the M32 catamaran, and you won't want to miss round-the-worlder Yann Guichard's debut on the match racing stage.  Live action coming up in just a few hours right here on the front page, results thus far at wmrt.com.
Sign up for news and alerts at M32 World.
March 5th, 2016 by admin
It's already blowing 20 knots here in Fremantle, Oz, and the final fleet racing qualifying round for the first ever multihull World Match Racing Tour event is about to kick in.  Watch it all live with Clean on the mike from 2pm local/1100 Sydney/0600 GMT/0100 ET/1000 PT.  Results, pics, and highlights over here.
March 2nd, 2016 by admin
He's a Bronze and Silver medalist, 13-time World Champ, 50-Time Aussie Champ, '92 and '96 Aus Yachtsman of the year, '04 Dutch Sailor of the year, and numerous record holder (Playstation and Club Med).  He was in part responsible for developing the Volvo Extreme 40 and the EXSS, he never pulls punches, and his sense of humor is only matched by his honesty.
He's the legendary Mitch Booth, and JC grabbed him for another solid JC Worldwide podcast.  Learn from a multiple Olympian why the mixed crew format on the Nacra 17 isn't right at all, and how sailing might be better off if it escapes from the Olympics' grip.  Here some of Mitch's 'Oh, Shit!' moments on Playstation, how Mitch helped develop the 'Chupacabra' gennaker, and how he's worked to always stay on the innovative edge of the sport.
February 17th, 2016 by admin
We're extremely excited to announce that the longtime SA supporters and advertisers at Aston Harald, the builder of the M32 (née Marstrom 32) racing cat, have closed on the purchase of the World Match Racing Tour this week, and in 2016, the Tour will go either mostly or entirely multihull in three 8-boat fleets of identical M32s to be transported to WMRT venues around the world.  Fleet racing will become a part of the events, as will an entirely new prize money structure – basically, Aston Harald founder and longtime sailing sponsor Hakan Svensson (ex-Berg Propulsion CEO and Puma/Mar Mostro sponsor) wants to use the M32 as a modern platform to provide younger sailors with the pathway to top-level pro racing that doesn't exist today.
In some ways, the WMRT will go back to basics, regaining its stature as the feeder that it was back in the IACC days.  In other ways, it's an entirely new day with an entirely new vision, and we're proud to have been around to help the wonderful Goran Marstrom put the rig up on the first-ever M32 in Miami, 2012.
There's even more exciting news to come about the revamped WMRT during a press conference next Wednesday at the Stena Match Cup Sweden; it'll be streamed live.  And keep your eyes out for more full-noise action at the next M32 Scandinavian Series in Copenhagen in August.
The rendering of Valhalla ( Svensson's new M32) shows that the Viking spirit is still alive and well in the Western isles of Sweden. If you've been itching to go live in the land of a million perfect blondes and you know carbon fiber, they're hiring…
Got questions or wanna read the full release?  Here.
June 25th, 2015 by admin
There are spots in the Caribbean where you've got great racing at a relatively affordable price.  Than there's St. Barths, where if you have to ask how much it is, you can't afford it!
Day 1 at Les Voiles De St. Barth saw just how embarrassing a monster monohull can be; it cost Jim Clark around $30M (not including salaries!) to get horizon-jobbed by Phaedo, the trimaran Lloyd Thornburg picked up for less than a tenth of that.  In other Maxi action, the JuanK Rambler 88 finished the same course a long way behind Clark's big VPLP/Verdier, proving her uselessness as a line honors winner in typical trade wind breezes.  The pretty Bella Mente zippered her mainsail on her way to a DNF.
While Phaedo was untouchable by monohulls or multihulls, the fresh-out-of-the-box G4 Timbalero impressed everyone, foiling and low-riding her way to finish around 10 minutes ahead of the well-sorted Gunboat 62 Elvis,  though apparently she lost by a long way on handicap (as if anyone sailing a foiler gives a crap about that). Erik Maris' GC32 Zoulou didn't finish either, sources in St. Bart's say it's (yet) another main foil issue with the high-flying racing cat.  G55 Toccata also DNF'd, though we're not sure why – yet.  
Les Voiles may cost a fortune, but you wouldn't know it by the third-world scoring system they use.  Squeak your way through Day 1's scores here. There's also an Event-produced day 1 highlight video here featuring Rambler, Comanche, and nothing else.
Chat about the Phaedo here, and the Rambler here.
April 15th, 2015 by admin
New dad Ryan Breymaier and Lending Club have topped the 4ksb threshold in a fairly major way, and it's just the beginning.  Photo credit to Quin Bisset and Q-and-K.
From Ryan:
"This was on our first day sailing after putting the 41 meter tall "big rig" in the boat – it's got 5 meters on the rig that Loick Peyron won the Route du Rhum with.  Sail plan was a single-reefed main and J1, sailing downwind in 27 knots of breeze. Everything is going well, and our preparations for record breaking are moving ahead nicely…"
March 22nd, 2015 by admin


Thousands of sailors are following the Flying Phantom project to see whether Alex Udin and his group have created the holy grail of high-performance sailing; a full-foiling boat that's easy and stable to sail.   Based on this short video with some words from French multihull supercoach Philip Presti, (and admittedly in very flat water), it looks like they have succeeded.  Enjoy, and get in on the Phantom discussion in Multihull Anarchy.
April 7th, 2014 by admin
If the last few weeks has contributed to an obsessive need for you to watch foiling catamarans racing through big wind on your computer screen, we're happy to inform you that you'll have a full week of it coming up this Sunday with the Little America's Cup.  Formally known as the International C-Class Catamaran Championship, the Little Cup will feature 11 teams from all over the world with some of the most advanced racing craft ever developed; in some ways far more advanced than the 'real' AC.  
Clean, Mer, Petey and a cast of famous and not-so-famous guests are digging the On-The-Water Anarchy cameras out of the shed to bring you live, hilariously and expertly commentated video action from every race at the 2013 Little Cup, along with our infamous 'Cocktail Hour' live talk shows, piles of interviews, and highlight reels put together by some brilliant folks in the UK.  We expect to have trackers, great photography and plenty of updating on Facebook, too.  So keep watching here, and for everything C-Class, hit the 2013 International C-Class Championship thread and bring yourself up to speed. If Facebook is more your speed, Like the Little AC page here.
Like the Minista below, the UK's Team Invictus have had a tough road to the starting line.  Here's the update from their skipper and the fastest sailor on the water – Paul Larsen:
Sunday: The start line is often the first finish line.
It's past midday on Sunday here in Bristol. The shed is full of various wing parts in heater inflated bubble tents. To say we are a bit late is a massive understatement.
This is yet another big ol' mission just to make it to the start line. I didn't want it, nobody did. I had no idea what I was walking into 13 days ago. Basically, for one reason or another, Helena and I walked in just as things had fallen apart. We had come to hopefully help a little bit to get the last bits together and help the team along. What confronted us was obviously going to require substantially more input. We had a main spar with the ribs attached to it… and that was it! No flaps, no moulds, no leading edge and no control systems/linkages'hinges… just CAD drawings.
My first reaction was to keep walking. This would mean that there would be no British boat at this event. That was unthinkable. We had to have a go. We went to the pub and began hatching plans. As long as there was a chance… we would have a go. We began pushing on.
None of us wanted to stand next to a piece of junk. It's obviously not going to be as good as it could be… but the old girl might be alright. The platform seems OK and there are some aspects of the wing that I am interested to see. We don't have the time to re-design everything to fit the schedule so there has to be some shooting from thew hip and acceptance of what we have.
Keep it in mind that this needs to be in Falmouth getting rigged on Tuesday.
We had to come up with a quick way to make a 3D curved leading edge so we used polystyrene blocks, a skilled carver and then Dan (from Independent Composites) did a great job of fairing and skinning. In fact Dan and the boys have been ripping into it. They made the large lower flap and have let us take over the workshop for the weekend.
Thankfully the National Composites Center (NCC) in Bristol did the MDF tooling for the top flap and Helena and I went and built that there with Nick Hewlings. The mould came off the machine last Wednesday afternoon. We used a quick method of sealing surfacing the mould involving putting the whole thing in a 'envelope' vacuum bag which we then sucked down onto the mould and used as a surface to actually laminate onto. Unbelievably… for some reason this bag sort of dissolved during the cure and is now structural i.e. part of the laminate. We were so lucky that it held its vacuum and that it didn't result in the part being permanently stuck in the mould. None of us have ever seen that before . So we'll be sailing around (hopefully) with a vacuum bag still on the upper flap.
We just don't have any time to get hung up on one process. It's all a bit mad. At times I wonder what the hell I am doing here. We shouldn't still be doing things this way. I guess when it all looked a bit too much I began to wonder if we really could do it. I'm still wondering.
The parts are all coming together. The flaps are a bit heavy but then we haven't finished cutting them down.
Anyway, here we are. It's getting warm in here. I'll let the pictures do the talking. The picture of us cutting out the holes in the lower flap was taken around lunchtime today.
Monday:  All the big pieces are together. The little bits are turning up and the trailer just arrived. The Harken order is on the way direct to Falmouth and the Marlow order is still being chased. The daggerboards are curing under a heater just off camera.
Helena is trying to hook up live tracking. This will all be loaded in the trailer tonight and should be in Falmouth in the morning. It just has to be that way.
Tuesday:   Invictus has once again… left the building. Well, actually there is still quite a bit of building to be done… but she's out of the shed anyway.  This boat and this team, in one form or another, are why the event will be in the UK this year. We felt that she simply had to be down there mixing it up with her Brethren on home waters.
Goodbye Dan, Leighton Mitch and Nick from the NCC, thanks so much for going the extra mile and helping to get rid of us:)  We still have a lot to do but the overall spirit in the team is good. We turned a corner. Let's see what happens now.
Next stop, Falmouth and the 2013 ICCCC.
September 17th, 2013 by admin