Posts Tagged 'moth'
Clean Report
In this double header to celebrate the end of a long road trip, Clean first talks to freshly minted Director of the US Olympic Sailing Team Malcolm Page.  The Australian double gold medalist and multiple world champion answers questions from Clean and the Anarchists, including a frank assessment of where the US team is, why he took the job, why the US team became also-rans for the past three cycles, and the route (and how long it'll take) to rekindling America's prowess in olympic sailing, as well as loads more questions.  More than an hour from Malcolm (with thanks to Will Ricketson and Josh Adams for their help and information provided for this podcast), learn more about him at www.ussailing.org.
The second part of our podcast has quite a bit more laughs, when we are rejoined by two repeat visitors, also both world champions.  Bora Gulari and Petey Crawford add their entertaining and knowledgeable voices to the SA Podcast, with the group discussing Bora's new job helmsman of the Quantum Racing TP52 and his testing of both the new UFO Foiler in Newport and the new Nacra 17 Foiler in Holland. As a past Melges 32 world champ, Petey gets into  the new Melges 40 as the chat moves to the balkanization of big boat one-design classes.  As the drinks kept flowing, they turned to the world's biggest problems: Foil kiting and the Olympics, the future of live sailing on the web, how to fly commercial using fake ID, and finally some ribbing on Mr. Clean's performance at the summer's Sunfish Masters Nationals.  Bring your popcorn for this one.
Our final November episode (sort of) comes to you thanks to our title sponsors Musto performance sailing gear, Torqeedo electric motors, Ocean Planet Energy Systems, and Doyle Sails New Zealand.
Download the podcast for later listening here at Libsyn, and subscribe on iTunes here.
December 4th, 2016 by admin
What do you get when you cross a 24 year old kiteboarder from the Great Plains, an insane creative genius videographer, and a loudmouth Sailing Anarchy editor?  It's called the Charleston Fort2Battery, and it's one of the big successes in ultra-performance sail racing of the past few years.  Watch the video for the full story, and go here to find out about the 2017 edition.
May 17th, 2016 by admin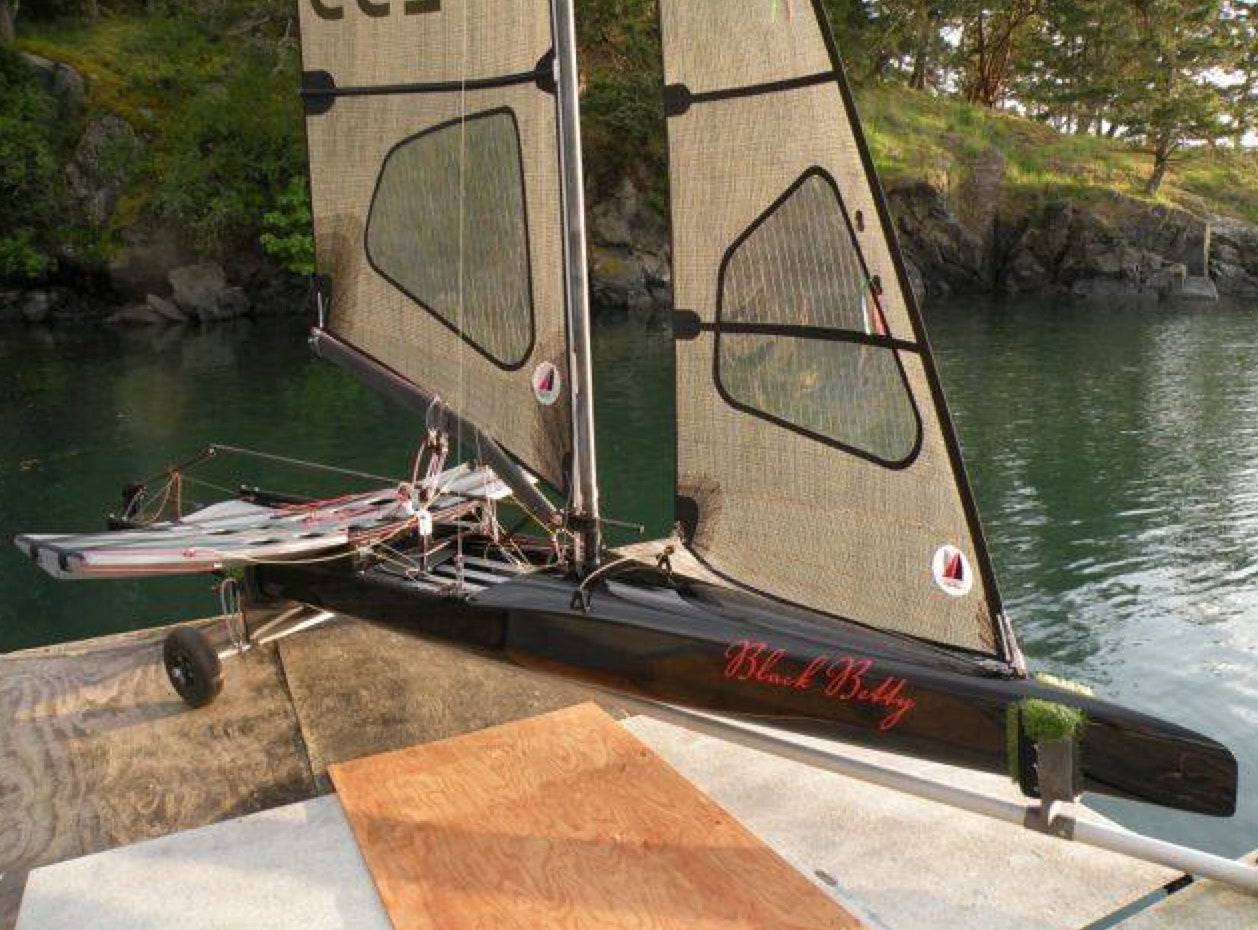 We confess to spending a few minutes ogling crack rowing shell builder and carbon artist Chris Maas's Facebook Page every week or two for the latest in carbon dinghy porn – the well-regarded PNW builder has a knack for making incredible looking craft of all types.
His last jaw-dropper was a homebuilt emerald-green Moth, but he's outdone himself with his brand new International Canoe Black Betty.   We'd say something snarky here about overused names, but this slinky little cocktail dress of a racing boat can call herself anything she damn well pleases.  More pics here.
April 22nd, 2016 by admin
A new eye is sometimes the best antidote to a stale look, and the newest droners to enter the sailing scene have an interesting take on the Moth Aussie Nationals earlier this month in Perth.  Learn more about Perth's Skyworks WA here, and congrats to longtime SA'er Josh McKnight on yet another title.
January 25th, 2016 by admin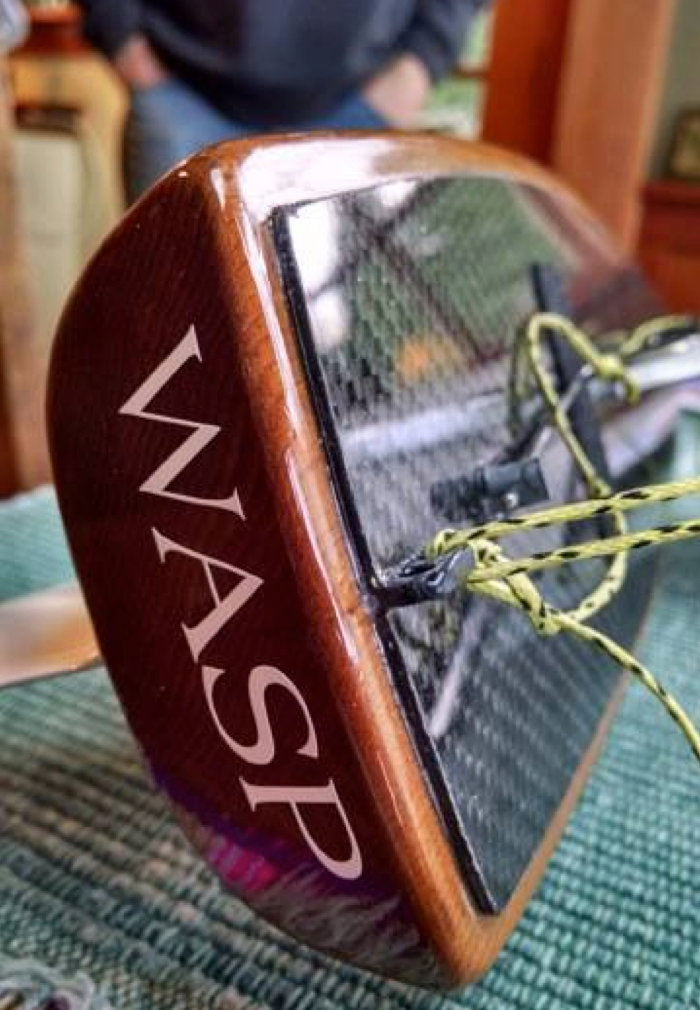 Revolutionary rowing shell builder Chris Maas has done some pretty special things with sailboats as well – his Moth and International Canoe were some of the most beautiful pieces of worksmanship ever to grace the high-performance dinghy world.
But as a brand new dad, our own Senior Editor was more impressed with Maas's present for his new granddaughter.  From Facebook:
At 1 1/2 years old it seems like it's time for the granddaughter to raise her game. So I built her a little sailboat model to give her the idea. It was supposed to be simple – just a carved block of cedar, a dowel for a mast and a piece of brass flat bar for a keel. It got a little out of hand…
Just a little? More pics here.
January 6th, 2016 by admin
This one is a bit excruciating to watch unless you are a foiling fanboy, and we admit our fanboyness for AMAC's new Waszp thanks to the decent shot we think it has to be a game changer.  So here's 46 minutes of Andrew introducing his price-point, one-design foiling moth to the world at The Foiling Week.
July 2nd, 2015 by admin
After missing his hoped-for launch date by a few months, Andrew "AMAC" McDougall's long-awaited 'people's foiler' is finally wet!  This pic posted by SA'er "Phil S" shows the shroudless, stayless, wishbone-boomed foiler that Amac's been working on for five years, shot recently near Mach 2 HQ in Melbourne, Oz.
Will the Waszp change the sailing world the way the Laser or Hobie 14 did, or will it be just another fun, fast toy for the privileged few to jump into on their way to the faster, more expensive Mach 2 and its successors?  Listen to the man himself back in January, and decide for yourself.
We'll know more soon, and if you follow the thread, you can too.
June 17th, 2015 by admin
If ever a boat died with its boots on, it was this one – David Wallace and Richard Grantham's ancient Nacra 6.0 has lived through several Worrell 1000 races and countless hours on the Georgia Coast, but a 3.8 mile sprint in 20-25 knots on Charleston Harbor was the end of her days.  Wallace and Grantham drove up from St. Simon's Island, GA, and they said there's no question they will be back.  They didn't say whether they'd be racing or spectating!
Big congrats to St. Pete's Zack Marks for absolutely destroying Bora Gulari's record run from last year – official time is 6:10 for the 3.8 mile course. We're not great at math, but that sounds like somewhere around a 33-knot average to us.
Billy Goldsberry gets the Rescue of the Week award for this one, and you can see a gallery of really cool land-based and sky-based shots of this unique race here.
April 13th, 2015 by admin
From dinghy sailor to america's cupper, you've been waiting for this one for weeks!  It's the final Moth Worlds 'Real Reel' from Sorrento, Australia.  Now you can finally hear from Bora Gulari's mouth just how CNN destroyed the top US foiler's Worlds hopes, see what's fun, exciting, and hilarious about southeast Oz, and learn about the natural habitat of the eastern longhaired bogan.  Meet 'roos, kiwis, and even a brit or two.  Laugh, cry, and laugh again with the best 20 minutes we've ever seen on dinghy racing…all thanks to Petey Crawford with support from Sperry.
And if that's not enough, here's the Sailing Anarchy Ultimate Guide to the Moth Worlds: Your index to 50-odd videos, 6 days of live coverage, 7 gorgeous photo galleries, and plenty more.  Go.  Now.
February 10th, 2015 by admin
The On-The-Water Anarchy/Sperry Top-Sider/Line Honors team is off to the pubs with the Moth World Champ, but not before gettin' you the goods on the overall action.  And the action is all about Peter Burling – so motherfuckin' ill!  Huge thanks to all of you for watching, and sit tight; we'll have one hell of a reality show/reel in a couple of weeks.
Sander Van Der Borch's sick-ass photos from the day are all over here.
January 16th, 2015 by admin