Posts Tagged 'moth'
Fort 2 Battery Race founder Tim Fitzgerald has done it again, attracting another record fleet of kiters, mothies, and fast boat owners to the shortest race in all of sailing.  82 entrants will hit the line to the 6 mile race at full speed at 1400 today, and if you're in town, join the massive spectator fleet (we counted some 150 boats watching last year) on the harbor.  For those who can't make it, head over to Sailing Anarchy Facebook at 1300 ET/1000 PT for the full, bumpy, 40-knot live stream video of the prologue and race.
Here's a video look at last year's race from Petey Crawford/Penalty Box Productions.
April 29th, 2017 by admin
Despite the coming of the Foiling Revolution, there remain very few sailboats capable of breaking the 30-knot barrier.  We all know the Moth is one with speeds recorded into the low to mid 30s in the right conditions, but average speeds near 30 are extremely rare.  S'african video specialist Keith Brash managed to find one of those days with Quantum Racing skipper Bora Gulari, ripping together the above video of a 30-knot moth sesh. For more excellent Quantum content, including full time-lapsed TP52 races from Miami this week, head over here.
This Beach Cat Goes To 35
According to most crews who've sailed them, the Diam 24 hasn't lived up to her ultra-sexy VPLP trimaran looks.  Sure, there are some top teams sailing the now-beachy Tour De France, but that's one of the only options for crewed teams looking to race in France.  But thanks to months of testing, design, and construction work and the perseverence of Francois Gabart and his team, the Diam is now a full-flying 35 knot beast they're internally calling the Macif 24.
For more on the flying Diam, head over here.
March 10th, 2017 by admin
The first sighting of the frightening 7-foot tall, red-eyed, ten-foot wingspanned Mothman occurred in Virginia nearly 50 years ago. While the residents of Point Pleasant continue to celebrate the mystery of 'their' creature every September, a shot captured by US Mothie Jonny Goldsberry in Richmond, CA may prove this elusive creature has migrated more than 2000 miles to the West.
Of course, this hairy critter may be sporting the US Moth logo on his way to go rig up his foiler, but we like our explanation better.  Tell Nugs what you think this dude is up to over on Facebook.
March 6th, 2017 by admin

It's just two weeks into registration, and with 182 entries on the official list, the 2017 Moth Worlds has already broken the all-time fleet size record! Earlybird entries closed on Tuesday with sailors from 25 countries registered for the event to be held at the Fraglia vela Malcesine in late July.  Thanks to an off-year for the Olympics and the rapid growth of the wide world of foiling, the record lineup features a daunting who's who of top sailors.  Thanks to Class Prez Scott Babbage for the reminder, and credit to Thierry Martinez/2012 Moth Worlds for the photo from the last time the Moths hit the World's Best Sailing Lake.
At the top of the list is the Olympic Laser shoot out, with reigning Moth World Champion, 2008 Gold Medallist and Artemis Racing helmsman Paul Goodison (GBR) going up against 2012 Gold Medallist and Oracle Team USA tactician Tom Slingsby (AUS) and 2016 Gold Medallist Tom Burton (AUS).
2016 Laser Radial Olympic Silver Medallist and 2014 Women's Moth World Champion Annalise Murphy (IRL) leads the charge in the growing women's fleet against reigning champion Wakako Tabata (JPN) and 2013 Women's Champion Emma Gravare (SWE).
Among the past champions, 2009 & 2013 Moth World Champion Bora Gulari (USA) makes a comeback to the class after taking time out to compete in the Nacra 17 at the Rio Olympics. Also making a return after Olympic and Americas Cup commitments, dual medallist Iain Jensen (AUS) will be looking to improve on his top 10 result in 2015.
Despite, or perhaps due to the venue, over 30 Australian entrants will make the journey, lining up against a large British contingent. New Moth countries Argentina, Ireland and Finland are well represented, alongside competitors from growing fleets in Poland, Greece, Croatia, Slovenia, Norway, Canada and Bermuda.
Taking it to the Olympians will be the Moth regulars including 2012 World Champion and current Australian Champion Josh McKnight (AUS). McKnight will debut a new Australian built Moth for the event against the dominant Mach2 and Exocet designs. Also pushing the development envelope is 2015 and 2016 Amlin International and Volvo Ocean Racer Rob Greenhalgh (GBR), who will surely be among the favourites based on recent form. 2016 European Champion Mike Lennon (GBR) will also debut a new design, the Lennon PP Moth designed by David Hollom and built by White Formula in the UK. Not short of innovative ideas, winner of the 2013 Mini Transat Benoit Marie (FRA) returns with a new boat for the event.
Alongside Marie is a large European contingent, with 3 time Moth European Champion Arnaud Psarofagis (SUI) taking a break from his responsibilities as helmsman on the Alinghi Extreme Series GC32 to return to the Moth. Not to be taken lightly, the local Italian fleet will be out in force, lead by 3 time Olympian and Artemis Racing helmsman Francesco Bruni (ITA). 
6 months is still a long time in a Moth, but with entry numbers rapidly approaching 200, anticipation will be building for what will be the largest Moth World Championship ever. Follow the event progress here or find MothWorlds on FaceBook & Twitter.
February 3rd, 2017 by admin
Clean Report
In this double header to celebrate the end of a long road trip, Clean first talks to freshly minted Director of the US Olympic Sailing Team Malcolm Page.  The Australian double gold medalist and multiple world champion answers questions from Clean and the Anarchists, including a frank assessment of where the US team is, why he took the job, why the US team became also-rans for the past three cycles, and the route (and how long it'll take) to rekindling America's prowess in olympic sailing, as well as loads more questions.  More than an hour from Malcolm (with thanks to Will Ricketson and Josh Adams for their help and information provided for this podcast), learn more about him at www.ussailing.org.
The second part of our podcast has quite a bit more laughs, when we are rejoined by two repeat visitors, also both world champions.  Bora Gulari and Petey Crawford add their entertaining and knowledgeable voices to the SA Podcast, with the group discussing Bora's new job helmsman of the Quantum Racing TP52 and his testing of both the new UFO Foiler in Newport and the new Nacra 17 Foiler in Holland. As a past Melges 32 world champ, Petey gets into  the new Melges 40 as the chat moves to the balkanization of big boat one-design classes.  As the drinks kept flowing, they turned to the world's biggest problems: Foil kiting and the Olympics, the future of live sailing on the web, how to fly commercial using fake ID, and finally some ribbing on Mr. Clean's performance at the summer's Sunfish Masters Nationals.  Bring your popcorn for this one.
Our final November episode (sort of) comes to you thanks to our title sponsors Musto performance sailing gear, Torqeedo electric motors, Ocean Planet Energy Systems, and Doyle Sails New Zealand.
Download the podcast for later listening here at Libsyn, and subscribe on iTunes here.
December 4th, 2016 by admin
What do you get when you cross a 24 year old kiteboarder from the Great Plains, an insane creative genius videographer, and a loudmouth Sailing Anarchy editor?  It's called the Charleston Fort2Battery, and it's one of the big successes in ultra-performance sail racing of the past few years.  Watch the video for the full story, and go here to find out about the 2017 edition.
May 17th, 2016 by admin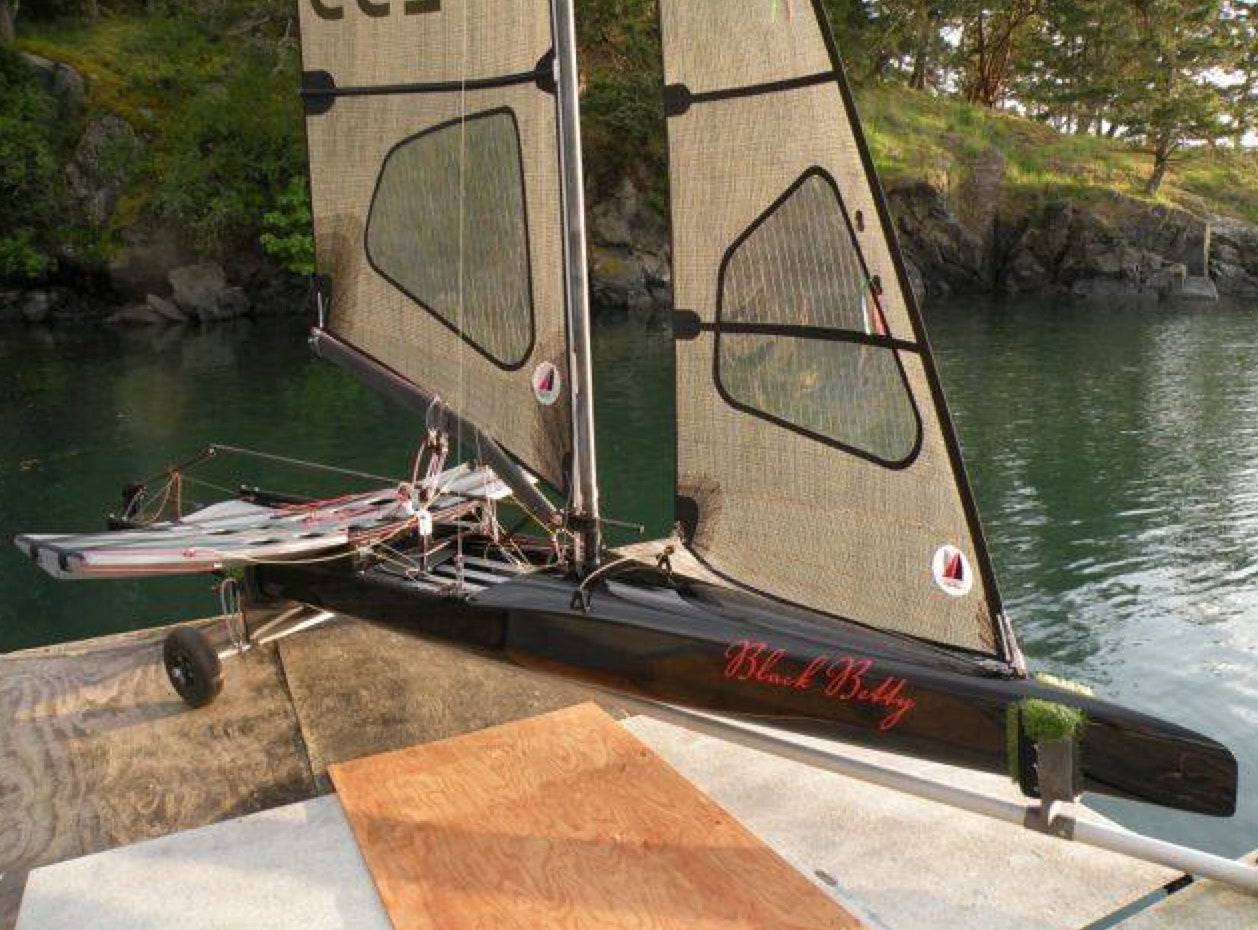 We confess to spending a few minutes ogling crack rowing shell builder and carbon artist Chris Maas's Facebook Page every week or two for the latest in carbon dinghy porn – the well-regarded PNW builder has a knack for making incredible looking craft of all types.
His last jaw-dropper was a homebuilt emerald-green Moth, but he's outdone himself with his brand new International Canoe Black Betty.   We'd say something snarky here about overused names, but this slinky little cocktail dress of a racing boat can call herself anything she damn well pleases.  More pics here.
April 22nd, 2016 by admin
A new eye is sometimes the best antidote to a stale look, and the newest droners to enter the sailing scene have an interesting take on the Moth Aussie Nationals earlier this month in Perth.  Learn more about Perth's Skyworks WA here, and congrats to longtime SA'er Josh McKnight on yet another title.
January 25th, 2016 by admin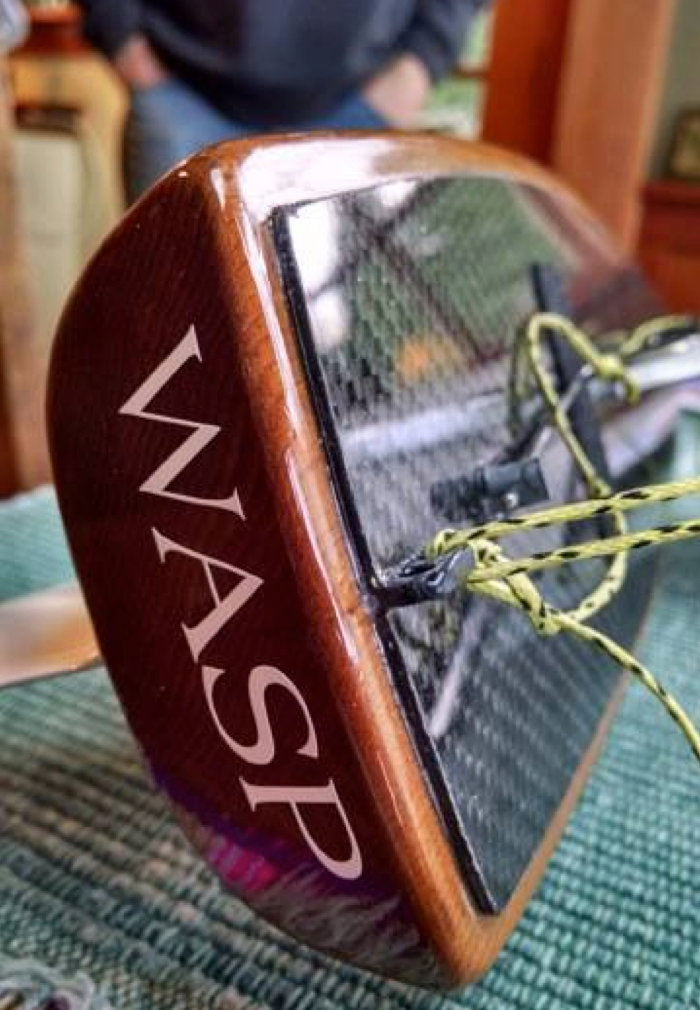 Revolutionary rowing shell builder Chris Maas has done some pretty special things with sailboats as well – his Moth and International Canoe were some of the most beautiful pieces of worksmanship ever to grace the high-performance dinghy world.
But as a brand new dad, our own Senior Editor was more impressed with Maas's present for his new granddaughter.  From Facebook:
At 1 1/2 years old it seems like it's time for the granddaughter to raise her game. So I built her a little sailboat model to give her the idea. It was supposed to be simple – just a carved block of cedar, a dowel for a mast and a piece of brass flat bar for a keel. It got a little out of hand…
Just a little? More pics here.
January 6th, 2016 by admin
This one is a bit excruciating to watch unless you are a foiling fanboy, and we admit our fanboyness for AMAC's new Waszp thanks to the decent shot we think it has to be a game changer.  So here's 46 minutes of Andrew introducing his price-point, one-design foiling moth to the world at The Foiling Week.
July 2nd, 2015 by admin