Posts Tagged 'models'
When longtime Anarchist and now world cruiser BJ Porter joined Sailing Anarchy, his son was probably too young to talk.  And now, a decade and a half later, Will Porter is now a Naval Architecture student and the author of one of the most interesting threads on the Sailing Anarchy Forums in some time.  We'll feature a new post from Will's thread "Southampton Solent University Model Yacht Competition" all week, beginning with this one:
My design was one of the most unusual in the race because it had a wing sail (which took an extra 100 hours to build). It also is one of the only that use modular construction (think structure module like Francis Lee) and 3D printed parts. In addition, my boat was the only one designed entirely in 3D using Rhino because we're not supposed to learn how to use that software until year 2.
My idea for that was to make the boat sail better upwind as that's where all the points in the races are. It worked very well, apparently combining a skinny monohull with a wing gives good pointing ability. My boat sailed almost into the wind, the first race I started on the leeward side of the start line and finished first to weather of all the other boats. When I was testing the boat I had problems with it sailing so high the jib would collapse but the boat would keep going in a straight line into the wind. I think most of the time the wing was doing all of the work. You can see how high she was sailing in the photo below (relative to the ripples in the lake).
May 24th, 2016 by admin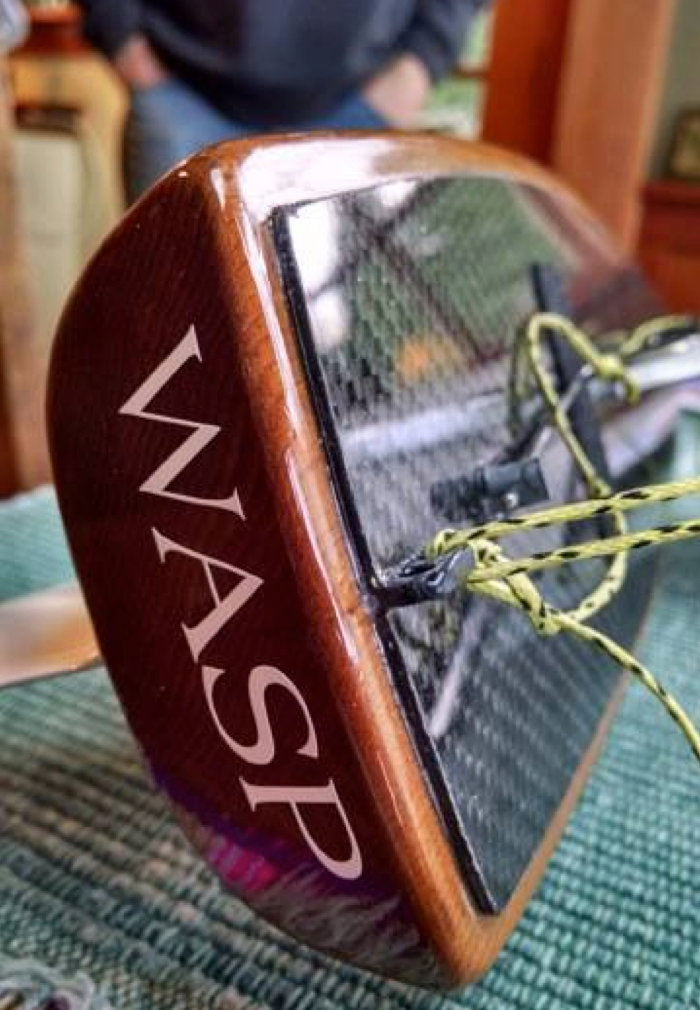 Revolutionary rowing shell builder Chris Maas has done some pretty special things with sailboats as well – his Moth and International Canoe were some of the most beautiful pieces of worksmanship ever to grace the high-performance dinghy world.
But as a brand new dad, our own Senior Editor was more impressed with Maas's present for his new granddaughter.  From Facebook:
At 1 1/2 years old it seems like it's time for the granddaughter to raise her game. So I built her a little sailboat model to give her the idea. It was supposed to be simple – just a carved block of cedar, a dowel for a mast and a piece of brass flat bar for a keel. It got a little out of hand…
Just a little? More pics here.
January 6th, 2016 by admin
The coolest toy we've seen on the inter webs in ages, this living global wind map is moveable and spinnable and zoomable anywhere on the globe.  That would be cool enough for hours of contemplation, but author Cameron Beccario and team are constantly adding new features too; you can check winds all the way up through the stratosphere and play with multiple projections of the world.  For extra holiday fun, plug it into the big screen between games (or Cast it if you've got one of these cool new toys) and wow your family with the trippie snow globe. Keep tabs of new developments on their Facebook page or in the SA thread.  Once again the Pixies are our title inspiration.
December 21st, 2013 by admin