Posts Tagged 'MOB'
Chicago PD and fire is still searching for lost TP52 pitman Jon Santarelli, but in spite of his stature as a hard core swimmer and triathlete, hope is mostly gone for those looking for a happy ending to the Day 1 Mackinac tragedy that washed him off the boat.  Il Mostro isn't far from the finish and beautiful condition await on the island, though with almost 50 retirees and the somber mood among the fleet, the land of horseshit and fudge will be muted this year. We salute the avid biker and super generous and smiling Anarchist Jon, and wish our warmest hopes during his family and friends' tough times.
Stay up to date in the thread here.  The CYC isn't running from the news; watch their morning press conference as streamed live.  Matt Knighton and Mr. Clean will be droning in the finishers live; Get notified when they launch their coverage on the CYC page here. 
July 22nd, 2018 by admin
VOR BREAKING
2 minutes ago, Hong Kong's Oriental Daily News reported that a Chinese fisherman died in a collision this morning and the coincidences are way too strong for it to be anything other than the fishing boat involved in today's collision with Vestas 11th Hour Racing.  NOTE: This is a legitimate news source claiming to have confirmed the death with Eastern Hospital, but we HAVE NOT BEEN ABLE TO CONFIRM THIS INFORMATION WITH THE HOSPITAL.  Translation from SA'er 'BLAK' and Google:
A collision between a yacht and mainland Chinese fishing boat to the East of Waglan Island at 2:32 AM, police and firefighters responded.  10 of the fishing boat crew went into the sea and were rescued, one of them sent to hospital in a helicopter and seriously injured.  Confirmed dead at 6:30 AM at Eastern Hospital. The police are investigating the incident.  
Oh, shit.  This changes everything.
At about 2 am, a sailing vessel was engaged in a collision with a fishing vessel off the Mainland on the east of Waililan Island. After the accident, the fishing boat sank and 10 people fell onto the sea and were rescued. However, one of them He was seriously injured and was taken by the Government Flying Service helicopter to Eastern Hospital for treatment. Unfortunately, he was eventually declared dead. Police are investigating the collision between the two vessels.
double shit.
January 19th, 2018 by admin
Our Volvo Ocean Race coverage is brought to you by Musto, Official Apparel Provider for the 2017/18 VOR.
The Anarchists have been swarming over Vestas 11th Hour Racing's debacle just a few miles from Hong Kong since around 8 hours ago, when, in the middle of the night at 20 knots of boatspeed in 20 knots of wind, they collided with and sunk what's been reported as a commercial fishing boat.  The forums were on fire with analysis of what appeared to be Vestas sailing a search pattern and then drifting downwind on the VOR tracker and now we know why: 29 minutes ago (a full 8 hours after the first inkling something was up), Volvo HQ posted this statement:
The Volvo Ocean Race can confirm Vestas 11th Hour Racing…has been involved in a collision with a non-race vessel before the finish of Leg 4, near Hong Kong.  The team has retired from Leg 4 and is proceeding to Hong Kong unassisted and under its own power.
January 19th, 2018 by admin
The two fatalities in the 2015/16 Clipper Round the World Race were the first in the company's history, and after a comprehensive report on those deaths from the UK's MAIB giving stern recommendations for improved safety procedures at Clipper Ventures plc, the last thing anyone would expect is yet another fatality just a year later!  Yesterday, that's exactly what happened; 60 year old former lawyer from Bristol UK Simon Spiers was washed off the foredeck of Clipper CV30, yet despite being clipped in, the Clipper says he was separated from the boat and likely drowned.  Spiers' body was recovered by the crew and given a burial at sea.
No amount of the Clipper PR team's "quiet reflections" addresses what has to be considered something of a crisis in this high-profile round-the-world 'adventure race'; in just three years, three participants in the Clipper race have now died at sea; two washed overboard and drowned, and one crushed by the clew of a sail.  If you're doing the math for the past two events, based on the Clipper's own numbers (700 sailors per event), that means 1 in 466 Clipper participants has now died – and that's assuming no one else loses their life on the 2/3 of the current race remaining.  Considering one entry just went hard aground on a well marked shoal off South Africa without any explanation, nothing would surprise us about the Clipper fleet – and that's terrifying, especially with the lack of experience aboard.
We're not sure whether the RYA should shut the Clipper down while they figure out just why people keep dying on their boats, but we do think that if 3 people in another sporting event died over three years, there'd be some serious investigations underway of the people who were supposed to keep them safe.
Get in on the thread here.
November 19th, 2017 by admin
As the first finishers cross the line in the Bayview Mack race, SA'er Doghouse has provided one of the most comprehensive debriefs of a near-death incident we've ever read after their MOB in the Chicago Mackinac. For anyone going out on the water beyond their little harbor, this is MUST READ stuff.  And hey US SAILING- because we know you're listening – this should be sent out to all of your membership, and its lessons incorporated into the Safety At Sea program.  Thanks to Graham and the entire crew of Meridian X for their openness, and if you have questions for the crew, hit them up in the thread.
I'd like to preface this by stating this is only one man's perspective, mine and mine alone. As I said up thread, there will be a full article coming out that we are working on, will probably hit the shelves in a month. This is to give everyone a narrative of what transpired, and I think it will answer a lot of the questions I've seen posted here.
I am the bowman and boat captain for the Farr 400 Meridian X. Approximately 11:15pm on Saturday night I was off watch in the port quarter berth, when someone said they were asking for me on deck to get the A2 down, and I anticipated the wind must be building as the hull noise below was increasing.
Halfway into my harness and gear I heard massive stomping on the deck to get up, which indicated it was getting bad rapidly so I rushed into my boots and threw on my pfd and went above just after Mark Wheeler who was running on deck for the all hands call as well. At this point everyone was on deck. Before going off watch, I had set the foredeck in the ready position for a quick drop, martin breaker on kite, drop line tied off, J3 lashed to foredeck, which is pretty standard practice in an offshore big boat.
I made about three steps forward when the MOB call came. Mark had gone over the side as described by him in his letter. His light was initially spotted and followed. At the time I had no idea who it was. Luckily everyone was in the back of the boat for weight, and he was seen as he fell over and the call came immediately. Unfortunately, everyone was in the back of the boat, and I was solo upfront with the kite. The trimmer came to the pit and blew the tack, immediately tripping the breaker and freeing the kite.
With no one else around I went straight past the mast and gather the kite foot until more hands made it forward and could help drag it down. It took around three minutes to get the kite completely off deck and attempt to turn back. As we came back up into the wind we were knocked over by a 45-50 knot gale and completely flattened for several minutes, ripping the staysail out of the furler and shredding it.
Eventually the wind abated enough for us to turn back into the wind and begin sailing a reciprocal course, we estimate we were over 2 miles away at this point as we'd been traveling 18+ kts. A few of us wrestled the staysail pieces off the deck, and I had to use pliers to get the tack shackle off as it had distorted in the storm. We proceeded to clean up lines and continue our mayday broadcasts, with the skipper Sledd Shelhorse on the VHF and myself on the hand held.
At this point we were actively looking for the strobe, not knowing it had failed. This led to a lot of wasted time, as there is a fleet of lights out there, and ended up being a huge distraction from getting back to where we needed to be. We realized that there was no light after probably 15 minutes of looking, and began working our way back up wind in a search pattern. We get the main down to hear better. This point was absolutely the most terrified and helpless I have ever felt in my life. I know the clock is ticking, and a person in the middle of Lake Michigan at midnight is beyond a needle in a haystack. The fact we were at the forward end of the fleet means a lot of other boats are coming through, but still crazy long odds.
At this point we think we have heard a faint whistle, but was so far away we are having trouble knowing. We swing slightly to port, then one crew man calls out hard to starboard. As we come around, several of us definitely hear a whistle. We begin to motor, then pull back to listen and make course corrections. We see Aftershock coming at us and begin to hail them. They have apparently heard the whistle just before this, and their jib drops and spotlight immediately comes out. At this point, the whistle is very clear, and I absolutely know we are going to get him, it's an intense moment, but in a positive way. We pick him up on spotlight rapidly and begin setting up for the grab.
Our helmsman teaches heavy air sail handling and boat handling for Safety at Sea, so we are well versed in what is getting ready to happen. We set up about 30 degrees on the breeze, and grab him on the starboard side around the primaries, then fireman bucket brigade him down the side to the transom where it will be much easier to get him in the boat. We know after an hour in the water he won't be able to assist. I get him at the back, get the lifesling on, and two of us haul him into the boat. A huge cheer erupts from Aftershock, which I will never forget. He is awake and cognitive at this time, which is good, though not really shaking which worries me. After getting him stripped and down below in blankets, he begins to shake which is a good sign and I know he will be ok.
I am the only other one on the boat who does the navigation, so I go quickly below and start looking for harbors. We are almost due west of Muskegeon, at a range of ~34 miles, so we immediately head that way. I make some hot water for Mark, then climb on deck with the tablet to navigate us to port. Approximately two hours in Mark pokes his head up, and starts chatting, and huge amount of tension finally unwinds. We are gonna make it.
A lot of you guys have asked specific questions, and if I don't answer them here, just let me know. As far as boat setup, the boat is prepared to the letter of the law on safety. We carried a MOM8, we have four locations to signal MOB, we checked all life jacket lights pre race. We did not have an AIS receiver, and we are absolutely installing one. Mark had a PLB, as did I, and that would have been a boon. I really hope they become required equipment, the cost versus benefit is laughable.
As described above, the kite was set for an immediate drop which is best practice in any offshore event. Windquest had practically an identical situation as us minus losing someone overboard after getting caught with A2 up. They had minute plus knock down, but they were able to blow the kite and get the boat back up because they could release the tack. I don't believe it's a stupid question at all to ask about the quick stop (I bring up what we feel the max breeze for a quick stop in every prestart safety briefing, including this one), but it is absolutely not feasible in this breeze. The boat was knocked over with just the main up, you'd end up on your side with a bigger mess and possibly more people ejected off the boat.
Our MOB buttons are on the tablet/computer, handheld GPS, GPS head unit below, and VHF radio. The MOB locations we have became very redundant as one went over the side with Mark, one nobody knew the location of the tablet other than Mark, one was triggered, the VHF, and the other was part of VHF chain, the Simrad. We were able to start spitting out coordinates over the VHF fortunately.  Our MOM did not get deployed immediately, we thought about deploying late, but felt it would be a distraction from getting back to his immediate vicinity.
The AIS receiver and placing MOB buttons in the reach of the helm are the two biggest hardware changes that are necessary, one to track, and one to get a quicker MOB target on the GPS. The bigger changes have to be procedural. We were properly set up for sail handling, which is critical and I can't emphasize enough. If you get back footed trying to take down a 2000 SF  kite in a gale it could wrap you up for half an hour and cause more carnage in terms of boat and crew.
The issue that needs to be drilled relentlessly is what was mentioned above, you have to practice with crew minus 1. In this case a critical component of our process went over the side, and it negatively impacted our ability to respond. It's also critical to practice minus the bowman, and have the rest of the team be comfortable in getting the sails down in extreme conditions.
For crew, mandatory to carry a secondary light. As a bowman I have always carried a second light, as I've run through this very scenario in my head countless times. Everyone on the boat needs to as well. Whether it be glow sticks or strobes or torches, always have backup. A PLB is a good idea as well.
We are very fortunate to have gotten our man back. Mark and I have done thousands of miles together, in everything from dinghys to 52's to Vipers to everything in between. I couldn't imagine losing him, and implore everyone to take this seriously. Our crew collectively has Whitbreads, IACC sailing, Sydney Hobarts, Transatlantics, Newport Bermudas and countless Macs, among many others under our belt, and this is by far the most dangerous situation we have been a part of.
The biggest challenge is that there is very few people with real world experience in dealing with it, so you have to rely on drilling relentlessly and strict adherence to best practices, along with gleaning all you can from people who have dealt with it. I hope this little bit is helpful to anyone who is reading.
Graham Garrenton, a/k/a doghouse
July 23rd, 2017 by admin
Delta pilot Mark Wheeler is the luckiest man in the world this week, and thankfully, he's sharing the info in the hopes that others have an easier time when they go in the water.  The Delta pilot (presumably with far more training in survival than the typical sailor) and crew of Farr 400 Meridian X gave his account of his rescue on Sunday morning after falling overboard during the windy CYC Mackinac Race.  One note: The crew of this boat is exceptionally experienced, and has raced thousands of miles together – many of it in boisterous conditions.  Another reminder that it really can happen to any of us at any time.  The discussion's already going over here.
The wind forecast was for a cold front to come through in the middle of the first night with a fairly sudden shift from SW to N. We raced under spinnaker on the lifting starboard tack from the start and then gybed to the heading port tack.This brought us to our target position in the middle of Lake Michigan and about 100 nm up from the start. The wind direction was 220 at about 15 kts. There was one thunderstorm to the west that did not seem to be moving. The front was still to the NW and an hour or so away.
At about 23:30, the wind began to build rapidly to 30 knots with no change in direction, and then very soon to 40 knots. I had gone off watch at 23:00. An all hands on deck call was made to get the staysail and A2 down.  I scrambled on deck with my inflatable life jacket and harness on, but not buckled. As I got back behind the wheels, I reached out for the port running back winch.  Just before my hand made contact with the winch the helm was put over hard to starboard to go down with the ever increasing wind. I went over the side head first through the life lines above the winch. I was only able to grab a spinnaker sheet for a couple of seconds as the boat was going approximately 18 knots.
I had my inflatable life vest set up for manual operation because of all the unwanted auto inflates I had seen on deck in wet races. My first order of business was to pull the lanyard to inflate the vest. The water was really rough at this point and breathing was a challenge. The vest inflated properly which was a relief, but since I had not buckled the front fitting I had to hold the lobes together with my arms to stay afloat. I knew it would be a while before my teammates could return to look for me since they were travelling away so fast and would not be able to turn without dropping the chute. In fact, afterwards we estimated the boat ended up more than 1.5 miles from me.
With the wind blowing 40 knots, I was in survival mode and concentrating on remaining calm and trying to breathe without ingesting too much water. I retrieved my brand new safety light from the PFD and held it up. The crew saw it for a while but lost it in the distance. Right from the beginning the light did not want to stay on bright and steady. I kept banging the side of it to get it to come back on. After a while the wind died down to the 12 to 14 knot range, but my light went out and no longer worked. I tried several times to get my harness buckled in front of me but could not do it with my life jacket inflated. At that point I inventoried my gear. Besides my failed light, I had a whistle, my AIS transmitter and my safety knife.  AIS was not mandatory for this race and we did not have it on Meridian X. My transmitter would have to be picked up by another boat or the USCG if someone with AIS was within a couple of miles of me. The thunderstorm to the west gave me a reference so I knew where north and Meridian X was. The next 15 minutes were discouraging to say the least. I was floating in the middle of a pitch black, moonless Lake Michigan with no light at 12:15 AM, and with no boats in sight. After about 30 minutes I could see Meridian's white mast light off in the distance, but clearly a long way from me.
The weather forecast was for big wind out of the north once the front showed up and I was starting to get extremely cold. I blew my whistle every minute or so during this time. The next time I rotated to the north, instead of a distant light I saw a green glow of the masthead tricolor and it was significantly closer. I started whaling on the whistle. Occasionally water would get into it and the whistle would not work, but when I had clear blasts it was very loud and fortunately carried a long way. Meridian heard the whistle. Later they told me they would motor and then stop to get the boat quiet, listen, and go towards the sound again. We think this process took about 15 minutes but it worked and I was found!
I was suffering from hypothermia when they dragged me aboard.  I had been in the water for 1 hour and 6 minutes. The crew got my wet clothes off, wrapped me in blankets and fleece, gave me some hot water and eventually I stopped shivering. We retired from the race and headed for Muskegon immediately after my retrieval, which was about 4 hours away.  Once I was warm it was clear I did not need medical attention.  I consider myself a very lucky man and I will forever be grateful to the crew and my good friends on Meridian X for being able to recover from the squall and get back to the same general area in which I was lost. It certainly was not an easy task.
July 19th, 2017 by admin
It's been six years since Mark Morley and Suzanne Bickel died during the Chicago Mackinac Race aboard Wingnutz, and Saturday night was very nearly Deja Vu all over again.  A nasty frontal line – similar to the one that capsized Wingnutz in 2011 – tore through the fleet from the West around Midnight.  Rather than just a big increase and righty, the line held huge, spiking gusts of well over 50 knots, shifting constantly in the turbulent boundary.
Few boats came through the squalls without damage, but the scariest report came from Bill Shellhorse's Virginia-based Farr 400 Meridian X, a perennial competitor in the Mac.  During a knockdown, they lost a crew overboard and it took a full hour to recover him.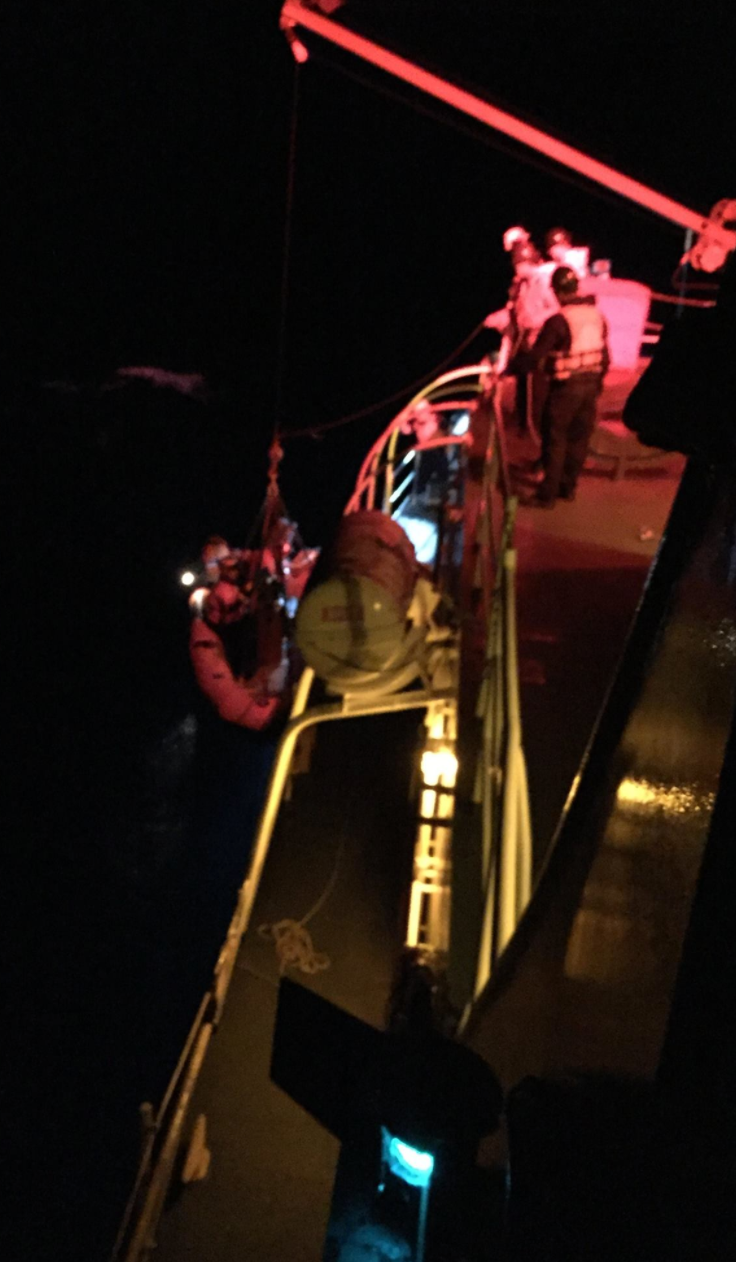 With water temps in the mid 60s and huge, short seas, it's amazing the crew was able to stay alive, and it's not a surprise to have received a tip that the rescuee was maybe a few minutes away from the worst end possible.  Despite multiple USCG assets in the area and quite a few boats trying to stand by and help, it was Meridian which recovered their crew under what must have been terrifying circumstances.
As much as a third of the fleet retired to nurse their wounds, while almost the entire multihull fleet pulled out, but not before the F31 trimaran High Priority 2 went over in a 50-knot gust and turtled; the pic to the left is of her crew being winched aboard a CG tender after they hung out on their upside-down hulls for a while.  The big showdown between the two ORMA 60s – Earth Voyager and Arete – failed to materialize, with EV pulling out with mast track problems.  Arete is just 5 NM from the finish as we speak – not of the Chicago Mac (which they finished with first racing boat and first in class) but of the SuperMac! Owner Rick Warner wrote us this morning.  "All of the Arete team wishes best wishes to
everyone forced to retire.  We are so glad the crews are all OK!  We saw plenty of wind, on the nose in the upper half of the lake.  It was steady 30s with 7-foot faces with a typical Great Lakes short period, the boat was fully out of the water at times, the main hull launching off the back of the waves and the leeward ama digging in and piercing the next one…if you know how far back the helm pods are on Arete, you understand what it means when I say that the waves were actually pounding on it…We are looking forward to the Port Huron-Mac and then the TransSuperior!"
Quantum owners the DeVos family aboard Windquest ironically retired with sail damage, with the big squall disintegrating an A3 and shredding the headboard of their mainsail, while TP52 Natalie J pulled out after destroying their jib tack, cunningham, and some odds and ends.
Thankfully there are no reports of major injuries, though the sailmaker's (and rudder repairers) bill is sure to total millions…
Tracker for both the CYC race and the SuperMac are here.   Results here.
July 17th, 2017 by admin