Posts Tagged 'Mini'
The foiling scow-bowed Arkema Mini has grabbed her first podium, a second-place out of 69 entrants in the Pornichet Select race.  Welcome to the sharp end of the fleet for a boat that barely looks like one. More info at the Arkema site.  Photo credit: Vincent Olivaud/Team Arkema Lalou Multi
April 29th, 2017 by admin
One of five sailor chicks (out of 35) entered in the all-important Solitaire Du Figaro, rigger, pro sailor, and former minista Alexia Barrier is one of a new breed of sailor who understands marketing, social media, and the web.  Above is Episode 1 of what we hope will be a long-running series, bringing her audience into the folds of an event that has remained mostly hidden from non-French eyes.  Alexia is a daily SA reader and an extremely cool Sailor Chick of Week, and she gives us a reason to give a shit who wins the Figaro.  Then again, with Justine Mettraux and Cecile Laguette on the line, we're gonna have a hard time deciding who to pull for.  If she keeps entertaining us with capsizes in other boats, we'll never get bored. Follow Alexia here on Twitter and here on Facebook.
Title thanks to solo women everywhere.
February 15th, 2017 by admin
French Minista Olver Jehl set off over the weekend to try for the fastest Mini time ever from New York to The Lizard aboard his Zigoneshi.  Instead, he established perhaps the fastest time ever for a Mini skipper to go from harbor to helicopter.
Jehl barely made it to the Hudson Canyon before holing his Mini and calling for rescue, and Bjorn Kils (NY Media Boat) was there to document it.  There's also a thread.
Title goes to another all-terrain vehicle that didn't quite make it.
May 17th, 2016 by admin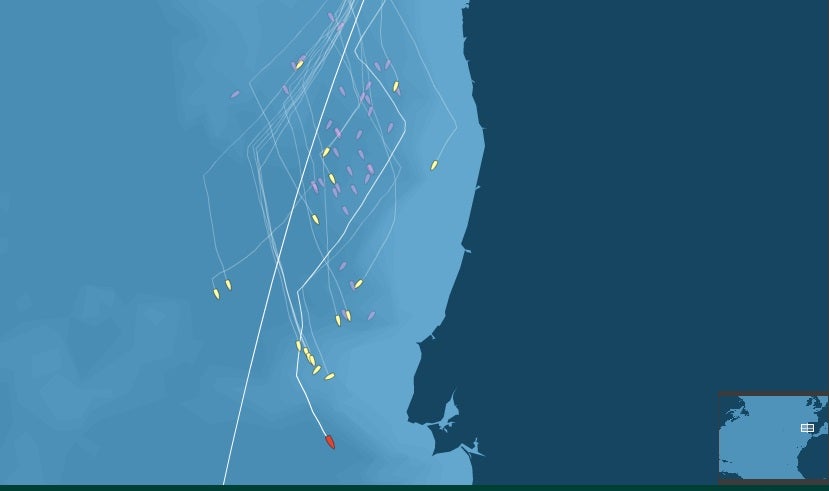 SA'er Jack Sparrow has proven to be quite the auteur, and he's been supplying the world's Mini Transat fans in the Ocean Racing forum with some awesome daily reports as the fleet heads towards Lanzarote.  The big tracker is over here, and you can watch more than an hour's worth of high-quality French TV coverage of the MT start – complete with star-studded commentary team – over on DailyMotion.  If you're an English speaker and you love Minis, follow the MT thread for all the best bits.
At the last report yesterday the fleet were negotiating Cape Finisterre and were lining up which side to leave the T Zone. Those that left it to port did not get much joy as the pressure increased inshore this morning. That last report also indicated that today's wind increase along the Portugal coast would probably favour the front runners and it has panned out that way. The rigours of the previous day in the Bay of Biscay was behind most of them.
In the battle of the Prototypes, Davy Beaudart (FR) has gone from strength to strength, chasing the additional pressure sitting out on the left hand side alone earlier on and at 1300 UTC had just made his way past Lisbon. Sitting still some 30 plus mile in his wake Frederic Denis (FR) and Axel Tréhin (FR) have been in their own private arm wrestle swapping places at each sked. However this has occurred at a distance with Frederic favouring the left or eastern side along with Davy and Axel leading the others in from the other side of the rhumb line. This intense competition may have helped them close the gap slightly on Davy and stretch the gap over the following pack.
The first interloper and Englishman Luke Berry (GB) has been steadily working away and is now sitting in 6th and less than 10 mile behind Frederic Denis (FR). The second gatecrasher to the Top 10 party, the Swiss Simon Koster (SUI) has not fared well. He has not only slipped back from leading this group early yesterday, but now sits in 9th and 30 mile behind Frederic Denis (FR).
Simon appears to have made a conscious decision to keep to the right hand side. His thinking may be that there is little to be gained by following the leader and look instead to hold on to the breeze longer out wide, as it falls off as they edge further south. Time will tell if his gamble pays off.
In the Production/Series, the leading French trio of Ian Lipinski (FR), Benedict Hantzperg (FR) and Tanguy Le Turquais (FR) managed to hold onto their positions over the last 24 hours and are nearly running their own race. Julien Pulve (FR) in 4th sits alone and unloved 10 mile back between those leaders and the next boat of Charly Fernbach (FR) in 5th which is some 25 mile behind Julien and leading the following pack.
Most boats have now made their way over to the left side of the course and are enjoying excellent moderate downwind conditions gybing down the Portuguese coast with speeds ranging between 9 -13 knots. The weather map below shows the forecast for around midday tomorrow. This indicates the leading boats will start losing breeze off the SW tip of Portugal.
This will cause the fleet to compress and provide some joy to those out the back.
September 24th, 2015 by admin
The Minis are just now headed on their one-stop jaunt across the ocean in one of the ultimate man vs. nature battles under sail.  Aussie Minista Katrina Ham made it to the line, and she gives us a preview:
To most of the non-french sailing world the Mini Transat is a bit of a unknown. Many people have heard about it and are interested, but sadly it all seems too far away. In just over 24hrs 72 21ft pocket rockets will race from Douarnenez, France to Guadaloupe with a stopover in Lanzarote in the Canaries in the Mini Transat Iles de Guadeloupe 2015. That's 4020nm in total with no communication with land and no computer navigation…just old school charts and a SSB receiver to get weather forecasts. I am very thankful that I will be one of the skippers. I am also very thankful the weather forecast looks better than the 2013 Transat of which 40% of boats did not finish and several were lost. I was one of those sad statistics last time so my objective this time is just to get to the finish. Not exactly what I want to write but given most this year has been fighting just to be allowed on the start line anything better than getting to the other side is a bonus. I do not have the newest boat or sails (but I do have brilliant hardware and ropes thanks to Wichard, Profurl, Donaghys, Southern Ropes and Infinity Nautique) and while I live in Lorient (in my van) I have not had time (around teaching English) or money to take advantage of the training on offer. I am also more than willing to admit I am not a rockstar racer by any means…..just an Aussie with a dream.  I might be here for the experience and the challenge of going solo but there are many others with an eye on the top spot.
In the carbon protos there is a face off between Swiss Simon Koster with his very new, very radical and some could argue untested "frog scow" with Cup style L-foils (rules have been changed for next year so allow IMOCA style foils that can extend beyond the limits of the box rule) and Davy Beaudart with his Raison (same designer as the original scow mini which won the 2011 Transat and came second in 2013) designed scow. But it is as much about whose boats stays in one piece as seen in the 2013 Mini Transat when Benoit Marie sailed into first place in an older design. Of the "old" non-scow boats I would put my bets on Federic Denis with Luke Berry the first Anglo-phone.
In the fibreglass production "Series" boats there is also an interesting face off between the new generation boats like the long awaited Pogo 3 and new Ofcet design. The relatively new Benoit Hantzperg would be my pick of the Pogo 3's is up against seasoned Ian Lipinski with an Ofcet, who also has unfinished business from 2013 after losing his boat off the Portuguese coast. Then the other question can the previous generation boats including  2015 podium regular Tanguay Le Turquais's Argo and the 2013 podium dominating Nacira's keep up? What once dominated mini the now "vintage" pogo 2's like mine while might not be the fastest are still the most numerous.
September 20th, 2015 by admin
Bob Salmon ignored the hundreds of people who told him he was crazy. He ignored rules, convention, and tradition. He knew it was possible, and along with the folks at the Penzance Sailing Club, he drug the Mini Class and Mini-Transat Race into existence.  It remains today one of the most respected and extreme races in the world, and without Bob, it wouldn't exist.  Rest in peace, Anarchist.
Lots of background at the PZSC over here, where we got the pic, too.  For a 2012 interview with Salmon and some ancient footage, click here.  Here's a little more from our friends at Adonnante.
November 26th, 2014 by admin
With David Raison's groundbreaking Mini Teamwork experiencing mad speed and great results since her launch three years ago,  it's not a surprise that the new Minis for this next cycle have embraced the concept.  You're looking at an evolution of the original Raison boat, called the Magnum Max – this one will be skippered by Davy Beaudart for the next two seasons under the Cultisol brand with the main goal being the 2015 Mini Transat.  Thanks to aesthetics and fear, the hull form is outlawed in other major design classes – the Open 60, TP52, Class 40 – so this is the only place to find ocean racing scows – at least until someone has the balls to go break Sydney-Hobart records in a 100 foot version…
We dig it; not only do we love scows, but we also like disruptive designs and the guys who put their finger up to the establishment.  Speaking of scows, did you know the A-Scow Nationals are expecting up to 30 boats this June?  And we'll be covering it…live.
Say thanks to Sir Charles for the title, Davy's Facebook Page for the photo, and Chris Tutmark for the heads up.  More info and discussion here.
May 13th, 2014 by admin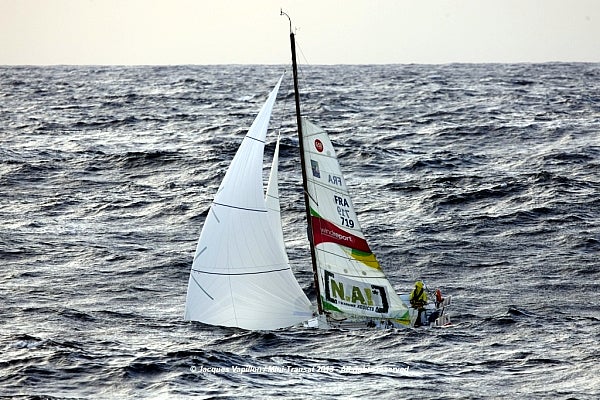 With conditions deteriorating quickly in the Bay of Biscay, the organizers of the Mini Transat have abandoned the first leg of the race, recommending nearest shelter for the already quite spread out fleet.  Disaster magnet Jefferey MacFarlane's story ends badly; the American skipper dismasted while near the front of the fleet and is on a ship, shadowing the fleet.  625 lost his keel and is on a cargo ship.  Two others collided near the start.  And the list of damage and injury throughout the fleet from the first two days must be long and nasty.
Half the fleet is headed for Gijon while most of the front runner protos will get to Sada and some may scatter for whatever port they can make, considering the awe-inspiringly bad sea state that still awaits those stuck at sea. Once Poseidon settles down, there will be a lot of running around trying to figure out how to salvage one of the world's best races; keep abreast in the thread.
We'd have photos for you, but we're tired of the low-res shit that the Mini-Transat organizers pass off as 'photo galleries' for the public.  Apparently the French only have 800 x 600 monitors on their computers; go here if those kind of pics get you horny.
October 31st, 2013 by admin
After what seems like a month waiting around for a weather window, that slightly-later-than-usual start for the Mini-Transat is definitely looking like a bad idea that will never happen again.  The 90-odd minis are still stuck in port thanks to the latest in a long line of insanely nasty low pressure systems (see above), with out-of-budget sailors relying on the hospitality of the kind folks of Douarnenez to keep them housed and fed.
There is a light at the end of the tunnel though, and it looks like Tuesday morning will finally be the Minis' day.  Keep informed on the Ocean Racing Anarchy thread.
October 27th, 2013 by admin
A black cloud has been chasing Jeffrey Macfarlane all over the Atlantic as he fights to be one of only two Americans at the line of this fall's huge Mini-Transat.  You'll remember Jeff was rescued off his boat a few months back after the keel box, deck, and mast of his Mini started falling to bits during a gale in the Med.  He quickly found a new boat to charter for the rest of the season, so now he's got to  sail a 1000 NM qualifier.  Once that's over, the real work – getting a somewhat tired boat ready for one of the most demanding races in the sport.  Here's an update:
Since returning to France I managed to charter a Manuard designed Mini – it is number 759. It is a great boat – a more powerful hull design better suited for strong wind sailing. However, at this point much of the equipment on the boat is very worn. I have started to make the necessary updates, such as a new (working) AIS. I am hoping to get new sails soon as the ones on the boat are very tired.
Sam Manuard (the boat designer) and I spent a few days training on the boat to help get me up to speed quickly. Because I had to restart all of my Mini Transat Qualification requirements after losing 716, the process has been incredibly rushed. In order to make the deadlines, I had to race in the Trophee MAP Race in Douarnenez, France just a few weeks after having the cast removed from my hand. I was a little hesitant at first, but was able to manage. Unfortunately, my spinnaker pole broke the first night of the race, slowing me down a great deal. Even so, I finished 8th and am proud of the result. Next, I sailed in the double handed Mini Fastnet, also out of Douarnenez with Sebastien Picualt. The 600 mile race was challenging as we were sailing in a high pressure system, making for light and unpredictable weather systems. But once we rounded Fastnet Race, we had a very fast trip back with ideal downwind conditions (18-20 knots) most of the way. We finished 9th in this race. While the boat has potential for great speed, we struggled to keep pace in upwind conditions. Hopefully with new sails, this problem will be taken care of!
Now, I am preparing to head out on my 1000 mile qualification course. I will sail from Douarnenez to Connibeg Light near Waterford, Ireland, down to Rochebonne, around Re Island (near La Rochelle, France), up to Belle Ile, and finally finishing in Port Bourgenay.  After this 1000 mile sail, I will race in the Transgascogne Race. The race consists of two legs – from Port Bourgenay to Luanco, Spain and then back. After I finish the Transgascogne Race, I will have completed all of the necessary qualification requirements for the Mini Transat. I am really looking forward to that day – it will be a huge weight off of my shoulders.
BREAKING NEWS:  As of a few hours ago, Jeffrey writes: "A few hours into my qualification, my mast broke due to a brand new side stay breaking… Back in Douarnenez to make the repairs. Hopefully I'll be starting again tomorrow evening. First order of business after reaching the dock – removing all of the bananas (dried and puréed) from my Mini. I think I'll pay closer attention to superstitions from here on out… Oh, and replace ALL rigging…
July 8th, 2013 by admin