Posts Tagged 'Mini Transat'
The foiling scow-bowed Arkema Mini has grabbed her first podium, a second-place out of 69 entrants in the Pornichet Select race.  Welcome to the sharp end of the fleet for a boat that barely looks like one. More info at the Arkema site.  Photo credit: Vincent Olivaud/Team Arkema Lalou Multi
April 29th, 2017 by admin
We just stumbled on this 50 minute documentary, and aside from featuring some excellent Mini sailing footage and solid production values,  it's quite a compelling story of a Czech racer in a French world who just wouldn't give up.   Watch it above with subtitles.
December 8th, 2016 by admin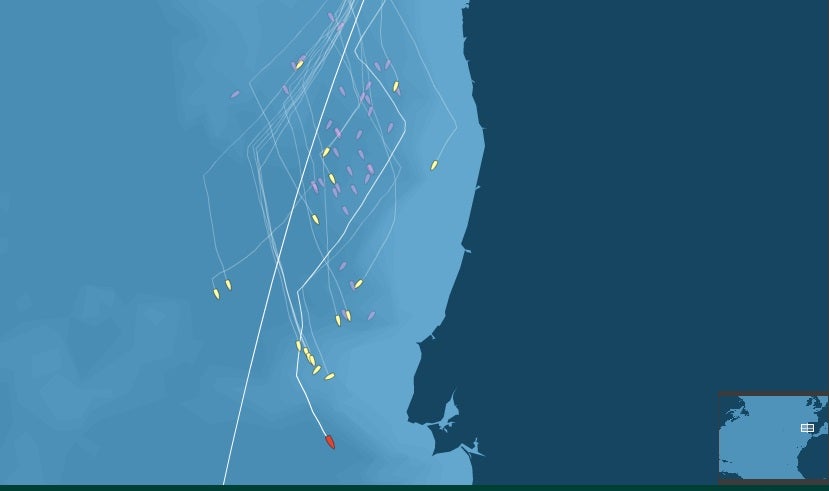 SA'er Jack Sparrow has proven to be quite the auteur, and he's been supplying the world's Mini Transat fans in the Ocean Racing forum with some awesome daily reports as the fleet heads towards Lanzarote.  The big tracker is over here, and you can watch more than an hour's worth of high-quality French TV coverage of the MT start – complete with star-studded commentary team – over on DailyMotion.  If you're an English speaker and you love Minis, follow the MT thread for all the best bits.
At the last report yesterday the fleet were negotiating Cape Finisterre and were lining up which side to leave the T Zone. Those that left it to port did not get much joy as the pressure increased inshore this morning. That last report also indicated that today's wind increase along the Portugal coast would probably favour the front runners and it has panned out that way. The rigours of the previous day in the Bay of Biscay was behind most of them.
In the battle of the Prototypes, Davy Beaudart (FR) has gone from strength to strength, chasing the additional pressure sitting out on the left hand side alone earlier on and at 1300 UTC had just made his way past Lisbon. Sitting still some 30 plus mile in his wake Frederic Denis (FR) and Axel Tréhin (FR) have been in their own private arm wrestle swapping places at each sked. However this has occurred at a distance with Frederic favouring the left or eastern side along with Davy and Axel leading the others in from the other side of the rhumb line. This intense competition may have helped them close the gap slightly on Davy and stretch the gap over the following pack.
The first interloper and Englishman Luke Berry (GB) has been steadily working away and is now sitting in 6th and less than 10 mile behind Frederic Denis (FR). The second gatecrasher to the Top 10 party, the Swiss Simon Koster (SUI) has not fared well. He has not only slipped back from leading this group early yesterday, but now sits in 9th and 30 mile behind Frederic Denis (FR).
Simon appears to have made a conscious decision to keep to the right hand side. His thinking may be that there is little to be gained by following the leader and look instead to hold on to the breeze longer out wide, as it falls off as they edge further south. Time will tell if his gamble pays off.
In the Production/Series, the leading French trio of Ian Lipinski (FR), Benedict Hantzperg (FR) and Tanguy Le Turquais (FR) managed to hold onto their positions over the last 24 hours and are nearly running their own race. Julien Pulve (FR) in 4th sits alone and unloved 10 mile back between those leaders and the next boat of Charly Fernbach (FR) in 5th which is some 25 mile behind Julien and leading the following pack.
Most boats have now made their way over to the left side of the course and are enjoying excellent moderate downwind conditions gybing down the Portuguese coast with speeds ranging between 9 -13 knots. The weather map below shows the forecast for around midday tomorrow. This indicates the leading boats will start losing breeze off the SW tip of Portugal.
This will cause the fleet to compress and provide some joy to those out the back.
September 24th, 2015 by admin
The Minis are just now headed on their one-stop jaunt across the ocean in one of the ultimate man vs. nature battles under sail.  Aussie Minista Katrina Ham made it to the line, and she gives us a preview:
To most of the non-french sailing world the Mini Transat is a bit of a unknown. Many people have heard about it and are interested, but sadly it all seems too far away. In just over 24hrs 72 21ft pocket rockets will race from Douarnenez, France to Guadaloupe with a stopover in Lanzarote in the Canaries in the Mini Transat Iles de Guadeloupe 2015. That's 4020nm in total with no communication with land and no computer navigation…just old school charts and a SSB receiver to get weather forecasts. I am very thankful that I will be one of the skippers. I am also very thankful the weather forecast looks better than the 2013 Transat of which 40% of boats did not finish and several were lost. I was one of those sad statistics last time so my objective this time is just to get to the finish. Not exactly what I want to write but given most this year has been fighting just to be allowed on the start line anything better than getting to the other side is a bonus. I do not have the newest boat or sails (but I do have brilliant hardware and ropes thanks to Wichard, Profurl, Donaghys, Southern Ropes and Infinity Nautique) and while I live in Lorient (in my van) I have not had time (around teaching English) or money to take advantage of the training on offer. I am also more than willing to admit I am not a rockstar racer by any means…..just an Aussie with a dream.  I might be here for the experience and the challenge of going solo but there are many others with an eye on the top spot.
In the carbon protos there is a face off between Swiss Simon Koster with his very new, very radical and some could argue untested "frog scow" with Cup style L-foils (rules have been changed for next year so allow IMOCA style foils that can extend beyond the limits of the box rule) and Davy Beaudart with his Raison (same designer as the original scow mini which won the 2011 Transat and came second in 2013) designed scow. But it is as much about whose boats stays in one piece as seen in the 2013 Mini Transat when Benoit Marie sailed into first place in an older design. Of the "old" non-scow boats I would put my bets on Federic Denis with Luke Berry the first Anglo-phone.
In the fibreglass production "Series" boats there is also an interesting face off between the new generation boats like the long awaited Pogo 3 and new Ofcet design. The relatively new Benoit Hantzperg would be my pick of the Pogo 3's is up against seasoned Ian Lipinski with an Ofcet, who also has unfinished business from 2013 after losing his boat off the Portuguese coast. Then the other question can the previous generation boats including  2015 podium regular Tanguay Le Turquais's Argo and the 2013 podium dominating Nacira's keep up? What once dominated mini the now "vintage" pogo 2's like mine while might not be the fastest are still the most numerous.
September 20th, 2015 by admin
Aussie Mini sailor Katrina Ham says her boat was smashed to bits and she was left to die by an official Mini-Transat rescue boat two years ago during the stormy and poorly-managed 2013 race.  Now that she's qualified for the 2015 MT, those same organizers have now rejected her entry.  Here's the story, with thanks to Conrad Colman for the heads up.  Head over to Katrina's fundraising page to give her a hand, read more about her story over here, and blow up the MT organizers with the link to this story on Facebook until they quit acting like assholes.
Katrina, 27, from Brisbane has been working for years to get to reach her goal: the Mini Transat. Having moved to France 3 years ago, she lives in a van on the submarine base in Lorient and teaches English to survive. But this is not the first time Katrina has come up against hurdles. After finishing all the qualification requirements and getting to the start in 2013, the race was delayed and the fleet was diverted to northern Spain. During an organised delivery to the re-start, Katrina was taken under tow by an official accompanying boat which towed her into dangerous breaking waves. Her boat was let loose after she was rolled by a wave and she was hurtled into the water. Fortunately she was attached to her boat, but the boat that was towing her was nowhere to be seen. Katrina was discovered by chance by the harbour pilot who ended up swimming for his life as well! While Katrina was eventually brought back to shore, her boat was left drifting, to be smashed to pieces.
Proving that she's not one to give up, Katrina stayed in France, acquired another mini, and set out to get qualified again. Even though she completed all the requirements again, her entry has been rejected because they organizers want her to pay €2000 for the tracker that was apparently damaged when her boat was lost. Katrina has given the tracker back and has no legal obligation to pay for it but without the means to fight given the time restrictions Katrina's dream is threatened to be crushed again. It is crunch time at the end of the week, when entries close she either coughs up and gets to race (assuming they accept her and she finds the means to get to the start) or she misses out altogether…..not an easy choice given the circumstances.
Please help Katrina so that she can be on the start line. She won't win the race, but she has demonstrated for years that she has the skills and mental fortitude to overcome all the challenges ahead of her if she has the means. Please lend a hand and help this young adventurer fight back from the unjust position she has found herself in and succeed in realising her dream and sharing this adventure with you.
July 17th, 2015 by admin
Bob Salmon ignored the hundreds of people who told him he was crazy. He ignored rules, convention, and tradition. He knew it was possible, and along with the folks at the Penzance Sailing Club, he drug the Mini Class and Mini-Transat Race into existence.  It remains today one of the most respected and extreme races in the world, and without Bob, it wouldn't exist.  Rest in peace, Anarchist.
Lots of background at the PZSC over here, where we got the pic, too.  For a 2012 interview with Salmon and some ancient footage, click here.  Here's a little more from our friends at Adonnante.
November 26th, 2014 by admin
With David Raison's groundbreaking Mini Teamwork experiencing mad speed and great results since her launch three years ago,  it's not a surprise that the new Minis for this next cycle have embraced the concept.  You're looking at an evolution of the original Raison boat, called the Magnum Max – this one will be skippered by Davy Beaudart for the next two seasons under the Cultisol brand with the main goal being the 2015 Mini Transat.  Thanks to aesthetics and fear, the hull form is outlawed in other major design classes – the Open 60, TP52, Class 40 – so this is the only place to find ocean racing scows – at least until someone has the balls to go break Sydney-Hobart records in a 100 foot version…
We dig it; not only do we love scows, but we also like disruptive designs and the guys who put their finger up to the establishment.  Speaking of scows, did you know the A-Scow Nationals are expecting up to 30 boats this June?  And we'll be covering it…live.
Say thanks to Sir Charles for the title, Davy's Facebook Page for the photo, and Chris Tutmark for the heads up.  More info and discussion here.
May 13th, 2014 by admin
This evening – nearly seven weeks after the scheduled start of the Mini Transat in Dournenez, Benoit Marie crossed the finish line in Guadeloupe at the head of the fleet, and the reputation of the most grueling trans-oceanic race just keeps getting bigger and meaner.  Marie also does his part for yachting aesthetics, proving that the "Scow Bow" of Giancarlo Pedote isn't necessarily the end-all/be-all of Mini design (though until yesterday when light air VMG conditions rolled in, it looked like Pedote had the win in hand). Pedote did finish second. The skipper of Prysmian crossed the finish line at Pointe-à-Pitre at 20h 41mn 30s local time is (00h 41mn 30s, GMT). He finished 2h 55mn after the leader.
 Marie, the French engineer earned the hell out of this one, and our biggest congratulations to him!  Get in on the Mini Transat thread in Ocean Racing Anarchy to talk about it.
Senior Editor Mr. Clean caught up with the young Frenchman 20 minutes after he hit the dock in Pont-A-Pitre for this excellent (if slightly muffled) Sailing Anarchy Innerview.  Check it, and have a peek at Benoit's excellent blog, Facebook page, and Twitter to share your congrats.
December 1st, 2013 by admin
Today we give you the best Video Friday we've had in quite a while! We've got launching Optis, dancing Minis, crashing SB20s, a massive storm, and the final Little AC wrap.  Enjoy them all, and enjoy your weekend from everyone here at Sailing Anarchy.  Got an awesome video for next week?  Send it in.
The Mothosphere

More foiling.  More crashes.  More interviews with some of the world's fastest men and women.  And of course, more Gretta.
You've been waiting for it patiently, so here's the full, 20 minute long, 2013 McDougall + McConaghy International Moth World Championship final highlight reel from Penalty Box Productions.  Enjoy!
Opti Crush
We don't know who he is, but this Seattle grommet has bigger balls than we do!  Check this Opti-crusher out on a 30-knot day in Shilshole Bay last week, and note his smile.  Also note the distinct lack of helmets, lawyers, and nanny-state, helicopter-parent sensibility.  And someone, please let us know who this grom is; he needs some SA gear and we're gonna get him some.
Hey Jude

The same St. Jude storms that threw the Mini Transat and TJV into such disarray also did a number on Scandinavia.   The storms were the most powerful to hit Northern Europe in more than a decade, and billions in property damage, hundreds of boats destroyed, and 16 deaths are the weather's legacy.  Here's a look at what 120 knot winds look like on the Svenburg Sund in Denmark, and there's more video here.
Target Rich Environment
Sometimes, hitting those puffy inflatable tubes is just too tempting.  This from last month's SB20 Worlds in Hyeres, where someone must have painted targets all over the RIB at the pin end of the line.  Chat here and thanks to Presuming Ed for this one.
Nothing To Do But Dance

With about 6 weeks of delays, postponements, and other misadventures, the Minis are indeed restless – none more so than the handful of prototype skippers who made it to Sada while the rest of the fleet ended up…elsewhere.  They put together this little tribute to the Mini Transat Race Committee; it's sort-of called "Where's The Race Committee" and it should crack you up even if you don't speak French.  Latest on the Mini fleet (including another boat lost on the delivery) here.  Thanks to the Moody Frog for this one.
November 8th, 2013 by admin
Tasmania's Richard Hewson was leading the fleet when the Mini-Transat was abandoned last week, and coincidentally, he spent a few days with our man (and woman) on the ground, Ryan and Nicola Breymaier when the start was first postponed.  The Breymaiers learned some interesting stuff about an interesting Ozzie; he skippered the winning Clipper RTW boat in the last race, is a licensed Merchant Mariner, and an all around good guy with his head firmly screwed on and a mature outlook.  Along with being good fun at the bar, of course.
With the Mini-Transat just announced as a single-leg event (from Sada to Guadaloupe) beginning next Thursday, this year's race becomes the longest single leg ever sailed in a Mini race, and Ryan had a chat with Hewson to get his take on it, and the race itself, yesterday.  If you want more information on Rich's series boat, go here.  And like him on Facebook here, please.
Rich Reports:
We were upwind out of Douarnenez, then reaching through Raz de Seine. It was rough but good, and a lot better than I expected. There were no big standing waves, and it was only blowing about 18 knots, gusting 22. The whole race average wind was only about 16, gusting 20 – 24. Warm surface air and cold frontal air were mixing and giving us very gusty conditions. I went through with a reef and the jib, Jeff put up his zero but I waited until leaving the Raz before I put it up.
When we got out of Raz de Seine and offshore there was a 2m swell and chop of 1m on top so big holes for a little boat. I was reaching with code 0 and two reefs; the rig loves it like that. Not rough enough to worry about the baby stay. I am impressed with how solid the rigs are. It was lots of reef in, reef out all that time, looking out for fronts/squalls and trying to reef in time. It only takes 2 mins to reef so that's no problem.
Heading offshore and south towards Sada we were reaching for a while and then breeze turned more west.  Original plan was to head high, to try to keep gauge on the finish, but I was doing so well that I was in the lead pack and decided to do the same as the others and put up the Code 0.  I sailed for a while like that then the downhaul on the pole slipped, and I had to drop the zero and the sail went over the side; spent 10 min. getting it on the boat and by then I had lost the front pack so I reverted to my strategy from the beginning, head high and get into the next shift.  This worked out well, as the next one was more NW, which allowed me to put up the A5 and the RG650 was doing 14 – 15 knots, lots of fun.
Then the breeze started dying and went back forwards, so I rehoisted the zero and as it shifted worked my way to windward.  It only died for an hour or so then picked back u,  and I played the shifts to windward under jib. My strategy worked out, only hiccup was that big pattern changes were 1 or 2 hours out compared to the weather bulletins. I figured that out and worked my way up through the fleet.
I was in the lead when they cancelled, by that stage I had gotten enough weather gauge to lay Sada on starboard, the wind was up and I was doing 10 knots with code 0 close reaching direct towards the finish with many of the others becalmed.
I was 55 miles from the finish, then they cancelled race at 1800 sched.   Problem was that we were on the VHF but the support boats interpreted the message differently and then in English it was even worse. Some people were told to go to closest port, some told go to Gijon, for me would have been easier to go to Sada as I was laying it under code 0, but they told me I had to go back to Gijon, which was like 100 miles downwind.
It was a bit of a mess due to poor communications, competitors everywhere, and the support boats all interpreting things differently.  At this point the problem is that the boats are split up in two different ports, with 5 prototypes in Sada, and the rest of the fleet in Gijon. Even though it would be easier for the bulk of the fleet, the RC think its unfair to make the 5 boats go backwards, and in any case it is better to start the fleet closer to Cap Finistere.   All in all I am extremely happy with the first leg, even if it had to be abandoned.
I look at it as a show race; everyone is impressed with the boat's speed and at one point I was keeping up with protos, which is really cool. I can't wait to get going and hopefully I can do it again. This boat is super quick reaching and downwind, but everyone noticed it is fast upwind as well, which is not the point of sail it is designed or moded for.  There is lots of rake in the rig for the Mini Transat; we should kick some ass downwind.
I take as little shit aboard as possible, as weight is super important.  I learned a valuable lesson at the start; I loaded the boat up with the max amount of water allowed in the rules, and the rough weather made my water jugs break and I found I was much quicker with an extra reef and no water weight, even though it was stacked. The less ballast you have to use, the better.
The boat has no real damage, just a bit of chafe and one of the nuts fell off one of the spreaders' inboard ends. I have a few leaks to fix up, and to reseal the mast, which moved a bit in the partners.
So you're not pissed off they cancelled the race?
I would have been more than happy to just keep going to Lanzarote. I have had heaps of rest because I was sleeping that day so I could be awake when the storm hit.  I'm so happy with boat performance that the stop just doesn't matter.
I don't want to shitcan the RC, who have enough on their plate, and don't need to be killed by everyone. The RC is doing what they have to do. The biggest problem is the fleet is so widely spread. If we'd kept going to Sada there would have been 3 days difference between the front boats, i.e. I am going twice as fast as the slow series boats, so the RC have a big job on their hands looking after everyone.
Besides, we found a great reef-and-beef steakhouse that's super cheap with house wine for 4 euros so we're off there for dinner, as we have been for a couple days, getting fueled up 🙂
November 5th, 2013 by admin