Posts Tagged 'michigan'
Longtime SA contributor and now Chicago YC Comms pro Morgan Kinney grabbed Clean for a little chat about the Bell's Beer Bayview Mack in this clip above; the race began yesterday under a hot sun and light Southerly breeze. The breeze has built since then, and ORMA 60 Arete and VO70 Il Mostro are fighting for inches in the battle for line honors, while the all-conquering heavily modified MaxZ86 Windquest lurks nearby, waiting for a chance to pounce.  Meanwhile, Paul Hulsey's Holy Hand Grenade is taking advantage of the first-ever Mac to allow Melges 24s as he and another Melges lead the shore course.  The tracker has a drop-down menu for either course and plenty of other features; check it out here.
Check back later on the SA front page for call-ins from the leaders.  Wanna call in?  Send an SMS to 2485630657 and we'll set it up.
July 19th, 2015 by admin
Sailing Anarchy lifers will no doubt remember the slightly insane Chicago Mackinac race run by SA'er stayoutofthemiddle back in 2005 in a non-race legal Melges 24 – at the time, a boat considered 'extreme' and not suitable for anything but buoy racing.  Well, we're extremely excited to announce that it only took 10 years for one side of Great Lakes distance racing to learn what Melges 24 sailors have known for years: If you can handle the conditions, the Melges 24 can too.  That's why, for the first time ever, this year's Bayview Yacht Club's Port-Huron to Mackinac Race will feature Melges 24s in action – officially.
Geriatric hand-wringers and the nanny-state crowd have launched all the usual arguments in an entertaining thread, but you've seen 'em all before; the thread took a turn for the better late last week when one of the guys behind the rules change allowing Melges 24s posted his own reasons for racing his favorite wee yacht in his favorite race.  You can follow along the in the discussion beginning here.
Well I have been sitting back listening to this thread long enough. My name is Paul Hulsey – skipper of GBR593 HH Grenade.
Before I start sparing with any of you lets get a few facts straight. I have owned 3 Melges 24′s over a period of 15 years. I have competitively sailed them all over the U.S. If anyone knows this boat and its capabilities I do.
Apart from 34 Years of competitive dinghy and small keel boat sailing I am also a very accomplished offshore sailor. I have over 40k miles of offshore big boat experience with 1 Transatlantic (not the pussy way straight across but over Scotland), 3 Bermudas, 12 Chicago Macs and this year will be my 29th Port Huron.
Each of my crew have roughly the same resume. Also we are not kids – average age of our crew is close to 46 years (When you factor in Jonesy – or as he is affectionately known as "Grey Ballz")
We have spent our entire winter working on safety potocal – not just for ourselves but also sharing information between the three boats registered. What we have come up with is fantastic with very few Mods to the One Design Boat…. Meaning it will still be a One Design Boat at the end. What I want more than everything is for each of us to make it safe and sound to the island.
Why are we doing this? Well I can't speak for everyone but I can tell you that for me the race had become ultra boring.. Just a punch card thing I did mid summer. Come home from work and 'oh shit I'd better get packed the the Mac starting tomorrow.' This is something totally different for me. Putting life back into a dead race and making it interesting again. For the past few months I find myself dreaming thinking about the 'what ifs'. Yes, sure some of that about big weather and how I will handle it but also about if we get that perfect wind condition where we pop a kite and tear up the lake for 5 to 8 hours (With my trailer waiting for me on the other end!). What sportboat sailor hasn't dreamed of that?
In the end if something bad happens it won't be because we weren't prepared or because we didn't have the experience. Sometimes shit just happens. For us we are very aware of the risks and I know I personally feel safer sailing with my team than half of the other boats out there.
Finally I encourage all of you to come over and check the boat out on the island when we get there… And we will get there, come hell or high water. Come and introduce yourself and I will gladly show you how we set the boat up. Hell, come over and just say hi and bring beer.
This is what sailing is all about, kids!


June 9th, 2015 by admin
With a world record breaking trimaran headed to the West Coast and another headed to the East Coast, longtime Michigan anarchist Rick Warner's decided the Middle Coast needed a new toy, too.  Enter Arete, with big thanks to Rick for putting it into words for SA (and for offering us a ride next month).
As you have written, multihull sailing has reached a tipping point in the US.  When people see a tipping point taking place, they think it happened all of a sudden, when in fact it is evidence of momentum that has been building over time.  So it is with big boat multihull sailing in the US.
I was delighted to see the spectacle of the America's Cup, the ORMA 60s and MOD 70s that are either on or heading to the West Coast, and all of the publicity around the G4.  None of this happened overnight.  The biggest names in multihull sailing, like Brian Thompson on Phaedo3 and our mutual friend Ryan Breymeier on Lending Club are currently destroying records everywhere on US-owned boats.  To me, it's all evidence that offshore multihull sailing, popular in Europe for years, has finally found its foothold in the US.
As I told you recently, I purchased ORMA 60 ex-Sopra.  She has been christened Areté (from the Greek, meaning "striving for excellence in all things") and is on her way to the Great Lakes.  She just arrived at Newport Shipyard after sailing across the Atlantic.  After a bit of post-crossing maintenance, my crew and I will deliver her up the Seaway to Port Huron…she will be quite a sight in the Black River!
We are going to race her like a big Cheeky [Rick's previous boat, a modified Corsair F31R -Ed], with a lot of the same crew and some other friends who make up an extremely experienced group of longtime multihull, offshore and solo racers – all amateurs.  All of us are doing this for the love of the sport and the challenge that comes with multihull speeds.  The boat will be in all of the iconic Great Lakes races this summer including Queen's Cup, the Chicago to Mackinac, the SuperMac and the Port Huron to Mackinac.  We're really looking forward to the SuperMac so we can stretch her legs in a longer race.
Areté is a tipping point of her own.  I raced, cruised and lived aboard "leaners" on the Great Lakes, in Washington state, San Francisco and more.  I logged thousands of offshore miles on deliveries and on board my own boats.  When I bought Cheeky, my interest in sailing, which had frankly had begun to wane, kicked into another gear entirely.  Cheeky is a tweaky, twitchy speed demon that rewards increasing levels of skill with increasing speed, making her a delightful challenge to sail.  After several years of this, I wanted more and Areté is all that.  The French call her "la machine folle", which meanas 'the crazy machine'.  After sailing her in 49 knots of wind through the Straits of Gibraltar, I find it to be very appropriate, but that's a story for another day.  You will agree after you sail her.
Following the successful European model for which she was built, we are also offering the boat as a unique sponsorship platform who want to leverage the experience of multihull sailing.  In other words, we are looking for some baddass brands looking for a baddass marketing platform.
Check out some pics or get in touch with us via our site.  See you soon on the lakes!
May 11th, 2015 by admin
Anyone who's ever sailed a regatta at Detroit's famous Bayview Yacht Club has benefited from this man's big voice, bigger smile, and no-bullshit attitude when whipping yachties into action in the boat park.  We'll miss you, Angelo.
In lieu of flowers, donations may be made to the Bayview Yacht Club Junior Sailors program, or the Temple Baptist Church. Please leave a condolence message or share a memory here.
Visitation: Thursday, January 29, 2015 2-9:00 pm
Kaul Funeral Home
28433 Jefferson
St. Clair Shores, MI 48081
Funeral Service: Friday, January 30, 2015
Instate 10-10:30 am with service to follow
Temple Baptist Church of Roseville
15975 Martin Rd
Roseville, MI 48066
January 28th, 2015 by admin
Fleets come and fleets go, but the Cal 25 remains forever.  At least that's how it is in Southeast Michigan, where the Cal 25 continues a long legacy of great racing, better partying, and lasting forever.  Here's the report from the Detroit gangstas who won last week's National Championship without winning a race, and our apologies for our almost magazine-like delay in getting it up.  Okay, not quite that bad.
The first weekend in August saw the Cal 25 fleet make its way to Port Huron, MI for the 2014 Cal 25 National Championship, some from as far away as Annapolis. Light winds all 3 days caused by a large high pressure system over the Midwest made for some delays with a final tally of 6 races going up on the board. 21 boats was the final headcount for the event, with over half of the fleet representing Detroit.
Target Practice had been awaiting this weekend for some time, and had done tons of boat and sail prep to ready for the event. Numerous jibs were looked at and the entire deck layout was reconfigured to try to give us more control over sail shape and eke out that hundredth of a knot from these 4KSB'es.
Day 1 saw light southerly breezes all day. Race 1 started in ~4knts of breeze, and saw a number of the top boats get off clean and flop onto port after a short while. Places remained relatively static around the course with Target Practice coming away with a deuce. The breeze died and we went under AP for ~90 min waiting for it to fill. When it did from a weak thermal, Race 2 saw a little more action on the line with some yelling and a couple of alleged fouls, but no flags. The rich got richer as clean air was king for the start of this race with the leaders extending, however on the 5 leg race the last downwind saw the breeze dying and things started to get mixed up with boats finding patches of wind that others simply didn't have and some boats were able to improve their lot on this and the ensuing upwind. We led the day with a 2,2 followed by Draco and Holmebrew.
Nerves ran high on Day 2 as it was moving day. It was again light southerlies but with the expectation that a northerly breeze would fill in at some point. Race 3 and 4 saw more of the same from Day 1 with slightly more breeze, we again went 2,2 however Never Alone found an upwind gear that was untouchable and took 2 bullets. Race 5 was started with an easterly thermal breeze of ~5 knots. We suffered from an unforced error and were called over early just off the boat, while Obscured by Clouds won the pin with clean air and was first around the top mark. The course however was hugely starboard tack favored, so after ducking the line we found some pressure right and still wound up rounding in the top 5. We had struggled with our downwind angles all weekend thus far, and were having trouble sailing as deep as some of the other boats. A quick gybe saw us move up to 3rd and Obscured, Never Alone and us all went around the left mark. Obscured finished first with Never Alone right on their heels, followed by us. This unfortunately ruined our up-till-that-point perfect scoreline of 2-2-2-2.
We went into the final day with a 5 point lead on Never Alone. We expected no more than 2 races, and so the gameplan was to continue to sail our regatta, but keep a loose cover on the competition. Dense fog greeted us on the racecourse, but brought relatively strong breeze with it. However, starting a race in the fog would have been difficult and as it burned off the wind died. At about 1 oclock the fog had lifted and we had sufficient wind to start. The line was pin favored
and so with a minute left we tacked away from Never Alone for a pin end start. We hit the line on time and with speed, only to look over our shoulder and see that Never Alone had done the same roughly midline. An early tack away saw us take some transoms to get to the favored board and pressure, and we were able to round in first. We held serve on the downwind and rounded the left mark again in first with Never Alone behind, coming with us out to the right. They reaped the gains of their high upwind mode and we were only able to round in front due to a header at the top mark that forced them to do 2 tacks. That header also saw Patriot squeeze in front coming in from the port layline, with Target Practice and Never Alone close behind. We finished in a dying breeze with our final deuce of the weekend and a 6 point lead on Never Alone.
Racing was very tight all weekend, and Port Huron Yacht Club and the Race Committee did an excellent job getting in 6 good races. Our thanks to Tyson Connelly and PHYC for running an awesome event! Target Practice was sailed by co-owners Erik Ryan and Adam Hollerbach, with me, Nathan Hollerbach, and RJ Wolney rounding out the crew.
Brad Terpstra
USA 632 – Target Practice
August 21st, 2014 by admin
Just two hours before some of the the Cal 25 Nationals fleet would sail through the same spot on the way back to Bayview Yacht Club from Port Huron, MI, our own Mr. Clean was on hand to witness a horrific accident in the St. Clair River.  While a picture may say a thousand words, this was a truly bizarre one, and we go to Clean for more on yet another big summer boating accident.  The lesson to sailors? Never stop scanning your horizon for the marine environment's real killers: Go-fasts with drunken idiots behind the wheel.
In a lifetime on the water, I've never seen anything quite so nasty happen, and I just happened to have a front row seat.   Remember when that moron in the speedboat on the Lake of the Ozarks caught a wake at speed and nearly flipped, beating the hell out of the occupants?
We had a similar situation here last night but with much worse consequences, when a  25 or 30 foot Baja cigarette-style boat, running at least 50 mph, decided to go through the wake of a big Bayliner cabin cruiser without throttling back, and at a terrible angle.  I happened to be less than 200 feet from it all; having slowed down for the Bayliner's wake, I saw the speedboat approaching at mach 2 and decided to watch the action, actually saying to myself, out loud, "This is gonna be good."
It wasn't.
The Baja caught the first wave and got heeled to the left in the air, then caught the second at a worse angle, which launched it back in the air, now with 20 or more degrees of heel to the right.  By this time, even if the driver were still hanging on to the wheel, he was just along for the ride.  The Baja hit the third wave at a terrible angle – the boat was bow-up and heeled hard to the right when it hit – and it literally launched itself completely clear of the water by 4-6 feet – aimed directly at the Bayliner's flying bridge.  The heel on the Baja had rounded the boat up on the final wave, turning it to the left instead of straight through as intended by the driver.   The Baja didn't so much hit the Bayliner (and the six people on the bridge) as landed on top of it, then continued over it, and landed in the river.  The entire upper deck of the Bayliner was torn off its supports, and barely remained connected to the main deck by a few hoses and wires.
After calling 911, I moved.  The Baja was between the cruiser and me, so I snapped a pic of the culprits to make sure no one made a run for it.  They were pretty shaken up, and responded that 'everyone's fine' when asked.  I gunned it over to the stricken vessel, and they were shouting that there was someone in the water.  As I searched downriver and mentally tried to figure out how much water had moved in the 5 minutes since impact, (there is 2-3 knots of current in the river at this point), I kept yelling for every boat I saw to join in the search.  Shortly thereafter, with more than a dozen boats now on scene helping out (but still no official help) a woman's body was pulled out by a pontoon boat, and 20 minutes of CPR didn't help her.
As the body was pulled from the water, I noticed the Baja drifting downriver, nearly out of sight.  As I headed back to them, a crowd hollered at me on shore, and I ran over to a house to pick up the local Fire Chief, who I dropped off on the Bayliner to help with the rescue.  As I handed him off, I saw the second body in what used to be the cockpit of the boat – a man in his 50s – also unresponsive after a few minutes of CPR.  A third casualty – a woman in her 60s – looked to be going into shock, or cardiac arrest, or both.
I hung around for long enough to see the freighter traffic start to idle through the channel again, as it just didn't seem right to buzz over to the lake and go fishing after the carnage I'd just witnessed.  After giving my number and info to the Marine Police and USCG as a witness, I overheard the Sheriff who had the Baja's driver in custody talking to the neighboring police boat.  "You take the statements from the passengers; I'm taking this one in."  I couldn't hear the next question from the deputy, but the Sheriff's response made that clear.  "Yep, he's been drinking."
It's unlikely that a sober Baja driver would have done any better in that situation, but that's not the issue.  A sober person – at least one with an IQ over 50 – would never have taken that wake at that speed.  Once again, the equation holds: Horsepower + (Alcohol OR Youth) + Inexperience = Death.
Title comes from one of the 80′s best cult films, also about a river, death, and stupid people.
August 4th, 2014 by admin
As the second Mac gets set to begin tomorrow, Our old pal Petey Crawford jammed together a video from the light air/downwind start of the earlier race, Bayview's Port Huron-Mackinac.  Bora Gulari returned from Sardinia for a couple weeks to give Phil and Sharon O'Niel's TP52 Natalie J her fourth straight overall (Cove Island Course) BYC-Mack win, and we've got an interview coming up with the rock star soon…for now, enjoy the stylings from Penalty Box.
UPDATE: Tim Lewin asked us to point out that, while Natalie J won four straight Cove Island overalls that she sailed, she actually didn't go macking in 2013 because she was on the Transpac.  Last year, Sledgehammer, a J/120 won the Overall for Cove Island.   
July 18th, 2014 by admin
Clean Report
After a five-year hiatus from covering the Midwest's second-biggest freshwater distance race, we're heading up to Port Huron, Michigan for the start of the Bayview Mackinac Race tomorrow.  With Luna Rossa Challenge's Bora Gulari aboard the TP52 Natalie J, Annapolite-turned ocean racer Ryan Breymaier joining the F-31 Cheekee and a pile of fun boats including the old VO70 Il Mostro, there will be plenty to see, and you'll be able to watch all the action via Sailing Anarchy's Facebook Page starting around 10 AM EDT tomorrow.
LINE UP
Years of live coverage of the Chicago Mackinac and the 4 hours we'll be spending on the water tomorrow have reminded us of conversations we've had over the years about the start of the Mack races, and a basic question we still don't know the answer to: What is the purpose of starting each section separately, with the slow boats first?  Sure, we understand that the slow boats will get there a bit sooner compared to the fast boats, but that seems like a silly reason for expending all the extra resources to involved in banging off 15 starts rather than a single one.  Think about it; that's 15 starts at 10 minutes each, or nearly three hours of starting.   The format guarantees a weaker experience for spectators (who rarely want to sit around watching 6-10 boats sail off a line every ten minutes), a tougher day for the Race Committee, a long, long wait for the racers on the water, and perhaps most importantly, a poor spectacle for the TV, print, and online media so important to getting new interest and keeping sponsors happy.
Think about the incredible action at a Sydney-Hobart start, with simultaneous guns over just three lines and course boundaries for spectators for a mile or so up the course to guarantee tacking or gybing in close proximity to the fans; contrast this with the Macks, where the Coast Guard sets a cordon to keep powerboats half a mile from the starting lines…not that there is much to see anyway. Nearly no boats chase the Mack fleet…because it's already so diluted at each start that there's not much to chase.
Our suggestion for the BYC and Chicago Macks:  Four simultaneous starts:  One for racing fleets,  one for cruising fleets, one for multihull fleets, and one for shorthanded fleets.  Win, win.
Shot of Lucky Strike (ex-Lucretia) sporting the SA flag yesterday on the Black River, thanks to Anarchist "Geff".
July 11th, 2014 by admin
Every sailor sees fog now and again, but we can't recall ever seeing photos of a fog bank like this one rolling in so perfectly.  Gorgeous work from a salmon fisherman on the Eastern shore of Lake Michigan, with the full gallery here.  Thanks to MI Anarchist 'Geff' for the tip.
May 24th, 2014 by admin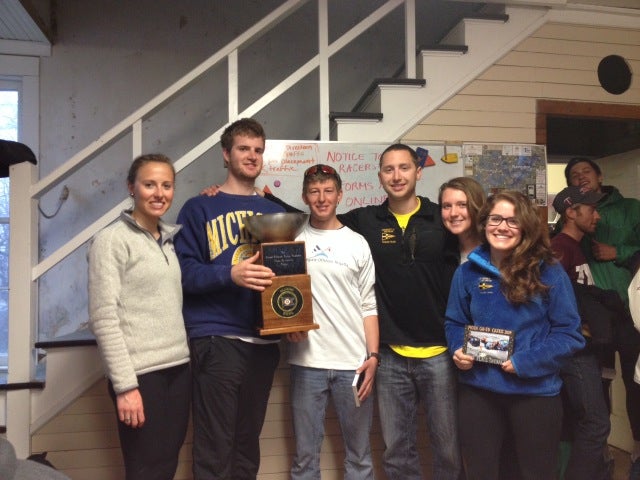 Sarah Sloan checks in from the tail end of the University of Michigan Sailing Team's season.  
You learn a lot about your teammates during car rides. Over the course of a season, you discover who is willing to take the graveyard shift, who likes the backseat, who has the smallest bladder, and who can actually ignore a car full of people talking about the effect windshield wipers and wind have on the flow pattern of rain over windows to study for exams. University of Michigan sailors are very familiar with long car rides, as they travel to the east coast for regattas nearly every weekend during the spring and fall. But last weekend, six Michigan sailors (Alex Ramos, Ryan Seago, Karinne Smolenyak, Liz Wallace, Will Cyr, and Sarah Sloan) packed up and headed the opposite direction to Minnesota for the MCSA Coed Qualifiers at Wayzata Bay on Lake Minnetonka.
The great thing about the Midwest is that everywhere reminds you of home, because over the course of an eleven-hour drive the scenery rarely diverges from the fields and rolling hills characteristic of middle America. The "Land of 10,000 Lakes" lived up to its name, however, and the sailors traveling from Ann Arbor felt the familiar twinge of jealousy that accompanies sailing on a lake in a school's backyard, as opposed to the half-hour drive that we Wolverines deal with daily. The feeling only intensified upon seeing the University of Minnesota's beautiful, fresh-off-the-trailer Z420s, and caused Michigan team members to fantasize about one shining day, just $39,000 from today when we, too, will host regattas with a brand new fleet of boats (hint…donate here).
Sailing on inland lakes keeps even the best skippers and crews perpetually on their toes, as puffs and shifts can come from seemingly nowhere and completely change the outcome of a race. The wind increased throughout the day from averaging ten mph to "hike-as–hard-as-you-can-as-long-as-you-can-or-face-the-wrath-of-your-skipper" speeds. Eight extremely close, extremely competitive races were completed within each division, and at the end of the first day the University of Michigan was in first by three points, followed closely by the University of Minnesota and the University of Wisconsin, who were separated by a single point.
Racing was cancelled on Sunday due to a torrential downpour turned thunderstorm. Despite having lost the opportunity to potentially change the final standings, the sense of camaraderie between teams was tangible as everyone waited in the boathouse for the award ceremony. MCSA sailors excel at leaving it all on the water; there are very few other organizations in college sports where eight teams will collectively sing Happy Birthday to an opponent, and even your fiercest rival on the water will put that aside once on shore to tell you they like your Sperrys or Patagonia pullover.
Every sailor begins the weekend wanting to sail their best races, and every team wants to win, but last weekend's top spot went to our team at the University of Michigan, who added another first-place finish to a season that included MCSA Match Race and Team Race victories. With exams wrapping up at the end of the week, team members will shift their focus toward College Sailing's Nationals, where they, along with the other four teams from the MCSA who qualified, will attempt to prove to teams from the east and west coast that freshwater sailors can be just as fast.
April 30th, 2014 by admin