Posts Tagged 'michigan'
As the second Mac gets set to begin tomorrow, Our old pal Petey Crawford jammed together a video from the light air/downwind start of the earlier race, Bayview's Port Huron-Mackinac.  Bora Gulari returned from Sardinia for a couple weeks to give Phil and Sharon O'Niel's TP52 Natalie J her fourth straight overall (Cove Island Course) BYC-Mack win, and we've got an interview coming up with the rock star soon…for now, enjoy the stylings from Penalty Box.
UPDATE: Tim Lewin asked us to point out that, while Natalie J won four straight Cove Island overalls that she sailed, she actually didn't go macking in 2013 because she was on the Transpac.  Last year, Sledgehammer, a J/120 won the Overall for Cove Island.   
July 18th, 2014 by admin
Clean Report
After a five-year hiatus from covering the Midwest's second-biggest freshwater distance race, we're heading up to Port Huron, Michigan for the start of the Bayview Mackinac Race tomorrow.  With Luna Rossa Challenge's Bora Gulari aboard the TP52 Natalie J, Annapolite-turned ocean racer Ryan Breymaier joining the F-31 Cheekee and a pile of fun boats including the old VO70 Il Mostro, there will be plenty to see, and you'll be able to watch all the action via Sailing Anarchy's Facebook Page starting around 10 AM EDT tomorrow.
LINE UP
Years of live coverage of the Chicago Mackinac and the 4 hours we'll be spending on the water tomorrow have reminded us of conversations we've had over the years about the start of the Mack races, and a basic question we still don't know the answer to: What is the purpose of starting each section separately, with the slow boats first?  Sure, we understand that the slow boats will get there a bit sooner compared to the fast boats, but that seems like a silly reason for expending all the extra resources to involved in banging off 15 starts rather than a single one.  Think about it; that's 15 starts at 10 minutes each, or nearly three hours of starting.   The format guarantees a weaker experience for spectators (who rarely want to sit around watching 6-10 boats sail off a line every ten minutes), a tougher day for the Race Committee, a long, long wait for the racers on the water, and perhaps most importantly, a poor spectacle for the TV, print, and online media so important to getting new interest and keeping sponsors happy.
Think about the incredible action at a Sydney-Hobart start, with simultaneous guns over just three lines and course boundaries for spectators for a mile or so up the course to guarantee tacking or gybing in close proximity to the fans; contrast this with the Macks, where the Coast Guard sets a cordon to keep powerboats half a mile from the starting lines…not that there is much to see anyway. Nearly no boats chase the Mack fleet…because it's already so diluted at each start that there's not much to chase.
Our suggestion for the BYC and Chicago Macks:  Four simultaneous starts:  One for racing fleets,  one for cruising fleets, one for multihull fleets, and one for shorthanded fleets.  Win, win.
Shot of Lucky Strike (ex-Lucretia) sporting the SA flag yesterday on the Black River, thanks to Anarchist "Geff".
July 11th, 2014 by admin
Every sailor sees fog now and again, but we can't recall ever seeing photos of a fog bank like this one rolling in so perfectly.  Gorgeous work from a salmon fisherman on the Eastern shore of Lake Michigan, with the full gallery here.  Thanks to MI Anarchist 'Geff' for the tip.
May 24th, 2014 by admin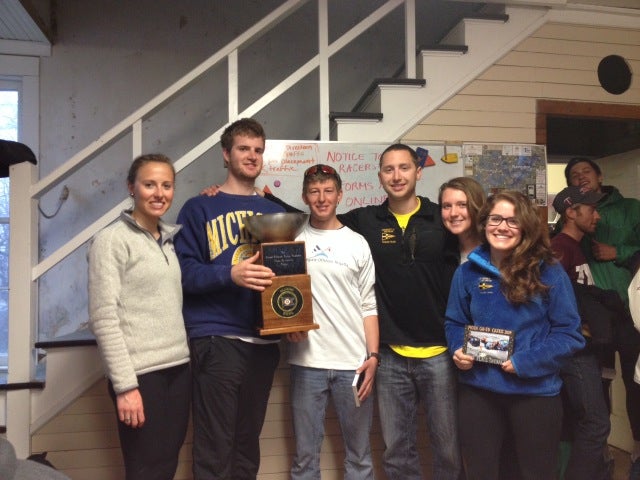 Sarah Sloan checks in from the tail end of the University of Michigan Sailing Team's season.  
You learn a lot about your teammates during car rides. Over the course of a season, you discover who is willing to take the graveyard shift, who likes the backseat, who has the smallest bladder, and who can actually ignore a car full of people talking about the effect windshield wipers and wind have on the flow pattern of rain over windows to study for exams. University of Michigan sailors are very familiar with long car rides, as they travel to the east coast for regattas nearly every weekend during the spring and fall. But last weekend, six Michigan sailors (Alex Ramos, Ryan Seago, Karinne Smolenyak, Liz Wallace, Will Cyr, and Sarah Sloan) packed up and headed the opposite direction to Minnesota for the MCSA Coed Qualifiers at Wayzata Bay on Lake Minnetonka.
The great thing about the Midwest is that everywhere reminds you of home, because over the course of an eleven-hour drive the scenery rarely diverges from the fields and rolling hills characteristic of middle America. The "Land of 10,000 Lakes" lived up to its name, however, and the sailors traveling from Ann Arbor felt the familiar twinge of jealousy that accompanies sailing on a lake in a school's backyard, as opposed to the half-hour drive that we Wolverines deal with daily. The feeling only intensified upon seeing the University of Minnesota's beautiful, fresh-off-the-trailer Z420s, and caused Michigan team members to fantasize about one shining day, just $39,000 from today when we, too, will host regattas with a brand new fleet of boats (hint…donate here).
Sailing on inland lakes keeps even the best skippers and crews perpetually on their toes, as puffs and shifts can come from seemingly nowhere and completely change the outcome of a race. The wind increased throughout the day from averaging ten mph to "hike-as–hard-as-you-can-as-long-as-you-can-or-face-the-wrath-of-your-skipper" speeds. Eight extremely close, extremely competitive races were completed within each division, and at the end of the first day the University of Michigan was in first by three points, followed closely by the University of Minnesota and the University of Wisconsin, who were separated by a single point.
Racing was cancelled on Sunday due to a torrential downpour turned thunderstorm. Despite having lost the opportunity to potentially change the final standings, the sense of camaraderie between teams was tangible as everyone waited in the boathouse for the award ceremony. MCSA sailors excel at leaving it all on the water; there are very few other organizations in college sports where eight teams will collectively sing Happy Birthday to an opponent, and even your fiercest rival on the water will put that aside once on shore to tell you they like your Sperrys or Patagonia pullover.
Every sailor begins the weekend wanting to sail their best races, and every team wants to win, but last weekend's top spot went to our team at the University of Michigan, who added another first-place finish to a season that included MCSA Match Race and Team Race victories. With exams wrapping up at the end of the week, team members will shift their focus toward College Sailing's Nationals, where they, along with the other four teams from the MCSA who qualified, will attempt to prove to teams from the east and west coast that freshwater sailors can be just as fast.
April 30th, 2014 by admin
University of Michigan racer Sarah Sloan reports on what college sailors go through to get on the water in the deep-frozen midwest.  a  U of M alums should come and support your team; see their full schedule here and donate something toward their boat fund here - it's tax-deductible!
No one understands cold quite like an MCSA sailor; early season practices can include pulling boats over patches of ice to reach open water, and it's imperative crews know how to melt the ice off frozen sheets by whatever means necessary (no one is above sucking on the Cunningham just minutes before a race).
Traditionally, winter is supposed to turn into spring come March, but much like the kid at the party who can't read between the lines when you say you're washing your hair every night for the rest of the semester, this winter couldn't take a hint.  Teams across the Midwest are still waiting for multiple feet of ice to thaw on inland lakes, and sailors have been forced to resort to extreme melting measures to salvage the spring season, because sometimes you need a friendly MCSA regatta and regatta party after numerous weekends competing against the big varsity teams on the East coast.
When it became increasingly apparent the snow wasn't leaving any time soon, The University of Michigan Sailing Team began to consider spring practice-alternatives in addition to ICSA regattas, chalk talks, intramural broomball, and even part-time modeling in the case of one of our co-captains.  The team initially tried to escape the Polar Vortex by driving to Norfolk, Virginia for a spring break training trip, but the miserable weather followed them twelve hours south. Temperatures dropped from seventy the day before their arrival to thirty the day after. The first day of sailing was cancelled due to the latest snowstorm locals could remember, and didn't rise much above forty the rest of the week. Fortunately for their hosts, the team took the bad weather back to Michigan, as temperatures rose to sixty the day of their departure.
Frustrated upon coming back to Michigan only to realize they'd have to drive to the east coast every time they wanted to sail, team members resorted to drastic measures to sail at home sooner. Members of the executive board ventured to Baseline Lake in mid-March to personally chop apart the 18-inch thick ice, with some even suggesting the Capital Campaign fund (which is less than $30,000 away from the $100,000 needed to purchase a new fleet of boats), should instead go toward space heaters and fireworks to help along the melting process.
While the rest of the team played with pickaxes, seven freshmen were fortunate enough to sail on the only open lake in the Midwest for the Freshman Icebreaker Regatta at Notre Dame. Determined to fulfill the legacy of excellence both on and off the water as established by their upperclassmen fore founders, the freshman dressed for success, looking dapper in the suits they will no doubt one day don as titans of business and industry. Some even took the plunge into Lake St. Joe's after a successful race and came out baptized into a new sailing faith.
If Michigan sailors know one thing, it's how to hope for the best and prepare for the worst. There is still time yet to salvage the season, and with temperatures reaching downright summery peaks of fifty-five degrees in Ann Arbor this week, this heat wave will likely make the lake sailable within the next two weeks, just in time for finals.
April 10th, 2014 by admin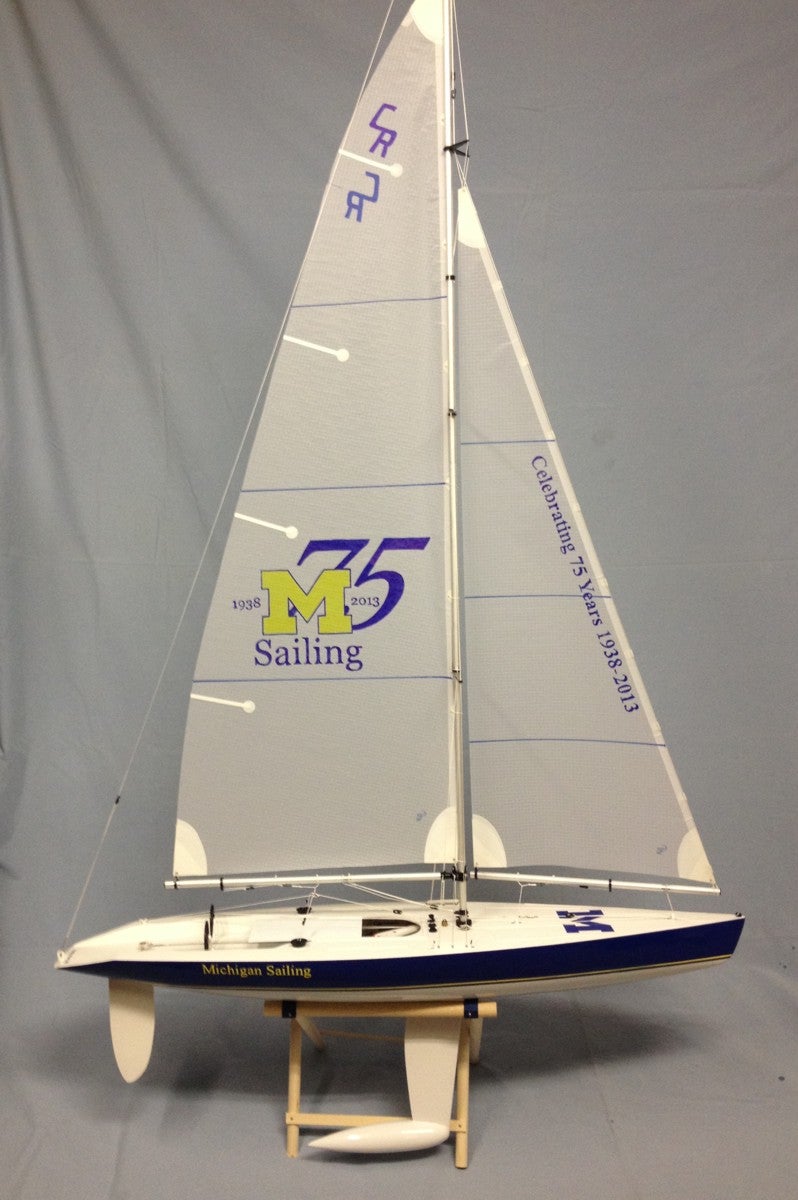 The University of Michigan's sailing team has a fleet of 20-year old FJ and 420s, and they are quite literally falling apart.  With one of the most active Alumni groups in the US, it should be so damned hard to have decent athletic equipment for the sailors, but rather than bitch, the U of M kids are doing something about it:  They're raising money by raffling off this cool radio control racer. More from Wolverine media kid Ryan Seago:
Painted in official U of M colors with a commemorative graphics package on the sails, this one-of-a-kind, 75th Anniversary Michigan Sailing CR-914 is worth $1200 and we're giving it away!  Built by CPM's David Ramos, all proceeds from this little beauty's raffle will go directly to support the Michigan Sailing Team.
Raffle tickets are just $25.00 each, and we'll be raffling the boat off at the Strictly Sail Chicago show at the end of January.  You do not need to be there to win! So please purchase your tickets now and help us get future University of Michigan sailors a little Christmas present:  New boats!
Get all the info on the raffle and buy tickets here, and follow Michigan Sailing on Facebook here.  And here's a shot of the smiling kids.
December 12th, 2013 by admin