Posts Tagged 'michigan'
University of Michigan racer Sarah Sloan reports on what college sailors go through to get on the water in the deep-frozen midwest.  a  U of M alums should come and support your team; see their full schedule here and donate something toward their boat fund here - it's tax-deductible!
No one understands cold quite like an MCSA sailor; early season practices can include pulling boats over patches of ice to reach open water, and it's imperative crews know how to melt the ice off frozen sheets by whatever means necessary (no one is above sucking on the Cunningham just minutes before a race).
Traditionally, winter is supposed to turn into spring come March, but much like the kid at the party who can't read between the lines when you say you're washing your hair every night for the rest of the semester, this winter couldn't take a hint.  Teams across the Midwest are still waiting for multiple feet of ice to thaw on inland lakes, and sailors have been forced to resort to extreme melting measures to salvage the spring season, because sometimes you need a friendly MCSA regatta and regatta party after numerous weekends competing against the big varsity teams on the East coast.
When it became increasingly apparent the snow wasn't leaving any time soon, The University of Michigan Sailing Team began to consider spring practice-alternatives in addition to ICSA regattas, chalk talks, intramural broomball, and even part-time modeling in the case of one of our co-captains.  The team initially tried to escape the Polar Vortex by driving to Norfolk, Virginia for a spring break training trip, but the miserable weather followed them twelve hours south. Temperatures dropped from seventy the day before their arrival to thirty the day after. The first day of sailing was cancelled due to the latest snowstorm locals could remember, and didn't rise much above forty the rest of the week. Fortunately for their hosts, the team took the bad weather back to Michigan, as temperatures rose to sixty the day of their departure.
Frustrated upon coming back to Michigan only to realize they'd have to drive to the east coast every time they wanted to sail, team members resorted to drastic measures to sail at home sooner. Members of the executive board ventured to Baseline Lake in mid-March to personally chop apart the 18-inch thick ice, with some even suggesting the Capital Campaign fund (which is less than $30,000 away from the $100,000 needed to purchase a new fleet of boats), should instead go toward space heaters and fireworks to help along the melting process.
While the rest of the team played with pickaxes, seven freshmen were fortunate enough to sail on the only open lake in the Midwest for the Freshman Icebreaker Regatta at Notre Dame. Determined to fulfill the legacy of excellence both on and off the water as established by their upperclassmen fore founders, the freshman dressed for success, looking dapper in the suits they will no doubt one day don as titans of business and industry. Some even took the plunge into Lake St. Joe's after a successful race and came out baptized into a new sailing faith.
If Michigan sailors know one thing, it's how to hope for the best and prepare for the worst. There is still time yet to salvage the season, and with temperatures reaching downright summery peaks of fifty-five degrees in Ann Arbor this week, this heat wave will likely make the lake sailable within the next two weeks, just in time for finals.
April 10th, 2014 by admin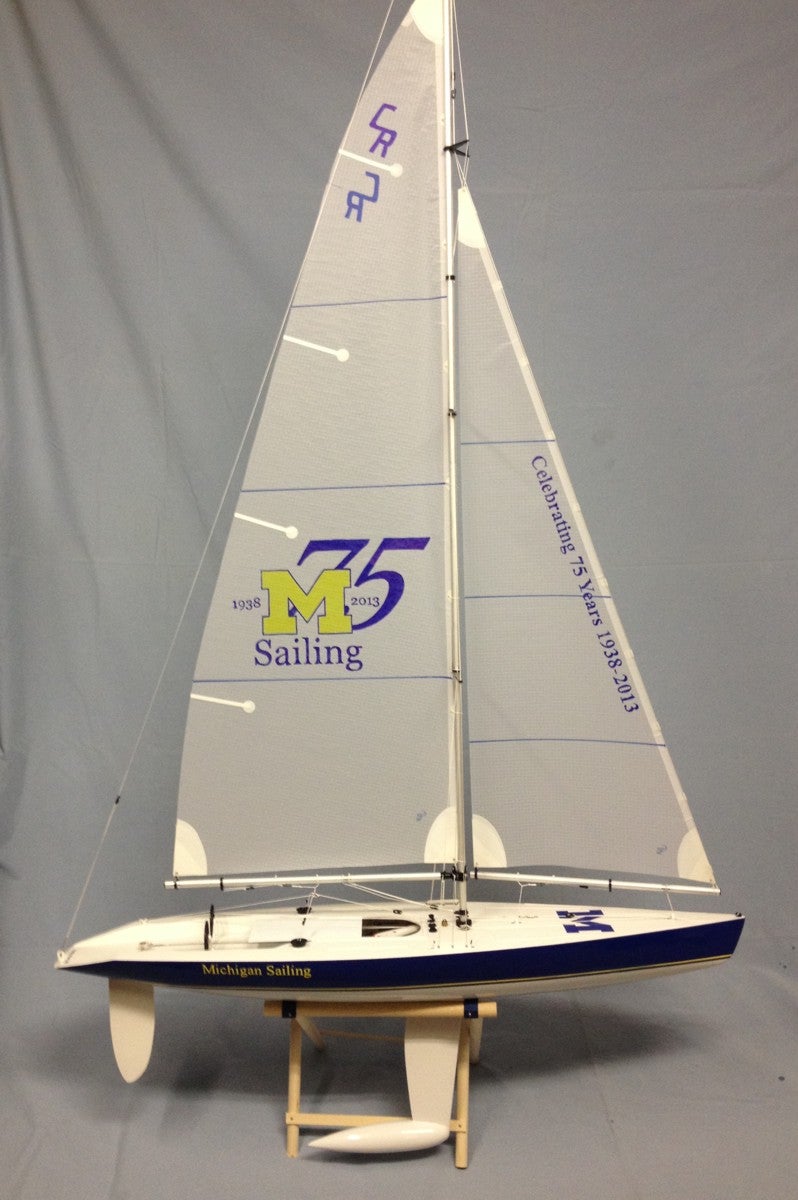 The University of Michigan's sailing team has a fleet of 20-year old FJ and 420s, and they are quite literally falling apart.  With one of the most active Alumni groups in the US, it should be so damned hard to have decent athletic equipment for the sailors, but rather than bitch, the U of M kids are doing something about it:  They're raising money by raffling off this cool radio control racer. More from Wolverine media kid Ryan Seago:
Painted in official U of M colors with a commemorative graphics package on the sails, this one-of-a-kind, 75th Anniversary Michigan Sailing CR-914 is worth $1200 and we're giving it away!  Built by CPM's David Ramos, all proceeds from this little beauty's raffle will go directly to support the Michigan Sailing Team.
Raffle tickets are just $25.00 each, and we'll be raffling the boat off at the Strictly Sail Chicago show at the end of January.  You do not need to be there to win! So please purchase your tickets now and help us get future University of Michigan sailors a little Christmas present:  New boats!
Get all the info on the raffle and buy tickets here, and follow Michigan Sailing on Facebook here.  And here's a shot of the smiling kids.
December 12th, 2013 by admin