Posts Tagged 'miami'
With his empty RIB found loaded up with phone, PFD, and GPS, the situation in Miami is confusing and tragic, and US Sailing Team Olympic racer, waterman, mentor, coach, and all-around awesome guy Trevor Moore and his family NEED YOUR HELP.  If you are anywhere near the Miami area, please get down to Dinner Key Marina at 0730 today (Saturday) to join the search for our missing friend.  More from Waterlust's Patrick Rynne, and good on him for leading the charge.
Trevor, we're coming buddy! We need boats and eyeballs. Also bring sunscreen, hats, binoculars, VHF radios and cell phones with full batteries. Backup phone batteries are a plus. Today was 14 hours on the water, prepare accordingly.
More here, and in the thread here.
June 27th, 2015 by admin
Longtime SA friend and 2012 Olympic 49er sailor Trevor Moore is missing.   If you are in the Miami area, please, please, please keep your eyes out.  From his Facebook Page:
June 26th, 2015 by admin
A dozen naked body-painted dancers, mermaids, and sailor-outfitted hostesses, a full steel drum band, a junior sailing auction, and every single crew partying their collective asses off despite the final race of the Melges 32 Worlds starting the next morning signals a return to the lighthearted party days that helped it become the top grand prix class in the sport.  It's a good sign for the future of a boat that still owns the niche, and with 125 boats out there in the world and rumors of a new World Tour floating around, keep your eyes out for a resurgence.
Today's racing highlight reel features some of the most intense action yet from the 2014 Melges 32 World Championship, produced by videostylist Petey Crawford and Penalty Box Productions.
Patience was the key for every team that held it together on this long, 3-race day, and with one final race remaining, reigning World Champion Jason Carroll (ARGO) leads Edoardo Lupi (Torpyone) by four points with all other competitors out of the running for the title. The final podium position is completely up for grabs, with 5 teams vying for the all-important bronze.
The final race will fire off at noon, local time on Sunday, and the 2014 Champion will be crowned an hour later. Follow Clean's live commentated video on the Facebook Page.
December 7th, 2014 by admin
The offset leg was a three-lane highway  at times during Day One of the 2014 Melges 32 World Championship, with the Japanese/Spanish Mama Aiuto! taking the early lead.  Pierre Casirighi – taking over the helm for injured eccentric driver Roberto Grinover – caught a bullet and will receive average points through Saturday for Race 2.  Want to hear how a Race Officer should handle himself in an OCS/Redress?  Listen to Anderson Reggio over here for how it's done by the world's best.
John Kilroy's Samba Pa Ti could barely have started their world title bid worse, grabbing a DSQ after a top mark incident with the DeVos teams Delta and Volpe.  Go here for the full news story, and get over to Facebook to see near real time videos of every race, tons more photos like this Carlo Borlenghi shot above, and plenty more.
Stop, collaborate, and listen to the title inspiration here.
December 4th, 2014 by admin
You might get sick of all of our Melges 32 coverage this week, but let's be honest: It looks like five days of awesomeness in South Beach, and what else do you have to do?  Peter Crawford gives you some Pre-Worlds action along with a preview of some of the teams.
Get over to Facebook to follow the racing in real time.
December 3rd, 2014 by admin
You might remember when we brought you a week of insane live-streamed video from the first-ever M32 Worlds in Porto Cervo back in what now seems like 1950.  With the class going way too exclusive for the past few years and SA staying far away from the inevitable mess, it's easy to forget how integrated we were with the M32 Class back when it was roaring into big success.  And quite frankly, we missed it.
But there's a new sheriff in town in the Melges 32 Class, and he tells us things have changed for the better, and more importantly, they've invited us down to Miami Beach to prove it.  We're told the things we always loved about the class are back in force – the incredible excitement and competitiveness of the racing, the cameraderie of the skippers, amateur, and pro crews, and the laid-back and fun attitude that prevails even at a major World Championship.
We've got daily highlight reels and recaps on tap (with the help of kiteboarder Gretta Kruesi presenting), as well as live video updates throughout the Worlds from Clean, daily photo galleries from the inimitable Carlo Borlenghi, and there's even talk of a long-awaited live talk show…be sure to watch this page for more, and follow the Melges 32 Facebook Page for up-to-the-minute reality from South Beach beginning next Monday.  Find out who's competing over here.
November 26th, 2014 by admin
Like pretty much everything in sailing, it took three years of good management from the Star Winter Series  to go from nonexistent to nearly 100% growth, thanks to series founder Stu Hebb's hard work and an early partnership with Sailing Anarchy, EFG International, and Blocksail.  Stu's embrace of the modern era for his website, social media, and scoring helped move this sometimes-ancient class into the 21st century with predictable results: It's now got a 24-year old champion for the first event of the season and more buzz than quite a few more modern classes.  Not something you hear often in the Star!
Fresh off one standout performance after the next, 2014 J/24 World Champ tactician Luke Lawrence was stoked to take this one.  "After a really fortunate year as crew, it's great to get one as a driver, especially in such wildly varying and hairy conditions.  Huge credit to my crew Josh Revkin, who will hopefully help get me around the course in good fashion again in a weeks' time in Nassau.
Wind from 8 to 28 knots meant a rig or two went for a swim, but the rest had a blast.  Marco Oquendo photo with loads more here.
November 23rd, 2014 by admin
big pimpin'
We'd like to welcome our friends at Melges back for another year of pimpin', and the timing couldn't be better; there's all sorts of exciting fall/winter action going on across the Melges fleets, and we're going to help highlight just how fun and accessible it can be.  Here's some news from the M32 fleet in Florida, and watch for a feature from Jaime Torres soon on the M32 Caribbean Fleet.  For everything Melges, check their site.
With a fleet and sailors diverse as the nightlife on Ocean Avenue, the Melges 32 Gold Cup kicks off in just two weeks, featuring 18 ultra-high performance Melges 32 teams from 9 different countries.
This "Florida Classic" will decide not only the new Gold Cup titleholder; it will serve as the final notice for teams looking to challenge for the ultimate goal: the Melges 32 World Title. Louisiana skipper Chris Wientjes (Stormvogel, Metairie, LA) can't wait for it all to begin. "The Melges 32 Class always brings great talent to its events, but there's no doubt these two will bring some of the best sailors in the world to Miami," he said. "We're really looking forward to testing ourselves in both the Gold Cup and Worlds."
It may have started as a low-key tune-up regatta in the Melges 32's fledgling days in 2006, but the Gold Cup has emerged as the longest-standing Melges 32 regatta on the annual calendar. Regularly featuring more than 20 teams – from the highest-level international two-boat programs to more modest but still ultra-competitive local and Caribbean teams – winning the Gold Cup has historically required great boat speed and teamwork along with a strong understanding of tricky autumn breezes and meandering Gulf Stream current and waves.
2012 World Championship runner-Up Alec Cutler (Hedgehog, Bermuda) recognizes the balancing act between sailing hard at the Gold Cup without tipping his hand for the upcoming Worlds a month later. "Gold Cup may be a Worlds tune up, but it is also a coveted trophy for our team," said Cutler. "Our goal is to hold off from some of the big decisions until after Gold Cup while racing hard, having a good time, and learning the venue."
October 27th, 2014 by admin
The Marstrom 32 has had an incredibly tumultuous year, yet somehow, the Class has overcome multiple dismastings as well as a management/ownership war over the molds and name of the boat, and the final result is that M32 owners and crew have had an excellent little series in Miami this winter and there are good omens for the future of the beach-cat-on-steroids.  Former Berg Composites chief Hakan Svensson helped preside over a huge sale of his former company to Caterpillar, and now the passionate sailor is on to greener pastures – in this case, running a racing catamaran company and class, and possibly even building a stand-alone beach cat racing center out of the Rowing Club in Miami.  He's a very smart cookie, and having someone as bright as Svensson at the helm bodes well not just for the Class, but for beach cat sailing in Biscayne Bay, the new "Lake Garda of the USA."
Above is a nice look at the series if you are obsessed with slow motion; otherwise, it's a good example of 'too much of a good thing' – but still pretty!  There's a good thread on the M32 Winter Series here.
March 25th, 2014 by admin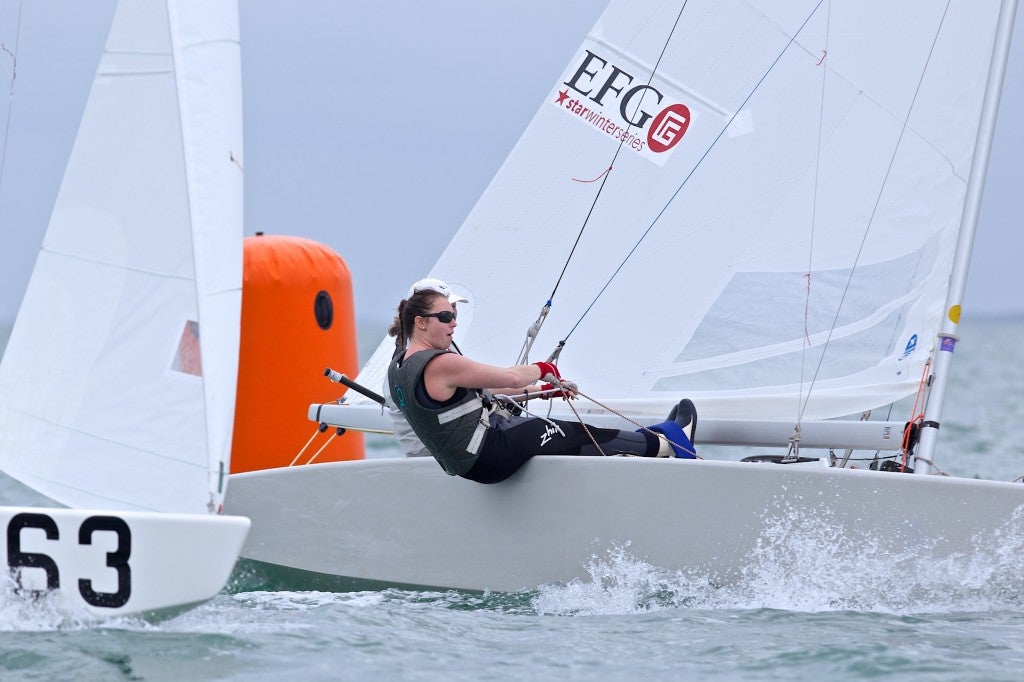 Like Colin Kaepernick in the frozen Midwest last week, Sailor Chick of the Week Laura Beigel (Annapolis, MD) shows off her guns despite a chilly and wet Saturday at Star Winter Series event number 3.  Beigel, along with her aunt and longtime Star skipper/Class Exec Barbara Vosbury-Beigel pulled a nice midfleet finish of 14/22 on the weekend despite tipping the scales at about half the weight of most of the fleet.  One-legged Brazilian badass Lars Grael/Sam Goncalves finally knocked Augie Diaz off the top spot in a regatta, but only on a tie-break; Augie continues to dominate the Series as the biggest event - the 26-boat, 8-nation, world champ and medal-filled Midwinters kicks off on Thursday.  Hit up the Series Facebook Page for event reporting from our boy Clean, with more photos like this one from Meredith Block.
January 8th, 2014 by admin