Posts Tagged 'Meredith Block'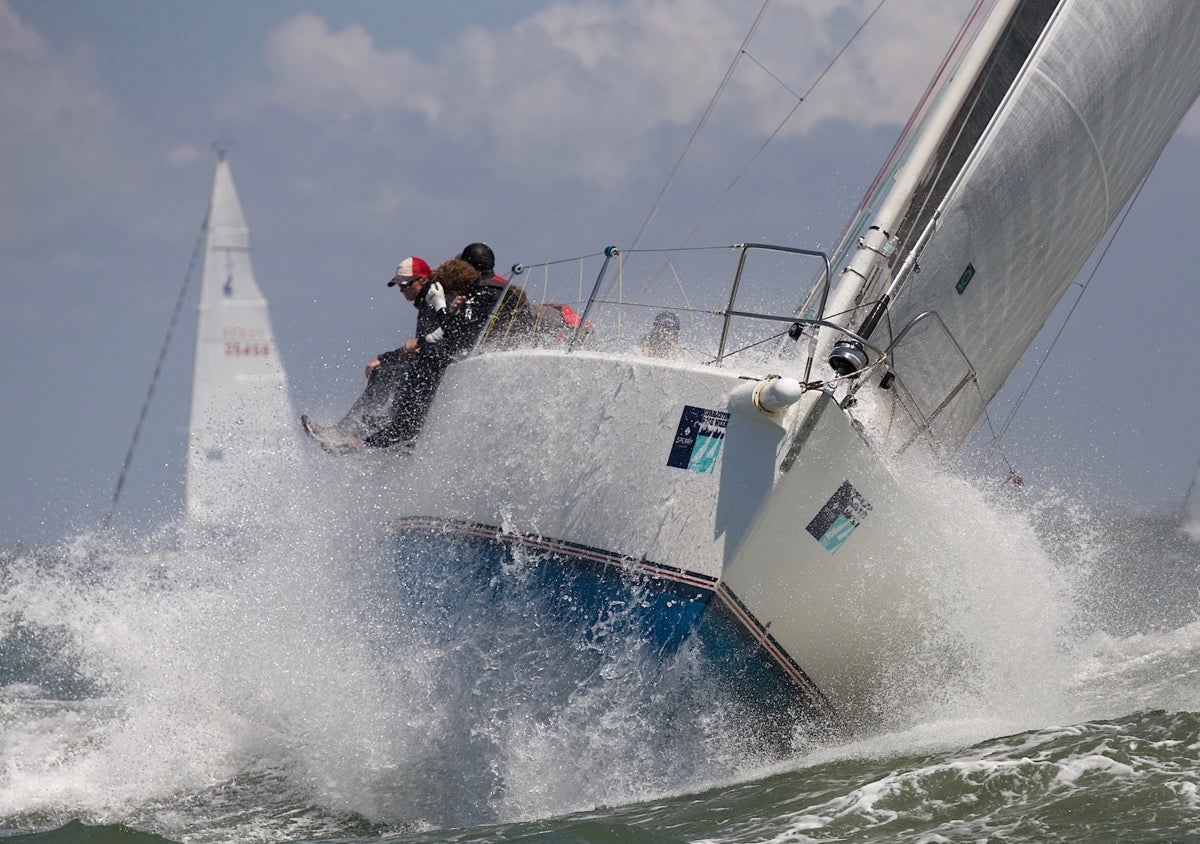 After several years with lost days and poor racing offshore, the 22nd edition of Charleston Race Week delivered 3 days of full-on racing, with moderate to big air inshore and big wind and seas outside the harbor for 212 boats at the biggest event on the calendar for many teams.  After losing around 30 boats for both 2017 and 2016, organizers are doing what others often haven't – they listened to their critics and moved things around significantly, and the 2017 event seems to have rewarded their moves.
The first move was working with the Coast Guard and Port to add a fourth circle in a harbor that many used to think couldn't even fit two, and the result was not only sailable, but it showed that there's easily room for another new fleet or two.  Stars and Lightnings are both perfect candidates, and both fleets are looking for some new venues, so we expect next year to begin growing once again.  They also moved the smaller handicap racing fleets – now all sailed under ORC – inside the harbor, and every team we spoke to will be back now that they don't have to face the long slog offshore in little boats.
As usual, Charleston reminded us that it's the only regatta party we know of with more women than men, and the diversity on the water was just as good; boats fully crewed by women, fully crewed by kids, and fully crewed by military vets and wounded warriors were all over the place, with some even winning their classes despite their bow guy/main trimmer being blind.
The overall winner was reigning J/70 World Champ Joel Ronning, who dodged a last-day protest to hang on in the biggest fleet at the event.  They almost lost it all though, when the forestay let go just before the final race.  Listen to the full story from Catapult trimmer and longtime SA fan Patrick Wilson here.
Clean and the media team posted stories, interviews, hundreds of photos and hours of video on the CRW Facebook Page here.  Full results here.  Meredith Block photo of the J/120 Illyria.
April 24th, 2017 by admin
This cat sailor got a closer look than he bargained for and set up this great football analogy after a capsize just downwind of the Viper fleet during the second day of Charleston Race Week.  Meredith Block Photo and an awesome gallery of 111 photos from Day 2 here.
 The HD Day Two Highlight Reel from Petey Crawford is here.  Results here.  Follow the final day of action on Facebook here.
April 13th, 2014 by admin
If it wasn't for Franck Cammas, Oracle would likely have never won the DoG match.  He owned the Volvo Ocean Race with Groupama 70.  He owned the ORMA fleet with Groupama 2. He owned the ocean with Groupama 3.  And now he owns the C-Class with Groupama C.  Is there anything Franck Cammas can't do?  Well, he clearly can walk on water, so maybe not.  Next stop for the French superstar:  The America's Cup?  You heard it here first.
Meredith Block photo, with some awesome galleries from Falmouth here and thanks to support from Cameralensrentals.com (use the code "CCLASS" to get 15% off your next lens rental).  For a full preview of the finals, check out Willy Clark's take over here, and for dozens of interviews, lots of chat, and the latest links to the live feed and more, go to the thread.
September 26th, 2013 by admin
Team Canada's Little AC ride Fill Your Hands may have inspired helm Fred Eaton and crew Magnus Clarke to fill something during an early-morning testing session for the International C-Class Cat Championship next week.  In 15 knots of wet Falmouth breeze the boat's foils ventilated going into a gybe, with the ensuing splashdown sending Eaton into the water and Clarke around the bow. Eaton was fine but the crew not so much; the slender carbon dolphin striker sliced deep into Magnus the Marine Mammal's calf to the tune of seven big stitches.  We'll have an update later on his condition (though he'd probably still race if his leg was sliced clean off), and news galore throughout the next 12 days.  Easiest place to keep up with the event: The Multihull Anarchy thread and the Facebook page.  Look for photo galleries, interviews, boat tours, and details on the live schedule beginning tomorrow.  Photos from Meredith Block/C-Class.
September 19th, 2013 by admin