Posts Tagged 'melges'
Almost 30,000 of you already watched this video of our first-ever walkthrough of the canting-keel Melges 40, so we're posting it on the front page for the Facebook-averse.  Narrated by the class's creator and 11-time World Champion Federico Michetti, have a look at the sexiest new raceboat of the year – inside and out.
September 14th, 2017 by admin
Big Pimpin'
While retaining post-school sailors in the sport continues to present a challenge we all need to solve, High School sailing is one of the fastest growing sectors of sailing..  In the Midwest, Melges and The Great Lakes Boating Festival are doing their part to get those teens pumped up with the Melges 14 Stadium Sailing High School Challenge.  Here's the release from Melges:
High school sailors will battle it out in the new Melges 14 at the Melges 14 Stadium Sailing High School Challenge on Sunday, May 21 from 12:00 p.m. to 4:00 p.m. It's going to be an adrenaline-fueled regatta on a course close to the crowd. No doubt an exciting event for spectators in the stands. 18 short races in 4 hours start to finish. Participating schools (including Grosse Pointe North, Grosse Pointe South, Brother Rice, Liggett, Detroit Country Day and Cranbrook) will each choose one boy and one girl to represent their school in the Melges 14 Tour event.
Melges 14 Stadium Sailing is part of the Great Lakes Boating Festival, a three-day boat show at Grosse Pointe Yacht Club May 19-21 where the Melges 14 will be on display and available for anyone to demo.
For more details on how you can watch or help out, go to the event site here.
May 9th, 2017 by admin
Drizzle doesn't dampen the mood for Charleston Race week. It didn't stop the ridiculous Sperry/Sailing Anarchy party last night, and racing commenced on time and on pace today. Under dark morning clouds, an eight knot northwesterly greeted the inside fleet and held enough to get high quality racing in. And what's Charleston Race Week without current. The ebb was flowing hard today, with teams jockeying for shallow water position all day. Who played it the best?
It's not Cinco de Mayo yet, but the J/70 Mexican team Flojito Y Cooperando helmed by Julian Fernandez celebrated early with two bullets today to set themselves apart in this talent laden fleet. Elvind Astrup's Norwegian Steam stayed consistent with a 1, 6, 5 to hold on to an early second. The top and only US team currently on the J/70 podium is Joel Ronning's Catapult. Since there are 78 J/70s racing in four separate fleets, the points add up quick and the scores are really close with eight boats tied in one way or another in the top 15. The fleets will be reset tomorrow for more qualifying racing.
Continuing the south of the border but north of the fleet tone, the lone Brazilian Melges 20 entry, Portabello, led by Cesar Gomes Neto, threw down some spicy upwind skills to keep ahead of Bruce Golison's Midlife Crisis by three points. Midnight Blue sailed well in today's darker conditions to keep it tight on the podium, behind second by only one point. Only eight points separate the top six in this wide-open class.
Guy Mossman's name is on the Melges 24 score sheet, but he's mending a broken hand from a 'being a nice guy' moment.  Lesson: Don't punch a fighting pit bull in the head. In his place on Battle Rhythm is Will van Cleefe, who earned a four point lead today over Brent McKenzie on Ex-Kahn, followed closely by Bruce Ayres on Monsoon.
Watch the full replay of all the live racing action here, and if the wind ever fills in, we'll have Saturday's racing for you on this page.
Brian Carlin photo of the sexy C&C 30 and the rest of PHRF A offshore, and seriously big, badass galleries from Brian and Sander Van Der Borch are over here.
And the Team Vestas Wind award goes to Christian Koppernaes in the VX-One fleet, who took the 'short tack the shore' move a little too far.  Sander Van Der Borch photo.
Results after day one here, and of course a huge thanks to our friends at Sperry for making SA's extended coverage of Charleston's action.
-John Casey
April 18th, 2015 by admin
Too many stories, too many Dark'n Stormies, and too many competitors to keep track of, the 20th anniversary of Sperry Charleston Race Week sets another attendance record as the spring classic inches towards 300 boats.  This year they'll squeeze yet another sportboat class in with the VX-One, with 10 boats signed up for their first year at the event.  It's also Melges 20 Nationals and several other championships, but the monster fleet is again the J/70, with 80 and change on the split lines.  That's 230 boats or so racing in a harbor that's about a mile wide, and you can see who's what and where over in the scratch sheet.
As serious as some are, the majority of sailors are here because it's always fun and always unpredictable, and that's what Petey Crawford captured with this short preview and practice reel from today.  Enjoy the film and keep an eye on Facebook for all kinds of updates this weekend.  CRW has plenty going on themselves over at their Page, including a contest;  If you like them, along with Coral Reef and Gill NA, you get a chance to win one of two remaining Charleston'd up Gill Crew Lite jacket (they gave one away today).
And when you're bored tomorrow at work, click back here on the front page for our first livestreamed video coverage of Charleston Race Week in 4 years, with huge thanks to Sperry for helping us put it all together for you.
April 17th, 2015 by admin
big pimpin'
We'd like to welcome our friends at Melges back for another year of pimpin', and the timing couldn't be better; there's all sorts of exciting fall/winter action going on across the Melges fleets, and we're going to help highlight just how fun and accessible it can be.  Here's some news from the M32 fleet in Florida, and watch for a feature from Jaime Torres soon on the M32 Caribbean Fleet.  For everything Melges, check their site.
With a fleet and sailors diverse as the nightlife on Ocean Avenue, the Melges 32 Gold Cup kicks off in just two weeks, featuring 18 ultra-high performance Melges 32 teams from 9 different countries.
This "Florida Classic" will decide not only the new Gold Cup titleholder; it will serve as the final notice for teams looking to challenge for the ultimate goal: the Melges 32 World Title. Louisiana skipper Chris Wientjes (Stormvogel, Metairie, LA) can't wait for it all to begin. "The Melges 32 Class always brings great talent to its events, but there's no doubt these two will bring some of the best sailors in the world to Miami," he said. "We're really looking forward to testing ourselves in both the Gold Cup and Worlds."
It may have started as a low-key tune-up regatta in the Melges 32's fledgling days in 2006, but the Gold Cup has emerged as the longest-standing Melges 32 regatta on the annual calendar. Regularly featuring more than 20 teams – from the highest-level international two-boat programs to more modest but still ultra-competitive local and Caribbean teams – winning the Gold Cup has historically required great boat speed and teamwork along with a strong understanding of tricky autumn breezes and meandering Gulf Stream current and waves.
2012 World Championship runner-Up Alec Cutler (Hedgehog, Bermuda) recognizes the balancing act between sailing hard at the Gold Cup without tipping his hand for the upcoming Worlds a month later. "Gold Cup may be a Worlds tune up, but it is also a coveted trophy for our team," said Cutler. "Our goal is to hold off from some of the big decisions until after Gold Cup while racing hard, having a good time, and learning the venue."
October 27th, 2014 by admin
SA supervideographer Petey Crawford dropped the video camera this weekend and picked up the tiller.  Here's his report along with some Tammy Sawyer photos.
The 2014 E Scow National Championship concluded Sunday with absolutely glamour conditions. I consider Crystal Lake one of the most beautiful locations in the US, as well as one of the best sailing venues anywhere.  Crystal is Michigan's Lake Garda and it rarely disappoints. In a world of declining participation in fleets around the globe, the E Scow National Class has seemingly flexed its muscles for 2 years in a row by luring 75+ boats to the line (84 and 78 respectively). Unlike another class that is experiencing a good turnout this, week the E scow has been doing it since 1959, and the depth of the talent at every one of these regattas is incomparable. Just look at the names of the champions on this list –  Now imagine the names of the others on the podium next to them. This years event was no different.  Porter, Melges, Jewett, Rogers, Burton out of the ILYA, East Coast names like Johnson, Hillyer, Lucas and Michigan locals like Price, Hatton, Kimball, Dow and Terry. Each and every one of these names was capable of getting in the mix and winning races and perhaps the whole thing.
Day 1 was bit frustrating as we spent the entire day on the water with only a single race to show for it due to extremely shifty conditions and velocity changes. Day 2 started out with a much better forecast and surely we could get back on track with 3 races. That was what PRO Bruce Golison and his team served us up. Classic Crystal Lake conditions with sunny skies made for a great day of racing, and we finally got to see the Tahiti-clear aqua blue water which is a big part of what makes this place so special. With 4 races completed and 2 more scheduled for Sunday, the stage was set for some great action.
Day 3 looked light to start but Bruce brought us all out so we could get going as soon as the sea breeze filled. With a short postponement we were back at it. Jeff Bonanni made it clear that it was moving day, and won race 5 to climb the ladder into the 3 spot. Harry had a tough 21st, Sammy sailed to a 6th, Chris Jewett got a 19, Burton scored a 9th and Peter Strothman made away with a 15th. So needless to say, the top 5 shuffled around a bit and the 6-10 group inched even closer into the mix. After 5 races completed and with a 6th race allowing a discard it was still wide open and with 78 boats anything could happen.
Jeff Bonanni, clearly liked the leap up the ladder and decided to win yet another race and pretty much showed us all how to close out an event and beat the rush to the crane. Little Harry Melges made his run back at the top with a 3rd, Strothman got a 4th and Burton took 14th. Sammy sailed just well enough to get a 12th. That meant that Sam "Big Daddy/Rasheed" Rogers and his crew of Chrisy Hughes, Tony and Lynn Jewett were the new E National Champions by a single point over Harry Melges IV and his crew of Monroe Melges, Mya Burdick (with Harry Melges III and Andy Burdick as their chaperones). I am so stoked for Sammy and the team to get this Championship, and to have it come down to a single point was even cooler! Having 13 year old Harry Melges kicking our asses already is a clear sign of what's to come, but I think we all were totally pumped to have him in there, especially with Monroe and Mya!
The E scow class continues to deliver and is filled with some of the best people I have met in my entire life let alone my sailing career. I got back into the driver seat of an E scow this year at Charleston and knew I had to be at Crystal. I found a boat and sails made it happen and although I fell short of my goal for the event, it really didn't matter; I had a ripping time with close friends and made some new ones. I even dragged a long lost friend out of sailing retirement and made him sail more races in 3 days than he had in the last 3 years, and despite his huffing and puffing and me "encouraging" him around the course we have decided that it's officially time to get back to racing E scows full time. Our personal hero moment was winning the pin end in race 3 and rounding in 3rd. Despite some mental errors in the race we still mixed it up with some of the best in the country and held on to a 15th, and we will always remember that start.
Big thanks to my crew on the II-1 Team Honor The Box –  Chris Eggert, Thorn Turner, Jess Haverstock and Nina McKeough and a huge thanks to Russ Lucas for letting me commandeer his old boat.
Side note – The last time I drove in an E Nationals I had dreadlocks down to the middle of my back and the regatta was hosted by Little Egg Harbor YC. Well, next year it's at Little Egg again and we will be there, but chances are I wont be rocking the dreads.
-The Rev. Petey
September 9th, 2014 by admin
Dead calms meant lots of swimming and fishing on the big MN lake yesterday, with 29-year old Vince Porter (Melges 24 World Champ Brian's nephew) holding the A-Scow US National Championship lead after two races.  Racing begins at 10 AM central for all the marbles today, with Clean and the team streaming it all live.  Check it out above, and go here for the results after two.
June 22nd, 2014 by admin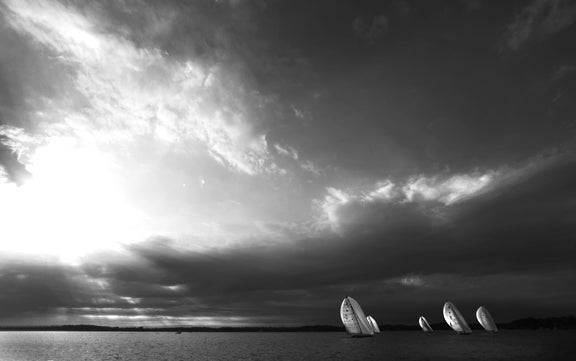 The 2014 Jaguar Land Rover A Scow National Championship is just a day away. I have just returned to Lake Minnetonka and it's a bit like a war zone.  Storms have been ripping through the area for the past week and the water level is at an all-time high. In fact, the entire lake is now a no-wake zone, which means great things for the A-Scows but bad things for spectators and our media team. We will be re-configuring the plan to make sure we bring you as much coverage as possible given the restrictions we are faced with.  Our goal is live video action from the course along with real-time results, near real-time photos, and all kinds of social action – but as usual, we'll be rolling with the flow to share the very best with you from twenty-one of the ass-haulingest inland racing boats in the world.
As you can see from the photo above, the Rodney Dangerfield Cruiser Jackass factor is at zero, and it's amazing how peaceful it is out here.  The sailors all know this might be the best A-Scow racing in history, and everyone is stoked.   Now we just have to hope for a decent weather window, which has been pretty sketchy as of late…Follow along via this front page and the Jaguar/Land Rover A-Scow Nationals Facebook Page
Petey Crawford, Regatta Chair
June 19th, 2014 by admin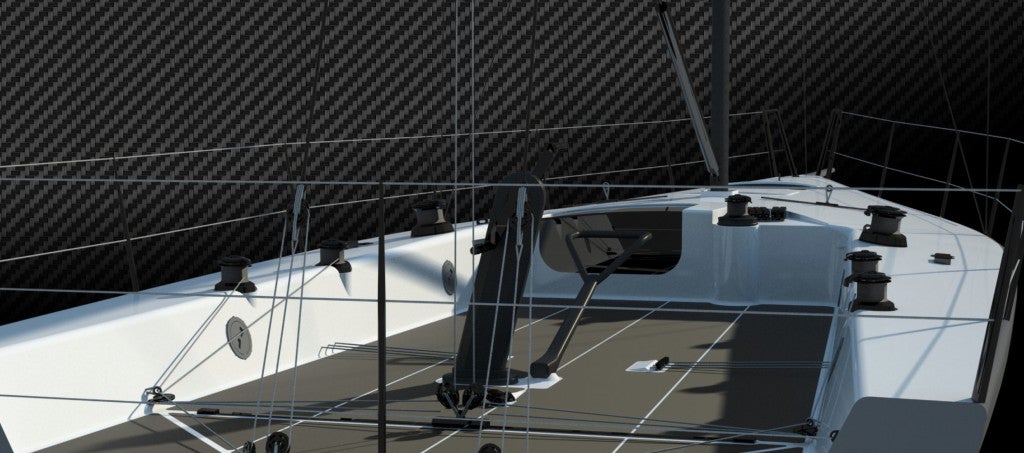 Here's a fairly close rendering of what the long-rumored Melges 40 will look like if Harry and the boys can get firm commitments from a few more potential owners. Designed by R/P to meet the HPR rule as well as to provide a one-design platform for owners looking for a replacement for the Farr 40 and other Grand Prix dinosaurs, it'll have a pedestal, square top, and massive kites on a most likely retractable sprit, with a target price of around half a million, midway between the cost of a McConaghy 38 and a no-options Carkeek 40.  The MC38 has proven that there's a one-design market for a boat this size, at least in Australia – are the Melges strongholds of the US and Italy calling out for the same thing at a higher price?  With Melges 20 and 32 participation down for the better part of a year now, we hope to see the sport's best performance sailing cheerleaders fix their house before building a new one…more info in the thread here and the R/P rendering (of the very close HPR40, not the M40) from their site.
April 30th, 2014 by admin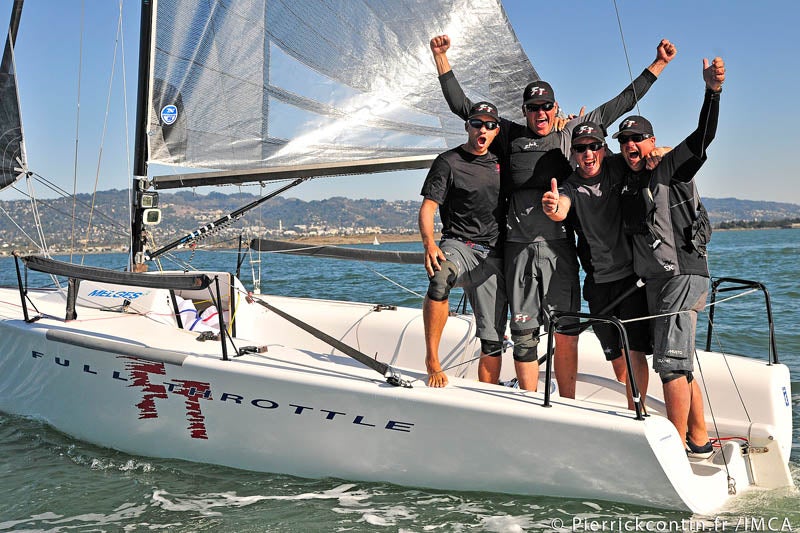 Brian Porter is the first Cat 1 helmsman to win the Melges 24 Worlds in exactly a decade, and along with crew Matt Woodworth, Andy Burdick, and Federico Michetti, he edged out Flavio Favini by just 3 points to take the title last week in San Francisco.  In a fleet of somewhat agro, type A tiller handlers, Brian is one of the kindest, gentlest guys you could ever meet, and he sat down for Sailing Anarchy's classic "Innerview" to answer some of Mr. Clean's questions after winning the title that's eluded him for more than 15 years.   Go here to see who Porter beat, and enjoy this Pierrick Contin photo with full gallery here, and go here and here for a couple of great highlight reels from the event from Vibrant Films.
SA: You've been trying to win the Melges 24 Worlds since they first began before the turn of the century.  How does it feel to finally pull something like this off that's been motivating you for almost two decades?
BP: It feels really good to win. I have worked hard at this sport my whole life. I got the monkey off my back, finally! The greatest moments in my life were the births of my four children. I don't think anything compares to seeing a healthy baby come into the world. But I am definitely walking in the clouds.
SA: You are a trader on the CBOT (is that right?), a seriously high pressure job.  Is racing M24s at this level still a relaxation, a break from that job, or is it just as pressurized as work?
BP: I find racing extremely relaxing. The pressure is nothing like trading. It has always been a haven for me to relieve life's pressures.
SA: You are the first non-pro driver to win the M24 Worlds since Shark Kahn did it, though he was part of a three-boat team spending literally millions per year on the M24 program.  What special prep did you put into this thing?
BP: We spent 12 days total out there for the worlds. We had one day of practice and then 4 days of the big boat series. We also did short practices on the two days in  between. The last time I raced the boat was Key West. However, I did crew for my son RJ on Lake Geneva all summer where we have a 12 boat fleet. That was actually helpful to give me a chance to really look at sails and rig while not driving. I spent time talking to Vince, Andy, and Federico about sail selection. We kept it pretty simple all in all. We made our sail selection the day before the worlds.
SA: In Santa Cruz you were leading with one race left, and a last-leg broach ended your run, giving you your third or fourth runner-up spot at a Worlds. Was it easier being one point behind Flavio going into the last race?
BP: Actually in Santa Cruz we were one point back as well. For me it doesn't make a big difference if you have to beat the other guy anyway. Having that tack line cleat blow on the kite and the resulting broach was tough but I think that was one of the best races I ever sailed so I didn't feel that bad.
SA: Freddy Michetti, president of Melges Europe, continues to show that no one in the world has a 'Silver Bullet" like he does when it comes to winning major Melges titles. He replaced Sam Rogers who was busy increasing the Midwest's population…This was your first major regatta with Freddy – can you tell us the secret ingredient that Fred brings to the table that has allowed him to own an unbelievable 5 M24 World Titles, including 4 of the last 6?
BP: It was one of the single greatest privileges of my life to sail with Federico. He spent an incredible amount of time loving my boat. He made it perfect. His feel for the small adjustments is uncanny. His greatest attribute by far is his attitude. He carries himself so well in all situations. Very positive. We had many difficult moments during the worlds and the demeanor on our boat never changed.
SA: We were surprised to see Harry Melges back behind the helm, and we know all about your friendship and rivalry with him going back to the invention of the automobile.  Is it more special to take a Worlds knowing your old friend and longtime rival and crewmate alike is driving around somewhere in your wake.
BP: Harry Melges III has been a great friend of mine for many years. I have sailed with and against many of the best sailors in the world. Harry is the best I have sailed with hands down. After all the regattas that he has dragged me around with him I hated not to have him on the boat. The same goes for my brother John. Those two were with me for all those seconds. Fortunately I was able to invite them up on the podium to share our victory. So, I was glad they were there to be part of it.
SA: After a few quiet years the M24 seems to be reinventing itself.  A new Rules proposal is likely to make the boats a bit more like the smaller sportboats flooding the market, and the top pros, many of them now making a living in the M20/J70/M32 fleets, are coming back to the 24 as, perhaps, still the best cross-training platform in the world.  T Hutch, Madro, Harry, Bora, Rast, Nath W – is this a temporary thing, or are we seeing a sustainable rebirth of the M24 as the "superior" sport boat?
BP: I sure hope it keeps coming back. We really need to take care of the hiking and weight rules to make the boat a little friendlier. I love these boats because they are high performance yet easy to sail. My favorite thing about them is that they create such a challenge to achieve maximum performance, and when you reach it, it's just so incredibly rewarding.
SA: You certainly do your share of Scow sailing in the summers, but with your biggest albatross now free of your neck, Will we see a Full Throttle trying its hand at another major class?
BP: I will sail scows and 24's as long as I can. I would love to try some other major classes but it is difficult to do the sailing I do now. If I had my way I would probably sail every day. So, you never know!
October 9th, 2013 by admin