Posts Tagged 'melges 40'
Almost 30,000 of you already watched this video of our first-ever walkthrough of the canting-keel Melges 40, so we're posting it on the front page for the Facebook-averse.  Narrated by the class's creator and 11-time World Champion Federico Michetti, have a look at the sexiest new raceboat of the year – inside and out.
September 14th, 2017 by admin
Big Pimpin'
If you like sailing with and against the best of the best in the world's best sailing destinations, have we got a boat for you!  More from their first-ever regatta in Porto Cervo at the Melges 40 Facebook Page.
June 21st, 2017 by admin
Big Pimpin'
Today the first-ever Melges 40 regatta began, and here's a quick preview from our friends at Melges Europe.
Designed to race with maximum performance, everyone is quite curious and excited to check out the numbers produced by the Melges 40. Its initial performances in Dubai over the past few months show speeds very similar to that of a TP52.
For the first 2017 event and the only one to be held in Italy, there are four teams in Porto Cervo. Additional Melges 40s will be launched in the coming months.
Alessandro Rombelli's STIG (Melges 32 and Melges 20 World Champion), Richard Goransson on INGA (2016 Melges 32 Series Champion), Valentin Zavadnikov's SYNERGY GT (2014 Audi Sailing Series), and Hannes Waimer at the helm of NIGHTSHIFT from Dubai are the protagonists of the Melges 40 Grand Prix.
The current onboard configuration is a crew of nine, including the helm/owner. Tactics will be entrusted to Olympic Gold Medallist Jordi Calafat on STIG, multi-champion Vasco Vascotto for INGA, America's Cup winner Ed Baird on SYNERGY GT, and former Volvo Ocean Race sailor Gordon Maguire for NIGHTSHIFT.
The Melges 40 Grand Prix is proudly supported by Helly Hansen, Garmin Marine and Barracuda Communication.
Check out the M40 Facebook Page for photos, videos, and updates!
June 16th, 2017 by admin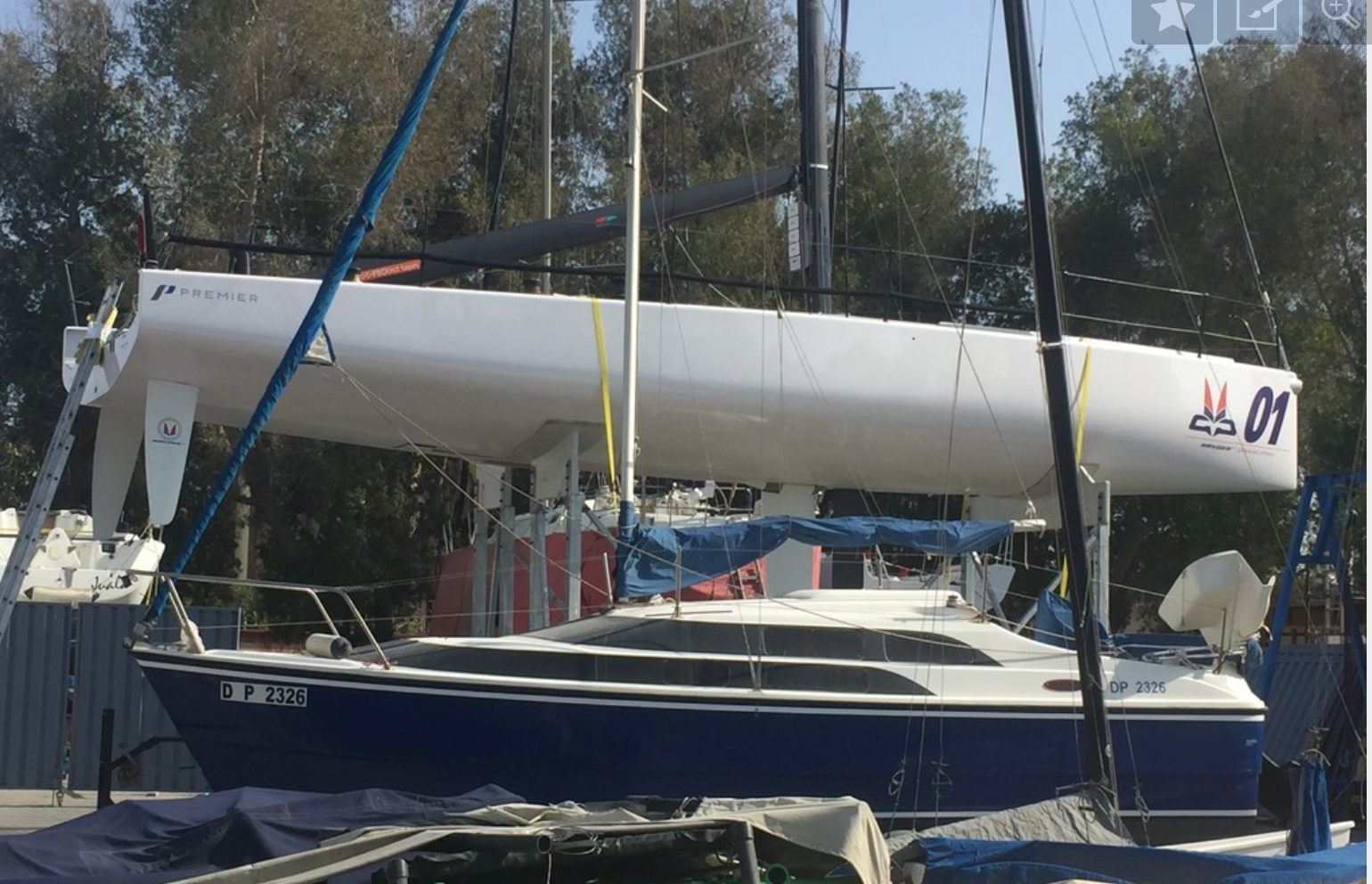 It's perhaps the fastest production 40-foot mono ever built, but in this life, nothing can ever get far from the scourge that is Macgregor!
Thanks to JBSF for the shot of the Melges 40 in Dubai; stay tuned for a new M40 video coming out very soon.
February 17th, 2017 by admin
We're not sure how it would do in the UK's hit new 'Fast 40' class, but Melges 40 depositors who want warp speed one-design racing can rejoice: This thing looks like a weapon of war!  Spy shot from the dock in Dubai this morning as the brand new Botin/Premier product gets ready for sea trials.  Faster than a TP52?  We believe…
Thanks to JeffB for the snaps with more in the forums, and go here for videos and all sorts of fun from Federico and the Melges team.
November 26th, 2016 by admin
The UK's 'Fast 40' class is one of the few places handicap racing is thriving, but if Federico Michetti's VPP is accurate, the Melges 40 is about to blow the doors off all of 'em.  Our friend Alden Winder sat down with Inga From Sweden skipper Richard Goranson and crew Ollie, Vasco, and Federico last week to talk about their shot at the Melges 32 Worlds, and their soon-to-be-launched Melges 40.  Informative and well-produced stuff from Alden and the Newport Live Media folks.
September 2nd, 2016 by admin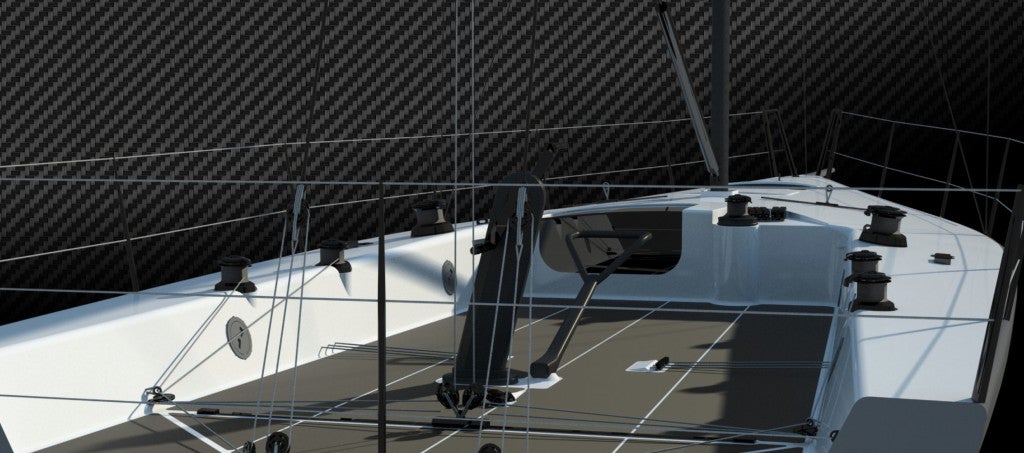 Here's a fairly close rendering of what the long-rumored Melges 40 will look like if Harry and the boys can get firm commitments from a few more potential owners. Designed by R/P to meet the HPR rule as well as to provide a one-design platform for owners looking for a replacement for the Farr 40 and other Grand Prix dinosaurs, it'll have a pedestal, square top, and massive kites on a most likely retractable sprit, with a target price of around half a million, midway between the cost of a McConaghy 38 and a no-options Carkeek 40.  The MC38 has proven that there's a one-design market for a boat this size, at least in Australia – are the Melges strongholds of the US and Italy calling out for the same thing at a higher price?  With Melges 20 and 32 participation down for the better part of a year now, we hope to see the sport's best performance sailing cheerleaders fix their house before building a new one…more info in the thread here and the R/P rendering (of the very close HPR40, not the M40) from their site.
April 30th, 2014 by admin