Posts Tagged 'Melges 24'
As if racing at America's most exciting freshwater venue wasn't enough, the shiny, happy people of North Bonneville, Washington have just turned up the fun dial to 11 for every non-junior sailing event at the Columbia Gorge Racing Association in Cascade Locks, Oregon.  That's because N. Bonneville – just 11 minutes by car from the Locks and over the stupefying Bridge of the Gods - now has the world's only city-owned marijuana shop, with the serious dank, vape, and edibles to make you even the worst regatta results seem just hilarious.  We're not joking at all - the chronic is now legal for anyone over 21 on both sides of the Columbia, and if organizers can't come up with some cannachocolate bars or oatmeal-haze cookies in your regatta bag, they're not trying hard enough!
Just in time, too – the Melges 24 Class is showing a serious resurgence, with 33 teams already registered for a summertime Gorge Nationals, as teams begin to build towards the recently-announced and already highly anticipated 2016 Miami Worlds.  Get to the Gorge; we'll have more on their upcoming events for you soon.
Offshore racers, we haven't forgotten your substance abuse needs either – just check out the just-approved powdered alcohol that's coming to a ditch bag near you as soon as this summer!  Save weight in your gear bag and still give yourself something to warm up those cold, late watches.  No word yet on how it is to snort…
March 23rd, 2015 by admin
Big thanks to Hamish Nicol for a great writeup from the Melges 24 Nationals in Adelaide, Oz.  For more info, check the South Australia FB page.
After two days and with 5 races completed the 2015 Melges 24 Australian Championships are at their mid-point with competitors enjoying crash/bang/wallop racing followed by so much free sponsored beer at the dockside and wine in the club that the sponsors themselves cannot remember what happened and why they did it.
PRO Rogers is taking the piss because he keeps promising steady 15kt sea breezes that never show. The 14 competitors have seen everything from light Northerlies disappearing to nothing, to howling 20-25kt Southerlies with 2 meter swells to launch off. Add in the bushfires on the way over (now thankfully out), gear breakages and involuntary swims, and the fleet now expects tempests, locusts for the next few days.
The front of the fleet has a familiar look to it at the halfway stage with Chris Links-fresh from Wild Oats Hobart win-helming Cavalinho to several wins with Olympic Gold Medal winner Nathan Wilmot calling tactics. Adelaide favourite and former AC and 505 man Ronnie Duessen is following closely in second overall with his Red Mist's red coachwork unmissable in the grey surf. Johnno Bannister's Penultimate Challenge is in third crewed by a team of Mornington Peninsula hot shots. Another local boat Adrenaline is in 4th overall. Having been second after the first day Luke Stephen's team had to survive a swim and a wild broach avoiding Red Mist.
The teams now prepare for an already breezy day three, re-examining their gear (two forestays failed on day 2)  or perhaps breakfasting on Glenelg's famous pie floater.
January 9th, 2015 by admin
We've all seen it happen, over and over again: A Class/regatta, or area (or judging from sailing's decline since 1979, the entire country of America) judges the temperature of its customers poorly, and that line between 'let's go swap a little gelcoat with great sailors and earn their respect' and 'holy crap, I'll never, ever have the time/money/desire to keep going in this sport' disappears.  The issue is not simply about well-written and conceived rules, though they help; it's more about the kind of perception and atmosphere created by the folks running the show.  No Class has more epitomized this struggle than the Melges 24; despite a feverish period in the 2000s when the M24 saw 100+ boat turnouts for the majors and big regional fleets, the NorthAm fleet went into rapid decline beginning about 2009. Escalating costs, difficulty in finding good crew who could hike as long and hard as the pros who absolutely filled the fleet, and distracted marketing from the builder were the culprits, and half a decade later, the Class is seeing a serious resurgence in the boat we've always considered to be the world's most perfect one-design race boat.  Long time Melges performer and now pro crew Sam Rogers explains why.  Joy Dunigan photos with a sweet gallery over here.  World Champ Brian Porter beat Bora Gulari on the final day in a replay of something we feel like we've seen at about 10 of these Nationals.  Full reports here.
Where do you find that line between keeping top level pros in a fleet to provide that ultimate challenge, and keeping the average racer happy and engaged?  It certainly depends on the fleet you're talking about, but there's no question that for an open class like the Melges 24, the amateur owners and crews are absolutely vital to maintaining a successful fleet – and the overall sport.  Most amateurs want the challenge of sailing with and against the very best, but without the average man/woman making it to the race course, those lines are awfully lonely places.
I'm writing today just after an awesome 31-boat Nationals at Davis Island, FL, to let you know that the US Melges 24 Class seems to have made it through its 're-birth' while really nailing this balance, and without losing its high-performance, grand prix identity.  Nearly a perfect split between open and amateur teams swapping blows over 3 days and 8 races with both overall and Corinthian standings going down to the wire and several all-amateur teams filling out the top ten. Kevin Nixon's Accru+ entry from Australia took the overall Corinthian trophy and 7th overall, competing with his wife, daughter, son and son's girlfriend.  Sounds like a perfect weekend getaway to us!
Roger Counihan's Just Add Water team (Lake Lanier, GA) is a Melges 24 staple, and he finished a solid 3rd Corinthian and 11th overall.  Roger thinks the fleet's new look is awesome: "The Corinthians by themselves are a very strong fleet, and in every race there are Corinthian teams sticking it to the pros.  There's nothing better than seeing an America's Cup sailor or World Champion behind you – those are always great stories for the bar.  At the same time, its great to see what the pros are doing – how are they trimming their jib, where is their traveler, how hard are they soaking.   Plus, as a fan of sailing, watching strong teams full of sailmakers, Olympians, and boat builders go head to head in the same boat we sail is pretty cool."
Part of the Class's rebirth is thanks to the early success of the M24, and the big used-boat market that developed as the economy collapsed.  Enterprising sailors in a few unexpected regions scooped up good boats for great prices, the grassroots growth results are now filtering into the traveling/major regatta fleets.  "There are still new sailors picking up competitive starter boats for surprisingly low prices and quickly learning to mix it up," said Counihan.  "Our fleet is a tight knit bunch of friends who have sailed on everyone else's boats, help everyone get better, and hang out off the race course."
Texas & Gulf Coast District rep Ryan Glaze (Gringo) says it's important to represent his regional fleet on the national stage.  "Our performance this past week at (2nd Corinthian, 8th overall) was important to our team, the Gulf Coast District, and to the USMCA.  We proved that you can get an older boat, put used sails on it, and be competitive with a good team of amateurs.  There are a lot of good sailors out there that would like to race the M24 but might be turned away by the costs. However, over the past couple of years, we have seen more teams in our district take a similar approach to ours; purchasing an older used boat, giving it a little TLC, and putting together a core group as your team."
Through the ebb and flow of fleet growth in the 20 year history of the Melges 24 class and a stronger than usual used boat market, attracting a balanced mix of amateur and pro teams seems to have reach an equilibrium, and the spirit of the class has been renewed. Along with the solid turnout the Nationals, there was a strong sense of community with every sailor leaving with something. With a well attended class debrief led by some of the classes best-regarded pro and amateur helms (Porter, Gulari, Kullman, Madrigali), and an owners' meeting that highlighted the recent growth in the class and previewed a solid 2015/16 schedule (featuring the 2015 Nationals at the awesome Gorge in late August and the 2016 worlds being narrowed down to a location in South Florida) the Melges 24 may be blazing a new trail as a model for successful One-Design fleet growth, just as it did over 20 years ago.
And it's still quite a bit faster than all the 20-something production sporties that have come since…
November 18th, 2014 by admin
big pimpin'
We'd like to welcome our friends at Melges back for another year of pimpin', and the timing couldn't be better; there's all sorts of exciting fall/winter action going on across the Melges fleets, and we're going to help highlight just how fun and accessible it can be.  Here's some news from the M32 fleet in Florida, and watch for a feature from Jaime Torres soon on the M32 Caribbean Fleet.  For everything Melges, check their site.
With a fleet and sailors diverse as the nightlife on Ocean Avenue, the Melges 32 Gold Cup kicks off in just two weeks, featuring 18 ultra-high performance Melges 32 teams from 9 different countries.
This "Florida Classic" will decide not only the new Gold Cup titleholder; it will serve as the final notice for teams looking to challenge for the ultimate goal: the Melges 32 World Title. Louisiana skipper Chris Wientjes (Stormvogel, Metairie, LA) can't wait for it all to begin. "The Melges 32 Class always brings great talent to its events, but there's no doubt these two will bring some of the best sailors in the world to Miami," he said. "We're really looking forward to testing ourselves in both the Gold Cup and Worlds."
It may have started as a low-key tune-up regatta in the Melges 32's fledgling days in 2006, but the Gold Cup has emerged as the longest-standing Melges 32 regatta on the annual calendar. Regularly featuring more than 20 teams – from the highest-level international two-boat programs to more modest but still ultra-competitive local and Caribbean teams – winning the Gold Cup has historically required great boat speed and teamwork along with a strong understanding of tricky autumn breezes and meandering Gulf Stream current and waves.
2012 World Championship runner-Up Alec Cutler (Hedgehog, Bermuda) recognizes the balancing act between sailing hard at the Gold Cup without tipping his hand for the upcoming Worlds a month later. "Gold Cup may be a Worlds tune up, but it is also a coveted trophy for our team," said Cutler. "Our goal is to hold off from some of the big decisions until after Gold Cup while racing hard, having a good time, and learning the venue."
October 27th, 2014 by admin
2013 Melges 32 World Champion mast man and SA Staff Videographer Petey Crawford dusted off his sailing gloves for a little fall action this past weekend, and in our first piece of today's Midwest Madness, he reports from the 18-boat Lake Geneva Melges 24 Fall Champs, with great pics from LGYC's Michael Moore and a small gallery over here.
This past week I got a call from some friends in Western Michigan, and they asked if I wanted to go Melges 24 racing in Lake Geneva, Wisconsin.  After rescheduling a couple of things I jumped at the chance – I used to come to this even more than a decade ago when it was all J/24s, and Buddy Melges' home club is always a great time.  The lake's empty of powerboats, the fall colors are popping, the breeze is almost always on, and the blue-collar LGYC never disappoints.
Imagine my surprise to pull up to the parking lot and find the clubhouse gone, and replaced with a construction site as the new Buddy Melges Sailing Center takes shape. With no facilities available at LGYC, the event moved across the lake to Gage Marine in Williams Bay, with the Gage staff doing a great job hosting every one of the ten out-of-town teams making the trip.
The Saturday forecast was a little on the brutal side, with expected temps in the high 30s to low 40s, and a mix of rain and snow. You heard that right – SNOW. Despite the hard core forecast, all 18 teams piled on the layers and sailed out through the wall of steam rolling across the water. The RC cranked off 4 races with wind ranges in the 12-18 knots, and it really wasn't that bad once you got into it. My biggest problem was visibility; glasses on or glasses off, you couldn't see much  through the rain, but it was marginally better than getting the full wintery mix right into my eyeballs.  It was a really fun day of sailing with good friends, and we were off the water by 2pm. That opened up the afternoon for us, and we took full advantage to up the fun factor. We were staying at a Methodist church retreat, and along with our upstairs neighbors from Muskegon, we  probably broke just about every rule they had with all that time to kill before the 6 PM regatta party. We had about 3 hours of playtime on the shore of the lake with frisbees, volleyballs, wiffle balls, horseshoes, and even acorns flying through the air from all directions. It was pretty chaotic at times and I'm pretty sure we provided more than one topic of discussion for the group of college students who were staying there on an actual Methodist retreat.  But goddamn, did we had fun.
Sunday morning started out with a similar forecast but with less warmth and less wind, but with the sun shining, it felt a comparative heat wave.  The RC got us two more races to close out this year's event and again, like it was on Saturday, it was a great day of sailing. Brian Porter and the Full Throttle team fully throttled us all and won every race but 1, but we won the most important race of the week, getting to the hoist first after an early finish in the final race.
We had a brand new VHF radio that must have been on a half-price sale because it only half-worked; we could transmit but could not receive. That was a problem all event, but especially when we were OCS on the last race; by the time the windward boat rolled us and we could hear them telling us we were over we were pretty far back. We swung the bat hard on the first beat hoping to make a gain to get back in the race, but with the breeze cranking, the boats in front of us hooked up on the downwind and were gone, we didn't stand a chance of passing anyone and decided to take the extra point and get on the trailer first.
This is a great event and a beautiful time of the year to be racing sailboats, I have missed these events over the past few years with living in California and then Florida, and it was just perfect to be out there with friends, racing hard and having fun…even if it felt like we were inside a refrigerator.
-The God Damned Reverend, Out
October 6th, 2014 by admin
Curating the internet's best sailing videos for you, here's another SA video edition.
Transformer
While Thomas Coville's crewed endeavors over the past couple of years (Groupama 70, Banque Populaire V) have been damned impressive, he spent the past few years losing to Francis Joyon in the world's big solo records with a near sistership to Joyon's IDEC.  The big Irens trimarans are narrow and light and designed for solo sailing, and clearly, Coville's Sodebo just wasn't getting it done.  So he picked up the bigger, wider, and much older Geronimo for a song, brought it to Multiplast for a mega-refit, and just relaunched in time for some serious pre-Route Du Rhum prep and record-breaking.  Looking goddamned good.
In other big French multihull Route Du Rhum news, Team Edmund de Rothschild relaunched their MOD 70 the other day for Seb Josse, but it's no longer a MOD 70; instead, it's a turbo MOD.  A lighter motor/generator,  lighter interior, larger canopy (Seb will live outside the cabin during the RdR), and most importantly, a set of Verdier/Koch-designed T-foil rudders.  Will Seb stand a chance against the super-trimarans?  If anyone can, it'll be Josse.  More info here.
Britain's Next Top Model
Artemis Offshore Academy's Sam Goodchild continues his climb into shorthanded stardom, albeit it slowly. The young Brit continues his Figaro ways this year as he continues to hunt for Vendee Globe money, and here's an intense clip showing what it's like to sail in gusts to 60 knots. You think you know 60? Take a look and compare Sam and Sandy's delivery to your biggest day.  Click the video to get to it.
Blu, You're My Boy!
With Flavio Favini on the sideline after his horrendous accident earlier in the year, Franco Rossini's Blu Moon continued her winning ways with Matteo Ivaldi helping the Moonies to European Championship glory last week.  Here's a video from midway through the week that showcases just how gorgeous Hungary's Lake Baloton can be, with thanks to Janna Buriani for the shooting and editing.  Title shout is all about Old School, yo.
Can't Teach Old Dogs New Tricks

It's amazing how quickly the once-amazing AC45s have descended into obsolescence; too flexy to make a good foiling platform and slower than pretty much all the foilers, Oracle Team USAustralia and Team Australia continue to practice in Sydney despite the irrelevance of their platform to the new AC62 class.  That being said, this video shows off the lighter, more easygoing side to OTUSAUS resulting from Tom Slingsby taking a much bigger role aboard as Sailing Team Director.  It also shows off a more American side to the team; Rome Kirby, Andrew Campbell, and now Matty Cassidy joined with half-citizens Slingers and Spithill bring the total yank factor up to 4, and with a very American design team, OTUSAUS is almost, dare we say it, an American team!  Good fun from the Oracle media boys.
Just When You Thought It Was Safe
Your $200k RIB seems like it can take anything you throw at it, but can it? These guys found out the answer.
One Man's Trash Is Another Man's Island
You've all heard about the Great Pacific Garbage Patch?  Well, how about Richard Sowa's recycled bottle island?  We like.
May 15th, 2014 by admin
With Harry Melges on Star finally showing a chink in his armor by getting a scoring penalty in Race 9, Flavio Favini and the Blu Moonies have officially won  the Gill Melges 24 Worlds in Geelong-tucky, Australia, with an  8 point lead after 11 races  With just a 26-boat fleet it remains a 5-boat race for the podium without a single Aussie in contention, with previous World Champs on four of those five; if Star can pull it off, it'll mark a great bookend to Harry's Melges 24 Worlds victory in 2002, and it'll be the 27,000th Melges World title for Federico Michetti.  If Flavio can take it, it'll bookend his 2001 Worlds victory.   Above video is thanks to Beau Outerridge and the M24 Channel, and features the gorgeous Shona Wilmot.   Results are here, and here's a word from Bora aboard West Marine Rigging via Facebook:

"Sometimes it feels like Groundhog Day. We ended up with basically the same scoreline that we had yesterday, but the boys fought way harder and deserved a much better result. We lead the last race for about 99.5% of the race. Unfortunately I am a master of collecting plastic bags and we had one wrapped around the keel for the majority of the race. Luckily it only cost us one place in the end but it would have been good to finish the day with a bullet. 2 more days to go and anything can happen. Hopefully we can snag a couple bullets in the end and see where the cards fall.
"Out from Geelong."
January 31st, 2014 by admin
You may not know who these two characters are, but their years-long feud nearly tore the vibrant, ultra-strong Italian Melges 24 fleet to pieces, and the International Class down with it.  Somehow, though, last month Franco Rossini (owner of Blu Moon, on the left) and Riccardo Simonesci (owner of Audi Ultra) buried the hatchet, and the world's best sport boat can once again move forward. From the minutes of the AGM:  "…In a joint statement, [the two] advised the meeting that they acknowledged that they each have the best interests of the Class at heart, and that in the best interests of the Class, they wish to work together going forward to rebuild the Italian Class and the bonds between the Italian Class and the International Class. Having shaken hands, Riccardo and Franco made a toast to the future success of the Melges 24 Class with glasses of Palinka, a traditional Hungarian liquor, that had been made by the grandfather of Arkos Riko, the Hungarian Class representative. The entire meeting joined them in toasting the success of the Class and welcoming this excellent news.
How You Hike Me Now?
The ultra-high level of competition and the unrestricted status of crews and helms in the 20-year old M24 Class has always put the pocket rocket at the forefront of sport boat technique and development within its one-design restrictions.  When Brian Hutchinson's hiking line pads became universal in the fleet, it became feasible to hike your entire body well over the rail for an entire race, no matter how painful, stupid, and nerve-destroying it could be.  And now, like Ricky and Franco's feud, this too, is over!
Thanks to about 5 years of lobbying and plenty of testing and development, the new Melges 24 Rules require shorter stanchions and 'tight' lifelines.  This means asses on the deck, no 'climbing the stanchions' for the #1 and # 4 spots, and, according to Bora Gulari and Harry Melges, 'no loss in upwind speed at all, with a massively better experience for the entire crew'.  And not that it needs it (few designs have aged as gracefully as the Melges 24), but the lower stanchions look better too, and may allow backwater PHRF areas like Lake Erie to rate the archetypical sportboat, which celebrates its 21st birthday this spring.
Way Over Yonder In The Minor Key
2014 also sees the first-ever Class World Championship down under, the Class Association deciding to take the attendance hit by bringing the annual event to Geelong for a 'fleet-building' Worlds, and with barely 30 boats registered so far, we'd say Bora Gulari may be a shoo-in for his first Worlds but for the attendance of a ghost from Worlds Past – it's 2002 World Champion "Star", and we think it'll be the O.G. team of Harry Melges driving, Andy Burdick on tactics, and Federico Michetti and Jeff Ecklund up front.  America's top high-speed pilot versus the original gangstas with a little Blu-Moon flavored Italian sausage and some Aussie croc meat thrown in for good measure…we'll have reports from Bora and team when the US Air Force arrives in a few weeks.  Next year things go back to normal, and we should see 100+ boats on the line in the best-named regatta venue ever: Middlefart, Denmark.
Check in with the rules and other new development in the M24 Rules thread, and take a look at the very interesting 'Builder's Vision" document here.  Title shout to the Vampire song dude.
December 23rd, 2013 by admin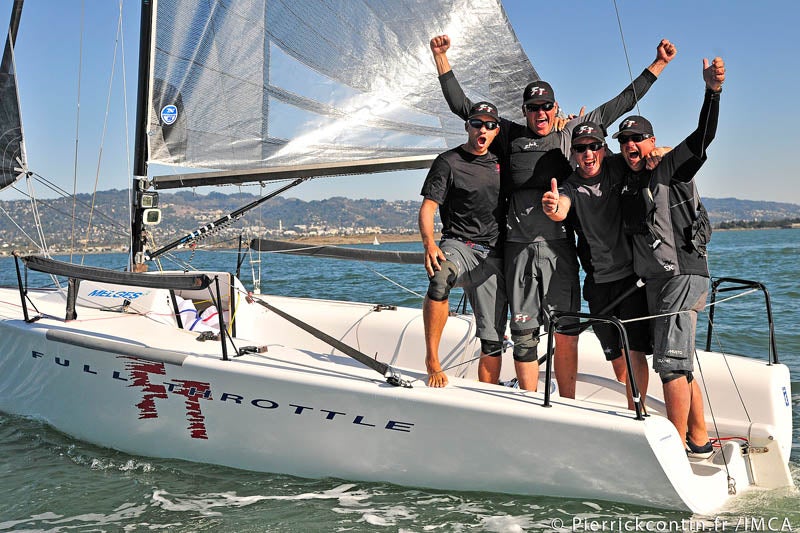 Brian Porter is the first Cat 1 helmsman to win the Melges 24 Worlds in exactly a decade, and along with crew Matt Woodworth, Andy Burdick, and Federico Michetti, he edged out Flavio Favini by just 3 points to take the title last week in San Francisco.  In a fleet of somewhat agro, type A tiller handlers, Brian is one of the kindest, gentlest guys you could ever meet, and he sat down for Sailing Anarchy's classic "Innerview" to answer some of Mr. Clean's questions after winning the title that's eluded him for more than 15 years.   Go here to see who Porter beat, and enjoy this Pierrick Contin photo with full gallery here, and go here and here for a couple of great highlight reels from the event from Vibrant Films.
SA: You've been trying to win the Melges 24 Worlds since they first began before the turn of the century.  How does it feel to finally pull something like this off that's been motivating you for almost two decades?
BP: It feels really good to win. I have worked hard at this sport my whole life. I got the monkey off my back, finally! The greatest moments in my life were the births of my four children. I don't think anything compares to seeing a healthy baby come into the world. But I am definitely walking in the clouds.
SA: You are a trader on the CBOT (is that right?), a seriously high pressure job.  Is racing M24s at this level still a relaxation, a break from that job, or is it just as pressurized as work?
BP: I find racing extremely relaxing. The pressure is nothing like trading. It has always been a haven for me to relieve life's pressures.
SA: You are the first non-pro driver to win the M24 Worlds since Shark Kahn did it, though he was part of a three-boat team spending literally millions per year on the M24 program.  What special prep did you put into this thing?
BP: We spent 12 days total out there for the worlds. We had one day of practice and then 4 days of the big boat series. We also did short practices on the two days in  between. The last time I raced the boat was Key West. However, I did crew for my son RJ on Lake Geneva all summer where we have a 12 boat fleet. That was actually helpful to give me a chance to really look at sails and rig while not driving. I spent time talking to Vince, Andy, and Federico about sail selection. We kept it pretty simple all in all. We made our sail selection the day before the worlds.
SA: In Santa Cruz you were leading with one race left, and a last-leg broach ended your run, giving you your third or fourth runner-up spot at a Worlds. Was it easier being one point behind Flavio going into the last race?
BP: Actually in Santa Cruz we were one point back as well. For me it doesn't make a big difference if you have to beat the other guy anyway. Having that tack line cleat blow on the kite and the resulting broach was tough but I think that was one of the best races I ever sailed so I didn't feel that bad.
SA: Freddy Michetti, president of Melges Europe, continues to show that no one in the world has a 'Silver Bullet" like he does when it comes to winning major Melges titles. He replaced Sam Rogers who was busy increasing the Midwest's population…This was your first major regatta with Freddy – can you tell us the secret ingredient that Fred brings to the table that has allowed him to own an unbelievable 5 M24 World Titles, including 4 of the last 6?
BP: It was one of the single greatest privileges of my life to sail with Federico. He spent an incredible amount of time loving my boat. He made it perfect. His feel for the small adjustments is uncanny. His greatest attribute by far is his attitude. He carries himself so well in all situations. Very positive. We had many difficult moments during the worlds and the demeanor on our boat never changed.
SA: We were surprised to see Harry Melges back behind the helm, and we know all about your friendship and rivalry with him going back to the invention of the automobile.  Is it more special to take a Worlds knowing your old friend and longtime rival and crewmate alike is driving around somewhere in your wake.
BP: Harry Melges III has been a great friend of mine for many years. I have sailed with and against many of the best sailors in the world. Harry is the best I have sailed with hands down. After all the regattas that he has dragged me around with him I hated not to have him on the boat. The same goes for my brother John. Those two were with me for all those seconds. Fortunately I was able to invite them up on the podium to share our victory. So, I was glad they were there to be part of it.
SA: After a few quiet years the M24 seems to be reinventing itself.  A new Rules proposal is likely to make the boats a bit more like the smaller sportboats flooding the market, and the top pros, many of them now making a living in the M20/J70/M32 fleets, are coming back to the 24 as, perhaps, still the best cross-training platform in the world.  T Hutch, Madro, Harry, Bora, Rast, Nath W – is this a temporary thing, or are we seeing a sustainable rebirth of the M24 as the "superior" sport boat?
BP: I sure hope it keeps coming back. We really need to take care of the hiking and weight rules to make the boat a little friendlier. I love these boats because they are high performance yet easy to sail. My favorite thing about them is that they create such a challenge to achieve maximum performance, and when you reach it, it's just so incredibly rewarding.
SA: You certainly do your share of Scow sailing in the summers, but with your biggest albatross now free of your neck, Will we see a Full Throttle trying its hand at another major class?
BP: I will sail scows and 24′s as long as I can. I would love to try some other major classes but it is difficult to do the sailing I do now. If I had my way I would probably sail every day. So, you never know!
October 9th, 2013 by admin
How's about a little HD action after a busy week?  We've got you covered.
Always A Bridesmaid 
In his decade-plus-plus of Melges 24 racing, Brian Porter's Full Throttle has w0n everything there is to win – except a Worlds.  It's a remarkable record, especially considering Porter is a real dude with a real job, though it doesn't hurt to count folks like Melges Prez Andy Burdick as some of your closest friends – and your tactician.
In any event, with just two races to go in the 'it's not normally like this' M24 Worlds in San Francisco, Porter is exactly where he's found himself so many times; one point behind the leader.  With longtime FT trimmer Sam "Rashid" Rogers off on new baby duty and four-time M24 World Champ Fed Michetti subbing in for the week, will Porter's bad luck streak end with that elusive victory?  Not if Flavio Favini has anything to say about it!  Some nice vid from an anonymous videographer, with voiceover from long time SA'er Justin Chizz.  Pierrick Contin photos here.  And some really pretty HD vid from AC boffin John Navas here.
Sky Hook
Kiteboarding not quite extreme enough for you?  Surfing or boardsailing just too 'grounded'?  Or maybe you're just looking for a way to get more performance out of your dirigible?  Have we got a product for you!  It's French, of course.
Comin' Back Soon 

Grant Dalton helped foster the idea that a loss in AC34 would probably mean the end of the team.  But after the performance of their lives, it's great to see the homeland ain't giving up on the Kiwis just yet!  During a massive homecoming welcome in Auckland, Economic Development Minister Stephen Joyce pledged government $upport for a TNZ challenge for the next Cup, and given the ROI for the 2013 event – and the continuing credibility it gave not only Kiwi sailors but also the Kiwi boatbuilders that built both ETNZ and Oracle's AC72s – it's easy to anticipate at least a portion of the tens of millions going back into the TNZ coffers as the early stages of contract negotiations and sponsor hunts begins.  If not, there's always the public, and they're digging pretty deep themselves, and already have more than 20,000 Facebook fans behind them in just 10 days…that's 10% of what the Cup has after 3 years…
On another note, SA'er "DryArmour" seems to have figured out where it all went wrong for the Kiwis…story title inspired by the Dummies.
Wild Island
Given GGYC's last Challenger of Record's humiliating withdrawal and replacement CoR Artemis Racing's feeble effort,  questions abound about the seriousness of the Oatleys' Hamilton Island Yacht Club Challenge for the 35th America's Cup.  It's early days, but given the wine baron's age and net worth and the luxury resort's need for marketing, they seem like the real deal.  Judge for yourself after 20 minutes with Sandy and Bob Oatley in this ABC-recorded press conference.
October 5th, 2013 by admin