Posts Tagged 'Melges 20'
big pimpin'
We'd like to welcome our friends at Melges back for another year of pimpin', and the timing couldn't be better; there's all sorts of exciting fall/winter action going on across the Melges fleets, and we're going to help highlight just how fun and accessible it can be.  Here's some news from the M32 fleet in Florida, and watch for a feature from Jaime Torres soon on the M32 Caribbean Fleet.  For everything Melges, check their site.
With a fleet and sailors diverse as the nightlife on Ocean Avenue, the Melges 32 Gold Cup kicks off in just two weeks, featuring 18 ultra-high performance Melges 32 teams from 9 different countries.
This "Florida Classic" will decide not only the new Gold Cup titleholder; it will serve as the final notice for teams looking to challenge for the ultimate goal: the Melges 32 World Title. Louisiana skipper Chris Wientjes (Stormvogel, Metairie, LA) can't wait for it all to begin. "The Melges 32 Class always brings great talent to its events, but there's no doubt these two will bring some of the best sailors in the world to Miami," he said. "We're really looking forward to testing ourselves in both the Gold Cup and Worlds."
It may have started as a low-key tune-up regatta in the Melges 32's fledgling days in 2006, but the Gold Cup has emerged as the longest-standing Melges 32 regatta on the annual calendar. Regularly featuring more than 20 teams – from the highest-level international two-boat programs to more modest but still ultra-competitive local and Caribbean teams – winning the Gold Cup has historically required great boat speed and teamwork along with a strong understanding of tricky autumn breezes and meandering Gulf Stream current and waves.
2012 World Championship runner-Up Alec Cutler (Hedgehog, Bermuda) recognizes the balancing act between sailing hard at the Gold Cup without tipping his hand for the upcoming Worlds a month later. "Gold Cup may be a Worlds tune up, but it is also a coveted trophy for our team," said Cutler. "Our goal is to hold off from some of the big decisions until after Gold Cup while racing hard, having a good time, and learning the venue."
October 27th, 2014 by admin
We are frequently frustrated by the low-quality videos put out by ostensibly 'world-class' organizations (see the link in the BBS BS story below for a great example), so when someone does it 'just right', we notice.  And that's what this is – a short but intense look at the people of the Melges 20 Class from their recent Lake Garda Worlds.  Doesn't it make you want some?
September 15th, 2014 by admin
The final race for the second Melges 20 World Championship went off during Garda's crisp, beautiful northerly morning wind with John Kilroy, Paul Goodison, and Jeff Reynolds taking the easy bullet and the title; after winning M32 Worlds in San Francisco a couple years ago, Kilroy now owns two Melges Worlds titles in the builder's only two amateur owner/driver classes…we can only imagine what's next in the owner/driver bucket list for JK.  Meanwhile, four nations in the top four spots is a great indicator of this classs's international strength, though the Italians can't like being smacked down on their home turf.  Hey – there's always next year!  Watch the full awards show here, and scroll down on the Livestream Page to check out the racing as it happened; apparently (at least from their numbers), they forgot to tell anyone they were live streaming the racing.  There's also an 11-minute video over here from the Riva Sailing Club, but we haven't watched it because our attention span is max 4 minutes.
Above is another fab Stefano Gattini shot – the galleries from this event have been some of the most beautiful we've ever seen, so check them out here.  Thanks to Melges Europe and Studio Borlenghi for the exclusive coverage this week;  According to the sailors we spoke to, "This is how a World Championship should always be."
August 30th, 2014 by admin
With six races down and one throwout already counted, John Kilroy along with pro trimmer Jeff Reynolds and UK Olympic golden boy Paul Goodison is walking away with the second-ever Audi Melges 20 World title.  Meanwhile, Monaco's Guido Miani won the breezy day yesterday with a 1,3,1 and sits tied with Italian standout Fremita D'Arja, both 14 points behind Kilroy.  The Kilroy nipper continues to excel, though he's dropped back to sixth, while Aussie gold medalist Mal Page has helped young Achille Onorato climb back up to fourth…three more days of action ahead and get over to Facebook to watch it all unfold.  Yesterday's photo gallery is here.
August 29th, 2014 by admin
Big Pimpin'
We welcome our friends from the Melges 20 Class back to Sailing Anarchy, stepping up to make sure the biggest community of sailing freaks anywhere has complete coverage of one of the summer's most exciting regattas; it's the Melges 20 World Championship in the most exciting sailing town anywhere: Riva Del Garda in mountainous Trentino.  This piece of sailing paradise at the north end of the famous lake is loaded with big breeze, awesome views, and some of the best food in the region, and if you've ever been here, you know why 57 boats from 10 countries are on the entry list: Because it's Garda.  Those who haven't need to revise their bucket list, because for small boat racing, there is nowhere else like it.
Just under 60 boats are making the trip, including some great unfolding stories: Father against a very young son in the Samba Pa Ti boats, John Taylor trying to defend his title in a massively tough fleet, the young Onorato looking to see his name up in lights, the burgeoning Russians on Synergy due for a big win, and a strong US fleet up against the best that Italy can offer – on their home turf.
We think Taylor will have his work cut out for him, though we think a US Team is likely to take this one…but considering the ridiculous level of Olympic/Cup/World Champ talent spread throughout the owner/driver fleet, there are probably ten boats that could take the trophy.  Thumb through the crew list to see what we're talking about.  we're not going to list them here, but a quick look through the crew list will tell you what you need to know.
Racing begins Wednesday, and we'll preview the fleet that morning.  The best place for our exclusive reports is right here on the Front Page, while the daily action will unfold on the M20 Facebook Page here.  Zerogradinord photo.
August 25th, 2014 by admin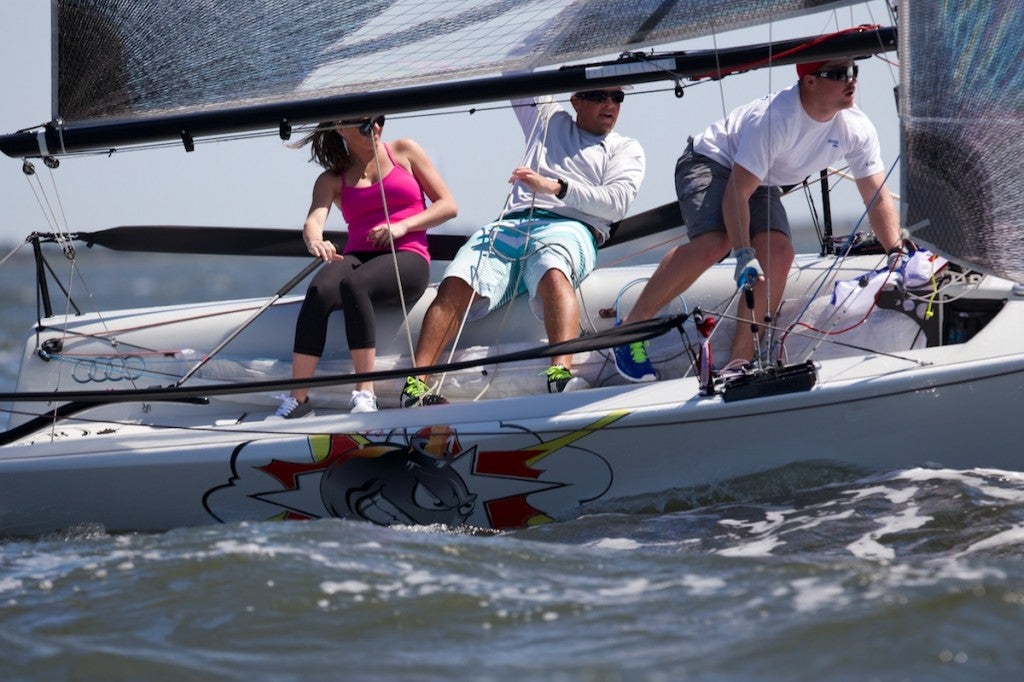 This week's Sailor Chick of the Week was a no-brainer; 23-year old Grace Lucas is smart, sassy, fast as hell, and just helmed her way to fourth place in an extremely competitive Charleston Melges 20 fleet, losing the podium spot she'd held through 6 races after a last-leg charge from Michael Kiss's Bacio.  Grace is finishing her college career this year after 3 years on the CofC sailing team; here's hoping she doesn't get so sucked up in the employment world that she gives up sailing.  Get to know Grace more in two interviews our own Mr. Clean did with the young NJ native, and enjoy tactician and Melges fixture Sam Rogers' new nickname.
April 14th, 2014 by admin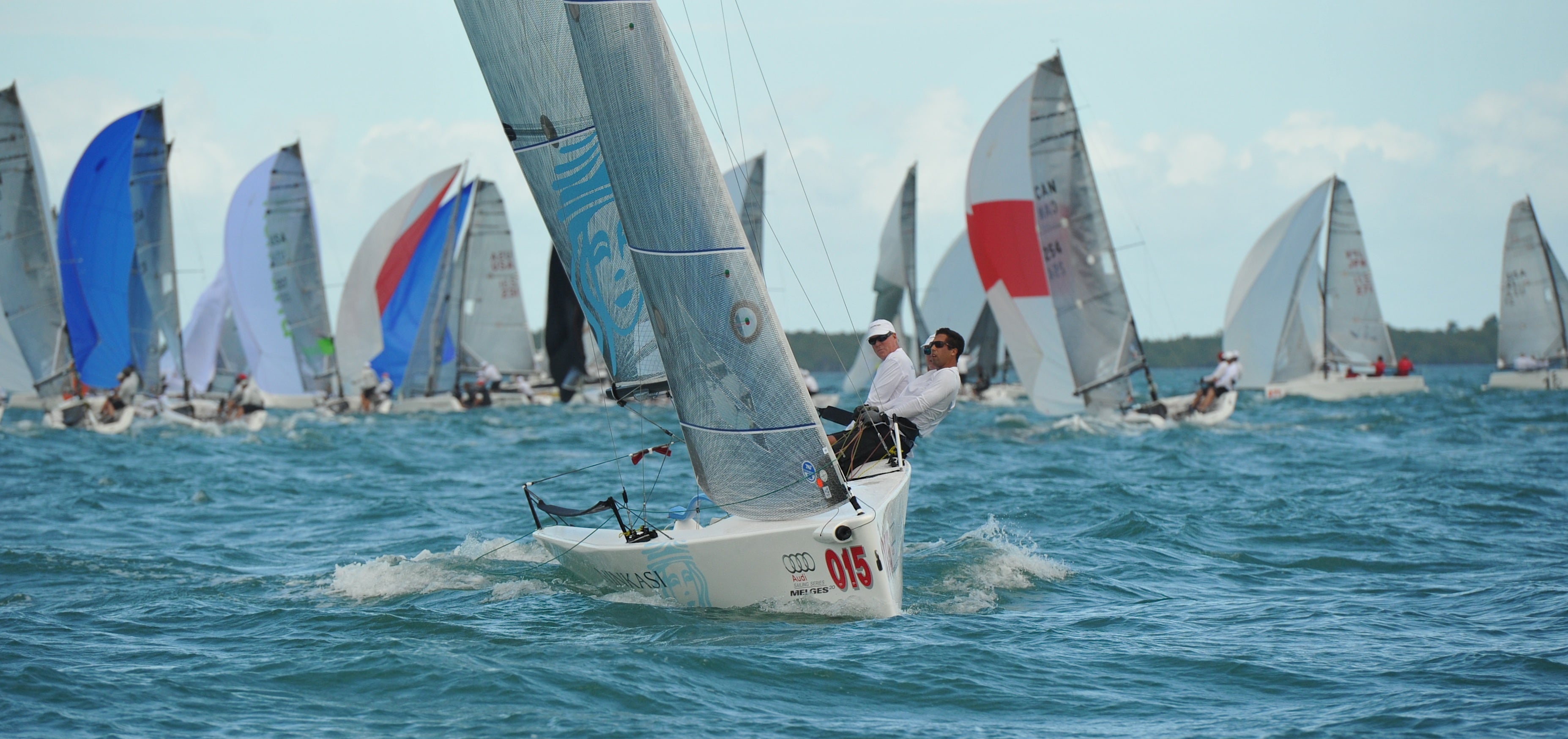 Sailing Anarchy's undeniable awesomeness has little to do with its outspoken editors and their opinions; we are the world's biggest and best thanks to the opinions and contributions of thousands of sailors over the years.  Whether you're a top professional, industry insider, or someone sailing your first major regatta, we want to hear your reports – and so do thousands of Sailing Anarchy readers all over the world.  
That's what top Midwestern pro Sam "'Sheed" Rogers did when he read our somewhat critical report on the Melges 20 Worlds "It's All In A Name" the other day.  While many Melges 20 owners have responded with gratitude for our sharing their view, Sam disagreed, and instead of whining and bitching, he did what everyone should when they disagree with us; he wrote his own report on the event.  Enjoy it, and thanks to Steve Bernstein and Joy Dunigan for the photos.
Originally a Key Largo fishing camp in the 1960s, the Ocean Reef Club developed into one of the most desirable communities in the country over the past decade plus.  Home to 3 unreal golf courses, a private airstrip and the highest density of sexy sportfish and center console power boats you'll ever see, it's a fully self-contained community complete with movie theatre, medical clinic, fishing village, palm-lined trees, pools, and tennis courts.  It's not hard to see why so many 1%ers choose Ocean Reef for their home away from home.

Rarely known for sailing, the Reef played host to the 2005 M24 Worlds.  With 99 boats on the line in incredible conditions, it went down in many people's books as one of the greatest World Championships ever held in any class. Fast forward to 2013 when the Audi Melges 20 Class looked to make an impression with its first-ever World Championship while breaking the routine of racing in Biscayne Bay.  The Class picked the venue for its ideal sailing conditions as well as its family-friendly nature; exactly what many Audi Melges 20 owners and sailors were looking for in a one-of-a-kind regatta experience.

As Sailing Anarchy noted last week, the Reef is a luxury community.  Ferraris and Lamborghinis grace the driveways and Gulfstreams take off from the airstrip.  But despite the exclusive appearance, a little work found affordable housing options, and if you paired up with another team and hired a cook, you could house 8-10 people for under 800$/night in a beautiful home complete with sweet golf cart.  Unlike a hotel, the house/condo option meant a better environment for debriefs, dinner parties, and the kind of late-night partying you might expect when a couple hundred sailors take over a neighborhood.
As for the racing – no one could dispute the quality or amount we saw in a spectacular week. Each day brought a slightly different direction and condition, with more than half the races sailed in 15-20 knots in water the color of Blue-Raz Gatorade.  25 teams showed up with a legit chance to win the whole thing, and if you were fortunate enough to round the first windward mark in the top 10 and break out in the lead group, the racing was quite civilized. If you rounded outside the top ten, you were given a not-so-friendly welcome to the Peloton, and once in the Peloton, it was a full-on street fight with any hiccup to your speed or boathandling instantly costing you boats, and sometimes dozens of them.  The margin from 15th to 40th was always one bad tack away, and posting a 20th has never been so exhausting. PRO Bruce Gollison and his legion of loyal volunteers from Coconut Grove Sailing Club did an amazing job banging off 10 high quality races with no drama.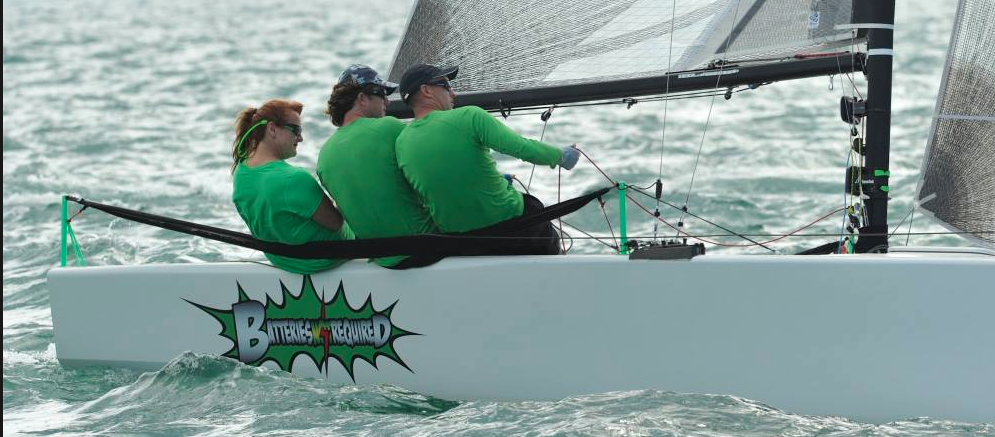 There was no shortage of feel good stories from this Melges 20 Worlds, starting with John Taylor and his team on Ninkasi Racing. Having won races but never a regatta in his long sailing career, John picked a great time to get hot and put the fleet in a sleeper hold to take the title. Then there is the Eagan family who is one of the more bad-ass sailing families in the country, not only did they take the Corinithian title by a whopping 250 points, but they finished 2nd overall and made Ninkasi work for it in the last race. And my personal favorite, Rhonda Joyce was all smiles (as she usually is) for completing her goal of finishing in the 20s. Rhonda has been busting her ass trying to improve in this tough fleet, and not only did she nail her goal, but she was the top Canadian boat giving her some solid bragging rights to take back to Port Credit. And with an eye to the sky and the past, the fleet was left guessing at what departed Big Booty owner Pat Eudy would have had in store for this event.

For the Audi Melges 20 sailors that made the commitment to attend the first World Championship, the event was an undeniable success which left both Ocean Reef and the sailors wondering when we can come back and do it all over again. From top to bottom, the event had a special feel to it which is all you can hope for when you attend a Worlds; it's an annual event that cannot be just another 'average' regatta. Originally wary of hosting another group of sailors after a rowdy closing night in 2005, Ocean Reef members rolled out the red carpet, opened up their homes and waterfronts to allow sailors to keep their boats and set up shop for the week, even going so far as to deliver homemade chocolate chip cookies to sailors post racing.
Naturally there are some outsiders who wanted this event to fail, or even went so far as to label one of the greatest regatta venues as "silly" which could not be more off the mark. As for the complaints of the lack of media and publication, it's true that it is crucial to promote the Class and the sport, but for the racers all that really matters is the sailing.  And for 4 days and 10 races, Audi Melges 20 sailors were treated to some of the best racing conditions that can be found anywhere. It would be great to see more Corinthian teams get involved, and for any sailor looking for a challenge and to rub elbows with the world's best sailors on the starting line, the Audi Melges 20 Class is it.

Those who experienced Audi Melges 20 Worlds first-hand can walk away proudly saying they were a part of the Ocean Reef Worlds. With two more iconic venues on tap for World Championships in coming years (Lake Garda 2014, San Francisco 2015), the Melges 20 fleet is primed for some solid years ahead, and strong consideration as the most challenging and rewarding  amateur owner/driver One Design fleet in the world.
 
Huge thanks to the Ocean Reef Club, Card Sound Sailing Club, and the Race Committee for an unforgettable event.
December 16th, 2013 by admin
Along with Quantum pros Scott Nixon and John Bowden, Virginia's Travis Weisleder and his Lucky Dog/Gill Racing team are showing their name ain't a fluke, crushing the fleet at the first-ever Audi Melges 20 World Championship in Key Largo, FL by some 30 points over second place (and first-time Melges 20 racer) Jason Michas.  It's not like Travis is some kind of hack; the Collegiate All-American (Charleston) and long-time Melges 24 racer has won plenty in his day, but he's never been close to winning a World Championship, and at the moment, with the only non-double digit scoreline in the 52-boat fleet, it's his to lose.
With one of the most insanely pro'd up fleets ever assembled at a non-Olympic event, you'd think the amateurs would love to show up to play, and with probably a dozen past America's Cuppers and more Olympic and Volvo sailors than you can shake a stick at, you'd really expect the sailing publications to send their 'ace' reporters down.  And with an inexpensive boat to move and store, you'd think the Corinthians would come down en masse to pit themselves against the best of the best.  And like any Worlds in almost any class (especially a high-profile one like the M20), you'd expect good video coverage, a website, and some top pro photographers shooting the event.
But none of that happened.  There's really no 'B' fleet at all like you'd see at almost any other Worlds.  In fact there are only 6 "Corinthian" teams with no pros at all – that's just 11% of the fleet (though one of them – Marcus Eagan's Cajun Underwriting - is showing that a great amateur driver with great amateur crew can beat the crap out of most average amateur drivers with rock star crew).  There's no video, no website, and no ace pro photographers.  In fact, other than Clean and Mer showing up for a day of coverage (check out some mark rounding videos from yesterday on our Facebook Page) there is not a single reporter from any sailing publication covering the regatta; they are at home posting press releases and low-res photo galleries.
There's a very simple explanation for this bizarre state of affairs; the 2013 Worlds venue is one of the silliest places ever to hold a World Championship.  It's at the ultra-exclusive Ocean Reef Club, a place where folks don't usually go without an Amex Black Card, an AARP membership, and a golf bag.  There are literally no low-cost options for housing or food within 30 minutes' drive – not a single one – and the resort, one of the world's biggest master-planned communities, has only one hotel, and you can buy a new set of sails for the cost of a week's stay.  Just a handful of the teams are staying offsite on the cheap, and it is quite literally an hour's commute to get back to the boat each morning.    Add the $1800 entry fee to the food, lodging, and transport costs, and it becomes clear why there are just 52 boats competing, and you see why a couple of pro's day rates is just a drop in the bucket – hence the 11% amateur fleet.
The Melges 24 fleet in the US has never really recovered from hosting their 2005 Worlds at the same resort; the 99 boat-starting line is still the biggest non-European Worlds in that class's history.  Our advice to other classes?  Take this one off your list. They don't want you there, and most of your members don't want to go.
But it does accomplish something interesting for us spectators; we get to see a fleet of the best sailors ever assembled for a sport boat regatta.  And we get to watch an old friend and one of the first Anarchists on the cusp of winning his first-ever Worlds.   You can sort-of follow along too; the penultimate day of racing starts now, and you can follow along on the  Audi Melges 20 Facebook Page. 
Meredith Block photo.
December 13th, 2013 by admin
The first-ever Melges 20 Worlds gets underway in just 3 months down in the Florida Keys.  36 are registered, 50+ are likely, with Samba Pa Ti, Mascalzone Junior, Bacio, and Stig the favorites.  Check out this little promo video and tell us again:  Will you be there?  If so, register!
September 4th, 2013 by admin
Michael Kiss/Chris Rast/Wille McBride horizon-jobbed the Melges 20 fleet on the final race to win the European Champs today; here's a beautiful shot of the Porto Rotondo venue from new Studio Borlenghi acolyte Andrea Pisapia with a gallery here.  Full results here.
September 1st, 2013 by admin
With the C-Class stuff, some great scow films this year, and the upcoming E-Scow Nationals, Penalty Box Productions' Petey Crawford is on a roll lately, and this 5-minute 'story of the M20 Nationals' is kickass from beginning to end.  It gets you charged up, laughing, and makes you feel as though you were there; something precious few of the dozens of sailing reels we review weekly do.  Check it out, and congrats again to the Audi Melges 20 Masters (and overall US) Champion John Kilroy!  And if you think your club members' kid with the nice HD camcorder and a pirated version of Final Cut is going to do your next national-level event proud, think again…and then give Petey a shout.
And don't forget; the Melges 20 Euros begin today in the rebuilt YC Porto Rotondo; we can't find more website than this useless thing, but Facebook should have some action.
August 28th, 2013 by admin
California's John Kilroy is a good example of where sailing is going in the USA, even for the guys that can afford to play on any level.  From Maxis in the 90s and TP52s in the 2000s, Kilroy moved into the Melges 32 (and won the 33-boat Worlds last year), and last year, joined the Melges 20 Class.   Like pretty much everyone who gets a taste, Kilroy has become a freak for one-design, and the smaller the boat, the bigger the victory for each player.
As the top of the M20 Class gets rolling on schedule to peak at the Class's first-ever Worlds in December in the Florida Keys, Kilroy, along with tactician Jeremy "Troll" Wilmot and trimmer Jeff Reynolds, came from an overnight fourth-place to snake a come-from-behind victory from a deep field, winning the 2013 US National Championship in Macatawa Bay, MI.  It was the first time in the four year-history of the Class that a Michigander didn't win the US Nationals; Eric Wynsma (Superfly)  in 2009 and Class standout Michael Kiss (Bacio) every year since, who both sail out of the gorgeous spot on the picturesque Eastern shore of Lake Michigan.  Kilroy also grabbed the 'Masters' trophy for best over-60 skipper, Toronto badass Brian Hill took the Corinthian title, while 21-year old Morgan Kiss sailed daddy's old boat to a 13th place and top female skipper and under-25 skipper.
Petey Crawford will be dropping a sexy highlight reel late tonight for your viewing pleasure; in the meantime, check out more Meredith Block photos like the one above at the Facebook Page or the Event site.  All the racing action – well, most anyway – was reported in old-school OTWA style by our own Mr. Clean on the Class FB page as well, and the next few months should feature plenty of action there for the hottest amateur owner/driver 20 footer on the market – so stay tuned.
August 27th, 2013 by admin
Petey Crawford's tribute to Big Booty owner Pat Eudy premiered last night before the Melges 20 Nationals fleet, and there weren't a lot of dry eyes once it was over. Here it is.
August 25th, 2013 by admin
The first On-The-Water Anarchy 'Cocktail Hour' in some time, Mr. Clean pulled a group of Melges 20 pros, amateurs, and owners together for a half hour of tuning tips and discussion of where the sexy sportboat class is headed. Jeremy Wilmot, Morgan Kiss, Cameron Dunn, Rob Wilber, Brian Hill, and Paul Goodison feature in this Ustream video from the Melges 20 US Nationals. With three races down and two days left, Michael Kiss (Bacio) leads first-time M20′er and former gubernatorial candidate Dick DeVos…daily report here and photo galleries here and here.
Follow the action live throughout the day with Clean and Mer on the Melges 20 Facebook page.  And be sure to check in late Saturday night for the world premiere of the Class's video tribute to recently passed M20 racer Pat Eudy; Keep your Kleenex nearby.
August 24th, 2013 by admin
26 boats are on the line in Macatawa, Michigan for the US Nationals as the Melges 20 Class begins the build toward their first-ever World Championship this December in the Florida Keys.  The world's top sailors dot some boats while low-key family programs fill others; a nice mix for a sexy boat that's now an International Class at a club that looks more Lake Garda than Lake Michigan for this well-branded Audi event.
Mer, Clean, and Petey are bringing their 'lite' OTWA program to the Melges 20 Facebook page; They'll have photos, videos, and written updates, and a live-streaming program including tonight's Opening Ceremony, an hour-long  'chalk talk' with M20 owners, crew, and pros on Friday, and Sunday's awards.  Like the FB page for the most frequent updates; if all you want is live video, follow the Melges 20 Ustream page here.  Meredith Block photo.
August 22nd, 2013 by admin
Here's an idea for the next time there's not enough wind to go Melges 20 sailing:  Throw a great big party and get high — jet-powered high!  Thanks to M20 and GL70 owner Lance Smotherman for a great party in Harrison Township, MI, and kudos to long time Bayview sailor Adam Hollerbach for pulling off the flight on his first try.  Meredith Block iPhoto.  Melges 20 Nationals will be on the other end of the Great Lake State August 23-25 in beautiful Holland, MI.
July 8th, 2013 by admin