Posts Tagged 'melbourne'
Our VOR coverage brought to you by Musto, Official Clothing Supplier of the Volvo Ocean Race.
We were all set to show you some live streaming action from the Melbourne start of Leg 4 of the Volvo Ocean Race, but then we turned it on and heard the phony-sounding newsvoice coming from the former Bermuda AC commentator and we had to shut it off.  VOR's selection of tired media staff rather than their usual innovative choices is perhaps emblematic of a Melbourne stopover widely reviewed as a 'non-event' and something of an embarrassment by local attendees.
Head to the thread for links to the live coverage and the latest info from the world's toughest round-the-worlder, and enjoy this video breakdown above of the next leg from Turning The Tide Leg 4 guest/rockstar navigator Brian Thompson, who joins an illustrious list of crew replacements including VOR winner Franck Cammas (DFRT), former Mini standout and Sailor Chick of the Week Cecile Laguette (BRU), American 1-2 punch Sally Barkow and Rome Kirby (BRU) and Aussie icon Grant Wharrington (SCAL) for the long, historic, MELB to Hong Kong course.
Title shout because, ya know, headbanging.
January 1st, 2018 by admin
It took Stephane LeDiraison nearly two weeks of jury-rig motor sailing – including a seaborne refueling – to get to Melbourne Australia after his dismasting, and SA'er Andy Roche was part of a group of local marine-response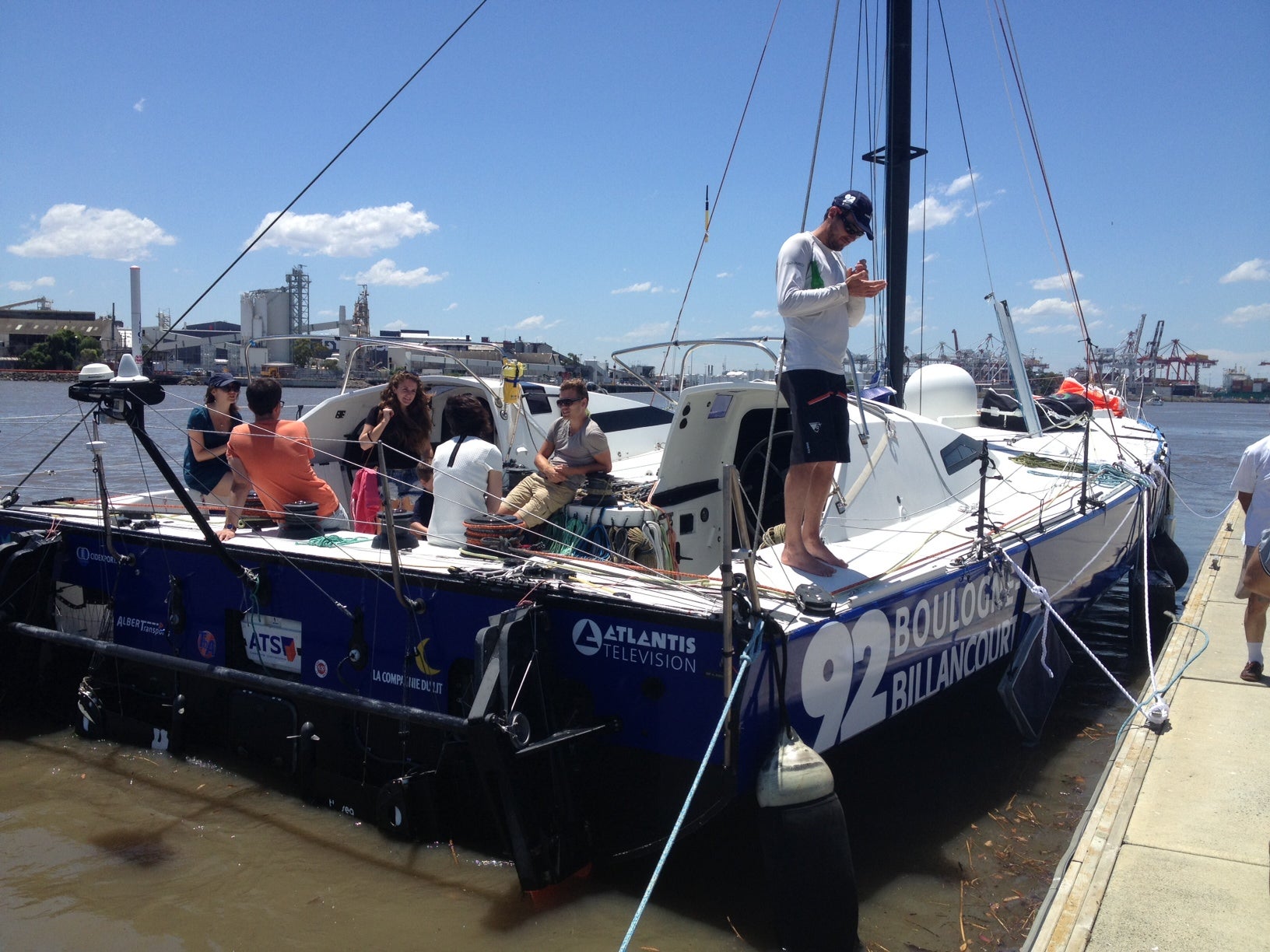 firefighters who went out to greet Boulogne-Billancourte on her arrival.  Big props to Andy for the snaps, and for the Melbourne community of both French-speakers and Aussie sailors for offering assistance and such a warm welcome for the Breton.
In other news, this Vendee Globe's constant source of jokes, tea, whisky, and Irish folks songs dropped his rig on New Year's Day about 200 miles SE of New Zealand; Enda O'Coineen will retire from his 15th place position and head for Dunedin to regroup.  Discuss it all in the thread.
January 2nd, 2017 by admin
After missing his hoped-for launch date by a few months, Andrew "AMAC" McDougall's long-awaited 'people's foiler' is finally wet!  This pic posted by SA'er "Phil S" shows the shroudless, stayless, wishbone-boomed foiler that Amac's been working on for five years, shot recently near Mach 2 HQ in Melbourne, Oz.
Will the Waszp change the sailing world the way the Laser or Hobie 14 did, or will it be just another fun, fast toy for the privileged few to jump into on their way to the faster, more expensive Mach 2 and its successors?  Listen to the man himself back in January, and decide for yourself.
We'll know more soon, and if you follow the thread, you can too.
June 17th, 2015 by admin
This one came in from longtime anarchist and President of the Victoria Moth Class Richard Jackson.  Nice one, Jacko – learn more about this excellent charity here.
I am writing you this short email to share something really cool with your readers. I was moth sailing off my home club at Mount Martha on Port Phillip Bay when a saw a massive fleet of kites coming down the bay. I went out a long way to make sure my eyes weren't deceiving me and got in amongst 100+ kite boarders flying down from Rosebud to Port Melbourne! It was truly one of the coolest things I've ever done on a boat.  I went with them until the beach I left from was almost a speck on the shore and decided the wife won't want a call from Melbourne telling her to come get me.
When I got home, I found the Across The Bay For Cancer page [which is loaded with great pics and reports -ed] and saw this video; it's amazingly compelling, a great cause, and the group is really accomplishing something special.  I hope to great a moth fleet to involved next year, but in the meantime, enjoy the video.
February 13th, 2015 by admin
Details are sketchy, but Queensland Police have reported that a 23-year old Black Mountain man died today after his race boat capsized.  UPDATE FROM BRISBANE 18 FOOTERS:
It is with great sadness that we have to report the passing of one of our sailors during yesterday's racing.
David "Casper" Hansa was crewing onboard Team Pendeo yesterday.  Despite the best efforts of the Team Pendeo crew, our rescue boats and the Coast Guard, David was unable to be revived.
For all the people who knew him as "Casper" he was the most enthusiastic blokes that wanted to sail on an 18.  When he couldn't get a crew position, he was often down at the Club having travelled from the Sunshine Coast to assist on the start boat or rescue boat, and was wrapped about the whole 18 thing.
Club officials and crews have been assisting authorities with investigations, and our Commodore Bruce met David's family this morning to pass on condolences on behalf of all Club members.
Counselling is being arranged for the crews involved in the rescue attempt yesterday through the Yachting Queensland consultation psychologist.  If anyone else requires assistance seeking counselling, please contact the Club at [email protected]
We will pass on details of the funeral once we have been advised.
Our thoughts and prayers are with David's family in this tragic time.
Ours too, mate.  Ours too.
November 9th, 2013 by admin
From an Aussie Anarchist, clearly a little overwhelmed at the excitement of a foiling Australian America's Cup team…
We are on the trail of something big here at Sandy. With the approaching summer season rapidly coming at us here in Melbourne, we believe testing with the new J24 foiler has been going on over the winter. The skipper is reported as saying that they have been able to get the boat foiling once they get surfing on a wave and can sometimes keep it on the foils long enough to get onto the next wave and doing that they have been able to actually skip forward, overtaking the wave crests.
'The AC is safe for the moment' is the joke going about down on the hardstand but there are some very serious faces around this project where the foils remain covered away in a padlocked cover to keep prying eyes out (shades of Ben Lexcen). The skipper went on to say that "where we have made real gains though, is reaching, traditionally the J has been a very poor reaching boat due to it's short waterline length, now we are blasting along like a skiff". Apparently the lead in the keel keeps the boat much steadier than a foiling moth or Laser when it is up on the foils. The normal righting moment of the  lead keel would tend to confirm this. Tests continue on foiling upwind which although reported has not been verified by anyone reliable yet. The only picture released so far is a rather poor quality shot showing the boat up on its foils whilst surfing a wave off Sandringham YC. We note that the name has been airbrushed off the hull to mask that actual test boat and the sail number has been blocked out. More when we can break through the security surrounding this amazing breakthrough.
October 8th, 2013 by admin