Posts Tagged 'media'
Clean Report
For the longest time, I was boycotting the America's Cup.  Despite Bermuda's proximity to the US and kind invitations for us from a number of teams and sponsors, I didn't want to lend any legitimacy to a venue that, in my opinion, represented a betrayal to America and all those fans who'd supported Ellison in Oracle's huge legal and then design battle against Ernesto Bertarelli's Alinghi team.  If you're balls deep in the Cup like we are, you'll remember that SA was extremely hard on Bertarelli for his proposed changes to the AC, which we saw as sabotage of the history and legacy of the AC.  So hard, in fact, that we became embedded inside Oracle Team in Valencia, running daily talk shows from their base and helping in the effort to demoralize Alinghi. And when asked why Larry Ellison's plan was any different than the "Ernievision" plan for the Cup, my answer was simple and became rote: "If he shows that he's not, we'll be just as hard on him as we were on Ernesto."
I missed the incredible excitement of San Francisco in 2013 thanks to a conflict with the Little America's Cup, which my small crew streamed live from Falmouth, England during the day before watching the AC matches late in the night with the entire C-Class fleet – all at the club where Ben Ainslie learned to sail.  While a great experience – and still the coolest boats ever – I'll never forgive myself for not being on the ground during the most fascinating and compelling competition in yachting history.
A year later, when Ellison removed the Cup competition from the USA and still later when the so-called 'Framework' was signed by all the teams but one, we realized that Larry – or henchman Russell Coutts –  in fact had quite similar ideas to Bertarelli: Profit to come from shopping the venue out to gullible governments, and sponsor VIP fulfillment thanks to an annual perpetual league of racing.  Neither idea is a bad idea, but neither idea comes close to the Deed's intent, and neither idea is the America's Cup.
Fast forward to just before the LV Qualifiers last month; I was riveted to my computer and the SA forums watching incredible racing in the kind of boats that SA has been begging for since something like 2005.  Finally, there really was something in sailing that captures some of what I love about Formula 1, and I wasn't there!  With no decision made, I sent a little feeler e-mail out to the AC folks via their Media Accreditation Application.  I made it clear I wasn't looking for Media Center access, didn't need a Media Boat, and wasn't interested in parties, accommodations, press kits, swag bags, or any of the other bullshit that most events use to try to convince reporters to be nice.  In fact, I didn't need anything at all other than attendance at the press conferences.
Imagine my surprise when I received this e-mail, even before deciding whether to head over to the island.
Dear Alan Block,

Thank you for your media accreditation request for the 35th America's Cup in Bermuda.

Your accreditation request has been received and considered. Unfortunately it has not been accepted which means you will not be issued with a media pass and access to the 35th America's Cup Media Centre.

Please be aware that entry to the public facilities at the 35th America's Cup does not require a media accreditation pass. Our website, www.americascup.com/tickets will provide you with all information regarding the range of ticket packages that are available.

Yours sincerely,

Daniel Ferrando, Media Centre Manager
Immediately after the shock wore off from what is my first-ever media accreditation denial, I booked my ticket to Bermuda.
Next, I set about trying to figure out how a modern sporting event, sponsored to the tune of $77M by an island nation – one that relies nearly entirely on American tourism – could reject the single most-read publisher of sailing content in America.  The handwriting was on the wall already as far as the commercial success of the event; the interest among Americans was at an all-time low, the early ratings on MSNBCSN were dismal, and the event must be desperate for american eyeballs.  And yet even after sending over proof of the million-plus American readers of this site, I got another rejection – this time, after the thing had been kicked uphill to their Comms Director.
Dear Alan,

Your email below has been forwarded to me so I can reply.

We judge each application for media accreditation to the 35th America's Cup on its own merits, bearing in mind the resources we have available in the Media Centre.

As with various others, we have decided to exercise our right to decline your application. 

Sincerely,

Tom Webb
In the media world, that's called a non-answer, and I correctly guessed that Tom Webb – a real media professional whose worked with much tougher reporters than me in his F1 days – had nothing to do at all with this decision. I wrote back:
Thanks for the personal response Tom. Can you please explain what those criteria are, and whether or not non-accredited individuals are permitted in the press conferences?  To be frank I couldn't care less about the media center, media boats, or any other trappings of entitled reporters. I do however know that our readers want to have their questions represented…
By this point, I knew that nothing I wrote would change things, because this was personal.  I had pissed off Sir Russell, and this was his revenge.  Petty? Maybe.  Showing a total lack of the most basic understanding of the media and concern for the event's sponsor?  Absolutely.  The expected response showed up shortly thereafter:
Hi Alan,

Non-accredited personnel are not allowed in the press conferences.

Tom
I let it end there – the last thing I'd ever do is beg the America's Cup for accreditation, preferring to use my anger to fight back in the best way I know – by reporting on it.
I remain hopeful that it was really all just a minor screwup and that I'll get an invitation to this afternoon's presser, but you won't find me holding my breath!
Keep watching this page for more AC coverage until the end.
June 24th, 2017 by admin
The SA Innerview
Over the past couple of years, the incredible videographers and creatives at Waterlust have set the bar incredibly high for the ultimate in waterborne sports video, and there are few brands stronger than theirs.  They continue to grow in many ways, and tomorrow we'll release a brand new video that really shows what they're all about.  We took the chance to grab founder Patrick Rynne to answer a few burning questions we have about Waterlust in this SA Innerview.  Go over and sign up for their newsletter now so you never miss another lusty adventure.
SA: Can you explain how Waterlust actually evolved? In other words, how did you go from being a science student to creating the most recognizable brand in nautical filmmaking?
PR: It really started with that first Kite vs. Moth video we did back in 2010. Kite racing had just started to get popular and we were all curious how it would stack up against other high performance classes on a simple windward leeward course. I somehow drew the short straw of being in charge of logistics and filming, but through it, I discovered a love of filmmaking that I never knew I had. I was a grad student at the time working on my PhD, and realized that many of my sailing friends had the same passion for the ocean as my science friends. Film is a great way to capture those mutual feelings, and I thought it would be fun to make videos that did that. For the rest of my PhD I spent every spare minute I had making films about things I thought were interesting. Every time I made a new one, I tried to make it better than the last. I still feel that way.
SA: How did you see the existing video landscape for sailing and other maritime adventure sports when you jumped in, and how has it changed since?
PR: For guys like me, who don't have any background in film or photography, I think the technology has really enabled creativity. Without simple point and shoot cameras like GoPros and iPhones, I probably would never have gotten into this. In my opinion, good equipment shouldn't get in the way of the experience. I chuckle when I see people using camera kits that cost more than a car to get a shot that you could get with a phone. It's sort of a double-edge sword in that sense. Technology is always changing and it's fun to be at the leading edge: 4K, 8K, spherical, drones, whatever the trend may be. But at the end of the day, you still need to craft a story that has a nice beginning, middle and end. No fancy gear will make that process any easier.
Lower cost and easier to operate gear has made "wet" storytelling accessible to anybody. When you think about it, taking a camera in the water 10 years ago was pretty risky. Nobody had waterproof electronics besides the pros. It's been pretty rad to see a much broader scope of work being done in the maritime world now that equipment is cheaper. Everybody is shooting, from the weekend warrior to the professional. It's pretty amazing how quickly it changed!
SA: How do you fund Waterlust?  What's your business model going forward? Can events hire you, or would that interfere with your storytelling?
PR: For the first few years we had no funding, we just did it and sort of experimented with things. We always had a mission to inspire people and get them thinking about the environment, and we didn't want anything to interfere with that process until our identify was well defined. GoPro was our first major sponsorship, later came Sperry. We also have had lots of amazing equipment sponsors that support us with gear. It's really fun getting to meet like-minded people across different industries…that might be one of the best aspects of my job.
At the end of 2014 we decided to develop Waterlust into an apparel brand as part of a longer term strategy. Sponsorships are amazing, but they come and go. We want to keep doing this for as long as we can, and we needed a firmer business model. Fiona's sister was working as a designer up in NYC and we convinced her to pack up and move to Miami and lead our apparel team. Since then, it's been very exciting as we learn to make products that reflect our values. We refuse to rush the process and didn't want folks thinking that we were just slapping our logo on crap and selling it. We're taking our time and only releasing products that we're really proud of.
We don't do for-hire film or photography work because it gets in the way of telling an authentic story. We're not a production company. If somebody paid us a bunch of money to cover their event, it would be inherently biased. I'd feel pressure to make them happy. That isn't to say we won't cover events, we did a documentary on R2AK last year. It's just that we pick and choose what we cover based on what we find interesting. It's a bit of an unconventional approach, but it works for us.
SA: You nearly lost your girl in a very well-known wreck during your trip to Iceland – ironically, your RV turned into a kite, severely injuring Fiona.  What went through your mind when you were upside down in the air?  Did you consider dropping the whole thing and doing something 'safer'?
PR: The accident was definitely the most traumatic experience any of us have experienced. We had our entire team in the vehicle when it happened, so Waterlust almost got completely wiped out by a gust of wind. Pretty ironic when you think about it! I think at the time we were all thinking that it would just be a nuisance. Maybe we'd have to get the van towed and pick our gear out of the mud, but being killed or paralyzed never entered my mind. Even Fiona talks about being trapped under the car and not thinking it was going to end badly until it started crushing her. It's funny how you can feel invincible right up to the "oh shit" moment.
We had a lot of time after to reflect and think about whether or not to throttle back. Fiona has a Masters, I've got a PhD…there is plenty of other work we can do. But ultimately, we both feel like Waterlust is something special and that the juice is worth the squeeze. Now we're just a bit more cautious with safety and try to anticipate the curve balls better. We also decided not to travel much in 2016 while Fiona was healing…then we went to Siberia in March, so clearly that didn't last long.
SA: Will you cover the R2AK this year?
PR: Not this year, but we're stoked to be fans and stay glued to the tracker! It's such a cool race! I've got my money on Roger Mann, that guy is a beast!
SA: Lots of videographers struggle with creating narrative.  How do you do such a good job of it?  Is there a trick?
PR: Every project is different. I think as the producer you need to take a step back and decide what is the best method to tell the story. A narrator, interviews, text, music only? Once you figure out which method fits what you're shooting, then you need to figure out your storyline and define it clearly. If you're interviewing, you need to ask the right questions. If you're narrating, you need to find the right tone. If it's text, boil the words down to only those that are needed. My only trick would be that less is more. Only say what you need to say.
SA: You've shot mindblowing pieces on kiting, dinghy and offshore sail racing, iceboats, foilers, diving, river kayaking – just about everything.  What's your favorite to shoot, and why? To participate in?
PR: That's a really tough question! R2AK was pretty special because we got to have our own adventure in parallel with the racers and had no idea what to expect or really how to do it. It kept us on our toes 24 hours a day which was pretty exciting. In terms of sports, really anything that gets me in the water makes me happy. If I get to participate in the subject, that's even better. Nobody wants to be the cameraman off in the corner with a big lens missing all the fun.
SA: Can you give us a tease for what's ahead in 2016/7?
PR: We just got back from Siberia filming ice sailing. I got to try it and was pretty blown away. That video should come this fall. We've got a big expedition in July that involves building boats which is something I've always been drawn to. We're also doing a lot more work directly with Ocean Scientists which I think people will find super interesting. There are so many stories to tell! In terms of products, we'll be building on our legging line and moving into buffs, boardshorts, rash guards etc…fundamental gear you'd want for a day on the water. We've got some pretty exciting designs coming that we're stoked to unveil!
SA: Would you ever do a VOR as a media crew?
PR: I wouldn't say never, but it's definitely not on my radar. I don't have that dream coursing through my veins like the offshore folks. I think I'd lack the drive to do it and editing on a sailboat is miserable work. But who knows….but for sure the only way I'd do it is if Branning was navigating with Enright and Towill driving.
June 1st, 2016 by admin
As usual, we are half a year late, but at long last, the soon-to-be-world-famous Sailing Anarchy Podcast has begun!
Our first episode was the result of a late night flight to Boston, a trudge to the shores of Naragansett Bay (via the liquor store), and an decreasingly sober 3-hour conversation with the always interesting Chris Museler.
New York Times Sailing Correspondent Chris Museler has spent his life on the water, and he taps into his lifetime of racing, crewing, boat work, and his passion for the sea and for sailing every day of his life. A champion match racer, college sailor, and now foiling mothie, Museler's articles in 'The Grey Lady", seen by millions around the world, do as much to bridge the gap between the niche sport and the mainstream as any other person or program.
Chris and Clean talk about everything sailing: Current events (racing and tourism in Cuba, America's Cup craziness, moth and cat racing, the Vendee Globe); origin stories, mentoring the next generation of sailing, and much, much more.
We'll be publishing one new podcast every day until Sunday, and we hope to drop at least one a week after that.  Got any ideas for a podcast guest?  Let Clean know. And if you get your podcasts via iTunes or another app, sit tight for a few days while we get the necessary approvals from Apple.  A new day in Sailing has begun!
May 25th, 2016 by admin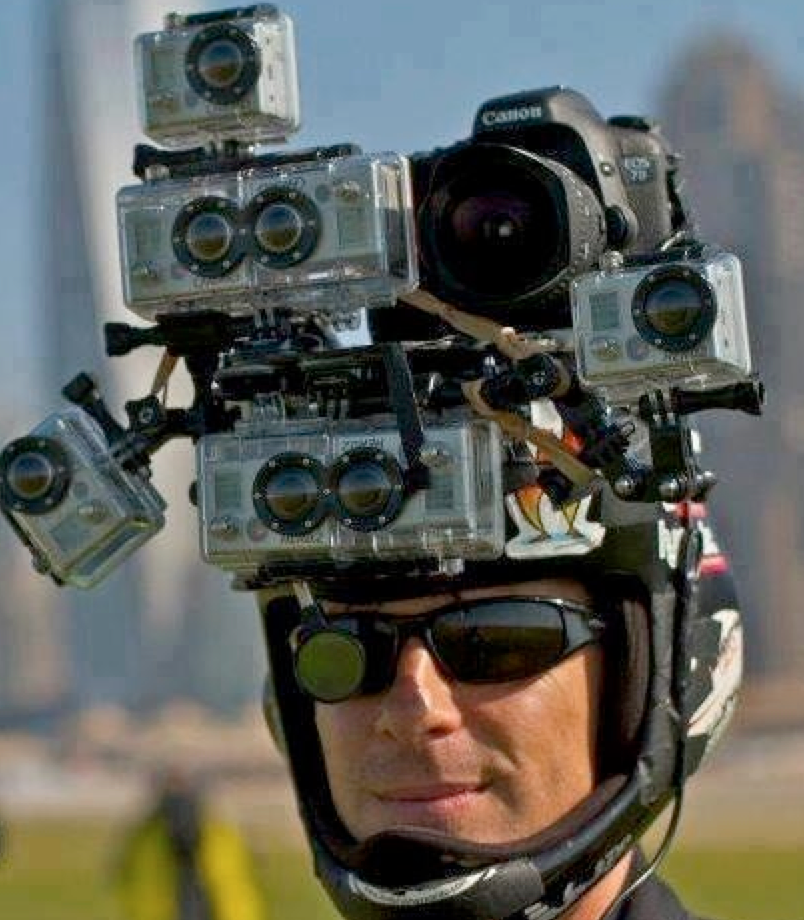 Thanks to our sport's inhospitable environment, high performance sailors were some of the earliest adopters of GoPro cameras.  The little clear box is ubiquitous on everything from optimists to round-the-world trimarans, and apparently that's the problem; everyone who wants a GoPro already has one.
After astronomic growth for its first few years, company sales dropped by 31% in 2015 and the stock is down almost 90% from its 2014 high.  Recent moves indicate GoPro thinks it grew its product line too quickly.
We think corporate arrogance and an unwillingness to move on from its familiar square form factor might be a better explanation for GoPro's woes, and if the new Karma drone fails to shock the world, the 'little camera company' is fully screwed.
Learn what GoPro's new strategy is to get its head out of its ass here.
February 26th, 2016 by admin
There were some grumblings from media pros early in 2015 when we suggested US Sailing or ISAF plan ahead and institute real drone regulations before something bad happened.  After all, it's a big ocean out there, right?  While the government jumped in to at least start things on a path to responsibility, the various nations' rules are a huge mess, and forward looking sporting organizations should already be acting on it.
As of a few days ago, skiing's governing body, the FIS, has absolutely banned drones from its World Cup events, with other levels likely to follow.  If you don't understand why, watch the incredible video above.  Then imagine you're at the top mark at a World Championship with the same thing happening on your foredeck.
We are absolutely in favor of drones being used to help show off sailing to the world.  No technical development will have a bigger impact on the sport since Algore invented the internet.  But drones and drone operators need to be tested, proven and insured under either a credible media organization or the event itself.  Anything else is asking for an expensive, embarrassing, and potentially harmful or fatal problem.  Don't believe us?  Watch that video again.
January 15th, 2016 by admin
 Never mind the sailor bans, protests, brinksmanship, or gamesmanship; the AC should really just ban the video production crew.  After some two years of Youtube streaming, they managed to completely fuck up the live YT feed for the entire second race of yesterday's Red Bull Youth AC action.  Literally the entire world lost their feed for the better part of an hour; the thousands who were watching drifted off in minutes, many of them likely never to return – though a few hundred stayed to bitch on Youtube's chat room (see left).
On a similar note, we're a bit surprised to see ACEA hasn't been able to convince a major sponsor like Red Bull and a major broadcast partner like ESPN to officially acknowledge that their companies have even the remotest connection to sailing.  Take a look at Red Bull's main website; they've spent millions on the Youth AC, but we dare you to find anything – anything at all – about sailing on their site.  Snowboarding, surfing, base jumping, skateboarding…the company can even feature crappy music reviews on its home page, but not a sailing shot, promo, or piece of sailing, anywhere.
ESPN isn't any better; unless you stumble across the AC in their whacked schedule, you'd never know ESPN was the international broadcast outlet for the Red Bull event, and a major partner for the AC itself.  We challenge you to check them out, and be sure to click on 'other sports' to see just how many stupid-ass games ESPN can mention without once putting a header up for 'sailing'.
We assume Red Bull and ESPN know what they are doing; ACEA clearly doesn't.  So why are they so silent on sailing?  Is it because no one is watching, and they don't want to waste a penny on promoting a loser?  Or is it yet another example of pathetic ACEA communications and promotional work; no squeaky wheel = no grease?
September 4th, 2013 by admin