Posts Tagged 'Matt Scharl'
A coiled-up fireball of enthusiasm and intensity and one of the smartest sailors you'll ever meet, Matt Scharl defies labels; the 43 year old commodities trader and math wiz is also a fitness freak and adventurer – and he looks about 20 years old.  Despite his financial acumen, Matt spends much of the months between June and October farming soybeans on his own acreage in the middle of Michigan.  The longtime shorthander has either won or broken a record for just about every singlehanded race in the Great Lakes, mostly on his neon-green former ride Gamera, an F-25C Corsair. He's also done well in the double handed Atlantic Cup, winning the last edition in a hard-fought battle and setting up his next big adventure – the Route Du Rhum.
With SA Favorite Mike Hennessey (Dragon) pulling his long-anticipated RdR plug after losing months due to his well-publicized prang of a well-known brick, just two American skippers are left to represent the USA in the world's most famous singlehanded transoceanic race, both in the Class 40.  Since one of them sounds French, we'll focus on Matt's attempt at the ultimate singlehanded glory outside the Vendee Globe.  He checked in with us a few hours ago from due East of Newfoundland; track Matt right here.
Picture the scene: Lying back on your Fatboy thinking about taking a nap, but it just won't come. Pan out a bit and you realize that you're on the ocean, on a boat with every ounce of weight stacked in the back, beam reaching at 13-18 knots on a Farr designed Kiwi Class 40…it's a Bodacious Dream, no doubt, and the song with the line "How Did I get Here?" comes to mind.
Flash back to Nov, 2012, while Dave Rearick was prepping for the round-the-world Global Ocean Race.  I had lunch with Jeff [Urbina, BDX co-founder] one day, mentioning the Route Du Rhum as a possibility once Dave finished his circumnavigation. He thought "Why not? The boat will be there anyway."  When the GOR got pushed back a year or two and Dave went off to fulfill his lifelong dream of solo circumnavigating,  I figured the Route Du Rhum opportunity was gone for four years, at least.  Then I was told that Dave would be finished in time for me to do the Route Du Rhum.
Upon Dave's return, the boat's been gone through with a fine-toothed comb.  Parts replaced, fixed, and purchased to get up to snuff for the most competitive race on the calendar.  I worked hard to secure sponsorship, getting some personal support and help from friends and family as well as Chicago's excellent Skyway Yacht Works, but was disappointed to find that, other than those mentioned above, none of the many companies I spoke to saw the value in such a sponsorship.  To those who did, I thank you from the bottom of my heart.
I left alone (not counting my monkey mascot) on Monday for my qualifying passage between Rhode Island and France, and it gives me some time to learn the boat better, test sail combinations and in general get a feel for longish time spent alone. Anyone who knows me knows I spend plenty of time alone, but this time it's been a little different – I'm leaving behind someone recently met but very special, thankfully she is very close to me in spirit even if I cannot feel her touch.
It took a few days to get in a rhythm, but I'm starting to feel it, moving well, motivated by making as much speed as possible. Thanks to an overheating generator I am learning to love the whine of the hydro-generator, even if that's had mounting issues too – fortunately, my Macgyvering skills are up to snuff thus far!  I generally hate deliveries – hence the trailerable trimaran I owned for years – but this is different.  I am not delivering to St. Joe's or Mackinac City – I am delivering to the Queen of solo racing; to crowds of over a million spectators; to the land where tiny frenchmen race 140-foot trimarans across the ocean alone.  I am delivering to the Route Du Rhum, and that's just fine.  I couldn't really believe it before, but I can now.
A final note: Without the extreme generosity of Gaye and Jeff, there's a whole pile of guys around the world – as far away as Finland and New Zealand – who are able to do some of the greatest adventures and races in the world. None of us – especially me – will be able to ever thank you enough.  We'll try, but it will still never be enough.  So thank you.
I'll be speaking to Mr. Clean later in the week via Satphone for a Sailing Anarchy Innerview, so feel free to post in the Route Du Rhum thread or hit my Facebook Page if you have anything you'd like me to address.
-Matt Scharl, Skipper
Class 40 Bodacious Dream 
September 4th, 2014 by admin
A big welcome back to the front page for one of Anarchy's OG sailor chicks; yogini and spiritual guru Hellion!  She joined one of the very few long-running mixed-multihull events in the US last weekend, and here's her report: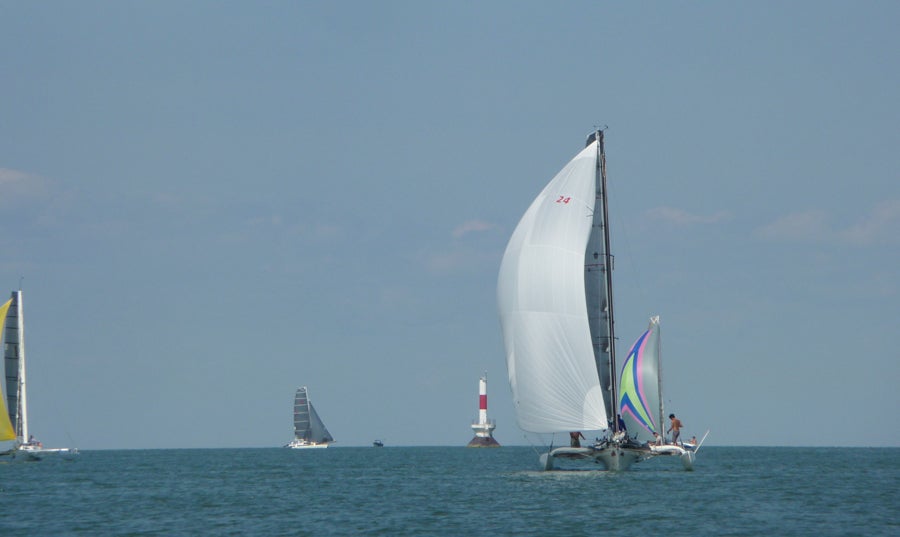 WHEEEEEEEEEEEE!!! I've taken that step toward the Dark Side.  Multi-hulls, trimarans, high speed, firehosing and adrenalin. What an amazing first experience into the multihull world it was at the Great Lakes Multihull Championships hosted by the Bay City Yacht Club in Michigan.
One of the big pleasures for first-timers here is to meet the epoxy guru himself – and one of the longtime drivers behind multihulling in general and the GLMC specifically; Meade Gougeon.  The thoroughly handsome, debonair gentleman was sailing late brother Jan's innovative trimaran Strings, which unfortunately lost her rig during the regatta.
I was lucky enough to get onto an F-25C trimaran; "the greatest small trimaran ever built" as quoted by Matt Scharl, former owner of the all-conquering F-25c Gamera. This one is owned by Ryan and Todd Howe and called Panic Button;  You may not know Ryan and Todd, but if you've been in the Great Lakes
scene you know the boat they were raised on – the monster 60 foot trimaran Earth Voyager.  Lots of SA players showed up on Saginaw Bay; longtime SA'er Geff was recruited on the F-31R Cheeky Some of the players in the regatta were SA's own Geff, who crewed on Cheeky, plus the illustrious Vegas on Adagio, and of course Matt Scharl and Mark Zaranski on Mark's recently purchased modified F27 Blue Green Dragon. Ron White made an appearance on his Tornado gearing up for next year's Everglades Challenge; truthfully it's hard to mention all the wonderful people I met in Bay City; thought of by some as multihull outcasts, they are a most amazing little clan, totally welcoming and gently helping me from any future leaning over or pushing water on my beloved monohulls.
Oh what am I to do? Let me begin with Friday, our first of three days. I arrived a little late and ran into the skippers' meeting looking to see if I could locate the brothers I was to sail with. I didn't know them, nor them me, and so walking right into the meeting was a little bit intimidating. It took less than a minute to have someone walk up to me and say, "Hellion?!" It was Vegas!  He brought me over and played up my sailing skills, telling the Howe brothers that they were lucky to have me. My red cheeks must have said it all. I am no expert in anything, and I told them so;  I told them that I had zero multihull experience and they said 'no worries'.
As always, it's do or die for me; straight into the fire, and off we went for our first three races with winds to 18 knots from the NE.  Even before the start we were soaked to the skin. We saw speeds of 18kts and my grin grew! I mean I blinked and we had moved so fast that I realized right away that thinking too much was not how things play out in this realm. It's a DO IT NOW! kind of thing. Three 6 miles races, each over in about 40 minutes.  Unbelievably wet and wild, and a steep learning curve on positioning, choreography, and line management.   Thankfully these multihulls aren't too complex, and Panic Button took three bullets and a first overall for our first day! A toast for each win meant plenty of blood-warming alcohol, while carnage for Zaranski and crew (a blown out main clew) meant a reefed main for the rest of their day. Greg Bull flipped his Gougeon 32 during the third race; that's what the anti-turtle 'blimp' on the masthead is for…Meade caught the worst of it on Strings when their rig went over the side.
Cut to Saturday morning, the day of the "long distance race". No wind to speak of, the two fleets headed out without much hope. After an hour delay the race was started; the tiniest puff makes these boats zip right around.  A shortened course of 18 miles saw another Gougeon design – Ollie – cross the line first with us second, though under the handicap we took another bullet! Yes, more alcohol was in order.
Day three, muscles sore, knees raw, and shoes and gloves still wet, the water flat, the winds were about 12 kts building to 20. Perfect conditions for these 'pitchforks'. We headed out with such promise, and the knowing that we'd really have to screw up to lose, our spirits were tremendously high. The two races went smoothly and were over quickly, and I noted that, for being aboard a boat with people that were strangers to me on Friday morning, we were already in tune with each other and feeling as if we'd been through a year's experience.
Sunday's awards ceremony went quickly to let people get home, and with Panic Button taking first on the day and first overall, I was hooked!  Could we possibly fit any more alcohol in?  Yes, I believe we did. Flight Simulator took second, and Ollie took third.
Things I learnt at this fun-filled, first time ever, multihull regatta:
1. The dark side is quite seductive. "We have cookies!"
2. Lake racing proved to be just as adventurous as racing in the ocean. Even my racing experience in Hawai'i did not seem to be that much more challenging looking at Friday's conditions.
3. This group of racers are a tight-knit bunch. Super competitive on the race course, and family-like on land.
4. Racing at these speeds has one's mind and body working at triple speed.
5. These amazing vessels pack up on trailers like birds folding in their wings.
6. And finally, see number 1 again. When is the next one?!
August 27th, 2013 by admin