Posts Tagged 'Match Racing'
Clean Report
After what was the single most exciting day of match racing I've ever watched or commentated in my life, I'm still a little speechless; I've never been much of a fan of match racing, and I'd long ago gotten used to a format where the boat that wins the start sails off to victory the vast majority of the time.  But on the Sweet Sixteen day of the World Match Racing Tour Copenhagen, the crowd and worldwide audience saw more passing and more action than in an entire week of hte old-format World Tour.
I'm still a little cynical – maybe we just got lucky, or maybe it's the newness of the M32 that's allowing such variety in the racing.  But as I type this on Friday morning, Sally Barkow just nearly caused Taylor Canfield to flip and made the pass, and we're just on the first race of the day.  Watch the entire replay from yesterday above, and if you like it as much as I did, be sure to tune in today at 1400 CET/0800 ET as the quarterfinals conclude.
May 13th, 2016 by admin
Monday sucks.  And Tuesday is only slightly less sucky. These videos might be the cure.  Today weve got high performance boats, low performance boats, crashes, flooking around, and kids – lots and lots of kids.  Welcome to Video Anarchy.
Mac Art
A little production value can do wonders to transform some basic GoPro video into something quite beautiful, as the boys and girls from Froeter Design showcase in this video of the Chicago Mackinac aboard the Beneteau Chief. 
Check Yourself
You've seen the scores of young Anarchists (and these kids have been SA junkies since about kindergarden) Ian and Nicolas representin' enroute to their US Youth Nationals.  Here's the movie.  Turn down the music unless you're nostalgic for your dentists' soundtrack…and here's an audio interview with the nippers.
Swedish Bikini Team
The 'new age' of video storytelling has slowly crept into the top end of sailing, with producers (and those who pay them) finally understanding what we've been screaming about for years:  You have to put the audience right there in the trenches with the subject or you're just wasting your time.   We've seen plenty of nasty pictures come out of the Brazil test event, but for many Olympic hopefuls – those without the runs, at least –  it was an amazing adventure in one of the world's most exciting countries.  Above is a look at the beauty and skill of the Swedish team, and no dirty water.  Thanks to Swedish mothy Magnus Gravare for the heads up.
Joie De Vivre
Another essential aspect of video storytelling is about charisma; the camera loves those who have it.  Example?  This excellent Team GBR/Volvo Cars-sponsored Rio Test video from our old friends Richard Langdon nd Rachel Jesperson, focusing on always-smiling and ultra-charismatic silver medallist Luke Patience.  Also starring in this one are his excellent Aberdeen accent and a couple of Nacra 17 sailors.  Have a look at two more charismatic intros from the same team over here.
flook off
Brilliant, stupid, or a hoax?  You decide.
August 26th, 2014 by admin
ROBLE : noun \rō-blā\:
 1. Spanish - A non-standardized Spanish labeling term in the Spanish 'hierarchy' of wines, indicating that a wine has been aged in oaken barrels for a shorter time than required for the Crianzaa designation; Spanish wines commonly considered to be younger, fruitier, and spicier than the norm with a bit of added interest from the wood.
2. US -  A non-standardized American woman, and one of the only true full-time professional female racers in the hemisphere, if not the world (excluding olympic hopefuls and a boat prep/administrator 'pros'); Indicating a beautiful bouquet of brains, power, and talent that is considered younger, fruitier, and spicier than the norm.
3. US –  STEPHANIE ROBLE – Skipper of 2014 US Women's Match Racing Champion Epic Racing, crowned Sunday in Long Island Sound on her fifth attempt at the USWMR title.
Wanna help more women get into the sport while winning?  Then hire America's top female sailor and show your family, crew, and friends that you think girls can be pro sailors too. Trust us, there are so many reasons you want Steph sailing with your team; and top teams have noticed –  after more than a year at the top of the US Women's Match rankings (and 3rd worldwide) and lots of success in classes like the Melges 20 and J/70, Roble's calendar is getting seriously full a year or so into her decision to become a full-time race pro.  Get in touch with her via Epic Racing or chat with Stephanie at the 80-boat J/70 NAs starting on Thursday, and here's her report from the event (with photo from Larry Kennedy and a massive gallery here).
Epic Racing was crowned the U.S. Women's Match Racing National Champion this weekend at Oakcliff Sailing Center. It was a challenging weekend bringing a broad range of conditions in heavy, 40 foot boats called SM 40s. Our team of 6 girls did an amazing job working hard to make the boat go fast at all times, which is not an easy task. We are proud to be at the top of the 8 teams who competed, as each team gave us a run for our money! 

The first day was relatively light, shifty and very hot in the harbor right next to Oyster Bay. The focus was just to keep speed on and never let the boat stall on the foils or sails. This is much easier said than done while match racing and trying to take out your opponent! We finished the first day 5-0 and learned a lot about tactics and strategy (especially in the pre-start) that are specific to these big boats. 

We started day two excited about our momentum from the previous day, but knew we had our two hardest races of the first round robin left. Chantal Hearst, who has a lot of experience in these boats, beat us after we were over at the start and had some traffic issues on the course with some boats in other races. We then raced the next top ranked skipper, Nicole Breault, who had a great team onboard. We earned a penalty in the pre-start and managed to lead around the course. We set up perfectly to execute a penalty play at the windward mark but misjudged our layline back to the finish and killed the penalty too early, giving her an opportunity to pass us on the last run. We ended Round Robin one 5-2. 

As the day went on, the breeze built to a beautiful sea breeze and because of this, we felt much more comfortable in the boats. We were also hungry for more wins after our 2 silly losses in round robin 1. We ultimately finished round robin two 6-1. This meant that we won the double round robin and received honors of first pick for the semis.We chose the 4th place team, Sandy Hayes, and won the series 2-0. 

We started the finals on Sunday in 12-15 knots with jibs (instead of genoas) against Nicole Breault. We knew our boathandling and pre-starts would be our strengths but she was much faster. In race 1 we were in control most of the pre-start until the most important final 30 seconds when we stalled out after being head to wind. We trailed her off the line and around the course until the final run. From two boat lengths back, we matched her gybe to starboard, hit her breeze, gybed back to port, hit her breeze again, and gybed back to starboard right behind her. At this point we were holding her out from finishing but were restricted by rule 17, which means you have to sail your proper course (to the finish). We perfectly executed a double gybe later on so that we could continue to hold her out from the finish. It was a very exciting comeback and amped us up for race 2. 

Race 2, she had us tangled up in the dial up but after we broke free, we rallied for a "wide right" start in the breeze. This is very powerful as we were able to hold on her hip most of the beat until layline. We led downwind, but she passed us by getting to the right of us on the second upwind beat. On the last run, we were all set up to match her gybe to starboard and roll her to the finish. The girls perfectly executed the gybe and we had a very close, photo finish to take the series. 

It was an incredible weekend of sailing. Women's match racing in booming in the States right now and that was proved by the level of sailing at this event. Our boathandling was INCREDIBLE and the attitude was right on par. The girls worked so hard and gave it their all whether we were ahead or behind. A huge shout out to Janel Zarkowsky (main/tactics), Maggie Shea (trim), Holly Poole (pit/trim assist), Liz Shaw (mast/bow) and Martha Pitt (bow). They crushed it! 

A huge thank you to our only fan for the weekend, Mary Lou Scott for coming down to cheer us on. Thank you to Oakcliff, US Sailing and Darcy Cook for running an excellent event. Thank you to all of our fans and supporters who help us make these events happen. And last, thank you to Helly Hansen for our team swag and making us look good! 
July 15th, 2014 by admin
Past Sailor Chick of the Week Stephanie Roble has been busy over the past year, working her way up to the 6th ranked spot in ISAF's Women's Match Racing standings and 54th in the Open list in her run to try to conquer the WIMRS; all this as she finished up a multi-year stint helping to run the Chicago Match Racer.  She's an all-around badass, one of very few pro sailor chicks in the game, and this week, she's sailing with her man Taylor in the St. Thomas International Regatta.  Steph gave us a few minutes of her time – you can give her a few minutes of yours by checking out the Epic Racing newsletter and her team's Facebook Page.
SA: After a season of Grade 1 and 2 match racing, you just rocked up to St. Thomas regatta to sail on a chartered IC-24 boat in a crazy local 1-design class.  What made you do that, and what are your expectations?
SR: I came down here for the free rum, some fun in the sun, to get rid of my tan lines and the dance party (just kidding…though that is definitely a bonus).  Actually it just so happened that my boyfriend and reigning World Match Racing World Champion, chartered an IC 24 and signed me up to sail with him. It was a great excuse for him to come home to roots and see his family [dad Bill Canfield runs the event -ed].  Taylor's been doing a lot of coaching and pro crewing and hasn't really steered since the Monsoon Cup, so he wanted some tiller time – I just wanted to sail! We recruited good friends to join Team Line Honors: Mike Rehe, Matt Clark & Taylor Ladd (see crew positions here).  Basically, it's awesome to sail with good friends, and the regatta and class are major fun on and off the water.
SA: What makes St. Thomas stand out as a racing venue?
SR:  Obviously, being in the islands in the middle of winter isn't bad!  It's 85 degrees everyday and the trade winds are in full force right now. Our forecast for the week is 15-20 knots every day and some possible rain showers. Can you really beat that? Well, St. Thomas does, because in addition to the great sailing, the STYC is just so chill.  You come in from the water to a huge beach covered with palm trees, sponsor flags, and a stage for the band right on the water, the breeze blowing right on the club from the topaz water…have I painted the picture yet? All around, a fantastic vibe.
SA: Lots of folks find racing with their significant otherwise difficult, and knowing both of your personalities, it can't be easy for you two.  How do you guys do it?  Have any tips for other guys and gals to make it fun, and positive?
SR: It's definitely a unique situation; people always ask how we make it happen. We've sailed 3 US Match Race Championships together, he coached me in match racing and we do a lot of pro sailing together. I'm a very competitive person, so when I'm on a boat or team, I treat every person the same. It's definitely easy to get more annoyed or sensitive with someone who is that close to you, but it's important to understand the competitive atmosphere. It's important to leave whatever happens (good or bad) on the water and when you get back to shore you can go back to normal. It's also cool learning from your significant other; I ask questions and become a better sailor because of that, it's definitely a win-win situation. Bottom line is that we both love to have fun and being on the water with our close friends is, well, fun.
SA: You're America's top-ranked women's match racer and 6th in the world, what does that really mean for you?  Where do you go with that now that the MR Olympics are gone?
SR: I fell in love with match racing back in college and it was a bonus that it was in the Olympics. I did a short campaign with Maggie Shea and Darby Smith afterwards, and fell even more in love with the fast paced, tactical and athletic game. It's definitely a bummer that it's not in the Olympics anymore but that hasn't stopped me yet! I was also fortunate enough to have a job at Chicago Match Race Center where I could focus on improving as a skipper and crew.
Now we have a professional women's match race series (WIM Series) that is set up similar to the World Match Race Tour and my team, Epic Racing (follow us on Facebook please!), will sail all 5 Series this year.  The WIMRS is a huge step towards developing women's professional sailing but also giving girls something to look forward to besides the Olympics. As for the ranking, it's really cool to be ranked so high in the women's, but as my college coach, Mitch Brindley, always said, rankings only mean so much. We believe we are the top team at every event, and we will continue working our hardest no matter what the ranking says. We are also proud of our work in the open match race events we have done. Training and racing against the guys has been great for our development as a team.
SA: You're young, super fit, massively competitive and great at marketing yourself; all the things that make a great Olympic competitor.   Why didn't you dive into the Olympic stuff this cycle?
SR: That's a tough call.   I have a lot of friends in the Olympic circuit now and I really admire their drive. I sailed the Nacra 17 a good bit this winter with the US Sailing Team and absolutely loved racing a multihull.  But you have to be honest with yourself, and I honestly want to focus 100% on Epic Racing's match race campaign and developing my skills as a professional sailor.  It is not an easy course; how many female pro sailors do you really see out there on any circuit?   I also want to prove (to myself and other girls) that this is a path you can take. It can definitely be hard but I love sailing so much and this feel like the right path for me right now. I definitely see the Olympics in my future.  I received some great advice lately that it's important to set specific goals and to make sure you focus only on those goals, otherwise if you have too much going on you will only be overwhelmed and exhausted rather than fresh and competitive at your goals.
SA: Now that 6 of the VOR teams are more or less announced, tell us how you see the SCA team faring against the others?  Did you have any interest in being part of the VOR?  What happened?
SR: I think the girls are ready to kick ass! They have been working extremely hard and are the only team right now with a lot of training time under their belts. I may be a little biased, but you guys all know its true. SCA has picked the top sailors in the world who are mentally and physically strong and are going to work the hardest to crush the race and the guys. Again, I could definitely see myself being apart of the VOR but it wasn't the right time. I'm only 24: I have a lot to learn and a lot of time left to set goals like the Olympics and the VOR.
SA: Tell us the format of the STIR IC 24 class racing, and will you send us daily reports?
SR: The racing is going to be Epic!!! There are 16 boats in our class with the top guys from all over the Caribbean. On Friday, we have a distance race to downtown Charlotte Amalie and back to the Club. Saturday & Sunday is all short course W/L bouy racing. Again, the forecast looks fresh the entire time and Team Line Honors is pumped to get on the water. And yes – I will send you daily reports along with color from Bill & Taylor Canfield, and we'll do our best not to have too much rum before we send them out!
March 27th, 2014 by admin


With the 18Footers TV guys reminding us that ultra-low budget live streaming can still be fun and exciting, the guys from Redhanded TV reminded us that the more expensive stuff in this fast-moving part of the sports media industry can be really excellent with this 'sizzle reel' from the 2013 World Match Racing Tour season. Redhanded, Sunset + Vine, and IMG are three of the main players in the new game and between them, they'll stream hundreds of hours of live sailing around the world in 2014, and we'll feature the best of it right here on Sailing's biggest page. To us the Redhanded stuff is the best; who else puts a big ol' dubstep bass drop and Mr. Clean's commentary in their highlight reel? Check it out above.

March 8th, 2014 by admin
While Clean sits in an airport somewhere in Indonesia waiting for a connection, day two of qualifying for the World Match Racing Tour finale is underway in more light air in Kuala Terranganu. Watch it all live here, and check the WMRT page for standings and daily news wraps.
November 26th, 2013 by admin
They're young and full of piss, vinegar, and anarchy, and with yesterday's release of the ISAF Open Match Race Rankings, they're now NUMBER ONE!
Yes, folks – with their win at the Chicago Cup, our friends on Taylor Canfield's USOne match racing team have just leapt over Ian Williams' GAC Pindar team – the perennial kings of the WMRT – for the world's top-ranked spot in the sport. Team media man Matt Knighton gives us a beautiful look at their success through his eyes, some excellent music, and the words of bowman Hayden Goodrich.  Want more?  Hit 'em up on Facebook.  No Facebook?  Hop on your dial-up AOL connection and check their site.
August 29th, 2013 by admin
Got a few minutes to screw around on your computer or phone today?  Tune in to the Chicago Match Cup quarterfinals live and see how Clean does with a real TV team to back him up.  The repechage will finish up by around 11, with quarterfinals beginning shortly before noon.  Tight racing, beautiful conditions, ultra-short courses, tens of thousands of fans, and young, knowledgable commentators; what more could you ask for?  Be sure to download the Livestream app if you're not at your computer. Results thus far are here; yesterday's highlight reel is here.  Check out the WMRT TV's channel for a collection of video clips from the event so far.
August 10th, 2013 by admin
Gavin Brady served up the ultimate smackdown to Adam Minoprio in the qualification rounds of the Chicago Match Cup yesterday; Brady forced Mino to hook the committee boat and the young Kiwi quickly took Luigi Reggio on a nice harbor cruise.  Good catch from the WMRT TV folks, and see above for today's live racing.  Lots of Facebook action or just watch the live stream above.  Thursday's highlights are here.
August 8th, 2013 by admin
While Ryan and the St. Mary's nippers grabbed the Governor's Cup on the East Coast, Aussie junior match racer Sam Gilmour continued his run to the limelight with a win at the Balboa YC's Governor's Cup and a strong finish at the Royal Van's Kintec Invitational.   Here's his report, with title props to Wilco.
Following our racing at the Chicago Match Race Centre, we traveled to Orange County, California for the Governor's Cup. Being the oldest youth match racing regatta in the world, the club always puts on a big show for the regatta, so it was an event the team were all really looking forward to.  This year saw an impressive lineup of teams at the Balboa YC; it's definitely one of the most competitive youth regattas in the world.
An unusually strong seabreeze of 15 knot blew on the first day of racing, though we saw the expected local conditions throughout the rest of the regatta; 5-8 knots or so.   We knew that our advantage lay in our match race experience and boat handling, so we concentrated on taking on a race-by-race approach to the sailing. With 5 days of racing on tap, the regatta progresses fairly slowly; ensuring your heads are in the game is essential.
Our record of 16-2 in the round robins was enough to push us through to 2nd for the semifinal, and the 'first to three' format pitted us against the Balboa YC's own team skippered by Ryan Davidson. We were able to win each start, and protect the favored side of the course, advancing to the final with 3 straight wins, and our team benefited with a big boost in confidence for our boat speed and tactics going into the next day.  RNZYS edged out AJ Reiter's team from San Diego Yacht Club, in a semi that went down to the 5th race.
Conditions were light for the finals – just 4-7 knots or so – so we knew boat speed would be crucial.   In the first race, we made an unforced error and gave Steele the chance to force a penalty on us, which he promptly did.  We took the lead but never enough to clear our penalty, and the Kiwi team jumped to the early lead.  Race two saw the opposite occur, and we were able to lead the entire race to take the win. In the third race, we once again took a penalty in the pre-start, but were able to get a large enough lead to eventually wipe it off; another point for Neptune Racing, just one more to go!
With everything on the line, Steele and his team were over the line early, and we easily led them around the course to take the race and the overall win.  Meanwhile, Ryan and the BYC team took the all-California petit-final to place 3rd.  The week was great fun onshore, and to take the win on the water made it that much sweeter.
Following this, we began our trip up towards Vancouver, with a short stopover in San Francisco to check out some Louis Vuitton Cup action.  After a long drive, we arrived at the Royal Vancouver Yacht Club for the Kintec Summer Invitational Match Race.
Our solid performance in SoCal gave us high hopes for the Kintec.  We knew that the competition would be at a similar level, with the top 3 teams from California all sailing in Vancouver. A different fleet of boats meant  quite a few adjustments to our sailing style- adjustment's we just didn't make as well as some of the other teams.  While we struggled in the early action, Ryan Davidson and his BYC came out strong, winning all of his races in the round robin. Chris Steele and the RNZYS guys weren't far off having just one loss. We ended up 5-3, and knew we needed to change some things and improve others as we went into the semi-finals.
Having qualified 4th, we raced Davidson in the semi-final, but it seemed the Californians were always a step ahead of us, and they put us away in two straight races.  Our Kiwi pals won their semi-final 2-0 against Royal Van local Ben Mumford. This matched us up against Mumford in our petit final, and only then did we seem to snap together as a team.  We won the petit 2 to nil, feeling fast all around the course.  In the final, Davidson continued his magical run, always seeming to have something extra despite Steele's Kiwis sailing very strongly.   seemed only then, that we managed to snap together in the boats, winning 2-0, and feeling fast all the time around the race course. The final was close, and both of these well-sailed teams put on an exciting show, but , but Davidson managed to always have something extra and won 3-2.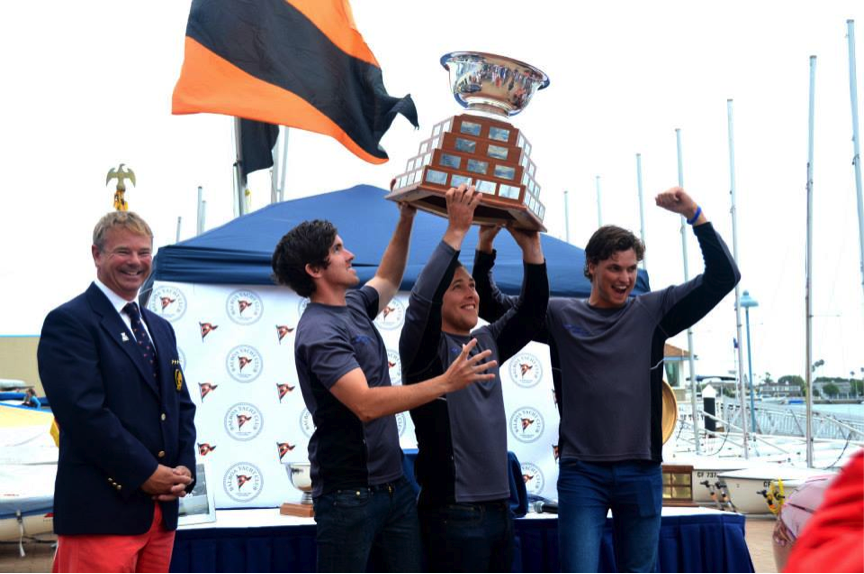 Our summer tour of the US and Canada was incredible – what a way to spend (our) winter!  We met dozens or hundreds of great new people, learnt massive amounts about match racing from a wide variety of great sailors, and figured out what we will need to get to the next level.  We truly appreciate all the interest from the Anarchy community, and encourage you to stay in touch with us via our Facebook Page or you can email us here if you'd like to know more, or you're interested in sponsoring Neptune Racing.  We'll be posting updates from the Aussie and Youth Match Racing Nationals at the end of September.  Wish us luck!
August 6th, 2013 by admin