Posts Tagged 'martine grael'
The Grael family is as close to sailing royalty as exists in South America, so people listen when they speak.  So when millions of people hear her Gold favorite Martine Grael talking pollution on ESPN's Outside The Lines, they'll listen – even if Zika and the economy have taken some of the spotlight off the continually shocking pollution problems.  From the transcript:
In August, barriers installed across more than a dozen of Rio's dying rivers will hold back garbage that otherwise might drift into the paths of Olympic sailors. A fleet of boats will patrol to keep debris from snagging on a rudder or centerboard and costing someone a medal. Some of the untreated human waste that has long fouled Rio's beaches and docks and picturesque lagoon will be diverted from competitive venues so the athletes who have to navigate them need not worry.
This is what has been promised, anyway. This is the latest stopgap wave of promises made when it was clear the first wave wouldn't be kept.
A brilliant, lowering sun silhouettes the irregular profile of the mountains behind Martine Grael as she stands on a beach strewn with sailboats after a day of racing at an international regatta on Guanabara Bay and voices her doubts. Grael, 25, is a newly minted member of the 2016 Brazilian Olympic team, the daughter of a gold medalist, a true child of these waters. She speaks with the sad conviction of someone watching a loved one suffer.
"It's very clear that water treatment and education are the biggest focus on cleaning the water, and I haven't seen almost anything being done in that way," Grael says. "I think Rio has a very big coastline and people love to go to the beach, but nobody seems to care that the beach is getting dirtier and dirtier.
"The water's still dirty and it stinks some days, and, I don't know. You don't need to study a lot to understand that it's not going well."
Read the most comprehensive story on Rio pollution yet here, or Watch the full video here.
February 18th, 2016 by admin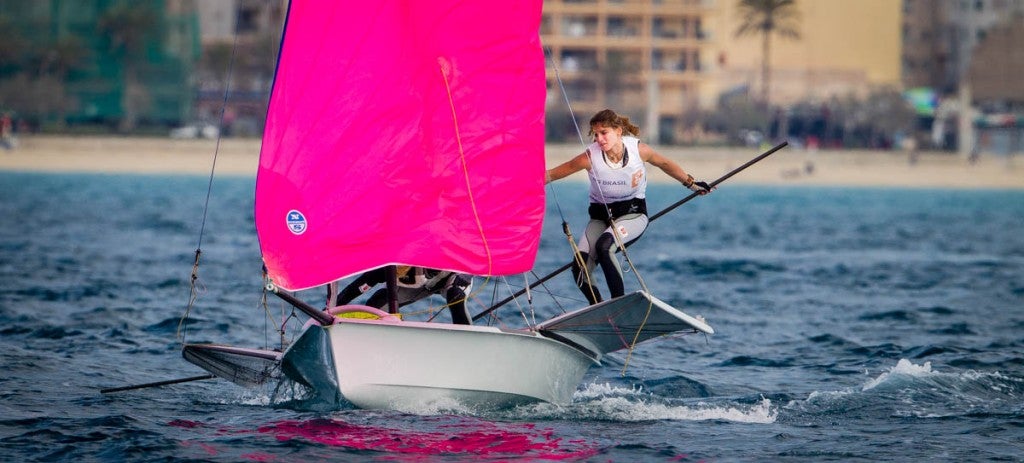 Check out the moves from Martine Suffiatti-Grael, daughter of Brazil's ultimate rock star sailor Torben Grael as she takes her first Sailor Chick of the Week award!  The young Brazilian, with Kahena Kunze on the front, took the win yesterday by over 30 points as the Arenal Training Camp Trophy wrapped up in Palma.  This event – the prelude to the Pricess Sofia Olympic Class event – has exploded in popularity recently despite a tiny budget, pulling a strong mix of next week's World Cup competitors and young sailors who want to share the same line.  The US team didn't enter, though after Miami we have high hopes for them at next week's event, and French and British sailors dominated the event with Spain taking some scalps as well, most notably in the 30-boat Nacra 17 class.  Full results here.
In other Palma news, the World Cup re-branding continues to prove how incompetent ISAF can be, with costs continuing to explode, still more format changes for seemingly every event, and dismal worldwide interest except in a few sailing-crazed nations.  To make matters worse, most of the live coverage from Palma promised to the public is now gone along with title sponsor MAPFRE; the Spanish company chose to spend their millions on a new Volvo Ocean Race campaign rather than throwing good money after bad on a dinghy regatta with a comparatively tiny ROI.   This is the last year of the Palma event's contract with sailing's international overlords, and if the island still has to come up with the money that ISAF wants to remain part of the 'World Cup" for 2015, our sources tell us the awesome Mediterranean venue will be out of the running.  Frankly, as great a venue and event as the Palma regatta is, we'd be surprised if the event isn't just as big without ISAF as it is with them.
Thanks to one of Europe's best sailing photographers – Spain's Jesùs Renedo – for the shot of the wonderful Martine, and get over to her campaign's Facebook page for more info.
March 17th, 2014 by admin