Posts Tagged 'mapfre'
Some call him King Knut with a smirk, and others re-arrange the letters slightly, but we're still pretty big fans of the benevolent dictator behind the unqualified success of the 2014-15 Volvo Ocean Race.  We put Knut's feet to the fire on the Spindrift accident, the lack of continuity of sponsors, and plenty more nuts and bolts for those who really care about the biggest event in yacht racing.  About an hour of 'media round table' discussion that quickly devolved to a Knut and Clean chat in the Sailors Terrace in Gothenburg.
In other breaking VOR news, SA'er 'peterdane' deciphered a GBurg news story and believes the jailed racers are Andre Fonseca and Antonio Cuervas-Mons; released on their own recognizance but banned from leaving Sweden, they'll be aboard for the In-Port Race this Saturday that will decide fourth place overall.
June 25th, 2015 by admin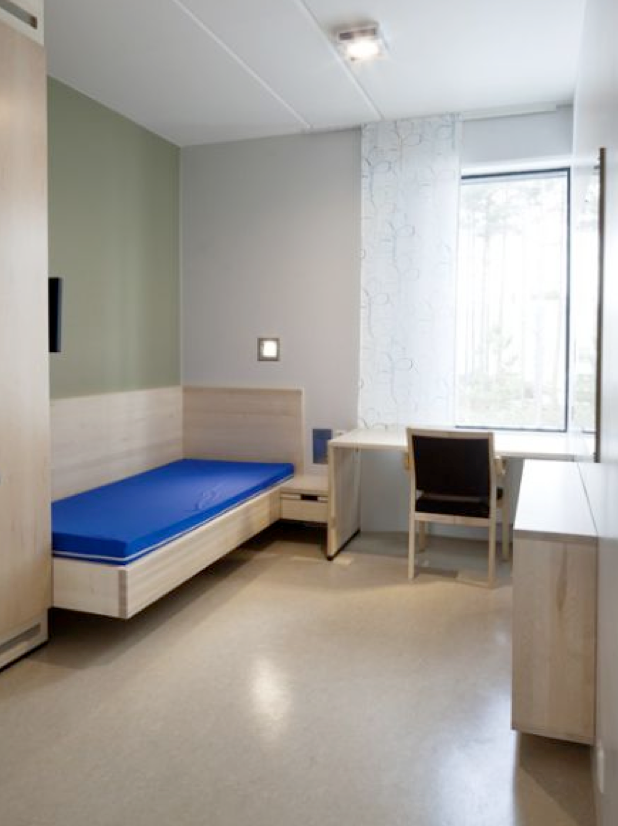 No, this is not a new micro-room in your local IKEA – it's actually a real, live Swedish jail, perhaps similar to the view of two Volvo Ocean Race sailors who were allegedly arrested last night for assault.
In a story that reminds us that the race is still (thankfully) made up of living and breathing sailors, Gothenburg broadcaster SVT Väst reported that two racers allegedly got into a good one last night with several security guards and police officers, and ended up in the pokey, where they remain.
Our own inquiries revealed that a couple of overzealous security guards decided to show how tough they were when the possibly overserved racers asked for more drinks in the exclusive Ocean Race Club.  According to SVT, two guards were taken to the hospital, one after being kicked in the head and chest, the other after having a chunk taken out of his thumb.
When local police showed up, one of the sailors allegedly resisted arrest, assaulting an officer and guaranteeing it wouldn't be just an overnight cool-off in the drunk tank.
Several witnesses told Sailing Anarchy that both sailors were from MAPFRE. There's just something about those (allegedly) fiery latinos.
VOR's official word is typically sparse: "Two men, who suffered minor injuries, have been released from hospital after being examined as a precaution.  We will follow the Swedish police procedure in not naming those involved. We are working with the authorities to establish the facts. It would be inappropriate for us to comment further while the investigation is continuing."
This and everything else we can find is in the thread, and stay tuned for interviews, a live talk show, and more during our Sperry supported coverage of everything Gothenburg this week.
June 23rd, 2015 by admin
MAPFRE wins the In-Port Race and then hits the bricks as they wave to the tens of thousands of spectators at Fort Adams.  Soundtrack courtesy of Team Vestas Wind.  UPDATE: MAPFRE diver is down prepping 'a few scratches' for underwater epoxy.  No hauling allowed without a penalty, no big worries until the repair falls off!
UPDATE 2: Knut said that the Spanish team can haul and repair, but team spokesperson Helena Paz says that it will not be necessary, as the damage is minor.  A happ-ish ending after MAPFRE's first In-Port victory of the VOR.
May 16th, 2015 by admin
In this battle of the latecomers from an angle we may be the first to have, the two final entries in the VOR fight it out mid-Atlantic, with Chris Nicholson luffing the Spanish a couple of weeks into Leg 1.  Did MAPFRE foul Vestas?  You make the call.
Meanwhile, MAPFRE's DFL has already produced some major casualties, including the world's most successful solo ocean RTW'er.  You heard that right, Michel Desjoyeaux gets the flick from MAPFRE along with French navigator Nico Lunven, and Spanish sailing journo Pedro Sardinia says there was plenty of drama between the French star and Spanish skipper, and q quite unbearable atmosphere on boad according to Sardina.  Thanks to Geronimoll for the translation of the original Spanish piece here.
You should already be on the Leg 2 thread here if you're looking for the latest news.  Want to know something special about any of the teams or this edition of the VOR?  Post up and Mr. Clean will get the answer for you on the ground in Cape Town – he arrives on Wednesday.
November 11th, 2014 by admin
Another of the worst-kept secrets in sailing went public this morning, with Spain's Pedro Campos proving to be the ultimate masochist in the Volvo Ocean Race; 4 consecutive races and 4 consecutive disappointments…will number 5 be the one?  With Iker and Xavi signed up under Campos' generally strong management team, you know they are instant contenders.  But they've given a hell of a head start to the rest of the fleet…
Spain's representation was never in doubt, but it's good to know that Alicante will have a million visitors rather than half a million; let's just hope Spain's Volvo team is better than their futbol squad…
We're told the final announcement will drop in days, and that the final entry is a Dutch semi-pro team.  Mean Machine?  Some Tonnerre money with a Delta Lloyd kicker?  We have NO idea, but it's fun to speculate – and the best place to do so is right over here in aisle 6.
UPDATE: Now we're hearing that Chris Nicholson is the call with a private entry.  Could it be the Russian owner of Skyy Vodka, who got to know Nicho during the last Volvo and as a major sponsor of the ETNZ Cup effort?  Or maybe Nicho got occasional employer/owner and private army gazillionaire Tony Buckingham involved as a backer?  We think Russia sounds most likely, but there's a lot of risk and weirdness associated with it.
June 19th, 2014 by admin
UPDATE:  STORY LARGELY CONFIRMED BY DALTS

Once again, Grant Dalton has shown he can get blood from a stone, if Pierre at Valencia-based Vsail's latest Volvo Ocean Race scoop is accurate (and we have every reason to think it is).  Pierre reports that Emirates Team New Zealand has teamed up with Spanish bank Mapfre to get their hands on the sixth Volvo One-Design 65 in a project much like Chris Nicholson's Camper/ETNZ joint that pulled off a stunning second-place the last go-around.
Pierre's sources say the total budget is around 16 million Euros, with 10 of those coming from ETNZ.  A longtime SA source who asked to remain anonymous tells us that was the number to ensure Nicho's role as skipper; 3-time VOR racer Pedro Campos will have a managerial role along with Dalton.
With a number of Spaniards committed to the Barcelona World Race the ETNZ/Mapfre venture's full crew makeup will likely be a mostly Kiwi and Aussie affair.  This means only one or two boats are left for purchase, and if our earlier rumors continue to prove correct, that leaves a British and German team fighting it out for the last spots.  You'll know more when we do, and eventually, the thread knows all.
February 25th, 2014 by admin