Posts Tagged 'mackinac'
Chicago PD and fire is still searching for lost TP52 pitman Jon Santarelli, but in spite of his stature as a hard core swimmer and triathlete, hope is mostly gone for those looking for a happy ending to the Day 1 Mackinac tragedy that washed him off the boat.  Il Mostro isn't far from the finish and beautiful condition await on the island, though with almost 50 retirees and the somber mood among the fleet, the land of horseshit and fudge will be muted this year. We salute the avid biker and super generous and smiling Anarchist Jon, and wish our warmest hopes during his family and friends' tough times.
Stay up to date in the thread here.  The CYC isn't running from the news; watch their morning press conference as streamed live.  Matt Knighton and Mr. Clean will be droning in the finishers live; Get notified when they launch their coverage on the CYC page here. 
July 22nd, 2018 by admin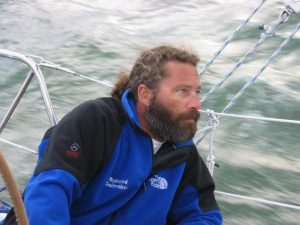 Every summer when the Mackinac races came around, there was one character I knew would put a smile on my face late into the night.  No one had a head of hair like Pat Ruhland, few people on the lakes had better stories stories, no one could handle the monster Mull Dolphin like Pat could, and if you can judge a person's life by the quality and loyalty of their friends (and crew), then Pat Ruhland's 51 years on the planet were well-lived in every sense of the word.   
The Funeral Liturgy will be celebrated TODAY: Friday, February 2, 2018 at 11:00 AM in All Saints Parish (St. James Church), 710 Columbus Avenue, Bay City, MI. Pat will lie in state in church Friday after 10:00 AM. Rev. Jose Maria Cabrera will preside and cremation will follow the service. Visiting hours are Thursday from 2:00 to 8:00 PM, with the Vigil Prayer Service at 7:00 PM at the W. A. Trahan Funeral Chapel. Memorial contributions may be designated for the Patrick J. Ruhland Memorial Trust (for the education of his sons). Arrangements are in the care of the W. A. Trahan Funeral Chapel. For on-line sentiments: www.trahanfc.com
To send flowers or a remembrance gift to the family of Patrick J. Ruhland, please visit the funeral chapel's Tribute Store.
Here are a few stories from some of Pat's longtime crew and assembled by Ken Ruppel.
 -Mr. Clean
This week we lost a great friend, loving father and husband, and I, like many of his friends, am finding it hard to accept, and I already know this summer will be selfishly tough. Twenty years of summers sailing the Great Lakes certainly created stories and memories to last a lifetime, and for that I am grateful to have been close friends with Pat Ruhland, awesome sailor and best helmsman Dolphin ever knew.
Patrick J. Ruhland, age 51 years, died peacefully with his family by his side on Monday, January 29, 2018 at St. Mary's of Michigan. Since a young boy, he was always very enthusiastic about sailing as was his father, Larry Ruhland, and brother Mike Ruhland. In 1998, Pat started Ruhland Sailmakers and was a member of the Port Huron to Mackinac Old Goat Society. He was married to Janelle along with his two sons, Patrick (7) and Tristan (4), and you can read his full obituary here.
Over the years, thousands of sailors have raced with or against Pat as the iconic Dolphin, a 1973 Gary Mull design, weighing 40,000 pounds of aluminum, was a staple in the Bayview to Mackinac Island race, and years in the Chicago Race to Mackinac. We'll miss sailing with "Turbo" Pat Ruhland, but cherish the memories and stories that we share today and for many years in the future. Here are a few tributes and stories.
One sailor, Fritz Kloepfel, wrote a great tribute, perfectly describing the dichotomy between brothers, which provided unique entertainment to the crew. He writes about Pat's skills as a helmsman that many experienced firsthand.
From Fritz Kloepfel:
In the late 1980s, I was just getting serious about my love affair with racing sailboats. At an early Key West Race Week I met an interesting character named Larry Ruhland. He was unlike anyone I knew, but he was passionate about racing sailboats. Over the course of the week we became friends and over the next couple years, I invited him to come sail with me in Florida several times. And he did! Eventually, he invited me to come race in the Great Lakes aboard his boat, Dolphin. She was a fabulous old racing boat 54 feet long, with a mast reaching over 80 feet in the air. Big and solidly built, she required a talented crew to show her best. The crew was mostly Larry's two sons and their friends and relatives. It was an interesting mix of backgrounds and talents, but they made a formidable team.
Larry's two sons could not have been more different.
Mike was serious, studious and very focused. His hair was trimmed short and his dress was near formal. And he was analytical. Very, very analytical. He was enthralled with technology, information, and calculations. A bit of time spent with Mike could leave you believing that it was possible to THINK your way across the finish line first. And Mike was just the guy to do it. I felt an immediate kinship with him.
Pat was much the opposite. Casually dressed and very casually coiffed, he seemed to care little about the instruments, the technology or the details of strategy and tactics. On our first meeting, he was introduced to me as "Turbo," a nickname that apparently reached back to his childhood where his mother used to wonder if he were turbocharged as he played around the house. But to me, he seemed the very embodiment of "laid back." A yin to his brother's yang.
The Dolphin was a demanding boat, and over the course of the first day and a half, we all took turns driving, spinning the "coffee grinders" to power the winches, and tailing the heavy lines that trimmed the sails. The crew all pitched in. Except for Turbo. Yes, he lent a hand in here and there, but he hadn't taken the wheel that whole time and had not seemed to contribute much. I had started to wonder, to myself, why we had brought him along. But as it was starting to make me scratch my head the boat began to demand more of us. Well into the second day the wind was building and with it the waves. We were sailing downwind with a big running spinnaker up, and the boat was becoming a handful. The waves would get under the back of the boat and make it skew left or right, and the heavy winds in the sails had us rocking and rolling nearly out of control. The big wheel really needed to be manhandled to keep the boat standing up, and most of the crew were not quite skilled enough to keep it all managed. And, it was a workout. 20 minutes would wear you out, and 30 minutes was all anyone could do. We began to talk about reducing sail and slowing the boat, …not the solution you want when you're racing. But the wind continued to build, and the waves looked like mountains.
Just when I thought we had no other choice Larry hollered out one word. "Turbo!!!"
And out of the bowels of the boat came Pat. He walked straight to the back of the boat, and without a word he took the wheel. And as though someone had waved a magic wand the boat stopped bucking and jumping. It stopped skidding left and right and pitching like a rodeo bull. Suddenly we were on a straight course, and using the waves to surf the boat along, instead of fighting us. I was flabbergasted. I sat there for some time just watching Turbo drive. I'd never seen anything like it. He seemed at one with the wind and the waves and a veritable part of the boat. Every motion was smooth, and he made it all look effortless. Without my ever voicing the question, Larry leaned over and said, "Now you know."
Turbo stayed at the wheel for hours, occasionally steering with one hand while he lit a cigarette with the other. He didn't swivel his head to see the waves. He simply seemed to know where they were coming from. He didn't fight the boat. He seemed to caress it. The wind was not his opponent, it was his strength. I had never seen it done better, and in all my years of sailing, I never did. Eventually, the wind eased and the waves began to subside, and as the boat once again became controllable (by mere mortals) Pat quietly said, "Anybody want this?" and it was over.
Pat and I never became great friends. We were just too different. But he sure earned my respect. And we shared a passion. And perhaps a secret. Pat was a magician with a boat. He didn't need numbers or polar plots. Turbo was what we call "a natural." He didn't need to be taught. It was just who he was.
Patrick Ruhland was a sailor. One of the best I ever knew.
This morning I learned that Pat has sailed away from this mortal earth.
Sail on Turbo. I know you'll use a steady hand.
From Rob Bunn:
Shortly after Pat's first son was born, I ran into Pat outside the Pink Pony (Mackinac Island). Seeing as I had only been a dad for a short time myself, I asked Pat how life as a dad was going. He looked at me and said, "It's unbelievable! Man, I love that kid. I never thought I could love someone or something so much. I used to think I really loved BEER! But now, I know what it feels like to really love someone more than anything."
From Laz:
Was one of the best times in my life when "Turbo" entered into the lives of me and my well-established, but ever evolving, circle of friends. He was a quiet yet funny character with amazing hair and a bright yellow speedo. In due time, my dear friend Janelle was falling in love. At that time, I shared a house with Janelle, Marc Lehto and Ali Weadock and it was common for that house to be full up with our loves, families and friends … and usually some folks that came and went- captivated by the tales and times. From those exciting years through to the days when Janelle and Turbo would arrive at Port when I lived in Chicago, fresh off racing Dolphin. They would welcome me to enjoy the scene at the Downtown Yacht Club. Wherever Turbo was, he filled the space with laughter and stories. Now, we will share stories of Pat when gathered among friends. I know those dearest to him will retell his stories with impeccible clarity as he will be impossible to forget. Much love to Janelle, the boys and all family and friends! Sail Away, Pat!
From: Ted Vanasupa
I became friends with the Ruhland sailing family through Mike when I was 15. When the family used to live on the Kawkawlin river we hung out and tried our hardest to stay out of trouble. Pat was the little brother that was always keeping pace. Soon the family moved into Highland Woods and we were always into something. Whether it was playing in the pool or trying not to kill ourselves on Pat's enduro Yamaha bike. Somehow none of us got seriously hurt on. Then there was the sailing. Pat was always there when I was. One of the most poignant memories I have of Pat was when we had just finished a race and were all hanging out in Mackinaw harbor. Of course the crew had no shortage of young male muscle on the boat. Tom, Dale, Ed, Mike and Pat. But Pat had a different kind of strength. When I think of Pat I think of his fearlessness. It was in Mackinaw harbor that I watched as various crew members would test their upper body strength by climbing up the forestay hand over hand. Some would go up 10 feet, some would go up 20 ft. I may have even made it up 15 ft or so. But it was Pat, the little brother, the kid in the background, that would climb the entire way up the forestay and not wrap his legs around for extra help. When he got to about 30 ft I started to freak out a little as any higher, a small slip could cause serious injury. But he went the entire way to the top, touched the wind pointer and hand over hand came back down. He knew he could do it before he left the deck. He was fearless. It became his thing to do and he would do it several times a day. Maybe some of us were strong enough to do it but I don't recall any of us being that fearless. The last time I saw Pat was at Larry's pool. I got to meet his family for the first time and see Pat in a totally different light. No longer the little brother, but a man. A man taking care and loving his family. I will treasure this new memory of my friend and cherish it forever along with his fearlessness. God speed, and may your tell tails always be straight.
From Jeremy Burns:
Not long after Heat Wave arrived in Bay City, Pat moved into his new house "The Holy Land" and set up sail service in his basement loft.  Heat Wave desperately needed a new racing main, so we turned to Ruhland Sailmakers.  Not only was his quote a great value for a very young under-resourced program (buncha clueless newbies) making it's first real sail purchase, it would be hand built by Turbo and his 3 feline assistants.  The real value though was being able to pay the entry fee (cases of Miller Lite) on a weekend to show up and "inspect the manufacturing process"… meaning bullshit about sailing and SA, talk story, piss in the washtub… and learn from a master.
Every new mainsail needs a loft brand logo, as it turned out ours was a life size black stickyback trace of Pat's hand giving the middle finger.  The boat raced with that sail for many years from Lake Erie to Chicago.
Heat Wave always had its sails repaired by supporting the local loft – Ruhland Sailmakers.  It only took a few times of hoisting sails that were chock full of empty beer cans for us to remember to check every sail before we race.
I sold Pat a big snowblower and delivered it with my Jeep and trailer on a very icy winter Friday.  We were inching down his hockey rink of a street when I realized we didn't have the customary entry fee – no Miller Lite!  We drove past his house toward the corner 7-11 less than a block away, but before we could make it there suddenly lights and sirens flashed on behind us – one of Bay City's finest.  The officer walked up and immediately asked me "what's up with the trailer?"
"What do you mean what's up with it?"
" You need a plate for it."
"Ahhh yep right here we have that in the backseat with current tags, sorry we just didn't have a good way to attach it."
He wasn't done yet.
"OK fine, then where are you going?" the cop asks.
"Oh to that house right back there."
"Then why didn't you stop?"
"We don't have any beer.  I can't show up to my friend's house without any beer, we need to stop at the store first."
"Have a nice night…."
From Gabe Day:
I wish more than ever that I could just hand the helm over to Pat right now. The weathers turning for the worst and the seas are rising. No one can handle those conditions better than him, but his watch is over and its his turn to rest now. I'm at a loss as to which way we should go, but Pat's wisdom rings through "Just point at the Mark" he would say. I think that we try to overcomplicate things, but to Pat, things were simple. Don't know what you should be doing? Just point at the mark, don't steer too much, and keep the boat under the mast.
Pat could keep her going straight for the mark with his watch cap pulled over his eyes, we'll do our best to keep her on course for you buddy.
Sail safe my friend, and don't forget to go fast.
February 2nd, 2018 by admin
Delta pilot Mark Wheeler is the luckiest man in the world this week, and thankfully, he's sharing the info in the hopes that others have an easier time when they go in the water.  The Delta pilot (presumably with far more training in survival than the typical sailor) and crew of Farr 400 Meridian X gave his account of his rescue on Sunday morning after falling overboard during the windy CYC Mackinac Race.  One note: The crew of this boat is exceptionally experienced, and has raced thousands of miles together – many of it in boisterous conditions.  Another reminder that it really can happen to any of us at any time.  The discussion's already going over here.
The wind forecast was for a cold front to come through in the middle of the first night with a fairly sudden shift from SW to N. We raced under spinnaker on the lifting starboard tack from the start and then gybed to the heading port tack.This brought us to our target position in the middle of Lake Michigan and about 100 nm up from the start. The wind direction was 220 at about 15 kts. There was one thunderstorm to the west that did not seem to be moving. The front was still to the NW and an hour or so away.
At about 23:30, the wind began to build rapidly to 30 knots with no change in direction, and then very soon to 40 knots. I had gone off watch at 23:00. An all hands on deck call was made to get the staysail and A2 down.  I scrambled on deck with my inflatable life jacket and harness on, but not buckled. As I got back behind the wheels, I reached out for the port running back winch.  Just before my hand made contact with the winch the helm was put over hard to starboard to go down with the ever increasing wind. I went over the side head first through the life lines above the winch. I was only able to grab a spinnaker sheet for a couple of seconds as the boat was going approximately 18 knots.
I had my inflatable life vest set up for manual operation because of all the unwanted auto inflates I had seen on deck in wet races. My first order of business was to pull the lanyard to inflate the vest. The water was really rough at this point and breathing was a challenge. The vest inflated properly which was a relief, but since I had not buckled the front fitting I had to hold the lobes together with my arms to stay afloat. I knew it would be a while before my teammates could return to look for me since they were travelling away so fast and would not be able to turn without dropping the chute. In fact, afterwards we estimated the boat ended up more than 1.5 miles from me.
With the wind blowing 40 knots, I was in survival mode and concentrating on remaining calm and trying to breathe without ingesting too much water. I retrieved my brand new safety light from the PFD and held it up. The crew saw it for a while but lost it in the distance. Right from the beginning the light did not want to stay on bright and steady. I kept banging the side of it to get it to come back on. After a while the wind died down to the 12 to 14 knot range, but my light went out and no longer worked. I tried several times to get my harness buckled in front of me but could not do it with my life jacket inflated. At that point I inventoried my gear. Besides my failed light, I had a whistle, my AIS transmitter and my safety knife.  AIS was not mandatory for this race and we did not have it on Meridian X. My transmitter would have to be picked up by another boat or the USCG if someone with AIS was within a couple of miles of me. The thunderstorm to the west gave me a reference so I knew where north and Meridian X was. The next 15 minutes were discouraging to say the least. I was floating in the middle of a pitch black, moonless Lake Michigan with no light at 12:15 AM, and with no boats in sight. After about 30 minutes I could see Meridian's white mast light off in the distance, but clearly a long way from me.
The weather forecast was for big wind out of the north once the front showed up and I was starting to get extremely cold. I blew my whistle every minute or so during this time. The next time I rotated to the north, instead of a distant light I saw a green glow of the masthead tricolor and it was significantly closer. I started whaling on the whistle. Occasionally water would get into it and the whistle would not work, but when I had clear blasts it was very loud and fortunately carried a long way. Meridian heard the whistle. Later they told me they would motor and then stop to get the boat quiet, listen, and go towards the sound again. We think this process took about 15 minutes but it worked and I was found!
I was suffering from hypothermia when they dragged me aboard.  I had been in the water for 1 hour and 6 minutes. The crew got my wet clothes off, wrapped me in blankets and fleece, gave me some hot water and eventually I stopped shivering. We retired from the race and headed for Muskegon immediately after my retrieval, which was about 4 hours away.  Once I was warm it was clear I did not need medical attention.  I consider myself a very lucky man and I will forever be grateful to the crew and my good friends on Meridian X for being able to recover from the squall and get back to the same general area in which I was lost. It certainly was not an easy task.
July 19th, 2017 by admin
It's been six years since Mark Morley and Suzanne Bickel died during the Chicago Mackinac Race aboard Wingnutz, and Saturday night was very nearly Deja Vu all over again.  A nasty frontal line – similar to the one that capsized Wingnutz in 2011 – tore through the fleet from the West around Midnight.  Rather than just a big increase and righty, the line held huge, spiking gusts of well over 50 knots, shifting constantly in the turbulent boundary.
Few boats came through the squalls without damage, but the scariest report came from Bill Shellhorse's Virginia-based Farr 400 Meridian X, a perennial competitor in the Mac.  During a knockdown, they lost a crew overboard and it took a full hour to recover him.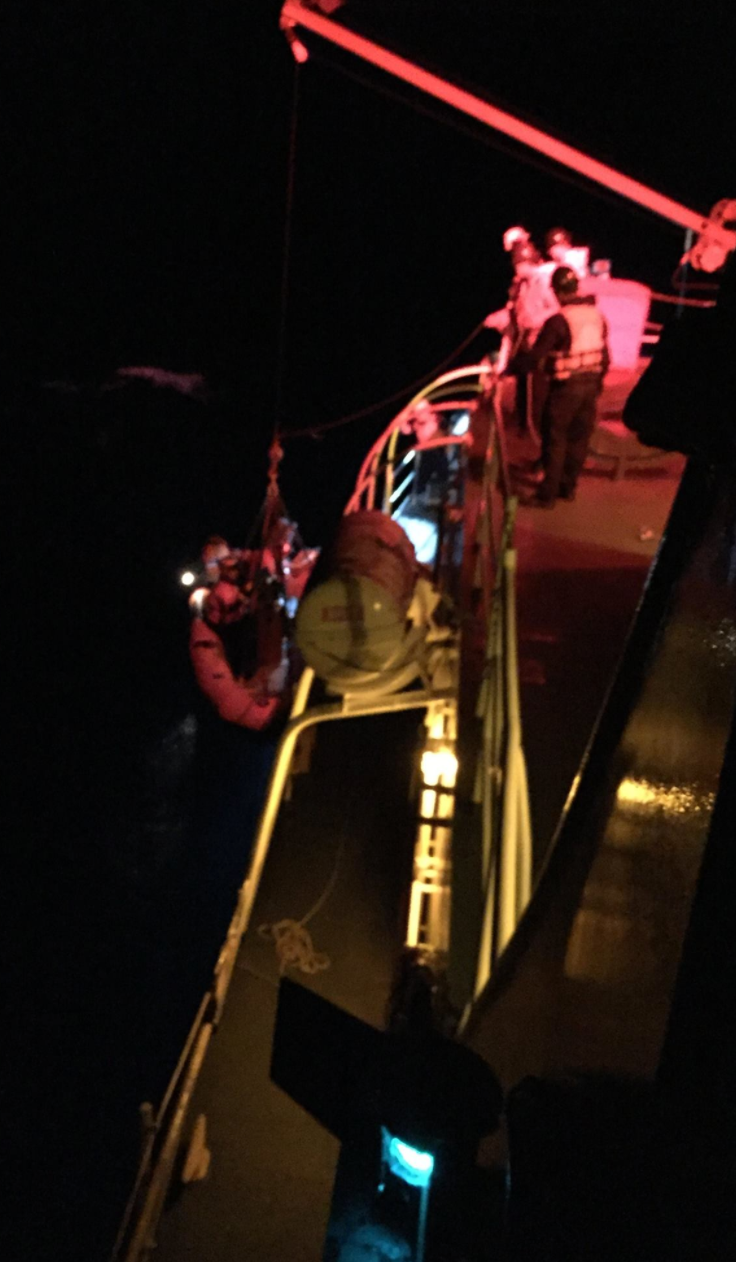 With water temps in the mid 60s and huge, short seas, it's amazing the crew was able to stay alive, and it's not a surprise to have received a tip that the rescuee was maybe a few minutes away from the worst end possible.  Despite multiple USCG assets in the area and quite a few boats trying to stand by and help, it was Meridian which recovered their crew under what must have been terrifying circumstances.
As much as a third of the fleet retired to nurse their wounds, while almost the entire multihull fleet pulled out, but not before the F31 trimaran High Priority 2 went over in a 50-knot gust and turtled; the pic to the left is of her crew being winched aboard a CG tender after they hung out on their upside-down hulls for a while.  The big showdown between the two ORMA 60s – Earth Voyager and Arete – failed to materialize, with EV pulling out with mast track problems.  Arete is just 5 NM from the finish as we speak – not of the Chicago Mac (which they finished with first racing boat and first in class) but of the SuperMac! Owner Rick Warner wrote us this morning.  "All of the Arete team wishes best wishes to
everyone forced to retire.  We are so glad the crews are all OK!  We saw plenty of wind, on the nose in the upper half of the lake.  It was steady 30s with 7-foot faces with a typical Great Lakes short period, the boat was fully out of the water at times, the main hull launching off the back of the waves and the leeward ama digging in and piercing the next one…if you know how far back the helm pods are on Arete, you understand what it means when I say that the waves were actually pounding on it…We are looking forward to the Port Huron-Mac and then the TransSuperior!"
Quantum owners the DeVos family aboard Windquest ironically retired with sail damage, with the big squall disintegrating an A3 and shredding the headboard of their mainsail, while TP52 Natalie J pulled out after destroying their jib tack, cunningham, and some odds and ends.
Thankfully there are no reports of major injuries, though the sailmaker's (and rudder repairers) bill is sure to total millions…
Tracker for both the CYC race and the SuperMac are here.   Results here.
July 17th, 2017 by admin
The SA Podcast returns with Episode 8, and it's a big one; over 3 hours of funny, interesting, and informative chat with some of the real characters in Midwest sailing.  First, we grabbed an hour via Skype with Bayview-Mackinac record-setting navigator Ron White from the ORMA 60 ARETE to find out about their Mack record, future plans for the fastest boat in the lakes, the likelihood of an ORMA/MOD trimaran freshwater series next year, and whether we'll soon see fleets of day-racing cats battling for the overall honors in the Chi-Mac.
After that we've got two hours of hilarity on the shores of Harbor Springs, MI with Melges 32 World Champion and longtime Anarchy videographer Petey Crawford and Detroit racer Blay Schoenherr on a multitude of subjects; the sordid details of the brutal crash between the 12-metre Courageous and a grip of boats (including Petey's) at the NYYC Round the Island race and Courageous navigator Gary Jobson's later attempt to deny responsibility for it, race reports from Blay on a 70-foot sled, the suicide of the nastiest bar owner in any sailing venue anywhere, the olympics, who drinks the most on the SA Podcast, and much, much more.
If you don't have a Podcast or can't play the episode above, head over here for the direct download link.
August 15th, 2016 by admin
The aftermath of the Mackinac Race wreck of the chartered 1D48 WhoDo shows a heck of a lot more damage than just a mangled rudder post; we don't yet know how much of the blown out bow above and the torn off rudder was part of the sinking, damage from the wave action on the bottom, or salvage damage, but it's nasty!  SA'er 'blunted', sailing aboard the mighty Melges 30 Peerless, said there were 'things available to hit on the field'. "We passed at last one 4-5′ long log, that was 14″ in diameter. That would have had our rudder akimbo had we hit it at the speed we were going at the time."
All involved in the WhoDo mess would've likely wished she sank in the 200 feet of fresh water she sat in when SA'er 'peacefrog' and the crew of the C&C 30 CityGirl made the rescue; as it was, Whodo later drifted in and settled on one of the few shallow spots on a deep stretch of Michigan coast and came to rest with half her mast in the air.  After an airbag lift, she was towed in
to the Michigan shore and now sits in Harbor Springs.
For a very, very rare look at a fresh catch of sailors straight after a rescue, check Russell Madsen's video from City Girl.  Very cool shit and well done to all!
Thanks to SA'er M54Kings for the photo above, with more aftermath shots in the thread here.  Here's a link to some local media on the rescue and more.
July 29th, 2016 by admin
After an ultraquick recordbreaker on the short side, the Big Mac, starting today, looks a bit more like the traditional freshwater hate mission.  Here's the very latest video weather update from the organizers, and we recommend keeping an eye on CYC's Facebook Page and the SA thread for the latest news.  This '5 Stages of Sailing The Mackinac Race" comes courtesy of yachtie/humorist 'blubberboy':
 1. Denial and Isolation – The first reaction to is to deny the reality of the situation. It is a normal reaction to rationalize overwhelming emotions. It is a defense mechanism that buffers the immediate shock. We block out the words and hide from the facts. This is a temporary response that carries us through the first wave of pain (before leaving the dock).
2. Anger – As the masking effects of denial and isolation begin to wear, reality and its pain re-emerge. We are not ready. The intense emotion is deflected from our vulnerable core, redirected and expressed instead as anger. The anger may be aimed at inanimate objects (winches and gear), competitors, or fellow crew members. Anger may be directed at the race itself. Rationally, we know the race is not to be blamed. Emotionally, however, we may resent the race for causing us pain, or for sucking us in to it's grips; year after year.. We feel guilty for being angry, and this makes us more pissed. ( at the starting area)
3. Bargaining – The normal reaction to feelings of helplessness and vulnerability is often a need to regain control –
-If only we had withdrew from the race earlier…
-If only we had just called in sick…
-If only we had just turned off our phone, and burnt all of our sailing gear….
Secretly, we may make a deal with God or our higher power in an attempt to postpone the inevitable. This is a weaker line of defense to protect us from the painful reality ( Right after your start).
4. Depression – Two types of depression are associated with the Chicago to Mackinac Race. The first one is a reaction to practical implications relating to the the race itself. Sadness and regret predominate this type of depression. We worry about the wasted time. We worry that, in our grief, we have spent less time with others that depend on us. This phase may be eased by simple clarification and reassurance. We may need a bit of helpful cooperation and a few kind words. ( First 5 miles in)
The second type of depression is more subtle and, in a sense, perhaps more private. It is our quiet preparation to separate and to bid our sanity farewell. Sometimes all we really need is a big kick in the ass (Second five miles in).
5. Acceptance – Reaching this stage of the race is a gift not afforded to everyone.  It is not necessarily a mark of bravery to resist the inevitable and to deny ourselves the opportunity to make our peace. This phase is marked by withdrawal and calm. This is not a period of happiness and must be distinguished from depression. Basically, is just an 'ah fuck it…'  moment.( A little before, or after the  Bahai Temple).
July 23rd, 2016 by admin
Two Bayview Mackinac race courses means two great race reports, and we've got one each from the boats that took line honors.  Tim Kent is the boat captain of longtime Great Lakes multihuller Rick Warner's ORMA 60 Arèté, which beat out the Volvo 70 and MaxZ86s to give some first-to-finish love back to the multihull community after a decade-long drought.  And long, longtime SA'er (and former Mr. Clean crewmate) Paul Hulsey was the skipper of Holy Hand Grenade, taking advantage of the new, smaller size limit for BYC-Mack boats to bring his Melges 24 home first on the Shore Course.  Here are their stories:
Higher and Faster
The start of the 2015 Bayview Port Huron to Mackinac Race promised action, if nothing else.  Weather alerts were beeping and braying from the VHF and everyone's cell phone radar app showed it – there was a nasty front heading toward the 237 boats that had just started.  A quick survey of the fleet showed skippers were of two schools; they either felt there was no reason to haul down their big kite, or they were bareheaded with reefs.
On board Rick Warner's ORMA 60 Areté, we were prepared.  Everyone was foulied up, and as the boats on the beach near Michigan's "thumb" started to show the effects of the wind, we rolled up the big gennaker and switched to the J2, deploying the leeward lifting foil even though we weren't fast enough for it – yet.  We were already blasting through the fleets ahead of us, with spotters on the low side advising Rick on whether to take boats high or low.  Our "out" – the direction we had to turn if we got blasted by a sudden squall – was down at this point of sail, and we wanted to allow plenty of room for the big girl to run if we got nailed.
When the breeze hit, we were ready.  The full main and J2 were the right call, if just barely, and Areté accelerated instantly, the leeward ama coming within inches of going full submarine.  The foil did its work, keeping the boat on its feet, and we took off at just under 30, though no one had time to give more than the shortest glance at the knotmeter; were all busy easing sheets, traveler, barber haulers, and spotting traffic.  Most of the boats in the fleet handled the transition well, but we had to dodge a few that were sailing…unpredictably.
Running the Yellowbrick Tracker replay just after this point was great fun for us; The entire fleet is bunched up like a fist and then – pop! – out comes Areté like a watermelon seed squirting between the fingers! This part of the race was all about speed, reaching hard in a fast boat. As we headed toward the Cove Island buoy, we went back to the gennaker, then down to the J1 and a reef as the wind built later in the day.  And that reef caused a major problem we'd learn about soon.
Areté has halyard locks at both full hoist and at the first reef to reduce compression on her beefy wing mast.  When it came time to shake the reef, we had to slow the boat, bring her almost head-to-wind, raise the sail and engage the lock.  It's a bit of a process that we are still learning and it does not always work the first time.  But this time it did not work the second time, or the fourth, or the tenth time.  All that time, we were bleeding miles that we had built over the big chasing monos Windquest and il Mostro.  We finally gave up, locked in at the first reef and took off, cursing the lost miles.
Before dark, with the wind clearly in full-hoist mode, we sent Mike McGarry, our ace repair guy, aloft.  Once again, we slowed the boat and tried to engage the lock.  We were communicating with Mike by VHF and after trying to engage at full hoist again…with the boat fully slowed…he told us to bring him down for parts.  The headboard car where the lock release and engagement lines had broken…up he went again and after almost an hour of painfully creeping along at 12 knots – slow for us – he had the lock fixed and – as the sun completely set – we brought him down with the main fully hoisted and set out to make up a LOT of lost time.
As we rounded the Cove Island buoy, we did so with Windquest just a quarter mile behind us.  We were going higher and faster and soon left her behind.  But we were sure that the VO 70 il Mostro was still ahead and sure enough, several hours later she turned up on AIS – ten miles ahead.  Ten miles.
As it turns out, it was not enough for her.  Areté was sailing the beat as high as she was – and faster.  As we neared il Mostro, she tacked to cover us.  We cracked sheets, blew through below her, then hardened up and headed for the Island.  So much for multihulls not going to weather.  The big mono was in sight the whole time and as we got to Bois Blanc Island we had left her behind, ultimately finishing seven miles ahead.
We had accomplished the key challenge that Rick had set for himself, the team and the boat – first to finish!  In so doing, we set the record for the fastest elapsed time ever for the Cove Island course – 23 hours, 12 minutes, 51 seconds.
We know that we left time out on the water.  The fact is that Rick and crew essentially took a boat that had been in corporate day charter for five years, sailed it across the Atlantic and through the St. Lawrence Seaway to the Great Lakes, put some new sails on it and went racing.  Evidence of years of deferred maintenance showed up all the time, and the crew McGuyvered their way through it –reveling all the time in the native speed and sheer competence of the boat.  We have a lot to learn and more speed to find, but this was an excellent way to wrap up the distance racing part of Areté's first season – first to finish and a record.  More to come if you stay tuned on our Facebook Page, and thanks to everyone watching!
-Tim Kent
Little Boat, Big Lake

Well that was a hell of a fun race!  Let me start with a small recap of the events and then I will move on to lessons learned and ideas for next year.  That's right, we're doing it again!
Heading out on Saturday Morning was pretty exciting.  Most of the other boats were very supportive but there were a few that thought we were crazy.  By all accounts the weather forecast looked fair with winds predominately predicted to be out of the south for Saturday and then shifting to westerly's by Saturday night and then going to North Westerly's on Sunday morning through late Sunday Evening.  As most of you know, there was also a rather large storm cell moving in from the west that ended up hitting about an hour into the race.
The start was a little confusing as the starting times were all jumbled due to the lack of wind.  I believe we ended up starting at 1:00pm, with a scheduled start time at 12:50.  Can't believe it but we, on HH Grenade, were called over early with two other boats and had to clear ourselves down near the pin end of the line.  At first I was a little upset, but that quickly disappeared as we were off on port tack heading at the beach with the wind filling from the west.  In about five minutes we went from dead last to the clear leader, racing alongside the M24 Gnarly Ruca as we headed down the Michigan shoreline, catching and passing nearly all the earlier starters in less than an hour.  As predicted, the storm cell moved in over the land and when the squall line was about 1/4 mile away, we dumped the kite and waited to furl the jib until the last minute.  There were reports that the wind speeds might reach as high as 50 knots so we were being a little on the cautious side, putting on life jackets and clipping in with harnesses.  When the squall hit it was pretty mild, with winds out of the west at 25 to 30 for a very short three to five minutes and then dropping rapidly to about 10 knots.  In the mess we managed to slip past Gnarly  and added about a 1/2 mile lead our class with only a very small number of boats still in front.
As the winds settled in they turned back to the South at about 11 knots.  This may sound like perfect MELGES24 weather to the uninitiated, but in fact this is some of the worst stuff for us in a mixed fleet; we have to sail angles, and the competition just squares back, eases sheets, and rumbles down the rhumb line. These conditions held from about 4pm until 10pm and we were able to hold our lead – just barely – as a few others, including the all-conquering C&C Mark2 Eliminator, were able to pull within a few boatlengths.
As predicted, Saturday night's breeze shifted into the WSW, and we were were jib reaching at about 75 degrees apparent.  Top wind speeds went to about 15 to 18 apparent.  A little better for us, as the two lead Melges24's pulled out on the fleet once again to about an 11 mile lead going into Alpena by early morning.  Alpena was a little tricky as there was a dead spot close to shore with a transition zone; on the South side winds were light out of the South and on the North side there were steady winds out of the North West.  We were a bit too conservative, passing by the zone about two miles from shore.  Gnarly decided to cut the corner (as did most of the fleet) and pulled within about 1/2 mile of us.
From there we match raced the other M24 for 50 miles on a dead beat always trying to protect the left side of the course.  We had reports of the wind swinging back to the SW and also the waves were much more manageable on the shore.  Gnarly did a great job of splitting tacks and always keeping some leverage for making small gains.  At around 8:00 PM on Sunday the winds did manage to turn south slowly allowing us to fetch and then pop a code zero for our final run into the island.  We managed to hold our 1 1/2 to 2 mile lead over the other 24 in the end but they made it pretty exciting on a few occasions coming as close a a few hundred yards.
Lessons Learned:
1.  The toughest part of the race was managing fatigue.  Despite our best efforts, there is just no sleeping on the Melges 24 in any kind of hiking conditions.  The only time that we had conditions for sleeping was on the first day while running downwind – of course, none of us were tired at that point!  We did manage to shift drivers every hour or so to keep people fresh (relative term) on the helm.  I will admit that on Sunday, during full sleep deprivation conditions, it was a bit quiet on the boat and tensions ran high whenever the other 24 pushed us.  As we got closer to the island I think the adrenaline kicked in and we were OK till the finish but there was about a 10 hour period were the mood on the boat got pretty dark.
2.  We brought way too much shit on the boat.  The MELGES24's advantage is how light it is, weighing in at under 3000 lbs with crew and all the gear.  With all the required safety gear, food, water, Fuel to motor 10 hours (Roughly 4 gallons), and clothing the boat felt really slow and sluggish.  I took about 1/2 the water that I thought I was going to need with the intensions of pulling the rest out of the lake for cooking.  In the end We drank only !/2 of the 1/2 supply that we started with.  Sure we could have done a better job of hydrating but I never felt like I was in any trouble.  Next year I think that I would limit the water to 1/2 case for the first day and then pull the rest from the lake.
3.  We ended up not taking our drysuits only because the air temp was never to sink below 60 degrees.  I was OK but I'll bet Todd would have liked to have had his drysuit on Sunday pounding through the waves and basically being wet for 1/3 of the race.
4.  We were simply not aggressive enough with our sail calls.  If I could take anything back I would have decided to run with the code zero on Saturday night.  Our code Zero was designed to operate at 75 to 50 degrees apparent with winds from 6 knots to 12 knots.  On Sunday night we were seeing winds at around 15 to 17 knots and I was worried that the sprit might break under the load so we went with only a jib and main.  If the pole breaks then you have a wide open hole in the bow of the boat and it would have ended the race for us.  Knowing what I know now I would have run with the code.  In my estimation we could have been running at a steady 12 to 14 knots instead of the 9 to 10 under jib alone.  With a 7 hour run that would have put us another 14 or so miles in front of the competition and we would have won overall pretty easily.  I think we are going to do a lot more testing with the code zero this year to figure out its limits.  Also I am going to check into the idea of carrying an extra pole.  I'm not sure if it's legal in PHRF to carry an extra pole so I will have to check into that one.
5.  We should have been way more aggressive on our tactics especially rounding the Alpena and Presque points before turning west.  We were afraid of getting caught in the dead zone near shore and as it turned out there was plenty of wind.  In fact the Flying Buffalo went inside Middle Island (That shit is crazy because the cart depth is 5 feet in some areas), reaching along the shore while everyone else beat outside.  In their estimation, they made up six miles on the fleet.  That was the move to shot them into the overall winning position.  I'm not saying that we should have done that, but with less than 5 feet of draft on the M24, some aggression with the navigation would be appropriate.
6.  I could have done a better job sealing up the boat from water.  We were completely dry until we turned up wind.  At that point we were bailing about one bucket of water every hour and finished with about two buckets still on the floor.  Made the clean up horrible after dropping the Illy Coffee can in the bottom of the boat and all the water was brown.  It looked as if someone took a huge dump in the boat.  The water comes in from the roller furling well and next to the mast where the halyards go below.  I had the material to seal them but didn't take the time to do it properly.
7.  I had plenty of power to run a laptop and should have been running Expedition.  It would have helped out a ton especially on the trip across Saginaw Bay.
8.  I think the life raft is overkill but I would not think less of anyone who decided to carry one.  I probably would have pushed the boat harder if I indeed had one.  The problem is that life rafts weigh too damn much and when you are trying to save every ounce on the boat it just becomes too difficult to fit one.
9.  Most important – it's the people that sail with you that make all the difference.  My crew was fantastic…..  It's worth saying again….  MY CREW WAS FANTASTIC.  Todd Jones, Brian Schaupeter, and Peter Shumaker were simply awesome.  These guys pushed the boat and their bodies harder than I did and I owe all of our success to these three.  in the end you can take all the safety shit you can but it comes down to having guys that you trust with your life.  I would sail anywhere with this group.
Looking forward to the comments (good and bad) about my post and I'm really looking forward to this race next year.  Congratulations to the Flying Buffalo and Eliminator or beating us on corrected time.  Congratulations to the two other MELGES24's who gave us a good run.
See you all again next year with hopefully enough boats for a one design class!
-Napoleon Dynamite
Tags: arete, bayview, byc-mackinac, holy hand grenade, hulsey, lake huron, mackinac, Melges 24, michigan, ORMA 60, warner
August 10th, 2015 by admin
As promised, BYC-Mackinac leader Areté with the morning call-in.  We'd tell you how she's doing now, but we've been having tech issues with either Yellowbrick or the BYC site for ages.  If you do too, hit the direct YB tracker link here.
July 19th, 2015 by admin
Fresh off his $20k winning performance as the Abu Dhabi Ocean Racing OBR, Matt Knighton checks in from the Chicago Mackinac Race aboard the TP52 Imedi.  Head over to the tracking page quickly to see whether Rick Warner's brand new (to him) ORMA 60 can catch the Volvo 70 Il Mostro before the poop-covered finish.  Thread here.
We just cannot find the wind.
There's been this elusive band of breeze on the horizon all morning and now into the afternoon that taunts us – we keep sailing towards it, but then it pulls away. We're slowly coming to the realization that the mirage effect of the lake and the Michigan shoreline has been playing a cruel joke on us all day.
The favorite phrase onboard is echoed every few minutes, "I think there's a band of pressure over there coming down to us now…" it's repeated over and over – we've yet to see it pay dividends.
There's a mixture of pain and relaxation onboard. Spirits are high. This is the Mac Race after all and what would it be without a little light air sailing! Then again, ever since the sked at 10am that showed we had lost 25 miles to the competition who had invested in the Michigan shore overnight, we've needed some encouragement.
Pulled pork sandwiches just came to the rescue. So juicy, so good…everyone had seconds.
The sun is setting lower now and we're clamoring to make it to the breeze that the skeds show is ahead of us. The familiar landmark of Point Betsie is growing larger on the horizon and the canyon of dunes that is the Manitou Passage isn't too far off now!
It's been the longest 6 hours of our lives it feels like – we've been hovering at less than 3 knots of boat speed the entire time – and the biting black flies are making their cameo appearance. The carnage up on deck is shown in the number of black dots covering the white deck.
Still, couldn't ask for a better crew to go through the pains and joys of sailing the longest freshwater race in the world. Even though we've recycled the same jokes now 3 times…we're still laughing harder and harder.
July 12th, 2015 by admin