Posts Tagged 'Luna Rossa'
Grant Dalton doesn't reveal the deepest darkest secrets of the America's Cup in this 90-minute chat with Mr. Clean, but the Emirates Team New Zealand head man touches on a wide variety of subjects regarding the Bermuda AC, the AC75 monohull, and the just-announced protocol for the next one (natural disasters notwithstanding 😉  Get balls deep into the 26th Sailing Anarchy Podcast with Auckland vs Italy, trickle-down technology, the supercomputer vs. the mobile phone, how disbelieving the Kiwis were that the rest were so far behind, who nicked the videos of AC34 and 35, and much, much more in this frank discussion with one of the iron men of the sport.  Direct listen or download here for the podcast-challenged, and please subscribe to the SA Podcast on your iPhone or Android device.
Show Notes:
00:00-10:27 Intro
11:27 Who wrote the protocol and explanation of its genesis
13:17 Off-water battles in the Bermuda Cup buildup, and obstacles thrown up by Coutts & friends
14:47 Why should challengers trust you to be more fair as organizer than the America's Cup Event Authority were to ETNZ?
15:34 "The most ridiculous stacking of the deck in modern times came from Alinghi"
15:57 How much has Royal New Zealand Yacht Squadron been involved in the protocol process?
16:57 About the Cup's national NZ road show coming up
18:07 Why is it OK to take the Cup to a boat show but not a car show?
18:57 How the RNZYS will help lessen the load for Dalton and the TNZ staff.
20:57 What information did you base your decision to go to a monohull? What's the real motivation?
25:57 The density of breeze in Auckland and the frailty of the Cup cats. Dalts: "16 knots here would pull an AC50 to pieces"
26:41 On NZ's huge tech advantage in Bermuda. "For the life of me I can't figure out how all the other teams were so far behind us"
26:57 How keeping the AC50 would almost definitely guarantee another TNZ win
28:07 How many concepts are being considered for the actual boat? Are ETNZ consulting with other potential challengers besides Luna Rossa?
30:03 Does the design rule schedule mean TNZ and Luna Rossa get an unreasonable head start over other challengers?
30:57 Why can't you say whether or not the boat will lift out of the water?
31:57 Would you lose Glenn and Burling and the other speed junkie tech heads if you go to a heavier, more conventional type of boat?
32:47 Ashby's huge beard and his two months on walkabout
34:07 Dalts' motorcycle crash in the Isle of Man TT
36:02 Bicycle grinders and the openness of the AC36 design rule. "We have no intention of banning bicycles"
38:52 Box rules vs open Rules, and the element in the next AC of "one-design supplied parts". Don't want to stop innovation in areas that can help the average yacht racer, eventually.
41:30 Clean's disappointment with the residency requirement, and Dalts explanation of what he thinks people are misunderstanding about the new nationality/residency rule.
43:24 Finding the balance between a rule that would exclude many countries and one that will help reduce the mercenary culture in the sport, and how to get teams to look to their own countrymen first for crew.
48:07 Dalts: "They commit to a team and a country rather than a worldwide circus where they're guns for hire to an owner who doesn't realize he's getting ripped off"
48:57 Surrogate boats, regatta schedules, and high entry fees for the pre-regattas. "This will allow us to create a financial pool so we don't have to be beholden to a city for funds." Dalton says ACWS events were driven by venue fees in bad places or at bad times for sailing. "Make it great for the yachties, and the rest is easy."
52:27 With the residency requirements and lack of venue certainty right now, how does ETNZ ensure teams spend enough time in Auckland to justify the money the venue will have to spend to prepare for the Cup?
53:42 Dalts' sample schedule for Challengers.
57:12 Is the Italian Option really just Dalts holding Auckland's feet to the fire? What's with the natural disaster thing?
59:05 Two boat testing for ETNZ and no one else? How about a defender challenge?
60:58 There are ways around two-boat bans, but it might not help anyone. Dalts: "SoftBank was Oracles B boat, but they couldn't get it up to speed fast enough"
61:42 Fan questions begin: Soft sails or hard sails? Hybrids?
62:51 Limiting electronics? More PlayStation type controls? Dalts analogy for ac35: "Oracle were still a mobile phone and we were a supercomputer"
64:27 Sailhandling, stored power and the team's philosophical problem with combustion engines on AC boats.
65:37 What happened with the AC34 and 35 Facebook pages and videos? Were they stolen?
67:06 IF you can get the media back, will you publish all the video from those Cups for free to the world?
67:57 who owns the Liveline graphics system and do you intend to have them back in the mix for the worldwide audience?
69:02 Free to air distribution for AC36!
74:37 Omega time, Swiss Timing, and how am entirely new graphics system might be going into the AC46 broadcast
76:27 Entry period closes before venue announced. How is that ok? (Answer, it might not be).
77:57 What are you looking to get from Auckland and the NZ government to make the event possible?
80:01 How much will a basic, unembarassing campaign cost? "People will still spend 160 million" to try to win
81:38 Biggest sponsorship mistake made by most campaigns
82:57 Happy to see Louis Vuitton go, or will you miss them?
84:07 Burlington vs Tuke, Mark Turner's shock departure from the Volvo Ocean Race, and Dalts' picks for the 2017 VOR
86:42 Uniting the major races, World Sailing, and where the sport is headed at the pinnacle.
87:42 Exactly what they're releasing in November and how Dalts will judge whether it was the kind of technological success he hopes for.
88:47 What's by far the most read site in New Zealand (guess?), AC Anarchist Stingray gets a shoutout, and out.
Thanks for all your questions, and head over to the Protocol discussion in AC Anarchy.
October 3rd, 2017 by admin
Every now and again some rich guy tries to dispute the validity of an America's Cup challenge, and a couple of hours ago this photo surfaced to nip all that in the bud.  The photo, shot aboard ETNZ principal Matteo De Nora's 46m Imagine, shows the Commodore of the CVS handing over their Challenge to the Comm of RNZYS at the actual moment ETNZ completes its dominant run over Oracle Team USA.
Chat about the new Challenger of Record in the COR thread here, and vote for the kind of boat you'd most like to see in AC36 in Auckland in the Next AC Boat Poll thread here.
June 28th, 2017 by admin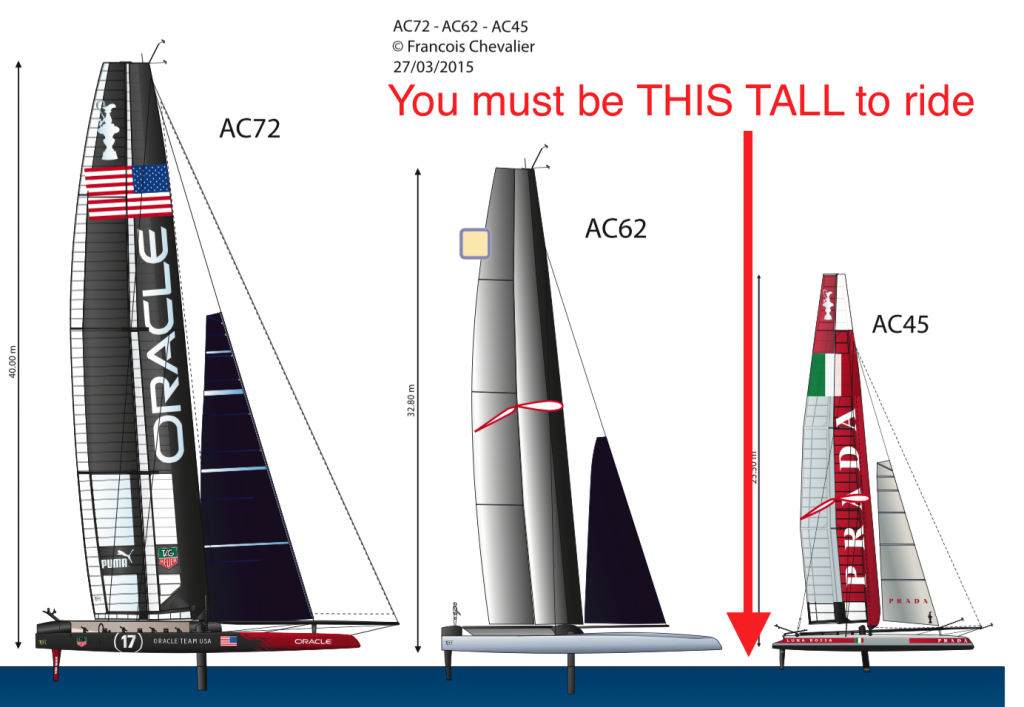 As Ferrari finally gives Italy something to cheer for in top level racing, the fanatical Italian fans are on the verge of losing their maritime standard bearer Luna Rossa thanks to the impending vote on the new America's Cup One-Design 48. That's right, folks, and you heard it here first, of course: The next AC will be sailed in one-design boats – at least if Tuesday's Challenger vote goes the way we forecast.  And Emirates Team New Zealand may follow Prada right out the door, making Russell Coutts the most hated man in New Zealand for the second time, and in Italy for the first.
The SA Army has been working overtime since Coutts' proposal reached the teams on Saturday, and we think we've nailed it thanks to some of our less enthusiastic friends inside (otherwise enthusiastic) teams.  So meet the new boat:
-Strict one-design hull/platform, 48 feet long x 30 feet wide,
-Strict one-design wing, similar proportions as Oracle AC45T,
-Strict one-design daggerboard location and case,
-Strict one-design rudder location and case,
-Open main foil design,
-Open rudder design (minimum horizontal area)
-Hulls and wings to be built by teams with strict ACEA controls (weight, dimension certs, etc.)
It may shock you readers who think we are perpetual AC antagonists, but we actually are fully in favor of the move to a smaller boat.  We have never and will never 'hate' the America's Cup – we're just embarrassed to part of a sport when open, public greed and repetitive incompetence govern the pinnacle event, and that's why we let them know constantly.  But we love fast boats, and we dig foilers, and we're stoked to see flying get so much love.
Meanwhile, the boat will be very sexy, but crucially, having the development dollars go exactly where they can be most effective – the foils – is extremely clever.  There should be no barrier to AC48s hitting similar speeds to the AC72s downwind and upwind, and while open-design foiling AC62s would unquestionably be quicker and a great deal more spectacular than the new 48, the majority of the public wouldn't be able to tell the difference.
While we like the new boat, and we like the idea of a fun regatta in beautiful Bermuda, we are quite sure AC35 will be a flop, if only because it's part of Russell Coutts Flying Circus.  We've learned to always bet against Russell when it comes to business and marketing, and never bet against him in sailing.
In addition, we can't help noticing that ACEA has caught itself in a massive conflict: On one hand, they have an edict from Larry to 'make the event self-supporting', in other words, MAXIMUM CASH INTAKE, and hence, Bermuda's $72M in cash and prizes.  On the other hand, Larry and Russell want to see an event with a long-term future, in other words, maximum public, TV and sponsor interest – which would mean a major population center in a transportation hub with tons of media.  That ain't Bermuda, and that's all you need to know about Ellison's priorities.
Tuesday morning, the five teams of the Challenger Committee will vote on the new design.  If, as we expect, Team France, Ben Ainslie Racing, and Artemis all vote 'yes', we should see another team enter – a Japanese entry that will be a partner to the Oracle boys.  Luna Rossa will probably make good on its promise, killing off the team with by far the most time and money in the next Cup and the AC62 design – something we think Russell has been wanting to do since they made him look like an incompetent boob in San Francisco.  It makes us sad, but we have ZERO pity for Luna Rossa – as the second-in-time challenge, they had the right to take over for the embarrassment that was Team Australia and become Challenger of Record and prevent ALL of this.  Instead, the Italians chose to sit on their ass and be part of a committee, and they have no one to blame except themselves.
As for ETNZ, despite Doc Harvey already saying that ACEA would ignore its written contract to bring the qualifiers to Auckland, we think Coutts will use this tremendous leverage to get ETNZ on board with the change.  Dalts can 'toe the line' for his Italian friends during the vote and still remain part of the new AC48 Cup, if it will get the qualifiers back in Auckland – and his coffers filled.
Many of the die-hards think this move is the death knell for the America's Cup, and if public sentiment depends on a real design competition, they're right.  We think the spirit of the AC died a long time ago, and this move could turn it into something useful, at least.  What do you think?
March 30th, 2015 by admin
Now that the big money is locked in for Bermuda's contract, it appears the America's Cup is looking to cut their expenses massively by getting rid of the entire AC62 concept, sticking instead with modified AC45 foilers for all teams.  And no, this is not April 1; AC PR released this bit of news today: "The existing operational costs of teams is much too high with a boat like the AC62."
Let's revisit the timing on all this; it has been 19 months since Oracle won AC34, and almost a year since the AC62 rule was announced.  And apparently, the folks at ACEA are just now figuring out how much it's gonna cost.  We honestly had to check the date when we first saw this release, because it seems like a joke.  Then again, this joke is brought to you by the same folks who've been delivering great ones for the past two years, though we have to think that Bermuda ain't laughing.
While it could be negotiation-by-press-release, it seems real enough, but we can't believe anyone thinks the AC45 will make a successful America's Cup. Running an AC in the visually much smaller (compared to an AC62) AC45s will absolutely destroy whatever spectacle the Bermudians and Cup lovers were hoping for; the thousands of you who've seen an Extreme 40 event know what kind of impact a 40-foot cat makes, and it just ain't much unless you're a couple hundred feet away or less.  On TV, the AC45 foilers will look great, but for sailors and AC enthusiasts – and let's face it, AC34 view counts and ratings proved that's the audience now – a 45-footer will simply be too close to what's already out there to generate real interest.   The Extreme 40 has a bigger fleet, and Alinghi, still one of the best-known teams in professional sailing – just joined the foiling GC32 show. The M32 is growing as well.  And a 45 foot cat is really America's Cup-worthy?
Worse even than the loss of the spectacle is the fact that the shrinking of the boat will mark the final admission that the America's Cup will never again be the pinnacle of yacht racing.  They tried, and for a few short years, the Cup truly had some of the world's fastest inshore sailboats.  But the AC45s won't be the fastest at anything, because in sailing, size matters. The reason a Formula 1 car is tiny is because small is fast.  In sailing, it's the opposite. Doc Harvey pretending the speed of the 45-footer 'is expected to be similar to what was achieved in the last America's Cup' is just plain silly, and yet another example of an AC promise that will fail to materialize.  The AC45 foilers are very cool boats.  They're slower, cheaper, easier to handle, and safer than AC62s.  But here's the thing: If you're gonna do it in slower, cheaper, easier, safer boats, why not just do it in GC32s?  If you follow Doc Harvey's logic, there's no reason to sail the 45 when you can sail the 'similarly fast' smaller boat.
Interestingly, the announcement says the deal ain't done yet, and Luna Rossa is missing from the list of team quotes giving half-hearted support for the change.  Maybe Patrizio Bertelli feels the millions they've spent to design their AC62 already (and millions more on salaries for dozens of sailors working toward that goal) shouldn't be thrown away to let in teams without the resources to compete?  As far as we can tell, the entire advantage LR has been working so hard for these past two years will be wiped away the moment this change is agreed to during next week's meetings.
Also missing from the endorsing quotes is anyone from Bermuda, where the change to AC45s will probably be rationalized by the fact that the AC eventually has their way with every municipality.  Someone might want to bring the island a bandage; we see a little blood dripping from its ass…
As we said a couple of months ago, we've given up our expectations, and we've quit criticizing the AC for their move to Bermuda; we're just looking forward to a fun regatta for fast boats.  It might be a little tougher to see them, if the GGYC has their way…
March 25th, 2015 by admin
After the ass-kissing statement of support released last week by the 'Euro 4' AC35 challenger heads (Ainslie, Sirena, Percy, Cammas), we're unsurprised to learn that, according to AC authority and AP writer Bernie Wilson, Russell Coutts specifically told ETNZ to stay home from a major, confidential Challenger/Defender summit meeting later this week in London.
According to Wilson's piece, "the event authority is working with the teams "to further define an event based on the published protocol." Coutts said that after he heard from another team [emphasis ours -ed] the Kiwis didn't want to want to proceed on that basis, "I rang them up and said, 'It's best that you not come.' We have four other challenging teams and the defender that want to work together to have a great event this time and in the future."
We're not quite sure what Coutts' offered to get formerly logical and critical guys like Sirena on board with whatever failure-doomed plan Coutts is trying, now that his greed and hubris sent Iain Murray and Team Australia into the void previously occupied by Vincenzo Onorato.  Discounted entry fees?  Access to some of OTUSA's old data archives? It's gotta be something, because they all know that Australia's Challengus Interruptus makes Russell Coutts and Larry Ellison look like some of the biggest buffoons in international sport.
Coutts' latest bit of nastiness to his countrymen is just one more folly from a guy who is almost comically bad at the business of sport, and the same question is on every AC watcher in the world's lips:  Why would one of the world's best businessmen keep Russell Coutts at the head of the AC organization when he has failed at every single AC-related business decision he's ever made, including the most costly boondoggle in the history of modern sport?  It ain't the biggest newspaper in the world, but the Otago Daily Times has one possible answer: They say Coutts' contract may have a 'Bertarelli Clause', guaranteeing Coutts the top job until he gives it up himself.
Golden Gate Yacht Club members are not happy.  Notwithstanding their recent "support", Challengers are not happy.  Sponsors are not happy (or nonexistent).  And fans are not happy.  Hell, even Obama has a 40% approval rating.  But how long will the notoriously headstrong Larry Ellison continue to allow his reputation and the sport he loves to be screwed over by a piss-poor businessman who's proven that he is terrible at everything…except for one skill:  Winning the America's Cup?
Unless this is all part of the plan…screw everyone and you might not come so close to losing the next one?
Is there anyone in the world left that supports Russell Coutts?
July 28th, 2014 by admin
What do you get when you mix the world's best sailing photographer, the world's best foiling sailor, and the world's prettiest boat graphics?  A damned nice screensaver, that's what!
You're looking at Moth World Champ and Luna Rossa sailor Bora Gulari (seated on hull, aft) surveying some of his full-foiling handiwork while the boys wait for the Cagliari sea breeze to kick in for some practice; go here to see some Borlenghi pics of the beast flying late last week, and here's some video. Check the Luna Rossa thread starting around here for loads more.
While Bora and the boys played at mach 1, Luna Rossa helmsman Francesco Bruni was taken apart by the boys in US blue in the Petit Finals of the WMRT stop in Sweden; Bruni sailed like a man possessed until that point, when Canfield made him look positively pedestrian.  Canfield took the final spot, while Swedish native Bjorn Hansen won his third-straight Swedish Match Cup, beating Ian Williams in the final.  Watch the final day action from Marstrand here (and watch for Gulari in this weekend's Mackinac race, navigating for Phil O'Niel's TP52 Natalie J).
July 8th, 2014 by admin
Since the end of the America's Cup, have you experienced any of the following symptoms?
1) Pain when you see slow sailboat racing?
2) Inability to sleep without youtube videos of AC45 crashes going in the background?
3) Compulsive watching of any foiling boat videos no matter how short, terrible, or foreign?
4) Obsessive research about J-foils, L-foils, T-foils, Elevators, and all sorts of other shit that has no bearing on your personal sailing?
If so, you need to take two Great Cups and call us in the morning.
That's because we will be broadcasting live from the first ever non America's Cup foiling multihull regatta this week in picturesque Lake Traunsee, Austria, where racing teams from all over the world will be test sailing and then racing the first few GC-32 foilers against each other as well as one of the older-foiled designs.  Luna Rossa's been training for the better part of a week with some seriously cool results – the first foiling gybe ever – and we certainly expect them to kick some ass, but with AC folks like Slingsby, Langford, Minoprio and more all checking in, it could be anyone's game.
Our own Mr. Clean will be leading the commentary team for four hours each day of live action racing. Tune in right here, but only if you like excitement, spray, beautiful alpine backgrounds, and top America's Cup teams.  Miss it and you miss one of the most exciting developments in the sport.
May 27th, 2014 by admin
Offshore Rules
For a decade, Alex Thomson has distinguished himself as the one non-French solo racer who can truly battle with the big boys both on the course and in the boardroom.  Second in the inaugural Barcelona World Race and then an incredible third place in the last Vendee against far quicker designs, Hugo Boss has become synonymous with Alex and his Open 60, and they are clearly happy about it.  That's why the fashion house pulled the trigger last week on yet another 4-year deal with Thomson and management company 5West; they used the occasion to announce Thomson's participation in the next Barcelona World Race with long time SA favorite Pepe Ribes, and the team also committed to next summer's Ocean Masters NY-BCN race; a bit of a stunt to try to get US interest up in IMOCA action prior to what should be a well-funded, well-attended, and brilliant 2015 BWR.  Congrats to Alex and his entire extended team; they are keeping IMOCA relevant for a hell of a lot of English-speakers.
Inshore Fuel
Thanks in part to some of the same great supporters of Alex's campaigns, we can confidently report that Sir Ben Ainslie – the first British member of a winning America's Cup team in 110 years – is most of the way to meeting initial funding pledges and goals for the next America's Cup and an all (or mostly) British team.  While Sir Ben wouldn't confirm or deny this when we spoke to him, other Pommie friends tell us that Ben's been making great inroads, and probably has around 80% of the necessary funding pledged by a syndicate of UK businessman and long-time commercial sponsors.  This all assumes a satisfactory protocol coming to light sometime before Judgment Day, and it's spectacular news for the Cup and great news for fans of arguably the world's best (and best-known) sailor, and we wish him all the luck in the world.
World Championship of the World
We're also hearing that the AC45s may be done and dusted, and that 2014 will not be a year of ACWS racing of any kind.  Meanwhile, Ben, Cammas, Luna Rossa, and ETNZ are likely to jump into the Extreme Sailing Series tout de suite, and some of the younger potential Cup B-teamers may get some starting and match racing practice in a resurgent World Match Racing Tour.  Add in some cross training with the Flying Phantom foilers and you've got plenty of AC action for the next year, even with no AC.  Good times (on tight budgets)…
December 19th, 2013 by admin
The top shelf of the infinitesimally small population of female Carbonologists, Marie Dixneuf takes some time to clean up the wing inside Luna Rossa's San Francisco HQ.  If you don't remember her from Clean's Extreme 40 interview in 2011, prepare to fall in love. Absolutely gorgeous work from Carlo Borlenghi, clearly making the best of an event that's lacking in good racing to shoot.  And guess what?  Sailing's number one photographer has gone Facebook.  Bravo!
August 13th, 2013 by admin
Protests, boycotts, accusations of cheating and corruption, threats to withdraw…welcome to yet another typical America's Cup opener!
Unsurprising but still confusing for the average fan, understanding the current mess requires some editing to remove the vast amount of white noise and diversion.   Fortunately, that's a skill that we here at Sailing Anarchy have in abundance.
If you're good at deciphering solid debate from insane spewing, the IJ thread is probably the best discussion about the Luna Rossa and ETNZ protests.  Clean's interview with Radio Sports NZ embedded above covers the subject decently in a few minutes for the casual fan; for the audio impaired or those looking for a little more clarity, here are a few things you can do for an easy understanding of the issues:
1) Quit accusing Iain Murray of cheating!
The man is not on the take, nor has his brain been taken over by nano-bots developed by an Oracle subsidiary.  We can't find a single person who has ever known Murray who will accuse him of anything less than fairness and impartiality.  His rules move may have been misguided, but it wasn't because he was in anyone's pocket.  As Goethe said, "Misunderstandings and neglect create more confusion in this world than trickery and malice. At any rate, the last two are certainly much less frequent."  Oh, and after you take off your tinfoil hats, ask Paul Cayard to take his off too.  They may be out to get you, but bitching about it makes you look even worse than you already do.
2) Don't think this is about competition, or major competitive advantage.
These protests are entirely about procedure and precedent.  Despite early informal assent to the main points, LR and ETNZ did not agree to two of Murray's safety recommendations, and when they were incorporated via the back door of the Marine Event Permit (MEP) application process, ETNZ believes they  caused a change to the AC72 Class Rule without the required procedure.  Whether the changes are about safety or not is completely irrelevant.  Whether the Coast Guard likes them or not is irrelevant.  You know what else is irrelevant?  Whether a decision in ETNZ's favor will cause a cancellation of the Cup and the loss of hundreds of millions of dollars.  The jury is not even allowed to consider it.  In our opinion, only one question really matters to Dalton and Sirena:  Can the Regatta Director make decisions that will change the nature of AC34's essential governing agreements and documents without following the rules contained therein for such changes?
3) If you need to blame someone, blame the group that came up with the safety panel process and implemented it so poorly.
Red Flag 1:  These were called 'recommendations of Iain Murray."  Not "Recommendations of Expert Safety Panel", not "Mandatory Safety Requirements from Safety Experts."  They came from one man in permissive language, and Iain still wonders why they were not more fully embraced.  Never mind the insurance issues:  You started off on the wrong foot.  Red Flag 2:  Before discussing the details of the safety recommendations with key people inside the teams, Murray released them to the public, along with a statement saying they would be sent over as conditions for the Coast Guard's Marine Event Permit (MEP) – an essential license for the event.  We don't know who advised Murray that his changes would pass easily, but after the dictatorial, heavy-handed move of stapling them to the MEP application, an agreement was never going to happen.  You can't tell people that their opinion doesn't matter and then, a month later, tell them you would like them you need their agreement.
4) Through all of this, we can't, for the life of us, understand where the hell the jury has been.
The protests were filed ages ago.  Everyone knew they were coming more than two weeks ago – even before ETNZ announced it on June 27th.  So with the first schedule race on the 7th and a protest involving the Regatta Director, the Measurement Committee, and both teams scheduled to race, what does the Jury do?  They don't show up until July 8th.  Seriously, folks;  What the fuck?  Hasn't anyone in San Francisco worked an America's Cup before?  Did the folks responsible for protests and the Jury not understand that every single AC in recent memory has some kind of rules or legal drama at the outset?  Were their jobs officiating in Marstrand or Kiel or wherever that much more important than the first match of the Louis Vuitton Cup, or was the ridiculous delay in this part of the process due to yet another lack of proper funding from the organizers for yet another essential part of AC34?
5) Don't get sucked into the discussion about safety.
If existing AC72 rudders were unsafe, Murray himself wouldn't have gone back on his own recommendations and allowed them after at first recommending they be illegal.  If the AC72 Class Rule is inherently unsafe, ETNZ wouldn't be nailing foiling gybes and hitting 42.7 with no drama.  These two rules may help all teams have a less dramatic heavy-air bearaway, but you know what else would do that?  Moth-style automatic ride-height controlled flapped foils.  The boats would be a hell of a lot quicker too.  What about chopping off 5 meters of wing?  That would make the bearaway easier too – way easier.  Would either of those changes pass a Class vote even though they would make everyone that much more safe?  Hell no.  Should they be attached to the MEP, anyway?  Hell no.
In our opinion, the decision is a simple one:  We can we find no justification in the Deed, Protocol, Class Rule, or Notice of Race that allows Murray or anyone else to modify a Class Rule without the consent of the teams.
Jury Duty
The jury basically has two choices; either Murray's MEP is a valid exercise of his power as Regatta Director, or it ain't.
1) If they find Murray's recommendations valid, chances are ETNZ will sail the LV mostly alone.  Artemis will try to get to the line and be lucky if they do so by August.  Bertelli will take his ball and bat and go home unless Dalts can convince him otherwise.  Hell hath no fury like an Italian scorned.
2) If they find for ETNZ and Luna Rossa, Murray can either (1) figure out a way to amend the MEP to accept the previous rules – a tough one considering the hardline stance he took the other day and the Coast Guard's reluctant and out-of-place role in all this (2) work with the teams and the CG on a solution to be implemented as soon as practicable – also unlikely given the bad blood, (3) resign and let the next guy deal with it, or (4) stand his ground with whoever is his boss (ummm…anyone?) and get fired so that someone else can get this regatta back on its feet.
We'd hate to see Murray go; We still believe Murray to be a straight shooter, someone who would quit before cheating.  And we'll always prefer a sailor to a politician in any job.  Politicians are like lawyers, though; sometimes – particularly when you are dealing with lots of egos and lots of money, you need a really good one.  Jury shot from Gilles Martin-Raget.
July 10th, 2013 by admin