Posts Tagged 'lost'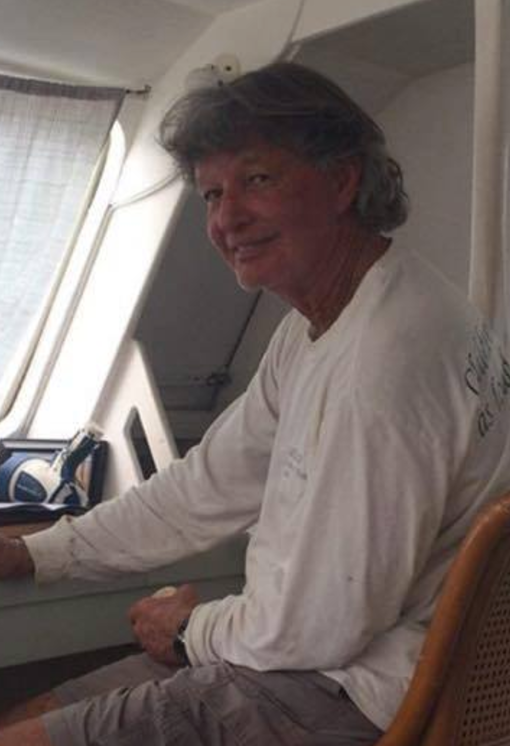 Anyone who's played around in the Caribbean racing scene for any time has come across "D" Randy West.  Quick with a multihull, quicker with a drink or a joke, we're sad to see West go and we enjoyed our own time racing with and against West on various Gunboats.   SA'er "Rasputin" wrote a little eulogy below; hit up D's Facebook Page for all the posts from wellwishers, and add your own.  And once again,  #fuckcancer. 
One of the Godfathers of the Caribbean multihull sailing and racing. and partying scenes D. Randy West has been lost to brain tumors from melanoma. I was still in bed early this morning and heard Skype ringing on my computer and it turned out to be a fellow Caribbean multi maniac in Aruba who had heard rumors of Randy passing. Must have been during the night and no real details yet but what I found on his Facebook page.
Randy owned PPALU, a 75′ Spronk catamaran and had skippered and raced a long line of Spronks since the 80's including SHADOWFAX and SKYJACK. I was lucky enough to have raced with and against him in the Caribbean and New England and he will be greatly missed among his tribe. His enthusiasm and smile was infectious and there was always a party that was threatening to break out wherever he went.
-Rasputin
August 15th, 2017 by admin
It's a struggle at times to get through this nearly 30-minute long homemade documentary of the recent rescue of the Dove II, but real footage of boats in trouble is rare and there's plenty to learn in this video from the rescuing crew aboard Tilly Mint (and video producers) from Monday Never.  Dove II is the boat we told you to go and find for a cool 10 grand in reward money after her crew abandoned her in the Caribbean around christmas, and Monday Never and their friends created a GoFundMe campaign to help them get back on their feet.
You can also find out more information by reading the family's blog account.
January 23rd, 2017 by admin
Despite the title, we promise you that this is NOT a video of our Senior Editor being born.
It is a video of a tiny Allen Brothers Block being produced from scratch by the UK rigging company, but more importantly, it gives us an excuse to remember a passionate sailor whose death went unnoticed by us last year.  Here's a beautiful obit of Kim Allen from the folks at Burnham Week.
Kim was only eight years old when his father Glenn died. Glenn, together with brother Tony were the co-founders of Allen Brothers (Fittings) Ltd. After Glenn's untimely death, Kim's mother Vera remarried and Kim was sent to boarding school in Rutland, an experience he did not enjoy. Many of his formative years were spent with his Auntie Ann and Uncle Tony Allen, growing up with Elizabeth more as brother and sister rather than cousins. Kim completed his education at the local state school in Hornchurch, did a year's business course at Ardleigh Green where he met Lindsay, and they married in 1993. Their two sons, Edward and Richard were born in 1991 and 1993.

Robert Coyle met Kim in their Cadet days, along with Alistair and Stuart Munro, Mark Wade, David Shapiro, John Lewis and many more. Kim's boat was called Happy, in line with the family tradition of all boat names beginning with HA, although not a good name at the time! It was already clear that Kim not only loved competitive sailing but was good at it. His calls on the water became well known, most might use 'starboard' or 'water', but Kim normally preferred 'xxxx off' which seemed to work! After leaving Cadets Kim sailed 470s for a while, with other Corinthian members, especially the Wades.

Kim started working for the family business in the seventies, under Tony's guidance and also became his apprentice for the Endeavour Trophy Championship and Icicle events, watching and learning how it all worked. As his competitive dinghy sailing tailed off he became increasingly involved with his company's Soling, Dragons and Roller Coaster, a twin-masted ketch on which the whole Allen family spent many happy holidays.
January 9th, 2017 by admin
Here's the real story behind the Sarnia beach-set mark piece from yesterday.
For the Paul Harvey fans out there, here's the rest of the story.
The picture is about two years old.  I walk my dog Jenny from our home down to the end of the beach and back on occasion.  Particularly if there is a good blow; love the sound of the water.  Did the same walk a couple of days ago which made me track down the image.  I printed out a 12″ x 18″ print because I like it.  Had house to myself last night after a month of company.  Have never posted, wasn't sure where to post but thought would make people smile.  So I posted.
I got a PM from SYC's race director asking me if I could pinpoint the precise location of the marker because members had been down to pick it up and couldn't locate it.  I found it strange that they had done without it for two years (remember, I prefaced saying I am not racer so ignorant of racing everything) and weird that someone had stolen it and never returned it.  That's when the penny dropped for me.  Yesterday we had a blow out of the north that gusted to, perhaps, the high 30's.  They thought it had happened again!
So I PM'd back asking "How much is it worth to you?"
But I couldn't go through with it.  I knew the Race Director from when he kicked my ass playing squash.  I called him to let him know it was an old picture.
Glad people got a kick out of it.
So now you know the rest of the story.
September 3rd, 2016 by admin
Sydney's sailing scene adds another sad bit of news today with the passing of a true Harbour legend.  Roger Hickman won the Hobart last year and was a long time sailing crew with recently passed yachting icon Bob Oatley, but he'll be remembered more for the hundreds of young sailors he helped inspire and mentor to become offshore racers.  From the Daily Telegraph:
Just over two months after skipper Roger Hickman collapsed at the end of the Sydney to Hobart yacht race, one of Australia's greatest ocean racers has passed away.  The Sydney skipper, 61, contested his 37th Sydney to Hobart on his yacht Wild Rose in December. But just hours after the finish of the race he collapsed and was rushed to hospital in Hobart where numerous brain tumours were discovered.

"He was well loved and a special man,'' said long-time friend and sailor Matt Allen, president of Australian Sailing.
Look for more info or share your thoughts about the indomitable Hicko in here.  Video interview above from our 2013 Hobart coverage in conjunction with McConaghy Boats.
March 1st, 2016 by admin
Kiwi A-Cat sailor and past Olympian Murray Philpott died in a glider crash in central Otago, NZ yesterday.  SA'er 'TornadoALIVE' posted this obit from IACA Technical head Graeme Harbour.
The International A Class Association is deeply saddened by the death of New Zealand A Class sailor Murray Philpott in a tragic gliding accident on the 6th February.
Murray was an active long time A Class sailor for over 25 years and a regular competitor at World, European, New Zealand and Australian Championships. He was a fierce competitor who excelled in heavier weather and five top ten results at World Championships and ten National titles in New Zealand over his A Class sailing career pay testament to his ability.
He was an innovator and always looking for improvements. His latest boat in which Murray played a big part in design and construction attracted a lot of attention at the Punta Ala Worlds.
Murray was known, respected and admired by sailors from all parts of the world. His deep knowledge of the sport was guidance to all levels of sailors, from club racers to Olympic sailors and Americas Cup contenders.  He gave his knowledge happily and openly to all that sought his council.
As an active long time IACA and Technical Committee member Murray was instrumental in framing the guidelines we operate under today and could always be relied on to offer sound advise on the many issues faced by the class.
A devoted husband to one of the worlds best trolley dollies, Christine, and loving father to son Daniel and his two beautiful daughters Gabriel & Georgia.
In recent years one of Murray's greatest pleasures was racing Daniel in the A Class fleet, he was secretly becoming more and more concerned that Daniel was increasingly at the finish before him.
Murray, you will be sadly missed by all and you can take comfort in knowing that the whole A Class fraternity is here to care and look after your family.
February 9th, 2016 by admin
Thick fog apparently led to the death of two sailors not far from Cape Town on Monday, when skipper George Mills ran his 47′ yacht Tara onto rocks near Table Bay.  Mills and Rachel Daly from Ireland died as the yacht was broken up, her injured husband reached shore and eventual rescue.  Another reminder of how unforgiving some coasts can be, and how slim the margin for error is at the intersection of rock and open sea. Our condolences to Mills and Dalys' families.  Thread.
February 3rd, 2016 by admin
Perhaps as many as 40 boats were burned to death at the Samuel White Shipyard in Cowes, Isle of Wight, including the irreplaceable 1/4 World Champ Espada. Apparently the big shed was attached to an auto repair shop and some fuckwit forgot to check a petrol tank and the whole thing went up in flames.  Thread here.
January 25th, 2016 by admin
We're extremely pleased to know Alex and Guillermo are safe ashore in Spain after they could presumably no longer keep up with the water ingress on the sinking Hugo Boss after her abandonment of the Transat Jacques Vabre.  The structure on the new Hugo Boss continues to break down while Alex and Guillermo and the shore team are meeting as we speak to figure out if and how a salvage will happen.
While the 6 new VPLP/Verdier boats are the most complicated and technologically advanced ocean racing monos ever created, there are only a couple of really 'new' things about their structure: The foils and cases, which look to have been a major problem with one boat, and the ultra-thin rib-and-skin construction of the hull, which took out another.  It'll be a little bit before we know which problem started Boss down her cascade of failure, but one thing is for sure: With four out of five new boats broken, at least one of them catastrophically, the designers have a lot to answer for – something we look forward to from the typically pretty straightforward folks at both VPLP and Guillaume Verdier Design.  Note that these boats were built at at least three different facilities…
The fact that the fifth of the new foiling boats is streaking away from the rest of the IMOCA fleet at a ridiculous pace doesn't really help; a small turn of fate and instead of being on shore, Alex and Guillermo are adrift in a raft.  Or lost forever.
Designers are finally starting to get around to accepting the fact that keels should not be ejectable.  Their next challenge?  Hulls need to be built to last past the first delivery.
Talk in the thread here, and track what remains of the fleet here.
If you haven't seen our one-hour interview with Alex on the deck of the now-sinking HB, get to it!
October 31st, 2015 by admin
BREAKING NEWS (courtesy of 9news NSW):
September 4th, 2015 by admin