Posts Tagged 'loick peyron'
UPDATE: It is no longer if they can – they fucking did it! Mighty Merloe was first to finish at 17:03 HST, smashing the elapsed time record! Pictures coming asap!
If the Mighty Merloe can hold off her much newer (and theoretically much quicker) Transpac competition for another half a day, her crew will have pulled off the greatest upset of the year in offshore racing.  H.L. Enloe's 2004 vintage ORMA-60 gives away 10 feet in length and the better part of a decade in boat design to the 70s – the foiling Maserati and the multiple-record-setting Phaedo – but that doesn't seem to be bothering Merloe.  She sits on 29 knots with just 345 NM to the finish line, and once again our man crush grows for the indomitable Loick "lo-lo" Peyron (enlisted for the trip along with French tri superstars Jacques Vincent and Franck Proffit). And navigator Artie Means is showing what we already knew – the boy can play.
In other news, the boat that weighs and costs more than the entire multihull fleet combined sits a day back.  Chat about the Transpac here.
July 10th, 2017 by admin
Leg 1 of the Volvo is over, the Rhum fleet screams towards the Caribbean, some Midwest college action, remembering the memories, and much more in this week's edition of Video Anarchy.
The King of the Atlantic
it was a different Banque Populaire Maxi that Loick Peyron took to the ultimate record smash, but today's accomplishment is almost as good; the affable Francais and SA fan is just a few hours from breaking the absolute Route Du Rhum record, more than a hundred miles ahead of the bigger, faster boat he once skippered!  Peyron needs to average around 15 knots to break the Lemonchois record (of 7d aboard a boat he was only recruited to sail a couple of months ago, and with Michel Desjoyeaux and Franck Cammas flailing around in their own pursuits lately, Peyron cements his legendary place as today's king of the Atlantic.  The Route Du Rhum thread just keeps getting better and better, especially now that Anarchist "Laurent" is back putting English translations on the best videos from the course like today's note from Loick; thanks Laurent! The latest page of the thread is here, or read from the beginning here.
Heart of Darkness
The last time we got excited about a sailing movie was when Peter Weir brought Patrick O'Brian's incredible Master and Commander to the big screen with the help of at least one Anarchist rigger.  The movie was badass to sailors and mostly well-received by critics, though it never got close to making up the USD$150 million it cost to make – part of the reason we haven't seen another big budget nautical movie in the intervening decade.
But now there's a new one, and it's based on the scariest fish story of all time.  Heart of the Sea is directed by one of the best of the generation, adapting a spectacular book written by a guy who once won a major Sunfish championship.  You can learn more in the thread, but for now, just click "HD" and turn the sound up.  This one is worth it.
Final Fourth
It's full of clips that any real Volvo fan saw days or weeks ago, isn't really targeted at knowledgable sailors, and occasionally forgets that it's telling stories about a race rather than a cruise, but the fourth installment of Volvo's Life at the Extreme TV series continues to improve on earlier episodes, even if only in fits and starts.  If anything, it's a great show to share with non-sailing squares – students at school or your friends, families, or whomever has shown an inability to really comprehend what you do on Saturdays and Wednesday nights, or why you always have bruises after some of those long weekends.  For our part we don't expect to embed these for you after this one – there's just better stuff coming from the teams and VOR and we prefer to highlight that.
We're not particularly bullish on cable TV and we don't expect to get bowled over by the race's American TV ratings now that NBCSN is running the series, but we're not at all sure it matters.  With over a million Facebook fans and a monster news, social media and video footprint right now, it's clear the investments they've made in staff, one-design boats and communications are paying.
The race's biggest problem is the typical Sailing Anarchy reader, because they need you.  It's your support that keeps interest up between races and it's yachtie brand-loyalty that sustains interest in this race over the decades.   But you know too much, you expect too much, and it's impossible to keep you happy, which is why we tell everyone that the Ocean Racing Anarchy forum threads are really the best tool to follow the race.  Let the Anarchists curate the information coming out of the boats and race HQ for you, and follow along there yourself.  Relive the leg 1 thread here, and be ready for Leg 2 by subscribing to the thread.  Check the short Leg 1 review reel here.  Those of you coming over to Cape Town for the festivities, the schedule is here.
The People's Skipper
Whitbread skipper, sailmaker, and everyone's favorite Cork character Joe English died last week, and we salute the Irishman with this short film following Joe and wife April's journey with the early-onset Alzheimer's that eventually took his life.  If the film (or Joe's memory) touched your life, consider donating to The Alzheimer Society of Ireland.  Thread here.
Big Fish/Little Pond
Our friend Sarah Sloan over at the Michigan Sailing Team hits us with a little news from the Big Ten Team Race last week in Ann Arbor; scores and details here, and thanks to U of M sailor Zachary Frankel for the movie.
Six months after the Worst Winter Ever and the resulting perpetually froze lake caused the University of Michigan Sailing Team to postpone and reschedule the Big 10 Team Race regatta, six teams from the MCSA came to Ann Arbor to compete for the top prize (in this case, a giant jar of Halloween candy and their name on an impeccably polished trophy).
In an uncharacteristic display of charity, Michigan Weather decided to provide us with exceptional fall weather and wind Saturday and Sunday. The University of Michigan, the University of Wisconsin, Northwestern University, Marquette University, the University of Notre Dame, and the Ohio State University sailed all day under blue skies and with a blowing breeze. Michigan ended the day undefeated in first, and everyone returned back to campus for a night of relaxation and warm showers.
Even though there was a decrease in temperature and wind speed on Sunday, the level of competition was still incredibly high, with the day ending in a sail-off between the University of Michigan and the University of Wisconsin. Michigan won the final race, but subsequently lost off the water when a protest brought to the judges went in the favor of Wisconsin, who clenched the top spot for the weekend.
It seemed, however, that everyone drove away Sunday afternoon feeling victorious. UofM isn't going to name names, but we overheard members of another team claiming they haven't had as much fun at a regatta as they did at Big Ten since they were freshman. It's hard to stay upset about your performance on the water when you put your accomplishments in perspective; how many college students can say they got to spend the weekend on the water with the coolest kids across the Midwest?
November 9th, 2014 by admin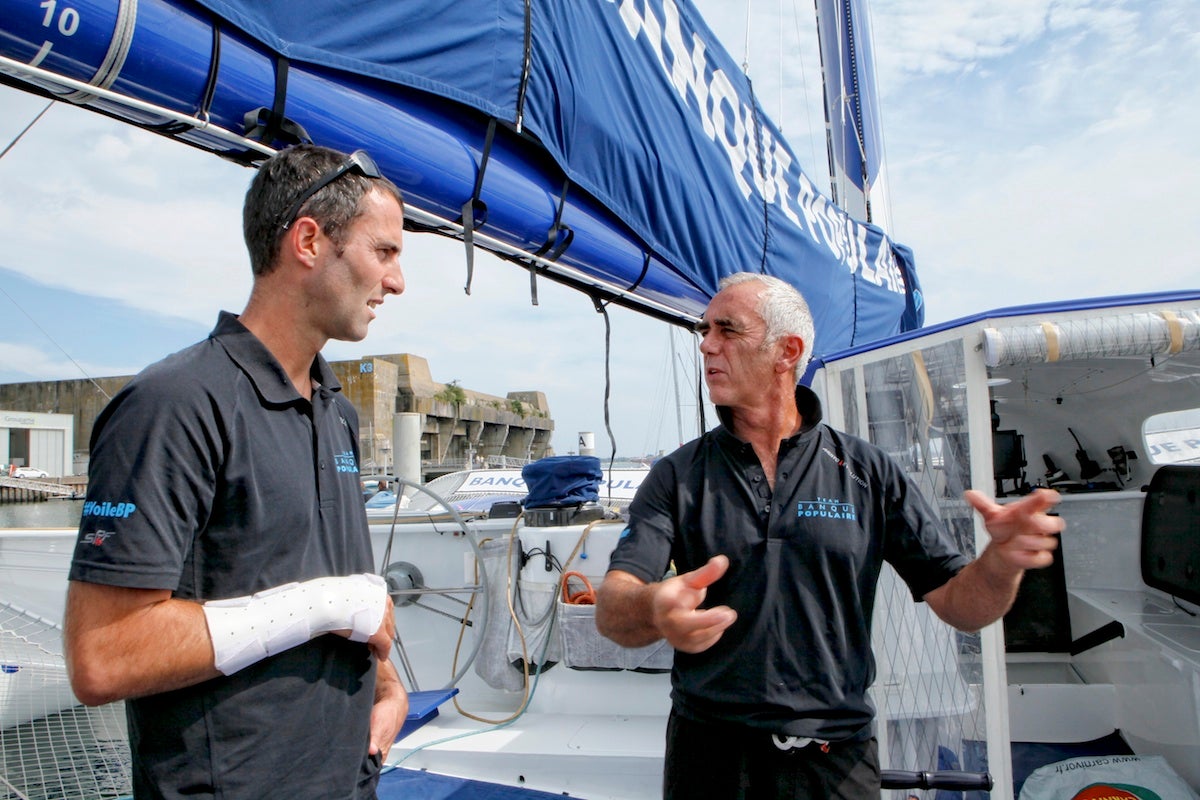 We were even more enamored than usual with our old pal Löick when we learned of his plan to take the historic and pretty little trimaran Happy across the pond for this year's Route Du Rhum.  Mr. Clean even chatted with him about it in Austria a few months back, and we were extremely excited to follow such a quirky story with one of the sport's most entertaining characters. Alas, it was not to be.
M. Peyron has just been promoted from a 30 footer to a 130 footer; thanks to a non-sailing related hand injury to Banque Populaire VII (known as Groupama 3 when Franck smashed a thousand records with it) skipper Armel Le Le Cléac'h,  Loick just got the last-minute nod to singlehand the second-most insane boat in the race (#1) across the pond.  While he may not be the hard-charger that the much younger Le Cléac'h is (and he'll need it when going for line honors against the bigger and faster S2), you'd be hard-pressed to find a smarter, more humble, or more wily sailor entered in the race.  He's also one of the few who knows what it's like to be completely screwed in the middle of the Atlantic on a big multihull during this race, he certainly knows his way around monster multihulls as the Jules Verne trophy holder (on the boat that is now his primary competition), and he might just have more solo race crossings of the Atlantic than anyone else in the race.
We know who our money is on.  Go tell him congrats on his FB page.
Christophe Launay photo from about 30 seconds ago, with a full gallery over here.  Screenshot from a very clever little press release.
September 4th, 2014 by admin