Posts Tagged 'live'
Up to four races for Day One of the Star Sailors League Finals in a nice Caribbean breeze and we've got it all for you, live! Check it out right here, starting at 11 PM EST/0800 PST.
December 2nd, 2015 by admin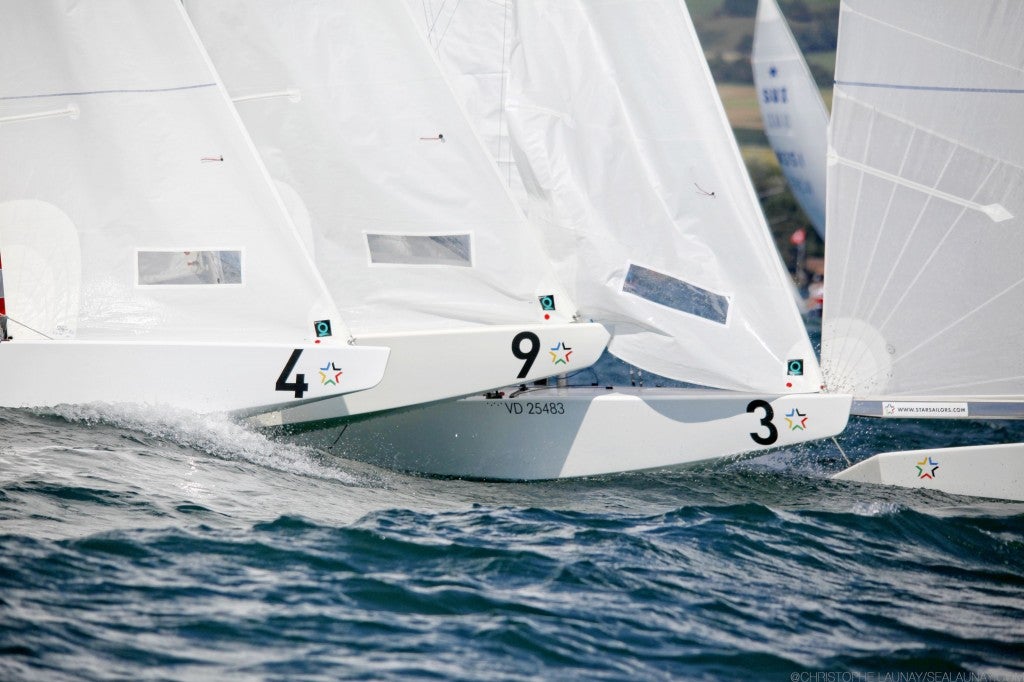 More action from the quarterfinals of the Swiss Open for the Star Sailors League in the battle for a pile of cash and big boy bragging rights – video livestream is here. 
September 12th, 2015 by admin
The final, double points day of the exciting M32 Battle for Helsinki is LIVE in FIVE! Will US-One finally get wiped off the top of the leaderboard?  Only one way to find out…
Pics, etc. over here.
September 6th, 2015 by admin
Just two races remain, and it's all live thanks to Sperry and J/Composites France.  Breeze, waves, and fireworks on the starting line.  What more could you want?
July 11th, 2015 by admin
It's your final chance to catch Genny Tulloch and the VOR Live Arrivals team as they welcome in leg winner Alvimedica and VOR winner Abu Dhabi!  We'll be out on a RIB to bring in the fleet; go to SA's Facebook Page for our own take on the finish, and be sure to check back in this week for a live talk show with the winning team, some great interviews, and maybe a hard-hitting question or three.
June 22nd, 2015 by admin
Charlie and Mark's Team Alvimedica have a nice buffer for the Hague restart to the final leg of the 2015 Volvo Ocean Race, which means the live coverage is unlikely to be all that interesting, especially if the VOR production team continues to rely on piss-poor phone-call-level sound and the thick Norwegian accent of Knut Frostad (what's up with that?). But Mark Covell's back on the microphone and the atmosphere on the ground is electric, with spectators coming out in massive numbers to support Brunel and Bouwe and the kind of racing that fits the steel-headed Dutch mentality to a T.
Mr. Clean got some local flavor during a quick check-in with the Lemster aak (bilge-board racing barges) fleet just before the VO 65s got in the other day, a prelude to hours of Sailing Anarchy live and video coverage from he and Petey Crawford over the next week from Sweden, including a full hour of live chat with ADOR's Ian Walker and Jamie Boag, the guys behind three long campaigns that finally resulted in the long-cherished VOR win.  In the meantime, enjoy Genny and friends from the studio and the water.
INJURY UPDATE: The French site 20 Minutes writes that the woman injured in the horrific accident between a VOR Lorient marshal RIB and the maxi-trimaran Spindrift 2 has indeed had her leg amputated.  She lost a tremendous amount of blood, but thanks to emergency services, is apparently stable.  The Spindrift team have suspended training and pulled out of the GC32 Cowes Cup 'out of respect for the victim and those close to her'.   It brings the GC32 Cowes fleet back down to 5, marking yet another bit of bad luck for a Class that just can't seem to escape it – though they are being considered as one option for the 2016 Extreme Sailing Series fleet, so there's that.

June 20th, 2015 by admin
If you're getting tired of Volvo Ocean Race videos, you'll probably want to look away.  But if you like straight talk from the leaders of the race about some very serious and some not-so-serious topics, spend another hour with Clean, Nic, Charles Caudrelier, Ian Walker, and Mark Turner and watch this show.
May 16th, 2015 by admin
Clean Report
Opinion amongst Volvo vets is unanimous that Newport is light years beyond any of the recent US Volvo Ocean Race stopovers in every way, and we're extremely glad we're here to be part of it this week thanks to our friends at Sperry and the Volvo Ocean Race Boatyard.
With so much staff coverage available from the teams and VOR media, we wanted to give you something different this week, and today at 1130 PST/1430 EST/1830 UTC, we're bringing you Sailing Anarchy's first-ever live, two-camera talk show from the Volvo Ocean Race Boatyard – in front of a live audience!  We haven't skimped on guests, either, and since we've been wanting to sit down with the leaders of Team SCA for some time now, we asked, and they thankfully agreed!  Team CEO Richard Brisius, Performance Director Brad Jackson, and the afterguard of Dee, Sam, and Sally will sit down with co-host Nic Douglass and me for an hour-long chat about everything VOR.  We want to know all about their race, and all about them.  What's the future look like for Team SCA, and what does their race mean for their careers, for their fans, for their families, for their sponsors…
You've already given us some great questions; please head over to the thread and post more, or hit us up on Twitter and use the hashtag @asksailinganarchy if you want yours answered today; the best three questions win Team SCA t-shirts, but you only have a couple hours to get 'em in.  Wanna learn more about the girls?  Check out the brand new well-produced reality series No Ordinary Women.  We've enjoyed the first two episodes, and we think you will too.  And don't fret if you miss our show today; it will be archived for your pleasure here.
And if you have questions for VOR CEO Knut Frostad, Boatyard Director Nick Bice, the two guys tussling for the race lead; Ian Walker and Charles Caudrelier, or Vestas skipper Chris Nicholson, get those questions in too; we're recording their show tonight for publication tomorrow morning at around 1000 EST.
Nic's been doing a great job getting interviews with all the boys and girls; head over to her channel here for a stack of interviews that go far beyond the usual tripe.  And be sure to keep an eye on SA Twitter and Facebook for many more face-to-faces coming up this weekend, especially for the last-minute pre-race Dock Walk video posted to our page, 20 minutes after dock out for the In-Port Race and Leg Start.
May 15th, 2015 by admin
Tweet your questions here!
April 9th, 2015 by admin
New York Times correspondent Chris Museler was so inspired by our coverage of foiling boats over the past year that he's doing something really interesting with it, and he wants you to all be part of it – live, online, or via Twitter; your choice.
Tomorrow, Thursday April 9th, Chris will run a live, webstreamed talk called 'Foiling In The USA", where he will talk to some of the most interesting folks in foiling and answer your Tweeted questions about the foiling landscape. It all starts at 1900 (7 PM) EST, 1600 PST, 2300 GMT.  If you want to ask your question in person, head over to the Doyle Long Island loft for free pizza – everyone's invited.
This is all about having an open discussion on how the rapid development of hydrofoil technology is going to change the way we enjoy sailing!! Will we all be cruising on hydrofoils in the future? Will kids be flying out of the water on mass-produced plastic foilers at their learn-to-sail camps? Here's the line-up to answer those questions:
-New York Times correspondent CHRIS MUSELER makes sense of the latest developments
–GunBoat founder PETER JOHNSTONE on live SkypeVideo chat about the foiling G4 cruiser/racer catamaran in trials THIS WEEK!
–The Foiling Week founder Luca Rizzotti will chime in from Lake Garda to explain the vibe when the world's top foil designers get together to create the future of the sport
-AND contributions from other influential visionaries including radical kite foiler Bryan Lake, Waterlust Project filmmaker Patrick Rynne, US Sailing Executive Director Jack Gierhart and more!!!
Big thanks to Mark Washiem from Doyle Sailmakers Long Island for the space (and Pizza!) to share cool ideas with Strong Island sailors.  And a huge thanks to US Sailing for stepping up to support foiling in the sport by Sponsoring the LiveStream broadcast.
Finally, Tweet your questions to @OakcliffSail, and thank them for sponsoring and running the Twitter feed.
April 8th, 2015 by admin