Posts Tagged 'live'

We learned a few key things in today's AC36 protocol announcement in Auckland.  UPDATE: PROTOCOL HERE.
RNZYS Commodore Steve Nair should never, ever try to pronounce an italian name again.
The boat is a 75-foot long monohull, and the design details will be complete by next spring
Cost containment is a fundamental principal
The boats will need to be build in the country challenging.
Nationality rule: Citizenship requirement is a mere 20%, the rest of the sailing team needs a strict residency requirement in the country they are representing. "It's not a strict thing, but it's an attempt
Cup is Auckland 2021, but there's no infrastructure or plans yet.  2019 and 2020 there will be pre-regattas.
Two boats allowed per team.
Challenger series will be organized by the CoR.  AC will be organized by the defender.  Joint group for broadcasting/sponsorship/umpiring and other common issues.
Facebook Live means journalists can stay at work or at home, cause they sure didn't show up to the press conference.  Thank you ETNZ!
"They might be" foiling.  The next boat will be presented in November and it 'definitely will be an exciting boat'.
Some one-design componentry, some supplied parts likely.  Development 'open in the really important areas'.
10-12 crew, bicycles allowed.
No tank testing allowed, no wind tunnels.
If for any reason, it can't be in Auckland, it'll be in Italy.
Prada Cup.  Yes, Louis Vuitton is gone, and Prada is not only title sponsor of the challenger series, but presenting sponsor for the big one.  Does LV have the balls to return on a Challenger's sails?
Independent regatta directors and race management, similar to Bermuda setup for RM.
Longer races, ~40 minutes.  Longer pre-start, upwind start.
Watch it all above, and weigh in here.  We're talking to Dalts tomorrow for the SA Podcast, so add your questions for him here.
September 28th, 2017 by admin

Yesterday's capsize-filled funfest at the 49er Worlds gives way to a forecast today that's slightly more reasonable as the fleet splits into Gold and Silver…12-18 knots are on call with meaty seas from the North and plenty of action from some of the world's best sailors and the future stars of the AC and VOR.  Clean and team are live from 10:30 local/1130 CET.  Watch and share, and catch up on your interviews over at the Class FB page.
September 1st, 2017 by admin
Theatre-style short-course racing for the Medal fleets, 20-30 knots, flat water, and definitely time for some carnage.  Don't miss it!
August 4th, 2017 by admin
Clean and the 49er/Nacra 17 media team are calling it all live today, and with real breeze on for the first time in the Euros, we're finally going to see some upwind foiling starting at 1100 CET.  49ers run in the afternoon, so don't miss it…or if you do, just press 'play…'  Isn't the modern era wonderful?
August 3rd, 2017 by admin
The best-kept secret in sailing (outside of ETNZ's wing control) comes at the end of a long press conference from Volvo HQ in Gothenburg, SWE.  Here's a synopsis of Mark Turner's speech, in order of importance (to us), and we encourage you to post any comments or questions you have for Turner and the VOR in the synopsis thread so Clean can fire 'em at Turner later for an interview to be published this weekend.
1) The offshore portions of the 2019 or 2020 Volvo Ocean Race will be contested in what the new design chief calls a 'Turbo IMOCA'; 60 foot foiling monohulls with adjustable-flap foils; while the in-port racing will happen in foiling cats.  The 60 footer will be 'convertible' to an IMOCA, and the VOR in-house design team led by Guillaume Verdier.  The cats are being opened up to a design tender process starting today at between 32 and 50 feet.
2) The 2020 Race has a wishlist of 8 teams, and all boats will be owned by VOR and leased to teams in an attempt to reduce the initial barriers to a new team/sponsor.  Turner says the new lease program and pooled services program allows a similar budget for future races to that of today's programs. This lease thing is a BIG deal, and speaks as much to Turner's cred with the Volvo Board as anything.  One paper calls the new moves (including the design and build process) a USD$50 million price tag for Volvo.
3) Sustainability looks to be a real goal this time rather than just more lip service to 'green' sponsors.  VOR spent the last ten years bowing primarily to the god of social media – their new pet deity is now a clean ocean, and they've got funding and support from 11th Hour, Akzo, and the United Nations, and their goal is a fleet of Zero Emission races.  2017/18 sustainable goals will be met with help of rules requiring team use of official RIBs, hydrogenerator minimums, fuel maximums, etc.
4) It's obvious the VOR has struggled pulling in team sponsors – that's why you saw the Hong Kong team's offer accepted yesterday, why there are still 3 empty boats, and why VOR is still trying to find someone to run a 'clean the oceans' entry for an all-women/all-youth/50/50 mixed team for the coming edition they say is already half funded.
5) Volvo and the VOR have formed a major partnership with World Sailing, principally to help create a pipeline for young sailors to become offshore pros and VOR crews.  This includes new VOR Academies (presumably in partnership with existing organizations) and keeps Turner and his hefty experience involved in the possibility of the offshore racing Olympic event that World Sailing has been chasing from the IOC.
6) Course may be radically different, especially for the 50th anniversary 2023 event.  More racing between races or a straight up 2-year race cycle, with race activity every year.  Maybe a crewed non-stop race around Antarctica.
May 18th, 2017 by admin

Clean Report
The final day of the TP52 SuperSeries in Miami is live from 1300, with a possible three races to round out the weeklong series.  As you can see with the excellent Day 4 Highlights above, Azzurra leads by a nice margin, while perennial favorites Quantum Racing tries to find its way on to the podium. You'll also watch old Scottish mediaman Andi Robertson try to find a way to a hip look…and fail.
Thread is over here to chat about the only real big boat Grand Prix racing left in the world…and Sunday's live racing can be seen right here.
March 11th, 2017 by admin
We have not gone easy on the CYCA and Rolex over the years for the less-than-impressive Rolex Sydney Hobart coverage the world usually sees on boxing day.  That makes us even more excited to be able to say this year "WELL DONE, AUSTRALIA!"
Why's that?  Because the Channel 7/CYCA feed looked great, sounded great, and streamed live on Youtube for the world's bored sailors to geek out on while avoiding family at Christmas.  They still think they own the water, but let's tackle one issue at a time.  Meanwhile, SA'er 'forss' has created a super simple tracker using the WindyTV streamlines, so if you prefer something less hungry than the official tracker, you can find the SA'er version here.  Latest news in the thread.
December 25th, 2016 by admin
The MUSTO + Torqeedo "Cleanin' Up Europe" report continues with the big day:
Don't screw around, ladies and gents; there's one thing to watch this fall if you love yacht racing or extreme sports, and it begins today!  Get primed by learning about the history of the full fleet here, scroll down for Clean and Ryan's excellent dock walk/form guide of the entire fleet, and click on the player above for the live dockout show beginning at 0800 local time and running through the pre-start at 1-ish. Not sure why Vendee Globe TV can't use the same player for both parts like everyone else (but then again the French don't play that well with YT).
We didn't do anything like our coverage four years ago, when we spent two weeks interviewing literally dozens of sailors, shore crew, and event staff.  Thanks to the evolution of the internet and event media, a thousand percent increase in english-language coverage from the 2012 event to now, and the fact that the skippers are all in 'bullshit the media' mode right now, it ain't necessary.  We'll grab them in a week or three when they can start keeping it real, away from phones, tv producers, and all the dangers of the land.  For all the team links, click here.
One interview we did grab was one of our sentimental favorite skippers: Nandor's Spirit of Hungary.  Maybe it's his perseverance in the face of almost constant problems over the past couple of years, or maybe it's because he gets to do the ultimate sailing race with his daughters and wife as his shore crew, or maybe the idea of building your own boat for a race this tough appeals to us – either way, check it out here.  And if that's too serious for you, get a load of Mr. Clean trying on Alex Thomson's 'Pavlok' shocking alarm watch and shrieking like a little girl – or at least the bald grizzly bear version of one.  Thread remains here and it's getting updated by multiple Anarchists on site, and check back this evening for the VPLP Podcast – fascinating – and more video work from Clean and his invisible team.  For more details on the broadcast coverage in your area, go here.
Enjoy, and a big thanks to MUSTO and Torqeedo for presenting all of our Vendee, ISAF World Council, and METS coverage this month.  Also thanks to Bruce Schwab and Ocean Planet Energy for their support of our coverage.
November 5th, 2016 by admin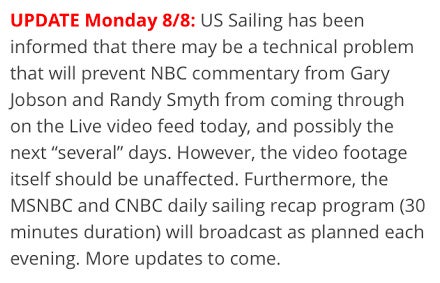 While overall US ratings are down an astonishing 32% from London, it's amazing how every other sport has superb coverage, yet sailing always seems to have some sort of fuckery associated with it. Not hearing Jobson, however, is hardly a loss at all, but let's face it – while a few hardcore watchers are happy with pretty pictures alone, sailing video without informed commentary will struggle to hang on to real fans, much less earn one new interested observer.  The production team's fuckup reaches monumental proportions against the political backdrop: After London's production of the sailing events ranked almost at the bottom of all Olympic sports in total viewership, the IOC told World Sailing they needed to figure out how to pull their weight or risk consequences, and their solution; hire the same producer who pulled those shit ratings, and hope he doesn't fuck anything up…
From Anarchist Bill: Olympic streaming commentary: just watched the RS:X race. Really outstanding video, and wonderful without commentary. I don't need someone telling me what's going on, particularly as their occasional graphics were excellent. Gary and Randy may be great, but sailing is so much better without talking heads.
Americans with cable can watch the coverage, for what it's worth, over here.  Those without can find legal, free streams through one of these links.  Sketchier stuff for our visitors from far-off lands with good anti-spoofing software and smart clicking, you can brave these spam-filled feeds for live sailing.
August 8th, 2016 by admin
It's quarters, semis, and finals for a share of the 100,000 dollar prize purse in Germany today. Watch it live now!
May 7th, 2016 by admin