Posts Tagged 'lending club'
"Please accept my resignation.  I don't care to belong to any club that will have me as a member" – Groucho Marx, in a letter to the Friar's Club (1958).
We're not sure whether Lending Club CEO and oceangoing record holder Renaud LaPlanche's ouster from the company he founded was the result of something shady he did, or simply the culmination of years of attacks designed to bring down the young, disruptive businessman who built the largest online vendor in the US in a few short years.  There's a DOJ investigation underway, so if their paymasters haven't been bought off by bank lobbysists, we might just get to the truth – someday.
Whether his forced resignation last month and the subsequent tanking of Lending Club stock was engineered by massive and nasty establishment banks and their minions, LaPlanche's days of assaulting records with big multihulls are over, at least for the time being.  That leaves the ever-game Phaedo and John Sangmeister's now-foiling ex-ORMA Tritium (which is racing to Alaska with former Lending Club skipper Ryan Breymaier aboard in a couple weeks) to carry the American flag in the offshore recordbreaking game.  Who's up next?
June 1st, 2016 by admin
Driven in large part by one of SA's closest friends, Renaud LaPlanche's 6-month record-breaking campaign aboard the monster trimaran Lending Club helped cement the United States' ascendency as one of the world's preeminent multihull powers.  Along with Lloyd Thornburg's busy Phaedo 3, Taylor Canfield's US-One's dominance of the M32 Series and now odds-on favorite status to win next year's $1M World Match Racing Tour, and Oracle Racing "USA"'s likelihood of taking home the Auld Mug, Lending Club has moved the goalposts for anyone looking to make a mark in outright speed under sail (or introduce huge numbers of people to the pointy end of the sport). For a wrap of their season, we go to Ryan (and be sure to follow as Ryan goes for doublehanded glory in the massive 21-boat fleet for the Transat Jacques Vabres next month).
After an action-packed 6 month charter, today the maxi-trimaran Lending Club 2 project has come to an end and we hand the boat back to its owner.  We knew from the start back in March that this was going to be a busy year, but I don't think anyone realized how many people would come and see the boat or come sailing with us.
From the start we agreed we would have an open door policy and whenever possible we made the boat available for visits at the dock. Our skipper, Renaud invited all the Lending Club employees to come sailing and over 1000 of them took him up on the offer. We took children from sailing schools and students from all backgrounds and as young as 5 and 6 years old. We took hundreds of Lending Club guests and business partners in both New York and San Francisco. Everyone without exception had the opportunity to drive the boat if they wanted to and everyone came back to shore with a huge smile and an unforgettable souvenir.
We set three new world records in Europe, the Atlantic and the Pacific oceans.
We made friends.
We had fun.
Heartfelt thanks to the entire team for working so hard; literally every single day for weeks on end and for taking such great care of all 1500+ guests. Thanks to the racing team who stepped up to the challenge and brought home three new records. Thanks to our technical partners Switlik, Marlow, Guy Cotten, Events Clothing and Underwater Kinetics who supported us from the start and finally a huge thanks to our leader Renaud Laplanche for making all this possible.
Here's a short video that sums up the whole adventure in a few minutes, I hope you enjoy watching as much as we did living it.
Ryan
September 17th, 2015 by admin
Fresh off the obliteration of a decade-old Transpac record, Ryan Breymaier sat down with Mr. Clean for another of their excellent Skype chats about life, liberty, and the pursuit of speed.  Listen to the details of their incredible 3 day run from California to Hawaii, get the goss on their even crazier trip ahead – basically, a race back to Europe via the Panama Canal to get a few more records in before the Lending Club goes to her new owner. And perhaps most interestingly, listen to Ryan's take on the major monohull records, and what kind of boat will be necessary for mono records to really start falling.
One of the brightest stars for the future of American sailing, and we're lucky to get another great 36 minutes from him, with big thanks to Petey Crawford/Penalty Box Productions for the late night editing assist.
July 24th, 2015 by admin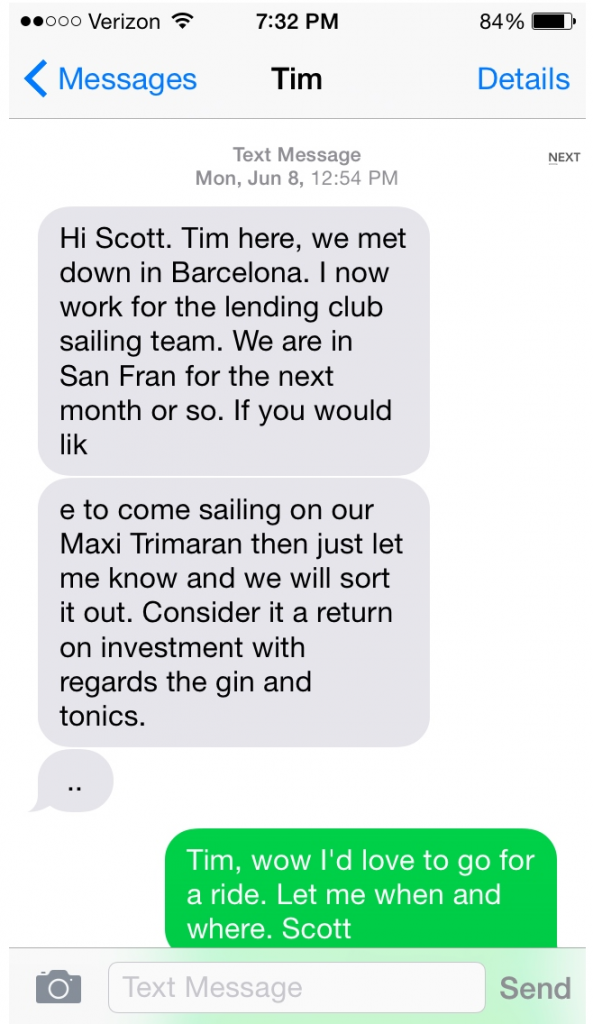 Next time you want those young racers to quiet down, or when you feel like being a cheap fuck at the YC bar, consider this story.
Here is the video from sailing on Lending Club, (ex-Groupama 3/Banque Populaire VII), a 105′ Maxi Trimaran here on the West coast getting ready to do the Transpac.  I met Tim, one of the shore crew, years ago and he had a friends and family ride slot open up last Friday.
This thing is a beast, and really fun to drive.  I hit 32 kts while driving.  Ryan, the skipper hit 40 kts at 120 deg true wind angle in 20+kts of wind.   The boat goes upwind at 45 deg true wind angle at 19.5kts in 20 kts of breeze.  We had the J2 jib and 1 reef in the main.
It was karma that got me that ride, or maybe it was Return on Investment, whichever you believe in.  Tim called it ROI, and I laughed.  But all I did was buy a bunch of drinks for a nice young racing shore crew years ago, and really enjoyed their company and stories.  Then years later, I get the text message above.  Bottom line…you really can't go wrong buying strangers a bunch of booze!
And Tim, If you are reading this [of course he is.  -ed], there are a bunch of San Francisco sailors that would like to buy you a drink.  Since you are here taking people for rides for the next 3 weeks…
June 16th, 2015 by admin
Well, that didn't take long!  Lending Club CEO Reynaud LaPlanche has only had his VPLP trimaran Lending Club for a few weeks, and he's already set his first passage record.  Look for some serious records to fall over the next 6 months thanks to this youthful and enthusiastic Franco-American billionaire.  Project Manager and skipper Ryan Breymaier tells the story exclusively for you Anarchists…Mark Lloyd photos (except the last one, credit Quin Bisset) with galleries over here, and be ready for the LC's next assault – the ages old Newport-Bermuda passage record – coming far sooner than you think.
About 15 minutes after our start in 20 knots of breeze upwind, JB Le Vaillant looked at me and said "We should turn around, go back and put all the sails up and start over!"  I was tempted to agree with him as we found ourselves with the J2 and 2 reefs in the main upwind in 12 knots, tacking towards the Needles.
NOT ideal, especially for breaking a record Brian Thompson and his crew set on Maiden 2 after waiting for weeks for ideal conditions; ENE breeze, super flat water, sunshine sailing.  Brian and his team (which included SCOTW Adrienne Calahan and C-Class hottie Helena Darvelid -ed) did the record back in 2002 with the full main and big gennaker.   Lending Club crew Stan Delbarre was with them on their record run, and he's been warning me in quiet tones for weeks.  "Ryan, this will not be as easy as you think."
Those words were ringing in my ears as I looked back to see a glassed off Solent arriving with the rising sun.  We'd pinned our hopes on the NW breeze coming after the frontal passage with a shitty (but improving) sea state and plenty of breeze to power across; our window before leaving for the States was short, and it isn't the right time of year for Easterlies…
In the end, after hurried discussion with JB, Boris Hermann who was navigating, and Renaud who was driving,  we decided to take our chances.  Just tacking back and setting the right sails and then restarting with full main and J1 would have taken forever…besides, in front of us at Hurst Castle we could see breeze on the water, and the buoy observations showed 25 at Portland Bill and 28 mid Channel.
It was as if the helicopter taking video had put a line on our bows; our nose poked out into the pressure, we bore away to 195 true, our course across the channel, and then the wisdom of our 2 reefs J2 sail plan made sense, as the boat leapt to full potential, daggerboard up, foil down, traveler down, and a hand on the sheets, flying 2 hulls full time across the channel, touching 37 knots several times…
IT is amazing how quickly the decisions are made at those speeds, Boris says to me "don't freak out, there is a cargo ship 4 miles ahead, it will pass 1/2 a mile behind us in a minute or so, come up 3 degrees on average to be sure they pass", which means a corresponding retrim of the traveller so as not to fly too high; no swimming for this crew today, thanks very much.  Thank God most boats have AIS these days; without it, we would never have even seen the little fishing boats in the waves until almost too late.
As we got into the lee of Jersey, the sea flattened out completely, and breeze went aft another 15 degrees.  Sailplan management is key in general on such a big boat, but here it was just 15 minutes of hard work.  First shake out the reef.  6 minutes with 7 guys rotating on and off the handles, including two on a top handle in the halyard winch, 4 on the pedestals, and one resting, with just the driver with one hand on the traveller keeping us going quickly.  Then comes sheeting back in, and getting the traveller back up, another 3 minutes for each with 4 grinding on the pedestals.
Next, bear away and unroll the J1, 2 minutes grinding with the boat dead downwind to unload the sail, even with it in the lee of the J2, which is on hanks, so as soon as the J1 is sheeted, is just dumped completely, halyard runs, and the sail falls onto the net (thank god for not having to pull it over lifelines out of the water) to have 2 sail-ties hastily thrown around it so the two bow guys can come back and start grinding again, as the call has been made to get to full hoist on the mainsail!
Another 12 minutes or so, 7 crew over their aerobic threshold, with dead arms, and we still cannot let up for a second, as we are now flying two hulls full time on flat water, which means a 30 second grinding effort every minute or so for 4 guys in low gear to keep the traveller just where it has to be, central hull just kissing.  If it goes in, the boat-speed drops 2 knots, which is unthinkable, as Boris has informed us that we have 55 minutes left, and 25 miles to go.
I remember telling the grinder in front that we were literally lifting the hull out of the water with our backs, and it's truly amazing to see the immediate effect of each turn of the handles.  The central hull literally lifts centimeter by centimeter with each millimeter the traveller goes up the track.
In the end, we were 9 completely exhausted but extremely happy guys crossing the finish line with 8 minutes to spare in Dinard.  For next time, we'd like to order up a 10 degree righty in the Solent, and we will shave another 30 minutes off the record!  It's never finished, is it?  On this boat, it really isn't.  You sheet in, the speedo hits 30, and then you keep grinding.  Everything is easy, except the grinding.
We all owe a huge thanks to Renaud for making this possible.  Sure, the company he founded is on the sails, but he is personally financing this project, and without his vision and energy we wouldn't be here. Also thanks to our technical partners; Guy Cotton foul weather gear, Marlow ropes, Great Circle weather date analysis, Switlik Survival Equipment and Underwater Kinetics technical equipment, who have made our lives much easier onboard this beast!
April 9th, 2015 by admin
New dad Ryan Breymaier and Lending Club have topped the 4ksb threshold in a fairly major way, and it's just the beginning.  Photo credit to Quin Bisset and Q-and-K.
From Ryan:
"This was on our first day sailing after putting the 41 meter tall "big rig" in the boat – it's got 5 meters on the rig that Loick Peyron won the Route du Rhum with.  Sail plan was a single-reefed main and J1, sailing downwind in 27 knots of breeze. Everything is going well, and our preparations for record breaking are moving ahead nicely…"
March 22nd, 2015 by admin
We were a little cagey about the news we posted last week that the 103-foot Banque Populaire VIII (ex-Groupama 3) had been sold to Francis Joyon for some solo action; that's because longtime SA contributor and project manager Ryan Breymaier asked us to keep our big mouths shut for a few days at least.  Unfortunately, someone else opened their trap the other day, and today Ryan gave us the go-ahead to confirm what we were so stoked about.
So get ready, America, because one of the world's iconic maxi-trimarans – the first ever to round the world in under 50 days – is coming to the USA to destroy all of our records, or at least a handful of them.  This ain't the Lo'Real, or the Tritium, or some other decades-old multihull suitable to the backwards-ass heavy-monohull-loving USA; this is the big green monster  (now blue, soon to be a different shade of blue) that Stan and Franck used to obliterate the notions of just how fast a boat could go when crossing oceans.  G3 paved the way for the Ultim' concept, but she also got the world ready for the 40+ knot boats that we're starting to see everywhere, and it's just awesome to see her headed to US waters.
And it's even better to see her with a US owner, run by a US sailor, aiming at US events.  Join that up with Jason Carroll's GC-32,  Lloyd Thornburg's MOD70, a pile of M32 beach cats, and yet another 40-knot multi that we've learned is coming to the US this spring, and we can now say with some certainty that the multihull thing has finally broken through those last barriers on this side of the pond.  Will the old establishment guys ever come around?  Probably not; they seem to prefer 30 knots to 40, and 25 crew to 8, but for the rest of American top-end sailors, there is a new aspirational goal: The top boats just don't carry lead.
We'll have photos of the new Lending Club livery on the chartered 103-footer next week along with a few words from our old pal Ryan.
Be afraid…be very afraid!
February 27th, 2015 by admin