Posts Tagged 'lawsuits'
Confused about the establishment of a new class as a negotiating tactic?  Wondering about the Sunfish's battle with the universally loathed LaserPerformance (LP)?  Read on for the latest letter from the Sunfish Class President, who once again calls out LP for allegedly making shit up again, but first, a summary of the situation from long-timer 'tillerman' (with credit for the cartoon here):
It's all very simple.

ISCA is the old Sunfish class but they are not allowed to use the word Sunfish and may not even be allowed to use the acronym ISCA. They have gazillions of members but zero dollars support from the builder. They are allowed to run World Championships but are not allowed to call them Sunfish World Championships.

ISCO is the new Sunfish class and they are allowed to use the word Sunfish. They have zero members but a gazillion dollars of support from the builders. They are not allowed by World Sailing to run World Championships but probably will anyway.

Members of ISCA have sworn a blood oath never to go within 100 miles of an ISCO regatta, or even refer to ISCO as a class. It's traditional for ISCA members to drink a shot and make a derogatory comment every time the letters I, S, C and O appear in that order anywhere on social media. Nobody knows what ISCO members think about all this because there aren't any ISCO members.

LaserPerformance is the only builder of Sunfish which is why everybody hates them.

The only thing that everyone agrees to is that Sunfish are way better than Lasers.
And here's today's letter from the real Sunfish Class:
Dear ISCA Members and Supporters:

Yesterday, Laser Performance (LP) made an announcement that they had invited ISCA and World Sailing to attend a "town hall" meeting in New York City to discuss the issues between ISCA and LP. Please know that ISCA and WS have NOT agreed to a town hall style meeting. ISCA informed LP on multiple occasions that the class was not interested in a town hall meeting.

ISCA did however agree to a January 8th, 2018 meeting, with World Sailing and several ISCA World Council members, in order to try to reach an agreement. Once again, LP has chosen to announce the town hall meeting anyway.

As your President I want to make you all aware of the facts. World Sailing has clearly stated that ISCA is the only recognized Class Association allowed to organize the World Championships. World Sailing will not recognize ISCO. Consequently, there is no reason for a town hall meeting.

ISCA has agreed to sign a new World Sailing agreement that will cover the availability of parts, builder responsibilities, class responsibilities and any licensing agreement that LP/Velum may want. This is the same agreement that other World Sailing recognized International Classes have signed with their manufacturers. ISCA agreed to meet LP in NYC on January 8th to go over this agreement and to discuss any other issues that the two parties might have. World Sailing agreed to attend the meeting to mediate this meeting only.

ISCA is more than willing to allow LP to protect what is theirs, however we are not willing to give 'ISCA', (which belongs to all the class members) to LP simply because they demand it. ISCA's goal is to continue to provide outstanding, world caliber, one-design singlehanded dinghy racing, with equal equipment that is readily available to all competitors. Rest assured, that ISCA will continue to work for all class members, to make this happen.

Laurence H. Mass ISCA President
December 14th, 2017 by admin
Another month, another lawsuit, and this time, Michigan S2 7.9 midpacker Daniel O'Keefe is looking for a cool million bucks stemming from a crash at the 2104 S2 7.9 Class Championship in Macatawa Bay, Michigan.  Despite the fact that O'Keefe saw Todd Abrams Voom on port "15-20 boatlengths away," his lawyer claims Abrams shares no blame for the crash.  Abrams lawsuit says he suffered "multiple broken ribs, heart failure and a heart contusion and will require oxygen treatment for life."  O'Keefe's boat is called Kaboom; maybe it's time to stop naming boats after the noises a crash makes?
You all know how we feel about racing-related lawsuits, so we'll leave it to you to debate the finer points of this one…
August 15th, 2016 by admin
We thank you for all of your e-mails and comments regarding the statement we've issued on the front page. In response to the deluge of requests and questions:
Yes, the lawsuit is finally over.
Yes, we're still standing.
And no, we won't be saying anything about it beyond what you just read above.
We're grateful that we can finally get back to our core mission – to bring you the most interesting, exciting, and entertaining pieces from the sport we love.  And you know what? Thanks to all the Anarchists and all of our commercial sponsors and partners, 2015 will be the biggest and best year ever for the world's #1 source for sailing entertainment.
We start with our most comprehensive coverage ever from the hemisphere's biggest regatta and a long time Sailing Anarchy partner – Sperry Charleston Race Week.  We're ready with a team of awesome media pros and live commentators and producers…are you?
April 15th, 2015 by admin
We're not quite sure how we missed this one, but here's today's Public Service Announcement:  Think about your GoPro helmet mount kit, and think hard.  Why?  Because there might just be a chance it could turn you into a paraplegic, or worse.
All this because of an interview with a lone French F1 journalist – Jean-Loiuis Moncet – who has been following Grand Prix legend Michael Schumacher and his very slow recovery from coma and paralysis after a skiing accident.   Moncet wrote in October that "The problem for Michael was not the hit, but the mounting of the GoPro camera that he had on his helmet that injured his brain." 
Because of Schumacher's massive celebrity, this single sentence caused a shockwave in the world of high-flying IPOs and action sports.  GoPro's stock (which had only gone public a couple of months before) immediately tumbled more than 20%, losing literally billions worth of market capitalization in a few short days (and other wearable cam makers followed).  According to Forbes, GoPro responded by immediately (and publicly) discussing legal action; perhaps this was what led to Moncet immediately labeling his comment as 'opinion' via Twitter just days later.
According to various sources, at least one German lab is testing to see whether a GoPro on your helmet can contribute to injury or reduce the efficacy of a helmet; considering the fact that more and more of you are wearing hard hats for your cat/kite/moth sailing, it's probably a prudent time to wear your helmet as the engineers designed it rather than the way your HD loving ego would prefer, right?
It seems obvious when you think about it – doesn't it seem stupid to glue a very strong, sharp-cornered bit of plastic onto the hard shell designed to protect your head?  Whether it is dangerous or not, there are plenty of other mounts to use…leave the helmet clear, for now.
December 16th, 2014 by admin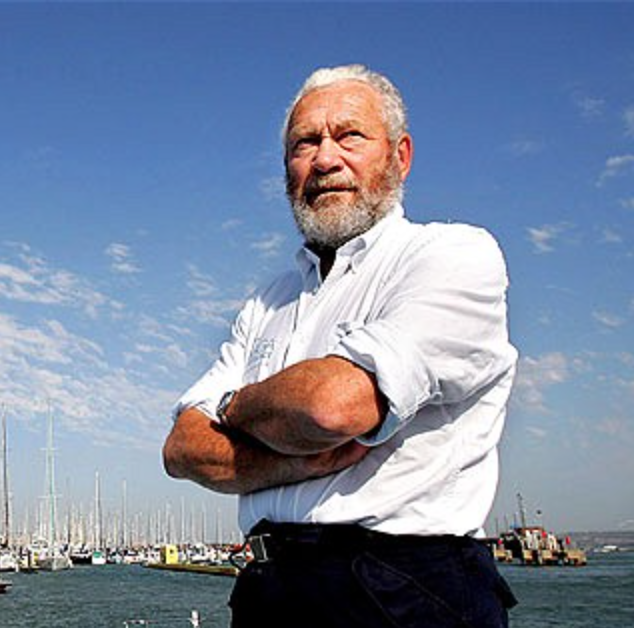 When Sir Robin Knox-Johnson crosses the Route Du Rhum finish line in Gaudeloupe in a little less than a week, he'll get some spectacular news; the lawsuit filed by English bottom-feeder lawyer Ruth Harvey against his Clipper Race was tossed out by a Havant judge earlier this week.  Harvey claimed she suffered sexual harassment and discrimination aboard Jamaica Get All Right (irie?), and sought protection as an employee of the Clipper despite having paid a shit ton of money to sail the race.  The judge disagreed.
Harvey dropped out after two legs and sued earlier in the year, and now that she's been dispatched, we encourage anyone seeing her on a boat to heckle her mercilessly.  Head over to the thread for pics and more information.
November 14th, 2014 by admin
We just learned that longtime dinghy and sport boat sailor and early SA'er Scott Fox pled guilty last month to Fraud and Tax Evasion charges in an ongoing Maine scheme that would make Wall Street proud.  According to the DOJ, "Fox used his position as a loan officer at Casco Northern Bank and at its successor, KeyBank, to originate or authorize over $14,000,000 in fraudulent loans and lines of credit using the identities of four real individuals, without their knowledge or consent. He used over $5,800,000 of the fraudulent proceeds to keep the loans current and prevent the detection of his scheme. He used almost $8,200,000 for personal expenses including to pay for his children's educations and family vacations, and to support his business, "The Boathouse." Fox failed to report receiving any of this income to the Internal Revenue Service ("IRS") causing a tax loss of over $1,300,000 between 2006 and 2011." Fox also bought a home and paid to support a mistress on his ill-gotten gains.
While he's been ordered to pay restitution to the bank and IRS, with his sentence likely to be at least 8-10 years in Federal prison (no parole), the reality is that Fox's debt is a write-off.  The terms of his plea agreement don't include a sentence so Fox could actually see the full 30 year maximum, though he's entitled to appeal anything over about 12 years on the terms of the deal.
The US Attorney's narrative on the scheme is here, and it's a fascinating look at just how far one man can go to keep all the balls in the air.  There's a thread about it here.
March 17th, 2014 by admin