Posts Tagged 'Lawsuit'
The terrifying nature of old men in powerful boats comes alive in this dashcam video from the Columbia River.  The video came out with news of a lawsuit filed by one of the jumpees, off-duty cop Bryan Maess, who alleged maybe, possibly, just a tiny touch of negligence and recklessness from 75-year old Marlin Larsen, the driver who nearly killed him and his fishing buddies.  Larsen is a clearly a gem of a man, telling county police investigators that 'he couldn't see where he was driving because he was sitting down and the dash of his boat was blocking his view. Larsen said he probably should have been standing, according to the sheriff's report, which notes Larsen uses a motorized scooter to get around on land.'
Despite facing criminal charges for his recklessness, Larsen said that he wasn't using his cellphone while driving his Bayliner and referred to such allegations as "fake news." Larsen also said a lawsuit seemed unnecessary because the people in the Weldcraft weren't hurt badly.  We think Larsen's right to drive a boat seems unnecessary…
January 17th, 2018 by admin
Once again, LaserPerformance looks to be up to no good.  Plagued with terrible customer service for years and unable to provide a steady stream of quality parts for both Lasers and Sunfish, the ISCA (of which our own Mr. Clean is a member) finally acted to protect its members by voting to allow other manufacturers to supply parts for Sunfish, and the folks at LP appear to have taken that as a declaration of war, lawyers and all.  Why does this company always find itself on the wrong side of their customers and the sport itself, and how the hell are they still allowed to be part of the Olympics?  Here's the letter that Sunfish Class Prez Laurence Mass posted today, and after you've read it (and if it pisses you off like it does us), call your national sailing association's rep currently at the World Sailing meeting and let them know that it's time to hold LP's feet to the fire.  Photo credit to Sue Ingram via the Proper Course blog.
I had hoped to send a President's letter out after the 2017 World Sailing Conference, however, certain events had forced me to change the letter and release it sooner.  As you may have seen or heard, Laser Performance (LP), has announced that they are starting their own Sunfish Class, the International Sunfish Class Organization.  Over the last two years ISCA has tried unsuccessfully, to negotiate to a support and trademark agreement with LP.  For two successive years, 4 weeks before the World Championships LP has threatened to withhold the containers of World Championship boats unless we signed their agreement.  LP stopped supporting the class with charter boats and financially in 2011.  When asked about this, LP response was "sign the Trademark agreement and you will see we will support the class." ISCA and LP signed a support outline but, never a support agreement.  At LP's insistence these two agreements were to be independent of each other.

The World Council was prepared to sign a trademark agreement until LP required that the ISCA initials and the name International Sunfish Class Association name were to be signed over to LP as well.  This was a deal breaker for the World Council.  LP has long wanted to control ISCA. LP's new sunfish class has blatantly copied ISCA's Class Rules, Constitution, calendar, and website.  LP has even copied the same NSCA and regional USSCA Representatives.  Most Representatives are likely unaware of this. LP is trying to imply that LP's class has replaced ISCA.  IT HAS NOT.  We remain united and independent from the builder.  This just goes to further illustrate that their intentions were control the class.  World Sailing currently only recognizes ISCA.  No other International Class can run World Championships for the Sunfish Class Boat.

In August 2017, the World Council decided that we would not sign the restrictive trademark agreement and changed ISCA class rules to allow non-builder supplied, class approved spars, masts, goosenecks, sails and parts.  World Sailing should approve this class rule change this week in Mexico.  This rule change has been proposed many times before and has been a long time coming.  This rule change was important because it allows the flow of parts from several suppliers vs. one builder.  The builder cannot unilaterally decide to change parts in a one-design class as they have done several times without the class's knowledge or input.  This ultimately undermines the integrity of the Sunfish one-design class.  We as a one-design class cannot allow this to happen anymore.

As for the trademark, LP has issued ISCA a cease and desist notice.  As of 31 March 2018, ISCA is no longer allowed to use the Sunfish logo in conjunction with running regattas. ISCA is the only class that can holds World Championships for the Sunfish Class boat.  LP has not and does not run regattas.  ISCA, USSCA, and other National Sunfish Class Associations run regattas.  ISCA does not need to use the Sunfish trademark to run regattas for the Sunfish class boat.  ISCA will continue to run regattas as the only recognized international class for the sunfish class boat.

In conclusion, availability of class legal parts should improve and the class will no longer be held hostage by an unreliable supply of parts from one builder.  ISCA Class members will be eligible for substantial discounts on ISCA class approved racing sails, purchased through the class.  Now, more than ever, it's vitally important that we start to build back our membership, move this class forward and grow again.

Laurence H. Mass

President
November 7th, 2017 by admin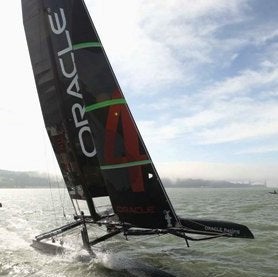 Add Joe Spooner to the pro sailors calling shenanigans on the already-embattled Oracle Team USA's hiring and firing practices.  From our friends at www.BoatingLaw.com, who do NOT represent the Plaintiff.  You can read the full complaint here.
The America's Cup AC45 "4 Oracle Team USA" may soon be arrested by the U.S. Marshals at its berth in San Francisco, pursuant to a lawsuit filed in Federal Court by a former crew member against Oracle Racing and the AC45 itself.   Joe Spooner, Oracle Racing's former grinder and crew for two America's Cup titles and three Fastnet Race wins, is claiming a seaman's lien against the vessel for approximately $725,000 in unpaid wages, plus punitive damages, for an alleged wrongful discharge by Team Oracle.

Under maritime law of the United States, the vessel itself can be sued in Federal Court and be arrested by the U.S. Marshals pending the outcome of the suit. 
The AC45 foiling multihull is raced in the America's Cup World Series and used for America's Cup training It is a smaller version of the AC72 raced in the 2013 America's Cup.  
For more information on admiralty and maritime law, click here.   We will keep you updated as this case develops.
February 19th, 2015 by admin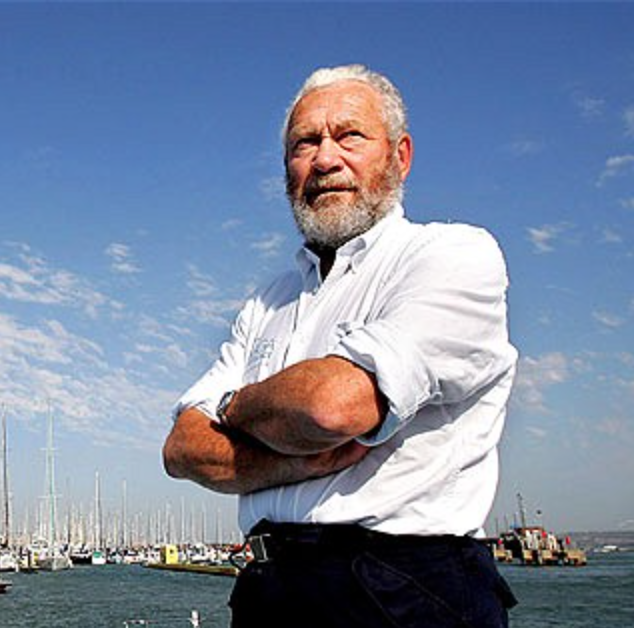 When Sir Robin Knox-Johnson crosses the Route Du Rhum finish line in Gaudeloupe in a little less than a week, he'll get some spectacular news; the lawsuit filed by English bottom-feeder lawyer Ruth Harvey against his Clipper Race was tossed out by a Havant judge earlier this week.  Harvey claimed she suffered sexual harassment and discrimination aboard Jamaica Get All Right (irie?), and sought protection as an employee of the Clipper despite having paid a shit ton of money to sail the race.  The judge disagreed.
Harvey dropped out after two legs and sued earlier in the year, and now that she's been dispatched, we encourage anyone seeing her on a boat to heckle her mercilessly.  Head over to the thread for pics and more information.
November 14th, 2014 by admin