Posts Tagged 'laws'
The creator and director of one of our favorite short sailing documentaries ever weighs in on an issue few mariners are paying attention to, and one we will all be paying for when it inevitably goes wrong: Donald Trump's expanded offshore drilling proposal, which was unveiled Jan. 4. The public has until March 9 to weigh in on the proposal, and you can learn more at the end of this guest editorial.
I remember holding the tiller for the first time with my late great Uncle Bob, Robert Keleher, a racer of the San Francisco Bay. "You have to feel it, Barbara. Then you'll find the groove."
It's taken me over 30 years to find that groove and maybe we're all beginning to feel it now.
With the threat of offshore drilling looming over us, we sailors of the San Francisco Bay should be feeling the threat of our precious coastlines and waterways that have been our playground, a place where we got to feel those powerful elements of wind and water, a reason to come together as a community to revel in love of the water. And now there is reason to come together as a community to revel in a responsibility as our oceans face acidification, off shore oil drilling and more because of our landlubber habits.
In 1981 there was a great union strike, the air traffic controllers stood up to President Ronald Reagan in order to speak for honesty, as campaign promises had been made and then not given. Those following years proved disastrous for my family with high  levels of guilt and anger as my father was labeled a federal criminal for striking against the federal government. I hated my father for years for his decision to strike, to follow his ego instead of being a family man, as my grandfather, a sailor himself, had said to me. We suffered great financial difficulty for years. I was just 13 years old.
I grew very close to my Uncle Bob, who had proven himself to be the saltiest, grouchiest and most critical person in my family. He had offered me sailing lessons in my twenties, but I refused them because I felt I was too busy with landlubber responsibilities. But when he died, my mother gave me a photo of him sailing, along with a 1st Place silver platter from the St. Francis Yacht Club he won in 1962 with his boat Magic Bear. That's when I realized I had lost out of the gift of learning from a master racer who could have taught me how to navigate The SF Bay, one of the toughest places to sail, as some say.
I set off to learn how to sail.  I took up dinghy classes with the nonprofit Sailing Education Adventures, and quickly learned the power of wind and water and how incredibly liberating and beautiful the sport of sailing is. A ten year love affair began with running the nonprofit,  teaching, racing regattas and an ocean voyage.  The most beautiful day? When I got to sail Magic Bear, owned by the Maloney Family. I sailed her across The Bay, through the wicked onslaught of youth Red Bull catamaran racers of America's Cup series, straight to The Maritime Museum, for the annual Bear Boat festivities. While people watched America's Cup excitement, I instead laid on the docks and looked straight up the Bear boat masts to a blue sky, a feeling of heaven of having discovered a beautiful family heritage and fantastic Bay Area sailing culture  that I had known nothing about just years before  – sailing blood can go deeper than even family blood.
Life began to change for me after that point. I started to discover a different story in our collective national history.  Reagan's economic and environmental policies have actually led us to a horrific path, one leading to ocean acidification, global climate change and our incredible economic disparity, policies that have given the wealth more wealth. As I began to understand these policies, I also had to apologize to my father and tell him "Dad! You stood up to a miserable president! That takes guts." And that is powerful family heritage!
This newfound truth led me to a new passion, as I learned hard truths about our oceans. I cowrote and produced an ocean documentary film called Racing with Copepods, understanding we have a duty to the next generation. Dr. Sylvia Earle, the world's famous oceanographer joined those efforts, as did the sailing writer Kimball Livingston, the very announcer of America's Cup. I personally call him Neptune. I had never made a film before and I'm pretty sure Neptune blessed its success.
I lived with a lot of anger and hatred toward my father for years until I discovered something profound. Anger creates more anger. And it's best to let it go and instead live with love.
As sailors, we have a love for the ocean and this is the time to take a stand for it. And show the landlubbers the beauty, freedom and courage that the ocean has given us during our pursuits of trophies and racing honor.
It's time we take to the water, with a message of peace, love and harmony. And share with landlubbers, that a wave hitting us over deck won't make a good helmsman and crew wince when they are on a true course. It's time we sailors take lead on what will be the greatest battle on our oceans since the days of Sir Francis Drake . . . and the trophy waiting for us? Integrity and freedom. 
Barbara McVeigh is the author of Redemption, How Ronald Reagan Nearly Ruined My Life. Her film Racing with Copepods is now free on line. Her next film, The Man Behind The White Guitar will be released this summer, a message of peace and harmony with world musicians.
Comments can be made through the regulations.gov web portal. Navigate to http://www.regulations.gov and under the Search tab, in the space provided, type in Docket ID: BOEM-2017-0074 to submit comments and to view other comments already submitted. Information on using www.regulations.gov, including instructions for accessing documents, submitting comments, and viewing the docket after the close of the comment period, is available through the links under the box entitled "Are you new to this site?"
Comments can also be made by mail, in an envelope labeled "Comments for the 2019-2024 Draft Proposed National Oil and Gas Leasing Program" and mailed (or hand delivered) to Ms. Kelly Hammerle, Chief, National Oil and Gas Leasing Program Development and Coordination Branch, Leasing Division, Office of Strategic Resources, Bureau of Ocean Energy Management (VAM-LD), 45600 Woodland Road, Sterling, VA 20166-9216, telephone (703) 787-1613. Written comments may also be hand delivered at a public meeting to the BOEM official in charge.  
January 22nd, 2018 by admin
We can all yap and debate and jaw about how to reverse the decades-long downward spiral of sailing in the USA, or we can do something about it, and nobody is doing a smarter job of boosting the sport from the very top than Sail Newport.  When we say 'the top,' we don't mean the America's Cup or the Volvo Ocean Race – we mean the government – and that's why Rhode Island's shiny new Sailing Events Commission law(2017-H 5478A, 2017-S 1008) is a groundbreaking first step for the sailing's growth in the USA. Here's an excerpt from the WhatsUpNewp site:
"We saw the incredible economic impact of the Volvo Ocean Race's stopover in Newport in 2015. It was such a success for Rhode Island as well as for the race itself that it didn't take long for the organizers to announce they'd be back for the 2018 race. Rhode Island has also very successfully hosted tall ships events, black ships festivals, Chinese dragon boat races and of course, we were the home of the America's Cup race for decades. We're a great place for boating events, because we have terrific bays, harbors and waterways with nearby hotels and attractions. Plus recreational and competitive boating are deeply woven into our culture and history. With a concerted, statewide effort to seek them out, I'm sure we could be hosting more and reaping the economic rewards," said Representative Marshall (D-Dist. 68, Bristol, Warren).

Nearly 130,000 fans participated in the Volvo Ocean Race festivities during the 13-day event in 2015, with more than half traveling to Rhode Island from other U.S. states and abroad. According to a report commissioned by Sail Newport, the economic impact of the 2015 stopover on Rhode Island is estimated over $47 million.

"Hosting more events would help not only our tourism industry, but also our boating and sailing industries. Making Rhode Island a bigger name in the sailing world would bring people who buy boats here, and help foster closer connections between our boat-building and outfitting industries to many more people in the market for boats, particularly the elite of the sport who invest serious money in their boats. There's a lot to be gained for Rhode Island with each event that we host," said Senator Felag (D-Dist. 10, Warren, Bristol).

Under the legislation (2017-H 5478A, 2017-S 1008) which passed the Assembly Sept. 19 and was signed into law yesterday by Gov. Gina M. Raimondo, the commission is to identify, evaluate, and provide recommendations to assist nationally and internationally recognized sailing and marine events, both amateur and professional, and to attract and encourage activity in Rhode Island. In addition, the commission shall advise state and local leaders on the suitability and practicality of hosting qualified marine events in the state.
Spain, France, Holland, the UK, New Zealand – all have spent millions or billions to attract, retain, and promote top sailing events, helping the sport stay in the spotlight while benefitting sailing businesses and coastal communities.  The level of American government support for sailing is a tiny fraction of what it is in these places, mostly because there has been no key event or organization working to lobby and educate politicians about the sport for decades.  The work that Sail Newport, the NYYC, and other key RI cheerleaders are doing is a model for the kind of lobbying work your organization can do in your home town and beyond…give them a shout and find out how.
October 7th, 2017 by admin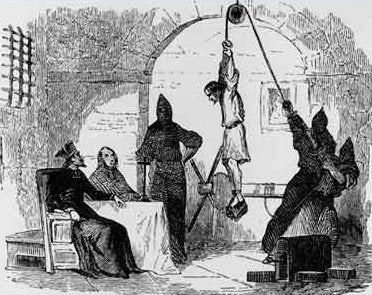 You may remember the America's Cup Disciplinary Panel that was assembled hastily in response to King Post-gate;  the haphazard hearings and rulings they produced led to lawsuits and CAS hearings that cost hundreds of thousands of dollars to litigate.  Meanwhile, the resulting media exposure (along with the Rio sewer and security issues) continued to push ISAF World Sailing's reputation into the same steaming pile of shit occupied by FIFA and the Russian Anti-Doping Authority.
With most of the AC34 cases have been settled or dismissed, we've just learned that World Sailing's response to the disciplinary chaos was to quietly sneak through the completely new Discplinary, Appeals, and Review Code sometime in June, and it is quite possibly the most lopsided, authoritarian, and opaque set of disciplinary rules we've ever come across.
We say 'sneak through' because we cannot find a single reference to passing the new code in any of ISAF World Sailing's official documents.  Even more curiously, ISAF says the new rules were passed in June 2016 but are backdated to have an effective date of January 2016, and the only June ISAF Minutes available anywhere make zero mention of the new Rule 35.  Now, it may be hidden inside the giant, disorganized clusterfuck that is World Sailing's website, but we've asked every major MNA official and judge we could find – including several national presidents and IJs – if they've heard of it -, and all of them learned of the new Code from us.  It's not some kind of a minor change either – the new section of the Rules allows autonomous, unappealable panels to decide who will be banned from the sport using incredibly low standards of proof, offers next to no standards on the admissibility of evidence, and allows any decision to be hidden in secrecy based solely on the discretion of one of these 'secret panels'.  In other words, ISAF has said 'fuck you' to the entire notion of a Fair Hearing under the jurisprudence of any modern nation.
Never mind that much of the new Code would be void and unenforceable under the employment laws of the EU and numerous states and countries, and never mind that ISAF can't even be bothered to use a pronoun other than 'him' in their code.  There are ample things to pick apart with this unconscionable piece of regulation, and we'll leave it to the lawyers and sea lawyers in the Forums.
But we do consider it our public duty to let you know that from now on, your entry in any sailing event is your acquiescence in a set of rules that would be more appropriate under Torquemada than of a 21st century international sport.  We also consider it our duty to let you know that Carlo Croce, who is not only President of the ISAF but also President of the Italian Sailing Federation and Italy's most prestigious Yacht Club, is going to run for another term leading our sport.  This despite his tenure providing an almost unending series of gaffes and missteps that's seen ISAF World Sailing's reputation go from exlusionary and obsolete to incompetent and corrupt.  Croce said in the mid-year meeting that "Much has been achieved but he has a sense of 'unfinished business…"
We're not sure our sport can survive Croce's 'unfinished business.'  World Sailing's reputation sure can't.  Title shout to Mel Brooks...
September 8th, 2016 by admin