Posts Tagged 'Laser'
With just four months to go to the Olympic Test Event in Rio this summer and qualification time running out, the US Sailing Team Sperry is slowly starting to gain steam in a few classes even as it looks in qualification trouble in others.  Finn sailor Caleb Paine, past world Laser Radial champ Paige Railey, and the Annie and Briana show continue as perennial top-tenners, but none of the three seem able to jump to the podium on any kind of regular basis.  While you don't want to peak too soon, we're just hoping they peak…period.  Here's a quick word from our pal Will Ricketson at the USSTS media office.  His photo as well.  Results are here.
"Charlie Buckingham dominated the Laser medal race in 18-20kts in Hyères a few hours ago, taking the bullet and finishing 8th overall. Like the rest of our team, he is not satisfied with a non-podium performance, but told me the following afterword: "There's a couple things I'm working on to make a bit of a jump, but things are definitely moving in the right direction as we get to the more important part of this season, especially with the [Olympic] Test Event and the Pan American Games coming up, and also as the Trials and Olympics approach. I'm just trying to climb my way up there."
"The other sailor in the photo is the 2012 Olympian from Guatemala and 2013 College Sailor of the Year (College of Charleston) Juan Maegli. In fact there are three College Sailor of the Year awards represented in this photo (Charlie won in '09 and '11) but I digress…"
-Will
April 28th, 2015 by admin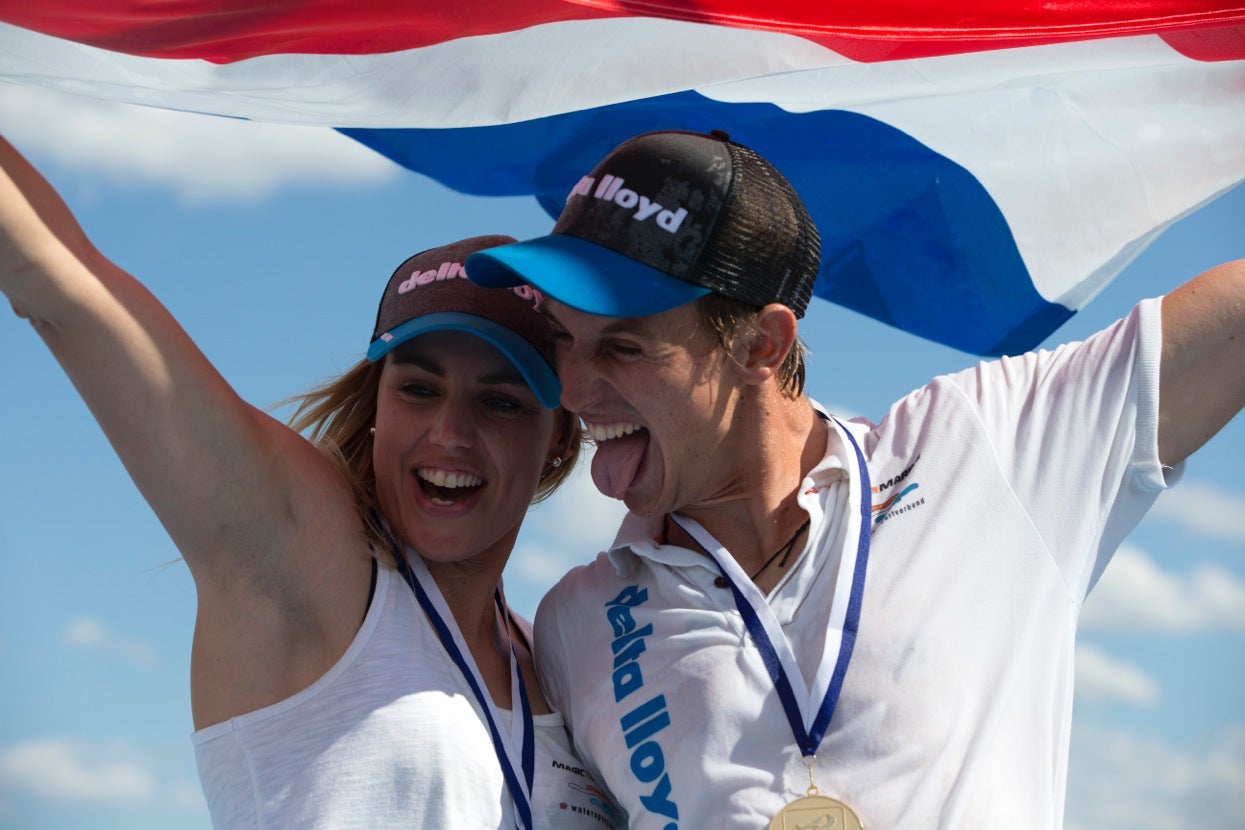 Holland hit well above its weight at the Santander World Cup Champs with former SCOTW Merit B taking gold in Laser Radial and Nicholas Heiner doing the same in full rig.  No medals (again) for the US team, though solid top tens in 4 classes and some awesome racing from another past SCOTW – Erika Reineke – bode well for the future.  We hope.  Beautiful work from R&R at Ocean Images, and title inspiration goes to a truly badass song from one of the punk-chick greats.
September 22nd, 2014 by admin
Like a beautiful woman, Rio's got issues.  And like that same woman, when everything is just right, it's damned near perfect.  Monday saw big waves and 15 knots of breeze for the Aquece Rio Olympic pre-pre rehearsal, and American women's 470 team Annie and Brianna are crushing it, while the rest of the US Sailing Team is having quite a respectable regatta so far.  US sailors in general are having their best regatta in a long time.
There will come a day in the next two years when yet another sight of Sugarloaf Mountain will make us nauseous.  But for now, it's gorgeous, as caught by US  Olympic Team photog Will Ricketson exclusively for the Anarchists.  The sailor he caught is 2016 Laser hopeful Chris Barnard (Newport Beach, Calif.), training partner to Charlie Buckingham, who lies in 5th after three races.
August 5th, 2014 by admin
For a while at least the continuing legal and PR battle between Bruce Kirby, Performance Sailcraft Australia, and LaserPerformance has been well overshadowed by something that hasn't happened to the Laser in, well, forever. It's new development, something the Laser has been crying out for. But at nearly 6 grand (Oz$), does the Laser foiling package make any sense at all?  Think about it:  $6k is the cost of 5 beat up Lasers or one, nice race-ready Laser.  It's also half the cost of a good used foiling Moth.
We know there are plenty of potential customers amongst the tens of thousands of Laser owners out there; will we see an exciting new LaserFoiler Class in the next couple of years?  Something that could put some pizzazz back in a boat that's suffered from a horrible image, terrible customer service, poor quality, poor availability, legal problems, etc. etc. etc.
Info on ordering, delivery, and development of the Glide Free Kit is all right here.  Let us know when you get yours; it's new boat review time!  Got questions?  Thread is full of info here.
August 13th, 2013 by admin
Unsurprisingly, slapping foils on the most popular race boat in the world has got the Anarchists a-buzzin'.  SA'er "Phil S" has a few things to add; from the thread:
I may be able to answer some questions. I know both the gurus involved and that they have been working on this proect. I have not seen any of the kit but spoke to one of these people a few days ago. This is what I understand from that conversation.
The Laser does not need any modification, not even any additional screw holes. There is an insert which is bolted through the centreboard case, into which the foil strut is inserted and which has the necessary fittings to retain the foil in place and control the angle of attack. The rudder is installed into a standard Laser rudder box. They do not rely on the Laser bent tab to retain the rudder but a snail pin through a hole as is std Laser practice at least in Aust.
It is possible to insert the foil only from the bottom but it can be slid up so that the boat can be floated in shallow water. So far they have launched the Laser, walked to shallow water, rolled the boat over to insert the foil, then sailed out to deeper water before lowering the foil and rudder to foiling depth. Both the horizontals rotate on the T joint, the wand controlling the main foil angle, but somehow the rudder foil is free to rotate until the rudder is fully down. WardI has used this main foil system on his Moth for some years.
They are very pleased with the downwind performance so far but know that upwind will be more of a challenge and are working on techniques to achieve upwind foiling. They have some experienced foiling people planning a to test ride and provide input.
This is a serious effort, they have had tooling made and will shortly be doing some serious marketting. It may not be for everyone but with so many Lasers in existance only a small percentage of owners is still a viable market.
August 8th, 2013 by admin
Could it really be possible?  A kit that allows the most popular sailboat in the world to foil?  We thought it was a hoax until we saw more photo evidence… Check out what Chris from PSA, at the helm of the foiling Laser Torch Kirby sailboat, had to say: "I had it up with my 96kgs in 10 to 12 knots yesterday morning, I am sure with more practice you could get it going a little earlier, if lighter in weight for sure you can.  Later afternoon session was in 15 to 18 and I was smoking for a Laser…we need to do speed tests, not done that yet, my guess yesterday was close to 20 knots.
Wanna know more?  We do.  Check the thread.
August 4th, 2013 by admin