Posts Tagged 'Laser'
Fallout continues after World Sailing's 2024 Olympic event selection shitshow the other day, which saw the members of the sport's governing body ignoring the last few years of progress (and once again, its own Events Committee) on their way to choosing a 2024 Olympic Events slate that in most ways preserves the status quo and completely ignores the IOC's mandates – despite claiming it follows them.
You can talk here about the Romanian submission which was eventually selected, but without understanding the politics behind these types of votes, you won't really get it.
The most important thing to understand about the submission is that it is mostly an attempt to change the definition of 'mixed' in order to sneak extra events past the IOC and allow the Finn to stay in the Games.  It's also got at least one monster error about women and body weight. Neither problem stopped Submission M22-18 from winning, so let's take a look.
The way things are for Tokyo, Olympic Sailing has 10 events: 5 men's events (Laser, 420, 49er, Finn, RS:X), 4 women's events (Radial, 420, FX, RS:X) and 1 truly 'mixed' event (Nacra 17) where men and women compete together.
Under Submission M22, Olympic Sailing would still see 10 events, with men ((Laser, 49er, new Windsurfer), and women (Radial, FX, new Windsurf) each getting 3.  The mixed Nacra would still be a co-ed crew as would the new mixed 470 class, but what about those final two 'mixed team' events?
First is 'mixed kiteboarding', which is really just men and women's separate kiteboarding with combined scores.  It's not like running or swimming 'team' relay events we're used to, where athletes already competing in other events race in these.  The new proposed classes are entirely new events with riders who won't be competing otherwise, so while World Sailing and the IKA spent millions to ensure that kiting was fast-tracked to the Olympics under the World Sailing umbrella, it's  only worthy of a single 'team' event.  Like the multihull, a second-class citizen.
Finally, let's look at the 'Mixed One-Person Dinghy' event proposal, which goes through some tortured logic on its way to accomplishing the real goal for the entire submission: To keep the Finn in the Olympics.  There's one reason the Star was so hard to kick out of the Olympics: Lots of the rich old yachties who run the sport sail them and love them.  And if you think lots of privileged old guys sail the Star, wait til you see how many sail the Finn!
Anyway, working with some well-known Euro rabble-rousers, the Romanians started with 'keep the Finn' and then backed their way through the rest of the slate to come up with the only gender-neutral solution for their orphan Heavyweight Dinghy: Ditch the 470 and come up with a women's Finn that will combine points with the men, and call it a "Mixed Event".  The Romanians even picked the ideal woman's size for crew of the new dinghy to be "around 70kg" (155 lbs) or about the same size as many of the top Radial, Nacra, and FX crews and many of the boardsailors.
One problem: In many countries, the pool of woman of that size just ain't big, and that leaves only two spots in all of Olympic Sailing for smaller women: Helm on a new mixed 470 team, or helm of a Nacra with a big male crew.
The excellent PR team behind the Finn Class rushed to correct the Romanian fuckup, writing this morning that the 70 KG number will be changed, and that the "Equipment Committee will define the criteria to decide the equipment in November 2018, with the intention to have a one-person women's boat to suit a different physique."  Translation: The Finn FX or whatever will be for little thangs: a lightweight boat for lightweight women.  Our guess is the ideal weight will be targeted at somewhere from 50-55 KG, square in the typical 470 skipper's sweet spot.
If this is what really happens, we obviously don't mind it.  Men get the Finn so that neanderthals still have some chance to get some metal, and the spinners get some hobbit-sized Finn cousin that swamps if you get aboard after eating a big sandwich.  Just think of the visuals, or look at this shot of an ideal Finn body and a gorgeous potential SlimFinn racer for a great example.
As for the overall proposal, we think it is a mistake to walk away from the 'offshore' event proposal, which, aside from kiteboarding aerials (if it ever happens and if it is even remotely related to sailing) is probably sailing's only real chance to go mainstream at the Olympics and teach the world sailing in a way they can understand.
But at least all the 470 chicks will have somewhere to go play.  We will most certainly be watching.
Don't understand the title? Science class for you.
May 15th, 2018 by admin
In news that will make even the most cynical US Sailing Team spectator rejoice, Anna Tunnicliffe has entered her Laser  in the Sailing World Cup Miami next week for the first step in what everyone hopes is a huge comeback.  By most accounts the fittest sailor in the world (and possibly the single fittest athlete on the entire US Olympic Team back in '12 according to USOC staff), Tunnicliffe famously ditched her 2016 campaign for a life of Crossfitting with her significant other (and you really want to see that photo…)
Tuna did well in the huge world of Crossfit but failed to set the world on fire,  and we're praying a good result in Miami will get her sailing passions rekindled for the 2020 cycle.  Anna is an absolute beast on the water and she'd be an immediate medal favorite anywhere she competes, but she adds a lot more than that to any team: Her work ethic, mentoring ability, and team leadership are legendary. Anna's already been working out with the team in Miami, and she's picked up right where she left off.  Please, Anna!
January 17th, 2017 by admin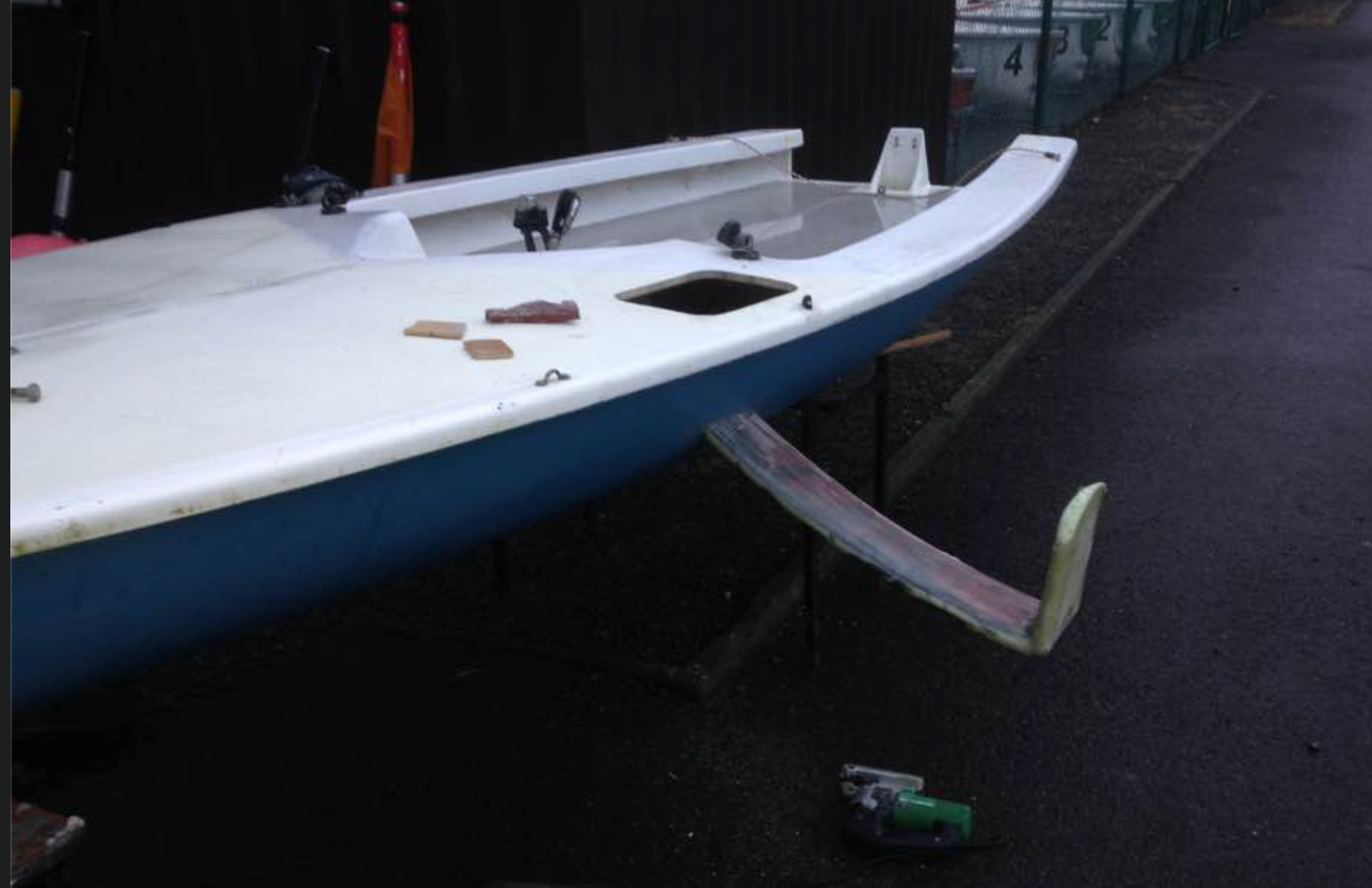 As long as there are humans on this planet, they'll be doing stupid shit with the best selling racing boat of all time.  While the first 'foiling laser' failed to set the world on fire, we knew there would be more, and here it is – from the workshop of crazy Irishman David Harte.  See what he's gonna do with it on his Facebook Page.
December 8th, 2016 by admin
T
he first sailor sickness has been reported due to Rio's sewery water, though according to London Bronze Medalist (Laser Radial) Evi Van Acker's coach, she caught it back in July training on the bay.  He also thinks Evi's dysentary has contributed to her poor results thus far.  The Belgian OC said "she has not fully recovered. It makes it difficult for her to go through long periods of sustained effort."  While several contacts with debris affected other racers, no other sicknesses have yet been reported.  Read the full story from our old friend Bernie Wilson (who's down at the Games) at the AP here.
Caleb, Pained
In another kind of unwell, the US team is performing exactly where the oddsmakers had them; on the outside looking in, without a single sailor in the top 5 of any class. US Finn rep Caleb Paine port-tacked the fleet yesterday on his way to a 2nd for the race and an awesome 4th overall – that is, until he was flicked from the race at an evening protest hearing for a port/starboard on that spectacular start.  Now he's in 15th, and the highest performing American team are the chicks' 470, with Annie and Bri in 6th.  Go here for the US Sailing daily report, and to get to know America's most likely medalist skipper, watch this just-posted Mr. Clean video interview with Annie from last summer in Rio.  Here are Team USA's standings as of Friday morning; number in parentheses is change from yesterday's standing (With special thanks to TFE):
RS:X M – 30 (same)
RS:X W – 12 (-2)
LASER M – 15 (same)*
LASER W – 7 (same)*
FINN – 15 (-8)
470 M – 10 (-2)
470 W – 6 (+1)
NACRA17 – 16 (-5)
49er M – *
49er W – *
*LASER M/W did not race Thursday. 49er M and W have yet to race; their first races are Friday.
August 12th, 2016 by admin
With just four months to go to the Olympic Test Event in Rio this summer and qualification time running out, the US Sailing Team Sperry is slowly starting to gain steam in a few classes even as it looks in qualification trouble in others.  Finn sailor Caleb Paine, past world Laser Radial champ Paige Railey, and the Annie and Briana show continue as perennial top-tenners, but none of the three seem able to jump to the podium on any kind of regular basis.  While you don't want to peak too soon, we're just hoping they peak…period.  Here's a quick word from our pal Will Ricketson at the USSTS media office.  His photo as well.  Results are here.
"Charlie Buckingham dominated the Laser medal race in 18-20kts in Hyères a few hours ago, taking the bullet and finishing 8th overall. Like the rest of our team, he is not satisfied with a non-podium performance, but told me the following afterword: "There's a couple things I'm working on to make a bit of a jump, but things are definitely moving in the right direction as we get to the more important part of this season, especially with the [Olympic] Test Event and the Pan American Games coming up, and also as the Trials and Olympics approach. I'm just trying to climb my way up there."
"The other sailor in the photo is the 2012 Olympian from Guatemala and 2013 College Sailor of the Year (College of Charleston) Juan Maegli. In fact there are three College Sailor of the Year awards represented in this photo (Charlie won in '09 and '11) but I digress…"
-Will
April 28th, 2015 by admin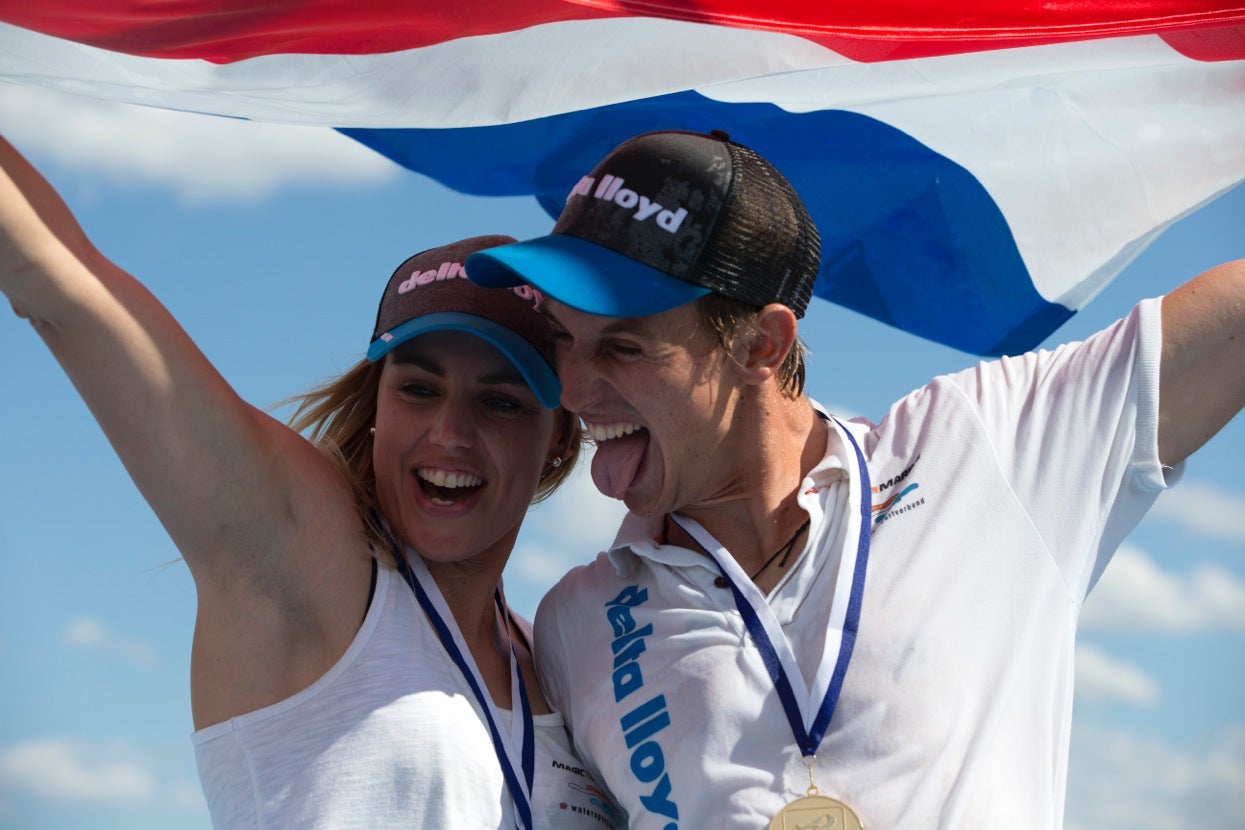 Holland hit well above its weight at the Santander World Cup Champs with former SCOTW Merit B taking gold in Laser Radial and Nicholas Heiner doing the same in full rig.  No medals (again) for the US team, though solid top tens in 4 classes and some awesome racing from another past SCOTW – Erika Reineke – bode well for the future.  We hope.  Beautiful work from R&R at Ocean Images, and title inspiration goes to a truly badass song from one of the punk-chick greats.
September 22nd, 2014 by admin
Like a beautiful woman, Rio's got issues.  And like that same woman, when everything is just right, it's damned near perfect.  Monday saw big waves and 15 knots of breeze for the Aquece Rio Olympic pre-pre rehearsal, and American women's 470 team Annie and Brianna are crushing it, while the rest of the US Sailing Team is having quite a respectable regatta so far.  US sailors in general are having their best regatta in a long time.
There will come a day in the next two years when yet another sight of Sugarloaf Mountain will make us nauseous.  But for now, it's gorgeous, as caught by US  Olympic Team photog Will Ricketson exclusively for the Anarchists.  The sailor he caught is 2016 Laser hopeful Chris Barnard (Newport Beach, Calif.), training partner to Charlie Buckingham, who lies in 5th after three races.
August 5th, 2014 by admin
For a while at least the continuing legal and PR battle between Bruce Kirby, Performance Sailcraft Australia, and LaserPerformance has been well overshadowed by something that hasn't happened to the Laser in, well, forever. It's new development, something the Laser has been crying out for. But at nearly 6 grand (Oz$), does the Laser foiling package make any sense at all?  Think about it:  $6k is the cost of 5 beat up Lasers or one, nice race-ready Laser.  It's also half the cost of a good used foiling Moth.
We know there are plenty of potential customers amongst the tens of thousands of Laser owners out there; will we see an exciting new LaserFoiler Class in the next couple of years?  Something that could put some pizzazz back in a boat that's suffered from a horrible image, terrible customer service, poor quality, poor availability, legal problems, etc. etc. etc.
Info on ordering, delivery, and development of the Glide Free Kit is all right here.  Let us know when you get yours; it's new boat review time!  Got questions?  Thread is full of info here.
August 13th, 2013 by admin
Unsurprisingly, slapping foils on the most popular race boat in the world has got the Anarchists a-buzzin'.  SA'er "Phil S" has a few things to add; from the thread:
I may be able to answer some questions. I know both the gurus involved and that they have been working on this proect. I have not seen any of the kit but spoke to one of these people a few days ago. This is what I understand from that conversation.
The Laser does not need any modification, not even any additional screw holes. There is an insert which is bolted through the centreboard case, into which the foil strut is inserted and which has the necessary fittings to retain the foil in place and control the angle of attack. The rudder is installed into a standard Laser rudder box. They do not rely on the Laser bent tab to retain the rudder but a snail pin through a hole as is std Laser practice at least in Aust.
It is possible to insert the foil only from the bottom but it can be slid up so that the boat can be floated in shallow water. So far they have launched the Laser, walked to shallow water, rolled the boat over to insert the foil, then sailed out to deeper water before lowering the foil and rudder to foiling depth. Both the horizontals rotate on the T joint, the wand controlling the main foil angle, but somehow the rudder foil is free to rotate until the rudder is fully down. WardI has used this main foil system on his Moth for some years.
They are very pleased with the downwind performance so far but know that upwind will be more of a challenge and are working on techniques to achieve upwind foiling. They have some experienced foiling people planning a to test ride and provide input.
This is a serious effort, they have had tooling made and will shortly be doing some serious marketting. It may not be for everyone but with so many Lasers in existance only a small percentage of owners is still a viable market.
August 8th, 2013 by admin
Could it really be possible?  A kit that allows the most popular sailboat in the world to foil?  We thought it was a hoax until we saw more photo evidence… Check out what Chris from PSA, at the helm of the foiling Laser Torch Kirby sailboat, had to say: "I had it up with my 96kgs in 10 to 12 knots yesterday morning, I am sure with more practice you could get it going a little earlier, if lighter in weight for sure you can.  Later afternoon session was in 15 to 18 and I was smoking for a Laser…we need to do speed tests, not done that yet, my guess yesterday was close to 20 knots.
Wanna know more?  We do.  Check the thread.
August 4th, 2013 by admin