Posts Tagged 'Lake Geneva'
86 keel-less boats screaming downwind under grunty masthead kites sounds pretty good to us; it also looks good thanks to Petey Crawford's Penalty Box Production of the E-boat Nationals last weekend in Lake Geneva.  Tammy Sawyer shot a great gallery here, and Peter Hurling has a massive gallery from the regatta here.  Screw sportboats; this is Scow Country.
September 15th, 2013 by admin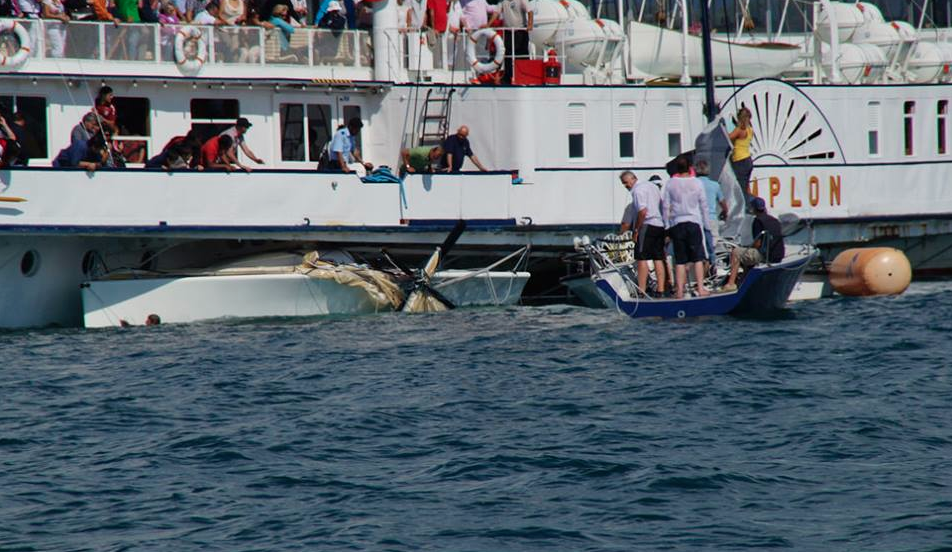 One of Lake Geneva's funky little one-design sporties – a Luthi 870 – wasn't so lucky on Saturday when a CGN ferry swallowed it up just after the start of some weekend racing.  Two of the five crew ejected into the water were injured, one seriously, and  reports from the course indicate the ferry was tooting away on his horn when the collision happened.  According to Le Matin, ferries on the Lake have right of way over all non-emergency traffic…bad news for the sailors and best of luck on their recovery, and Merci a Patrick Michel for the tip from the land of chocolate and cowbells.
September 2nd, 2013 by admin