Posts Tagged 'Lake Geneva'
Big Pimpin'
Bob Hillier and the folks at Line Honors Yacht Racing Outfitters continue to provide one of the most complete lines of racing apparel and accessories anywhere, and now you can try it all before you buy at the new Line Honors shop!  Support Line Honors just as they support so many teams and events around the world – stop into their brand new store on downtown Lake Geneva, WI for the Grand Opening on October 3.
September 18th, 2014 by admin

We are both stoked and scared about the just-round-the-corner 2015 Little America's Cup; stoked to see ultra-enthusiast Jeremie Lagarrigue (Hydros.CH) making so much happen in advance of next summer's event on Lake Geneva – a sexy new logo, sweet promo videos like this one above, an ultra-organized committee pulling in sponsorship and working to encourage competitors, and plenty of behind-the-scenes work to make the event as interesting as Jeremie and his team.  But we're very afraid after seeing that this morning's Press Conference – the first thrown by the Organizers for next year's event – was almost entirely in French.
By this time, all SA readers will know that your Editors are avowed Francophiles.  Thanks to Mr. Clean, Ryan Breymaier, Ronnie Simpson, and dozens of other contributors, no English-speaking website has done more in-depth coverage of major French races than we have over the past 5 years, and more than 100,000 Frenchmen click on SA every month whether they can speak English or not.  And of course, no culture has done more for the advancement of high-performance multihull development than the Franco-Suisse; they are responsible for more big racing multihulls than any other; without them, we'd never have the ORMA 60, the MOD-70, the BOR-90, the Alinghi 90, the America's Cup 72, or dozens of other world-leading and groundbreaking boats.  But there's a real danger in letting things "turn Franco-Suisse," especially in the context of one of sailing's most historic classes.  With all due respect to the original slogan so enjoyed by the urban aware, "once you go French, very few come back."
Note the Open 60 and its governing body IMOCA; founded by an American, a Swiss man, a French woman, an Italian, and an Englishman, it was originally intended to be a truly international group to govern the sport's premier solo racing class.  Within 8 years, it had been almost entirely taken over by French-speakers, with a tiny handful of non Franco-Suisse ever getting to the table – a problem so grave it forced IMOCA to bring in Sir Keith Mills' OSM organization last year to try to internationalize and invigorate the stagnating class. Note the MOD-70; a brilliant idea and a spectacular boat at a surprisingly low price, killed almost before it began by it's developer and the Franco-Suisse organizing body's overreliance on French marketing and sponsorship infrastructure during trying times. Note the ORMA-60; a perfect example of too many eggs in one basket, with a fleet almost entirely destroyed in one race along with a dozen sponsors' goodwill and interest in ever sponsoring big oceanic multihulls again.  ORMA's death led to the new prominence of the record-breakers, because there weren't enough good sponsors left to build another big multihull circuit.
With Jeremie and team putting major effort into winning the next Little Cup, Cammas joining the Lake Geneva fleet to defend his title, and few credible non-French challengers waiting in the wings, we're definitely afraid of the Little Cup becoming Le Petite Coupe forever.  Selfishly for our Senior Editor, it would mean a few nice trips to France or Switzerland every few summers to cover some great racing in one of the world's most interesting boats.  Democratically, it would mean a major loss to the world of the truly 'international' competition that's marked the Little AC for more than half a century.  If you want to bone up on that history, have a look at the Team Invictus page here.  And if you'd like to skip ahead to Steve Clark and the English-language portion of this morning's press conference, go here.
Confused by the title?  Damned kids these days don't know shit.
April 30th, 2014 by admin
86 keel-less boats screaming downwind under grunty masthead kites sounds pretty good to us; it also looks good thanks to Petey Crawford's Penalty Box Production of the E-boat Nationals last weekend in Lake Geneva.  Tammy Sawyer shot a great gallery here, and Peter Hurling has a massive gallery from the regatta here.  Screw sportboats; this is Scow Country.
September 15th, 2013 by admin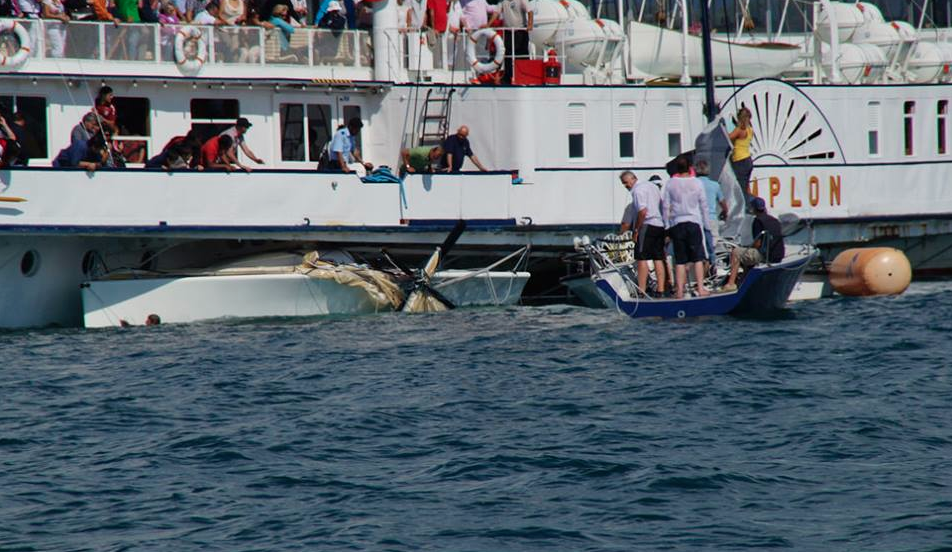 One of Lake Geneva's funky little one-design sporties – a Luthi 870 – wasn't so lucky on Saturday when a CGN ferry swallowed it up just after the start of some weekend racing.  Two of the five crew ejected into the water were injured, one seriously, and  reports from the course indicate the ferry was tooting away on his horn when the collision happened.  According to Le Matin, ferries on the Lake have right of way over all non-emergency traffic…bad news for the sailors and best of luck on their recovery, and Merci a Patrick Michel for the tip from the land of chocolate and cowbells.
September 2nd, 2013 by admin