Posts Tagged 'Lake Geneva'
The Little America's Cup may have lost a lot of its shine, but if you think the world's most open development class (and the boat that birthed the modern America's Cup) is done giving lessons to the world's high-performance thinking, you're dead wrong.  Here's the latest Anarchist team to send in their update for the upcoming Little Cup.  Get to know Team Norgador over here.
On September the 12th, a historical event will take place, and it will provide a unique opportunity to watch genuine flying machines, a cradle for spacecraft technology.  Two seasoned sailors are at the helm of this "interceptor aircraft", and communication, commitment, know how, fortitude, mental endurance – these are the ingredients of our recipe. Share with us these values, so this very project –our project~~, this challenge is lead to success.  "You are about to hear the heartbeat of our earth to the tune of wind, water and clouds."
-Jean-Pierre de Siebenthal, CEO, Team Norgador
August 24th, 2015 by admin
2013 Melges 32 World Champion mast man and SA Staff Videographer Petey Crawford dusted off his sailing gloves for a little fall action this past weekend, and in our first piece of today's Midwest Madness, he reports from the 18-boat Lake Geneva Melges 24 Fall Champs, with great pics from LGYC's Michael Moore and a small gallery over here.
This past week I got a call from some friends in Western Michigan, and they asked if I wanted to go Melges 24 racing in Lake Geneva, Wisconsin.  After rescheduling a couple of things I jumped at the chance – I used to come to this even more than a decade ago when it was all J/24s, and Buddy Melges' home club is always a great time.  The lake's empty of powerboats, the fall colors are popping, the breeze is almost always on, and the blue-collar LGYC never disappoints.
Imagine my surprise to pull up to the parking lot and find the clubhouse gone, and replaced with a construction site as the new Buddy Melges Sailing Center takes shape. With no facilities available at LGYC, the event moved across the lake to Gage Marine in Williams Bay, with the Gage staff doing a great job hosting every one of the ten out-of-town teams making the trip.
The Saturday forecast was a little on the brutal side, with expected temps in the high 30s to low 40s, and a mix of rain and snow. You heard that right – SNOW. Despite the hard core forecast, all 18 teams piled on the layers and sailed out through the wall of steam rolling across the water. The RC cranked off 4 races with wind ranges in the 12-18 knots, and it really wasn't that bad once you got into it. My biggest problem was visibility; glasses on or glasses off, you couldn't see much  through the rain, but it was marginally better than getting the full wintery mix right into my eyeballs.  It was a really fun day of sailing with good friends, and we were off the water by 2pm. That opened up the afternoon for us, and we took full advantage to up the fun factor. We were staying at a Methodist church retreat, and along with our upstairs neighbors from Muskegon, we  probably broke just about every rule they had with all that time to kill before the 6 PM regatta party. We had about 3 hours of playtime on the shore of the lake with frisbees, volleyballs, wiffle balls, horseshoes, and even acorns flying through the air from all directions. It was pretty chaotic at times and I'm pretty sure we provided more than one topic of discussion for the group of college students who were staying there on an actual Methodist retreat.  But goddamn, did we had fun.
Sunday morning started out with a similar forecast but with less warmth and less wind, but with the sun shining, it felt a comparative heat wave.  The RC got us two more races to close out this year's event and again, like it was on Saturday, it was a great day of sailing. Brian Porter and the Full Throttle team fully throttled us all and won every race but 1, but we won the most important race of the week, getting to the hoist first after an early finish in the final race.
We had a brand new VHF radio that must have been on a half-price sale because it only half-worked; we could transmit but could not receive. That was a problem all event, but especially when we were OCS on the last race; by the time the windward boat rolled us and we could hear them telling us we were over we were pretty far back. We swung the bat hard on the first beat hoping to make a gain to get back in the race, but with the breeze cranking, the boats in front of us hooked up on the downwind and were gone, we didn't stand a chance of passing anyone and decided to take the extra point and get on the trailer first.
This is a great event and a beautiful time of the year to be racing sailboats, I have missed these events over the past few years with living in California and then Florida, and it was just perfect to be out there with friends, racing hard and having fun…even if it felt like we were inside a refrigerator.
-The God Damned Reverend, Out
October 6th, 2014 by admin
Big Pimpin'
Bob Hillier and the folks at Line Honors Yacht Racing Outfitters continue to provide one of the most complete lines of racing apparel and accessories anywhere, and now you can try it all before you buy at the new Line Honors shop!  Support Line Honors just as they support so many teams and events around the world – stop into their brand new store on downtown Lake Geneva, WI for the Grand Opening on October 3.
September 18th, 2014 by admin

We are both stoked and scared about the just-round-the-corner 2015 Little America's Cup; stoked to see ultra-enthusiast Jeremie Lagarrigue (Hydros.CH) making so much happen in advance of next summer's event on Lake Geneva – a sexy new logo, sweet promo videos like this one above, an ultra-organized committee pulling in sponsorship and working to encourage competitors, and plenty of behind-the-scenes work to make the event as interesting as Jeremie and his team.  But we're very afraid after seeing that this morning's Press Conference – the first thrown by the Organizers for next year's event – was almost entirely in French.
By this time, all SA readers will know that your Editors are avowed Francophiles.  Thanks to Mr. Clean, Ryan Breymaier, Ronnie Simpson, and dozens of other contributors, no English-speaking website has done more in-depth coverage of major French races than we have over the past 5 years, and more than 100,000 Frenchmen click on SA every month whether they can speak English or not.  And of course, no culture has done more for the advancement of high-performance multihull development than the Franco-Suisse; they are responsible for more big racing multihulls than any other; without them, we'd never have the ORMA 60, the MOD-70, the BOR-90, the Alinghi 90, the America's Cup 72, or dozens of other world-leading and groundbreaking boats.  But there's a real danger in letting things "turn Franco-Suisse," especially in the context of one of sailing's most historic classes.  With all due respect to the original slogan so enjoyed by the urban aware, "once you go French, very few come back."
Note the Open 60 and its governing body IMOCA; founded by an American, a Swiss man, a French woman, an Italian, and an Englishman, it was originally intended to be a truly international group to govern the sport's premier solo racing class.  Within 8 years, it had been almost entirely taken over by French-speakers, with a tiny handful of non Franco-Suisse ever getting to the table – a problem so grave it forced IMOCA to bring in Sir Keith Mills' OSM organization last year to try to internationalize and invigorate the stagnating class. Note the MOD-70; a brilliant idea and a spectacular boat at a surprisingly low price, killed almost before it began by it's developer and the Franco-Suisse organizing body's overreliance on French marketing and sponsorship infrastructure during trying times. Note the ORMA-60; a perfect example of too many eggs in one basket, with a fleet almost entirely destroyed in one race along with a dozen sponsors' goodwill and interest in ever sponsoring big oceanic multihulls again.  ORMA's death led to the new prominence of the record-breakers, because there weren't enough good sponsors left to build another big multihull circuit.
With Jeremie and team putting major effort into winning the next Little Cup, Cammas joining the Lake Geneva fleet to defend his title, and few credible non-French challengers waiting in the wings, we're definitely afraid of the Little Cup becoming Le Petite Coupe forever.  Selfishly for our Senior Editor, it would mean a few nice trips to France or Switzerland every few summers to cover some great racing in one of the world's most interesting boats.  Democratically, it would mean a major loss to the world of the truly 'international' competition that's marked the Little AC for more than half a century.  If you want to bone up on that history, have a look at the Team Invictus page here.  And if you'd like to skip ahead to Steve Clark and the English-language portion of this morning's press conference, go here.
Confused by the title?  Damned kids these days don't know shit.
April 30th, 2014 by admin
86 keel-less boats screaming downwind under grunty masthead kites sounds pretty good to us; it also looks good thanks to Petey Crawford's Penalty Box Production of the E-boat Nationals last weekend in Lake Geneva.  Tammy Sawyer shot a great gallery here, and Peter Hurling has a massive gallery from the regatta here.  Screw sportboats; this is Scow Country.
September 15th, 2013 by admin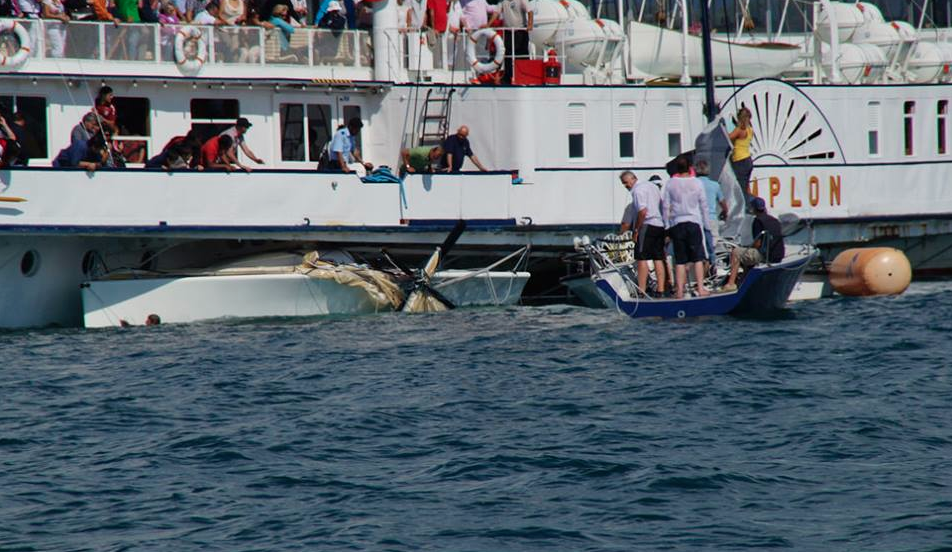 One of Lake Geneva's funky little one-design sporties – a Luthi 870 – wasn't so lucky on Saturday when a CGN ferry swallowed it up just after the start of some weekend racing.  Two of the five crew ejected into the water were injured, one seriously, and  reports from the course indicate the ferry was tooting away on his horn when the collision happened.  According to Le Matin, ferries on the Lake have right of way over all non-emergency traffic…bad news for the sailors and best of luck on their recovery, and Merci a Patrick Michel for the tip from the land of chocolate and cowbells.
September 2nd, 2013 by admin