Posts Tagged 'kiteboarding'
As seems more and more common lately when it comes to ISAF and the regulation of the sport, the more you dig, the uglier it gets, and so it has gone with our reporting on the International Federation of Kitesports Organizations and its battle for survival against the might of World Sailing and its delegate, the International Kiteboarding Association (IKA). 
IFKO was formed by French and Portuguese kite associations to specifically address the governance of the 90% of kiteboarding that wasn't neatly sucked up by ISAF and the IKA under the guise of 'sail racing', and with kiting on the agenda when the IOC has their big meeting in Rio this summer, never has control of kiteboarding been more important than now. 
We find the reason for IKFO's creation compelling, and they're saying all the right things in public, so we asked them to bring us up to speed on the situation.  Sofia Guerreiro, IKFO's Director General, responded, and rather than losing her written flavor, we largely left her response 'as is':
Yes, IFKO is a real and official organization! Legally registered on the Notary, on the Justice Ministry, with a number of registrations, with sport statutes and all parameters created by the rules of the World of Sports under the direct guidelines of SportAccord.  IFKO intends to give Kitesports its own self-determination as an independent Sport! We are kiteriders, we are not sailors or tennis players. We have our own culture, identity and our own athletes!
Last week's IKA press release and statement, like any other in the past, is their style move. They have no legal authority, but they try to push people into believing it and fake it.   IFKO simply applied like any other new sport for recognition at SportAccord. After SportAccord's analysis of our process and legitimacy, we decided to open a platform to start the recognition process. Now ISAF and IKA will have to deal with it and with what they have done in the past!
In 2012, ISAF's AGM registered one single discipline "IKA Formula Kite" in a self-named "Kiteboarding Committee".  None of the other 17 kiting  disciplines were registered, and therefore SportAccord recognized the legitimacy of IFKO to apply for recognition of a new sport, bringing together members of those other 17 disciplines and achieving the Full Membership thereafter.
IN DETAIL:
– IFKO does not recognize IKA authority anywhere, nor will we engage in bad vibe discussions with this private company
– IFKO recognizes ISAF as the IF of the sport: Sailing;
– IFKO is the IF of the sport: Kitesports;
– Last AGM of ISAF was in 2012;
– Only IFs AGMs are official stages, so any decision taken, meetings or whatsoever taken in the middle are internal affairs (we do not have to respect it or even read it);
– ISAF legal reach of actions is written in 2012 AGM minutes, where the only discipline registered was "IKA-Formula-kite";
– IKA is an undefined structure of ISAF, not recognized by SportAccord or IOC;
– IKA company can only work under official decisions settled at last ISAF AGM 2012; saying different is not legal.
– IKA and ISAF would be right to complain if IFKO used the Racing Rules of Sailing or any other property of ISAF, and/or if IKFO organized 'IKA-Formula Kite' competitions as registered by IKA.  IKFO does not do either of these things.
– IKFO does not care if IKA tries to make Formula-Kite in the Olympics.  IKFO has 17 disciplines of kitesports to develop and will focus on that.
MORE:
– "IKA", the legal figure "association" with the name "international kiteboarding association" does not exist, this name doesn't legally exist;
– IKA said in their "AGM" openly that they are a private company registered in Gibraltar with the name "Kitesports LTD";
– Private companies have owners, and share holders, do not have "associates";
– Private companies are made for money self profits objectives and therefore will not have the kiteriders' interests as their first objective. Profit motives can help explain the motivation behind IKA's threats to riders and judges and IKA's goals over the past four years.
– We cannot find any legal contract between Ika and Isaf in the public minutes of Isaf. Is it secret? Who signed it? What does it says? Does it exist?
AND:
– IFKO will not use World Saling Rules, officials or whatsoever sailing stuff – that was something decontextualised and absurd said by new WS/Isaf CEO ;
– IFKO uses Kite rules, Kite directors, Kite identity dynamics, and our own sport identity to our competitions;
– IFKO does not ban Athletes that is blackmail, VERY wrong and ANTI-SPORT;
– SO IKA/ISAF IS BANNING ATHLETES OF COMPETITIONS THEY DO NOT HAVE LEGAL RIGHT TO ORGANIZE!
ABOUT IFKO:
– Our process of recognition of a new sport was accepted by SportAccord and now is opened to receive our reports to build it;
– IFKO just gets "recognition" after a proper stage of building (World Championships, WADA compliance, youth anti-doping seminars, actions of equality for women, actions for disabled Athletes, etc.);
– It is supposed we organize Worldchampionships because SportAccord demands reports of it, to submit evaluation if are being properly organized by Olympic movement standards;
– We have guidelines to prepare the process already with standards to Kitesports be able of recognition by IOC.
RESUMING:
– IFKO will not officially answer IKA's threatening letter, IFKO has no duties to this private company;
– Our letter to the ISAF CEO is ready and may be public soon,
– Actually, if ISAF continues to threaten our riders and judges, it will help our argument to SportAccord.
– We believe IKA is engaging in fear tactics, trying to scare athletes at the moment of registration not do it, because they could have fear of IKA's procedures.  The spread of fear is unacceptable.
– IKA strategies to our community always were, are, and will be lies, fear, threat, blackmail and abuse…and the most incredible is that community is believing it for years. IKFO does not accept it, and supports the end of secrets and back room deals.  Sport should be transparent, with decisions made democratically between representative national associations.
It´s time to for IKA to prove that it: 1st -exists?, 2nd- have any authority in what?, 3rd- has legal connection/contract with ISAF, made when? Who signed it? What was signed for us all? Where are these papers that should be public documents? Are they hidden or do they even exist?
Why during these 5 to 8 years the Kite community had no access to public documents decided by IKA?
Even more irregular: if ISAF bans Riders from other sport competitions, why is selling "special statutes" to others (and not only for WKT) to organize competitions??
ISAF seems to "sell" world championships: to WKT, to IKA and someone told us there is a 3rd client soon. Amazing. (it does not matter if they are going to court with each other, important is to sell and pretend you have the authority to sell it)
(By the way ISAF is also a private company and not a non-for-profit association, as SportAccord membership demands and demanded to IFKO).
All this is why the Portuguese and the French associations joined energies: to give Kitesports a fair chance inside Sport correct values to be regulated by itself and not to be submitted to this subversion and disorder that damage athletes and sport.
Kitesports wants to take the way Surf did, we all kiteriders should join in community and just follow the correct path other sports already did. IFKO is working against this sailing fake fear campaign that, even totally agreeing with IFKO, is keeping many national associations quiet and still.
Yes we have our wallet ready and a team of lawyers and sporting specialists. Now it's up to the President.
-Sofia
February 5th, 2016 by admin
We probably spend more time watching kite chicks than we do any other sport, and with good reason; We don't know any athletes who do a better job of sharing their exotic, exciting, bikini-filled lifestyle with millions of die-hard fans than girls like Hannah Whiteley and Anastasia Ashley.  Since they're all going after the same sponsors, they've brought their competitiveness to social media, and we're all winners for it.  This gorgeous shark's eye view shot comes from Hannah's Facebook page, which is worth a long, long look for any red-blooded man, lesbian, or fan of wind-powered sports.
As an avowed SA'er (and past Extreme Sailing Series guest racer), perennial top-ranked surfer Sally Fitzgibbon is always worth paying attention to, and if you're a chick (or you've hatched one that needs a role model), here's a really interesting interview by a surf journo chick as Sally gets set to try to break her streak and win the World Champs at the Maui Pro.
Title shout to one of the top 25 sports documentaries of all time.
November 23rd, 2015 by admin
This one came in from longtime anarchist and President of the Victoria Moth Class Richard Jackson.  Nice one, Jacko – learn more about this excellent charity here.
I am writing you this short email to share something really cool with your readers. I was moth sailing off my home club at Mount Martha on Port Phillip Bay when a saw a massive fleet of kites coming down the bay. I went out a long way to make sure my eyes weren't deceiving me and got in amongst 100+ kite boarders flying down from Rosebud to Port Melbourne! It was truly one of the coolest things I've ever done on a boat.  I went with them until the beach I left from was almost a speck on the shore and decided the wife won't want a call from Melbourne telling her to come get me.
When I got home, I found the Across The Bay For Cancer page [which is loaded with great pics and reports -ed] and saw this video; it's amazingly compelling, a great cause, and the group is really accomplishing something special.  I hope to great a moth fleet to involved next year, but in the meantime, enjoy the video.
February 13th, 2015 by admin
Half aerial-yoga, half acrobatic kiting, the latest exposition of slow-motion sailing from Pat Rynne and Waterlust. For something entirely different and ten times trippier from WL, clicky. Oh and thanks to Sperry for making this shit real.
February 11th, 2015 by admin
We're always stoked when accomplished young women reveal they are SA fans; here's a note we got this morning from delicious UK pro kiteboarder and model Hannah Whiteley.  As, ummm, visual beings, we think the best place to follow Hannah is over on Instagram.
Hi, Mr. Clean! I love checking out your website, always something interesting on there. 😉
I thought your readers might like to check out my new video 'Extreme High Heel Kitesurfing'
I love trying different things and having fun with kiting, but I can promise you that kiting in high heels was a lot harder than I thought it would be! I still had a great time working on this project and trying something new, and showing that you don't have to be a guy or a boyish girl to kitesurf!  Kiting is for everyone and a beautiful passion. Try something new today and don't be afraid to have fun and be different.
Thanks to videographer Andre Magarao and sponsors Best Kiteboarding, Chiemsee, Volkswagen Commercial Vehicles & Prolimit. Song: Barking by Wally Gagel, Xandy Barry.
-Hannah
January 14th, 2015 by admin
We're not sure why this is the first we've heard about it, but the folks at ASV Performance shared the news in a PR yesterday that their 'rescue kites' are OEM equipment on each of the Volvo 65s, and that they constitute "the biggest breakthrough in the kiteboarding industry…"  It's a bit weird to see this info, accompanied by the above credited shot from Ainhoa Sanchez/VOR but have nothing but silence from the folks at Volvo, who ordinarily seize on any opportunity for an interesting story angle that isn't about toilets or toothbrushes.
But we dig kites, and seeing the test kite up there on the old Sanya, we wish the rule allowed them to fly 'em!
October 31st, 2014 by admin
Face of a fashion star, kiteboarding ability of a superstar, body of a porn star.  An unabashed self-promoter and a fan of Sailing Anarchy.  Could this be the perfect woman?  Maybe not, but she's certainly our Sailor Chick of the Week; watch the video to see why.
And head over to Hannah Whiteley's Facebook Page for much, much more.
October 9th, 2014 by admin
You may not have noticed, but that world-famous breeding ground of both great and horrible ideas – the Sailing Anarchy Forums – has a new addition this month.  We welcome all of our kiteboarding friends to Kiteboarding Anarchy, and Anarchist "maestro" rekindled an old tradition in the forums; the reader boat review.  Only this time the boat fits in a bag, and goes 30 knots…or more. More pics (and ask the reviewer questions) here, and the manufacturer site is here.   And in other kiteboarding news, we're proud to be a sponsor of the inaugural Fort2Battery Race in Charleston, SC right after the Moth NAs and just before Charleston Race Week.  Already a pile of boards and moths are entered for this event modeled after SF's Bridge2Bridge but in the East Coast's kiting capital, and it should be a blast to hang out on the Battery and watch the carnage.  Nice going from a big Anarchy fan with the balls to give something new a try – Tim Fitzgerald.
MFG: Slingshot
Model: Darko
Size: 134 x 41.1
Year: 2013
Conditions: Salt water, flat/choppy, no waves 14-25kts
Boots: Y
Kite: RPM, Rally, various sizes
Initial impressions:
The artwork is great, and the bottom of the board is super visible if you lose it, or if someone is taking pictures of a grab.  It has fairly little rocker, and carries its edge all the way up.  The board is on the heavy side of medium and the flex is on the stiff side of stiff.  Slingshot fastrack, for super adjustability of stance.  All the bolts needed tightening before/after the first ride, but all good thereafter.  Bindings are quick to adjust.
Performance: 
The board rides like its a bigger board, you can really agressively downsize because of how wide it stays tip to tail.  This board generates a ton of pop with the right speed and ability to use it.  Even though it is 134x41cm wide, it doesn't feel like a wide board.  Even though it's a fairly stiff board, you can still feel the flex on the slop, though landings can be more abrupt than softer boards.  Beginners will like how well it gets up on plane, upwind, ability and speed…at the cost of a bit of face spray.  Experts will absolutely launch on this thing.
Verdict:
This is my favorite 2013 twin tip from Slingshot (I've demo'd the entire line).  It's definitely a go-to medium to heavy air flats kiteboard that will take anything you dish out at it.
March 11th, 2014 by admin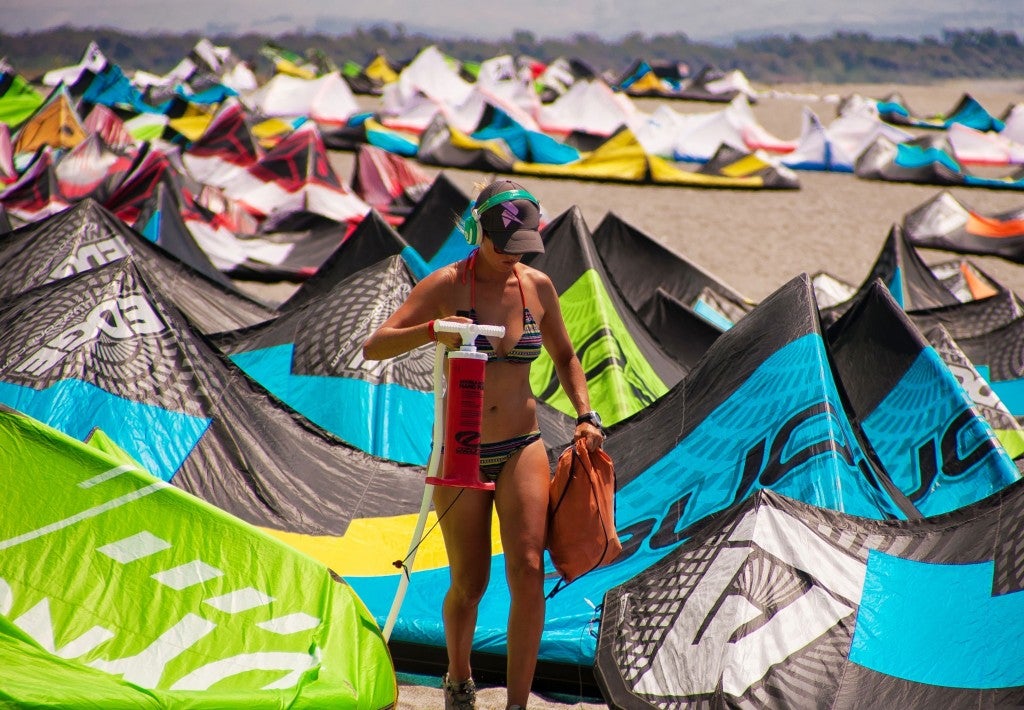 There are plenty of sailors who say kiteboarding isn't sailing.  Frankly, we don't care.  As long as images like this keep coming our way, we're all in.  Shot from the HangLooseBeach European course racing champs thanks to Icarus Media, with galleries here.  For a video with voiceover from Robocop, go here.  And of course Hans and Frans inspire our title work…
September 9th, 2013 by admin
Bruno Sroka is a bit of a kiteboarding legend; the French-born sailor was the first (and still only) person to round Cape Horn on a kiteboard, he's the holder of the English Channel kiteboard record, and winner of some big championships in the early and disorganized world of kiteboard racing.
All those pale in comparison to his latest feat; a 16-hour, 240 NM hatefest from the Brittany Coast all the way to Cork, Ireland.  Of course Sroka had the luxury of waiting for the perfect weather window; something the support of title sponsor Tourism Ireland made possible.  But even so, that's one hell of a long and uncomfortable ride, and we think it's a real accomplishment.  Next up:  Transatlantic on a kiteboard?  We'll find out.
Rubber Ducky, You're The One
Meanwhile, while Sroka was screaming across the mouth of La Manche, a (presumably drunken) American tried to set his own record for stupidity by rowing and sailing a 6-foot Wal-mart dinghy from Weymouth to Bournemouth in the UK.  It's only a 36 mile trip – that should have been a piece of cake with two plastic oars and a tarp for a sail.  For better or worse Darwin was cheated of an award when a dive boat called it in to HM Coastguard – they picked him up, took him in, and treated him for burns suffered during the 15-hour tour.
A Coastguard spokesman took advantage of the opportunity to make the world a safer place. "Blow up boats and other inflatables aren't suitable for use at the seaside, as they can easily be blown far out to sea."
Thanks, Captain Obvious!
July 24th, 2013 by admin