Posts Tagged 'kiteboarding'
We probably spend more time watching kite chicks than we do any other sport, and with good reason; We don't know any athletes who do a better job of sharing their exotic, exciting, bikini-filled lifestyle with millions of die-hard fans than girls like Hannah Whiteley and Anastasia Ashley.  Since they're all going after the same sponsors, they've brought their competitiveness to social media, and we're all winners for it.  This gorgeous shark's eye view shot comes from Hannah's Facebook page, which is worth a long, long look for any red-blooded man, lesbian, or fan of wind-powered sports.
As an avowed SA'er (and past Extreme Sailing Series guest racer), perennial top-ranked surfer Sally Fitzgibbon is always worth paying attention to, and if you're a chick (or you've hatched one that needs a role model), here's a really interesting interview by a surf journo chick as Sally gets set to try to break her streak and win the World Champs at the Maui Pro.
Title shout to one of the top 25 sports documentaries of all time.
November 23rd, 2015 by admin
This one came in from longtime anarchist and President of the Victoria Moth Class Richard Jackson.  Nice one, Jacko – learn more about this excellent charity here.
I am writing you this short email to share something really cool with your readers. I was moth sailing off my home club at Mount Martha on Port Phillip Bay when a saw a massive fleet of kites coming down the bay. I went out a long way to make sure my eyes weren't deceiving me and got in amongst 100+ kite boarders flying down from Rosebud to Port Melbourne! It was truly one of the coolest things I've ever done on a boat.  I went with them until the beach I left from was almost a speck on the shore and decided the wife won't want a call from Melbourne telling her to come get me.
When I got home, I found the Across The Bay For Cancer page [which is loaded with great pics and reports -ed] and saw this video; it's amazingly compelling, a great cause, and the group is really accomplishing something special.  I hope to great a moth fleet to involved next year, but in the meantime, enjoy the video.
February 13th, 2015 by admin
Half aerial-yoga, half acrobatic kiting, the latest exposition of slow-motion sailing from Pat Rynne and Waterlust. For something entirely different and ten times trippier from WL, clicky. Oh and thanks to Sperry for making this shit real.
February 11th, 2015 by admin
We're always stoked when accomplished young women reveal they are SA fans; here's a note we got this morning from delicious UK pro kiteboarder and model Hannah Whiteley.  As, ummm, visual beings, we think the best place to follow Hannah is over on Instagram.
Hi, Mr. Clean! I love checking out your website, always something interesting on there.
I thought your readers might like to check out my new video 'Extreme High Heel Kitesurfing'
I love trying different things and having fun with kiting, but I can promise you that kiting in high heels was a lot harder than I thought it would be! I still had a great time working on this project and trying something new, and showing that you don't have to be a guy or a boyish girl to kitesurf!  Kiting is for everyone and a beautiful passion. Try something new today and don't be afraid to have fun and be different.
Thanks to videographer Andre Magarao and sponsors Best Kiteboarding, Chiemsee, Volkswagen Commercial Vehicles & Prolimit. Song: Barking by Wally Gagel, Xandy Barry.
-Hannah
January 14th, 2015 by admin
We're not sure why this is the first we've heard about it, but the folks at ASV Performance shared the news in a PR yesterday that their 'rescue kites' are OEM equipment on each of the Volvo 65s, and that they constitute "the biggest breakthrough in the kiteboarding industry…"  It's a bit weird to see this info, accompanied by the above credited shot from Ainhoa Sanchez/VOR but have nothing but silence from the folks at Volvo, who ordinarily seize on any opportunity for an interesting story angle that isn't about toilets or toothbrushes.
But we dig kites, and seeing the test kite up there on the old Sanya, we wish the rule allowed them to fly 'em!
October 31st, 2014 by admin
Face of a fashion star, kiteboarding ability of a superstar, body of a porn star.  An unabashed self-promoter and a fan of Sailing Anarchy.  Could this be the perfect woman?  Maybe not, but she's certainly our Sailor Chick of the Week; watch the video to see why.
And head over to Hannah Whiteley's Facebook Page for much, much more.
October 9th, 2014 by admin
You may not have noticed, but that world-famous breeding ground of both great and horrible ideas – the Sailing Anarchy Forums – has a new addition this month.  We welcome all of our kiteboarding friends to Kiteboarding Anarchy, and Anarchist "maestro" rekindled an old tradition in the forums; the reader boat review.  Only this time the boat fits in a bag, and goes 30 knots…or more. More pics (and ask the reviewer questions) here, and the manufacturer site is here.   And in other kiteboarding news, we're proud to be a sponsor of the inaugural Fort2Battery Race in Charleston, SC right after the Moth NAs and just before Charleston Race Week.  Already a pile of boards and moths are entered for this event modeled after SF's Bridge2Bridge but in the East Coast's kiting capital, and it should be a blast to hang out on the Battery and watch the carnage.  Nice going from a big Anarchy fan with the balls to give something new a try – Tim Fitzgerald.
MFG: Slingshot
Model: Darko
Size: 134 x 41.1
Year: 2013
Conditions: Salt water, flat/choppy, no waves 14-25kts
Boots: Y
Kite: RPM, Rally, various sizes
Initial impressions:
The artwork is great, and the bottom of the board is super visible if you lose it, or if someone is taking pictures of a grab.  It has fairly little rocker, and carries its edge all the way up.  The board is on the heavy side of medium and the flex is on the stiff side of stiff.  Slingshot fastrack, for super adjustability of stance.  All the bolts needed tightening before/after the first ride, but all good thereafter.  Bindings are quick to adjust.
Performance: 
The board rides like its a bigger board, you can really agressively downsize because of how wide it stays tip to tail.  This board generates a ton of pop with the right speed and ability to use it.  Even though it is 134x41cm wide, it doesn't feel like a wide board.  Even though it's a fairly stiff board, you can still feel the flex on the slop, though landings can be more abrupt than softer boards.  Beginners will like how well it gets up on plane, upwind, ability and speed…at the cost of a bit of face spray.  Experts will absolutely launch on this thing.
Verdict:
This is my favorite 2013 twin tip from Slingshot (I've demo'd the entire line).  It's definitely a go-to medium to heavy air flats kiteboard that will take anything you dish out at it.
March 11th, 2014 by admin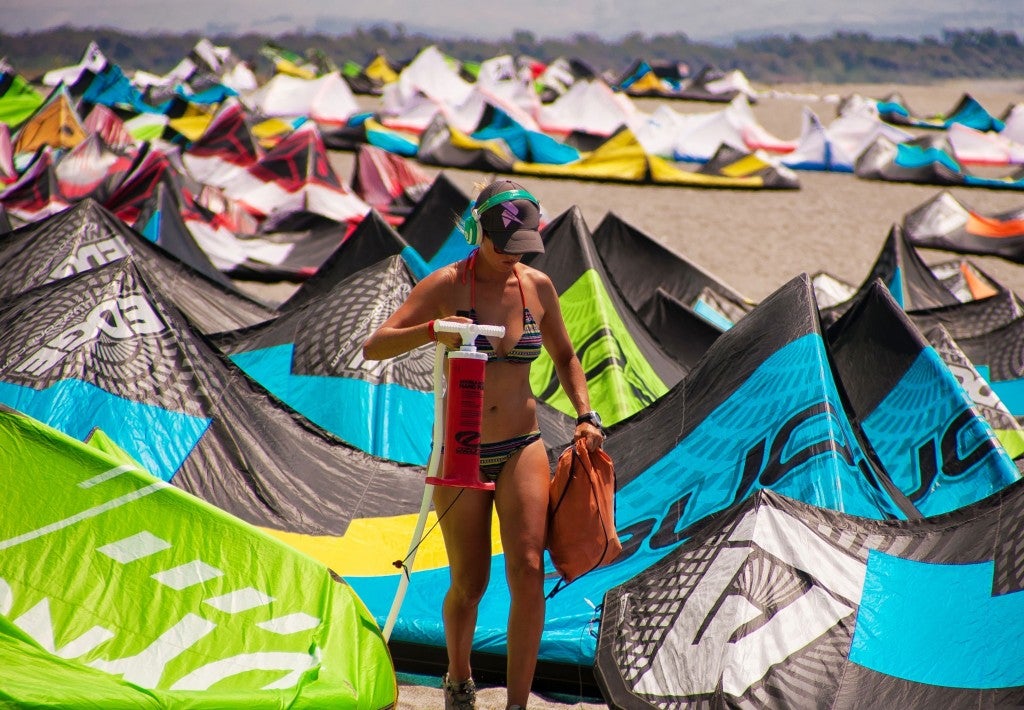 There are plenty of sailors who say kiteboarding isn't sailing.  Frankly, we don't care.  As long as images like this keep coming our way, we're all in.  Shot from the HangLooseBeach European course racing champs thanks to Icarus Media, with galleries here.  For a video with voiceover from Robocop, go here.  And of course Hans and Frans inspire our title work…
September 9th, 2013 by admin
Bruno Sroka is a bit of a kiteboarding legend; the French-born sailor was the first (and still only) person to round Cape Horn on a kiteboard, he's the holder of the English Channel kiteboard record, and winner of some big championships in the early and disorganized world of kiteboard racing.
All those pale in comparison to his latest feat; a 16-hour, 240 NM hatefest from the Brittany Coast all the way to Cork, Ireland.  Of course Sroka had the luxury of waiting for the perfect weather window; something the support of title sponsor Tourism Ireland made possible.  But even so, that's one hell of a long and uncomfortable ride, and we think it's a real accomplishment.  Next up:  Transatlantic on a kiteboard?  We'll find out.
Rubber Ducky, You're The One
Meanwhile, while Sroka was screaming across the mouth of La Manche, a (presumably drunken) American tried to set his own record for stupidity by rowing and sailing a 6-foot Wal-mart dinghy from Weymouth to Bournemouth in the UK.  It's only a 36 mile trip – that should have been a piece of cake with two plastic oars and a tarp for a sail.  For better or worse Darwin was cheated of an award when a dive boat called it in to HM Coastguard – they picked him up, took him in, and treated him for burns suffered during the 15-hour tour.
A Coastguard spokesman took advantage of the opportunity to make the world a safer place. "Blow up boats and other inflatables aren't suitable for use at the seaside, as they can easily be blown far out to sea."
Thanks, Captain Obvious!
July 24th, 2013 by admin
Hallelujah!  Yesterday we saw the first close race in an AC72, with Jimmy Spithill and Oracle Team USA-ish taking the win.  It was the closest race yet.
It wasn't particularly fair, but an effective publicity stunt needn't be fair, real, or sporting.  It just has to be fun – something surf/SUP/kite superstar Kai Lenny does very well.  Enjoy some 'real' racing with a Red Bull edge.
July 19th, 2013 by admin