Posts Tagged 'kiel'
We've never been bashful about our huge crush on former Sailor Chick of the Week and US Yachtswoman of the Year Steph Roble, and we're stoked to see her join up with musclebound fury Maggie Shea as they make their run at Olympic gold. Unfortunately their first major event together hasn't gone quite as planned, with a crazy day 3 of qualifications killing their chances at making it to Gold Fleet here at Euros.  Watch Steph and Maggie get stuck on the top mark in this painful vid, and watch the gold fleet racing action live from 1100 CET right over here.  Hit up Steph and Maggie on Facebook here.
August 2nd, 2017 by admin
Talented and shredded sailor chicks, tales of stolen cars and inter-squad rivalries, and a guy who can't seem to lose as long as he has a female driver are the guests on today's Adidas Morning Show at the 2017 49er/FX/Foiling Nacra Euros.  Check out Clean and the team, LIVE from the deck of the 1972 Olympic Sailing admin building as Day 2 of the event begins.  Check out Facebook for more action from the fleets.
July 31st, 2017 by admin
The fastest Olympic boats have joined forces for their European Championship (and beyond, we expect), and with our own Mr. Clean moonlighting as their broadcast host, there's bound to be some interesting stuff coming from the site of the 1972 Olympics in Kiel.  The first three days feature a morning show and some social media content, while full tracking, live video with commentary, and the rest of the bells and whistles will come in on Wednesday for the important half of the regatta.
The 49er or Nacra 17 Facebook Pages are probably the best place to keep track of it all.
July 29th, 2017 by admin
The White Pearl: Because being a billionaire means never having to admit just how awful your taste is.  For more pics and info on the latest godawful design travesty commissioned by yet another tasteless Russian oligarch with an overcompensation problem, hit the thread.
Pic scraped from NDR and the 'other' EPA.
September 21st, 2015 by admin
Despite plenty of organizational touting of 'a new world record' fleet of nearly 200 F-18s for this week's Kiel Worlds, the actual fleet fell far short, but you've gotta love the strength of a fleet that's disappointed by 'just' 167 entries.
Meanwhile, it's a real battle royale at the front between 7 different nations, but after 6 races, it's the Spanish-flagged father/son team of Mitch and Ruben Booth leading reigning World Champ Gunnar Larsen on the tiebreak.  The Booths are on a fresh-from-the-factory Wildcat; if you're looking for a fast fleet that allows out-of-the-box boats and decade-old designs to race competitively, this is the one.
There's live tracking here, decent but low-res photos over on the event Facebook page, and some truly awful videos here.  Find our title inspiration over here, and if you have daddy issues, bring a tissue.
July 16th, 2015 by admin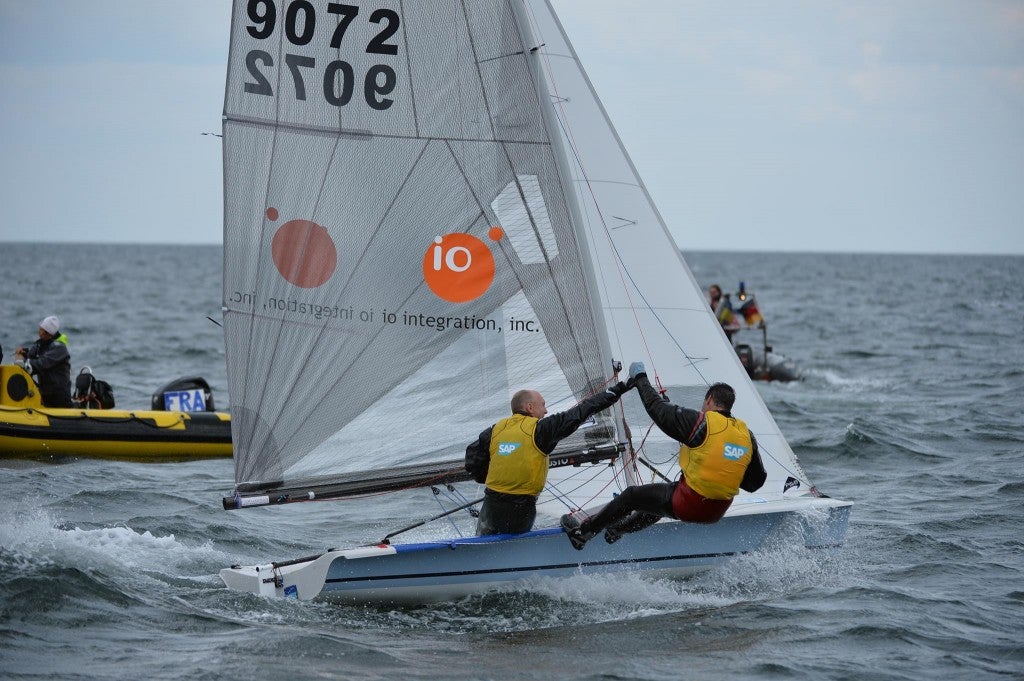 No Germans made it to the podium in their home 5O5 Worlds at Kiel this week, with 5-time world champ Dr. Wolfgang Hunger stuck in fourth.  Longtime SA'er Mike Holt has been close to winning a 5O5 Worlds for years, and a masterful performance with crew Rob Woelfel included taking the final bullet this morning to take their first World Championship by just two points.  Nice shot at the finish from Christophe Favreau, with a big gallery of pics here, and lots of video and replays at the event site.  UPDATE/EDIT:  The good Doctor Wolfgang has indeed squeaked into a final podium spot with a 3rd in the final race, making much of our report above wrong.  Our apologies for the false info; that's what happens when your communications staff thinks the whole world gets their news from Facebook and forgets to update the event site for half a day…
August 22nd, 2014 by admin