Posts Tagged 'key largo'


We love the fact that one of yachting's most respected veteran photographers has jumped on the video bandwagon; more importantly, it's great to see a guy known for his classic yachting and monohull AC work bringing a different perspective to the kind of high-speed shenanigans we at SA spend most of our time drooling over.  Onne Van Der Wal shot this excellent highlight reel from last month's Line Honors US Moth Nationals in Key Largo, scoring a ride-along for 14 year-old son Adrian (who flies his drones) along the way.  Van Der Wal has been shooting video with Canon DSLRs for about three years now, but this is the first real high-performance reel we've seen from him, and we are most definitely fans.  Judging from young Adrian's reaction to the Moths (and his clear lack of excitement about superyachts and classics), the next generation of Van Der Wal is going to be even better.
For more from the Nationals including interviews with champion Anthony Kotoun, past SCOTW Emma Aspington, world champ Bora Gulari, Swedish gold medalist Freddy Loof, and plenty more, hit up this gallery.  And be sure to check out Onne's Vimeo page for a diverse portfolio of good sailing films.

April 9th, 2014 by admin
We'd name rocking Swede Emma Aspington as our SCOTW this week but we already did back in Dubai 2010…so we'll give this one to the latest chick to continue the Moth class tradition of super hot sailor chicks jumping into boats in between races (we all remember SA's most-downloaded pic in history, don't we?).
You're looking at college athlete Nikki Medley sailing on 18-year-old Tyson's purple dinosaur…she got it going better than most of the boys today in a light air day at Nationals.  Anthony Kotoun leads by a long way, with the aforementioned Emma taking a win and 8th place overall…plenty more news, pics, and videos on the Class's Facebook Page here.  Meredith Block photos with a gallery here.

March 22nd, 2014 by admin
While organizers struggle with pollution issues for Key West Race Week, 100 miles to the North, entry fees for the first event of the 11th Hour Racing Moth Winter Series were ZERO thanks to the event sponsor, an environmental organization.  That's not the only innovation from a strong US Moth Class that now features crossovers from not just skiffs and sportboat superstars, but A-Cats and even Sunfish – Matt Knowles checks in with the report from day one in Key Largo, with photos from Marco Oquendo and a full gallery here.
17 International Moths descended on the Upper Keys Sailing Club in Key Largo Florida for the first stop in the 2014 winter series. In connection with its partner 11th Hour Racing, the US Moth Class is hosting a three stop winter tour dedicated to great racing and spreading the message of environmental sustainability. Day 1 was slalom racing in a fresh breeze that was forecast to build to frightening. A few sailors permitted discretion to thwart valor and stayed on the beach.
After a 6-race qualification series plus a repechage, 8 sailors advanced to the grand final. Just as the boats started, a 30 knot gust rolled across the course. In the end, only two boats managed to flimp back upwind to finish: Antony Kotoun (ISV) took the win over new class member Patrick Wilson (USA) who showed impressive boat handling in the big air. Tomorrow the class turns to fleet racing using an America's Cup reaching start. Full gold fleet results: 1st Anthony Kotoun (Newport, RI); 2nd Patrick Wilson (Charleston, SC); 3rd Johnny Goldsberry (San Fran, CA); 4th Matt Knowles (Newport, RI); 5th Tommy Loughborough (Barrington, RI); 6th Bora Gulari (Detroit, MI); 7th David Loring (Charleston, SC); 8th Ben Moon (St. Pete, FL).
January 4th, 2014 by admin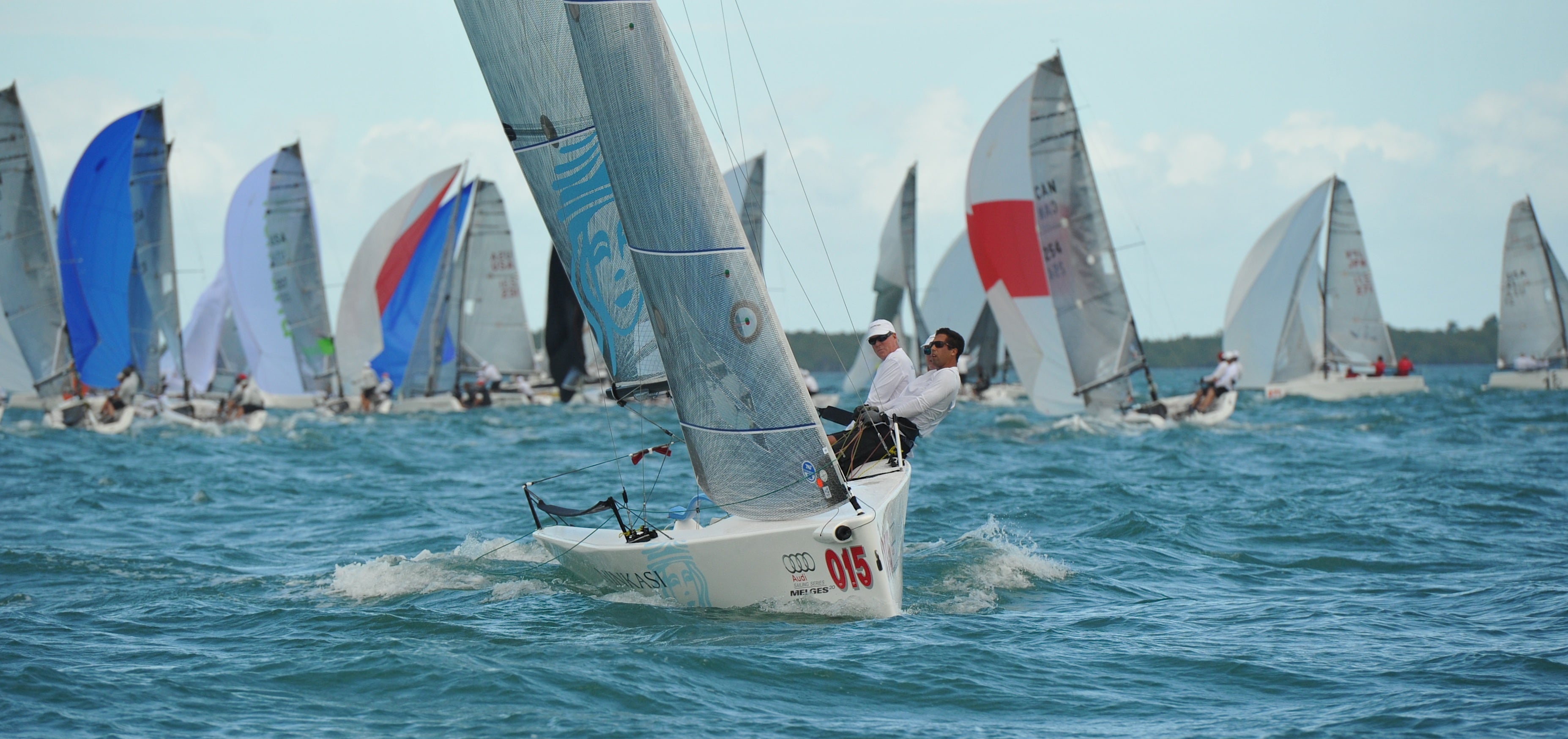 Sailing Anarchy's undeniable awesomeness has little to do with its outspoken editors and their opinions; we are the world's biggest and best thanks to the opinions and contributions of thousands of sailors over the years.  Whether you're a top professional, industry insider, or someone sailing your first major regatta, we want to hear your reports – and so do thousands of Sailing Anarchy readers all over the world.  
That's what top Midwestern pro Sam "'Sheed" Rogers did when he read our somewhat critical report on the Melges 20 Worlds "It's All In A Name" the other day.  While many Melges 20 owners have responded with gratitude for our sharing their view, Sam disagreed, and instead of whining and bitching, he did what everyone should when they disagree with us; he wrote his own report on the event.  Enjoy it, and thanks to Steve Bernstein and Joy Dunigan for the photos.
Originally a Key Largo fishing camp in the 1960s, the Ocean Reef Club developed into one of the most desirable communities in the country over the past decade plus.  Home to 3 unreal golf courses, a private airstrip and the highest density of sexy sportfish and center console power boats you'll ever see, it's a fully self-contained community complete with movie theatre, medical clinic, fishing village, palm-lined trees, pools, and tennis courts.  It's not hard to see why so many 1%ers choose Ocean Reef for their home away from home.

Rarely known for sailing, the Reef played host to the 2005 M24 Worlds.  With 99 boats on the line in incredible conditions, it went down in many people's books as one of the greatest World Championships ever held in any class. Fast forward to 2013 when the Audi Melges 20 Class looked to make an impression with its first-ever World Championship while breaking the routine of racing in Biscayne Bay.  The Class picked the venue for its ideal sailing conditions as well as its family-friendly nature; exactly what many Audi Melges 20 owners and sailors were looking for in a one-of-a-kind regatta experience.

As Sailing Anarchy noted last week, the Reef is a luxury community.  Ferraris and Lamborghinis grace the driveways and Gulfstreams take off from the airstrip.  But despite the exclusive appearance, a little work found affordable housing options, and if you paired up with another team and hired a cook, you could house 8-10 people for under 800$/night in a beautiful home complete with sweet golf cart.  Unlike a hotel, the house/condo option meant a better environment for debriefs, dinner parties, and the kind of late-night partying you might expect when a couple hundred sailors take over a neighborhood.
As for the racing – no one could dispute the quality or amount we saw in a spectacular week. Each day brought a slightly different direction and condition, with more than half the races sailed in 15-20 knots in water the color of Blue-Raz Gatorade.  25 teams showed up with a legit chance to win the whole thing, and if you were fortunate enough to round the first windward mark in the top 10 and break out in the lead group, the racing was quite civilized. If you rounded outside the top ten, you were given a not-so-friendly welcome to the Peloton, and once in the Peloton, it was a full-on street fight with any hiccup to your speed or boathandling instantly costing you boats, and sometimes dozens of them.  The margin from 15th to 40th was always one bad tack away, and posting a 20th has never been so exhausting. PRO Bruce Gollison and his legion of loyal volunteers from Coconut Grove Sailing Club did an amazing job banging off 10 high quality races with no drama.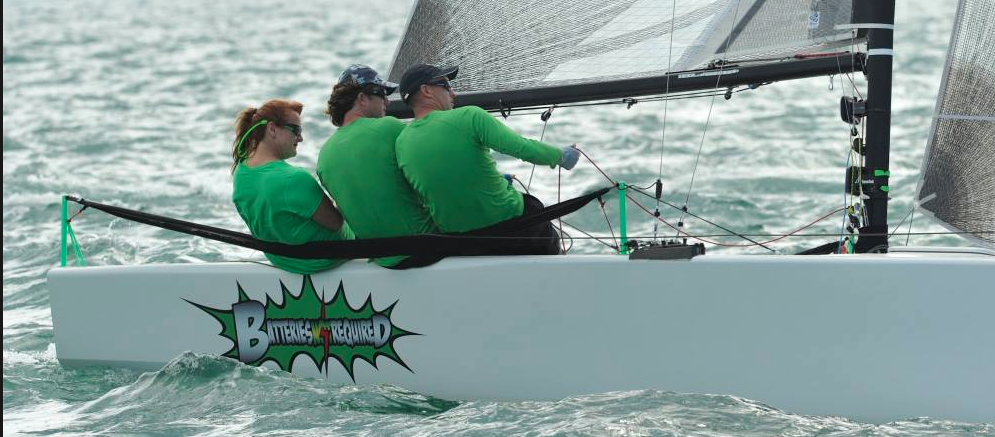 There was no shortage of feel good stories from this Melges 20 Worlds, starting with John Taylor and his team on Ninkasi Racing. Having won races but never a regatta in his long sailing career, John picked a great time to get hot and put the fleet in a sleeper hold to take the title. Then there is the Eagan family who is one of the more bad-ass sailing families in the country, not only did they take the Corinithian title by a whopping 250 points, but they finished 2nd overall and made Ninkasi work for it in the last race. And my personal favorite, Rhonda Joyce was all smiles (as she usually is) for completing her goal of finishing in the 20s. Rhonda has been busting her ass trying to improve in this tough fleet, and not only did she nail her goal, but she was the top Canadian boat giving her some solid bragging rights to take back to Port Credit. And with an eye to the sky and the past, the fleet was left guessing at what departed Big Booty owner Pat Eudy would have had in store for this event.

For the Audi Melges 20 sailors that made the commitment to attend the first World Championship, the event was an undeniable success which left both Ocean Reef and the sailors wondering when we can come back and do it all over again. From top to bottom, the event had a special feel to it which is all you can hope for when you attend a Worlds; it's an annual event that cannot be just another 'average' regatta. Originally wary of hosting another group of sailors after a rowdy closing night in 2005, Ocean Reef members rolled out the red carpet, opened up their homes and waterfronts to allow sailors to keep their boats and set up shop for the week, even going so far as to deliver homemade chocolate chip cookies to sailors post racing.
Naturally there are some outsiders who wanted this event to fail, or even went so far as to label one of the greatest regatta venues as "silly" which could not be more off the mark. As for the complaints of the lack of media and publication, it's true that it is crucial to promote the Class and the sport, but for the racers all that really matters is the sailing.  And for 4 days and 10 races, Audi Melges 20 sailors were treated to some of the best racing conditions that can be found anywhere. It would be great to see more Corinthian teams get involved, and for any sailor looking for a challenge and to rub elbows with the world's best sailors on the starting line, the Audi Melges 20 Class is it.

Those who experienced Audi Melges 20 Worlds first-hand can walk away proudly saying they were a part of the Ocean Reef Worlds. With two more iconic venues on tap for World Championships in coming years (Lake Garda 2014, San Francisco 2015), the Melges 20 fleet is primed for some solid years ahead, and strong consideration as the most challenging and rewarding  amateur owner/driver One Design fleet in the world.
 
Huge thanks to the Ocean Reef Club, Card Sound Sailing Club, and the Race Committee for an unforgettable event.
December 16th, 2013 by admin
Along with Quantum pros Scott Nixon and John Bowden, Virginia's Travis Weisleder and his Lucky Dog/Gill Racing team are showing their name ain't a fluke, crushing the fleet at the first-ever Audi Melges 20 World Championship in Key Largo, FL by some 30 points over second place (and first-time Melges 20 racer) Jason Michas.  It's not like Travis is some kind of hack; the Collegiate All-American (Charleston) and long-time Melges 24 racer has won plenty in his day, but he's never been close to winning a World Championship, and at the moment, with the only non-double digit scoreline in the 52-boat fleet, it's his to lose.
With one of the most insanely pro'd up fleets ever assembled at a non-Olympic event, you'd think the amateurs would love to show up to play, and with probably a dozen past America's Cuppers and more Olympic and Volvo sailors than you can shake a stick at, you'd really expect the sailing publications to send their 'ace' reporters down.  And with an inexpensive boat to move and store, you'd think the Corinthians would come down en masse to pit themselves against the best of the best.  And like any Worlds in almost any class (especially a high-profile one like the M20), you'd expect good video coverage, a website, and some top pro photographers shooting the event.
But none of that happened.  There's really no 'B' fleet at all like you'd see at almost any other Worlds.  In fact there are only 6 "Corinthian" teams with no pros at all – that's just 11% of the fleet (though one of them – Marcus Eagan's Cajun Underwriting – is showing that a great amateur driver with great amateur crew can beat the crap out of most average amateur drivers with rock star crew).  There's no video, no website, and no ace pro photographers.  In fact, other than Clean and Mer showing up for a day of coverage (check out some mark rounding videos from yesterday on our Facebook Page) there is not a single reporter from any sailing publication covering the regatta; they are at home posting press releases and low-res photo galleries.
There's a very simple explanation for this bizarre state of affairs; the 2013 Worlds venue is one of the silliest places ever to hold a World Championship.  It's at the ultra-exclusive Ocean Reef Club, a place where folks don't usually go without an Amex Black Card, an AARP membership, and a golf bag.  There are literally no low-cost options for housing or food within 30 minutes' drive – not a single one – and the resort, one of the world's biggest master-planned communities, has only one hotel, and you can buy a new set of sails for the cost of a week's stay.  Just a handful of the teams are staying offsite on the cheap, and it is quite literally an hour's commute to get back to the boat each morning.    Add the $1800 entry fee to the food, lodging, and transport costs, and it becomes clear why there are just 52 boats competing, and you see why a couple of pro's day rates is just a drop in the bucket – hence the 11% amateur fleet.
The Melges 24 fleet in the US has never really recovered from hosting their 2005 Worlds at the same resort; the 99 boat-starting line is still the biggest non-European Worlds in that class's history.  Our advice to other classes?  Take this one off your list. They don't want you there, and most of your members don't want to go.
But it does accomplish something interesting for us spectators; we get to see a fleet of the best sailors ever assembled for a sport boat regatta.  And we get to watch an old friend and one of the first Anarchists on the cusp of winning his first-ever Worlds.   You can sort-of follow along too; the penultimate day of racing starts now, and you can follow along on the  Audi Melges 20 Facebook Page. 
Meredith Block photo.
December 13th, 2013 by admin
The first-ever Melges 20 Worlds gets underway in just 3 months down in the Florida Keys.  36 are registered, 50+ are likely, with Samba Pa Ti, Mascalzone Junior, Bacio, and Stig the favorites.  Check out this little promo video and tell us again:  Will you be there?  If so, register!
September 4th, 2013 by admin