Posts Tagged 'JJ Giltinan'
With four races sailed and the fifth one live right now, the 2016 JJ Giltinan's got just two more days to go before we learn whether the Seven era is truly over.  Meanwhile, two entries – Lumix and The Black Dog were
both killed off yesterday by non-competitors (including a Farr 40 racing their Worlds nearby).  For the full story, a look at the damage and a preview of Race 5, go here.
For picture galleries, Pick the Podium contest, and detailed results, here.
February 17th, 2016 by admin
Seve and team on Gotta Love It 7 may have clinched their record-setting 8th JJ championship, but the fight for the podium is still on during this final day of broadcasting for the 2015 18 footer Worlds.  Will Howie Hamlin get the first US podium in more than a decade after winning race 6 on Saturday?  Clicky play and tune in live above.  Nic Douglass did some killer interviews with Howie and most of the boat park yesterday – click here for that noise.
February 21st, 2015 by admin
Nic Douglass spins up the final radio show of her twenties, guiding you through the big names of sailing last week.  Happy Birthday to one of sailing's most enthusiastic cheerleaders, and be sure to check out the show if you dig match racing, one-design racing, extreme 40s, and the pointy end of the JJ Giltinan fleet.  Here's the guide:
"Sailing news in sixty seconds" (03:05)
Mat Belcher, Australian Sailing Team (05:58)
David Chapman, MC38 Ginger (13:45)
Jason Waterhouse, Red Bull Racing (21:23)
Ian Williams, GAC Pindar 2014/15 WMRT champion  (29:06)
Scott Babbage, Gotta Love It 7 (37:00)
Howie Hamlin and Team America (40:38)
Seve Jarvin, Gotta Love It 7 (45:02)
John "Woody" Winning, Yandoo (47:48)
Michael Coxon, Thurlow Fischer Lawyers (51:05)
"Sailor Girl rap" (55:48)
February 16th, 2015 by admin
Day 2 of the JJ's from Sydney Harbour. Live.
February 14th, 2015 by admin
Looks like some breeze finally hitting the Harbour for the fourth race of what's been a light air affair until now in the JJ Giltinan/18 Foot Skiff Worlds.  Today most of the fleet has their small rig up; will it pay or will it wallow?  Watch right here and a big shoutout to the great job the whole live streaming team is doing; it's our privilege to be their Official Streaming Partner and we're stoked there are another 4 days of great action ahead!
The Cocksweat aboard Thurlow Fisher Lawyers in the lead after three.  Make sure you register to view the video archive and play Pick the Podium.
March 4th, 2014 by admin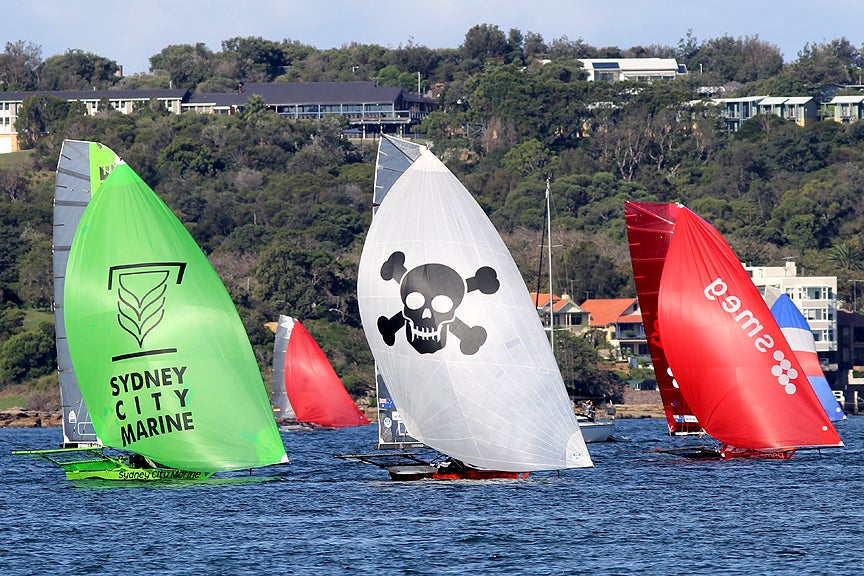 The spectacular racing of the 34th America's Cup was, at times, frustrating for we sailors, with an overhyped know-nothing commentator and an over-aged AC winner pointing out irrelevant facts and useless trivia in vain hopes of getting the 'mainstream' to buy into the live feed.  We got to see some of the most amazing sail racing ever captured on screen, but it was often better with the sound off.
This week's 18 Footer Worlds (also known as the JJ Giltinan Championship presented by Sydney City Marine) might feature some of the same faces; AC34 Regatta Director and AC35 Challenger of Record CEO Iain Murray is helping out with the commentary at times, while numerous AC sailors are spread throughout the fleet.
But this broadcast ain't for the landlubbers, it's for sailors only, and the boys behind the microphone make no bones about it.  So if you're a racer and you want to know who's on the inside of what shift, and who's got a slightly better kite drop than the other guy and the inside position at the Zone, this live coverage is for you.
Check out Day 3 of the JJ above, with all the news and current results from yesterday's racing here.  Scroll down the page for yesterday's video, and the highlight reels are here.
March 3rd, 2014 by admin
Saturday's abandoned race day for the JJ Giltinan/18 Foot Skiff Worlds got another chance on Monday, and with Gotta Love It 7 manager and Australian America's Cup CEO Iain Murray on the Camera Cat with Killo and Marko, a great race with tons of lead changes and drama even if the good breeze never showed up…replay above and full story and news over here and plenty more action throughout the week, live here on the SA front page.
March 2nd, 2014 by admin
An up and down 2 hours of racing in everything from 2 knots to 15 knots for the 18 Footers.  Watch it all above or fast forward to this page for the day's results.  Tonight's racing starts 2230 EST/1930 PST once again, and once again, it's all live right here on SA.  Get over to Pick The Podium to bet on the winners.
March 1st, 2014 by admin

UPDATE:
For the first time in the 75-year history of the JJ Giltinan, the first day of racing was abandoned after two races were started and sailed in a shifty and dying breeze – watch above for the call.  Monday's lay day will likely become the replacement for the abandoned race day, and we'll have it all live starting at 1430 Sydney time;10:30 PM US EST.  The coverage from yesterday is still damned good, especially for a team that's doing its first fully live stream of 18 footer racing; go here to check out the videos from the day. 
Bob Killick hits us with the race report and the first Pick The Podium winner from a funky practice race on Sydney Harbour.  Register and get your entries in NOW: Just an hour and change left before the deadline!  Racing starts at 11:30 PM on the US East Coast; perfect for you drunken knuckleheads just coming in from the bar.  Or plug the computer into your club's HDMI port and away you go!  Can't watch it live?  Eyes on Facebook and Twitter for the latest updates.
What can I say? yesterday's Invitation Race was a practice race, and at this stage the Livestream gadget is 1 and and we are at 0.  Something about the brain to web interface…in other words, the 'software' that is us.  See, there you go:  The geeks are winning again!
Apparently the live tracking didn't live up either, so 2 for the Geeks and still nought for the Camera Cat boys and girls.  To make matters worse, whilst heading into the Double Bay wharf the Camera Cat and Brett Van Munster's 18 footer Kenwood Rabbitohs came together with a crunch.  Brett was not happy and we certainly should've had eyes on him with so many on the cat, but it could have been a lot worse as it sounded like we had taken his bow off.  Great evidence that Van Munster-built boats are tough [Bret builds the 18 footers and high performance carbon racing yachts at his shop North of Sydney -Ed].
Yesterday's race video will be uploaded asap today, and is a must watch for you more serious players, because of the next two day's weather forecasts.  We noted especially the ability of C Tech NZ, Yamaha NZ, and Mojo Wines' ability to push it to the big rigs – something that shouldn't happen.  Also, the performances of Pica UK and CST Composites USA who look to have the measure of the Sydney boats.  So look at their work when the video goes live and factor that in with the forecasts for today and Sunday before you Pick Your Podium!
So Gotta Love It 7 was a no brainer for most, but Pica UK was not on anyone's radar, and as a result we had a stand alone winner yesterday. Congratulations go to Jimmy Flemming, who was the only entry with two boats in the correct finishing order: 7 in first, and Fisher & Paykel in third, nice job Jimmy! He wins the  Java sunnies from Barz Optics, takes the Bragging Rights for the race AND is our first winner to go into the draw on Sunday 9th for a crack at the best-ever set of major prizes for this JJ competition.  Prize donors listed over here along with the form guide for you P-T-P aficionados, and a big THANKS to them.
Entries close off for today's JJ Race 1 at 1200hrs local Sydney time so get cracking and have a shot…..here's an obvious tip: Just enter Gotta Luv it 7 as your 1st place pick, and at least you will get one right.  Good luck!
-BK
February 28th, 2014 by admin
We promised it to you…and not unexpectedly, the practice race for the 18 Foot Worlds found all the bugs in the live streaming system and shut the live stream down.  Our friends at 18 Footers TV promise us the first points-scoring race will go smoothly and we'll have it right here.
In the meantime, the three "S" boys – Seve, Sammy, and Scotty – crushed it, with the new Gotta Love It Seven looking as strong as pre-race indicators and the form guide said, winning over UK challengers PICA by around a minute and a half.   The full report on the Invitation Race is here, and thanks to Michael Chittenden for the speed shot.  You can get updates from yesterday's action via Facebook, enter the Pick-the-Podium competition here, and check this story for all the links.  If you're having issues with any of it, get over to Twitter and send a message to @18Skiff and they'll get it answered.  Tonight's race coverage will start around 11:30 PM on the US East Coast; that's 3:30 in the afternoon on Saturday in Oz.  Huh?
February 27th, 2014 by admin