Posts Tagged 'jen edney'
This Dongfeng Race Team video on the eve of the weird Leg Zero (featuring the Fastnet and some other practice racing) gets us started quite nicely, thank you.  You'd think this was straight out of Sam Greenfield's fertile mind, but according to the Youtube, it comes from Eloi Stichelbaut and Jeremie Lecaudey.  Maybe they've been watching too many Sam Greenfield videos?  We're waiting to see what comes from creative superstar Jen Edney, the sole woman selected to be an OBR despite thousands of applications from female reporters…
August 1st, 2017 by admin
We all need a break from the water now and again, and recently profiled SA Sailor Chick of the Week Jen Edney has been busy this winter taking her 'relaxing' break from sailing (while climbing a snow-and-ice-covered 13,000-foot peak).   She'll be back on the water aboard Dragon for the Miami to Havana Race in March (as will our own Senior Editor), but until then, enjoy this landbound piece from the Red Mountains of Southern Colorado.  Keep an eye on Jen's latest photos like the one above over on Instagram. 
I wake up in the darkness. The sun has not yet risen and the world is almost silent. I hear the fire crackling as the smell of coffee drifts up to the loft where I've been sleeping. I climb down the ladder to greet the new day, trading in my sea legs for ski legs. Grabbing a cup of coffee and my big Patagonia puffy down jacket, I head outside to breathe in the fresh mountain air. I Inhale. I exhale. I close my eyes.
Step, breath. Step, breath. Step, breath. Five women stepping in sync with our guide, silence beyond the crunching of the snow underfoot. The pace is brisk; beads of sweat are starting to form under my beanie. I'm breathing hard and my mind is focused. It's a magnificent winter wonderland out here. The mountains surround me, and I get a similar feeling to when I am on a boat offshore with only blue water and the horizon as far as the eye can see. I try to remind myself to lift my head, look around and take in the scenery as we head towards the summit of McMillan, about 12,805 ft, our goal for today.
The past two days have been a buildup to the big climb, with some serious class time, field work, safety lessons… but not devoid of entertainment, laughter and heartfelt moments. Our guide, Karen Bockel, an AMGA Certified Rock and Certified Ski Guide—also described as an "Extraordinary Baddass"—expressed her love of manual labor in the form of chopping wood and digging snow pits, always with that big grin on her face. Her love for the mountains came through with everything she said and did, and her energy set the tone for the rest of us.
Click for the rest of the story.
February 22nd, 2017 by admin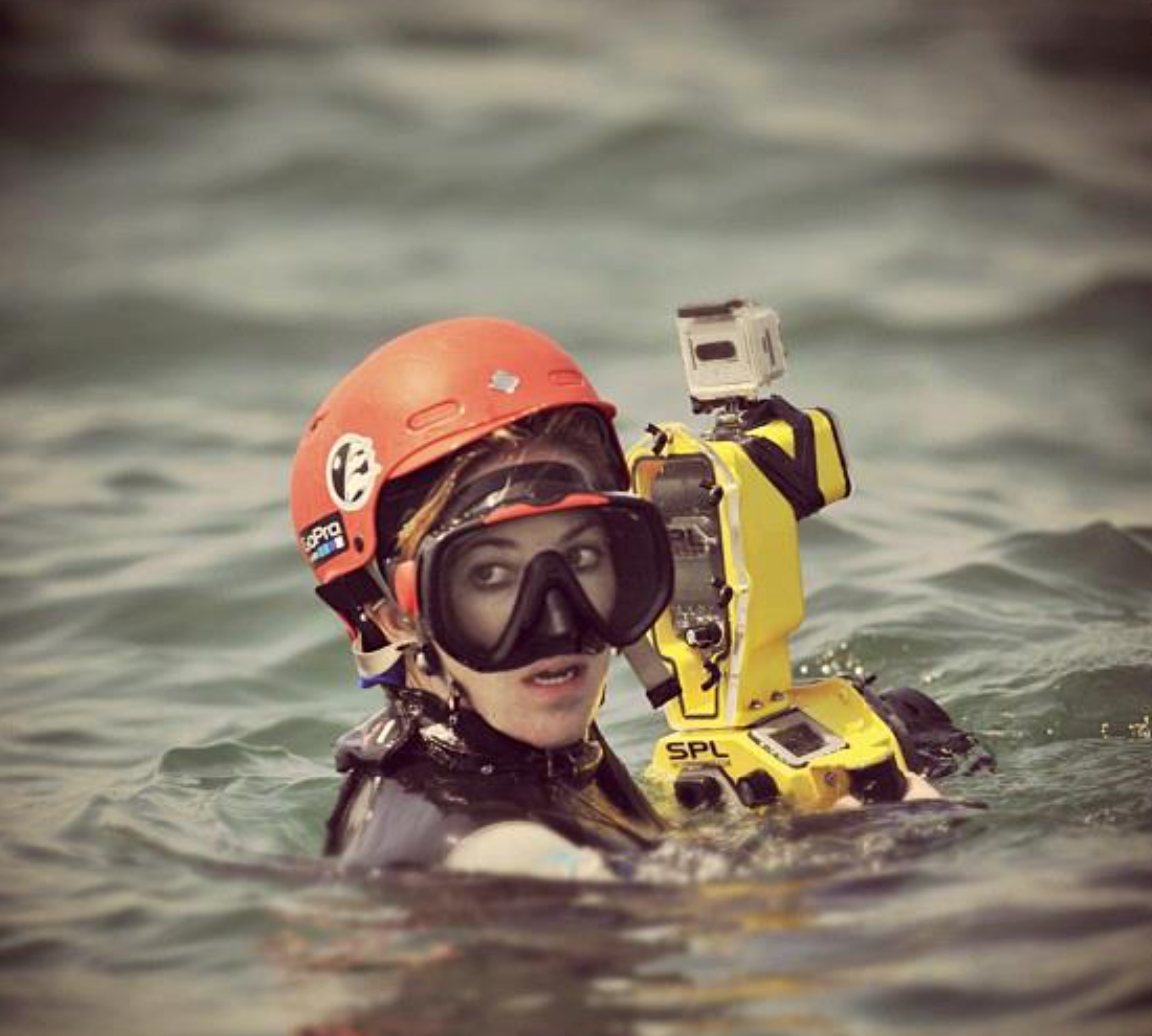 Yuge congratulations to a girl who's contributed loads to SA since she first came out as an unlikely Oklahoma-born extreme sailing photospecialist.  We're talking about former Sailor Chick of the Week Jen Edney of course, and the fact that she was named one of National Geographic's "Nine Female Adventure Photographers Who Push The Limits" in last month's NatGeo.  Here's an excerpt:
Working offshore onboard, I am driven and inspired by the challenge of working in 40 to 60 feet of space, trying to be a fly on the wall and continually generate new and interesting content. It's constantly forcing me to think in a different way, to think outside the box," Edney explains. "The biggest compliment I can get from a sailor or athlete when they see a photo they like is that they didn't even realize I was there."
February 3rd, 2017 by admin
The conclusion to Jen Edney's G4 delivery story.  Part 1 is here.
The best watches were typically sitting on 14-22 knots. Shannon would perch up at the helm with various gourmet snacks, euro-techno blaring, and hitting speeds at up to 25 knots. A two time winner of the America's Cup, he has an almost incessant need to push.  We all had tremendous confidence in his ability to multi-task while foiling at 25 knots, even in the dark.
The most challenging night was beam-on seas and breeze with gusts into the 30's. We sailed with two reefs in the main and a reefed solent. The G4 handled brilliantly, albeit a bit wet. When cells of breeze rolled through, we'd simply bear off 20-30 degrees and let her unleash into the high teens. It was a wet and somewhat rough evening.
By the end of the passage, we all felt calm and at home sitting on speeds in the high teens.  Eating, sleeping, walking around at this speed became normal.  We had two days where we clocked between 350 and 400 miles – in cruising mode.  "These are seriously big numbers," Peter said to me.  "This really may be the ultimate coastal cruiser for the performance set, easily sailed by 1-2 people."
"There's an inherent thing about speed and adrenaline and when you add it into an uncontrollable environment like the ocean, says Shannon. "All that foiling does is make you want to go sailing! Life has gotten so fast paced that people want to go cruising at 5 knots, but to have the option to up the ante to 25 on the G4 is something special."
Peter is, as usual, full of vision. "The goal has always been to develop a coastal cruiser/racer that people like us, who get their performance fix from multihulls, kiteboards, racing yachts, or other waterborne activities, can handle with our families," he told me.  "We wanted Formula 40 speed with shorthanding ability, and during the development process, it became clear that foiling and flying would definitely be possible and an added benefit for our target audience. With hindsight, the foiling is absolutely brilliant."
Peter said that the G4 can be pushed so much harder than any forty-foot performance cat, and the numbers bear it out: A F40 would top out at 23 knots, the original AC45 would top out at 27 knots, and beyond that, a pitchpole.  The G4 has already been over 31 knots, and has plenty more to offer in speed. In summary, the foils take the G4 concept to a another level.
Shannon thought the concept worked best in the sense that you have something that can smoke so many things on a performance level yet you can really cruise it.  "For me this is a weekend sailor, but it opens up your range for that weekend with the miles that it can eat up," he said. "Like the original Gunboat, the G4 opens up a new door to how cruising can be perceived."
"It's not just about the boat, it's about the concept of foiling in general, explains Shannon. "When people experience it, you don't have to convince them of anything."  As a guy with a big family and hundreds of young local island fans, he's clearly excited about what it means for the future.  He preached to me: "Everything that's happening in our sport will make it more accessible, kids will have more fun sailing than opti-training, and sailors who appreciate progression will rekindle their passion for sailing. People who have sailed their whole life will be blown away by it and people who have never sailed before will say 'holy shit why has it taken so long?!'"
I've said "Holy Shit!" numerous times over the past couple of months – from going bow down into a wave while foiling on a GC32, nearly getting sliced in half by Moths while shooting under water, and helming a foiling cat offshore, and I hope I never have to stop saying it.  And with the wave of exciting developments in innovation and design – and in how those innovations are being shared with the young people who are the future of the sport by folks embracing and nurturing their passions – It's hard not to be excited.
-Jen Edney
August 25th, 2015 by admin
Clean's obsession with Ted Kravitz's Formula 1 'Notebook' inspired his series of SA 'Dock Walks' this past year, and it's quickly become a crowd favorite whether at the Melges Worlds, VOR starts, or Key West.  Thankfully, awesome Aussie broadcaster Nic Douglass picked up the torch in Auckland, and her 40-minute dock walk gives you 'the real feel' of being an insider in a race like this as well as some shit you'd just never see otherwise.  It's long, it's rambling, and it's real – and quite a bit more interesting than the pretty but incredibly dull leg start…
Big thanks to Nic for sacrificing her spot on a start boat for this piece, and to photographer Jen Edney for making it all look good.  Two sailor chicks of the week?  Hell yes.
March 18th, 2015 by admin
Jen Edney is one of the most exciting young photographers to come along in years.  But can she write?  Peter Johnstone and the Gunboat folks gave us all a chance to find out with this excellent NC to Miami delivery report from the Gunboat 55 Toccata.  And for those of you waiting for the details on the loss of the Rainmaker, sit tight.  It drops soon.  Those of you confused by the title of this one…really?
I hear the buzz next to my head, my alarm waking me up to make sure I don't miss sunrise.  I roll over to my side, peaking out the porthole – thankfully, it's still dark.  I hit snooze, and this way-too-comfortable bed keeps rocking me back to sleep, rather than tossing me out of my bunk. More sleep…
Buzzzzzzz! It's 20 minutes later, and I see light starting to tickle the water with reflections.  Now I'm excited to get up, and even more excited when I realize I don't have to suit up in foul weather gear to go out on the deck to "use the head!"
I peel myself out of bed and walk up the steps to make a cup of coffee, and rather than hunkering down in a deep galley looking at a gimballed cooker, I feel like I'm walking into the cozy family room of a modern Manhattan apartment with the best 360 degree-view of the ocean in the city.  But it isn't, of course – it's a Gunboat, and we're motoring along, waiting for the slightest zephyr of breeze to let us get the sails up.
The hectic day before was a bit of a blur, as pre-delivery days with a narrow weather window usually are.  I helped with the extensive job of finishing up provisioning and making sure everything was loaded on the boat as quickly as possible, and seeing the food that was being passed onboard, I realized it was going to be a far cry from my racing yacht days of one-pot meals and freeze-dried hell.
"There's a serious flood of emotions right now," said Carolyn Groobey, proud co-owners of Toccata.. "We've been anticipating this day for so many years, so my heart was pounding like I'd just won the prize I've been striving for." At the same time, there was some heaviness. "This was a goodbye for a while to our families, dogs, and the Gunboat family for a while."
Within hours of arriving in North Carolina I heard the phrase "Gunboat Family" and "Tribe" more then a handful of times, especially when listening to Chris Bailet recount the reaction after the loss of the boat he was delivering, Rainmaker. "We had no idea what was going on back on shore," said Chris.  Apparently the coast guard was in touch with Lauren and that started the ball rolling, and the entire Gunboat staff was working angles for both getting us home and readying a salvage mission. "I was only able to get one call out to Peter. It was chopped up and cut out halfway through the conversation. But it was enough to let him know the situation, and enough to get people moving."  Johnstone had calls on from Florida to Annapolis, people were ringing their cousins' second uncle with a Commercial shrimp boat in Charlestown to get out there. By the time we landed, the Gunboat team was at Dare County Airport, open arms and hot pizza, with a meeting scheduled for a full review and salvage operation. "This level of camaraderie and support – it's just not something you feel with any other boat company, said Chris.  "Ask any of the crew or owners on any Gunboat – it's a family. Or as Peter so appropriately put it before, a TRIBE" [PJ's first Gunboat – the boat that inspired the Gunboat line – is called Tribe -ed].
Having only met them the night before, I didn't realize how strong the relationships were among the crew, though I learned the next day that PJ and the Groobeys had built a friendship over the preceding 3 years.  They recounted stories with laughter and nostalgia,  discussing the journey that led up to this monumental maiden voyage. "That unique Gunboat sense of community is important to us, and it's one of the big reasons we bought the boat," explained Carolyn.  "From the beginning, we felt like part of a big, awesome family, welcomed by the high-caliber folks that make up the tribe of Gunboat owners, employees, skippers, and crews."
For this trip, the new owners were eager to get acquainted with their boat – meaning lots of helming.  And the diminutive Carolyn Groobey proved to be the rock star, hitting 21.8 knots for Tocatta's first 'personal best' speed.  "It was a real gift to have Peter do this passage with us. We were learning 'the Gunboat way' at the feet of the master," she said.    Curious to know a little more about how these boats handle after only a few days onboard, I asked Chris Bailet what he thought was a standout feature of Gunboat. "All of PJ's boats seem to have the perfect combination of speed and comfort, without tradeoffs.  I've been on a lot of Peter's boats, and you can ramp it up and send it while feeling completely stable, and not have the wave slap sending your coffee machine into a charter guests face. The beam keeps it stable and all that freeboard makes you feel like you're at the bridge. I love the boats and the family, especially the 55, that thing is like a guided missile."
Chris and Carolyn had similar feelings about the comfort of the boat, as did I, especially when compared to my last big delivery – the turboed VOR 70 Maserati.  Comfort is not a word I'd use when describing any VO70, but that's what it takes to get real speed out of a design like that.  Gunboat does it smarter, as Groobey summed up: "We are deliriously happy with the boat. It's solid, strong, and very comfortable. The openness and 360 visibility in the boat makes it both a great sailing platform and living platform. We love the galley up configuration. As you are sailing along, various crew members are cooking, sailing, reading, and relaxing – it's all about the family; the tribe – that's what Gunboats do."
February 16th, 2015 by admin
After most of my last month spent with the Volvo Ocean Race and Barcelona World Race, it seems the phrase "see you later!" has become quite the norm amongst friends and families.  This one, though, was a bit different; the BWR is a truly intimate affair amongst the crews and racers, with wives, brothers, sisters, children – even grandparents all chipping in to work, feed, or cheer on 'their' team.   I was so impressed with Lili Fa, daughter of Nandor and shore crew for Spirit of Hungary with her mature presence, calm nature and talking about how proud she is of her father. It touched my heart and reminded me why I love what I do. I'm excited to continue to follow the race and always my heart and mind are with the sailors to stay safe, have a great race and enjoy the ride.  Thanks for following it along with me, and be sure to follow the race at www.barcelonaworldrace.com.
-Jen Edney, Edney Adventure Photography
January 8th, 2015 by admin
SA Special IberianCorrespondent Jen Edney gives us some great insight from the Barcelona World Race start.  Enjoy it, and check back towards the end of the week for our first look at what she can do with a video report. Track the fleet here, and get all the latest chatter in the thread.
"Bye Oscar!"
"Bye!"
"Bye, Oscar!"
"Bye, Dad!"
IT was one of the most touching scenes I've seen in my coverage of the sport; Alex Thomson and his 4-year old son Oscar, seeing who could shout the loudest as Hugo Boss team headed out to the race course for their third Barcelona World Race.  Boss is the only team to sail all three editions of the race, and that same young Oscar is a big reason they're the odds-on favorite for this one: They've got unfinished business.
Oscar was born just before the 2011 race, and then Alex developed apendicitis days before the start, sending him to hospital and the strong Hugo Boss team scrambling for a last-minute replacement skipper. Wouter Verbraak, there to help with last-minute weather routing, was recruited, and he and Andy Mikeljohn never were able to get on the pace. The HB team's high expectations for a strong second edition turned into a disappointing mid-fleet finish despite a faster boat and bigger budget than many of the boats ahead.  It was tough for the team to handle, and it's a big part of what motivated them to put everything they had into winning this race.
The long goodbye is an emotional and touching sight, and when combined with Boss's BWR saga, it's enough to give me goosebumps.  These sailors are waving goodbye to their family, friends and fans for the next 100-odd days, with all the dangers that entails.  So many nonsailors ask me 'why would they do something so crazy?' I'd never really thought about it, and it seemed like a great question to put to the racers.
We Are Water's Bruno Garcia:"I really don't know! I've never considered it a sport, it's something more…"  Garcia thought about it for a minute, then gave me a modified version of Everest trailblazer's answer about mountain climbing.  "Because the sea is there."
Bruno will be sailing with his brother Willy around the world, and their 'family affair' highlights one of the nice things about this edition of the race; the accessibility of communications between the boats and their families, friends, and fans. "I have two kids. One daughter, 12 yrs. old and a 10-year old son," said Bruno. " Four years ago, it was not that difficult. Now they are older, they ask you about the dangers of the race, and 'what will you do if you fall in the sea. You have to be quite clever to discuss with them what happens on the boat and what you will be doing. But I know they support me a lot and I can I count on them."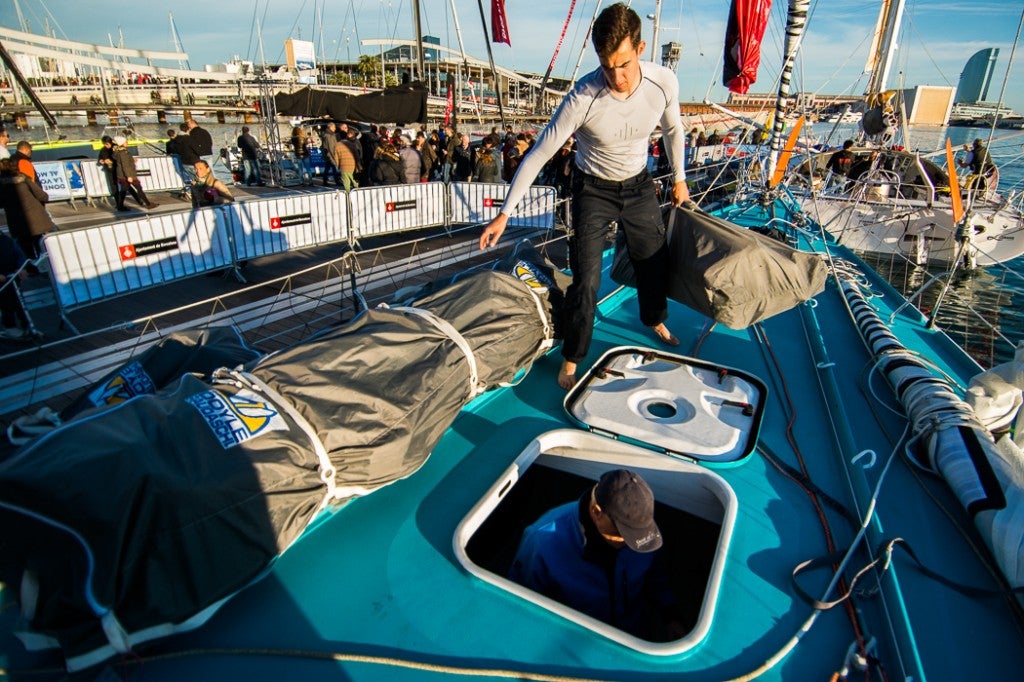 Sailing together is not new for the Garcia brothers, they grew up cruising with their parents and have been racing together since the 90s, but the world Barcelona World race is new for them. "My brother is one of the best gifts I've ever had in my life. He is a very good friend, a great brother and is also a great sailor. I trust him both on the sea and in the mountains. With him I have done many miles, many peaks, many courses..and trust we have is phenomenal…Since the last edition with Jean Le Cam I have learned that this type of racing is not just for those who go and sail but it is also for people like the shore crew and those who follow us. And there are many out there and my brother and I hope to reach out to them and have the public enjoy and share our adventure."
For some, like Nandor Fa's Spirit of Hungary, the entire team is a family affair, with his wife and daughter working full time for the project. "When I decided to return for racing, the family was the first I asked 'what do you think?' And they told me they supported me completely."  Nandor's wife is his media manager, and 22 year old Lili – a baby the last time he went racing – is now an adult and part of the support team.  Nandor's 'third daughter' is Spirit – the only home-built boat in the fleet. Lili says she is so busy that they have less time for worrying. "It is much better to be involved then watching from the outside, biting our nails!"  Lili has mixed emotions on his departure.  "I am going to miss him, but at the same time I am so happy for him because I know that this is his life, his passion and he's been stuck in Hungary for so long working hard and supporting his family…he really deserves to be at sea again."
Nandor is the oldest skipper in the fleet, and he's sailing with the youngest – Conrad Coleman, and they are already well in back of the fleet.  For them and many of the teams on the much slower Open 60s, winning isn't even a possibility; the journey, the challenge, the adventure – that's the victory for them.
For others, like Alex Thomson and Pepe Ribes on Hugo Boss, winning is everything.
And for me, watching and shooting and reporting on this human drama is winning too.  A huge thanks to all the teams for the unfettered access they provided, and an even bigger thanks to Isabel and Daniel and everyone at the FNOB for their constant support this week.
-Jen
January 4th, 2015 by admin
With just a few hours left until the fleet shoves off for the 3rd BCN World Race, Jen Edney gives us a look at the fleet (and we'll have the start live right here on the front page). To talk everything BWR and see more of this talented young photog's pics, head here.
Barcelona's Old Port is a flurry of activity here at the start of the third edition of The Barcelona World Race 2014/15, as birds and fans flock to the race village to get one last look at the boats and crews before they set out on their 23,000-mile, doublehanded journey around the world.  Hustle and bustle is the name of the game as the skippers and preparateurs (french for 'shore crew') make final preparations for the boats. The day has been quite busy for the teams as they had their final skippers meeting, the last of their media and interview obligations, and making sure everything is onboard…especially enough food.  Jorg Riechers had some comments about their food choices.  "We take a lot of food with us because I think many teams in the last race try to save weight with food which is stupid because when you are hungry you are not functioning and if you are not functioning you cannot work hard on the boat. We take food for 95 days so the goal is to eat as much as possible. No specific food, freeze dried food, lots of Chicken Tikka. The only thing we have that is brilliant is we have freeze dried fruit. Freeze dried fruit, freeze dried strawberries save your day."
Tomorrow the family, friends and fans of the sailors will say farewell in a ceremony before the start of the race at 13h00. It will be an emotional day as the sailors say goodbye to their families and switch into racing mode for the next 3 months. Many of the sailors, including Alex Thompson, know all too well what the feeling is like. When asked about how this time is different then the previous edition of the race Alex (who has two children age 4 and 6 months) said, "It didn't seem to be too bad when they were younger, I mean harder for me, less for them I guess because they don't really know what is going on but certainly as Oscar (4) has gotten older he's become more aware of what time is and how long 3 months is. I think it's important to try and remain with a connection, whether it be a phone call or a video…just small details keeps them happy and makes it easier for both of us."  For Bernard Stamm's family it is all they have known,"It's my job so it's part of their life.  We communicate, my wife is the contact on shore for everything. We are not leaving to say 'why did I leave!' We're going to race!"
The double-handed heavyweight duo have been asked many times how they will get along after many miles sailed single-handed. "It will be better then alone. You have 2 heads, 4 arms, 4 legs and everything will be more easy. People always ask if we can live together for three months but we are going to race for three months. We are just two to make the boat go as fast as the boat can go. For me it is not a problem, normally easy. But I will tell it much better when I come back."  Stramm says with a grin.
Here's a short look at the steeds.
The Beauty of an Open Class vs. One Design is that the boats have taken on personalities of their own, a combination of miles sailed, skippers who have driven them, "injuries" they have sustained,  improvements and races they've won. Below are the stories of the boats competing in the Barcelona World Race 2014/15:
Spirit of Hungary is the fourth IMOCA 60 designed and built by Nandor Fa. Launched in 2014, the boat is the first model to be built according to the new class rules. The hull, which is carbon fibre, was built at the Pauger shipyard (well-known for RC44s) and Nandor himself undertook some of the work. Following a return to the shipyard due to technical issues, that also prevented the crew from taking part in the IMOCA Ocean Masters New York-Barcelona Race last summer, the Barcelona World Race will be the first great test for Nandor and Conrad's yacht.
The Hugo Boss Alex Thomson and Pepe Ribes are sailing in the 2014/15 edition of the BWR is the former Virbac Paprec 3, winner of the previous edition of the race and a boat which stands out from the rest in terms of technical innovation. With Jean-Pierre Dick at the helm the boat finished in fourth place in the Vendée Globe 2012/13, despite sailing without a keel for 2,650 miles. Alex Thomson Racing purchased the boat and carried out a comprehensive refit, which included fitting a brand new keel. The IMOCA 60 was back on the water in April 2014 but en route to America for its first race, the IMOCA Ocean Masters New York to Barcelona Race, the yacht dismasted. However, following repairs the new Hugo Boss sealed a victory in the event, her first, with Pepe Ribes and Ryan Breymaier (in place of Alex, whose second child was due to be be born) on board.
After losing his JuanK IMOCA 60 to a storm on Christmas Eve in 2013, Bernard Stamm signed a lease/option to replace his Cheminees Poujoulat with Jörg Riechers' former boat Mare.. This is a yacht from the Farr studio, launched in 2007, taken by Michel Desjoyeaux to Vendée Globe victory in 2008/09 and later sailed to second place in the Barcelona World Race 2010/11 by Iker Martínez and Xabi Fernández. It later took the Vendée Globe 2012/13 start with Jérémie Beyou. The boat has been refitted a number of times to ensure it is up to date with the class rules. Bernard and Jean have also made some changes of their own.
GAES Centros Auditivos is the former SynerCiel skippered by Jean Le Cam, that finished the Vendée Globe 2012/13 in fifth place. Before that, as Renault Z.E., the yacht was sailed to third place in the Barcelona World Race 2010/11 by Pachi Rivero and Toño Piris. This yacht's first round the world challenge was the Vendée Globe 2008/09 as Gitana Eighty with Loïck Peyron at the helm, when she incorporated a number of innovative features including a swiveling/tacking interior. Therefore GAES Centros Auditivos really has been performance-tested and was prepared for this edition of the regatta at the FNOB's Ocean Sailing Base in Barcelona.
Built in 2007, Neutrogena is a solid vessel that has demonstrated its impressive potential on many occasions. Above all, this is a boat Guillermo knows well. The Spaniard took the yacht to the start of the first edition of the Barcelona World Race as Estrella Damm, although the crew were forced to abandon the race in South Africa due to rudder issues. The boat then took on the Vendée Globe 2008/09 as BT with Sébastien Josse at the helm. It later became Roland Jourdain's Veolia Environnement, winning the 2010 Route du Rhum. A year later, the boat donned the colours of Hugo Boss and Guillermo Altadill stepped back on board, joining Alex Thomson for the Transat Jacques Vabre 2011, finishing in second place. The Briton also logged a west-east transatlantic record with this IMOCA 60 and third place in the Vendée Globe 2012/13. Guillermo has been training with what was his former yacht since 2013.
The crew of One Planet, One Ocean and Pharmation will be racing on the former Kingfisher, the boat Ellen MacArthur famously smashed the Atlantic record from Plymouth to Newport with in 2000, taking second place in the Vendée Globe 2000/01 and later a Route du Rhum victory in 2002. It then became Educación Sin Fronteras with Albert Bargués and Servane Escoffier making their first non-stop, circumnavigation of the planet in the Barcelona World Race 2007/08. In the second edition of the double-handed, round the world challenge Gerard Marín and Ludovic Aglaor raced the yacht re-christened as Fòrum Marítim Català. One Planet, One Ocean & Pharmaton is therefore one of the IMOCA 60 fleet with the highest mileage and number of circumnavigations under its belt. This is a solid and reliable yacht that has recently undergone a thorough inspection at the FNOB Ocean Sailing Base, with special attention paid to the keel and appendages, the steering and the electronic on-board systems
Renault Captur is a Finot-Conq design launched in July 2007 that Armel Le Cléac'h took to second place in the Vendée Globe 2008/09 in 89 days and 9 hours. Le Cléac'h was also in the driving seat for the yacht's second place Route du Rhum finish in 2010. The boat underwent a refit in July this year. Over the past few weeks the rigging and appendages have been inspected and work has also been done on the electronics and mast. For this preparation, the team has had an outstanding technical advisor: Bertrand de Broc, the last skipper to compete aboard this IMOCA 60.
The We Are Water IMOCA 60 won the 2007-08 Barcelona World Race as Paprec- Virbac 2 in the hands of Jean-Pierre Dick and Damian Foxall. It is a Farr design which was built in New Zealand by Southern Ocean Marine, launched in February 2007. Then in the 2010-11 Barcelona World Race it was sailed to fourth place as Estrella Damm by Alex Pella and Pepe Ribes.
More to come on the crew themselves, and their ms are getting along and their thoughts on the race. In the mean time check the BWR site for daily updates and keep up with the skippers as they battle their way around the world!
December 30th, 2014 by admin
Nebraska's Jen Edney has been one of our favorite young photographers for the last couple of years, and her growth and maturity in the face of a nasty sailing accident last year has been phenomenal.  Jen's work has a uniqueness about it that's hard to pinpoint, but a few minutes with her body of work shows that her onboard 'human' shots are some of the best we've ever seen in the sport.  Jen will be working on some special projects surrounding the VOR over the next few months, but was embedded with Team Vestas Wind in Cape Town, and she put this story together for the Anarchists after the team's recent drama.  Go and like her Facebook Page for more about this exciting young Sailor Chick of the Week.  And wish her a Happy Birthday while you're at it.
The boats are gone. The village is empty. My friends, my 'family' are at sea. It's a strange feeling after so much excitement, movement and anticipation over the past few weeks. Everyone is going about their daily lives as usual around me, but today, I am in another world. I find myself thinking about what my friends are eating for the next 25+ days while I eat breakfast. About the bashing they must have received overnight while I slept in the comforts of my own bed, feeling a tad guilty. I am thinking about my 30 hours+ of flight time home, realizing that I have it easy.  Call me crazy but I am also thinking, "I wish I was out there with them."
Back home, I open my eyes to see the bright orange and pink colors of a Nebraska sunrise, having stirred from yet another dream of open water and blue sky.  It's a recurring dream these days and a stark contrast to my landlocked location.  The first thing I think about upon waking is my mates at sea and how they are getting along, but it is Thanksgiving morning and I have so much to be thankful for. This morning I am thankful for my 'real' family in the Midwest as well as my 'sailing family.'
Changing Colors
I thought about a recent experience I had during this past trip to Cape Town, when I was sitting in a circle of more than a dozen friends from all over the world; a night when I realized how special this sport can be.  I was sitting across from a person who helped me with my first-ever sailing story seven years ago and who I credit for getting me into this mess that I've grown to live, love, and long for.  As we all swapped stories from years past – stories that were in some cases older than I am! – nostalgia set in, and we talked about the way this race has really become life for so many.  We talked about the Whitbread days, how the race has changed and grown, stories of sadness, joy, and drama.  Nights barely remembered and nights whose impact will be felt for decades…we all have those.
Throughout the next 9 months, I will constantly be "changing colors" to tell my own stories of the Volvo Ocean Race.  My loyalty and allegiance lies not with one team, but with the sailors…all of them. I've realized how special this opportunity is, and that is one that wouldn't have existed in this way during the past few editions of the race. Everyone has talked about how 'One Design' has changed the dynamics of the race, making for the tightest racing in history and opening the door for more sailors to compete, but that's not all that has changed. The race has nearly always been won by the best-designed yacht and in recent years by the team with the biggest budget, forcing the sailors to work extra hard behind closed doors. And now, the doors are all open; and the new feeling in the Boatyard, the team bases, the Sailor's Terrace, the hotels, parties, and media centers is one of camaraderie and togetherness.  It's something that dominated many of the less professional days of the Whitbread, but it's back – and the public, the sailors, and their families love it.  Of course they do – that camaraderie is one of the things we all love about the sport, isn't it?
This was most recently illustrated as Team Alvimedica diverted from the race to stand by and assist in the rescue of fellow Team Vestas Wind after they ran hard aground.  Charlie Enright said, "The only thing that matters was that everyone was OK, they are our competitors and our friends but in addition to that we are each other's support networks when we are sailing in remote corners of the world."  And anyone who watched Will Oxley's wonderful radio chatter and interviews knows that there was nothing that he wouldn't do to help save his friends, perched on a reef in the middle of the ocean.
It is moments like these that highlight this precious aspect of the sport. Humbling moments that remind us to stop, take a breath, look around, and truly appreciate and respect where we are, and who we are with. As usual, Bouwe Bekking said it straight: "We are someway, somehow, one big family in this race."
December 2nd, 2014 by admin