Posts Tagged 'J/boats'
Just two races remain, and it's all live thanks to Sperry and J/Composites France.  Breeze, waves, and fireworks on the starting line.  What more could you want?
July 11th, 2015 by admin
Too many stories, too many Dark'n Stormies, and too many competitors to keep track of, the 20th anniversary of Sperry Charleston Race Week sets another attendance record as the spring classic inches towards 300 boats.  This year they'll squeeze yet another sportboat class in with the VX-One, with 10 boats signed up for their first year at the event.  It's also Melges 20 Nationals and several other championships, but the monster fleet is again the J/70, with 80 and change on the split lines.  That's 230 boats or so racing in a harbor that's about a mile wide, and you can see who's what and where over in the scratch sheet.
As serious as some are, the majority of sailors are here because it's always fun and always unpredictable, and that's what Petey Crawford captured with this short preview and practice reel from today.  Enjoy the film and keep an eye on Facebook for all kinds of updates this weekend.  CRW has plenty going on themselves over at their Page, including a contest;  If you like them, along with Coral Reef and Gill NA, you get a chance to win one of two remaining Charleston'd up Gill Crew Lite jacket (they gave one away today).
And when you're bored tomorrow at work, click back here on the front page for our first livestreamed video coverage of Charleston Race Week in 4 years, with huge thanks to Sperry for helping us put it all together for you.
April 17th, 2015 by admin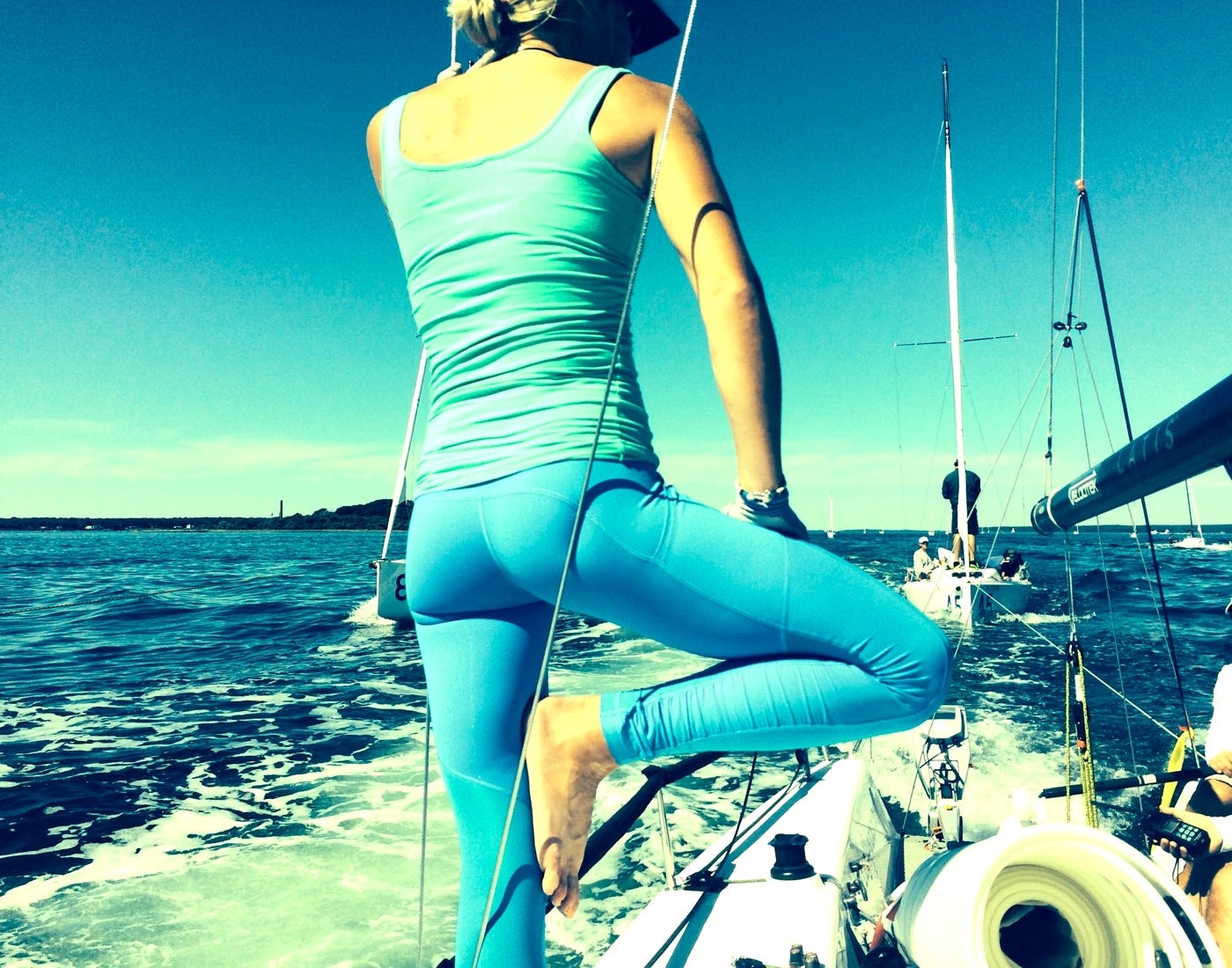 Like a Ferrari 250 GTO or an original M3, nothing will ever quite approach the perfection of the original SA Tensiometer c. 2006, but B-Squared bowchick Whitney Prossner comes pretty close.  This one shot at the end of the penultimate race day of the J/70 Worlds, where Clean once again proved he should be trimming instead of calling tactics, and Tim Healy is walking away from the fleet, while longtime SA friend Marty Kullman (first Quantum boat) is knocking on the podium door with two more races likely on the final day.
Look for the full story of the regatta – including an update on the rudder issue, a few words on the future of the class, and our customarily comprehensive analysis of the good, the great, the bad, and the ugly for the first Worlds in the world's hottest one-design class.
September 13th, 2014 by admin
The never-ending J/Boats celebrity bounty from the keyboard of StuJ continues to roll, with today's installment focusing on the talented and ubiquitous actor Kevin Bacon and his lesser-known brother Michael.  With this news, every American sailor can say they are now just a degree or two separated…
Ever since learning how to sail on Sunfish at Red Cross summer camp in upstate New York as little kids, Michael Bacon and his younger brother Kevin always loved to head down to the lake for a swim and a sail, often doing both at the same time.  Having spent summers at their family's Adirondack camp, the sporting challenge for the day was often nothing more than hopping into a cedar sailing canoe that their Mother gave to their Father as a wedding present.  Using a simple leeboard and a paddle to steer, the boys would have fun trimming the sail on the little lateen rig, going for adventures across the lake like one of their childhood folk heroes, Huck Finn.
After growing up in Philadelphia, the boys went their separate ways, but they retained two great bonds: Boating with friends, and a love for music.  While Kevin went off to greater fame and fortune as a Hollywood movie star, Michael stayed in the New York area and ultimately grew his business in the music industry, both as a song writer and performer.  Having played in various groups in the past, the two brothers joined together in 1995 to create The Bacon Brothers.  That re-connection also fueled their passion for going sailing and having fun anywhere they had a gig near water.
Michael became a happy J/22 owner recently, having bought his boat from the Commodore of the Corinthian YC, a beautiful little club on the Delaware River not far from Philadelphia, PA.  With the help of the Commodore himself and friends at the club, Michael not only became a proficient sailor on his J/22, but also managed to squeeze in an ASA Coastal Navigation course at Manhattan YC, practicing on J/24s and J/105s.  His dream is to bareboat charter in the Caribbean and is already charter certified…and a trip this coming winter to J/World Sailing School in Key West won't hurt.
The Bacon Brothers' latest road trip to Annapolis was for their annual appearance at the famous Ram's Head, where they had four sold-out shows booked.  What to do with a weekend full of working nights and lots of playtime during the day?  Of course, find some Napolitan locals and go sailing!
Each of the past few years, Harry Legum of Annapolis Sailing Fitness has urged the brothers to go sailing on the Chesapeake Bay with friends.  Last year they sailed a J/105 and took a tour of the Bay.  This year Harry wanted to dial-up the sailing experience a notch and tap into brothers' competitive side.  He enlisted the current J/80 North American champs Will & Marie Crump to host a little match-racing on two identical J/80s.
With cool weather and steady easterly breeze that seemed to defy the standard July conditions with "less than zero" winds on the Bay, the group gathered at the Annapolis YC dry-sail area for a brief white-boarding session from Marie . Shortly after, teams were divvied up first by driver, Will on one and Marie on the other; then sorted by Bacon Brother, Michael with Will and Kevin with Marie and then on to the rest of the group that included Michael's wife Betsy and twin sister Pat along with other close friends Hilary and Andrew Armstrong.
The morning plan was to perform 4 practice starts before moving on to actual races. Once off the dock, the Bacons were introduced to close-quarter trimming techniques on the J/80 and then a few practice maneuvers, including start-stops and penalty turns. When the first sequence began the teams wasted no time showing that bragging rights were important. From the first dial-up, the Bacon's were into it with a little shock, some excitement and smiles all around.
Race by race, the teams sailed matches that included penalties, changes in lead and overall tight racing with some extremely close calls. Neither team was out to make any concessions in this friendly outing. By the end, older brother Michael was happily taunting younger brother Kevin over the race record and challenging for more— seemingly the old "playground rules" when they were kids haven't been forgotten!
Later that evening, the Crumps, friends and fellow Napolitans, enjoyed the Bacon Brothers' show at Rams Head Tavern. Kevin, in particular, was gracious enough to talk on stage about their interest in the town and the sailing it offered, with a special "Thanks" to all their hosts.
August 1st, 2014 by admin
UPDATE: STATEMENT FROM J/BOATS:
"J/Boats have been in contact with the owner Andy Reid since the incident happened, in fact he will be in Newport soon on a scheduled trip already.  We're sorry to hear about the breakage and have already commenced our own internal review on the circumstances that may have led to the rudder post failure, working with our team of engineers, builders and materials specialists.  In the meantime, our condolences to the delivery crew and hope that all are well and in good health and spirits despite the circumstances."
We got news late last night that our most awesome Kiwi pal AJ Reid lost his new-last-year J/111 Django while on delivery back from Fiji.  You'll probably remember Django as the boat that won its first-ever race while handicapped by our own Mr. Clean aboard, and then went on to some great results in New Zealand and then last week's reported finish from the Fiji Race.  Here's a note we got from crew coordinator and Doyle NZ sailmaker Andy Pilcher late last night, and you can discuss the J/111 over in the thread:
For those that haven't heard, I'm sorry to announce that Django Racing has been abandoned about 300 miles North of Auckland, on her way home from Fiji.  At approx 11:00am NZ Time this morning, in winds averaging over 50 knots and seas over 5 meters, the rudder stock snapped between the two bearings, leaving the rudder swinging underneath the boat, trying to rip itself free.
The delivery crew sent out a request for assistance and set the liferaft up for immediate deployment, keeping in touch with Maritime Operations throughout the day via Satellite phone.  An Airforce P-3 Orion came by the boat to do a flyover, and fortunately,  NZ Navy Frigate Otago was in the region.  The Navy reached Django around 6 PM on Monday evening, when the crew made a hairy but successful transfer via lifeboat onto the Frigate.
We have spoken to the crew and they're safe and well, albeit very relieved and a bit shaken.   I suspect that the reality of the situation may not have set it yet for them.  Delivery skipper Ben Costello along with Bex Heilkema and Andrew Cooke  all responded exceptionally well, and did everything they could have done in the most seamanlike manner.   The boat was still floating when they transferred onto the frigate, and the rudder had not yet sheared off.  But with large cracks appearing around the area of the bottom bearings at the time of rescue and more gales and big seas forecast, we don't know how long she will last.
Otago is heading directly back to Auckland and we expect the crew to be safely back on land shortly.  That's all we know for now, we just wanted to let everyone know the facts as they currently stand.
Thanks for your thoughts and wishes,
Andy
July 8th, 2014 by admin
Len Siegal's Lucky Dubie is the world's best-named J/boat since Smokin' J was snuffed out years ago, and the longtime Chicago J/sailor tops the leaderboard at the first-ever major J/111 championship worldwide; their North American Championship.  14 boats from as far as Oregon, Florida, and Massachusetts is a solid turnout for a boat that toes the line between Grand Prix and amateur; just one pro is allowed aboard each of the light-but-not-extreme, quick-but-not-extreme J/111.
That's the good news.  The bad news?  Chicago in the summer might be better for fishing than it is for sailing, at least this week! J/fans can check it out live with full OTWA/Facebook video/interview/photo/updates coverage right here.  Meredith Block photo, event gallery here.  Big thanks to Skyway Yacht Works for the gin palace and Whaler that we're working from…check 'em out.
August 16th, 2013 by admin