Posts Tagged 'J/70'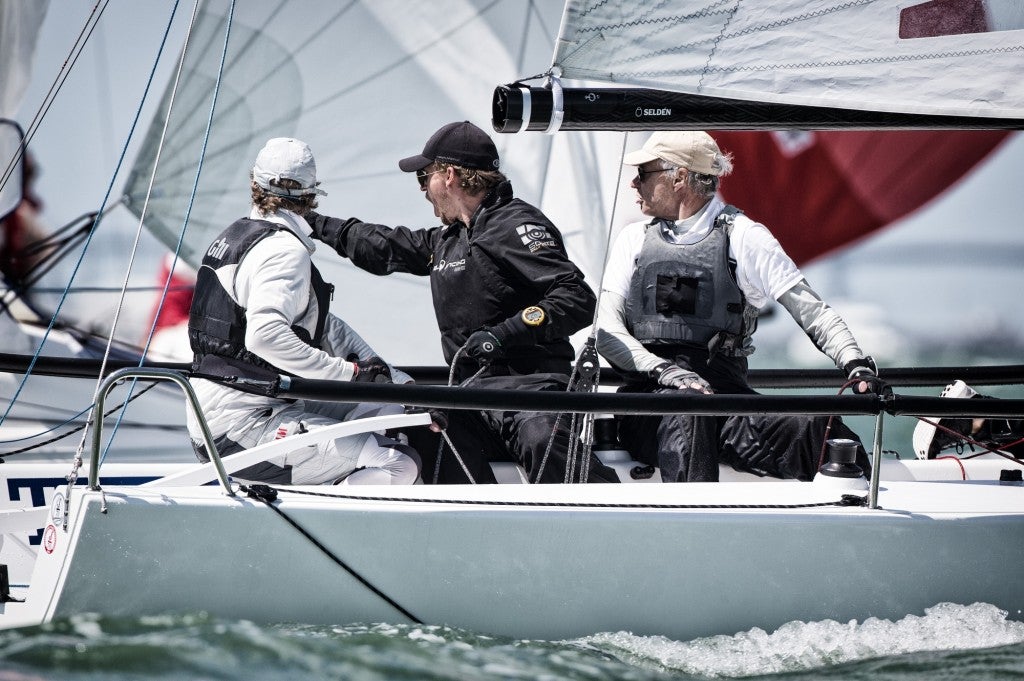 With every one of the 6 starts (and several general recalls) firing off under the black flag, a little bit of conservatism is going a long, long way at the J/70 Worlds.   With current WC Tim Healy dropping a BFD, Julian Fernandez is looking strong for the class's second ever Worlds.  Sander Van Der Borch is making it look simply gorgeous; have a look at the monster jellyfish in this above/below water shot.  And look at the contrast on these spinnakers.  Or maybe you prefer some spray?
Here are the Day 2 Highlights from Penalty Box Productions.
July 10th, 2015 by admin
We've sorted the various technical issues and now it's time for some hot racing action in 720p HD from the waters of La Rochelle, and with flat water, perfect sun, and moderate breeze, it should be one to watch.  Hit up the Sailor Girl on Twitter if you've got questions or comments for us and enjoy the show, with three more scheduled for day 2 of the J/70 World Championship.  All thanks to Sperry, of course, with some serious help from J/Composites France and the fine folks at the
Direct link for your phones or to get the Youtube chat room functionality – over here. Facebook for up-to-the-minute pics.
July 9th, 2015 by admin
The first day of the second-ever J/70 Worlds lit up with gorgeous sun and an unexpected 15 knots from the NW.  But when the chop stacked up with almost two knots of outgoing tide running right over the starting line, it was always going to be a bad day for some people.  We just didn't know it was going to be bad for the SA live video team!
As anyone in sailing knows, the French do things just a little bit differently.  That's why their food is so much better than anyone else's – because they keep it the way they like it, and change is the enemy.  That attitude carries over to everything, and on the race course, that meant doing everything a bit differently than most of us are used to in big fleet sportboating.  While nearly every major sportboat worlds over 50 boats has run a midline boat for years, that's not the French way, so rather than a tidy start with three different vantage points to call OCS boats, we saw the exact opposite: 5 general recalls for race 2, with two of them under black flag, and an astonishing 19 boats starting off their Worlds with a BFD, including several championship contenders.  To add insult to injury, at least one top US boat only looked on the first chalkboard for their number, and the Race Committee only called the numbers on the radio in French…at a regatta where english-speaking boats outnumber French by 3 to 1.
A late night saw no redress given for any of the 19 BFDs, which changes the nature of the regatta considerably for quite a few, but unsurprisingly, Julian Fernandes (MEX), Tim Healy (USA), and Carlo Albierini (ITA) are mixing it up for the lead after three.
Our live coverage was dotted by French internet issues, but that was nothing compared to our full electrical loss a minute into Race 3; a quick check at the inverters revealed 50 gallons of water sloshing around in the bilge, flowing in via a blow out raw water pump seal.   Our broadcast ended with no power, no stream, and a last-second anchoring practice to keep us off the beach before a two-hour tow-in from the RC.
Fortunately none of that kept Sander Van Der Borch from putting together a gorgeous gallery of the day just like his photo above (and the less gorgeous one on the left).
Watch it all unfold live today (with a bit less drama behind the lens, hopefully) over here, or check back on the front page for the embedded vid.
July 9th, 2015 by admin
While SA's live coverage team was fighting to stay afloat, Petey was doing what he does, and here's the Day 1 Video Report from the J/70 Worlds.  Enjoy, and stay tuned for another full day of live coverage from LaRo – this time, hopefully without the sinking part.
July 8th, 2015 by admin
Drizzle doesn't dampen the mood for Charleston Race week. It didn't stop the ridiculous Sperry/Sailing Anarchy party last night, and racing commenced on time and on pace today. Under dark morning clouds, an eight knot northwesterly greeted the inside fleet and held enough to get high quality racing in. And what's Charleston Race Week without current. The ebb was flowing hard today, with teams jockeying for shallow water position all day. Who played it the best?
It's not Cinco de Mayo yet, but the J/70 Mexican team Flojito Y Cooperando helmed by Julian Fernandez celebrated early with two bullets today to set themselves apart in this talent laden fleet. Elvind Astrup's Norwegian Steam stayed consistent with a 1, 6, 5 to hold on to an early second. The top and only US team currently on the J/70 podium is Joel Ronning's Catapult. Since there are 78 J/70s racing in four separate fleets, the points add up quick and the scores are really close with eight boats tied in one way or another in the top 15. The fleets will be reset tomorrow for more qualifying racing.
Continuing the south of the border but north of the fleet tone, the lone Brazilian Melges 20 entry, Portabello, led by Cesar Gomes Neto, threw down some spicy upwind skills to keep ahead of Bruce Golison's Midlife Crisis by three points. Midnight Blue sailed well in today's darker conditions to keep it tight on the podium, behind second by only one point. Only eight points separate the top six in this wide-open class.
Guy Mossman's name is on the Melges 24 score sheet, but he's mending a broken hand from a 'being a nice guy' moment.  Lesson: Don't punch a fighting pit bull in the head. In his place on Battle Rhythm is Will van Cleefe, who earned a four point lead today over Brent McKenzie on Ex-Kahn, followed closely by Bruce Ayres on Monsoon.
Watch the full replay of all the live racing action here, and if the wind ever fills in, we'll have Saturday's racing for you on this page.
Brian Carlin photo of the sexy C&C 30 and the rest of PHRF A offshore, and seriously big, badass galleries from Brian and Sander Van Der Borch are over here.
And the Team Vestas Wind award goes to Christian Koppernaes in the VX-One fleet, who took the 'short tack the shore' move a little too far.  Sander Van Der Borch photo.
Results after day one here, and of course a huge thanks to our friends at Sperry for making SA's extended coverage of Charleston's action.
-John Casey
April 18th, 2015 by admin
Too many stories, too many Dark'n Stormies, and too many competitors to keep track of, the 20th anniversary of Sperry Charleston Race Week sets another attendance record as the spring classic inches towards 300 boats.  This year they'll squeeze yet another sportboat class in with the VX-One, with 10 boats signed up for their first year at the event.  It's also Melges 20 Nationals and several other championships, but the monster fleet is again the J/70, with 80 and change on the split lines.  That's 230 boats or so racing in a harbor that's about a mile wide, and you can see who's what and where over in the scratch sheet.
As serious as some are, the majority of sailors are here because it's always fun and always unpredictable, and that's what Petey Crawford captured with this short preview and practice reel from today.  Enjoy the film and keep an eye on Facebook for all kinds of updates this weekend.  CRW has plenty going on themselves over at their Page, including a contest;  If you like them, along with Coral Reef and Gill NA, you get a chance to win one of two remaining Charleston'd up Gill Crew Lite jacket (they gave one away today).
And when you're bored tomorrow at work, click back here on the front page for our first livestreamed video coverage of Charleston Race Week in 4 years, with huge thanks to Sperry for helping us put it all together for you.
April 17th, 2015 by admin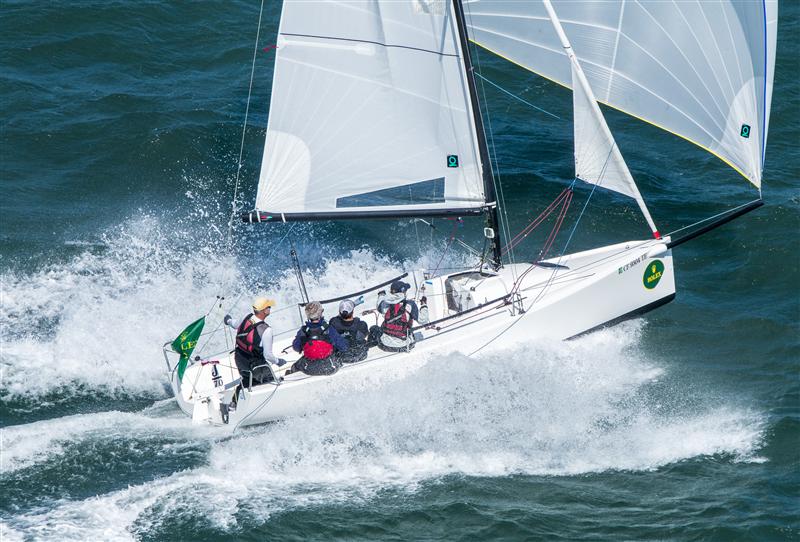 Some of the more entitled folks on San Francisco Bay continue to bitch and moan about our Big Boat Series criticism with the same fervor they have been peppering the America's Cup with since the AC deserted them; this despite the undeniable evidence of the RC's incompetence last week and the fact that the 'new, inclusive' BBS still can't manage a hundred boats on the line despite the average size of the boats dropping by 50% in the past 5 years and despite the draw of their 50th anniversary.  
How is it that Charleston can pull almost 300 boats and Detroit can pull over 200 to their marquee events?  Our issue is not with San Francisco Bay, which, despite the cold and fog, is still one of the world's best sailing venues; our issue is the fact that the folks running the BBS came to their new 'inclusivity' about a decade late, and only because they were forced into it by a nearly dead event.  Like the other 'Tier 1' clubs, the StFYC is, by its very nature, always behind the times (not to mention incredibly snooty) ; that inability to respond to change is yet another reason why the stewardship of the sport cannot be left in the hands of elite yacht clubs without suffering the same calamitous drop in racing interest we've had in the period from 1980 to the present.
All that being said, we've always promised to offer opposing views here on the sport's most-read page; below is one from a J/70 team.  One quick tip to all of our SF-based haters?  Keep hating on us and we'll keep beating on you.  Be productive rather than bitchy, send us reports, and you'll make your sailing community look far less entitled than it currently does. Daniel Forster/Rolex photos.
The 2014 Rolex Big Boat Series was a fairly different experience for me this year.  I've done more BBS's than I can can count now, but none like this.
First off, we didn't sail a big boat.   BBS has, over the years, grown more inclusive to the point where this year they included the not-quite-23 foot J/70s.   Thirteen teams plied the waters of San Francisco Bay, a pretty good turnout considering it was mostly local boats and the event was concurrent with the massively attended J70 Worlds.
Secondly, I sailed with an infant team.  It flies against my instincts to compete in a high level event without significant practice and preparation.  I like to be competitive, and a lack of preparation is a recipe for frustration.  As I said, however, this was a different Big Boat Series.
You see, we had a J/Would alumni who just a month ago bought a J70.  It's his first boat.  He's been a great client and his enthusiasm for all things sailing is a real pleasure to be around, so when he expressed interest in jumping right into the 'deep end of the pool' and taking a shot at BBS, I couldn't say no.  If I had really thought about it and considered the fact that he had never driven a boat in a real race (outside of J/World Racing Clinics), or if I had thought about the fact that we had precisely one, and only one, weekend regatta to prepare, maybe I would have passed on the opportunity.  But then I would have missed out on a remarkable experience.
What the fleet lacked in LOA was more than made up for in sheer talent.  Paul Cayard was trimming main and calling tactics for Andy Costello (also owner of the J/125 Double Trouble).  There were at least three sail-makers racing on different boats, and a huge host of talented skippers and crews.  The regatta was seven races over four days.  Each morning, our initial daily race was on a windward/leeward course up the SF city front.  Morning breezes were light (10-12 knots generally) and building, and a good flood tide kept the boats tight up against the shoreline for current relief.  For the afternoon race each day, the fleet over to the Alcatraz course.  Breezes each day had built to 20-26 knots and the current had only built.  The afternoon races were marathons, some 16  miles long, including legs from the Golden Gate all the way down to the Berkeley Circle….  and back!
So all of that is pretty standard BBS.  So what was different about this one?  We showed up at a the premier sailing event on the West Coast with a new boat, a new skipper, and a new team, and we felt like we were racing sailboats.  We didn't break anything, didn't crash-and-burn (well, ok, there were maybe two good solid broaches!), and didn't get flushed out the back. And we had an absolute hoot.  Our skipper, so new to the sport, was out there with some of the top sailors in the country…  and in the world!…  and we could taste the competition, sailing many of the courses and races right in the thick of the pack.  In what other sport could you possibly do that?  And in what other boat?
The J/70 is easy to setup, straightforward to dial in, and fun to sail.  In the big breeze, they get pretty physical,  and while my muscles are still aching after five long days of sailing, it all made sense when we would turn the boat downwind and take off on a screaming plane the full length of SF Bay!  Seriously, we were outrunning the Farr 40 World's fleet and other boats with twice the length and four times the crew!  Now if the Race Committee can just comply with our request to have shorter beats and longer runs…
Anyhow, congratulations to Andy Costello for the overall win, and thanks to Dan for a great effort, and a great event.  It really is a ton of fun sailing with him, and he puts up with our antics pretty well.  His progress has been remarkable (a testament to J/World training programs and coaching, if I do say so myself), and we expect great things from him!
Wayne Zittel
J/World Performance Sailing
September 18th, 2014 by admin
Clean Report
The B-Squared Racing/Sailing Anarchy J/70 nestles into her mobile 34-foot barn as the inaugural J/70 Worlds ends, along with any notion I had of being a world-class tactician.  The team of Brian Elliott, Bryan Cameron, Whitney Prossner and me managed a 33rd out of 86 boats and 6th of 38 amateur teams.  I'm still licking my wounds as I head north along the Maine coast to check out the new VPLP 100′ canter Comanche at Hodgdon Yachts today, and when I can find some time tonight or tomorrow along the highway back to Detroit, I'll get my full regatta download online for you to read.  The first J/70 Worlds had a bit of everything, and I'm damned glad I made it, even if I left unsatisfied on a number of fronts – especially my own performance.
Read the full event press release here in the meantime.
September 15th, 2014 by admin
Clean Report
After two days of qualifiers, we've downgraded our expectations at the J/70 Worlds from top ten to top 25, and we're not even sure that's enough!  My tactical shortcomings have become obvious, as has the absolutely ridiculous level of competition we're up against.  We take some solace that we are well ahead of all sorts of world champions and olympic talent, but we'll keep grinding on the B-Squared so keep an eye out for us.
We'll be trying to hurt the livers of some of our competitors tonight with beer provided by Torqeedo motors and rum, vodka, hot dogs and burgers and a couple of t-shirt giveaways sponsored by Eelsnot hull coatings and Sailing Anarchy.  If you're in the Newport Area, come by the big red trailer in the Fort Adams parking lot and share a drink and a story or two.  6'o clock or earlier depending on the racing.
As for "ruddergate" – we heard there is a protest, even though the rudder was not used during a race.  Stay tuned.
Results here.  More great Paul Todd pics here.
September 11th, 2014 by admin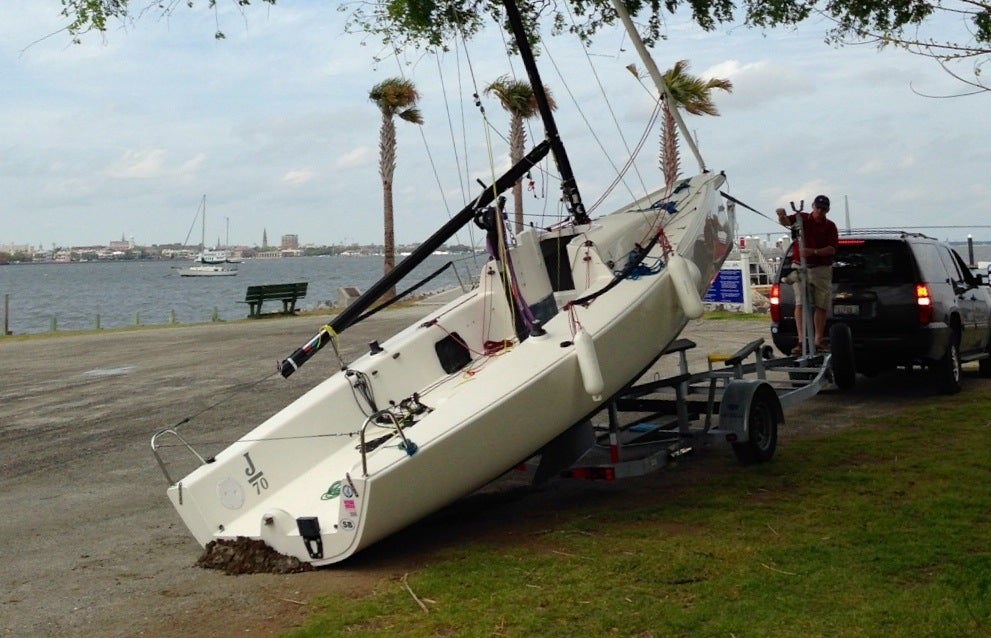 With 81 J/70s at Sperry Top-Sider Charleston Race Week – the biggest fleet by far in the 287-boat fleet – there's bound to be carnage; we just didn't know how soon it would start!  This driver forgot about the one tree at James Island Yacht Club at just the wrong time.  Racing starts tomorrow, and Clean and the team will be bringing you pretty much non-stop video and photo action all week long via the CRW Facebook Page.  There's plenty to see – big one-design fleets, four wicked-up Carkeeks racing in the HPR Class, a huge Pursuit fleet and for the first time ever, multihulls.  And no, you don't need to be a Facebook user to watch.
April 10th, 2014 by admin