Posts Tagged 'J/70'
We reported extensively on 'keelgate' at the J/70 Worlds in Italy over the summer, and while there were some irregularities in the way it was handled, we praised the Classes – both the International and Italian J/70 Classes – for getting ahead of the story and addressing the average sailors' concerns with 'cheater' boats.
The International Class has taken the Italian recommendations to heart and suspended a whole grip of Italian and Russian sailors from the incident.  It's the first time we've seen a mass ban in recent memory.  One thing that is really interesting: Neither the guy who did all the modifications in Lake Garda nor the pros who advised the owners gets any penalty whatsoever.  Should they?  Answer here.
The International J/70 Class Association (IJ70CA) Executive Committee (EC) has unanimously agreed to the J/70 Class membership suspensions listed below"…"The J/70 EC has found that the individuals below have been involved, to different degrees, in the "Intentional violation of the Class Rules" and/or "unsportsmanlike conduct" at the 2017 World Championship and/or some extended period prior to the World Championship.

-Carlo Alberini owner of hull #949, Class membership is suspended for 12 (twelve) months commencing on 1 December 2017
-Claudio Dutto owner of hull #922, has been warned that although the EC did not suspend his membership, he needs to be more diligent that his boat is in compliance with the Rules at all times
-Mauro Mocchegiani owner of hull #1088, Class membership is suspended for 4 (four) months commencing on 1 December 2017
-Alessandro Molla owner of hull #570, Class membership is suspended for 4 (four) months commencing on 1 December 2017
-Achille Onorato owner of hull #1269, Class membership is suspended for 4 (four) months commencing on 1 December 2017
-Alessio Querin former owner of hull #922, Class membership is suspended for 24 (twenty four) months commencing on 1 December 2017
-Marco Salvi owner of hull #910, Class membership is suspended for 12 (twelve) months commencing on 1 December 2017
-Alexey Semenov owner of hull #667, has been warned that although the EC did not suspend his membership, he needs to be more diligent that his boat is in compliance with the Rules at all times

In addition to the suspensions, the following boats have had their Manufacturers Declarations withdrawn and are not permitted to sail in J/70 events until the boats are inspected and corrected by the Licensed Manufacturer.
Hull/sail #949 owned by Carlo Alberini
Hull/sail #1269 owned by Achille Onorato
Hull/sail #570 owned by Alessandro Molla
Hull/sail #910 owned by Marco Salvi
Hull/sail #667 owned by Alexey Semenov
January 26th, 2018 by admin
With only one race firing off before the Mistral shut down yesterday, the J/70 Worlds in Sardinia has been a frustrating look at too much breeze and not enough.  It doesn't seem to be bothering Peter Duncan though – his main competition had deep results in the finicky race on Friday, and his Relative Obscurity – crewed by Victor Diaz, Creature Van Waay, and Jud Smith – has a ten point lead going into the final two or three races.
As long as they get two in before the wind dies off, one throwout will make its presence known, and with 81 boats in both Gold and Silver fleets, a hero can become a zero in one mark rounding.  Still if Duncan can hang on, that'll make 3 out of 4 existing world champions all coming from the US of A – something the Italians won't be happy about at all.
Watch it all live – from the boat with commentary from Clean on the J/70 Italian Class Page, and from the air with Zerogradinord's drone over here.
September 15th, 2017 by admin
We believe that hell may have actually frozen over a few hours ago.
We're not sure how else to explain the fact that of the seven teams just thrown out of the J/70 World Championship for measurement violations – in Italy – five are Italian!  Organizers even have the support of the J/70 Italian Class despite the stature of the excluded owners, which includes the current Alcatel J/70 Cup champion and several top teams.   It's a sign that the folks running the J/70 are taking their little boat as seriously as they have long needed to, given how prominent and huge the class has become since their first Worlds barely 3 years ago.
As past competitors in the Class, we're not surprised to see the hammer finally drop on some of the over-the-top mods that have been creeping in since the get go, but we are definitely surprised and quite impressed to see it happen in a place that's notorious for 'turbo" Italian one-design entries that get away with it (anyone remember the Melges 24 bulb with chines or the Farr 40 that floated 2″ high of her lines? We do).  We're also not saying that the DSQ'd boats are full of outright cheaters rather than opportunists taking advantage of Class Measurement guidelines and tools that were less than precise, but the hammer doesn't care what the nail looks like, as long as it is a nail. Those rules and tools have now been tightened up, which should mean fairer racing for everyone in this huge fleet.  Bravo, J/70 Class admins and measurers, and bravo, Italia!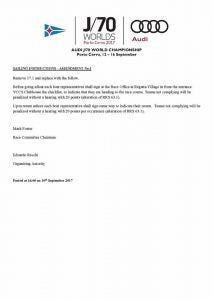 Anyway, the official notice is on your left.  From Italy, the DSQ'd boats are Achille Onorato's Mascalzone Latino Jr (Francesco Bruni, tactician), Allesandro Molla's Viva (Nicollo Bianchi, tactician), Marco Salvi's Vertigo (from Porto Cervo, the event host, with Charlie Mckee, Tactician!), Claudio Dutto's Asante Sana, prior Worlds podium finisher Carlo Alberini's Calvi Network (Branco Brcin, tactician), Mauro Mocchegiani's Rush Diletta (Matteo Ivaldi, tactician), and the Alex Semenov's Russian-owned New Territories (tactics by Portuguese J/80 and SB20 World Champion Hugo Rocha).  We're not sure whether this makes those pros more marketable or less marketable, but you might want to double check their work the next time they say 'it's legal, don't worry' before your big regatta!
Is this another case of pro sailors ruining a class, or does this kind of thing only happen when Classes slack on their measurement controls?  And is the J/70 Class's action signs of great governance to come?  We'll find out when SA brings our coverage to the J/70 Worlds on Wednesday (if the Mistral has shut down by then, that is!) . Until then, there's of course a thread…
September 11th, 2017 by admin
Clean Report 
The most democratic of big one-design racing fleets gets underway tomorrow in Porto Cervo, just days after the most exclusive racers in the world go home.  And unlike the Maxis, you can't just buy your championship with champagne and briefcases full of cash – not that some J/70 owners aren't trying!  In fact a number of top boats failed to measure in during the Worlds measurement.  It's nothing new for a J/70 Worlds, as there has been nasty chatter, cheaters called out, protests, and even measurement DSQs at every J/70 Worlds (who can forget the famous Greenwald carbon rudder in Newport?).  Never has it been at an event this big – at least not since the J/24 days and the infamous keels of a certain RI family…
With an astounding 175 boats from 24 countries on the entry list, the measurement issues at the YCCS are extreme, according to Italian sailing blog Adesso Vela, which writes that [paraphrased/translated] "almost no one will tell you about dozens of boats who disappeared after they found out boats were being failed at measurement, while others are replacing their keels completely in order to race at Worlds."
We dig the response of the Italian J/70 Class, which is not the organizer of Worlds but sure does seem pissed off about the cheaters.  And those cheaters may just include a past World Champion or two, some Olympians, and at least one of Italy's most illustrious yachting families…
September 11th, 2017 by admin
We thought we were going to be focusing on the Etchells Worlds IJ granting the Event Chairman redress for two different UFD scores, but as we were writing that one up, something way better came up for our monthly look at protests and sailors behaving badly.  And it's a hell of a story.
Julian Fernandez Neckelmann dominated the J/70 Worlds last year with his Flojito and has continued in other big events, and with two of the winningest one-design pros of the past decade as his crew and Ed Adams coaching, Julian ain't playin' – he's in this one for real. But after six races at St. Franny's Big Boat Series, a much lower-budget team – Joel Ronning's Catapult – sat tied with Neckelmann in the same water they'll be racing next week at Worlds.
That's when Neckelmann – a lawyer, we think – decided he needed to find out more about the stainless hoop you see above in Ronning's cockpit.  We were told by several people he asked them about it, and several told him they thought it was legal, and even suggested against protesting it.  When Neckelmann saw Catapult tactician John Kostecki on the dock, Neckelmann told him he didn't think the roll bar was kosher, and Kostecki, ever the communicator, said 'Protest me."  Neckelmann did exactly that, and that's where it gets good.
The Jury asked why Catapult had a non-OEM part on the boat, and Joel calmly explained that bar was installed to assist him from moving from side to side during tacks and gybes.  He also explained that the J/70 rules allow installation of such a device for people with physical disabilities, and that both the plans and photos of the finished part had been signed off by the J/70 Technical Committee and Adminstrator as required by the Class Rules.
At this point, our sources differ on what exactly happened, but a credible one has Neckelmann next asking Ronning, "How disabled are you that you need this bar?"
Ronning then reaches down, unstraps a buckle, pulls his carbon-fiber prosthetic leg off, and slams it on the table in front of god and everyone, shouting "Is this disabled enough for you?"
A differing account says Neckelmann asked why he wasn't allowed to have the same bar installed on his boat.   Ronning pulled off the leg and slammed it on the table, telling Neckelmann to "Saw off one of your legs and you've got it."
Regardless of which version is true, the whole thing is pretty ridiculous, and sends an awful message to disabled sailors in open classes: Fuck you and your problem.  We certainly know the history that makes top J/70 teams so nervous about cheaters, but handling a protest poorly risks not only pissing off your fleet, but it can earn you new enemies you can't afford on the course.
We note that Neckelmann has always been a straight talker with us, and was always ethical when we've spectated or raced against him.  He told us in an email that he never knew Ronning had any disability until that protest hearing, let alone a carbon-fiber leg; this isn't that far-fetched given that Ronning is proud of the fact that so few people can tell he has an artificial leg.   Still, we struggle with it, because Neckelmann poached his pros director from the Catapult team.  Bill Hardesty and Willem Van Waay both worked for Ronning on his A-Scow and J/70 for some time and they knew him well;  if Bill and Creature let their boss protest an amputee without telling him about it – well, that's a great story too. (And speaking of stories, we are hearing about Hardesty's questionable behavior at Mission Bay Yacht Club a few weeks ago. – ed)
We don't think Neckelmann is some kind of anti-disabled sailing nutbag, but he's a fierce competitor, and as he wrote us yesterday, "Some people in good faith and others in bad faith are playing with modifications.  If these moves are legal we want to do them, if they are not, we want nobody else to do them."  That's fair.  But protesting a heavy metal bar in a bad place when people told you it was legal…it's your right, but it's stupid.
The reality is that Neckelmann's protest was probably a shot across Ronning's bow and an attempt to get into the head of a team that can clearly challenge for the world title – a team that already has plenty of bad blood with the reigning world champion.  Top pros play head games because sometimes, they work.  But this one seems to have backfired, and Neckelmann and Hardesty haven't made any friends with their move; many think they also made their class and the BBS look like shit.
One other thing it did?  It made us pretty excited to watch how steamy this rivalry gets next week in the Berkley Circle.  Nothing fires up interest like a battle before the war.  You can read a full Worlds Preview at the J/70 Facebook Page here.
September 22nd, 2016 by admin
Our Sailor Chick of the Week is skipper Claudia Rosi, who picked up a 2nd place at the finale to the Alcatel J/70 Italian series this past weekend after  dominating the 97-boat J/70 Euros earlier this summer.
Rosi is barely old enough to drink in the USA, where she'll try to make history when the Worlds begins in two weeks time.  And we wish her luck!
September 13th, 2016 by admin
Big Pimpin'
Check out the video from the 3rd event of Italy's Alcatel J/70 Cup for a slightly long but beautifully produced story of sportboat racing in Sardinia.  More from our old friend and Italian J/70 Class Prez Vittorio:
Quite frankly, we had a truly fantastic week-end with great racing conditions, outstanding hospitality by the Yacht Club Costa Smeralda (with a social event every night!), and lots of beachside fun for our accompanying friends and families. It was probably the best event organised by the J/70 ITALIAN CLASS so far (results here).
The week-end was also a live test for next year's J/70 Worlds (Sept 12-16, 2017). We are already working to prepare another great event for you (all of the above plus simplified logistics, group discounts on ferry boat transportation, hotels, food and entertainment). We will present the full program of next year's event during the Italian Night that we plan to host at the St. Francis Yacht Club in September during the 2016 J/70 Worlds in San Francisco. You are already invited to participate!
We are confident to have all the ingredients to host a great event next year which will be key in further growing the J/70 Class in the Med. CAN'T MISS PORTO CERVO 2017 !
June 16th, 2016 by admin
When Sperry told us they wanted to support coverage of events we thought made a difference to the sport of sailing, we instantly thought of the J/70 Worlds.  Sure, there was a 95-boat Melges 24 Worlds two weeks ago in Denmark and a 100-boat SB20 Worlds in Lake Garda last week, but with nearly a thousand boats sold in three years, nothing comes close to the impact on racing made by the new and exploding class from the J0hnstones. And as evidenced by the 16-nation field in the boat's second-ever Worlds in La Rochelle, the effect is spreading far, and fast.
So we put together a 6-man crew to bring live video of all the racing to you guys, and we didn't skimp.  The live feed included commentary from SA's Senior Editor and Adventures of a Sailor Girl's Nic Douglass, along with daily highlight reels from Petey Crawford, and huge high-quality photo galleries from Sander Van Der Borch.  Why'd we go so big? Because we want to see more of the family-friendly, female-inclusive, youth-engaging vibe this little boat is giving to people all over the world, and the infrastructure J/boats have created to deliver well-built, good-looking, quick-ish little racers that are all damned similar to one another is something we admire.  And we felt privileged to be able to document it all.
Above you'll find our final movie from last week's Championship, and we really, really hope you'll sit through it until the end.  And don't be drinking coffee near the end.  If you laugh as much as we did, share the link with your friends. For the full interview with new World Champ Julian Fernandez, hit this link.  The full chat with Marty Kullman including the drama with North's DNE request is in here.  You can grab any one of the dozen-plus interviews and highlight reels in our Vimeo index.
As always, huge thanks to Sperry for their support, and to J/Composites Europe for all their support on the ground and on the water.  More thanks at the end of the video.
July 17th, 2015 by admin
Just two races remain, and it's all live thanks to Sperry and J/Composites France.  Breeze, waves, and fireworks on the starting line.  What more could you want?
July 11th, 2015 by admin
More black flags?  More better-than-expected breeze, anyway.  Nic and Clean with the early morning broadcast from J/70 Worlds.  Check it.
July 10th, 2015 by admin