Posts Tagged 'J/111'
J/111 skipper Bill Smith very nearly became the first posthumous winner of a Continental Championship this past weekend after a massive heart attack took the hard-nosed Chicago sailor's life on Saturday morning.  His Wooton was leading after the first day of racing for the North American Championship, with light airs killing off Saturday and very nearly claiming Sunday until a late thermal allowed a couple of races that crowned Kashmir as the new champion.
Smith was a self-made man who started as a carpenter and loved Chicago; he ended his life as a highly respected developer and project builder after a career the Tribune called 'a towering achievement'.
Smith's crew took the Wooton out to spectate on Sunday, when competitor Spaceman Spiff hoisted Smith's spinnaker on the final run in tribute.  Thanks to Steve Kindra for the news and for sending the photos on.  Fair winds, BS.
June 22nd, 2016 by admin
Drizzle doesn't dampen the mood for Charleston Race week. It didn't stop the ridiculous Sperry/Sailing Anarchy party last night, and racing commenced on time and on pace today. Under dark morning clouds, an eight knot northwesterly greeted the inside fleet and held enough to get high quality racing in. And what's Charleston Race Week without current. The ebb was flowing hard today, with teams jockeying for shallow water position all day. Who played it the best?
It's not Cinco de Mayo yet, but the J/70 Mexican team Flojito Y Cooperando helmed by Julian Fernandez celebrated early with two bullets today to set themselves apart in this talent laden fleet. Elvind Astrup's Norwegian Steam stayed consistent with a 1, 6, 5 to hold on to an early second. The top and only US team currently on the J/70 podium is Joel Ronning's Catapult. Since there are 78 J/70s racing in four separate fleets, the points add up quick and the scores are really close with eight boats tied in one way or another in the top 15. The fleets will be reset tomorrow for more qualifying racing.
Continuing the south of the border but north of the fleet tone, the lone Brazilian Melges 20 entry, Portabello, led by Cesar Gomes Neto, threw down some spicy upwind skills to keep ahead of Bruce Golison's Midlife Crisis by three points. Midnight Blue sailed well in today's darker conditions to keep it tight on the podium, behind second by only one point. Only eight points separate the top six in this wide-open class.
Guy Mossman's name is on the Melges 24 score sheet, but he's mending a broken hand from a 'being a nice guy' moment.  Lesson: Don't punch a fighting pit bull in the head. In his place on Battle Rhythm is Will van Cleefe, who earned a four point lead today over Brent McKenzie on Ex-Kahn, followed closely by Bruce Ayres on Monsoon.
Watch the full replay of all the live racing action here, and if the wind ever fills in, we'll have Saturday's racing for you on this page.
Brian Carlin photo of the sexy C&C 30 and the rest of PHRF A offshore, and seriously big, badass galleries from Brian and Sander Van Der Borch are over here.
And the Team Vestas Wind award goes to Christian Koppernaes in the VX-One fleet, who took the 'short tack the shore' move a little too far.  Sander Van Der Borch photo.
Results after day one here, and of course a huge thanks to our friends at Sperry for making SA's extended coverage of Charleston's action.
-John Casey
April 18th, 2015 by admin
Too many stories, too many Dark'n Stormies, and too many competitors to keep track of, the 20th anniversary of Sperry Charleston Race Week sets another attendance record as the spring classic inches towards 300 boats.  This year they'll squeeze yet another sportboat class in with the VX-One, with 10 boats signed up for their first year at the event.  It's also Melges 20 Nationals and several other championships, but the monster fleet is again the J/70, with 80 and change on the split lines.  That's 230 boats or so racing in a harbor that's about a mile wide, and you can see who's what and where over in the scratch sheet.
As serious as some are, the majority of sailors are here because it's always fun and always unpredictable, and that's what Petey Crawford captured with this short preview and practice reel from today.  Enjoy the film and keep an eye on Facebook for all kinds of updates this weekend.  CRW has plenty going on themselves over at their Page, including a contest;  If you like them, along with Coral Reef and Gill NA, you get a chance to win one of two remaining Charleston'd up Gill Crew Lite jacket (they gave one away today).
And when you're bored tomorrow at work, click back here on the front page for our first livestreamed video coverage of Charleston Race Week in 4 years, with huge thanks to Sperry for helping us put it all together for you.
April 17th, 2015 by admin
UPDATE: STATEMENT FROM J/BOATS:
"J/Boats have been in contact with the owner Andy Reid since the incident happened, in fact he will be in Newport soon on a scheduled trip already.  We're sorry to hear about the breakage and have already commenced our own internal review on the circumstances that may have led to the rudder post failure, working with our team of engineers, builders and materials specialists.  In the meantime, our condolences to the delivery crew and hope that all are well and in good health and spirits despite the circumstances."
We got news late last night that our most awesome Kiwi pal AJ Reid lost his new-last-year J/111 Django while on delivery back from Fiji.  You'll probably remember Django as the boat that won its first-ever race while handicapped by our own Mr. Clean aboard, and then went on to some great results in New Zealand and then last week's reported finish from the Fiji Race.  Here's a note we got from crew coordinator and Doyle NZ sailmaker Andy Pilcher late last night, and you can discuss the J/111 over in the thread:
For those that haven't heard, I'm sorry to announce that Django Racing has been abandoned about 300 miles North of Auckland, on her way home from Fiji.  At approx 11:00am NZ Time this morning, in winds averaging over 50 knots and seas over 5 meters, the rudder stock snapped between the two bearings, leaving the rudder swinging underneath the boat, trying to rip itself free.
The delivery crew sent out a request for assistance and set the liferaft up for immediate deployment, keeping in touch with Maritime Operations throughout the day via Satellite phone.  An Airforce P-3 Orion came by the boat to do a flyover, and fortunately,  NZ Navy Frigate Otago was in the region.  The Navy reached Django around 6 PM on Monday evening, when the crew made a hairy but successful transfer via lifeboat onto the Frigate.
We have spoken to the crew and they're safe and well, albeit very relieved and a bit shaken.   I suspect that the reality of the situation may not have set it yet for them.  Delivery skipper Ben Costello along with Bex Heilkema and Andrew Cooke  all responded exceptionally well, and did everything they could have done in the most seamanlike manner.   The boat was still floating when they transferred onto the frigate, and the rudder had not yet sheared off.  But with large cracks appearing around the area of the bottom bearings at the time of rescue and more gales and big seas forecast, we don't know how long she will last.
Otago is heading directly back to Auckland and we expect the crew to be safely back on land shortly.  That's all we know for now, we just wanted to let everyone know the facts as they currently stand.
Thanks for your thoughts and wishes,
Andy
July 8th, 2014 by admin
Our old pal Andy Pilcher from Doyle NZ checks in from aboard the J/111 Django after one of the most exciting ocean racing finishes of the year.  A great yarn from an excellent group; check out the Auckland-Fiji Race results over here. Photos from C Brad Davies/LiveSailDie Media.  Title appropriate to the best song the Beach Boys ever wrote.
Who remembers the 1995 Rugby World Cup Semi-Final between the All Blacks and England?
 The one where Jonah Lomu ran rampant right through the whole team and scored four tries, including that most memorable one where he bowled right over the top of Mike Catt?
  Keith Quinn, the veteran broadcaster with decades of experience, was so lost for words that all he could say – live on air – was "Jonah….. JONAH…..Oh!!!……Oh!!!!!"
Well, try saying this in your best Keith Quinn voice: "Django….. Squealer……. Oh!!!!……..Oh!!!!!!"
That's what we were looking at during the Auckland Fiji Race after almost 1400 miles and nearly a week of racing.  Two middleweights standing toe to toe, slugging it out, neither giving an inch.   In the White corner we have Django Racing, the younger, better looking of the two, dancing and jabbing, sticking and moving, trying to wear their opponent down.
 In the (toxic) Lime Green corner, the clever old veteran, gnarled by age and years of fighting, and looking, searching for the knockout blow.
The bout started off in a typically brutal manner, with both fighters taking a beating during the first four rounds (days). 
Eventually things calmed down a bit, and a searching, tactical battle was underway.  Django scored the first major points with a swift left hook, right across Squealer's nose, early in the fifth. 
They thought this could give them a decent advantage, but you don't get to be older and wiser without learning a few dirty tricks, and sure enough, the pugilists from Tauranga Bridge Marina eventually wore them down and scored a few back themselves. 

Deep into the sixth round, the fighters got up close and personal after fighting blind for most of the bout; after that, it was all on!
The teams stood right in each others faces, neither one wanting to let the other slip away and gain an advantage.  No one let up, with stamina and endurance being pushed to the absolute limit. Both teams pushing harder than they ever thought possible, somehow finding reserves of energy they didn't realize they had. 

Squealer used all their collective years of cunning to gain an advantage late in the seventh, and it looked like this would carry them to a famous victory. 
But Django wasn't giving up that easily, and with barely a minute to the final bell pulled their last move of the fight, launching a straight right across the face of Squealer, seemingly dropping them on their arse for the final time.
 Surely there was nothing left to give…but Squealer had other ideas.
They picked themselves up off the canvas and launched one final assault on the young pretenders. 
Django tried holding them off with a series of jabs, but Squealer countered with a brutal right hook just on the final bell. 

So who won? 
Well, it took a while for the ref's decision to come in and it was eventually announced over the public address system (also known as the VHF Radio) that Squealer had taken out the narrowest of points victories – beating Django by 10 seconds. 

Both fighters fell to the floor, exhausted, before picking themselves up one final time for an embrace that lasted well into the night.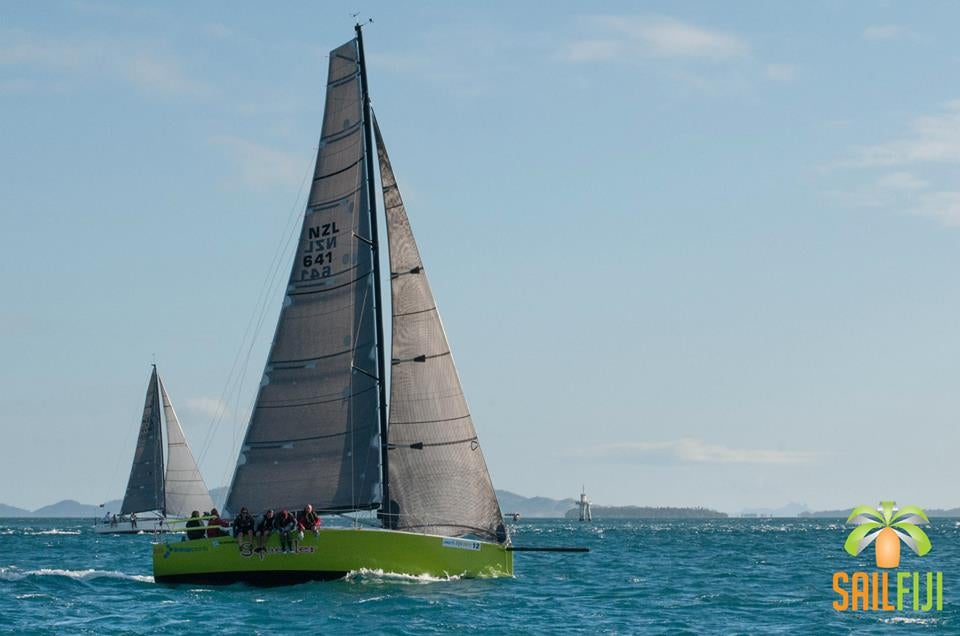 After a race that lasted just a few hours shy of a full weak and some 1370 NM, Squealer really did beat us over the line by 10 seconds. This photo was taken from the finish boat, showing their nose crossing the line, with us barely a boatlength behind. 
It was hard to comprehend at the time what we were involved in, but for all of us, this was the race of a lifetime, and it was only more poignant because of the battle raging between two boats full of good friends.  
I have known some of these guys for the best part of 20 years, and can genuinely say that we could not have hoped to be beaten by a better team.
For those that don't know, the DDF Syndicate that owns Squealer is a team of seven mates, most of whom are old school friends from Tauranga. This is the third boat they've owned, over a period of around 15 years, with their ultimate goal of competing in an offshore race.
That dream was cruelly cut down just 120 miles from the finish of last years race to Fiji, when the mast fell down as they were pushing hard for an overall win. 
So to see the joy on their faces at the finish line really did make everything worthwhile, and (almost) made us forget our awful first half of the race!
Well done guys, it was an absolute pleasure trying to knock the shit out of you, and we cannot wait to do it again.
Django Racing out.
June 25th, 2014 by admin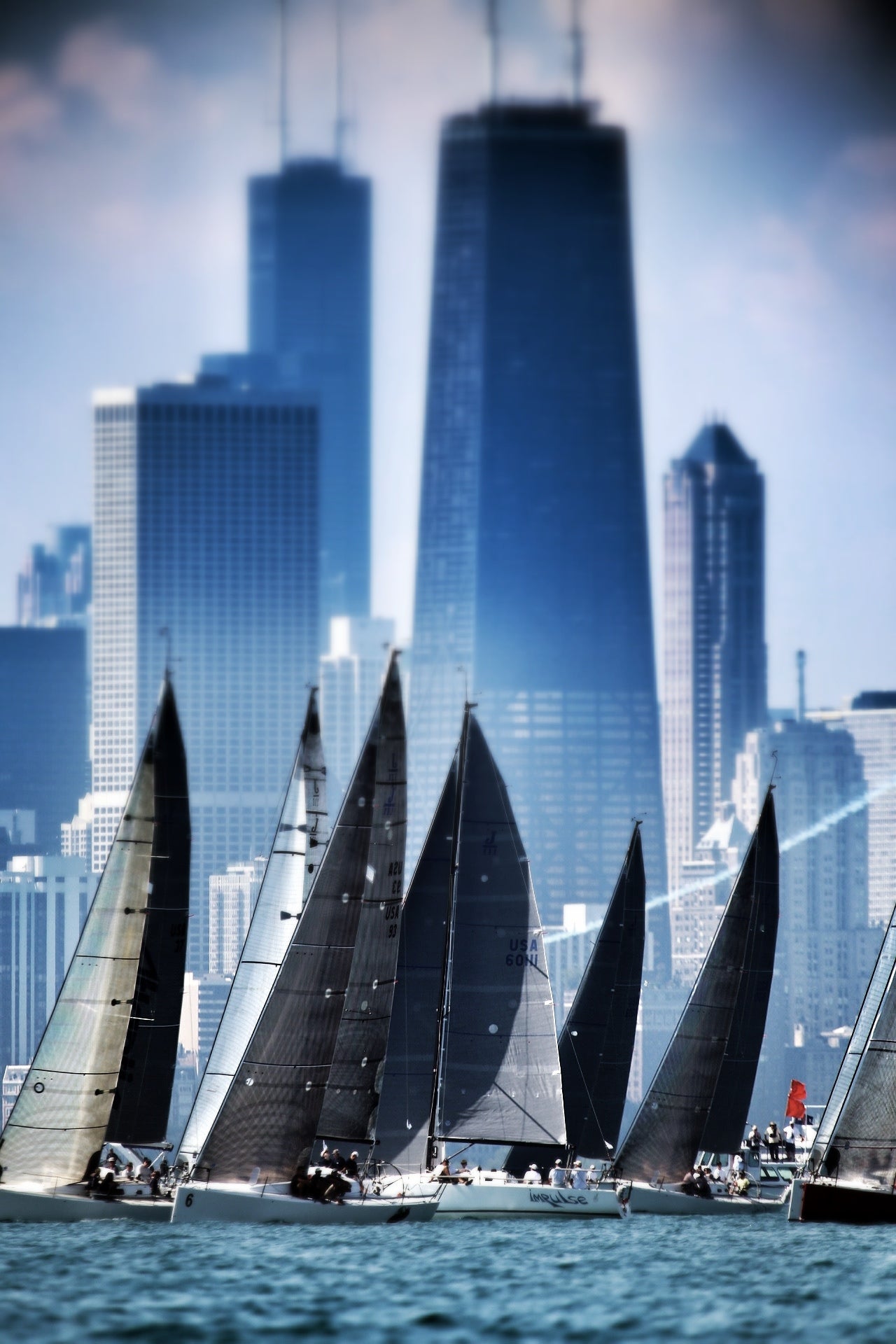 Just 1 point separates the top three boats going into the final day at the inaugural J/111 North Americans; we're rooting for the Lucky Dubie on the strength of their name alone but there's plenty of action despite the light wind in Chicago, as this beautiful Meredith Block photo shows.  That's what a great eye, a 600mm lens, and the world's best Whaler driver can getcha.  Follow the final races here.
August 18th, 2013 by admin
Len Siegal's Lucky Dubie is the world's best-named J/boat since Smokin' J was snuffed out years ago, and the longtime Chicago J/sailor tops the leaderboard at the first-ever major J/111 championship worldwide; their North American Championship.  14 boats from as far as Oregon, Florida, and Massachusetts is a solid turnout for a boat that toes the line between Grand Prix and amateur; just one pro is allowed aboard each of the light-but-not-extreme, quick-but-not-extreme J/111.
That's the good news.  The bad news?  Chicago in the summer might be better for fishing than it is for sailing, at least this week! J/fans can check it out live with full OTWA/Facebook video/interview/photo/updates coverage right here.  Meredith Block photo, event gallery here.  Big thanks to Skyway Yacht Works for the gin palace and Whaler that we're working from…check 'em out.
August 16th, 2013 by admin
Thanks to some shiny new Doyle sails and the sheer awesomeness that Clean brings to any team (HA!), Django, the first J/111 to hit New Zealand, crushed the competition in her first outing; a Wednesday night on the harbour.  In a fleet filled with whacky canters and huge-rigged sporties, the J/111 seems to go just fine, thank you very much!  Postcard photo thanks to Atka Reid; The J/111 thread has one of Doyle NZ's Andy Pilchard, triumphant owner AJ Reid, and Clean. Meanwhile, Anyone looking to escape the Austral winter or otherwise interested in a month of J/111 one-design racing in Chicago should check this link out.
March 21st, 2013 by admin