Posts Tagged 'italy'
We believe that hell may have actually frozen over a few hours ago.
We're not sure how else to explain the fact that of the seven teams just thrown out of the J/70 World Championship for measurement violations – in Italy – five are Italian!  Organizers even have the support of the J/70 Italian Class despite the stature of the excluded owners, which includes the current Alcatel J/70 Cup champion and several top teams.   It's a sign that the folks running the J/70 are taking their little boat as seriously as they have long needed to, given how prominent and huge the class has become since their first Worlds barely 3 years ago.
As past competitors in the Class, we're not surprised to see the hammer finally drop on some of the over-the-top mods that have been creeping in since the get go, but we are definitely surprised and quite impressed to see it happen in a place that's notorious for 'turbo" Italian one-design entries that get away with it (anyone remember the Melges 24 bulb with chines or the Farr 40 that floated 2″ high of her lines? We do).  We're also not saying that the DSQ'd boats are full of outright cheaters rather than opportunists taking advantage of Class Measurement guidelines and tools that were less than precise, but the hammer doesn't care what the nail looks like, as long as it is a nail. Those rules and tools have now been tightened up, which should mean fairer racing for everyone in this huge fleet.  Bravo, J/70 Class admins and measurers, and bravo, Italia!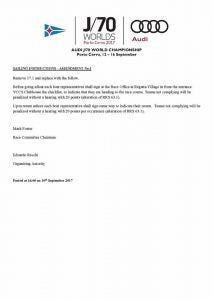 Anyway, the official notice is on your left.  From Italy, the DSQ'd boats are Achille Onorato's Mascalzone Latino Jr (Francesco Bruni, tactician), Allesandro Molla's Viva (Nicollo Bianchi, tactician), Marco Salvi's Vertigo (from Porto Cervo, the event host, with Charlie Mckee, Tactician!), Claudio Dutto's Asante Sana, prior Worlds podium finisher Carlo Alberini's Calvi Network (Branco Brcin, tactician), Mauro Mocchegiani's Rush Diletta (Matteo Ivaldi, tactician), and the Alex Semenov's Russian-owned New Territories (tactics by Portuguese J/80 and SB20 World Champion Hugo Rocha).  We're not sure whether this makes those pros more marketable or less marketable, but you might want to double check their work the next time they say 'it's legal, don't worry' before your big regatta!
Is this another case of pro sailors ruining a class, or does this kind of thing only happen when Classes slack on their measurement controls?  And is the J/70 Class's action signs of great governance to come?  We'll find out when SA brings our coverage to the J/70 Worlds on Wednesday (if the Mistral has shut down by then, that is!) . Until then, there's of course a thread…
September 11th, 2017 by admin
This Sunday (May 7), 10,000 Sails of Solidarity will bring together sailors from all over the globe to raise money for the victims of Italy's horrible 2016 earthquake.  For those who don't have access to an affiliated event, you can enter a virtual boat to help spread the word.  The organizers have already gotten support from some of the world's top sailors, and we encourage you to head over to their website or Facebook Page to lend yours.
May 4th, 2017 by admin
April 20th, 2017 by admin
Carnival Cruises have long been reputed to be a shit show – there's a reason industry insiders call it 'Cannibal Cruise Lines', after all.  But this video assembled by GCaptain from a few sources shows another side of the Carnival Vista – the ruthless power of its thrusters.  Watch as the concrete docks of Messina, Italy's Marina Nettuna get literally broken to bits by the mini-tsunami from a monster ship that got way too close to shore.
More links to more videos in the thread.
September 19th, 2016 by admin
Vestas is the blue-hued spice that gives zest to this edition of the Volvo Ocean Race, and we're rapt with attention at the rebuild saga.  At times, it's as interesting as the race itself, especially with Brian Carlin back on the camera and edits.  Check it.
January 26th, 2015 by admin
The young, fun crew of the Wildman sits in third at the Melges 20 Worlds overnight, with 11-year old Liam Kilroy actually leading the 57-boat regatta after two races and sitting just a couple of points back of papa on Samba Pa Ti at the end of the day.  The nipper's got serious juice behind him; Erik Shampain and Steve Hunt were half the crew of top performing Melges 24 WTF, while SCOTW and top women's match racer Steph Roble calls turns for young Kilroy in the first 3 races of the second-ever M20 Worlds.
And yes, daddy's rich (somebody has to pay all those salaries), and we don't expect too many 11-year olds to get this kind of present under the tree, still it's good (isn't it?  to see the kid make the most of it – it's events like these, at an age like this, that can cement a lifelong love (and tons of support) for the sport.  It's also a shout to other sportboat parents: If you want this sport to have a future, give your kids the helm or the boat whenever you can.  And no, that doesn't mean some shitty Opti.
Leading the event is consistent badass Alessandro Rombelli on STIG with longtime sportboat star Dani Cassinari on tactics.  We'll have another update for you on Thursday night.  Exclusive photo from Stefano Gattini with an awesome photo gallery here.  Updates throughout the day at the Melges 20 Facebook Page.
August 28th, 2014 by admin
UPDATE: We have been informed that the picture we posted earlier was not the correct subject.  Our apologies to anyone misled by it.
As the International Star Class battles for its one-race-a-day World Championship on Lake Garda (with 'the other Mr. Kleen' leading after two races), we learned that Italian cops made a grisly discovery in the world's best sailing lake just a couple of weeks ago.
44 year-old Italian porn star veteran Federica Giacomini was found in Lake Garda five months after she was originally reported missing, a diver discovering her body in pieces, wrapped in plastic and stuffed in a suitcase.  Giacomini's former partner, Franco Mossoni, has been questioned several times in recent months; he's best known for dressing as Rambo and waving a gun in a Vicenza hospital earlier in the year…
Meanwhile, the odd-duck Star Sailors League continues to pump cash into the century-old Starboat with their live stream including a video camera, Virtual Eye, and sailing commentators Diggby Fox and Louay Habib on the microphone.  Check it out here.
Those of you looking for more action from your live stream this week, check out the World Match Race Tour from Marstrand – one of just two WMRT events with live streaming for the 2014 season.
July 2nd, 2014 by admin
Jason Carroll's 5-year journey to win the Melges 32 World Championship is over, and a huge congratulations to the party-loving anarchists aboard the good ship Argo on a brilliant performance in the world's toughest owner/driver fleet.  We'll have a more detailed report from one of the war horses aboard later this week, but one thing is for certain in the M32 Class – if you want to win a Worlds, you start with Morgan Reeser as your coach.  Joy Dunigan photo with a bit of freaky editing by Clean to make it a little more like the movie poster the shot brings to mind.  More shots here, and check out more great work from Argo mastman Petey Crawford starting tomorrow as live video producer (and shooter/editor/a dozen other jobs) at the Little Cup.
UPDATE:  Coach Reeser lays out his 'roadmap to success' and a word or two about the Argo program, from somewhere over the Atlantic in a very large non-commercial jet.  Rough life, Morg!
The Argo Worlds was a pleasure to be involved with as they deserved a World Championship in '11 and '12!  I'm so thrilled that they go it this time.  They are a great team that needed to realize how good they were and what was required win a Worlds.
Goals:
1) Average first mark rounding (top 30%)
2) Always passing boats after mark 1.
3) Save your drop race for the final fleet race
Team Argo had more fun than anyone else at the event (ie. they did not change what they normally did just because it was the Worlds!)
A great team, a great class, and a great boat to sail with so many other fantastic owners and their teams. 
I can't wait till Miami 2014!
-Morgan
September 22nd, 2013 by admin
Update: Argo (fuck yourself) has taken a nice little 6 point lead after 4 races…
Richard Goransson's Inga From Sweden is off to a good start at the Melges 32 Worlds even if the week isn't.  A nasty Mistral has seen two of the first four days shortened or cancelled with winds recorded up to 74 knots.  Below is the report from Inga trimmer Richard Mason's report after a single race yesterday, and the video is above.  UPDATE:  Argo leads after three more races today…latest results here and you can watch the Worlds streaming live on the Melges website here.
With no racing yesterday the pressure was on to get racing underway today. The forecast was for the breeze to start the day at 25knots plus and drop from there. Racing got underway on time at 11.00, with the wind gusting up to 30 knots.
The first race was a survival test. Just keep it cool and don't make the mistakes. Race one proved to be a big payoff for Helly Hansen Inga from Sweden, for the time we have spent on the water over the past year getting to grips with this tricky, overpowered boat.
The first race in the 2013  saw us starting at the pin with Team Argo winning the start a half boatlength to weather.  A long port tack in building breeze saw us on the left side of the track. We were third around the first top mark, with it all on for the run. We managed to survive a couple of on-the-edge gybes to make it around the bottom mark in 2nd hot on the tail of Bombarda Racing. Looking back upwind at the fleet there were some major wipeouts, with quite a bit of damage to the fleet on the first run.
Bombarda Racing lead up the second beat showing some serious speed on the wind, and led around the top mark with us about 20 seconds back.  A wild second run followed, and the deciding maneuver for the race was the final gybe, just 200 meters from the finish.  Bombarda missed theirs while we thankfully nailed ours, and that was the race.
So a great start for the Helly Hansen Inga form Sweden team. An attempt was made at a second race, but the breeze was gusting over 34 knots, which saw the fleet return to the dock, postponing racing for the day.  It is going to be a long 3 days!  The pressure  is on to keep the consistency in the results required to stay at the top of this fantastic fleet.
We look forward to getting back on the race track tomorrow.
-Richard & The Helly Hansen Inga from Sweden Team.
September 20th, 2013 by admin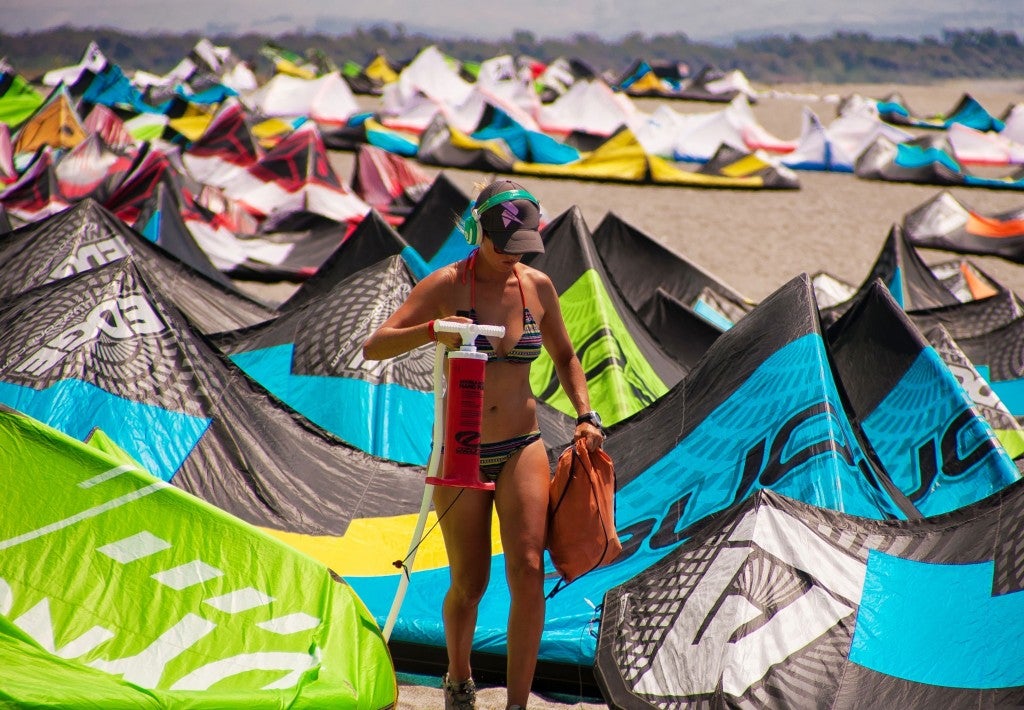 There are plenty of sailors who say kiteboarding isn't sailing.  Frankly, we don't care.  As long as images like this keep coming our way, we're all in.  Shot from the HangLooseBeach European course racing champs thanks to Icarus Media, with galleries here.  For a video with voiceover from Robocop, go here.  And of course Hans and Frans inspire our title work…
September 9th, 2013 by admin