Posts Tagged 'ISAF'
Russia's recent sporting exploits include allegedly fixing the bid along with FIFA for the 2018 World Cup and using the Sochi Olympics to divert attention from an armed buildup that would turn into an invasion and annexation of a sovereign neighbor, so it shouldn't surprise anyone to learn that the Russian government has run a huge state-sponsored doping scheme for its Olympic athletes.  But even the most jaded Russophobe might still be shocked at just how big and pervasive the program was.
The doping scheme was uncovered by a German TV report almost a year ago, and in the meantime,  WADA – the independent agency charged with investigating and preventing doping in the Olympics and many other high-profile events – spent a small fortune investigating the charges. This morning, they released their over-300 page report, and it's nasty.
The New York Times wrote that "Members of Russia's secret service intimidated workers at a drug-testing lab to cover up top athletes' positive results."  FSB agents "impersonated lab engineers during the Winter Olympics in Sochi last year." A lab once destroyed more than 1,400 samples to keep them from the investigation.  "Athletes adopted false identities to avoid unexpected testing. Some paid to make doping violations disappear. Others bribed the antidoping authorities to ensure favorable results, and top sports officials routinely submitted bogus urine samples for athletes who were doping."
The report implicates athletes, coaches, trainers, doctors, and the Russian institutions and government agencies that helped engineer and fund the program, and we're still reading to find out whether it was as big and unethical as the Soviet and East German programs of the 60s and 70s that are credited with creating modern blood doping.  Interpol is starting criminal investigations, WADA discredited Russia's national testing lab, the IAAF are discussing Russia's punishment while everyone's trying to figure out who gets their medals stripped – and who becomes a newly-crowned medalist.
Finally, Olympic Sailing finally gets some freedom from the pollution limelight – but only because the Russian Sailing Team needs a lot more than steroids and adderall to start winning.  Surely ISAF is praying that their prominent partner had nothing to do with the doping despite being a major sponsor for the Russian National Team…'cause Gazprom doing something unethical would be a huge surprise…
And of course, old Vlad is denying the whole thing as either a fabrication or a conspiracy. Just like those fabricated tanks in Crimea.
You can download the full report here.
November 10th, 2015 by admin
As Mr. Clean works on the report of his 8-day trip hanging with the US Sailing Team Sperry, combing through the pollution of Guanabara Bay, and the endless ass parade that are Copacabana and Ipanema Beach, we figured we'd share some information with you that explains why we don't ask Olympic Athletes whether they 'feel comfortable' competing in nasty and dangerous water.  Because around half of them would literally choose death in five years if it guaranteed them a medal.  From a New York Times piece on doping comes this description of the Goldman Dilemma, and here's a pertinent study.
There's a well-known survey in sports, known as the Goldman Dilemma. For it, a researcher, Bob Goldman, began asking elite athletes in the 1980s whether they would take a drug that guaranteed them a gold medal but would also kill them within five years. More than half of the athletes said yes. When he repeated the survey biannually for the next decade, the results were always the same. About half of the athletes were quite ready to take the bargain.
Only recently did researchers get around to asking nonathletes the same question. In results published online in February, 2009 in the British Journal of Sports Medicine, exactly 2 of the 250 people surveyed in Sydney, Australia, said that they would take a drug that would ensure both success and an early death. "We were surprised," James Connor, Ph.D., a lecturer at the University of New South Wales and one of the study's authors, said in an e-mail message. "I expected 10-20 percent yes." His conclusion, unassailable if inexplicable, is that "elite athletes are different from the general population, especially on desire to win."
Check back later in the week for Sailing Anarchy's carefully researched and written onclusion on the water problem.  And in the meantime, let's give new ISAF CEO Peter Sowery some props for at least getting a threat to move the racing on record.
August 24th, 2015 by admin
With so many Olympic sailors having grown up as part of the SA community, we're especially pissed about the continuing mess in Guanabara Bay, Brazil. Longtime sailing cheerleader Glenn McCarthy is staying on top of it with one smart solution; we pulled this piece from Chicago Now.
HOW HARD IS IT TO MOVE A VENUE?
Years ago, a sailing event in Springfield, IL ran out of water in their lake due to drought, within two weeks, they had it rescheduled at Lake Geneva, WI some 250 miles away.
People who sail iceboats retain flexibility as a way of life.  A few years ago their World's Championship was scheduled to be held in Minnesota, they held out hoping for cold to freeze their lakes, with less than a week to go, they shifted their World's Championship to the Finger Lakes region of New York, 1,000+ miles away.
There are at least two open ocean venues where major regattas in Brazil have been held, one is 2 hours, 75 miles, away from Rio, another 4 hours away.  Having the sailing portion of the Olympics/Paralympics away from the host city is not uncommon.  In the 1996 Atlanta, GA Games, the sailing venue was 250 miles away in Savannah, GA.  At the 2008 Bejing, China Games sailing was held in Qingdao, China some 430 miles away.  In the 2012 London Games, sailing was in Weymouth, England about 135 miles away.
Sure moving the Olympics and Paralympics might be a tad more work, but there is over one year to do it.  That is ample time.  Rather than scrambling for housing for the competitors and race officials, a cruise ship can be rented and anchored off the beach.  A cruise ship is a floating city and can provide housing, meals, medical facility and lighters/tenders for shuttling people back to the shore.  A cruise ship was rented recently for housing for a convention in San Francisco recently.  Security can be done with a couple of Navy boats around the cruise ship.  Problem solved.
April 14th, 2015 by admin
At this point, former Oracle Team USA grinder and 5-time AC sailor Matty Mitchell's allegations against the AC34 jury and fellow competitor Simeon Tienpont are all he said/she said at the moment, but take a few minutes and listen to what the Kiwi has to offer in this excellent interview with NZ Channel 3.  He's believable as hell, and his story is frightening.  Railroaded by ISAF, burned at the altar by his team, and stabbed in the back by a lying crew mate – and now he's fighting back.  Collusion, blackmail, all sorts of nasty shit – given the way ISAF has been conducting itself lately, anyone surprised out there?  And then there's the part Oracle played…but that's another story.
It's great to see an honest discussion rather than the media-trained corporate speak we've gotten used to from Cuppers; we're hoping to speak to Matty soon, but we're not sure we need to after this comprehensive chat! Want to know more or share your view?  Hit the thread in America's Cup Anarchy.
February 6th, 2015 by admin
The anonymous piece We Suck published earlier this week contained a little tidbit you might have glossed over; the end of Paralympic sailing.
On 31 January, the International Paralympic Committee announced that Sailing got the boot from the 2020 Tokyo Olympics.  The RYA immediately posted a statement decrying the decision and announcing their willingness to help try to reverse it.  US Sailing published President Tom Hubbell's willingness to do the same.  Yet the reasons behind this big move remained largely secret – until ISAF published their own response nearly a week after the fact.  As usual, 'getting ahead of the story' to ISAF means something different to ISAF than the rest of the world.
For those who delight in ISAF's lunacy (and it's been getting almost laughably dysfunctional lately), have a look at the ISAF statement.  ISAF takes over the IFDS in November, and two months later, the IPC gives sailing the ease.  Coincidence, or yet another example of ISAF's 'reverse midas touch'?  You know how it works: Everything they touch turns to shit!
The ISAF Disabled Sailing Committee (IFDS) is profoundly disappointed by the decision of the International Paralympic Committee (IPC) to exclude sailing from the Tokyo 2020 Paralympic Games.

IFDS responded in a timely and comprehensive manner to queries from IPC, with details of sailors that participate regularly in international regattas or national championships, on Paralympic boats. IFDS ensures an extensive quadrennial program of international competitions replicating the Olympic Program organized by the International Sailing Federation (ISAF), including ISAF Sailing World Cup. IFDS sanctions and organizes yearly Combined World Championships in the Paralympic classes.

Development has resulted in the regular addition of new countries to competitive sailing. The process of merging with ISAF (with a membership of 139 Member National Authorities) was completed in November of 2014, with the main aim of opening a whole new field for the development of disabled sailing. During the period of pre-merging, ISAF always respected the independence of IFDS decisions. Through ISAF's development programmes, worldwide participation initiatives and event structure, the opportunities for disabled sailing are better than ever before.
February 5th, 2015 by admin
ISAF's Classification Code governs the Pro or Amateur status of every ISAF Class sailor in the world, and it's been a huge mess for most of the new millennium.  The 2009 changes to the code eliminated the dubious "Cat 2″ category and took a small step to reducing the perceived widespread fraud and cheating rampant in classes like the Farr 40 and Melges 32, but the existing system still relies on an 'on our honor' database system along with a few classification czars who travel to  world and continental championships to interrogate sailors and hopefully catch the bad seeds.  Nearly everyone in grand prix sailing has seen how poorly the system works, and that fact, combined with the massive expenses involved (ISAF spends a small fortune to keep the database and application system running, and individual events have to eat the substantial costs of ISAF officials' attendance) and the shrinking size of most every grand prix fleet needing Classification has finally gotten the ISAF Executive Committee to make a move to eliminate the Classification Code altogether.  The proposal offers to guide classes that wish to use such a system with proposed regulations, but recognizes that it's really something that should be done by those who know the class rather than an organization that hasn't got a clue.  
Lazy Class Administrators will hate this one, but we support it wholeheartedly because it's the only way we'll see a change.  And given our faith in crowdsourcing, we expect some classes to come up with innovative and creative solutions to classification that will make sense for the future of the sport.  Discuss the new proposal in the thread, and have a look at Peter Huston's summary of 'how we got here' for some more background.
Go back to the mid-80′s when Dave Ullman wrote an article for Sailing World called something like "Get the pros out of sailing".  What he said was that it was absurd that he could, as the owner of a growing sailmaker, take his loft employees with him on a MORC or PHRF race as his complete crew.  He knew it was a death march.  So, along the way SoCal PHRF created the Marine Industry Racer rule.  It worked pretty well.  Guys that worked for a loft were easily identifiable.
About the same time prize money was just starting in the US with the Ultimate and Pro Sail series.  At the time, the IOC did not allow "professionals" to compete in the Olympics.  So, USYRU set up the US Professional Sailing Association.  Essentially, it was a way to "cleanse" the prize money for people who competed in these two series.  The prize money was paid to USPSA, who then in turn gave it to that sailors campaign fund.
Then the IOC changed their pro rule, so the need to "cleanse" the prize money went away (at almost the same time both series collapsed anyway).  USYRU had in the meantime created the Group 1, 2, 3 thing.  At the time, it was by far mostly about sailmakers.  But there was no way to administer the list.
Case in point, I sailed in two events in Long Beach on successive weekends.  Same sailor in those two events was categorized as a 1 and a 3 on successive weekends.  I called Ullman the Saturday night of the second weekend when the guy was suddenly a 1.  I said "so Judge X says your guy is a Group 1 guy".  Ullman just laughed and said "nope, he's a 3, I sign his check every week".  But nothing happened that weekend, and the Group 3 guy got away with it, blessed by the US Sailing Judges at that event.
It seemed we needed a database of who was a 1, 2, 3.  I went to the US Sailing AGM in Cape Cod in '94, and started to promote this idea.  Got tons of resistance, not the least of which was from then SW publisher John Burnham, and Bob Johnstone.  We were at a post meeting party the Saturday night of the AGM at John Osmond's house.  I sat with Burnham and Johnstone and explained what I was thinking.  Eventually, Burnham said "ok, write an article about this" and Johnstone, as he always does, listened and eventually saw the wisdom of it.  It was going to help is brand a lot, and it did – starting with the 105 class.
After the article was published, I called then US Sailing Pres Dave Irish and told him I'd raise my hand and run a new entity that was needed to get this all organized.  At the time, I was President of what was left of USPSA.  We had no real reason for being after the change of the IOC pro rules, and I was either going to find a way to create some sort of value, or close it down.  I wasn't interested in trying to be a "sanctioning" body only, and charge events fees just because.
Irish said "dumb idea, we don't need this list, too costly to maintain ect".  We closed down USPSA, and I dropped the idea of a Group 2 and 3 list.
Then, as Irish is leaving office, he appoints himself as the eligibility czar, sets up the Group 2 and 3 structure and CHARGES Group 1 people $25 to have their virginity blessed.  I cringed, thankful I had nothing to do with that.  Eventually that nonsense stopped, and the list sort of worked, sort of.
But how does an event that is run in the US know anything about who was a really a sailmaker or whatever in Italy or whereever?  Impossible.
In the early "00′s, then ISAF Pres Henderson called me for all the background on how the US started the list.  I told him.  He asked me if I cared if ISAF took over the responsibility.  I had no dog in the hunt, and told him good luck.  Now we have guys in Dragon's, Etchells, J70′s, various Melgi classes etc. paying people a couple of hundred bucks a day (or a lot more in a few cases) to pull ropes for them.
How exactly does ISAF propose to monitor who is paying who?   While the notion of this list is worthwhile, it is simply unenforceable.
Besides, it is often less expensive to pay people to sail than it is for an owner to have to appease the Group 1 guys.  As the longtime Farr 40 Class saying goes: "Best amateurs money can buy!"
ISAF and US Sailing (and probably a ton of other MNA's) are becoming mostly just regulatory and taxing authorities.  They do not provide added value for sailors.  One of the biggest problems with the current system, and all of ISAF, is that pro sailors have almost zero voice within the organization.  The "athlete's council" (or whatever it is called) is there only to serve Olympic sailors.
Everyone knows in which classes people get paid to sail.  The sport tends to be self-selecting.  If you want to sail in a class where people pay others to sail, everyone knows where that is.  If you don't want that, you also know where to look.
The smart classes who want some sort of system to identify paid sailors will get together and figure it out on their own.  They are best served by keeping ISAF out of the equation.
September 24th, 2014 by admin
UPDATE:  In response to this story and the volume of emails received by Key West Race Week organizers, Amendment No. 1 (NOR 2.4) permitting elastic or wool bands for spinnakers has been withdrawn.  Kudos to all of you who reached out to them, and for Peter Craig for doing the right thing; it's up to all of us to make sure our own regattas follow suit.  Even if you don't take it seriously, note that the USCG does, and just one photo of a banded kite will land you a DSQ and a good chance of a nasty fine.  Your competitors aren't going to let you get away with it either; if their hoists are tougher because of Rule 55, yours had better be, as well.  
Key West Race Week Chairman Peter Craig last week further cemented his reputation as the most out-of-touch race officer we know, issuing a NOR amendment that directly contradicts the kind of environmental responsibility so embraced by not only ISAF, US Sailing, the America's Cup and basic common sense, but by dozens of the sport's newest sponsors and supporters.
We're talking about Craig's amendment last week of Rule 55, the prohibition against tossing trash into the water that ISAF clarified earlier this year as including sail stops – rubber bands or wools. NOR Amendment No. 1 suspends this ban, specifically allowing both "elastic and wool bands" to be discarded into the pristine, federally-controlled No Discharge Zone of the Florida Keys.
There's been plenty of discussion of Rule 55 already, but even the most pollution-loving dickbag would agree that tossing dozens of rubber bands into some of America's most environmentally sensitive waters ain't the right thing to do. And biodegradable wool stops are no solution at all; maybe suitable for racing out in the ocean, but a few dozen big boats just a couple of miles offshore throwing dozens of wool stops into the sea at every mark rounding is not only nasty for the reefs; it's against both Federal and Florida Law, with major fines and penalties.   We've all seen the required pollution placards on our boats, specifically telling everyone that trash doesn't go in the water; did you really think the laws that keep you from throwing coffee grounds or orange peels into the sea somehow allow you to toss rubber bands or rope strips into the same water? And what does the USCG think about all this? Is it really possible that KWRW included this info on their Marine Event Permit?
The biggest new source of sponsorship for the sport worldwide is coming from either clean energy/green manufacturing companies or businesses looking to associate themselves with the environmentally friendly image that sailing represents. And here comes Key Waste, screwing not only the reefs, but also the hundreds of events, classes, and organizations that have worked so hard to create awareness and educate sailors and the public on being good custodians of our playground on the water.
What do you think of this policy? Should we just tell the reefs, wildlife, EPA, and USCG to harden the fuck up, or does Key West Chairman Peter Craig need to man up and tell his competitors to learn to set a kite without training wheels? You can comment here, or e-mail the organizers here.
UPDATE:  SA'er dcsheb notes that other races aren't much better; for instance, the Sydney-Hobart similarly alters Rule 55 to allow 'banding/tying of spinnakers', and while open ocean distance races may cause less environmental impact than buoy races next to coral reefs, we still don't understand how, in this day and age, anyone thinks tossing rubber bands or synthetic fiber over the side is any different than a cigarette butt or a plastic wrapper.
December 30th, 2013 by admin
Well, there you have it, folks.  ISAF has shown that it knows exactly where its bread is buttered, once again selecting olympic class sailors over everyone else for the sport's highest honor.  Out of 40 recipients of the award since its inception, this marks the 25th and 26th time that Olympic class dinghy sailors have won.  This year's pick:  I-470 helm Mat Belcher and I-470 helm and crew "Jolly" as its male and female 'World Sailors of the Year'.  That's the same ISAF that, without funding from the International Olympic Committee and IOC partners,  would consist of three old guys in an office wearing blue blazers and nice watches.
Neither of the teams selected for the award won an Olympics during the qualification period, because there was no Olympics.  So what, exactly, did they do?  They won their respective dinghy class Worlds in 2013, along with some other ISAF-pimped events that no one in the world – except for 470 sailors and their families – cares about, or will ever care about.  Yes, they are great sailors, the best in the world in their classes.  But the World Sailors of the Year?  Gimmeafuckingbreak.
Hey, at least ISAF is consistent. Consistent in their ability to screw up anything they touch.
New name suggestion for next year's award?  The 2014 ISAF WORLD SAILOR OF THE YEAR PRESENTED BY THE INTERNATIONAL OLYMPIC COMMITTEE®.
November 12th, 2013 by admin
Mad Men
It doesn't matter how lazy, nepotistic, incompetent, or corrupt you think ISAF is; its World Sailor Of The Year award is still the biggest honor that can be bestowed upon a sailor for his or her performance over the course of a year.  So it's kind of a big deal (even though you win some shitty mid-range watch as an award).  The public nominated the slate of potential awardees, but of course the only voting happens at this week's ISAF meeting in the bastion of yachting that is Muscat, Oman.
We think it would be a miscarriage of justice if anyone besides Paul Larsen wins the men's award this year.  To so utterly destroy the most important record in the sport (by 20%!), and then go on to sail a recreation of Shackleton's voyage weeks later, is just incredible.  Adding to all that is Larsen's undeniable stature as one of sailing's best communicators and cheerleaders; he does more for the sport every time he gets in front of a news camera (and it happens a lot) than any other talking head.
Francois Gabard's accomplishment winning the Vendee at age 29 could have landed him the award, but ISAF delegates don't like the French; you'll note that no French man has ever won.  Besides, he'll get one when he breaks Francis Joyon's solo RTW record with his new boat in a couple of years.  As for the rest of them, Heineken's accomplishments are awesome, but in a discipline that's in its infancy with extremely inconsistent competition.  Williams wins the WMRT in a year when much of his best competition is racing catamarans.   And Matt Belcher had some kind of good results in something called a 470, whatever that is.  Go Larso!
Pro-Choice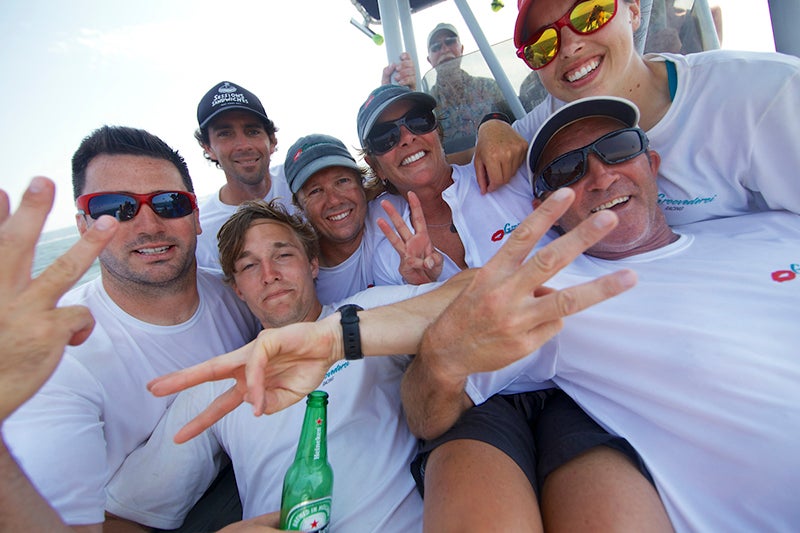 For the women, the choice is even easier; Deneen Demourkas dominated the Farr 30 Worlds, becoming the first 3-time World Champion in the class, beating some of the world's top male owner/drivers and tacticians in the process.  She also brought the class back from the brink of disaster, leading it to new growth in the US as well as Southern Europe and Scandinavia.
Competing with Deneen for the award is a Omani girl whose sole accomplishment seems to be that she is female and a sailor (quite an accomplishment in arabia, but still), another course-racing kiteboarder (same family name as Johnny, same reason she shouldn't win), and a couple of girls that got some kind of good results in something called a 470, whatever that is.
So there you have it:  The two sailors that should, without a doubt, win this year's mid-range luxo-watch.
And all joking aside, every one of these nominated sailors wins our respect.
November 12th, 2013 by admin