Posts Tagged 'ISAF'
UPDATE:  In response to this story and the volume of emails received by Key West Race Week organizers, Amendment No. 1 (NOR 2.4) permitting elastic or wool bands for spinnakers has been withdrawn.  Kudos to all of you who reached out to them, and for Peter Craig for doing the right thing; it's up to all of us to make sure our own regattas follow suit.  Even if you don't take it seriously, note that the USCG does, and just one photo of a banded kite will land you a DSQ and a good chance of a nasty fine.  Your competitors aren't going to let you get away with it either; if their hoists are tougher because of Rule 55, yours had better be, as well.  
Key West Race Week Chairman Peter Craig last week further cemented his reputation as the most out-of-touch race officer we know, issuing a NOR amendment that directly contradicts the kind of environmental responsibility so embraced by not only ISAF, US Sailing, the America's Cup and basic common sense, but by dozens of the sport's newest sponsors and supporters.
We're talking about Craig's amendment last week of Rule 55, the prohibition against tossing trash into the water that ISAF clarified earlier this year as including sail stops – rubber bands or wools. NOR Amendment No. 1 suspends this ban, specifically allowing both "elastic and wool bands" to be discarded into the pristine, federally-controlled No Discharge Zone of the Florida Keys.
There's been plenty of discussion of Rule 55 already, but even the most pollution-loving dickbag would agree that tossing dozens of rubber bands into some of America's most environmentally sensitive waters ain't the right thing to do. And biodegradable wool stops are no solution at all; maybe suitable for racing out in the ocean, but a few dozen big boats just a couple of miles offshore throwing dozens of wool stops into the sea at every mark rounding is not only nasty for the reefs; it's against both Federal and Florida Law, with major fines and penalties.   We've all seen the required pollution placards on our boats, specifically telling everyone that trash doesn't go in the water; did you really think the laws that keep you from throwing coffee grounds or orange peels into the sea somehow allow you to toss rubber bands or rope strips into the same water? And what does the USCG think about all this? Is it really possible that KWRW included this info on their Marine Event Permit?
The biggest new source of sponsorship for the sport worldwide is coming from either clean energy/green manufacturing companies or businesses looking to associate themselves with the environmentally friendly image that sailing represents. And here comes Key Waste, screwing not only the reefs, but also the hundreds of events, classes, and organizations that have worked so hard to create awareness and educate sailors and the public on being good custodians of our playground on the water.
What do you think of this policy? Should we just tell the reefs, wildlife, EPA, and USCG to harden the fuck up, or does Key West Chairman Peter Craig need to man up and tell his competitors to learn to set a kite without training wheels? You can comment here, or e-mail the organizers here.
UPDATE:  SA'er dcsheb notes that other races aren't much better; for instance, the Sydney-Hobart similarly alters Rule 55 to allow 'banding/tying of spinnakers', and while open ocean distance races may cause less environmental impact than buoy races next to coral reefs, we still don't understand how, in this day and age, anyone thinks tossing rubber bands or synthetic fiber over the side is any different than a cigarette butt or a plastic wrapper.
December 30th, 2013 by admin
Well, there you have it, folks.  ISAF has shown that it knows exactly where its bread is buttered, once again selecting olympic class sailors over everyone else for the sport's highest honor.  Out of 40 recipients of the award since its inception, this marks the 25th and 26th time that Olympic class dinghy sailors have won.  This year's pick:  I-470 helm Mat Belcher and I-470 helm and crew "Jolly" as its male and female 'World Sailors of the Year'.  That's the same ISAF that, without funding from the International Olympic Committee and IOC partners,  would consist of three old guys in an office wearing blue blazers and nice watches.
Neither of the teams selected for the award won an Olympics during the qualification period, because there was no Olympics.  So what, exactly, did they do?  They won their respective dinghy class Worlds in 2013, along with some other ISAF-pimped events that no one in the world – except for 470 sailors and their families – cares about, or will ever care about.  Yes, they are great sailors, the best in the world in their classes.  But the World Sailors of the Year?  Gimmeafuckingbreak.
Hey, at least ISAF is consistent. Consistent in their ability to screw up anything they touch.
New name suggestion for next year's award?  The 2014 ISAF WORLD SAILOR OF THE YEAR PRESENTED BY THE INTERNATIONAL OLYMPIC COMMITTEE®.
November 12th, 2013 by admin
Mad Men
It doesn't matter how lazy, nepotistic, incompetent, or corrupt you think ISAF is; its World Sailor Of The Year award is still the biggest honor that can be bestowed upon a sailor for his or her performance over the course of a year.  So it's kind of a big deal (even though you win some shitty mid-range watch as an award).  The public nominated the slate of potential awardees, but of course the only voting happens at this week's ISAF meeting in the bastion of yachting that is Muscat, Oman.
We think it would be a miscarriage of justice if anyone besides Paul Larsen wins the men's award this year.  To so utterly destroy the most important record in the sport (by 20%!), and then go on to sail a recreation of Shackleton's voyage weeks later, is just incredible.  Adding to all that is Larsen's undeniable stature as one of sailing's best communicators and cheerleaders; he does more for the sport every time he gets in front of a news camera (and it happens a lot) than any other talking head.
Francois Gabard's accomplishment winning the Vendee at age 29 could have landed him the award, but ISAF delegates don't like the French; you'll note that no French man has ever won.  Besides, he'll get one when he breaks Francis Joyon's solo RTW record with his new boat in a couple of years.  As for the rest of them, Heineken's accomplishments are awesome, but in a discipline that's in its infancy with extremely inconsistent competition.  Williams wins the WMRT in a year when much of his best competition is racing catamarans.   And Matt Belcher had some kind of good results in something called a 470, whatever that is.  Go Larso!
Pro-Choice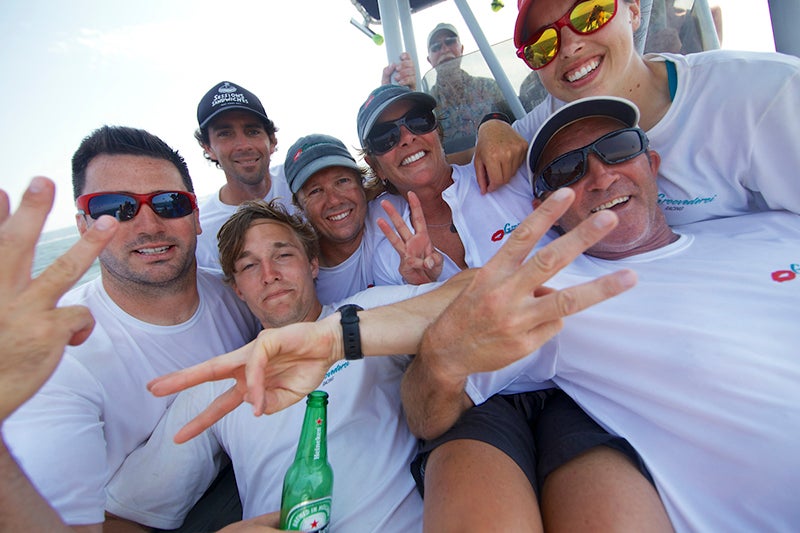 For the women, the choice is even easier; Deneen Demourkas dominated the Farr 30 Worlds, becoming the first 3-time World Champion in the class, beating some of the world's top male owner/drivers and tacticians in the process.  She also brought the class back from the brink of disaster, leading it to new growth in the US as well as Southern Europe and Scandinavia.
Competing with Deneen for the award is a Omani girl whose sole accomplishment seems to be that she is female and a sailor (quite an accomplishment in arabia, but still), another course-racing kiteboarder (same family name as Johnny, same reason she shouldn't win), and a couple of girls that got some kind of good results in something called a 470, whatever that is.
So there you have it:  The two sailors that should, without a doubt, win this year's mid-range luxo-watch.
And all joking aside, every one of these nominated sailors wins our respect.
November 12th, 2013 by admin