Posts Tagged 'irma'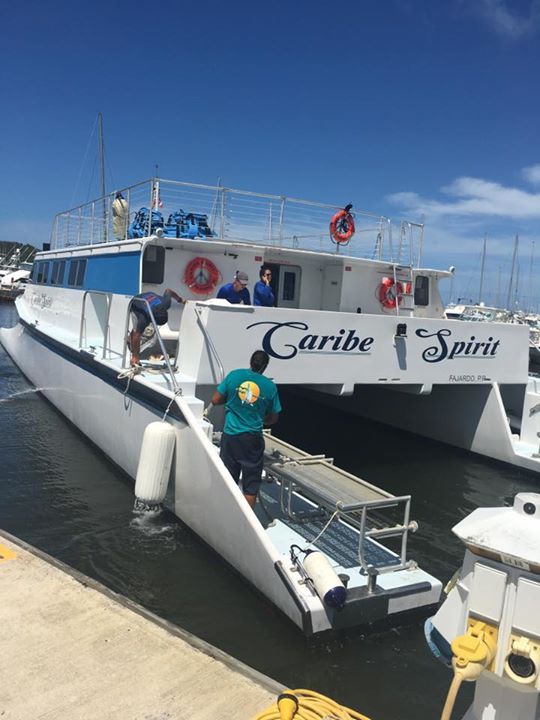 After what has seemed like months of churning, Hurricane Irma is no more. Downgraded to a Tropical Storm on her inland jaunt through Trump country, Irma's legacy will be years of rebuilding throughout the Caribbean and Florida.  While most of the Sunshine State escaped the worst-case scenarios, we all understand that a small shift in her track could have decimated the built-up centers of Tampa or Miami on an unprecedented scale.
Unfortunately, that decimation happened in St. Martin, Anguilla, Barbuda, St. Barts, the Turks and Caicos, and the US and British Virgins (and a few other islands), and the effort is just getting underway to help people who won't have communications, power or water for weeks. We've been following several relief efforts, but the most awesome info comes from Gunboat exec Nils Ericson and the folks at East Island Excursions, who've organized a Virgin Islands to Puerto Rico evacuation effort they've nicknamed 'Operation Dunkirk'.  Please donate here to help the effort, and here's an update from last night.  UPDATE: The New York Times picked up the PR rescue story here. UPDATE 2: A smaller effort led by yacht hauler John Woodruff is on its way south to begin digging out Florida boats and yacht clubs; donate money or gear here.
By today's end we will have organized a total of 7 trips to STT/STJ, delivering over $20k in supplies and evacuating about 300 people. Tomorrow, we have 6 (!) more boats delivering supplies and evacuating another +/-300 folks.
We have set up tents to serve as staging areas for supplies. If anyone wants to send supplies, send it to us here at Puerto del Rey marina in Fajardo. We'll make sure it gets to the right island. We depart daily around 8am and can transport whatever or whoever is going (more or less). PM me for details.
The crew here at East Island Excursions are working doubles and skipping days off to get it done. They're an inspiring group, ably led by Jayanne McLaughlin.
I don't see a horizon yet. The reports from people on the ground is totally heart-wrenching, and normalcy is seemingly NOT returning. The gov't in the Virgin Islands has failed the people and outside help is still needed. Fajardo is virtually 100% intact, the fuel docks have fuel, and flights are operating out of San Juan airport.
Today, private flights were allowed in and out of STT today. Hopefully the St. Thomas airport will reopen to commercial traffic soon and ferries will begin normal operation (relieving us of duty) but for now we plan to stay on the throttle.
I'm hoping to get up the road tomorrow to STJ and get eyes on my house and Soma, and hug some friends. It feels selfish to think of my own needs, but I have to say goodbye to Sailboat Soma in person.
And another update from this morning:
Alright St. John, we are coming to get you! We have departures organized throughout the day, and throughout the week. Be patient, be kind, work together, women and children first. You will ALL get off, we aren't stopping until everyone is safe and secure. To stateside family, do what you can to spread the word to your loved ones on island. If anyone on island gets this message, spread the word. We won't get everyone at one time, so please be patient. We want to fill every seat, but we want it to be a safe process for everyone. Love city.
PS: we have taxis, shelters, generous folks offering their homes, food, water, and big hugs waiting for you on the other side. See you soon.
TOMORROW'S EVAC SCHEDULE!!!
Island Flyer (40 pax): 9-10am, Cruz Bay to PR
Caribe Spirit (70 pax): 9-10am, Cruz Bay to PR
Bad girl (24 pax): 12pm, Coral Bay to STX
Betty Ann (36pax): 12:30-2pm, Cruz Bay to STX
Milemark (36pax): 12:30-2pm, Cruz Bay to STX
Adventurer* (~40 pax): 2:30-3:00pm, Coral Bay to STX
September 11th, 2017 by admin
Per, of all people, Richard Branson's kid Sam. He's written a solid damage report for the BVIs that's frightening, though perhaps most frightening is that we cannot find a single current report or photo from all of Anegada, which would have taken some of the worst conditions of all.  Branson writes:
I'm just updating as we learn more…No cell, power or wifi coverage in Virgin Gorda. East End of Tortola without power.  [Cell providers] LIME, CCT, and Digicel partially up on Tortola.  Road Town is flooded with many roofs ripped off.  Moorings looks bad from pics I've seen, and Paraquita Bay is really bad.  Heard Marina Cay is bad too, but people starting to mill around. Lots of debris, so with the wind everyone needs to still be careful.  Even Scotial Bank and Pusser's in Road Town are destroyed.  Branson is OK on necker, but lots of damage to the island.  Ivan's on Jost Van Dyke is destroyed, as are adjacent buildings it appears.  Trellis bay damaged but people are safe.  Sugar Mill Beach Bar is gone, and the hotel roof is off, but thankfully bpeople are safe.  Tamarind Club people are safe at Josiah's Bay.  Virgin Gorda has no power, wifi, or cell, but Oil Nut Bay has a bunker of people that are safe.  Peter Island peeps are OK but island is wrecked.  All at Scrub Island are safe.  Everyone evacuated to police station during the eye [not sure where he is referring here].  Roof is off Myett's and Quito's is gone.  Carrot Bay is flooded.  Nanny Cay has boats piled atop each other.  Leverick Bay dock in VG is gone.  Eustacia Island [wrecked, but peeps safe].
September 7th, 2017 by admin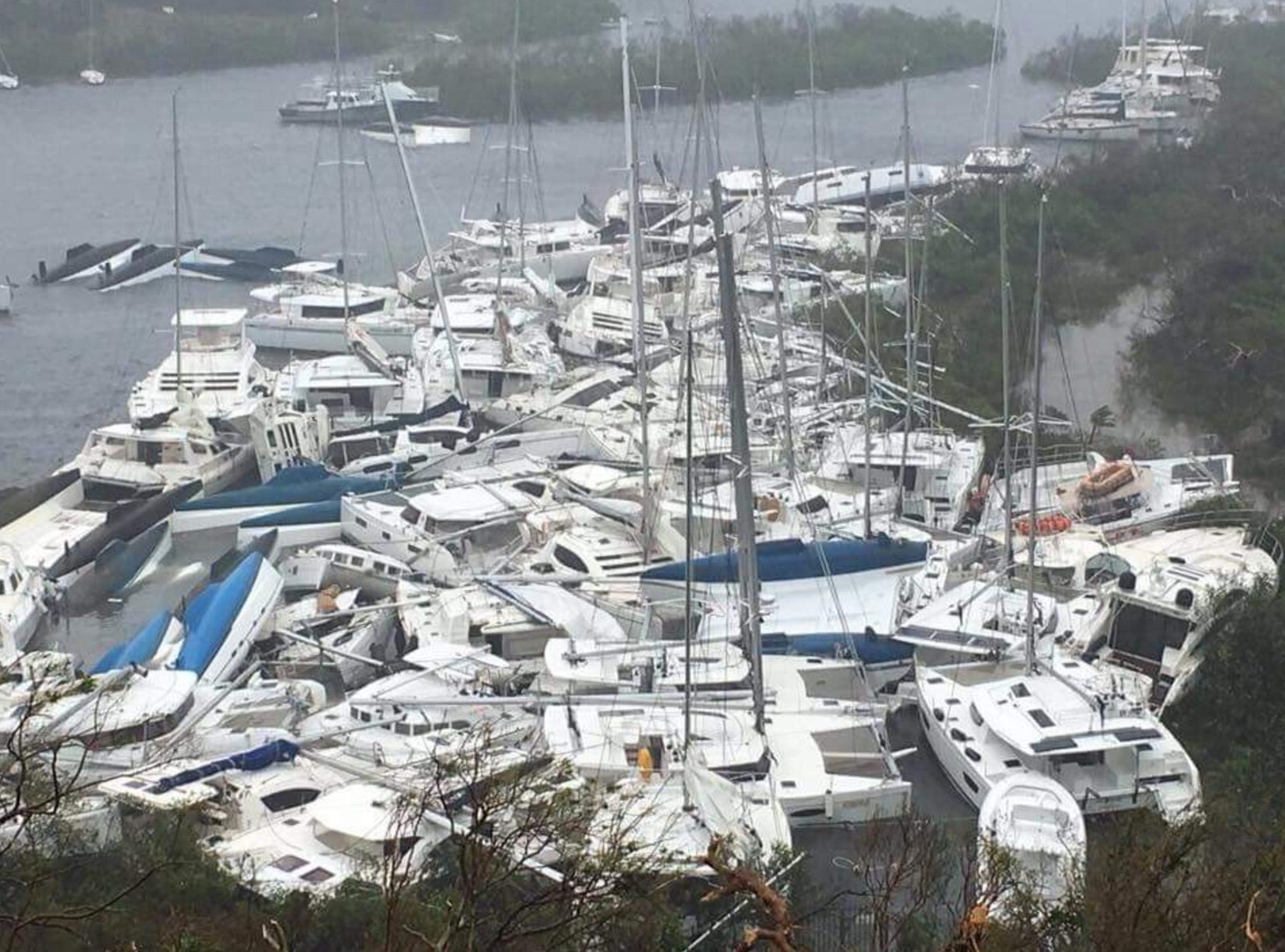 The BVI charter companies loaded up well-known Tortola hurricane hole Paraquita Bay over the past few days, and here's how it looked this morning.  Goddamn.
September 6th, 2017 by admin
With Antigua and Barbuda getting a glancing blow, St. Maarten and St. Barts taking direct eyewall hit, and the BVIs, St. Thomas and Puerto Rico all sitting inside the 100+ knot zone right now, it's almost like Hurricane Irma hates Caribbean yachting and is teaching it a lesson.  It's a sad day for St. Barts (seen in the photo to the left), which local officials called 'apocalyptic' and SXM, where locals
said most of the boats are 'just gone.'  We've had reports from the East side of Puerto Rico, where winds are just starting to get serious, and St. Thomas, where the worst is now overhead, and locals are less worried about boats and marinas than they are about how to deal without water and power for the days or weeks it may be gone.
South Florida is also a chaotic mess, with precisely zero outbound plane tickets left from MIA and FLL for any location, and all interstates loaded up with outbound traffic.  We send our thoughts to all of you in the shit – or about to be – and encourage you to post in the SA forums to share your experiences with the others dealing with it.
September 6th, 2017 by admin
Caribbean, Bahamas, or Eastern Seaboard: Any or all of you could be in the path of a beastly storm, so plan ahead: Get your stuff out of the water or tied up in a mangrove, get your home ready, and make sure you have a way out for you and your family.  Thanks to physicist and meteorologist Levi Cowan for the web's best hurricane forecasts.
Updates in the thread.
September 3rd, 2017 by admin