Posts Tagged 'international moth'
Amid calms, gales, controversy and carnage, the 2015 Moth Worlds has become an easy target for criticism. From a fleet that was arguably too big and star-studded to manage, to a struggling race committee, to weather that refused to cooperate for days on end, to a multi-time world champ getting run down by a CNN media boat, almost everything that could go wrong in this regatta has. None of that seemed to matter after Thursday however, when beautiful Sorrento and Port Phillip Bay twisted up the good stuff for this record-setting fleet with flat water and 25 knots in the sun, allowing the race committee to run four races in the Gold Fleet and three for the Silver Fleet. With just one race sailed during the past three days, day five of the Moth Worlds was a critical juncture for both the organizing club and the sailors alike; those on point solidified a good regatta while those that floundered have watched their championship hopes slip away. As the last remnants of a low moved east across the region on Thursday morning, the rain cleared out almost on cue to allow the fleet to get an early 1100 start, and it was game-on from the get go. Defending Moth world champion Nathan Outteridge and current regatta leader Peter Burling squared off for the first time in this Moth Worlds, hooking up to engage in a long-awaited battle at the front with the young Kiwi crashing ass-over-teakettle on the second downwind leg to relinquish a valuable point to Outteridge as the battle for the world title has taken focus. From there on out it was all Burling however, with the future skipper of Emirates Team New Zealand going lights out with a downhill advantage over everybody to score three straight bullets and stake his defining claim to ownership of this championship regatta. With Moth specialists Josh McKnight and Chris Rashley alongside America's Cup stars Outteridge, Burling, Draper and Slingsby consistently going head-to-head in 15-25 knots of breeze and full-on flat water boat speed conditions to contest the top five, the incredible competition that we have long anticipated from this regatta has finally begun to materialize in the final two days.
'Slingers' broke a foil on the way to the race track to miss the first race but came back to show blistering upwind speed, sailing on his light-air foils, though a DNF in the first race and UFD over-early in the second race saw his chances at a good finish in the worlds slip away. Peter Burling is close to having this Moth Worlds win wrapped up, he needs two decent races and he's got it. While numerically any one of the top three can grab the win, as long as Burling doesn't suffer a major gear failure, we can't see how he'll lose it. Nathan Outteridge sits in a solid second place, while the final podium position is well and truly up for grabs, with Aussie Josh McKnight battling pommy rivals "the Chrisses" (Draper and Rashley) in an effort to make it a southern-hemi clean sweep of the podium.
US top gun Bora Gulari was uncharacteristically off the pace Thursday, apparently both shaken up and lacking in boat speed after being run over by Shirley Robertson and the CNN Mainsail bunch, watching his chances at a good worlds fade to black. To add insult to injury, Robertson and her boats' driver didn't even agree on their story in the room, with the driver claiming they were filming, and Shirley saying they (conveniently) weren't. Thanks to the self-serving testimony, Gulari got screwed out of redress, and the international clown court said the crash was partially his fault. Motor boat vs. sailboat…unfuckingbelievable, and we had multiple reports of the same asshats refusing yesterday to help a stricken sailor waving his hands in the international distress signal. Yet another American got completely screwed yesterday; event videographer Beau Outterridge apparently didn't know how the finish line worked, and he was directly in front of US Class President Matt Knowles as Knowles rolled around the mark to head upwind for his final lap. The whole media thing is shocking; who would ever have thought that it would be Robertson/CNN and young Outerridge wrecking regattas while the SA media boats are the responsible ones.
Top American and perhaps the most over-achieving sailor at this worlds right now is one-design rockstar Anthony Kotoun who is having an incredible regatta to sit in seventh place with a realistic shot at the top five going into the final day. There's great battles all over the fleet with Mach 2 builder Andrew McDougall leading the Masters division, 17-year old Italian Gian Maria Ferrighi leading a big juniors fleet (his twin brother sits a bit deeper) and local Mothie Samantha England leading a close battle over Irish Olympic radial sailor Annalise Murphy and Japanese Olympic hopeful Wakoko Tabata for top women's honors. You can check out interviews with all these cats on Facebook or with links in the forum.
What will happen on the last day of the Moth Worlds? The hell if we know, but already, the Silver Fleet has been AP over A'd thanks to the big breeze, and with a major NW'ly running against a fairly big tide, we can guarantee big carnage and the chance of a major gear failure at the top of the fleet, throwing the scoring into mayhem. Will Burling hold on to claim his first Worlds? Will he falter and somehow allow Outteridge an unlikely repeat? Can Bora stage some late-race heroics to move back up the board, passing Kotoun for top US spot after a worlds he'd likely rather forget? It's Finals Friday, bitches and there's only once place to be. And you know where you can watch it, right? More awesome photo work from Sander Van der Borch…check his Worlds galleries here.
January 15th, 2015 by admin
Repeat after me: Sailing ain't a spectator sport.  Yet another myth, busted, thanks to Petey Crawford and the Moths on the penultimate day of racing at the Moth Worlds.  One more day to go, and the dogs are already blowing down the beach, chains in tatters.
January 15th, 2015 by admin
SA and the US Moth Force is fitting right in with the bogan mentality; we've all got a little bit of redneck in us.  Here's a look at the fun and lack of sun on Day 1 of the Moth Worlds.  Petey Crawford, Sander Van Der Borch, and Sperry get the credit for this fun one.  Results over here.
January 10th, 2015 by admin
Ronnie Simpson, our resident writer, war/shipwreck vet, singlehanded racer, and now engineless cruiser landed in Melbourne just 3 hours ago, and he's already hit the ground running in SA's quest to bring every bit of the Moth Worlds to you.  If you're as stoked as we are to watch this epic event, go and thank our new mystery sponsor Sperry Top-Sider; who asked us a few months back: 'if you could cover any event, which would it be?'  Here's Ronnie to explain as only he can, and photo credit to Petey Crawford/Penalty Box Productions.

I feel a little like I've stepped into a Hunter S. Thompson novel. Clean's the lawyer, (no, seriously, the dude's passed the bar), I'm the wiry journalist nursing a tumbler full of Jim Beam behind a typewriter, and we're headed out West to cover a bunch of guys going really, really fast in a big, important race.  There'll be plenty of cocktails involved, loads of pranks and secrets and laughter, and someone may even get hurt. Only one thing's for sure; the next week and a half are going to be chock full of some of the most interesting, technical, and straight up insane boats and sailors, and the only place to see it all unfold live is right here on Sailing Anarchy.
Australia.  Originally settled by the English to house an overgrown convict population, it's a land so rugged that merely existing without dying proved a struggle for generations. An isolated island continent so full of land-and-water borne dangers that they've literally named a city after Darwin himself. A place where the average teenage girl can drink you under the table and the c-word can be a term of endearment, it's no wonder that Australians have earned a reputation as being a hearty bunch. Get in the water with the Aussies and engage in battle and they're nearly unstoppable, no matter the discipline. Home to professional surfing's first world champion, the first group of sailors outside the US to win the America's Cup and more foiling moths than anywhere else on the planet (including the defending world champion), it's only fitting that when the Moths decided to go off with their biggest Worlds ever, it would be held down under.
The Moth got its start more than eight decades ago in nearby Inverloch, based on the very ethos of being an open, box-rule 11-foot dinghy, and has since seen constant development across three different continents to become the foiling monsters that they are today, and the fastest dinghy in the world. With the America's Cup switching to foiling just two years ago and an unprecedented amount of resources being dumped into foiling-development, the class has surged in poularity to become the single most important dinghy class in the world, and as a result, everybody's here. Well, almost. Staying true to its roots of open development, we'll be seeing everything from beautiful homemade boats to bone-stock production moths to highly customized hulls, foils, control systems, aero, and rigs on the very cutting edge of technology.
With enough Olympic Gold present to fill Fort Knox, somewhere north of 160 entries and the deepest fleet of any moth race in history, the 2015 McDougall + McConaghy Moth Worlds are set to go off in a big way, and we're coming locked and loaded with video interviews, daily write-ups, sit-down talk shows, tech profiles, live racing feeds, kick-ass photos and more. Post your questions and feedback in the forums and we'll take it from there.  And don't forget about Sperry, where Odysseys Await.  Also a big thanks to Line Honors Yacht Racing Outfitters for supplying us with some last-minute shirts and hats – no one does it better and faster than Bobby, give 'em a call!
January 6th, 2015 by admin
This is NOT some high-end riggers supply drawer.  It's not the remains of four skiffs crashing into each other, either.  Nope – it's the meat in the middle of the modern Mach 2 Moth – the junction between flight and control.  With canting rigs added to the already silly amount of controls on the world's fastest dinghy, racing a Moth at the top end is tougher than it's ever been.  Meanwhile, racing around the bay is easier than ever, thanks to the same advancements that are helping the front of the fleet, like Zack Maxam, from whom we stole this shot.
With just under 160 entries, the 2015 Worlds are set to be not only the biggest ever, but the deepest as well.  And we'll be there to bring you every minute of it live.  Shhhhhh!  Don't tell anyone, but make sure you can stay up late for a few days in the middle of January…
December 11th, 2014 by admin
Past Moth World Champ (and Zhik Europe Manager) Simon Payne's annual 'form guide' has become something of a tradition in the history-rich class, and we're privileged to be able to share yet another one with you on the eve of the 2014 Worlds in England.  Enjoy this SA exclusive, and talk trash over here in the Moth Worlds thread.  Photo clipped from a Thierry Martinez/Sea&Co shot.
2014 sees the event come back to Hayling island for the first time since 1977, a year well known for the amount of splintered plywood floating freely in the bay…
Firstly and before you read this, let's just state something: Last year we humorously got 9 out of the top ten right, so those of you reading this and feeling a bit indignant about not being in the mix? Well, you can prove us wrong in two weeks' time.
So, the bay. Well, it's not that bad.  Really.   I've spent most of my life sailing here and the race area is truly one of the best on the planet…but the bar – the one you must cross to get to the race area? It's easy on the way out, but on the way in, you encounter steep, wall-like waves. And then it's about as hard as getting over a fence that's leaning towards you, or to use an analogy probably better understood by the Moth fleet, as hard as kissing a woman who is leaning away from you.  Carnage will no doubt ensue.
So without further ado, here is our top ten. Effectively you've just gone forward three weeks in time…maybe.
1st: Nathan Outteridge (AUS)
Amazing sailor. We watched him deliberately start late in Hawaii, so he was sure to be foiling at the start. Brilliance doesn't always win, but he came close. In Hawaii he was also tired after a long hard summer. Moths aren't his main focus at the moment either… but we suspect that as long as he's taking his potassium, he will have be a fist full of power, a rusty fist but still a fist. Favourite for no other reason than he's all round good, with no real weakness to his game.
2nd: Josh McKnight (AUS)
Got a winner's nose, nailed the Worlds in Garda and rumoured to be smoking on Lake Garda again as we write this. It could be two times for the 2012 Moth World Champion. Josh sails hard and plays hard too. In fact we suspect that he'll be a regular at quiz night in the Lifeboat inn by the end of the Worlds. Believes only in 1st place and is regularly hitting 18 knots upwind. Rumoured to be using solid carbon tramps, which will be good to review once he's out of A&E.
2nd: Bora Gulari (USA)
When Bora won the Worlds last year he won the Worlds for the second time. The brilliance of his win cannot be overlooked. It was the lightest foiling Worlds, and Bora being one of the heavier sailors did supremely well. He isn't known for being flash in waves, in fact he is more known for swimming in them, but in Hawaii he was arguably one of the heaviest sailors, and still nailed it. Popular too. In fact, as ghosted crossed the line in the last race in Kaneohe bay to win his second title, all the whales in the sea were singing "We are family". Note: now not coming in order to sail a handicap race in the US Midwest. Oh, the life of an AC sailor [-ed]
3rd: Rob Gough (AUS)
When we were younger, a guy invented a fighter plane that wasn't the fastest or the most manoeuvrable, but it was armour plated. The idea was that you couldn't knock the fucker out of the sky. God knows what it was like as the pilot, but enter Rob Gough. Bulletproof in waves. We really do think if Hayling kicks off this will be a "walk in the park" for the boy with the Southern Ocean on his doorstep. Fit, young enough to cope, and old enough to handle it. If Hayling is as Hayling does, then the trophy is Hobart bound. Guaranteed.
4th: Scott Babbage (AUS)
"We didn't start the fire; it was always burning since the world's been turning" Is it though? El Presidente is one of the fastest moth sailors on the planet. Close a few times and maybe now time is running out…. We are looking for that "back to the wall "I don't care what you got, I'm still going to beat you" attitude that comes from being edged out a couple of times too many, or from not enough fibre, freely associated with the obligatory Hayling Island Sailing Club Full English Breakfast.
5th: Rob Greenhalgh (UK)
Largely responsible for ending the global financial crisis, Rob is the majority shareholder in the European foil mountain that can be seen on Google Earth just north of Hamble. Clearly the best UK sailor at present, Rob has seemingly covered every base. Arguably you could put him favourite, but nothing is a cert; he wasn't the top UK sailor in Hawaii though, just letting a podium finish get away from him in the last couple of days. He will either be biting at the heels of the leaders, or clear in front, winning with a race to spare.
6th: Brad Funk (USA) 
Already with a couple of wild-eyed days in the Bay under his belt, Brad means business. Loaded with talent and endlessly fit, he exhibited remarkable control in practice over the bar, and he looks faaast! Whilst competent at boat work, a couple of times I have caught him looking at his adjustable wand with the same suspicion that an old person looks at a microwave… Anyway, if nothing breaks, and he's not trying to frantically rethread a control line through a cascade midrace, he will be with the leaders.
7th: Chris Rashley (UK)
European Champ. All round good. Rumoured to be a tenth off Rob Greenhalgh with very similar equipment. Trends are hard to stop in sailing and sometimes you have to break them by doing something different. Does he have anything up his (knitted) jumper? We will have to see, but super consistent at the two Worlds he's competed in, with two top ten finishes.
8th: Paul Goodison (UK)
The 2004 Laser Olympic Gold medalist has been working hard at his Moth sailing. A bit of an unknown quantity and not really raced yet, but history would suggest that Olympic medalists immediately impress, if, albeit at the first go they don't take the trophy home. If it's consistent – say 15 knots all week – Paul will be going fast. Importantly, and often overlooked in tuning runs, he'll probably be doing the same speed on the last beat too. He's fit, very fit. It's unnatural, but still… However, if it's up and down and you need to change gears a lot, he may not quite have the Moth experience yet.
9th: Chris Draper (UK)
May come dressed as the silver surfer and consequently would have been guaranteed to win at least the Mothapalooza – if it was still running… Still, the devil wears Prada and Chris has to be in the mix, yet our 49er bronze medallist is a little quiet of late. We think he will definitely have some major bling on his boat, perhaps from the "Sardinian Silver Skunkworks" occupied by the '09 and '13 world champ…We imagine that the process of creating foils to a time line is good practice for the AC teams! Top tip though mate, you will still need a roll of gaffer tape (which now comes in silver).
10th: Ben Paton (UK)
An amazing result in Hawaii '13 and thoroughly deserved. Ben spent some years sailing around without an adjustable rudder, and that, in British waters, identifies him as a man packing the kind of tackle that you'd normally expect to find swinging about between the hind legs of a Grand National winner. He's fearless, albeit in a "Stop, Forrest, Stop" kind of way. Not sure how much he's done of late and doesn't really seem to care about open meetings, fair enough.
Best of the Rest
Arnaud Psarofaghis (SUI) 
Well. Provided he's fast, expect the helmsman of the successful Realteam Extreme 40 to be up there. Former European champ and former top 5 in the Worlds. Arnaud's focus has been on other things lately. Provided his boat speed is there, he will be good (He was so slow in Hawaii that one night, the Claudicatis Cancri award turned up on his boat in the same way a Banksy mural suddenly turns up on a wall) Claudicatis Cancri? That will be the "Limping Crab" award. Awarded by an anonymous group in the dead of night. A group more commonly known as all the bastards who flew past you the day before.
Andrew "Amac" McDougal (AUS)
Sails from Black Rock, Melbourne with their big, but long rolling waves…But it's different here. The short sharp Solent waves don't have backs. For example, when you are sailing downwind, the wand goes forward so fast that whilst it maybe your Sunday, the wand is in Monday. It's hard work and we are mindful that if you get it wrong you are up the beach! Having recently featured in the TV programme Coast Australia, Andrew could actually feature unintentionally on Coast England.
So there we go. One thing is sure: There WILL be a new World Champion this year. Good luck to all and safe sailing.
-Si
July 10th, 2014 by admin


We love the fact that one of yachting's most respected veteran photographers has jumped on the video bandwagon; more importantly, it's great to see a guy known for his classic yachting and monohull AC work bringing a different perspective to the kind of high-speed shenanigans we at SA spend most of our time drooling over.  Onne Van Der Wal shot this excellent highlight reel from last month's Line Honors US Moth Nationals in Key Largo, scoring a ride-along for 14 year-old son Adrian (who flies his drones) along the way.  Van Der Wal has been shooting video with Canon DSLRs for about three years now, but this is the first real high-performance reel we've seen from him, and we are most definitely fans.  Judging from young Adrian's reaction to the Moths (and his clear lack of excitement about superyachts and classics), the next generation of Van Der Wal is going to be even better.
For more from the Nationals including interviews with champion Anthony Kotoun, past SCOTW Emma Aspington, world champ Bora Gulari, Swedish gold medalist Freddy Loof, and plenty more, hit up this gallery.  And be sure to check out Onne's Vimeo page for a diverse portfolio of good sailing films.

April 9th, 2014 by admin
While they tend to have a national culture that's reserved and restrained, few can outdo the typical British sailor's ability to talk smack.  Most of the real junkies will remember when Rob Greenhalgh and team went down to Sydney to deliver the "Smack down down under", returning home with their tails between their legs (you can still buy this awesome movie!); well it seems from the above video that Robbie and friends haven't learned their lesson…
Have a look at this UK Mothies video throwdown to our favorite Turkish American foiling master, almost daring Bora Gulari to become the first back-to-back Moth World Champion since the foiling began.  Let the games begin – and with an all-time record field at the Hayling Worlds, they've already started.  Title shout very appropriately to Ohioan metalcore band Like Moths To Flames. 
March 27th, 2014 by admin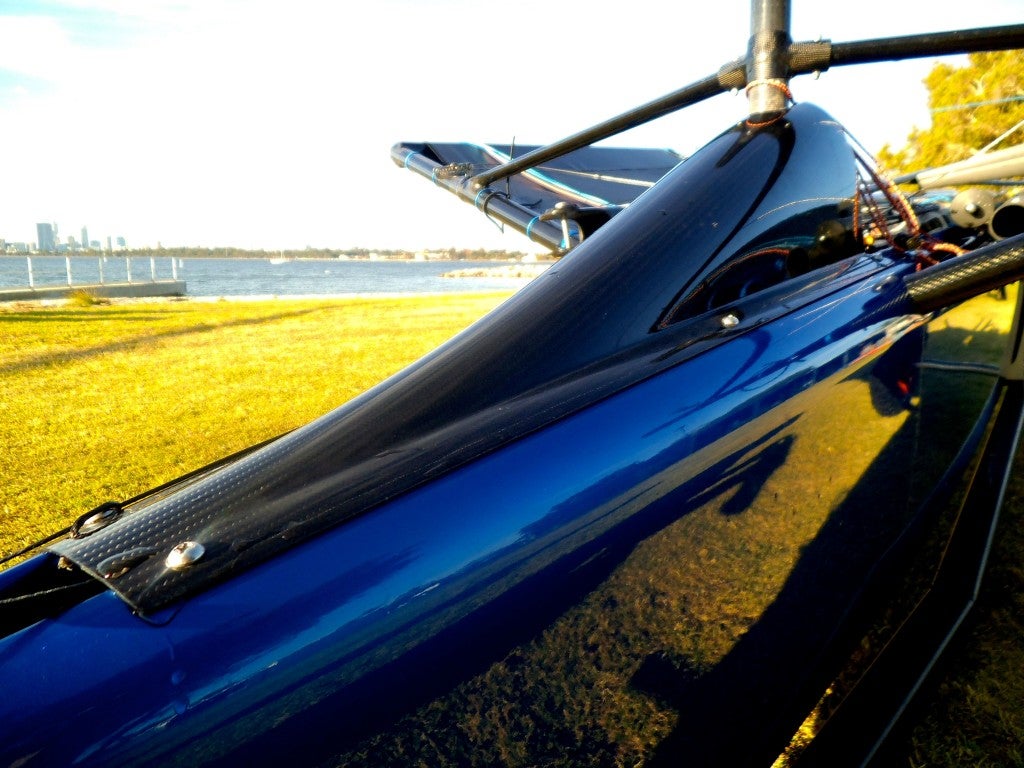 Despite inventing and perfecting the most wand-controlled t-foil flying system used by every Moth and plenty of imitators, John Ilett and his Fastacraft-built Moths were simply out-developed by Andrew McDougall and McConaghy China's Mach 2 Moth in the supremacy of the world's fastest dinghy.  Launched back in 2009, the Mach 2 has dominated every major event for half a decade, with the first real contender – the Exocet in England – getting a couple of top ten finishes at Worlds just this past fall and likely to get on or near the podium this summer at the Hayling Island Worlds.
Meanwhile, many have wondered what the Ilett boys have been up to over in Perth, Australia;  wonder no more; John's been working on this beauty.  It's the new Fastacraft Moth,  and it looks slick, sleek, and aero as hell.  John sent us a note:
March 25th, 2014 by admin
We'd name rocking Swede Emma Aspington as our SCOTW this week but we already did back in Dubai 2010…so we'll give this one to the latest chick to continue the Moth class tradition of super hot sailor chicks jumping into boats in between races (we all remember SA's most-downloaded pic in history, don't we?).
You're looking at college athlete Nikki Medley sailing on 18-year-old Tyson's purple dinosaur…she got it going better than most of the boys today in a light air day at Nationals.  Anthony Kotoun leads by a long way, with the aforementioned Emma taking a win and 8th place overall…plenty more news, pics, and videos on the Class's Facebook Page here.  Meredith Block photos with a gallery here.

March 22nd, 2014 by admin
Sailing Anarchy was launched right around the time when the first Moth – Brett Burville's surface-piercer – went flying.  As the Moth took over the world of ultra high-performance single handing, SA took over the sailing internet, and we've had a special relationship with the Moth ever since.  That explains our joy when we see just how incredibly strong the Moth is, with 2014 likely to mark the strongest year in the history of the foiling Moth.
This year's North American circuit is well underway, with longtime SA'er and two-time World Champ Bora Gulari defending his National title this coming weekend against new US Sailing Team member Brad Funk and a fleet including Star Gold Medalist Freddy Loof, multiple keelboat world champ Anthony Kotoun, and all the rest of the adrenaline junkie crowd.  We'll be there helping the US Class get photos, video, and news out via the US Moth Class Facebook Page this Friday to Sunday.
Meanwhile, the Moth Worlds at Hayling Island in the UK is about to set an all-time record for entries in a Moth WC – with 5 months to go until the event!  We Expect somewhere over 150 boats in Hayling including full teams from a number of America's Cup campaigns – foils will be the key to the next Cup, and the smart designers and sailors know that, with the A-Class split over whether to go forward or backwards, there is only one singlehander that will let them hone their skills for the biggest trophy of them all.
Europe is heating up just as quickly, with the first Act of the EFG MothEuroCup taking place in Bordeaux, France soon. It's the first of six awesome events held all over Europe, including the excellent Delta Lloyd Regatta in Holland in May, the Swiss and German Nationals, Traunsee Week in Austria and of course Europe's best sailing spot in Lake Garda has to be on the calendar as well. In this second year edition of the MothEuroCup, EFG Bank has stepped up to the plate as the series Sponsor, offering more than € 13,000 in total prize money.
With EFG Bank supporting Stars, Vipers, Melges 24s, and now the Moth, we're giving them a shout out; keep it up, bankers!  For a little video teaser of the Europcup, check this out on Vimeo.  Thierry Martinez photo from Hawaii.
March 20th, 2014 by admin
Anthony Kotoun continued to chip away at the faster Bora Gulari in their continued duel in the US Moth fleet this weekend, with the Newport pro beating Detroit's finest in the first Moth Winter event of the year.  The pair makes up the winner list of almost every major US event over the past couple of years, and born just a few days apart (and not particularly recently), it was Bora who brought Anthony into the fleet back in 2010.   With Bora taking his second World Title last October in Kaneohe Bay, he got the right to fly the coveted "USA 1″ sail number for the year while Kotoun barely broke into the top 30, but last weekend it was Anthony's turn to strike back in the 16-boat fleet at the Upper Keys Sailing Club in Key Largo.
Located about an hour south of Miami and a bit of a secret spot for those outside the SE catamaran racing circuit, the venue is perfect for fast little boats: Clear, warm,
and board-flat water coming over the Keys, a small club with members dedicated to sailing, and a broad range of talent across the fleet to make sure everyone had someone to race against.  It was a common sight throughout the weekend to see class veterans helping the newer Moth sailors get rigged and tuned up, sharing gear and tips and of course, trash talk.    The fun continued off the water where the sailors shared a huge house down the road; just another way the Mothies keep costs down and the fun factor up, allowing a solid travel schedule and strong fleets despite few of 'em having three nickels to rub together.
Day 1 was the slalom, and Anthony came out of the gate hot, winning each of the qualifying races before snagging the winner-takes-all final over Charleston's Pat Wilson.  The trend continued on Saturday after a string of equipment problems for Gulari; he broke an inner wing bar just before the start of the first race, broke an outer wing bar before the last, and after sailing slower than a fleet that he usually dominates, learned at the end of the day that his main foil hinge had been partially wrecked for much of the day.  Light winds on the last day meant no racing, denying Bora any comeback hopes and giving Kotoun five points in six races, a horizon job in this fleet.  2008 World Champ and expat Aussie (now Chicagoan) John Harris took second, with George "Bear" Peet taking third.  "It's a good thing this was two sailing days after Worlds and not during", Harris told Gulari at the end of the day…Full results are here.
Both spectators and sailors are welcomed to join the fun at the UKSC next month for the second event in the 11th Hour Racing Moth Winter Series; check the Class Facebook Page for for reports, videos, photos, tuning tips, and a few stream of consciousness ramblings from Mothies who tried to have a long conversation with the remote control at the bar.
Canine pic from Tracy McLaughlin and top shot of Johnny Nugs (looking like the stud he is) from Ben Winkler Photography with a full gallery here.  Thanks to Matt Knowles and the US Mothies for contributing to this report.
January 6th, 2014 by admin
3 more races down, 4 more to go on the final day of the Moth Worlds.  And Bora is sailing the lights out.  Enjoy this reel from Friday's action in 6-9 knots of Hawaiian tropic.  Facebook is where you can find out who wins, who gets interviewed, and how sweet Thierry M's photos are.  Racing starts at noon local time/1500 Pacific/1800 Eastern.  Title shout to Busy Signal.
October 19th, 2013 by admin
The background may be pretty but the forecast ain't; with the trades looking weak to non-existent, the mothies are doing whatever they can to get their boats ready for an unexpectedly light regatta.  Above, Petey Crawford gives you the first HD look at the Worlds fleet; Like the Moth Worlds Facebook Page for a little On-The-Water Social Anarchy from Mr. Clean throughout the week.
October 14th, 2013 by admin