Posts Tagged 'international moth'


We love the fact that one of yachting's most respected veteran photographers has jumped on the video bandwagon; more importantly, it's great to see a guy known for his classic yachting and monohull AC work bringing a different perspective to the kind of high-speed shenanigans we at SA spend most of our time drooling over.  Onne Van Der Wal shot this excellent highlight reel from last month's Line Honors US Moth Nationals in Key Largo, scoring a ride-along for 14 year-old son Adrian (who flies his drones) along the way.  Van Der Wal has been shooting video with Canon DSLRs for about three years now, but this is the first real high-performance reel we've seen from him, and we are most definitely fans.  Judging from young Adrian's reaction to the Moths (and his clear lack of excitement about superyachts and classics), the next generation of Van Der Wal is going to be even better.
For more from the Nationals including interviews with champion Anthony Kotoun, past SCOTW Emma Aspington, world champ Bora Gulari, Swedish gold medalist Freddy Loof, and plenty more, hit up this gallery.  And be sure to check out Onne's Vimeo page for a diverse portfolio of good sailing films.

April 9th, 2014 by admin
While they tend to have a national culture that's reserved and restrained, few can outdo the typical British sailor's ability to talk smack.  Most of the real junkies will remember when Rob Greenhalgh and team went down to Sydney to deliver the "Smack down down under", returning home with their tails between their legs (you can still buy this awesome movie!); well it seems from the above video that Robbie and friends haven't learned their lesson…
Have a look at this UK Mothies video throwdown to our favorite Turkish American foiling master, almost daring Bora Gulari to become the first back-to-back Moth World Champion since the foiling began.  Let the games begin – and with an all-time record field at the Hayling Worlds, they've already started.  Title shout very appropriately to Ohioan metalcore band Like Moths To Flames. 
March 27th, 2014 by admin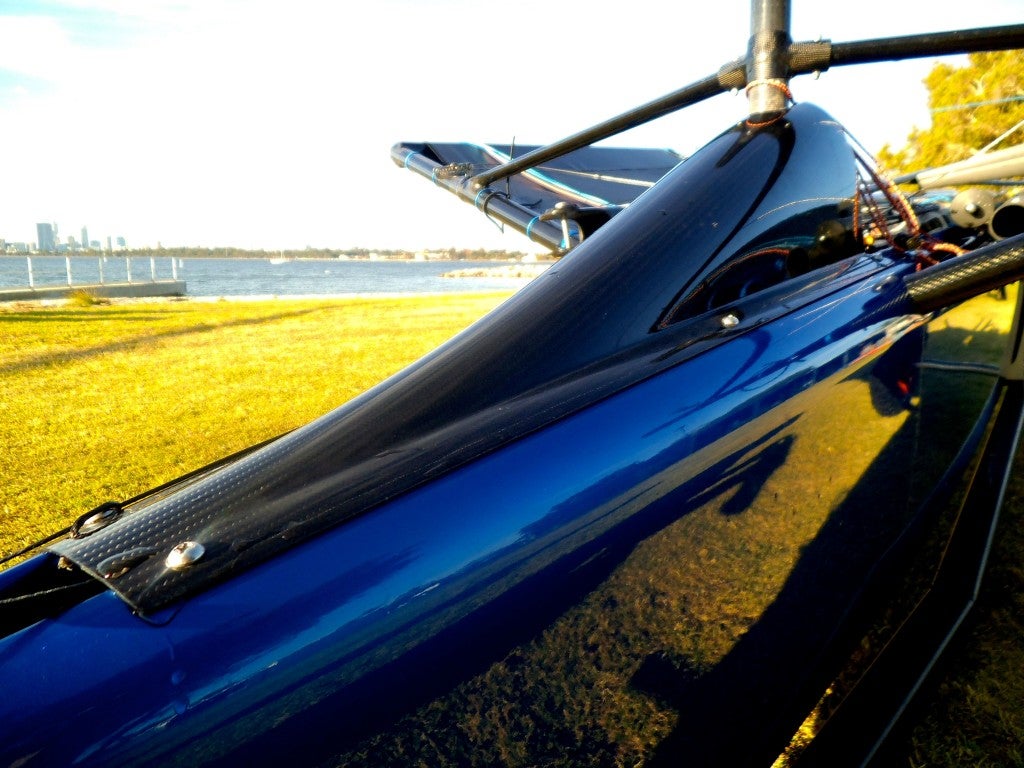 Despite inventing and perfecting the most wand-controlled t-foil flying system used by every Moth and plenty of imitators, John Ilett and his Fastacraft-built Moths were simply out-developed by Andrew McDougall and McConaghy China's Mach 2 Moth in the supremacy of the world's fastest dinghy.  Launched back in 2009, the Mach 2 has dominated every major event for half a decade, with the first real contender – the Exocet in England – getting a couple of top ten finishes at Worlds just this past fall and likely to get on or near the podium this summer at the Hayling Island Worlds.
Meanwhile, many have wondered what the Ilett boys have been up to over in Perth, Australia;  wonder no more; John's been working on this beauty.  It's the new Fastacraft Moth,  and it looks slick, sleek, and aero as hell.  John sent us a note:
March 25th, 2014 by admin
We'd name rocking Swede Emma Aspington as our SCOTW this week but we already did back in Dubai 2010…so we'll give this one to the latest chick to continue the Moth class tradition of super hot sailor chicks jumping into boats in between races (we all remember SA's most-downloaded pic in history, don't we?).
You're looking at college athlete Nikki Medley sailing on 18-year-old Tyson's purple dinosaur…she got it going better than most of the boys today in a light air day at Nationals.  Anthony Kotoun leads by a long way, with the aforementioned Emma taking a win and 8th place overall…plenty more news, pics, and videos on the Class's Facebook Page here.  Meredith Block photos with a gallery here.

March 22nd, 2014 by admin
Sailing Anarchy was launched right around the time when the first Moth – Brett Burville's surface-piercer – went flying.  As the Moth took over the world of ultra high-performance single handing, SA took over the sailing internet, and we've had a special relationship with the Moth ever since.  That explains our joy when we see just how incredibly strong the Moth is, with 2014 likely to mark the strongest year in the history of the foiling Moth.
This year's North American circuit is well underway, with longtime SA'er and two-time World Champ Bora Gulari defending his National title this coming weekend against new US Sailing Team member Brad Funk and a fleet including Star Gold Medalist Freddy Loof, multiple keelboat world champ Anthony Kotoun, and all the rest of the adrenaline junkie crowd.  We'll be there helping the US Class get photos, video, and news out via the US Moth Class Facebook Page this Friday to Sunday.
Meanwhile, the Moth Worlds at Hayling Island in the UK is about to set an all-time record for entries in a Moth WC – with 5 months to go until the event!  We Expect somewhere over 150 boats in Hayling including full teams from a number of America's Cup campaigns – foils will be the key to the next Cup, and the smart designers and sailors know that, with the A-Class split over whether to go forward or backwards, there is only one singlehander that will let them hone their skills for the biggest trophy of them all.
Europe is heating up just as quickly, with the first Act of the EFG MothEuroCup taking place in Bordeaux, France soon. It's the first of six awesome events held all over Europe, including the excellent Delta Lloyd Regatta in Holland in May, the Swiss and German Nationals, Traunsee Week in Austria and of course Europe's best sailing spot in Lake Garda has to be on the calendar as well. In this second year edition of the MothEuroCup, EFG Bank has stepped up to the plate as the series Sponsor, offering more than € 13,000 in total prize money.
With EFG Bank supporting Stars, Vipers, Melges 24s, and now the Moth, we're giving them a shout out; keep it up, bankers!  For a little video teaser of the Europcup, check this out on Vimeo.  Thierry Martinez photo from Hawaii.
March 20th, 2014 by admin
Anthony Kotoun continued to chip away at the faster Bora Gulari in their continued duel in the US Moth fleet this weekend, with the Newport pro beating Detroit's finest in the first Moth Winter event of the year.  The pair makes up the winner list of almost every major US event over the past couple of years, and born just a few days apart (and not particularly recently), it was Bora who brought Anthony into the fleet back in 2010.   With Bora taking his second World Title last October in Kaneohe Bay, he got the right to fly the coveted "USA 1″ sail number for the year while Kotoun barely broke into the top 30, but last weekend it was Anthony's turn to strike back in the 16-boat fleet at the Upper Keys Sailing Club in Key Largo.
Located about an hour south of Miami and a bit of a secret spot for those outside the SE catamaran racing circuit, the venue is perfect for fast little boats: Clear, warm,
and board-flat water coming over the Keys, a small club with members dedicated to sailing, and a broad range of talent across the fleet to make sure everyone had someone to race against.  It was a common sight throughout the weekend to see class veterans helping the newer Moth sailors get rigged and tuned up, sharing gear and tips and of course, trash talk.    The fun continued off the water where the sailors shared a huge house down the road; just another way the Mothies keep costs down and the fun factor up, allowing a solid travel schedule and strong fleets despite few of 'em having three nickels to rub together.
Day 1 was the slalom, and Anthony came out of the gate hot, winning each of the qualifying races before snagging the winner-takes-all final over Charleston's Pat Wilson.  The trend continued on Saturday after a string of equipment problems for Gulari; he broke an inner wing bar just before the start of the first race, broke an outer wing bar before the last, and after sailing slower than a fleet that he usually dominates, learned at the end of the day that his main foil hinge had been partially wrecked for much of the day.  Light winds on the last day meant no racing, denying Bora any comeback hopes and giving Kotoun five points in six races, a horizon job in this fleet.  2008 World Champ and expat Aussie (now Chicagoan) John Harris took second, with George "Bear" Peet taking third.  "It's a good thing this was two sailing days after Worlds and not during", Harris told Gulari at the end of the day…Full results are here.
Both spectators and sailors are welcomed to join the fun at the UKSC next month for the second event in the 11th Hour Racing Moth Winter Series; check the Class Facebook Page for for reports, videos, photos, tuning tips, and a few stream of consciousness ramblings from Mothies who tried to have a long conversation with the remote control at the bar.
Canine pic from Tracy McLaughlin and top shot of Johnny Nugs (looking like the stud he is) from Ben Winkler Photography with a full gallery here.  Thanks to Matt Knowles and the US Mothies for contributing to this report.
January 6th, 2014 by admin
3 more races down, 4 more to go on the final day of the Moth Worlds.  And Bora is sailing the lights out.  Enjoy this reel from Friday's action in 6-9 knots of Hawaiian tropic.  Facebook is where you can find out who wins, who gets interviewed, and how sweet Thierry M's photos are.  Racing starts at noon local time/1500 Pacific/1800 Eastern.  Title shout to Busy Signal.
October 19th, 2013 by admin
The background may be pretty but the forecast ain't; with the trades looking weak to non-existent, the mothies are doing whatever they can to get their boats ready for an unexpectedly light regatta.  Above, Petey Crawford gives you the first HD look at the Worlds fleet; Like the Moth Worlds Facebook Page for a little On-The-Water Social Anarchy from Mr. Clean throughout the week.
October 14th, 2013 by admin