Posts Tagged 'imoca'
Keep your eyes peeled if you're enjoying the balmy winter with a December crossing of the Atlantic, because you might just run into the world's biggest Christmas present: The defending champion Vendee Globe and Route Du Rhum-winning Open 60 SMA, adrift about 700 NM off Cape Finisterre!
With solo skipper Paul Meilhat's fractured ribs and pelvis forcing him into a helicopter, SMA crew launched two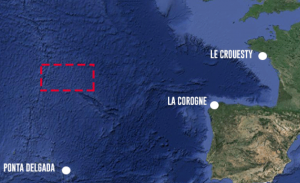 rescue attempts to retrieve the multi-million-dollar pedigreed purebred; an especially nasty December in Biscay laughed at them and sent them crying for home.  A third team of four insane Frenchmen (and quite possibly Marcus Hutchinson) has now set off from Brittany to try to succeed where a 66-meter oceangoing tug failed.
If that sounds like impossible odds to you, it just means you don't know any Bretons.  Seb Josse won the carnage-filled St. Barth-Port La Foret (which most skippers have told us they hate), scoring the first real offshore success for a Dali foiler. Head over here for Seb's video (with translation from SA'er 'surlepont').
December 24th, 2015 by admin
Vento Di Sardegna only had a few months with an Italian name before being taken over by Mich Desj's Mer Agitee management company, and while we continue to operate under rumors that a Dutch sailor will make a run at the Vendee in this beast (and we think it's this guy), no one seems to be able to confirm whats coming for this new VPLP/Verdier just yet.  Similarly, the 5 new builds in the 2015 TJV are staying mum about their issues and findings, so for now, we have only Alex Thomson's frank account.  Fortunately, our Senior Editor is headed to Europe to the METS show next week on a factfinding expedition, and no one can hide from Mr. Clean…
Think you can spot what's wrong with the Persico build of Vento?  We can't, but we do love time lapse.
November 10th, 2015 by admin
November 4th, 2015 by admin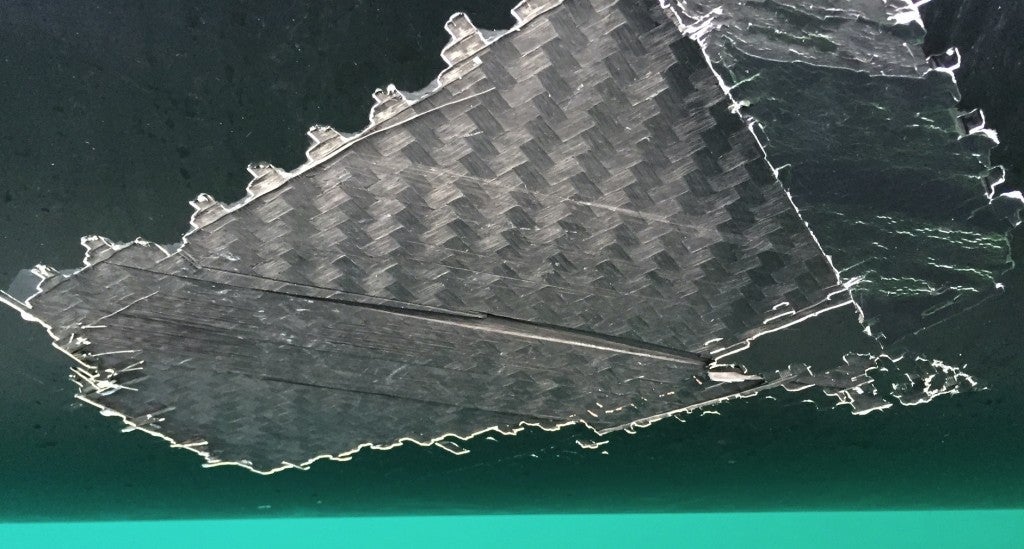 This shot of the outside of Hugo Boss's hull shows the impact that broke the ribs of Alex Thomson's brand-new Open 60; the first in a series of cascading failures that led to their near-sinking in the Bay of Biscay a few days ago.  Alex is 99.9% sure this presumed collision was the root cause of the rest of the issues,  but that's not the most surprising thing we learned in our Skype interview with him this afternoon.  You'll have to tune back in to this page for the rest of the story early tomorrow, exclusively on Sailing Anarchy.  It's a good one!  We're also pleased to report that VPLP and Verdier seem to be completely on top of it, with their top guys working hand in hand with all the teams with issues.  Stand by for more.
TJV thread here.  Boss Sinking thread here.
November 3rd, 2015 by admin
UPDATE: After unsuccessfully attempting a repair for several hours at sea, Alex Thomson and Guillermo Altadill onboard HUGO BOSS have made the difficult decision to proceed to Vigo. This partial repair will not allow the duo to cross the Atlantic serenely.The technical team is currently en route to Vigo, Spain, to join the crew and try to consolidate repairs.More information tomorrow.
With two of the newest VPLP/Verdier foiling 60s already out of the TJV, it comes as no surprise that a third is now on the ropes.  With just a few days of sailing under her keel before the start of the race, Alex Thomson's Hugo Boss is the newest of all of 'em all, according to Facebook, Alex and Guillermo Altadill will spend the next few hours hove to in the North Atlantic as they dig into unspecified technical issues and try to save their race.  On one hand, the attrition rate of the new boats is a big failure for the teams; on the other hand, reliability is never great at the extreme edges of any development box…especially on the first real outing as they build up to the big dance next year.
Our Senior Editor sat down with Thomson just before the Boss left for France earlier this month to chat about everything Open 60, with questions mostly provided by you Anarchists.  It's another great chat between Clean and AT, and there's plenty to listen to as you wait to see if they get back in the race.  You can download the full video from Vimeo here to play later. Track the TJV fleet here.
October 28th, 2015 by admin
The always-positive Andrea Mura has been tooling around Europe for the past few years in various singlehanded boats called Vento Di Sardegna (Sardinian Wind), and we were extremely enthused to see some Italian blood finally returning to the Class that called Gio Soldini one of its founding members.  Unfortunately, the lack of Frenchness continues to be a huge handicap, and Mura seems to have bitten off way more than he could chew with his 2016 attempt at the Vendee Globe in a latest-gen IMOCA boat.
His Italian sponsors paid for a gorgeous, brand new VPLP-Verdier Open 60, but according to Velablog, he's broke, can't get to the starting line for the TJV, and the boat is up for sale.  Bad news for anyone who wants to see IMOCA as more than a Francais-only men's club, but great news for anyone looking to get a last-minute entry with a latest-generation foiling 60 to next year's Vendee starting line.  MichDej, perhaps, just in time to defend his record against either of his two protegées?
Latest goss in the thread.
September 22nd, 2015 by admin
Alone in the sea of brand-new foiling(ish) Open 60s is the UK's Alex Thomson and his new Mercedes-Benz sponsored Hugo Boss, the sort-of sistership to the new VPLP/Verdier monsters that are dropping in the water seemingly every week as the TJV gets close.   Speaking of the French doublehanded classic, there are a jaw-dropping 21 IMOCAs registered for the start in Le Havre.  Will you be there?  Sailing Anarchy will.
We're a bit shocked to see the Hugo Boss change color from the silver that we assumed was such a perfect fit for Merc (and its silver arrows racing brand) but we forgot to check in on the team that HB seems to get all its design inspiration from.  Sure enough, they just turned black this year as well.
More pics on the ATR Facebook page, and the world's best source of breaking information about the IMOCA fleet is, of course, right here in the Ocean Racing Anarchy forums. Title shout to a great song for a blind date…or a stalker.
September 5th, 2015 by admin
Reviving a famous rivalry between the Royal Galway and Royal Cork Yacht Clubs; the 2015 Galway Plate was a brilliant race between two IMOCA 60s. Kilcullen Voyager, skippered by Enda O'Coineen faced off with Alex Thomson's Hugo Boss in Cork Harbour.
July 15th, 2015 by admin
One of the well-proven adages in business is to spend, spend, spend during a recession.  Marketing hard and growing fast when the markets are down is a great way to build market share, and it seems that the big names in the United Kingdom sailboat racing business are doing just that, despite all kinds of fears about austerity measures and deficit problems.  Here are three quick bits to illustrate.
The Great Contender
Russell Coutts chased off the most serious challenger for the next America's Cup.  Then he pulled the rug out from both his own hometown and the team that came a couple of minutes away from ending his run at AC34.  Just one of those is fully funded by a billionaire, but it's the less well-funded one – Ben Ainslie Racing – who currently has the best chance of ending Larry Ellison's reign of bullshit and the constantly waffling hypocrisy from the Russell Coutts Flying Circus.
Why, you ask?
Because Ben and his team are genuinely not in it for cash, but for nation, for country, for all those things that the rest of the world finds quaint and anachronistic.  Their hashtag is #BringTheCupHome, and that resonates like a motherf&%*ker.
That's how he got longtime Mclaren Formula 1 team boss Martin Whitmarsh involved, and that's where Red Bull Formula 1 designer and aerodynamic wunderkind Adrian Newey came in.
And perhaps most importantly, Ben will have home field advantage, as we'll see during next month's ACWS event in Portsmouth.  Bermuda is unfailingly British, and there are we cannot find anyone from the United States who wants to see the betrayal of Ellison and Coutts go unpunished.
Don't underestimate the power of the crowd; unlike the almost entirely mercenary teams (and Oracle Team NOT-USA just added yet another non-american to the mix), Ben can get talent like Whitmarsh and Newey to help him despite being unable to pay them what they made when they worked for the F1 juggernaut.  And the more one-design the boat, the more cerebral the game becomes – and the more morale and confidence come into the mix.  If you don't know what we mean, head over to Portsmouth and listen to what an estimated half a million people sound like when they are cheering.  The biggest questions remain about Ben himself; is he a fast enough driver in foiling boats?
Longtime pommie sailing boffin Matt Sheahan wrote a solid profile of the team and its obstacles over at howtospendit.  Check it out here.
Long Overdue
The Extreme 40 has been long in the tooth for the better part of 5 years, but much of that time was devoted to ensuring the Extreme Sailing Series survival and OC Events future cash flow.  As the rest of the world's catamarans innovated, the Extreme Sailing Series looked more every season like a race for lorries in a downtown parking lot.  But Mark Turner's stature as one of the sport's best organizers doesn't come from his generosity; he is a master of spending only when necessary.  Thanks to a few years of downturn and the ineptitude of his ostensible competitors, the X40 got a bit of breathing room – but not anymore.
And while Turner has been saying for years that 'foiling is not for them,' on Wednesday the ESS announced just the opposite; 2016 and beyond will likely see the new Extreme boat flying.  Turner says they have 'four options' that they haven't distilled down yet, but the clock is a-ticking.  The X40 hulls are a mess, with dozens of repairs adding weight and reducing stiffness throughout the fleet, and one-design something of a joke.  The design itself is as dated as you'll see in a modern event, as you'd expect from a boat created more than a decade ago for the 2005 Volvo Ocean Race; the event that re-launched stadium sailing (though not a new concept; cf. the Formula 40 series in the 90s, the wildly successful 150,000-person Match Cup Sweden in the late 90s and early 2000s, the One-Design Grand Prix circuit, the…well, you get the point).
So there are a lot of reasons for a new boat and it's almost imperative for it to happen quickly, but it is already pretty late for one of the brand new designs being evaluated by OC to impact the 2016 season.  Enter the GC32, currently the front-runner for the Extreme series next year.  It's a bit small for much of the corporate PR and VIP work that's the bread and butter for Turner, but Martin Fischer's flying boat is furious and exciting in anything over 8 knots of breeze.  Perhaps more importantly, two years of now-solved foil issues has taken much of the value out of the GC32, and having spent millions on the creation of his dream boat and a relatively low-budget series, GC32 creator Laurent Lenne is ready to get back to racing instead of running a sailboat marketing company.  That could mean 'bargain' to the famously cost-conscious Turner, solving all his problems for 2016.  The only other option for next year is to modify the truck-like X40 for foils, but that's crazy talk.
And for 2017, look for an all-new X36/X37/X38 – a straight or foiling daggered monster that looks as modern as possible.  Whether you are talking about markets, boat types, or formats, the world is a-changing, and Mark Turner and his group will continue to be one of the most important drivers of those changes.
Watch the final day of ESS racing from Cardiff today.
He's Got The Look
Since we couldn't get a new rendering from the Alex Thomson Racing team, we'll keep this one short, but a monster piece of sailing sponsorship news hit the wire this week providing further evidence that a good look, a strong marketing team, and a few successful PR stunts are far more important than performance when it comes to finding big money for sailing.  Thomson's team announced on Thursday that Mercedes-Benz had joined the Hugo Boss/ATR racing program as a 'Core Sponsor' in advance of this summer's launch of Thomson's brand new VPLP/Verdier Open 60 HUGO BOSS.  The move comes on the heels of last years defection of Hugo Boss from the McLaren F1 team to the all-conquering Mercedes Silver Arrows, marking the end of F-1′s longest team sponsorship deal.  The best part about it?  Thomson doesn't even need to change his color scheme.
With Alex scoring a 3rd in the last Vendee in a last gen boat, and telling us numerous times that he's getting a bit old for all this noise, and with golden boy Francois Gabart sitting this one out in favor of a much faster singlehander, 2016 will mark Thomson's best chance ever at the biggest win ever for an Englishman since Sir Robin beat Moitessier in 1969, nearly 50 years ago.  That is, if he can finish, unlike the last BWR, or the one before that, or…
June 21st, 2015 by admin
The world's first outward-facing J/foil made its debut last week, and Morgan Lagraviere seems to have the Open 60 Safran going pretty well.  This little shot is a screen grab from the video here of the shakedown cruise, and be sure to check out the 2016 Vendee Globe thread to keep up with the very latest news.  For a bonus foiling story, check the Google Trans of a very comprehensive Voiles et Voiliers interview with Gitana's Seb Josse here.
May 21st, 2015 by admin